Has your Windows PC become slow? Does it crash every now and then? Do the apps on your PC crash or refuse to open? Maybe it's time that you conduct a thorough PC health check. And, you needn't do that manually and spend ages, instead, you can take the help of a PC health check software. Here we have enlisted some of the best health check tools for Windows 11/10.
Top Software Reviews
Rating
1.

Advanced System Optimizer

2.

PC Health Check App

3.

IObit Advanced SystemCare 16

4.

AVG TuneUp

5.

Ashampoo WinOptimizer 25

6.

CCleaner

7.

Glary Utilities

8.

iolo System Mechanic

9.

HWiNFO

10.

CPU-Z
Over a period of time when you store a large number of files on your PC, and make several apps run on it, it loses the speed and performance that it once had when it was fresh out of the box. You start to observe slow response times, storage space warnings, occasional app or even computer crashes, and many other issues.
A PC health check software can help you track such issues timely and not just that it can even suggest necessary measures that you can take to fix those issues. If you are wondering which health check utility should I install on my Windows PC, you have come to the right place.
Here's a list of some of the best PC health check software that will help you keep your computer in top shape.
How Can A PC Health Check Software For Windows Be Useful?
Most of the below-mentioned Windows 11 PC health check tools consist of features that can benefit you in many ways such as –
Boost Performance: Help identify and fix issues that are slowing down your PC and overall performance.
Disk Cleanup: Help in freeing up valuable disk space and remove various kinds of junk files.
Make PC Stable: Identify the root cause of system/ app errors and fix them.
Keep Software Update: Prompt you to update the various programs on your computer and Windows itself so that you get new features and stay away from any security vulnerabilities.
Keep Privacy and Security Intact: The various PC health check software consists of modules that can help find out security and privacy loopholes in your computer that are hard to find otherwise.
Best Free and Paid Windows 11 PC Health Check Software
1. Advanced System Optimizer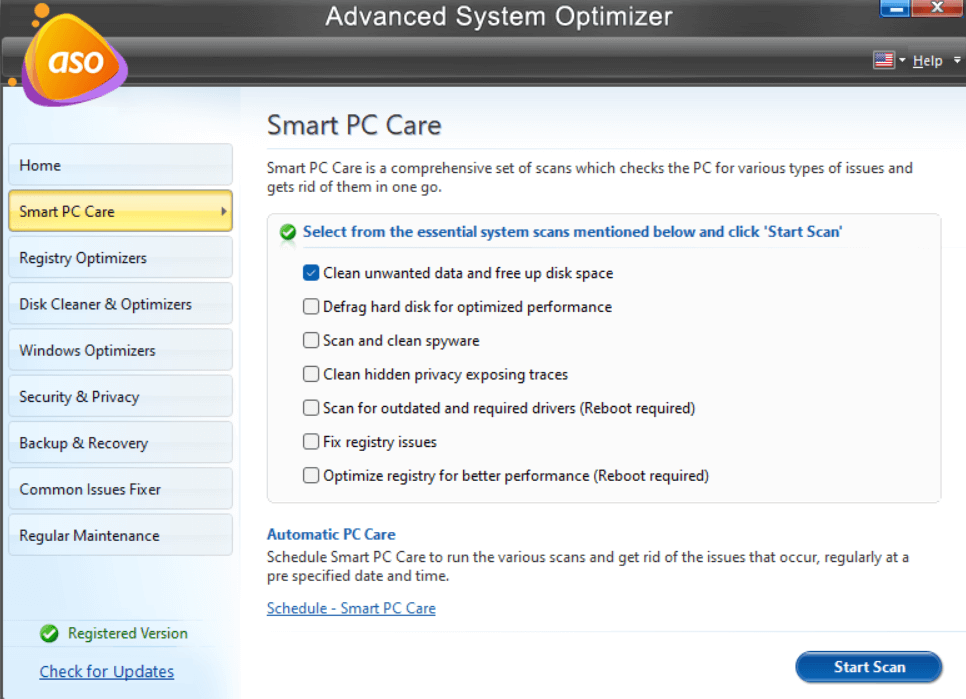 Advanced System Optimizer is one of the best cleanup and optimization tools for Windows. It can also help you check your Windows 11's health on various parameters. Take, for instance, it has Smart PC Care or Common Issues Fixer modules that don't just help identify issues but even propose rightful steps to resolve them. Here is a complete review of Advanced System Optimizer.
Notable Features
Smart PC Care checks PC for various kinds of issues and gets rid of them with one click.
Registry optimization and disk cleanup tools.
Various disk utilities.
Backup and recovery.
PC cleaning and optimization tool.
Identify and get rid of privacy traces.
Create a restore point before making changes.
Free trial is available for 24 hours only.
Pricing: Free fully functional trial for 24 hours. Pricing starts at $49.95
2. PC Health Check App
If you are taking a leap from Windows 10 to 11 then the Windows PC Health Check app can be a great tool to have by your side. That said, it is more than a compatibility-checking tool. It lays in front of you various issues related to your PC and even suggests steps that you can take to resolve them. The best part is that it is free and built-in right into your PC.
Notable Features
Troubleshoot performance issues.
Backup and sync from the interface itself.
Check and manage battery and storage capacity.
Manage startup items.
Actionable steps to manage various PC health aspects.
Tells you whether or not you can run the latest Windows 11 or not.
Sync preferences across devices like passwords and Microsoft Edge browser settings.
No specific modules to safeguard privacy and security.
Pricing: Free
Inbuilt in Windows PC.
3. IObit Advanced SystemCare 16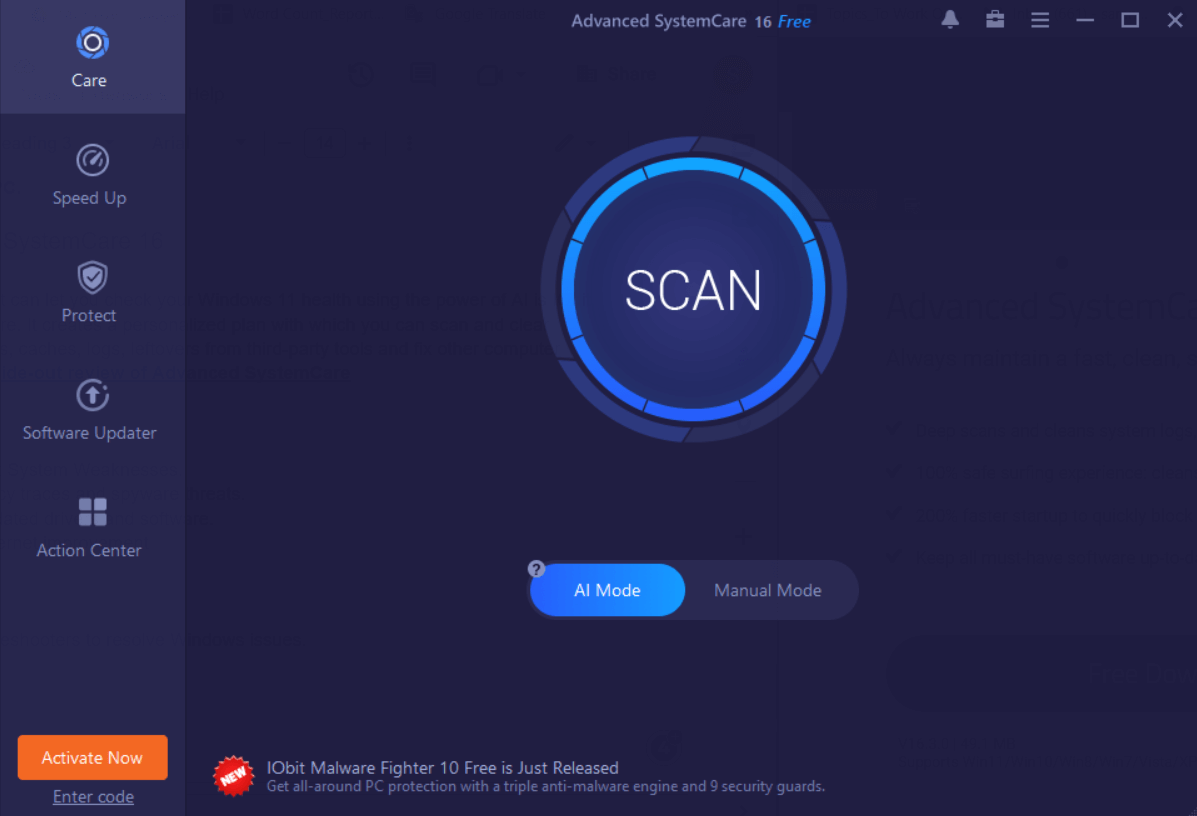 Another great tool that can let you check your Windows 11 health using the power of AI is IObit Advanced SystemCare. It creates a personalized plan with which you can scan and clear various redundant files, caches, logs, leftovers from third-party tools and fix other computer issues. Here is an inside-out review of Advanced SystemCare
Notable Features
Identify and fix System Weaknesses.
Remove privacy traces and spyware threats.
Check for outdated drivers and software.
Module for Internet improvement
Over 30 troubleshooters to resolve Windows issues.
Delete, move, or even exclude folders from scanning.
Real-time tuneup.
Scanning speed could have been better.
Pricing – Free and $29.99/ year.
4. AVG TuneUp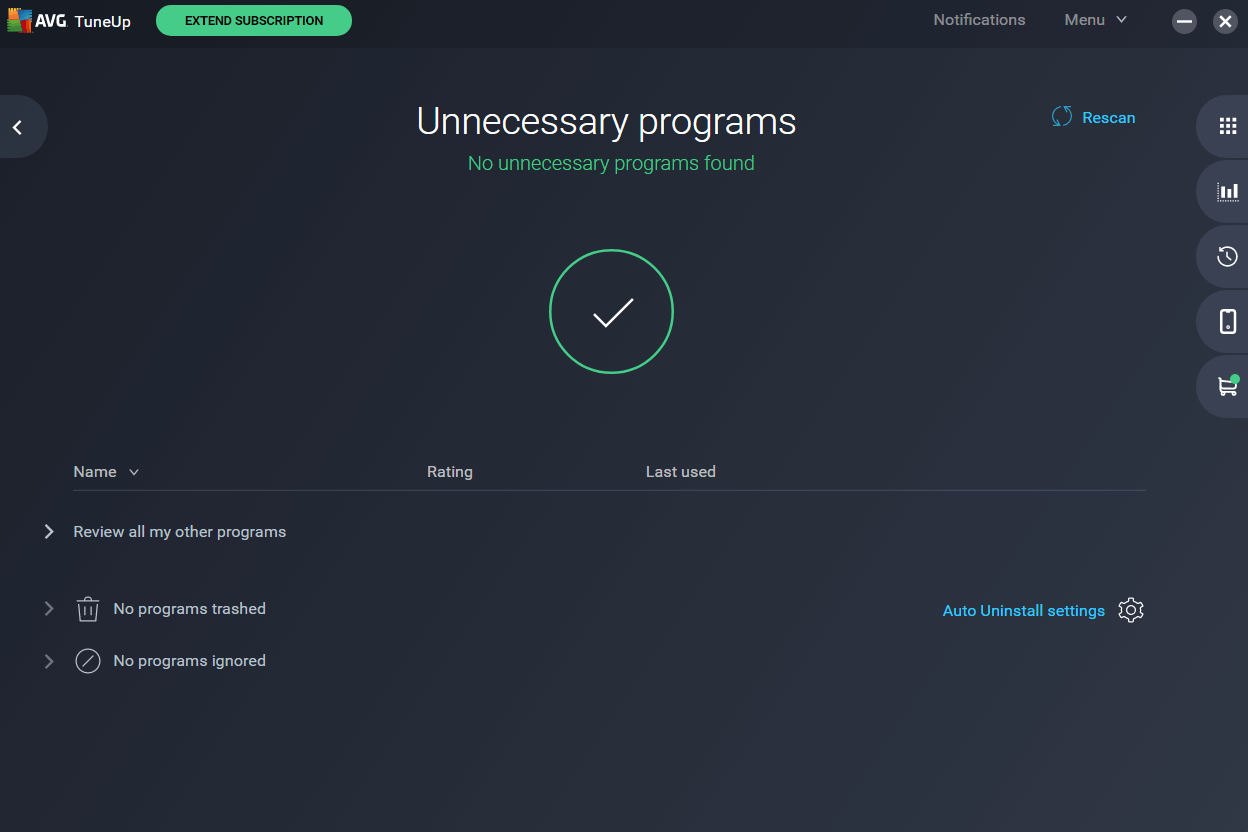 From the makers of AVG Ultimate Antivirus comes another great utility that can help identify computer-related issues. In one go it can enlist problematic areas such as system junk, broken registry items, browser cache, and other elements that both take up precious storage space as well as hamper PC performance. In another click, you can get rid of all these.
Notable Features
Remove junk files.
Routinely fix registry items.
Get rid of bloatware.
Software uninstaller.
Enhanced startup time.
Sleep mode puts unused programs to sleep.
Automatic maintenance.
Can't back up the registry.
Pricing: Free version gives you a cursory look at issues. To clean you can purchase a subscription at $29.99 annually.
5. Ashampoo WinOptimizer 25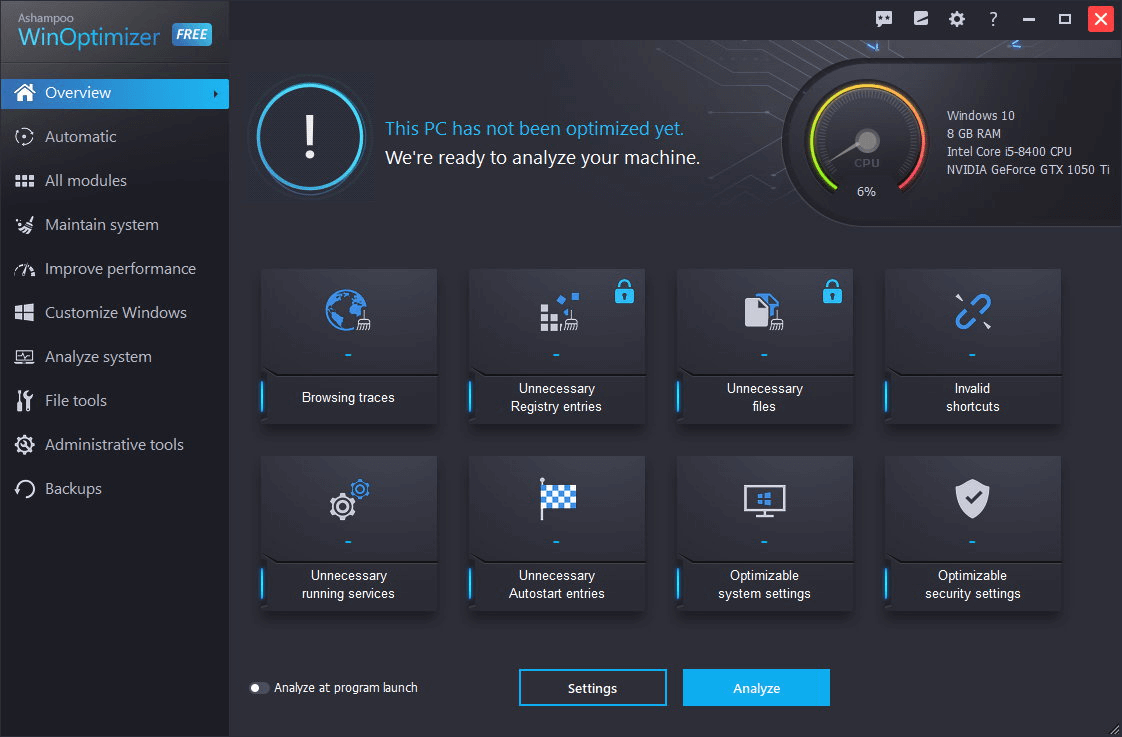 Another Windows optimizer software that can conduct a thorough health check on your Windows 11,10 PC is Ashampoo WinOptimizer. It can be a great remedy if your Windows PC has become slow and you are unable to find out what it is that's hampering your system's performance. We have discussed all its features and other aspects here.
Notable Features
One-click optimization.
Manage services and processes.
Tweak privacy settings.
Analyze disk space.
Tracks resource-hogging applications.
Wipe files permanently and check suspicious links.
HDD benchmark functionality.
Some rivals are easier to use for beginners.
Pricing –  Free trial available. Then, $29.99 yearly.
6. CCleaner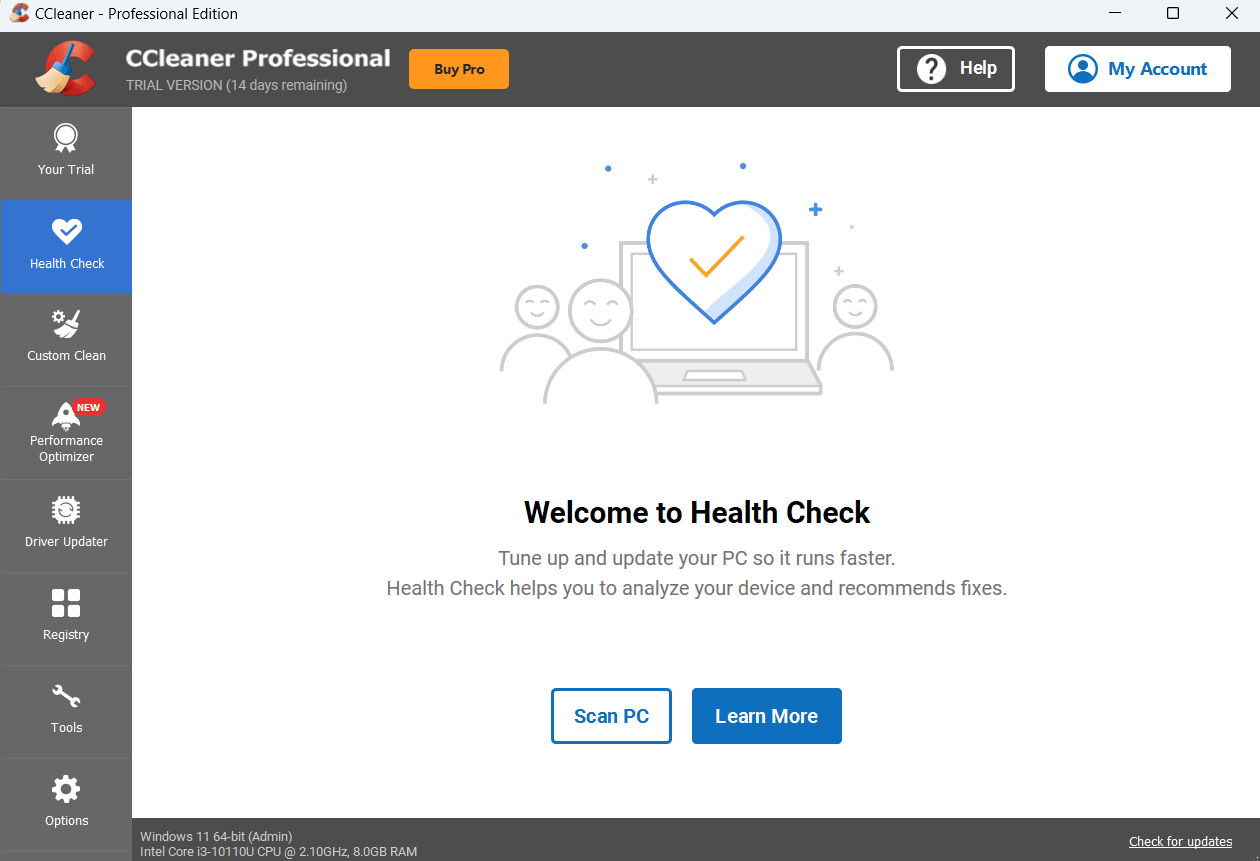 CCleaner has a dedicated Health Check feature that helps tune up and update your PC so that it can run faster. With this feature, it segregates issues into security, speed, privacy, and space. You can click on each of these items and take further steps to fix the issue. Apart from that it also comes with various other features some of which are mentioned below. Know more about this tool and its various aspects here.
Notable Features
Boost performance by up to 34%
Dedicated PC Health Check tool.
Manage registry items.
Schedule cleaning at your desired time.
Get rid of security potholes.
Manage storage space and startup apps.
Remove trackers.
Brings along bundled software.
Pricing: 14 days fully functional trial. Then, $24.95
7. Glary Utilities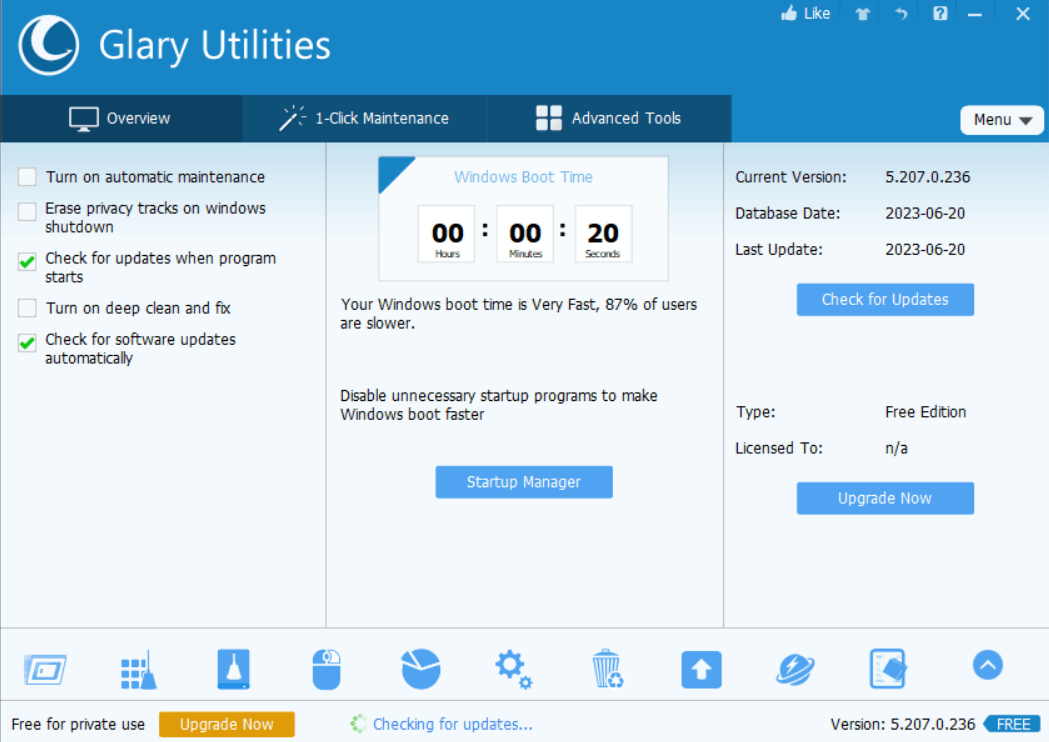 An important aspect of checking the health of your Microsoft PC is also to keep track of malware. Glary Utilities doesn't just fix PC performance issues but even identifies and removes malware as well. It offers one-click functionality and comes packed with several automated options.
Notable Features
Several automated options.
One-click maintenance to get rid of crashes, freezes, and other errors.
Remove malware.
Manage and update software.
Packs 30+ useful tools.
Effective software updater tool.
Recover lost files.
Automatic maintenance requires a premium subscription.
Pricing: Free. Then, a yearly subscription at $19.97
8. iolo System Mechanic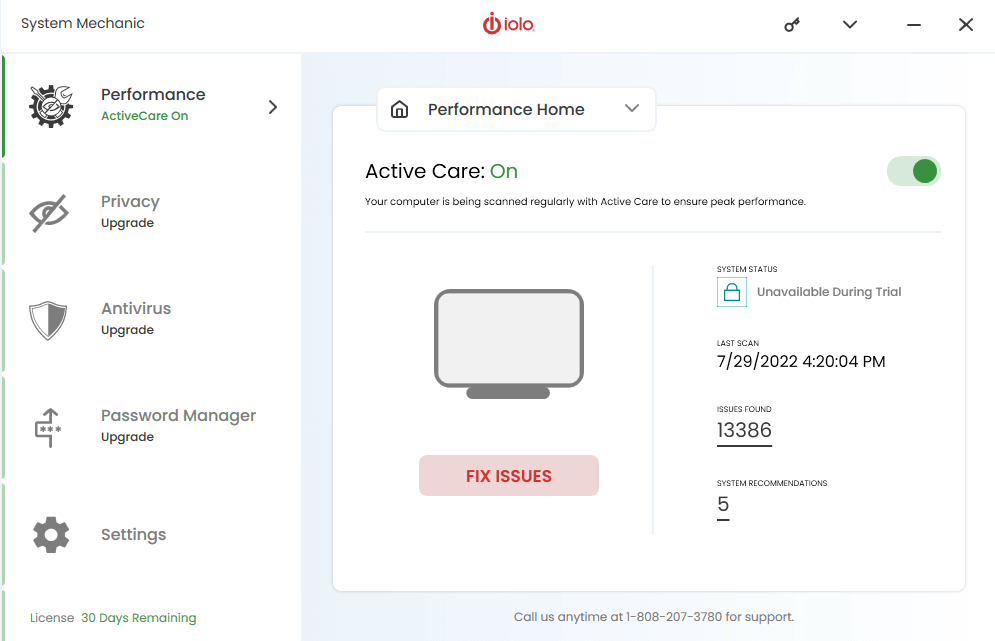 Iolo System Mechanic is a decent software that can check your PC's health. Its algorithm is such that it enhances the speed of your RAM and judiciously utilizes your hard drive resources. It receives live updates from iolo labs and is able to fix over 30000 different issues. You can read more about this and various other aspects of this tool here.
Notable Features
Automated PC cleaning.
Removes 50 different kinds of junk files.
PUP removal.
Malware removal. Here is a list of some of the more robust and advanced malware removal tools.
Functionality to boost internet speed.
Comes with password management tools.
Efficiently solve registry issues.
Too many features can confuse novice users.
Pricing – Free trial. Then, $55.94
9. HWiNFO
It is a free system monitoring, information, and diagnostic tool that offers free hardware analysis and reporting. It has come leaps and bounds ever since its beta release back in December 1999. It mostly focuses on hardware and categorizes it into sections like CPU, motherboard, bus, memory, video adapter, monitor, etc. While it is easy to use, it is equally detailed.
Notable Features
Real-time system monitoring.
Multiple types of reports, interfacing, and status logging with other add-ons and tools.
Gives information about various devices on your computer.
Shows CPU clocking.
Hardware analysis and reporting.
Shows CPU temperature.
Shows what's putting the load on hardware components.
Dated and overwhelming interface.
10. CPU-Z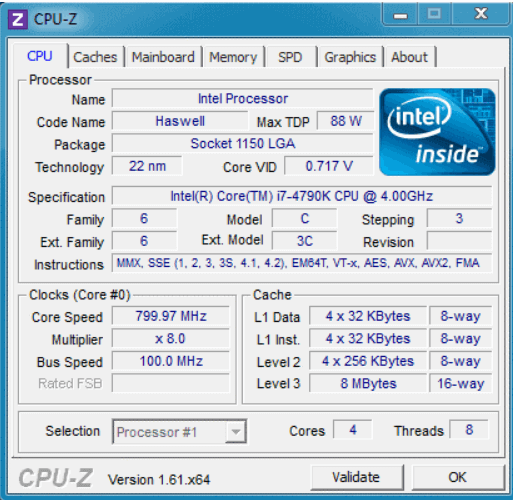 Although CPU-Z, one of the best CPU benchmark tools, we have included it on the list of PC health check programs because it displays information pertaining to important components of your computer. Especially, if you use your computer for resource-intensive activities like heavy gaming or video or graphic editing, this tool can be a boon.
Notable Features
Straightforward interface.
Gather information on all main components on your computer.
Check important aspects related to your processor and how it's clocking.
Works with all processors.
Create a report of system hardware specs and even save them offline.
Shows specs pertaining to the motherboard and graphic card.
Save scanned results in TXT file format.
Dated interface.
Technical for beginners. Temperature monitoring could have been better.
Pricing – Free
Keep Windows Health Check Tool For Digital Sanity
When juggling several tasks and files on a PC, it's hard to keep track of your PC's health. It is important that you use a computer health check tool on your Windows PC so that you can keep your machine stable, get rid of redundant items and even those that put your privacy and security in danger. Let us know which of the above tools do you use for checking PC health. For more such content, keep reading Top10PCSoftware posts.
Frequently Asked Questions
Q1. Which is the best PC health check software for Windows 11?
All the above-listed PC health check software are great, but if you are looking for an easy-to-use program that can keep you updated about your computer's health as well as optimize and clean it, Advanced System Optimizer can be a great tool.
Q2. Are PC health check software safe?
We tried and tested all the above-mentioned PC health check tools for Windows 11/10 and none of them was flagged off as a malicious threat. In fact, most of them helped in identifying threats or privacy and security loopholes.
Q3. Are PC health check software free?
Yes, most PC health check software either offer a fully functional trial for a few days or let you at least scan your PC for issues. You can later on decide to purchase a premium variant to remove all such issues.