Benchmarking your system is an effective way to evaluate your PC's performance. You can probably benchmark any old or new computer to check its speed & ensure all the components are functioning at their best to deliver optimal performance. Although the market has tons of software that can help you benchmark your system, in this article, we'll be discussing the best options only! Read on and don't forget to share your favorite one in the comments section below!
Top Software Reviews
Rating
1.

Speccy

2.

HWMonitor

3.

3D Mark

4.

SiSoftware Sandra Lite

5.

Novabench

6.

CPU-Z

7.

Geekbench

8.

FRAPS

9.

MSI Afterburner

10.

Cinebench
What is CPU Benchmarking?
Well, it is a series of tests designed to measure the performance of a system or CPU. There's a set of standard measurements used to evaluate and compare the performance and speed of different computers using the same set of methods and in similar circumstances.
Purpose of a Benchmarking a CPU:
Now you must be wondering why you need to benchmark your CPU. Well, the simple answer is to know all the technical details related to the PC & analyze the rank & performance as a whole.  Benchmarking a system helps to analyze how to resolve a particular hardware issue, learn about the essential upgrades needed to maintain stability, and much more.
To help you find good CPU Benchmark Tools for Windows, we have listed the most popular choices available in the market. Let's take a look at their features, pros, cons, and more.
List of Top 10 Best CPU Benchmarking Software For Windows PC
1. Speccy
Speccy stood first in our list of Best PC Benchmarking Tools you can use in 2022. All thanks to its straightforward dashboard and strong capabilities to get real-time performance and speed details. Starting from Motherboard to Graphics Card, Speccy provides every important detail. As the name entails, you'll get all the information about the Specifications and Functions, including temperature, speed, threads, caches, data related to RAM, CPU, Graphics card, Storage, and many more.  You can save the scanned results in a Text or XML file.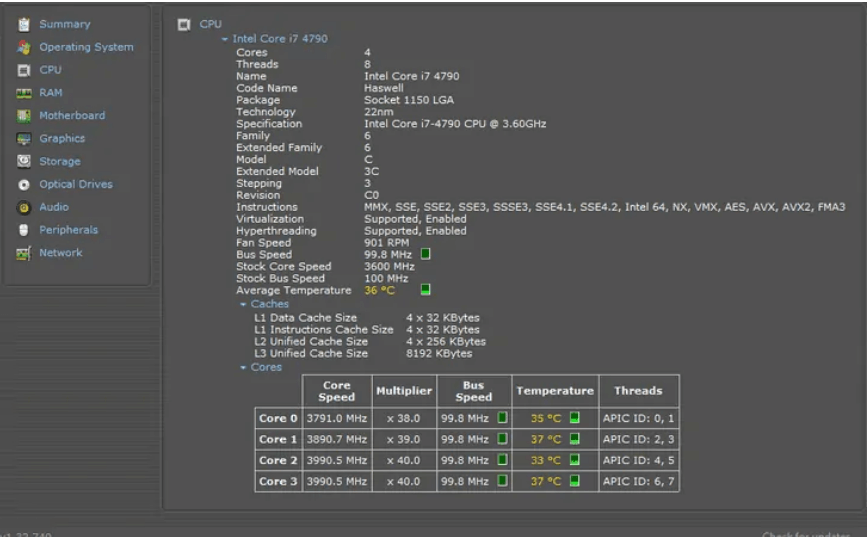 HIGHLIGHTS: Speccy
Get quick results related to the RAM, CPU, Graphics card, Storage, and other components.
Save and export the results into Text & XML file format.
Quickly obtain key details of your system's functions & other components.
Prevents glitches that may come your way because of overheating issues.
Pros:
Fast & lightweight CPU Temperature tool
Clean & easy-to-use interface
Get priority support with the PRO version
Cons:
Lacks benchmarking tools
Updates infrequently
VERDICT: Why You Should Use a Speccy System Benchmark Tool?
As the name entails, Speccy is an all-round solution that provides all the specifications relate to your computer in a detailed manner. You can use the Speccy CPU Temperature Tool, you can get all the data related to Motherboard, CPU, RAM, graphics card and more.
2. HWMonitor
Well, HWMonitor claims itself as a hardware monitoring solution rather than a benchmarking tool for PCs. And, it is one of the most popular utilities used by gamers. The tool features a straightforward and intuitive interface that indicates the computer voltage, supply temperature, clock speed, fan speed, and so on. Hence, it becomes one of the best programs to analyze why your computer is overheating. You can rely on this benchmarking software if you want to diagnose any issues related to CPU & GPU under different settings and circumstances.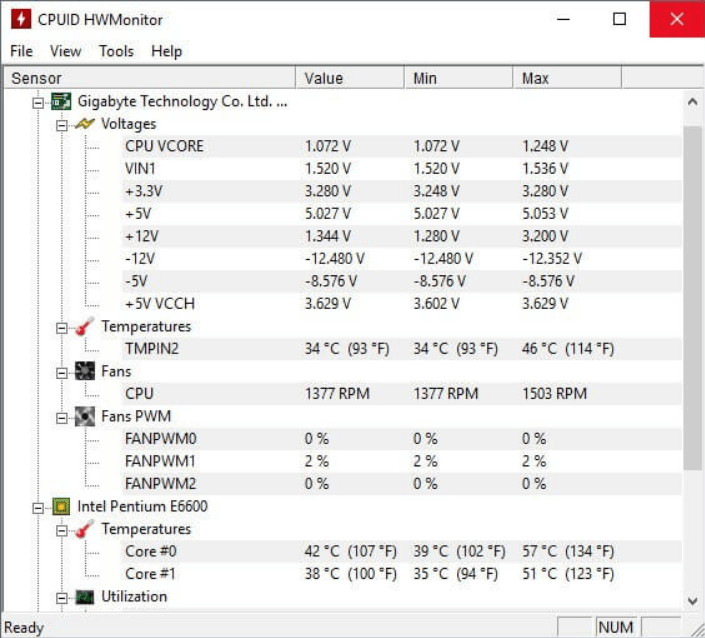 HIGHLIGHTS: HWMonitor
Provides detailed specifications & data related to CPU, RAM, GPU & entire hard drive.
Helps in assessing graphics & processing abilities. It further assigns it a score.
Compare the results with other PCs & help you know how good your system is.
Pros:
Records temperature logs
Free CPU Temp Monitor version available.
Safest & lightweight system temp monitor.
Supports interface customization
Cons:
Only track components that have compatible sensors.
Comprehensively checks the health of hardware by following several monitoring parameters. This includes fan speeds, power consumption, and more. 
VERDICT: Why You Should Use HWMonitor Tool To Benchmark PC?
HWMonitor is undoubtedly a powerful benchmark software for Windows 10, 8, and 7. It can easily detect hard drive temperature and optimize data of thermal sensors using its incredible set of functionalities, such as S.M.A.R.T and more.
3. 3D Mark
Our fifth place in the category of Best CPU Benchmark Software is bagged by 3D Mark. The tool provides a complete package of tools and functionalities needed for benchmarking your PC. It provides detailed data related to your CPU, GPU, temperature, clock speed, frame rate, and whatnot. 3D Mark is a good CPU Benchmark Tool you can choose to automatically run comprehensive scans on your hardware system. It even boosts your PC's speed and overall performance in a few clicks to make it comparable to other systems. Amazing, right?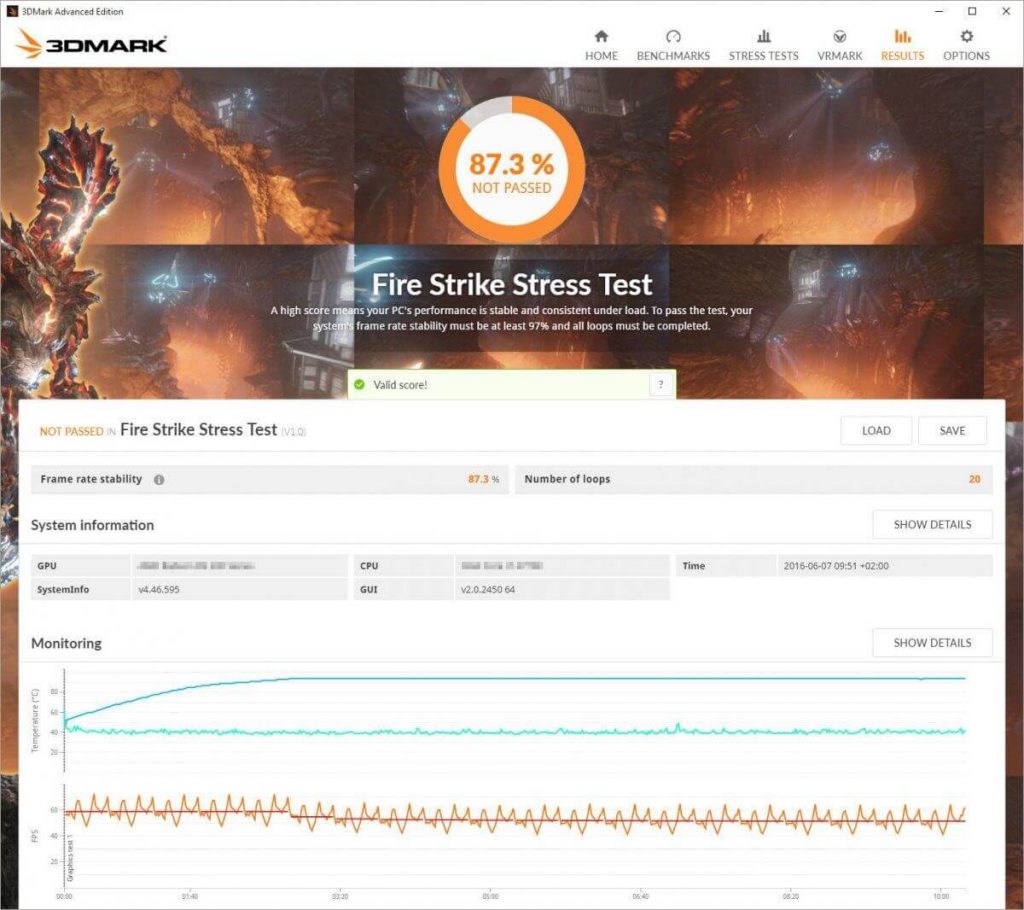 HIGHLIGHTS: 3D Mark
Get estimated frame rate performance figures for a selection of popular games.
Provides a standardized means for comparing different system's hardware configurations.
Provides a free demo, which you can download on Steam, to check out its benchmarking capabilities.
Provides detailed charts of GPU/CPU temperatures, clock speed & FPS.
Pros:
Wide range of gaming benchmarks.
Stress testing for overclockers.
Analyze & report how PC compared to other gaming rigs
Cons:
Expensive CPU Benchmark app
VERDICT: Why You Should Use 3D Mark Tool To Benchmark Your Computer?
3D Mark is undoubtedly a dream come true software that allows users to find the optimal test for their machines. It is one of the most prominent tools used by gamers and overclockers since it helps to effectively scan hardware.
4. SiSoftware Sandra Lite
SiSoftware is an incredible CPU Benchmark Program, mostly used by people as information and diagnostic utility for their Windows system. Using the SiSoftware Benchmarking tool, you can effortlessly analyze the hard drive speed, data storage, and more. Run SiSoftware Sandra Lite right away to get detailed information about your PC's hardware. In addition to this, it contains comprehensive tests that will probably cover every aspect to benchmark your PC.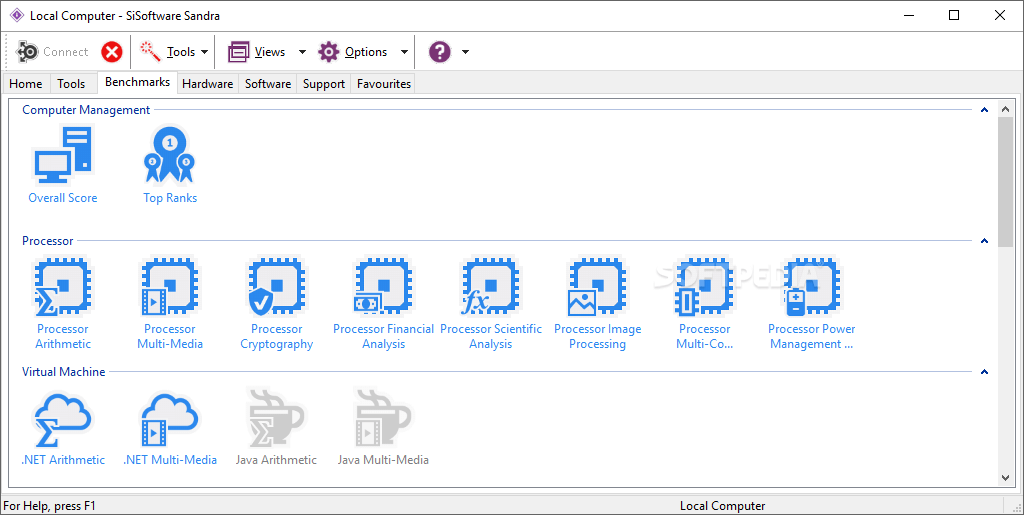 HIGHLIGHTS: SiSoftware Sandra Lite
Helps you analyze & maintain network performance as well.
Get complete information about the CPU, ports, chipset, memory, sound card, printer video adapter, Windows internals, and whatnot.
Easily compare the performance of the component with other similar processors.
Helps you give an idea about whether you should upgrade or not.
Pros:
One of the most popular benchmarking tools around.
Easily evaluate your CPU, GPU, RAM, HDD & network.
Basic free version is quite useful
Cons:
Only works with Windows OS
VERDICT: Why You Should Use SiSoftware Sandra Lite To Benchmark Your PC?
Sandra Lite holds the strong potential to evaluate the performance of your CPU, GPU, and the speed of the USB ports. Apart from helping users in benchmarking PCs, it also helps in conducting surveys across the network. You can even remotely access your smartphones, tablets & other devices.
5. Novabench
Next on our list of Best Paid & Free Benchmark Apps is Novabench. The software is quite popular in the market, to get optimal results in no time. The tool allows Direct3D 11/Metal Graphics with OpenCL compute test. In addition to it, you can also perform GPU & CPU tests without any hassles. You can even check the memory transfer speed and disk read/write speed. So, you can further take necessary actions to improve these factors. Quite beneficial, right?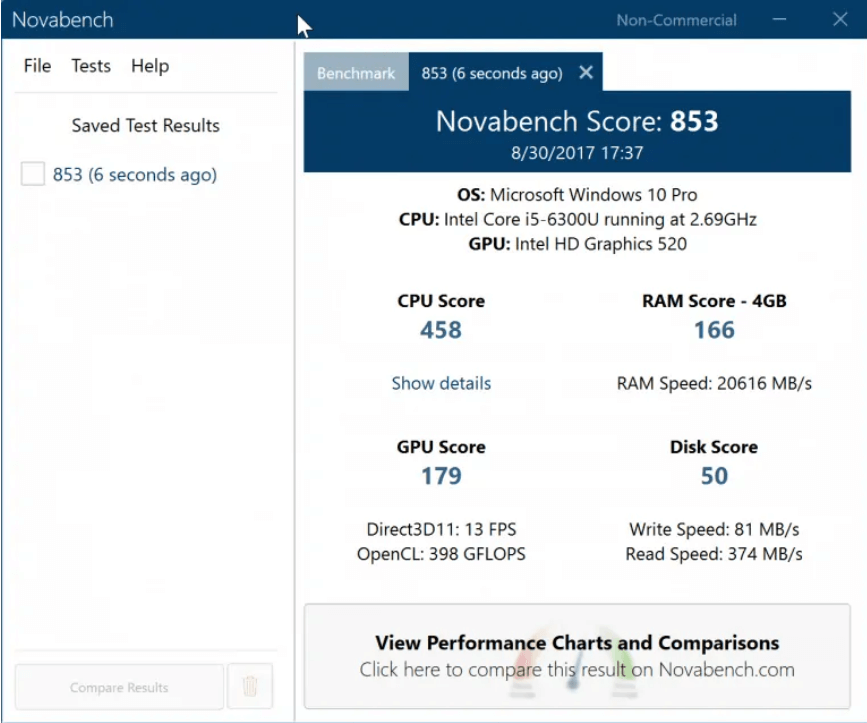 HIGHLIGHTS: Novabench
Features an online vault, which is accessible to see all the submitted scores of benchmarking.
Capable of testing the essential drive of the framework.
Great options to test CPU/GPU combo & hard drive/SSD & RAM altogether.
Tools to tune up your machine with the optimization and repair functions.
A great performance comparison tool for Windows and Mac.
Pros:
One of the most popular benchmarking tools around.
Easily evaluate your CPU, GPU, RAM, HDD & network.
Basic free version is quite useful
Cons:
Only works with Windows OS
VERDICT: Why You Should Use the Novabench Tool To Benchmark Your Computer?
Novabench is an open-stop solution to help you get detailed specs and assist you in assessing both processing and graphic abilities. The PC Benchmarking Software assigns a personal score and allows you to compare it with others online.
6. CPU-Z
Here comes another free CPU Benchmark Application for Windows that you should get in 2022. The tool is well-known in the market for its capability to collect information about your system's major components and show their real-time status. You can get detailed information and specifications related to the running processes, codename, cache levels, motherboard, graphics card, RAM, and so on. It's an all-rounder program with a straightforward graphical user interface to obtain required data and analyze them effortlessly.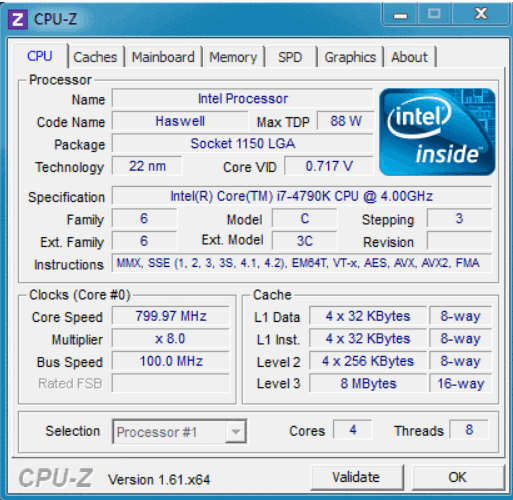 HIGHLIGHTS: CPU-Z
Gather information about all the main components & provides specs of RAM, graphics card & motherboard.
Ability to detect hardware features directly such as read & display SPD data from modules of memory.
Save the scanned results in TXT file format.
Pros:
Straightforward graphical user interface
Create a report with your system's hardware specs.
Save reports offline
Cons:
Cannot monitor device temperature effectively
VERDICT: Why You Should Use CPU-Z System Benchmark Software?
Although the CPU Benchmarking App doesn't come bundled with tons of overclocking features, you can certainly rely on the same to overclock GPU. The system monitoring tool doesn't have a lot of prerequisites. You just need a compatible device – Windows 10, 8.1, 8, 7, Vista, XP & administrative rights. 
7. Geekbench
Here comes a perfect CPU Benchmark Software that consists of both complex and straightforward memory access patterns. It helps users to get a brief idea about the overall efficiency of their computer. The PC Benchmarking tool is not only compatible with Windows, but it is also available for Android, iPhone, Mac, and Linux users. Want to know about the installed chipset? Analyze network performance? Or measure your computer's efficiency? MSI Afterburner can do all these tasks!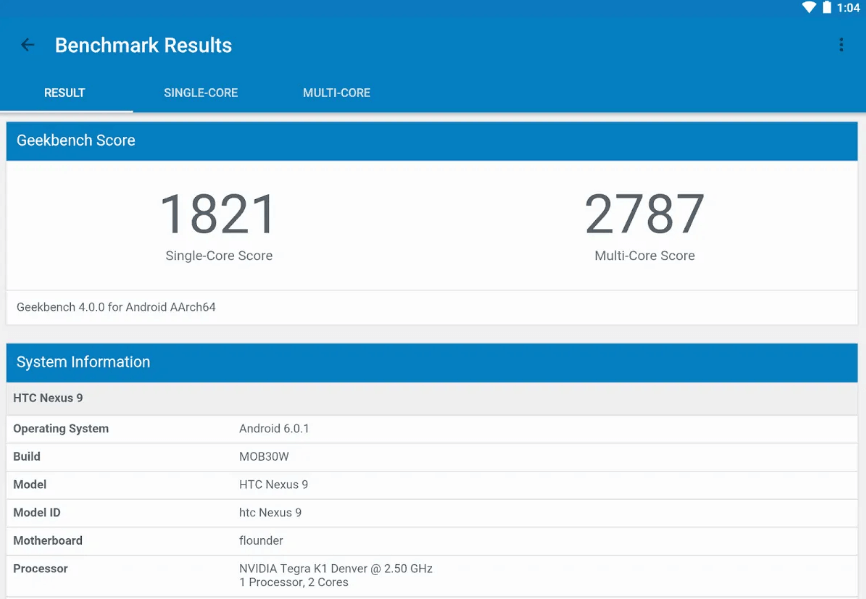 HIGHLIGHTS: Geekbench
Executes performance-hungry yet effective tests, such as Augmented Reality & ML.
Uses latest rendering technology to measure the performance of next-gen CPUs.
Provides accurate readings of real-life performance.
Uses a straightforward memory access pattern.
Pros:
Supports cross-platform comparison.
Supports new Vulkan API for GPUs.
Works on both desktop & mobiles
Cons:
Commercial users need a separate license to work with the tool
VERDICT: Why You Should Use Geekbench Tool To Benchmark Your PC?
As the name entails, Geekbench is truly any geek's dream and it has all the essential features that make it one of the best benchmarking suites available for Windows users. You can rely on Geekbench to assess the performance of your system at the flick of the switch
8. FRAPS
One of the most popular choices among gamers, FRAPS is considered an efficient and user-friendly PC Benchmarking Software. The tool is mostly used by people to test games and evaluate how well they run on Windows. In addition to providing details and testing hardware components, FRAPS can be used to benchmark frames per second (FPS) while playing. What makes FRAPS a unique tool in the category? The extra flashy tools it proffers, such as screen recording, video capture, etc.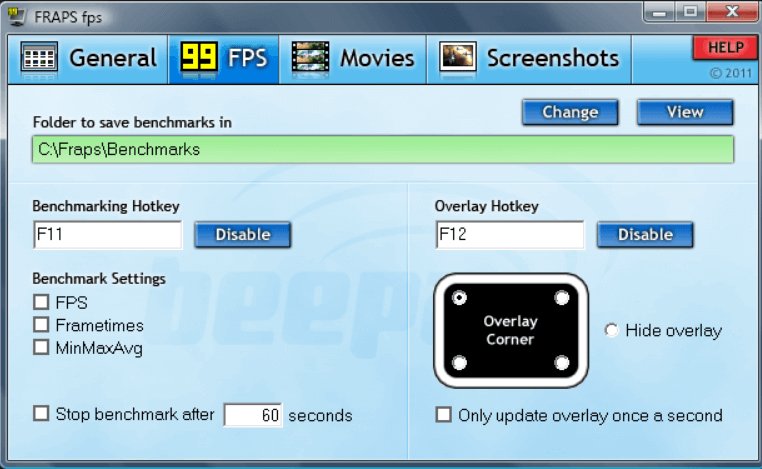 HIGHLIGHTS: Fraps
The PC benchmarking tool allows you to view & save Frames Per Second (FPS).
Useful program for testing hardware & overclocking your PC.
Helps in taking a screenshot & record gameplays
Pros:
FRAPS is a blessing for gamers.
Popular CPU Benchmarking tool for gamers.
Easy to use dashboard
Cons:
Poor customer support.
Pricey full version
VERDICT: Why You Should Use the FRAPS Benchmarking Tool On Windows?
In addition to providing lots of utilities to benchmark computers, FRAPS even offers incredible tools for screen capturing and video recording. It is highly compatible with both new and old versions of Operating Systems, such as Windows 10, 8, 7, Vista & XP.
9. MSI Afterburner
MSI Afterburner is another popular CPU Benchmarking tool that provides users complete & detailed specs about the system's hardware. You get real-time information related to your system's performance and make clever decisions when it comes to better control your graphics card. The benchmarking tool is highly compatible with almost all types of graphics cards. MSI Afterburner is an amazing free tool to benchmark computers and is highly compatible with almost all brands of graphics cards.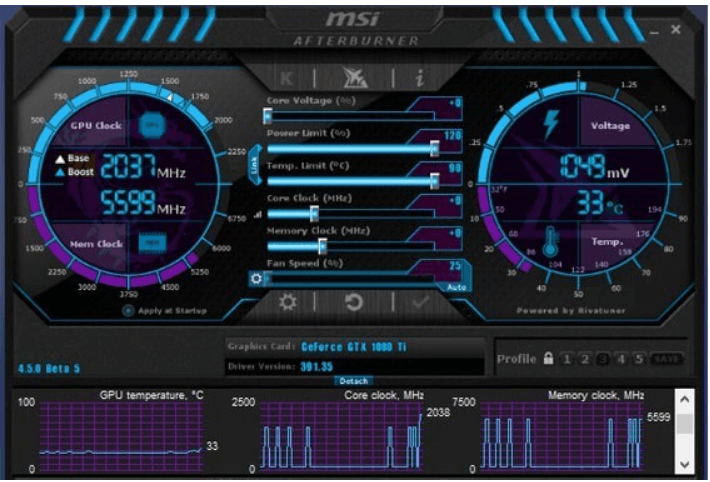 HIGHLIGHTS: MSI Afterburner
Provides detailed hardware specs of your graphics card, motherboard & other components.
Gives full control over GPU, fan speed, voltage, power consumption & clock speed.
Has a dedicated FPS Counter feature to help you measure GPU performance in real-time.
Has certain unique tools like live video recording etc
Pros:
Measure performance in real-time.
Has an overclocking utility for GPUs.
Works with every GPU regardless of its brand.
Free computer benchmark tool to safely overclock GPU
Cons:
Could have been more CPU-centric
VERDICT: Why You Should Use MSI Afterburner Benchmarking Tool On Windows?
Although, MSI Afterburner is considered a prominent utility for overclocking, its capability to provide real-time information about hardware, such as voltage, usage, fan speed, GPU's clock frequency, and more, makes it one of the best free CPU Benchmarking Software for Windows 10, 8 & 7
10. Cinebench
Last but not least in consideration, Cinebench is an excellent multi-platform benchmarking software. It helps users to compare the CPU and graphics performance of both Windows and Mac. The tool specifically focuses on CPU stress tests and measures the performance of processors in real-world instances. Once the evaluation is done, the processor is graded on point. Hence, the higher the points, the stronger the CPU's performance output. Cinebench is available for free of cost and holds the capability to measure up to 256 processor threads.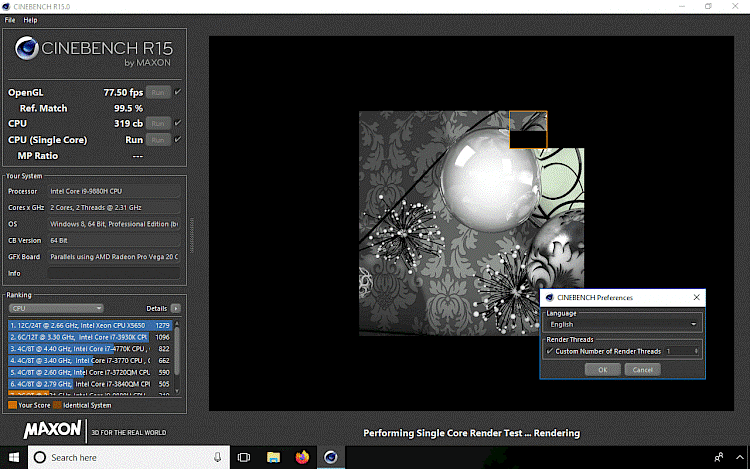 HIGHLIGHTS: Cinebench
Provides tools for comprehensive performance evaluation for CPU & GPU.
Uses 4D image rendering tests to grade your rig's capabilities.
Can evaluate up to 16 CPUs or CPUs cores. (This is probably a lot!)
 Good CPU Benchmark Software if you want to build high-end PCs & need recommendations on what components to use.
Pros:
Tests real-world performance.
Suitable choice for high-end PCs.
Get accurate information about the CPU.
Strong multi-tasking abilities
VERDICT: Why You Should Use the Cinebench Benchmarking Tool On Windows?
Install Cinebench, a computer benchmark tool on any device to get complete data related to the computer's hardware and its performance abilities. In addition to benchmarking your PC, Cinebench helps in 3D content creation in studios and production houses.
Frequently Asked Questions:
Q1. Which is the best CPU benchmark software?
Speccy, HWMonitor are some of the best CPU Benchmark Software available in the market for Windows 10, 8, 7 PC.
Q2. How do I check my CPU benchmark?
If you want to test CPU Benchmark, you can utilize the Windows built-in Performance Monitor. To check the CPU Benchmark: Launch the Run window > type perfmon/report > In the next window, you will be displayed the Report Status of Resources & Performance Monitor for 60 seconds.
Q3. Is a higher CPU mark better?
Yes, the higher the benchmark score, the faster the processor will be able to complete the tasks.
Q4. How can I improve my CPU Performance?
Well, you can do the following to improve computer speed & enjoy optimal CPU performance:
Limit the startup items.
Add more RAM to your system.
Check for potential adware & spyware.
Use disk cleanup & defragmentation.
Q5. How do I test my CPU Speed?
Simply right-click on the Taskbar and open it. Alternatively, you can press the shortcut keys – CTRL + SHIFT + ESC and navigate to the Performance tab and select CPU. You can check the speed of your CPU appearing in the Window.
Conclusion
Well, that's all for now! We all know there are hundreds of software claiming to be the Best CPU Benchmark Program to evaluate and analyze the rank and overall performance of computers. However, only a few of them have the strong potential to hold the market. That's why only these 10 PC benchmarking tools could make it to the list of Top 10 PC Software.
So, what are you waiting for? Use any of the software to benchmark your system and know all about the efficiency and performance of your PC. If you think we have missed any ideal benchmarking program that should be included in the list, then feel free to mention them in the comments section!