If you have any unwanted applications on your computer, you must look at this blog. Here we have listed the best uninstaller for PC, which can easily remove the old, corrupted, and unwanted software.
Top Software Reviews
Rating
1.

Advanced System Optimizer

2.

iObit Uninstaller

3.

Advanced PC Cleanup

4.

Piriform CCleaner

5.

Revo Uninstaller

6.

Ashampoo Uninstaller

7.

Wise Program Uninstaller

8.

Advanced Uninstaller Pro

9.

Geek Uninstaller

10.

AVG PC TuneUp
What Are Uninstallers For Windows?
The programs that uninstall other applications and all their related files are called uninstallers. When you want to remove certain programs from your computer for any reason, you can take help from the best uninstaller for Windows 10. It is important to use the dedicated application to uninstall the unwanted programs from your computer as they can delete the unnecessary files and the software. The inbuilt methods on Windows limit users as it only allows them to delete one program at a time without removing its associated files.
Thus leaving residual files, which take up unwanted space on the internal hard drive and reduce your computer's speed.
Look at the best uninstaller software for Windows, which can force uninstall the stubborn programs. There are plenty of freeware uninstallers for temporary needs as well.
List of the 10 Best Software Uninstallers for Windows
1. Advanced System Optimizer
Price – $39.95/year (Free trial available)
Compatibility – Windows 11, 10, 8.1, 8, 7, XP, Vista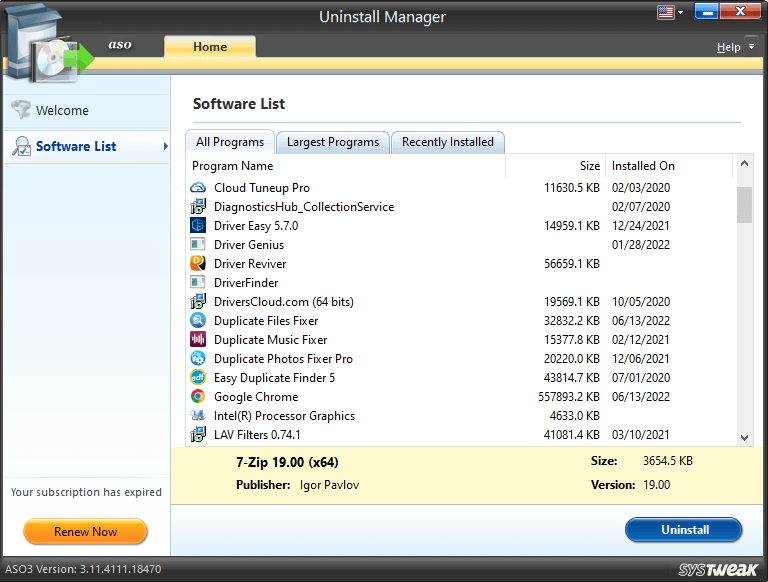 Advanced System Optimizer is the best uninstaller for PC as it can easily delete the programs and their associated files. It is a PC optimizer and cleaner with an important Uninstall Manager module. This potent uninstaller can present the users with a complete list of the programs installed on their computer. It also gives you the easiest option to select and remove them with one click. To the advantage of this Windows uninstaller utility, it will provide you with three options – All Programs, Largest Programs, and Recently Installed.
Pros:
Easy to use simplistic interface
Modules for cleaning and optimizing PC
Detect and remove privacy traces
Facility to fix common PC issues with one-click
Easily fix disk fragments
Facility to backup important files
Integrated driver updater
Registry cleaner and optimizer
Cons:
Free trial is only available for 24 hours
2. iObit Uninstaller
Price – $19.99/year (Free trial available)
Compatibility – Windows 11, 10, 8.1, 8, 7, XP, Vista.
IObit Uninstaller comes as a perfect uninstaller for Windows. It is one of the freeware uninstallers which gives you the best results. It automatically removes the malicious adware and plugins for a safe browsing experience. The applications can be completely uninstalled using this 3rd party uninstaller. You can delete the stubborn and bundled applications as well. It also comes with an Installation Monitor to revert the changes on the system after uninstalling an application.
Pros:
Removes the bundled programs.
Deletes the adware and plugins.
Cleans the leftover files.
Block notifications and manage software permissions
Cons:
Only the Pro version comes with advanced features
3. Advanced PC Cleanup
Price – $39.95/year (Free trial available)
Compatibility – Windows 11, 10, 8.1, 8, 7, XP, Vista.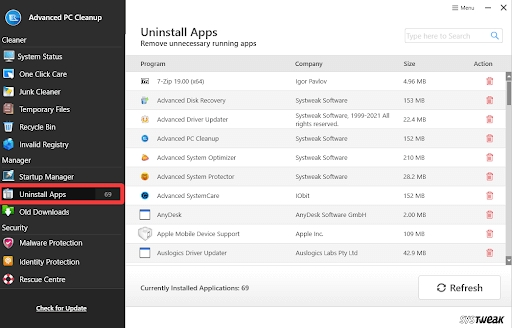 Advanced PC Cleanup is another of the best uninstaller software for your computer. This is a dedicated PC cleaning utility, and it comes to the necessity of removing the clutter from your computer. Advanced PC Cleanup can remove all unwanted applications from the PC. It also shows you the list of the programs, company name, and file size. The programs can be deleted with the Trash button under Action.
Pros:
Cleans junk, temp files
One-click solution
Includes Startup Manager
Uninstalls Applications
Cons:
Premium features will require a full version
A few rival software do a slightly better job
4. CCleaner
Price – $29.95/year (Free trial available)
Compatibility – Windows 11, 10, 8.1, 8, 7, XP, Vista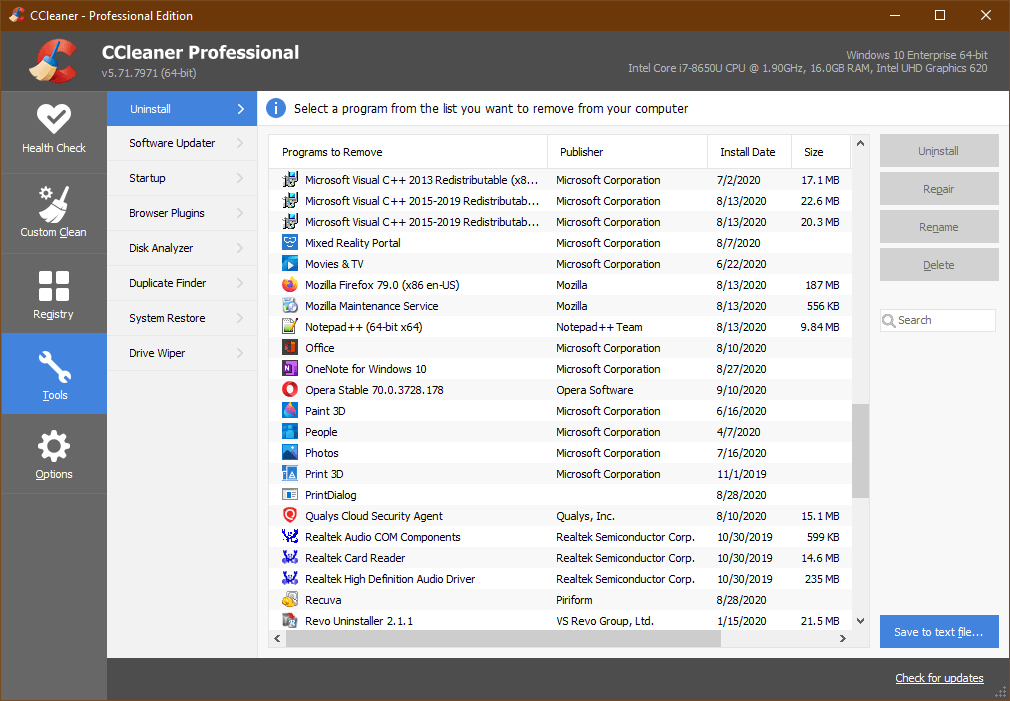 CCleaner Professional is a Windows cleaning utility that harbors an uninstaller for Windows. It can quickly detect all the installed programs and gives you an option to Repair, Rename, Delete or Uninstall them. It can also update the programs, manage startup programs and create system restore points. This best program uninstaller is a powerful scanner that can remove junk files.
Pros:
Simplistic and easy to use interface
Light file size
Installation takes place pretty quickly
The tool regularly updates itself
Fix problematic registries and even create a backup before making any changes
You can schedule CCleaner to clean your PC automatically.
Keeps you aware of cookies that you might not want to delete
Cons:
The regular installer may bundle another software.
No explicit option for malware cleaning
5. Revo Uninstaller
Price – $17.95/year (Free trial available)
Compatibility – Windows 11, 10, 8.1, 8, 7, Vista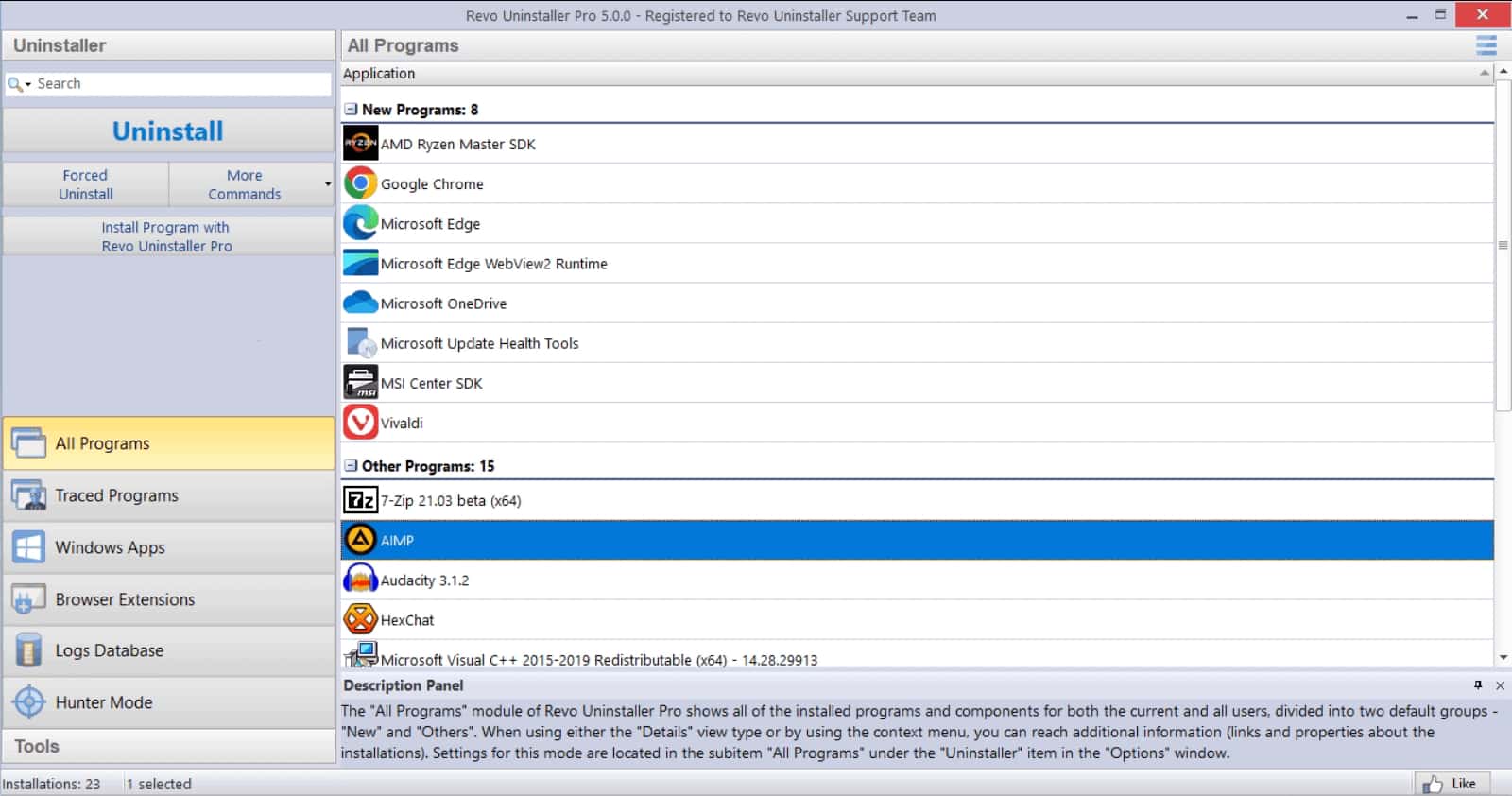 Remo Uninstaller is a robust uninstaller as it will forcefully remove the application. Removing the programs is easy by using the Remo Uninstaller Free program. Although, the Pro version has many more facilities that can give the file path and name to remove the difficult programs. The Quick Uninstall for a simplified way to remove programs in 2 steps. It can also remove the Windows built-in programs easily.
Pros:
Advanced Scanning algorithm is used.
Uninstall multiple programs at once.
Creates System Restore & Registry backup.
Real-time installation monitoring
Remove browser extensions
Monitor programs during installation
Track uninstallation history
Cons:
Only the Pro version comes with advanced features
No inbuilt way to access the Restore Point
6. Ashampoo Uninstaller 11
Price – $39.99/year (Free trial available)
Compatibility – Windows 11, 10, 8.1, 8, 7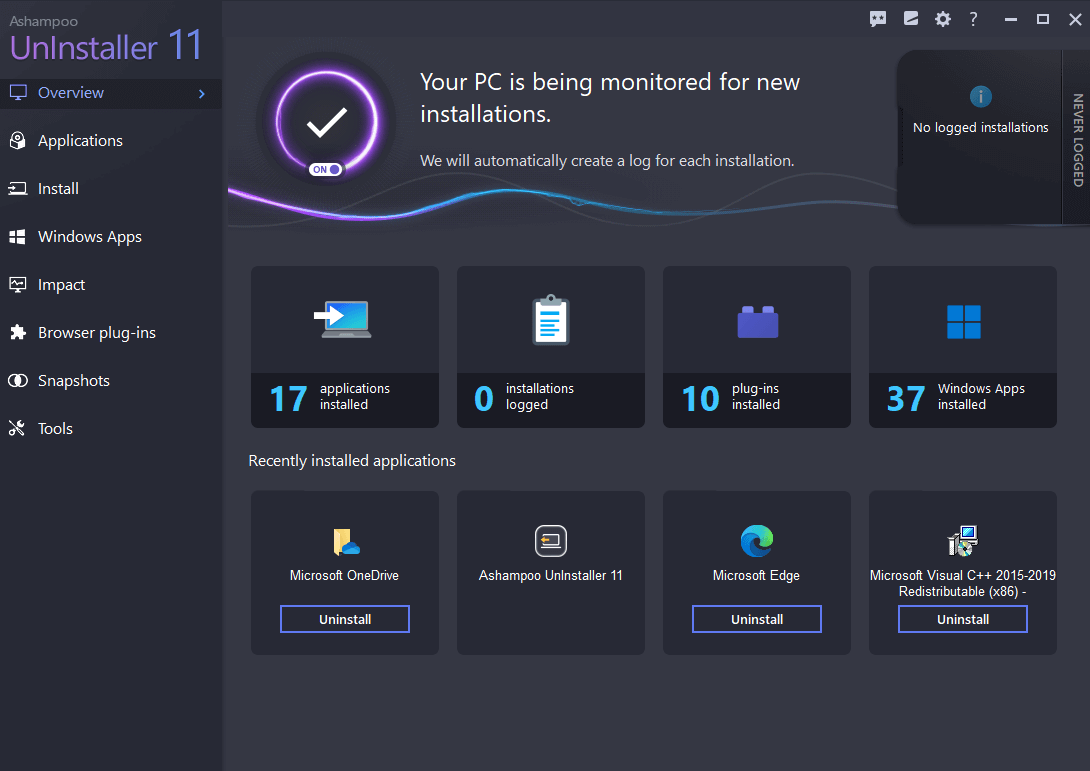 Ashampoo Uninstaller 11 can uninstall programs from Windows 10 and 11. This software removal tool for Windows 10 helps you see which applications negatively impact your computer's performance. This PC uninstaller software free download can also uninstall the Windows native application. It can also remove unwanted browser plugins. With the help of this uninstaller, you can clear the recently installed applications from the home screen.
Pros:
Easy-to-use interface
Drag and drop functionality to remove programs and their leftovers
Remove built-in Windows programs
Monitor software installation
Manage Windows services and startup programs
Remove browser plugins
Wipe off files completely
Cons:
Some user-interface elements need improvement
A little on the expensive end
7. Wise Program Uninstaller
Price – Free
Compatibility – Windows 11, 10, 8.1, 8, 7, XP, Vista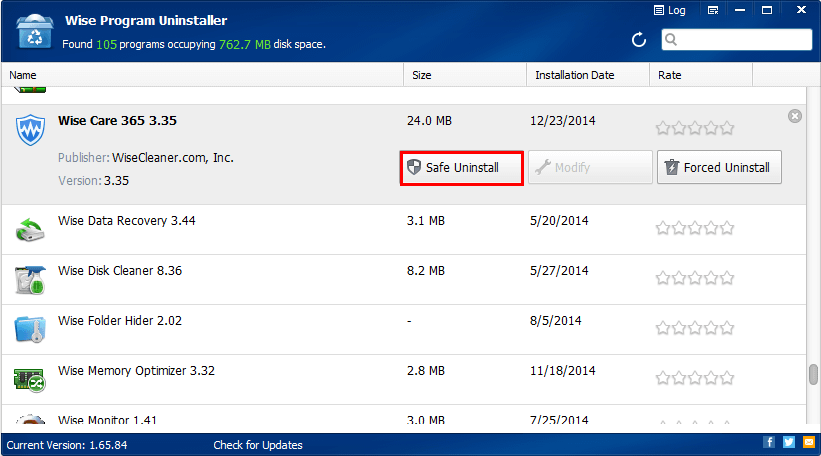 Wise Program Uninstaller is a PC uninstaller software free download that is effective. It uses a quick and safe option to uninstall the application on your computer. It is a simple uninstaller that uses the algorithms to force uninstall applications. This automatic uninstaller uses safe methods to clean the programs and leftover files. It also allows you an option to Modify the application without needing to remove it.
Pros:
Safely uninstall applications.
Works without an internet connection.
Modifying features helps in fixing errors.
Delete leftovers quickly from the computer
8. Advanced Uninstaller Pro
Price – $29.00/year (Free trial available)
Compatibility – Windows 10, 8.1, 8, 7, XP, Vista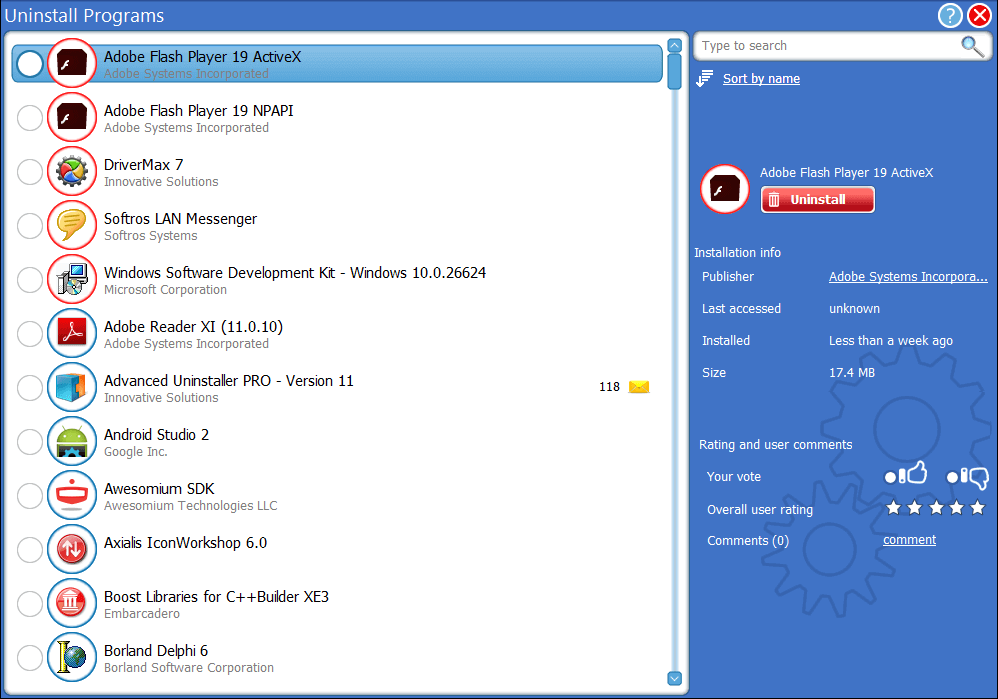 Advanced Uninstaller Pro is an overall performance enhancement program for your PC. It comes with various modules, including a Windows uninstaller tool, privacy & security. This can show you the programs listed on your computer according to their name or file size. It can also make changes to the computer's files and registry settings.
Pros:
Uninstall applications from PC.
Safely deletes the files and makes them unretrievable.
File and Registry tools.
Daily health check-up tools
Cons:
Does not remove leftover files
9. Geek Uninstaller
Price – Free
Compatibility – Windows 11, 10, 8.1, 8, 7, XP, Vista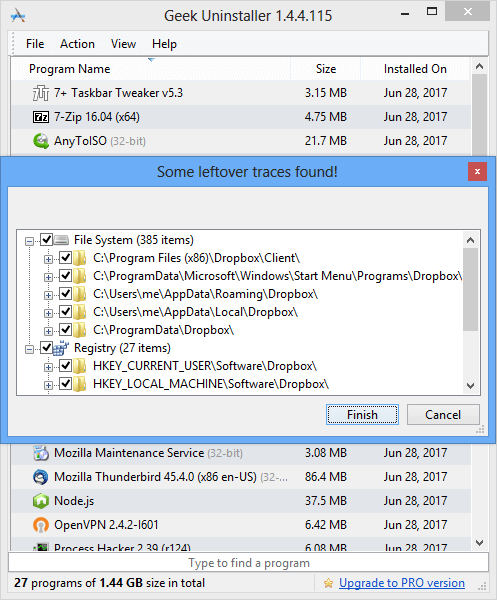 Geek Uninstaller is an easy-to-use tool that can force uninstall programs in Windows 10. This is the best uninstaller for Windows 10 as it will show you the straightforward method to remove the unwanted software. It gives an option to remove uninstalled programs' leftover files. The best part about this program is that it is portable and can be used on several PCs.
Pros:
Portable free uninstaller application.
Removes Windows Store applications.
Finds and deletes leftover files.
Force uninstallation available
Cons:
Does not create a restore point
10. AVG TuneUp
Price – $69.99/year (Free trial available)
Compatibility – Windows 10, 8.1, 8, 7, XP, Vista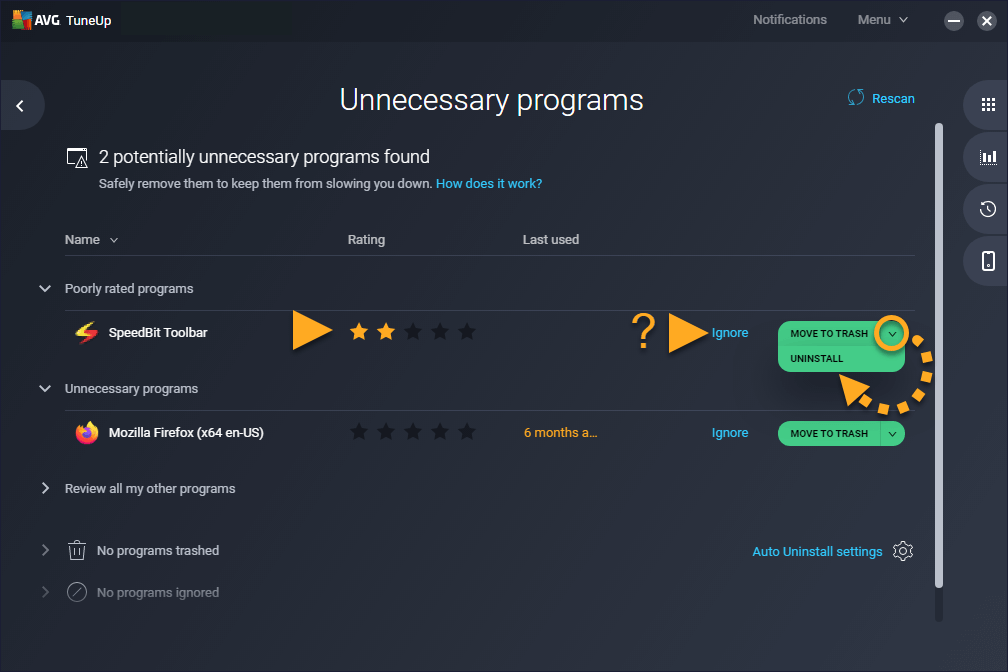 AVG Tuneup is a PC optimizer used to uninstall the software from Windows 10. It comes with multiple tools which are used to optimize the performance of your computer. This also includes a powerful uninstaller that can remove the traces of the programs. This program can be used to find the old program and remove unwanted bloatware.
Pros:
Easy and simplistic interface
Automatic maintenance
Automatic program updater
Improves startup time
Sleep mode puts unused programs to sleep
Browser cleaner removes online traces
Cons:
Third-party programs may be affected at times
Support available only in English
Frequently Asked Questions:
Q1. What is the best app uninstaller?
The best app uninstaller must be capable of removing the application entirely. It should remove all of its related files and leave no residue behind. One such application is Advanced System Optimizer, which works on a powerful scan engine. It removes all associated files on your computer when you uninstall any application.
Q2. Is Windows uninstaller good enough?
No, Windows inbuilt uninstaller is not enough as it will only delete the installation files. Sometimes, it leaves more than your eyes can see. The residue files make a home in the storage, and the user remains unaware. You need a potent uninstaller such as Advanced System Optimizer.
Q3. Why can't I uninstall a program?
If you cannot uninstall a program, it can be due to a technical error. A file or command might be interfering with the action, or the file can be corrupted. In such cases, it is recommended to take help from third-party uninstaller applications.
Q4. Is Uninstaller Software Safe To Use?
Yes, if you are downloading any automatic uninstaller from a trustworthy source, it is safe to use the product.
Verdict
While choosing an app to remove programs from your computer, it is essential to check for points. It should include the features such as deleting all related files, keeping a log, and managing startup programs. We recommend using Advanced System Optimizer, a PC cleaning and boosting program. It is the best uninstaller for Windows as it comes with a powerful scan engine and multiple tools to optimize your computer.
We look forward to your comments to know more about your opinion on this blog post. Also, if you liked this, we recommend you check out the best duplicate cleaners for Windows to remove unwanted files to declutter your PC. For more such reviews on Windows software, keep visiting Top10PCSoftware. Also, follow us on the social media platforms for the latest updates for Windows software. We are on Twitter, Facebook, Pinterest, and Flipboard.