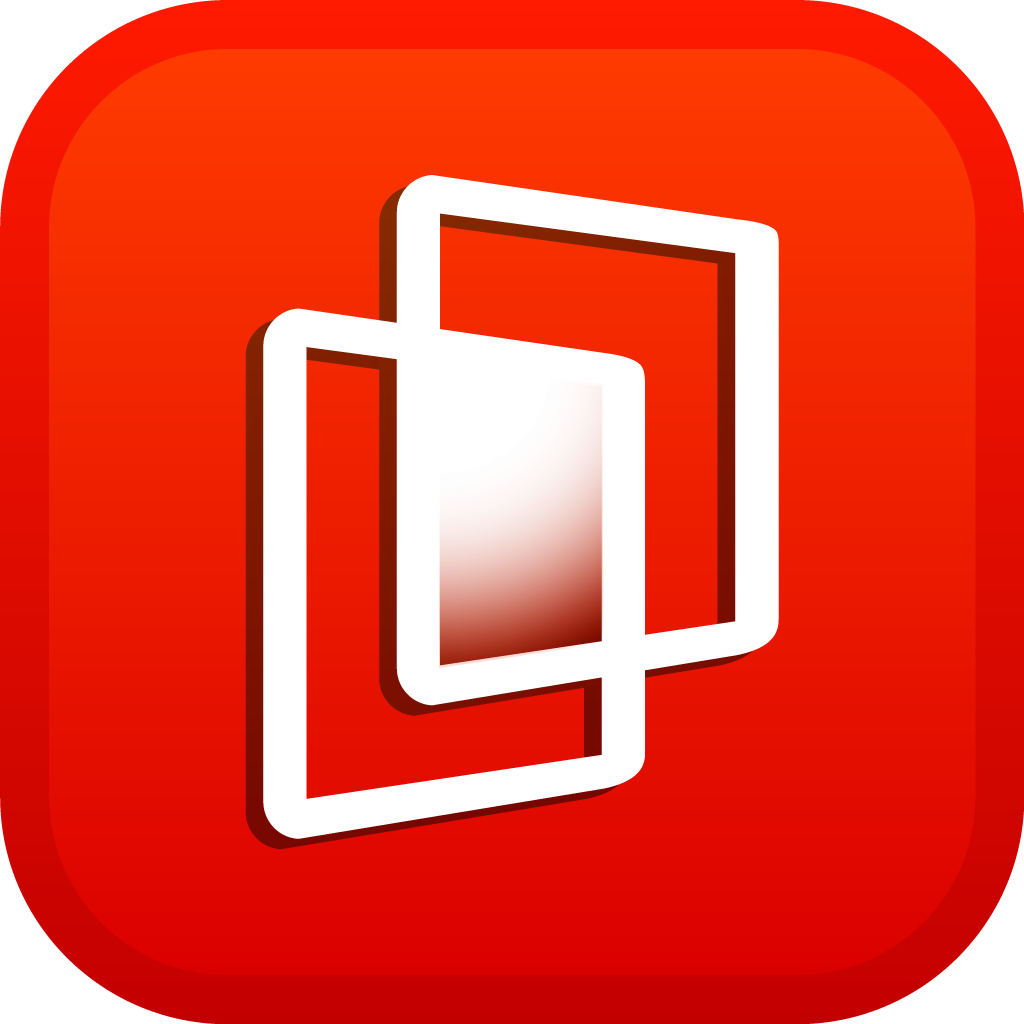 Advanced PDF Manager
Advanced PDF Manager Review: The Best PDF Editor For Windows PC
Are you looking for a way to rearrange the pages on your PDF file? Use Advanced PDF Manager which will efficiently move, remove, add and duplicate pages on the PDF documents. It is the best PDF Editor for Windows along with the split and merge tools. Read more about it in this Advanced PDF Manager Review blog
What Is An Advanced PDF Manager?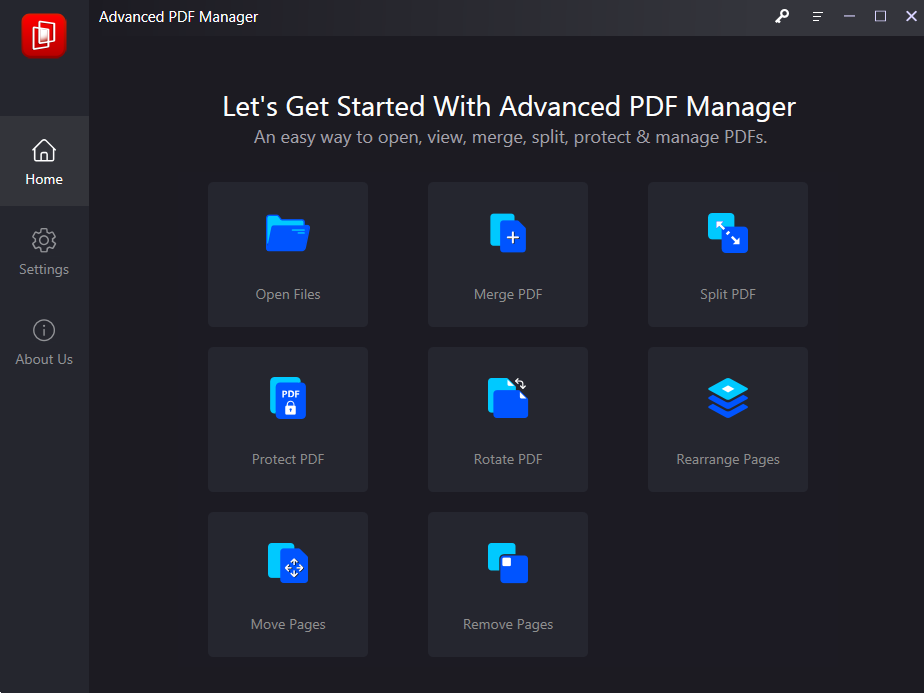 Advanced PDF Manager is one of the must have tools for your Windows PC. It will let you easily read a PDF File on your computer and also help you edit it and create new PDFs for presentations from the Blank PDF option. Use it to merge multiple documents on your computer quickly and easily. Not only this, but it can also split a PDF file which is a very useful feature. The PDF Editor can be used to edit the PDF files as per your needs and therefore it allows you to extract pages from a PDF file. This also allows you to remove the pages on the PDF and also lets you create a new PDF file out of an existing one. It can be easily used to reorder the pages on an existing PDF and manage them with the inbuilt dedicated tools. You can also rotate a page and change its alignment in case of correcting a mistake on a PDF file or to make it better visually.
This best PDF manager for Windows PC works on the latest version of the Windows as well. You will find it helpful to reorganize the PDF pages in case you want to correct the order of a document. Additionally, it supports the password protection for your PDF files, as you can promptly add a password to the PDF using Advanced PDF Manager.
Reasons To Choose Advanced PDF Manager –
Here we have stated the reasons to pick this best PDF manager for PC. Take a look at them to find out how many ways the Advanced PDF Manager can help you with the PDF files on your Windows PC.
PDF Viewer.
Split PDF documents into files.
Combine PDF files with the Merge tool.
Extract pages from a PDF file.
Add password protection.
Reorder the pages.
Rotate Pages.
Duplicate individual pages or entire documents.
Remove pages from the PDF.
Move the pages.
Organize
Add/ Remove Pages
Compress PDF
Merge PDF
Split PDF
PDFs
Add page numbers
Add Watermark
Batch Editing
Edit PDF
Repair Corrupt PDF
Security
Add password
PDF to PDF/ A
Remove password
Sign/ Get Sign
Product Version-
Current Version – 1.0.100.1116 updated on March 24th 2022
System Requirements-
Compatibility – Windows 11, Windows 10, Windows 8.1, Windows 8, Windows 7 (32 and 64 bit)
Processor – 2.33Ghz Intel®, AMD, or any other compatible processor
Memory – 200 MB to 2 GB recommended.
Disk space – 2 GB of available hard-disk space.
File Size: 10.4 MB
How To Install Advanced PDF Manager?
Let's learn how to download Advanced PDF Manager and use it in these sections. All you need to do is follow the instructions –
Step 1: Begin with downloading the Advanced PDF Manager on your computer by clicking on this link below –
Step 2: Once the file is downloaded, click on it to run the setup.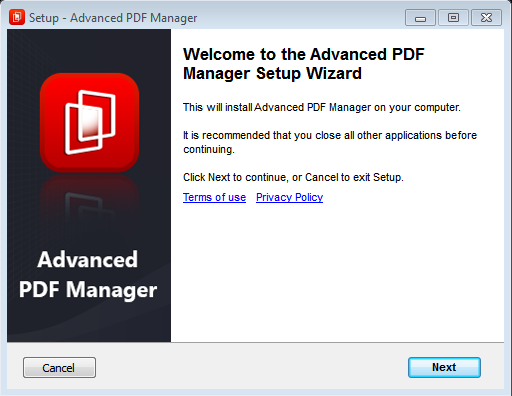 Click on the Next button to start the setup process in the newly opened tab.
Step 3: Accept the terms and agreement on the next screen and click on Next.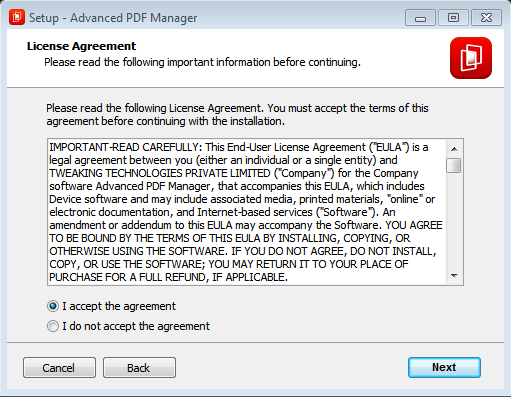 Step 4: Enter the location to save the download on your computer using the Browse button.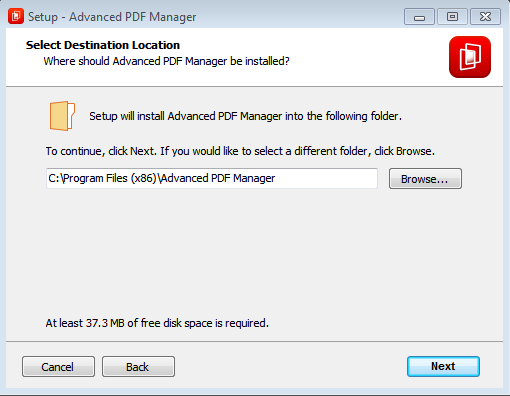 Click on the Next button and the installation will start.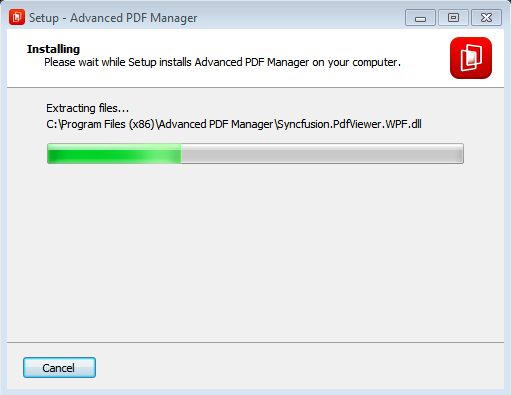 Step 5: Click on Finish to launch the application.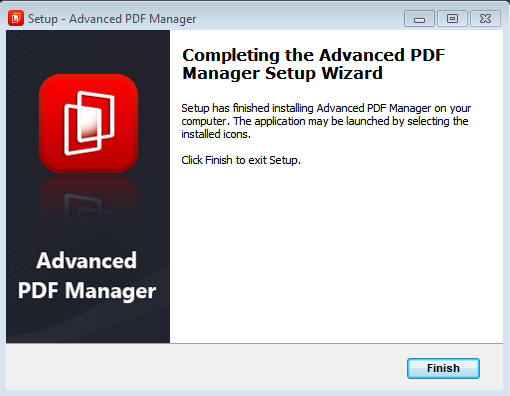 How To Use Advanced PDF Manager?
As you are done with the installation, you can start using the Advanced PDF Manager. If you have not registered and downloaded the free version, you will have limited access to the features of Advanced PDF Manager. It is recommended to get the paid version to avail of all of its features.
Step 1: To register click on the Upgrade to Pro Version button.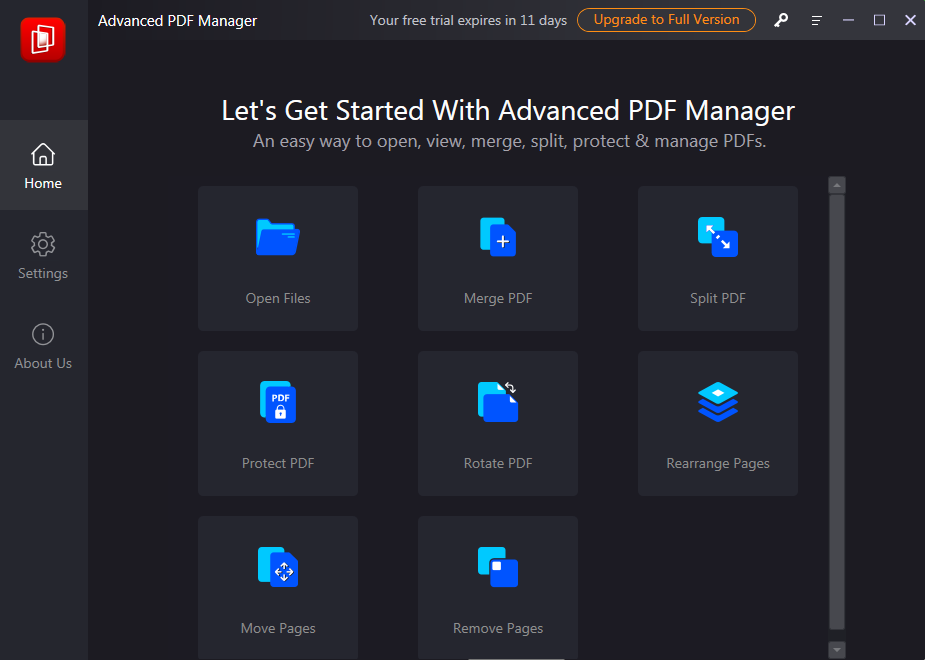 If you have already registered, enter the key in the button next to it.
Step 2: Now, to open a PDF file using Advanced PDF Manager, click on the Open Files button. This will help you open the PDF documents easily on your computer.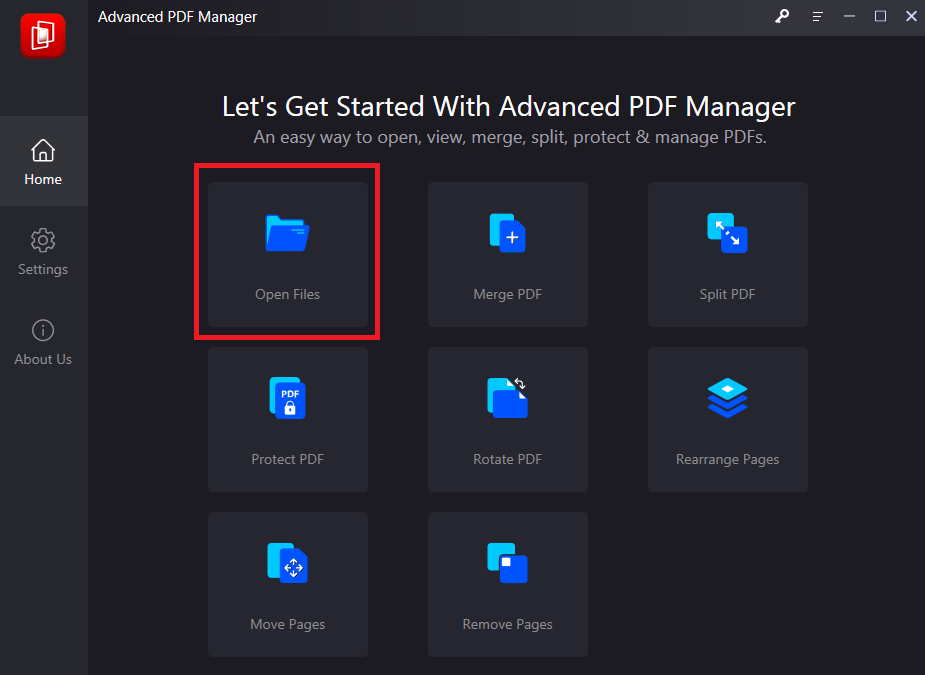 Step 3: Next, it opens the browser for you to select a PDF file.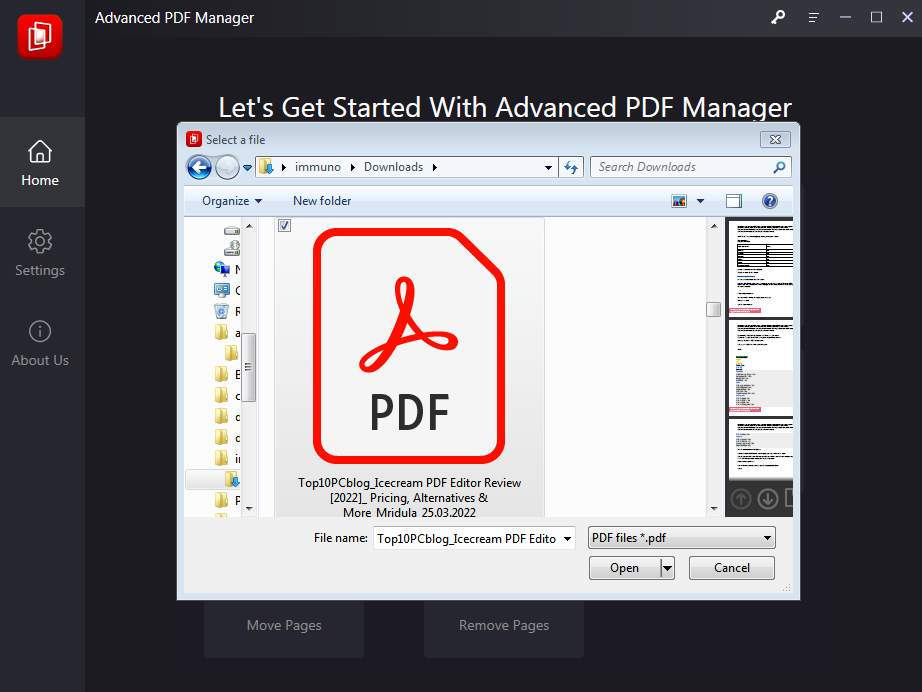 Once the file opens you can see the pages separated in a very simple to view format.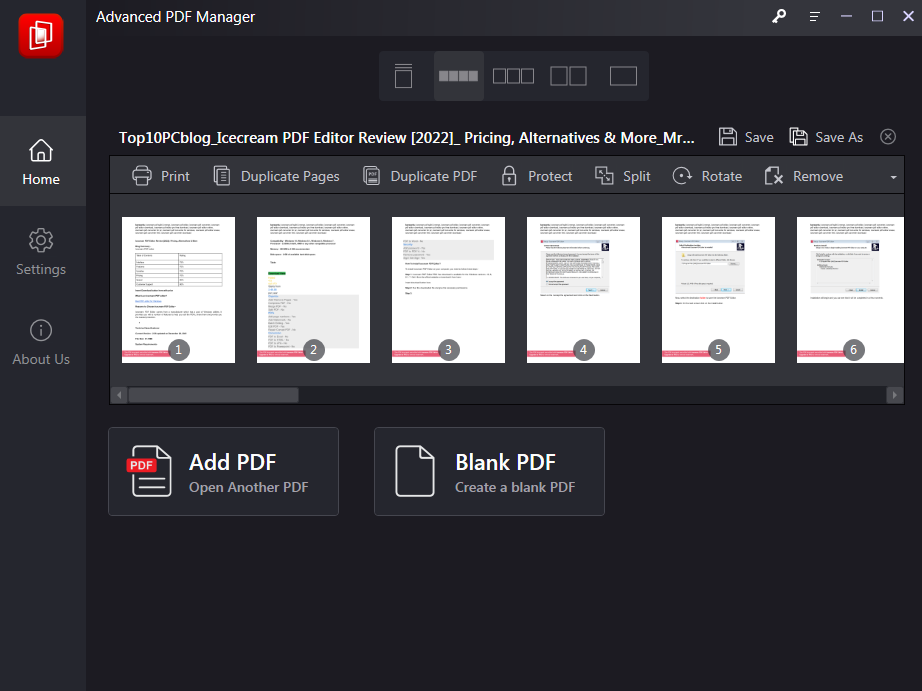 Step 4: Now, you can select any of the tools on the toolbar for performing the related task.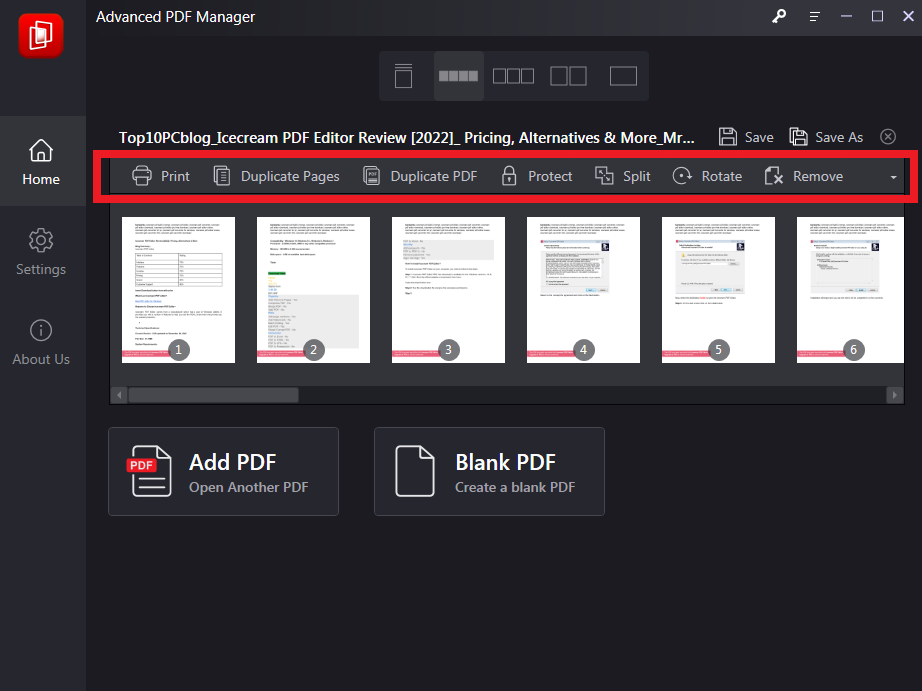 Step 6: Once done, you can easily save the file using the Save button on the desired location on your computer.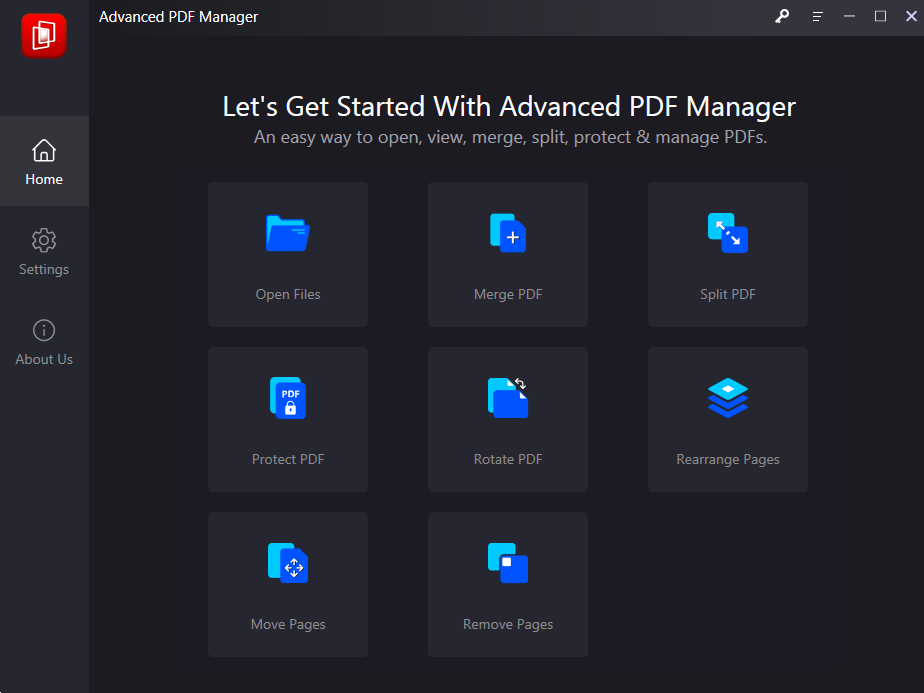 Advanced PDF Manager comes with a very simple-to-understand interface. The home screen of the tool makes it easy to navigate throughout the application. You can start working on your PDF files right after launching this PDF manager application. As it will show you all of the available functionality as the different tools on the home screen. Select one of them and begin with editing the PDFs. You can also easily locate the Settings on the left side panel, where the placement of the About section is also visible. That will help you learn about the current version of your best PDF software for Windows.
1. Read PDF files –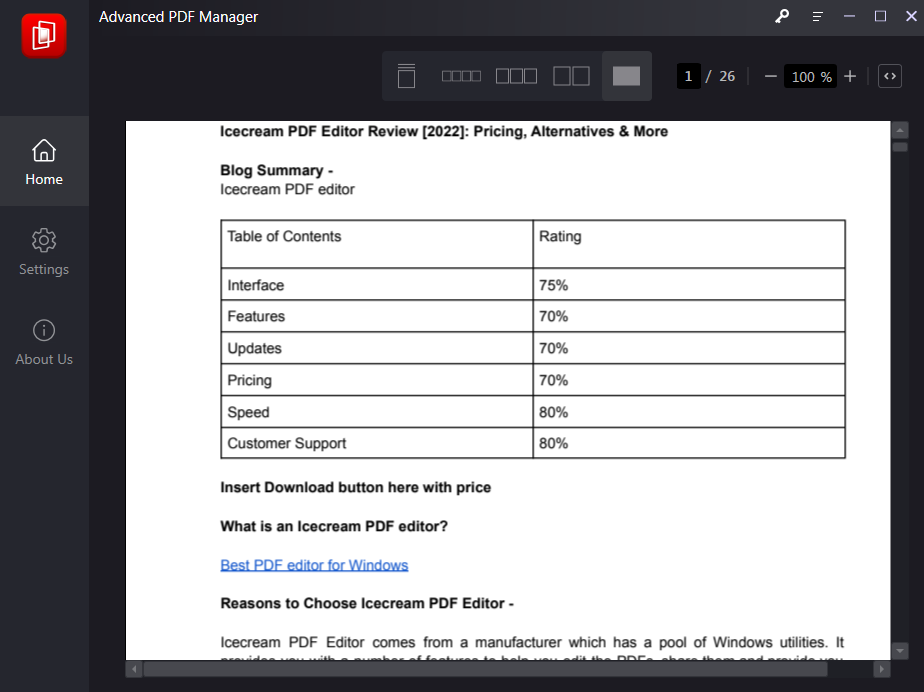 This is a great tool to use when you wish to read a PDF file, as often the computers do not come with any default tool for this task. You can get multiple options to view the PDF file on this PDF manager software. You can easily view the recently opened documents in the tile form on the Advanced PDF Manager which makes it easy to access.
2. Move Pages –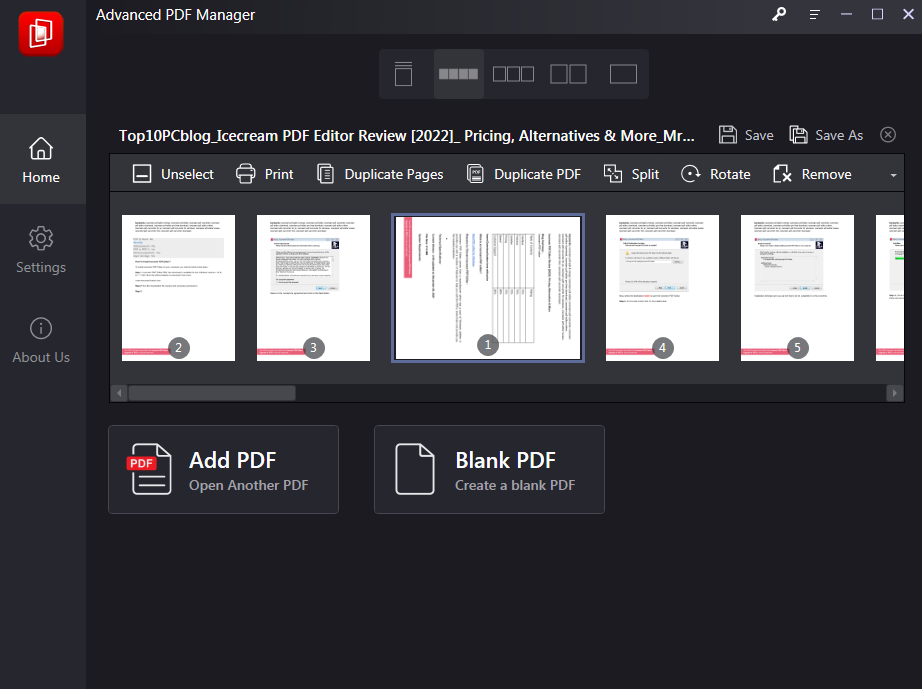 It is very easy to move the page with the select and drag option on the computer using Advanced PDF Manager. You can move the pages as per your needs to rearrange the order of them.
3. Remove Pages –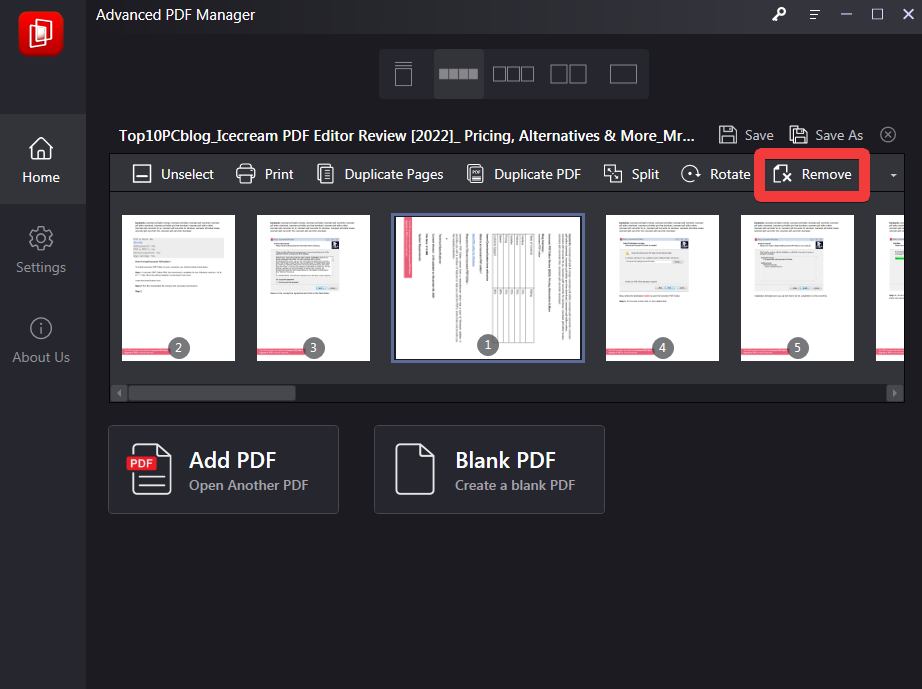 You can also remove a page with a click using this best PDF management software. Open the file and then click on the page to remove it and then click on the Remove option.
4. Split PDF –
Advanced PDF Manager acts as an efficient PDF splitter with the inbuilt feature. You can add any PDF file and then split it to create another new PDF file. This can be helpful in cases where you wish to use only partial information from the PDFs. Just open the file, select the pages quickly and click on the Split tool and the function is performed instantly.
5. Merge PDF –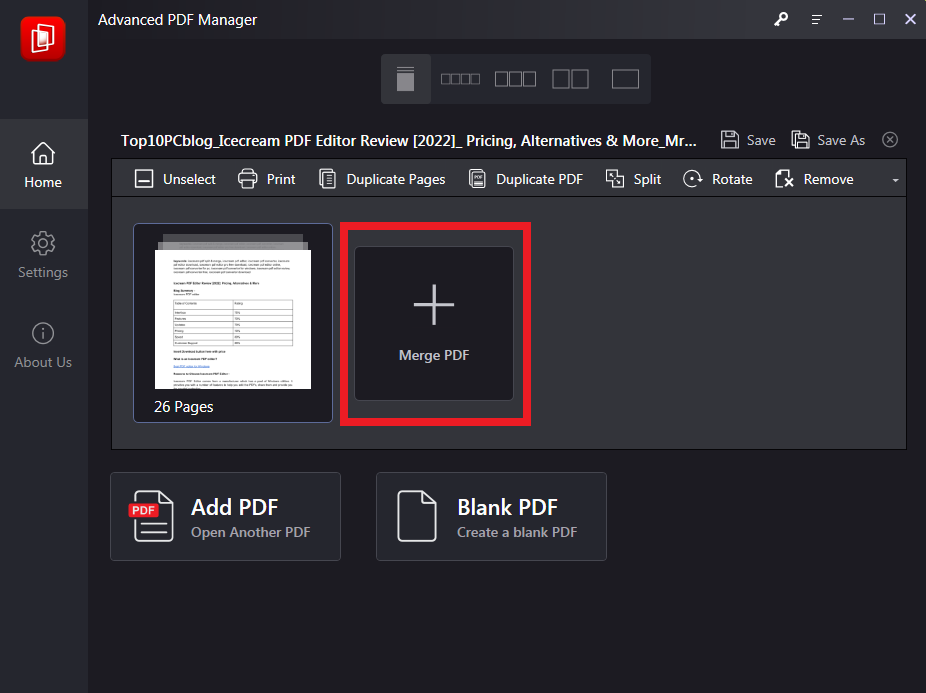 Advanced PDF Manager comes with the most important features such as Merger which will help you combine two files together to form a PDF. Open a PDF file and then go to the Merge option and click on the Merge PDF to add another PDF document.
6. Add Password to PDFs –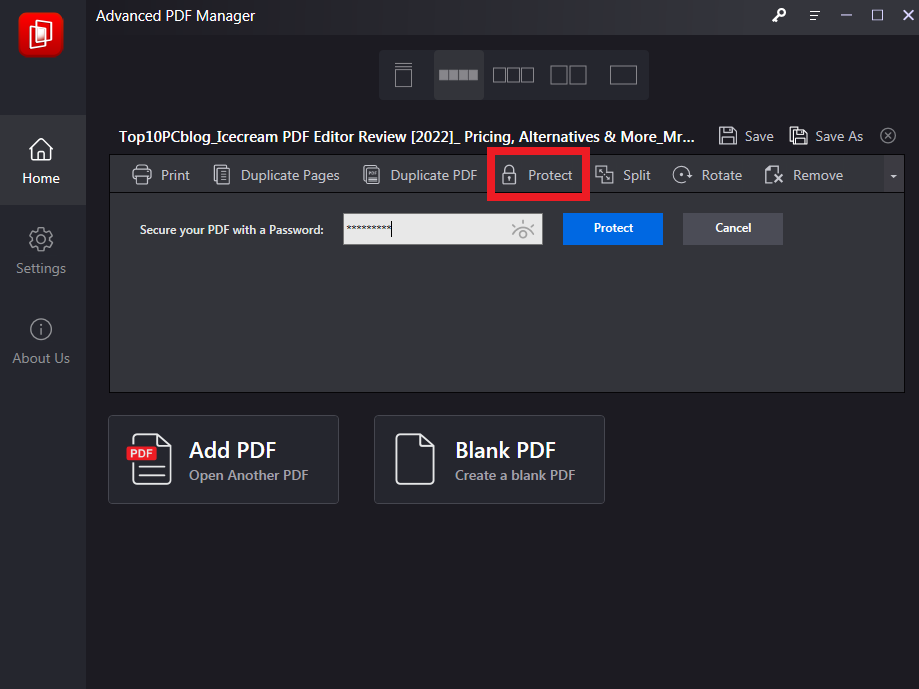 It is important to make sure that PDFs are protected with a password. Advanced PDF Manager can easily add a password to the selected PDFs. Open a file and then go to the Protect option, here you can easily add the password manually.
7. Duplicate PDF –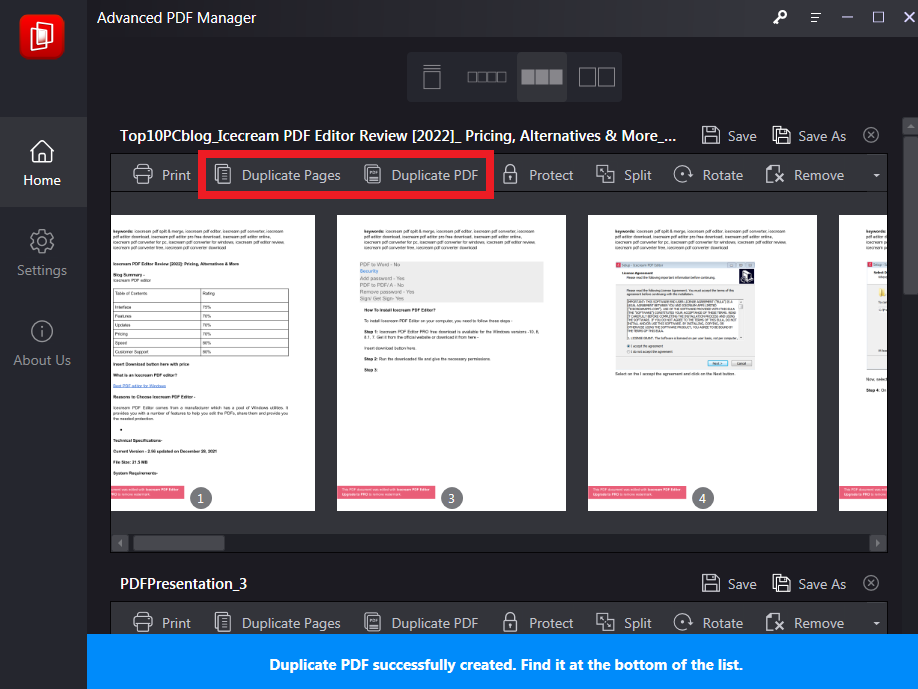 Making copies of the PDF files is made easy with this Advanced PDF Manager on Windows PC. As it comes with not one but two tools to help you with making duplicate copies of the PDF files. You can select the pages and duplicate them using Duplicate Pages or select the entire document and select Duplicate PDF.
8. Rotate PDF –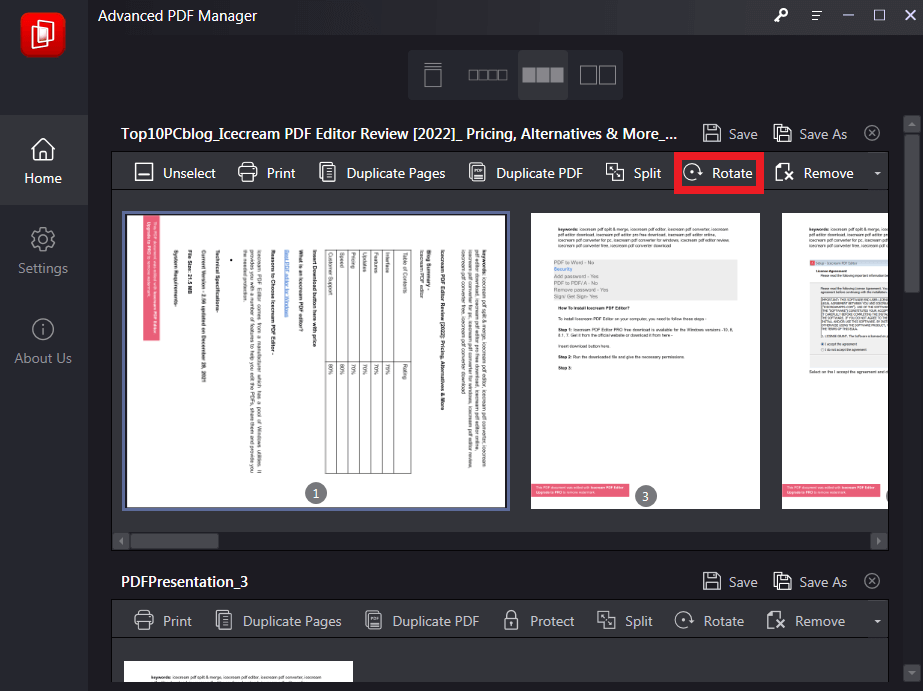 Use this PDF Editor for PC to rotate the pages on a PDF file. If you feel like the image, graphs, maps, or other information is not in the alignment of the PDF, you can quickly rotate selected pages.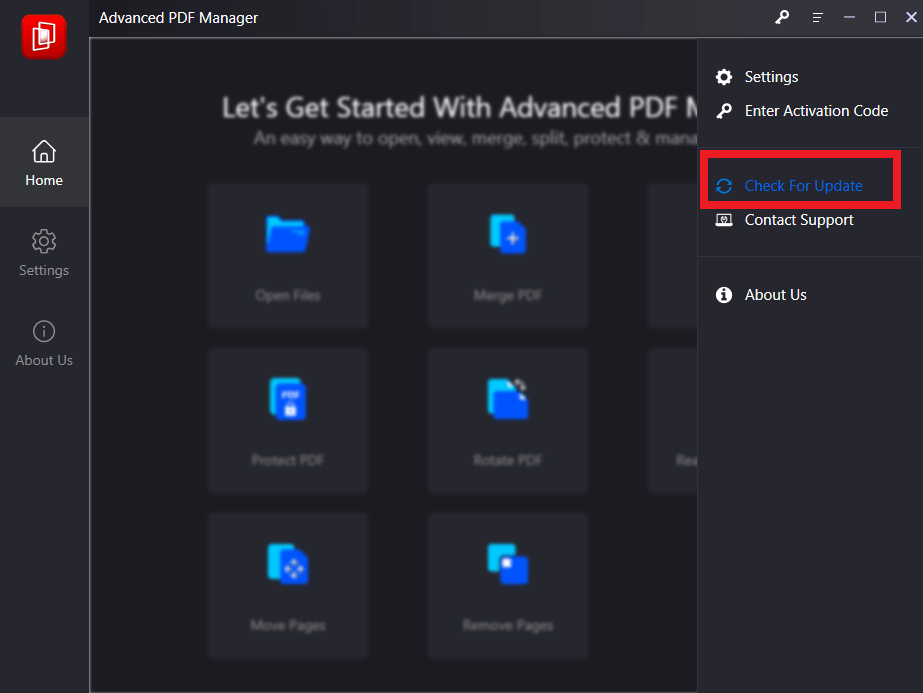 It is very easy to update Advanced PDF Manager, as it will give you regular notifications on any updates. The tool also allows you to check for any updates manually which is a bonus feature for the users. You can also find the updated version on the official website of Advanced PDF Manager. This PDF split and merge tool can be updated in two simple steps.
Open the application and click on the menu bar in the top-right corner.
Click on the Check of Updates button
A good PDF Editor for Windows relies heavily on speed as you do not wish to delay your work. Advanced PDF Manager excels in this department as it is a fast PDF manager for PC. You can quickly rotate, remove, move, or rearrange your pages in a PDF. It also adds a password in a jiffy to help you share the files securely. The split and merging actions are also quite fast and we found them really helpful.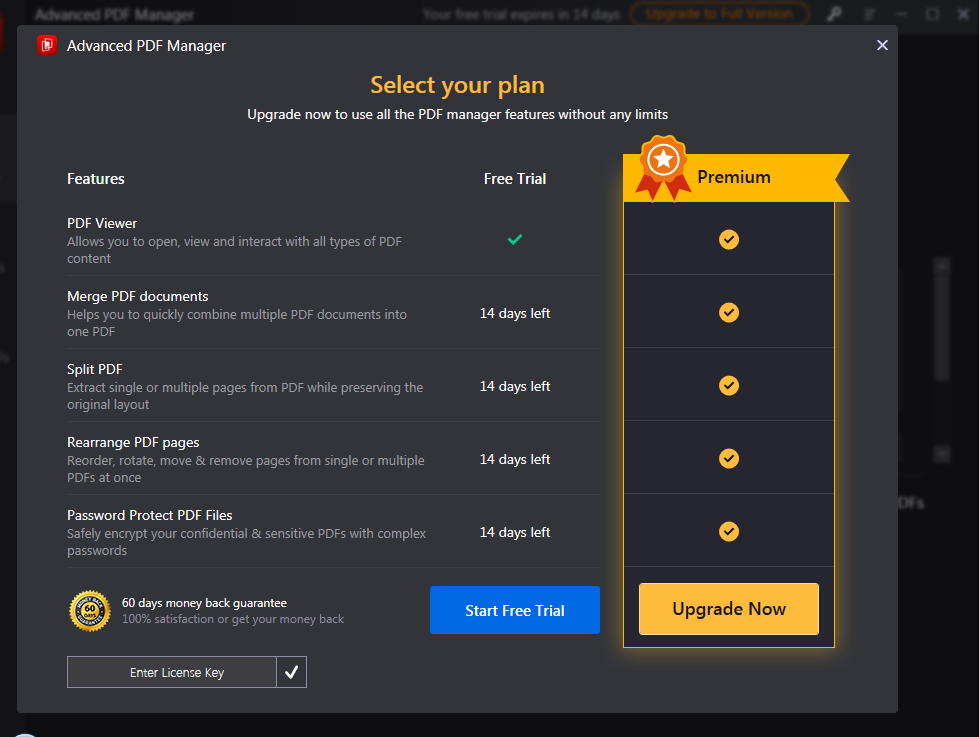 Advanced PDF Manager comes at a very decent price for the best PDF Splitter and Merger. The additional security with Password protection makes it a good deal at $39.95. You will be able to read and write PDF files, Rearrange PDF pages, rotate pages, remove pages and move pages additionally. This is available as the PDF management software in the Pro version. However, you can also avail these features in the free trial period of 14 days on the best PDF manager.
With respect to reaching out the customer support, Advanced PDF Manager proves to be a good PDF software. It helps the users locate the contact button on the tool itself. You can go to the Top-right corner menu bar and click on it to find the Contact Support button.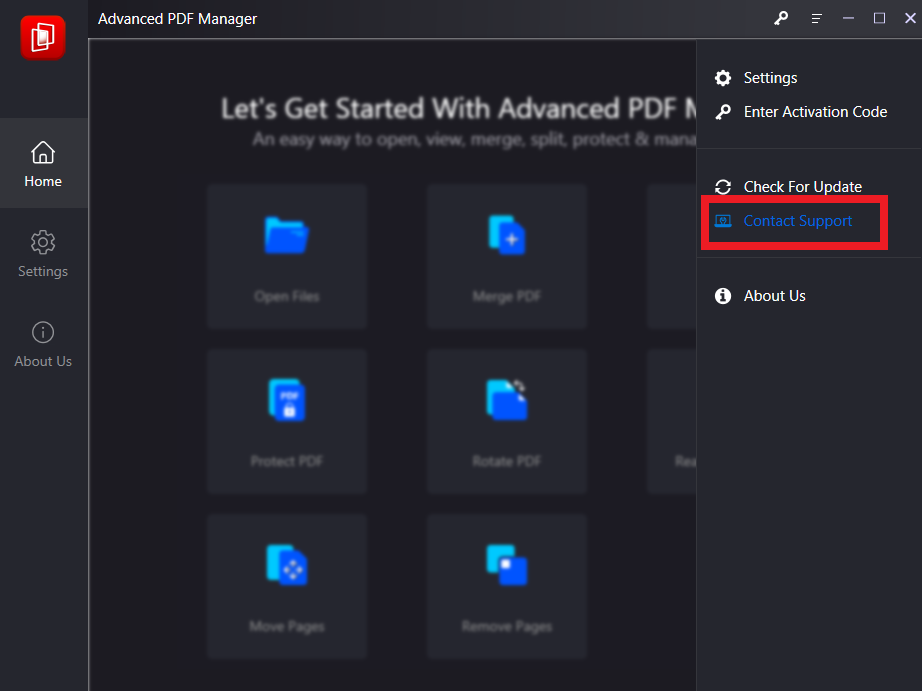 It will then redirect you to the official support page
https://www.advancedpdfmanager.com/contact-us/. Here you can fill in the form with your queries and contact information and then click on Submit Now to send it.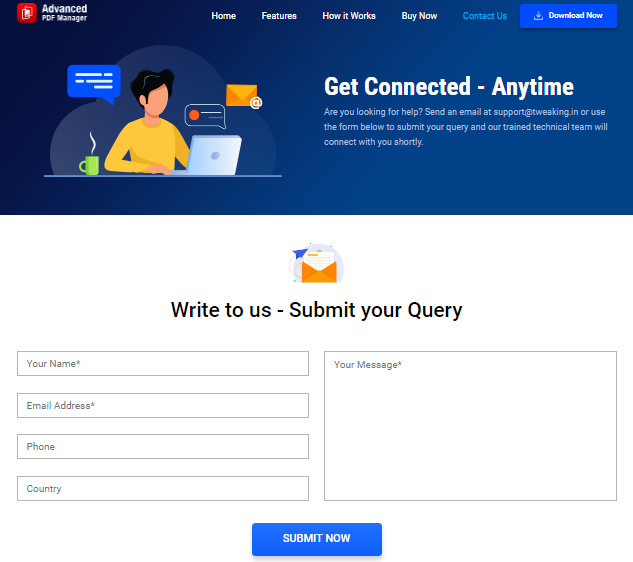 Frequently Asked Questions –
Q1. How Advanced PDF Manager is Better Than Others?
Advanced PDF Manager is better than other PDF editors in a way that it is fast and reliable. Some of the PDF editors do not function as stated but Advanced PDF Manager does not fail to amaze. You can rearrange, rotate, move, and remove pages in addition to reading PDFs, and adding passwords to the PDF files.
Q2. Is Advanced PDF Manager Safe To Use?
Yes, Advanced PDF Manager is safe to use. You can rely on this as it comes from a renowned software company and provides you with regular software updates.
Q3. Is It Worth To Buy?
Yes, Advanced PDF Manager is one of the best buys for your Windows PC. As the tool can be easily operated and the features are enough to manage the PDF files on your computer.
Verdict –
Advanced PDF Manager review tells us that this is a very good PDF Editor and can be used to  also give you full features for use in the free trial period without asking for any credentials. This is a good way to learn the best way to edit PDF on Windows before making a purchase. You can then decide to upgrade the tool and continue availing the features of this PDF Manager free converted to the Paid version. You will get more from this utility as compared to others and therefore you can use it as one of the best Acrobat alternatives.
We look forward to your comments to know more about your opinion on this blog post. Also, if you liked this, we recommend you to check out – iLovePDF, Adobe Acrobat DC Pro, and PDFelement which are good alternatives. Other PDFelement free alternatives include PDFSam and Nitro with limited features. For more such reviews on Windows software, keep visiting Top10PCSoftware. Also, follow us on the social media platforms for the latest updates for Windows software. We are on Twitter, Facebook, Pinterest, and Flipboard.