Even after clearing out unnecessary files from your PC, it's moving as slowly as a snail? It might be time to dig deeper and explore other potential causes for the sluggish performances.
What is it that's making it slow? It could be the presence of junk and temporary files – application leftovers, browser cache, corrupted system files & so on. Let a temporary or junk file cleaner come to your rescue. Here are some options that you can pick from.
Top Software Reviews
Rating
1.

Advanced System Optimizer

2.

CleanMyPC

3.

Advanced PC Cleanup

4.

Piriform CCleaner

5.

Advanced SystemCare

6.

Avast Cleanup

7.

AVG Tuneup

8.

iolo System Mechanic

9.

Wise Disk Cleaner

10.

Glary Utilities
We all use Windows PCs for a variety of work and entertainment-related activities. Over time, it accumulates temporary files, cache, and leftover data from other applications installed on it.
While the built-in Disk Cleanup utility does a fair job at getting rid of these and freeing up storage space, there are times when some unnecessary files, browser traces, temporary data, and other such redundant elements steal a glance and are left unchecked. This is where third-party junk and temp file cleaners step in.
Here are some of the best junk and temp file cleaners for Windows 11/10 PC.
What Kind of Junk and Temp Files Can A Junk File Cleaner Clean?
Let's quickly have a look at the kind of temp and junk files that a third-party cleaner is capable of removing. These files clog up storage space and even hamper the overall functionality of your computer –
Temporary Files – These files are created when you open files.
Log Files – Activities and errors that pile up and take up storage space.
Browser Cache – Cached images, browsing history, and other browser data across multiple browsers installed on your computer.
Cache Files – Files stored by applications so that they can load faster. These can become outdated and cause unnecessary clutter.
Old Windows Updates – Leftover files from old Windows updates.
Unwanted Registry Entries – Registry entries that are not needed.
Old Downloads – Old downloaded files that you no longer need.
These are just a few kinds of temp and junk files that a junk cleaning utility for PCs can help get rid of.
Why Install A Junk File Cleaner on Your Windows PC?
One of the highlights of these Temporary or Junk file cleaning software is that they automatically identify those redundant items that are safe to delete. Whereas, if you take the manual route, you might end up deleting the wrong files or you might waste time scouring your PC for such files.
Top 10 Temp and Junk File Cleaners for Your Windows 11/10 PC
1

Advanced System Optimizer

Clean and optimize Windows PC
Removal of privacy traces
Fix common computer issues
Clean and optimize registry
Update drivers
Get rid of malware and privacy traces

$49.95

/ year
2

CleanMyPC

Multi-language support
Dedicated registry maintenance
Sorts startup (autorun) items
Capably handles unwanted extensions
Option to disable hibernation file

$39.95

/ year

Download Here
3

Advanced PC Cleanup

Startup Manager
Cleans Registry
One-click PC care
Removes temporary files
Detects and removes malware

$39.95

/ year
4

Piriform CCleaner

Complete PC health checkup
Remove internet trackers
Apps constantly updated
Application prompts you when you are running out of space
Customizable settings

$24.95

/ year

Download Here
5

Advanced SystemCare

Modern attractive interface
AI mode
Tools for optimization, speed, and cleaning
Spyware, malware, and firewall protection
Software updater

$16.77

/ year

Download Here
6

Avast Cleanup

Set up automatic maintenance scan.
Address issues that need to be fixed. For example, if any programs need to be updated or if there are any disks that need to be checked.
Speed up the PC by closing the background or unnecessary programs.
Junk and unwanted files are well categorized showing you how much space can be retrieved.

$34.68

/ year

Download Here
7

AVG PC TuneUp

Fast scanning
Fixes broken registry
Removes system junk and browser cache
Removes unnecessary programs
Closes startup and background programs

$29.99

/ year

Download Here
8

iolo System Mechanic

Modern, easy to use interface
Malware removal
Fast PC optimization
File recovery functionality
Internet booster

$49.94

/ year

Download Here
9

Wise Disk Cleanup

Completely free
Disk Cleanup
Disk defraggler

FreeDownload Here
1. Advanced System Optimizer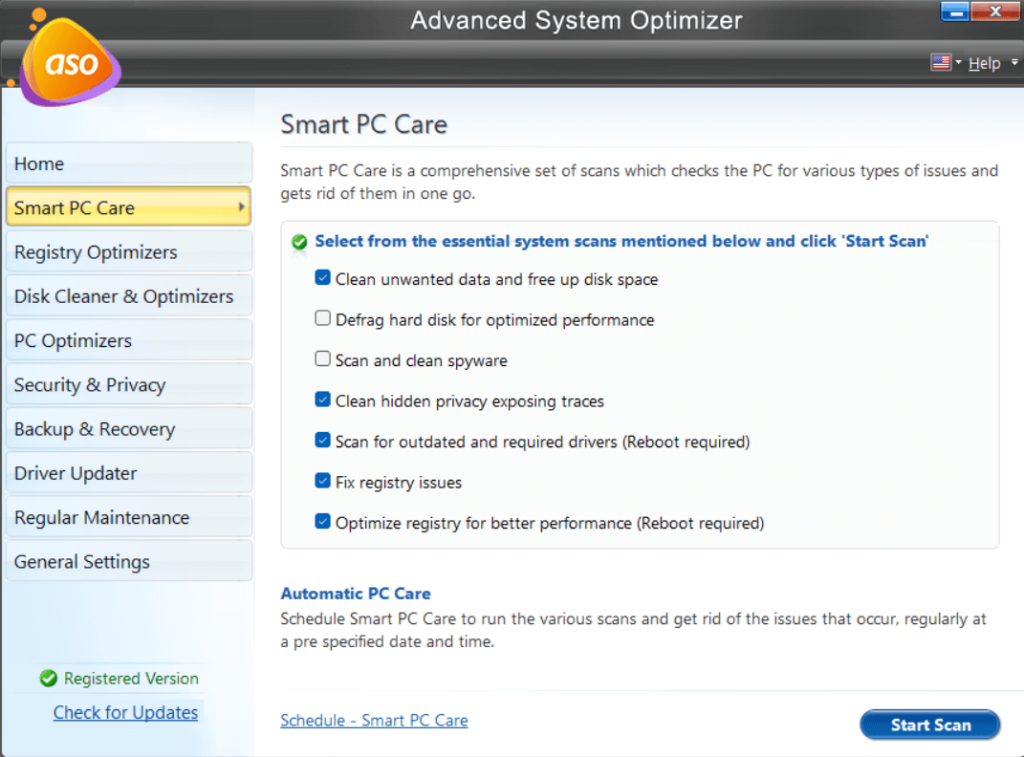 First on our list is Advanced System Optimizer, which though, is primarily a Windows optimization tool, offers great features to easily get rid of all kinds of junk on your computer and thereby preserve precious storage space. It is one of those utilities that lets you remove junk safely which means you can rest assured that no important system file will be removed.
Notable Features
Clean unwanted data and privacy traces with the help of Smart PC Care.
The tool scans the entire computer for junk files.
Permanently delete not just cache files but any files and folders.
Backup system files before deleting anything.
Manage installed programs and remove unneeded applications.
Remove fragments from drives.
Check and fix disk-related issues
Update drivers.
Recover data from deleted partitions.
Pricing – Free trial available. Then pricing starts at $49.95
2. CleanMyPC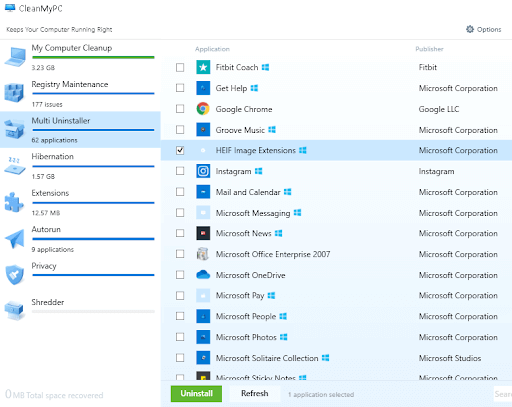 It is one of the best junk file cleaners for Windows PCs, thanks to its ability to identify the exact location where junk and temp files are stored. It is intuitive and even helps enhance your computer's performance thereby helping in improving overall productivity. It cleans junk in Windows 11/10 PC safely so that no harm is caused to other system files on your computer.
Notable Features
File shredder.
PC cleaning with one-click.
Get rid of browser extensions that you don't need.
You can disable the system hibernation file and free up a lot of disk space.
Registry maintenance.
Get rid of a variety of junk and temp files.
Add or exclude folders that you want to remove from scan.
Uninstall applications.
Clean unwanted data from external storage mediums.
Disk fragment management could have been better.
Pricing – Free trial available. Then, $39.95
3. Advanced PC Cleanup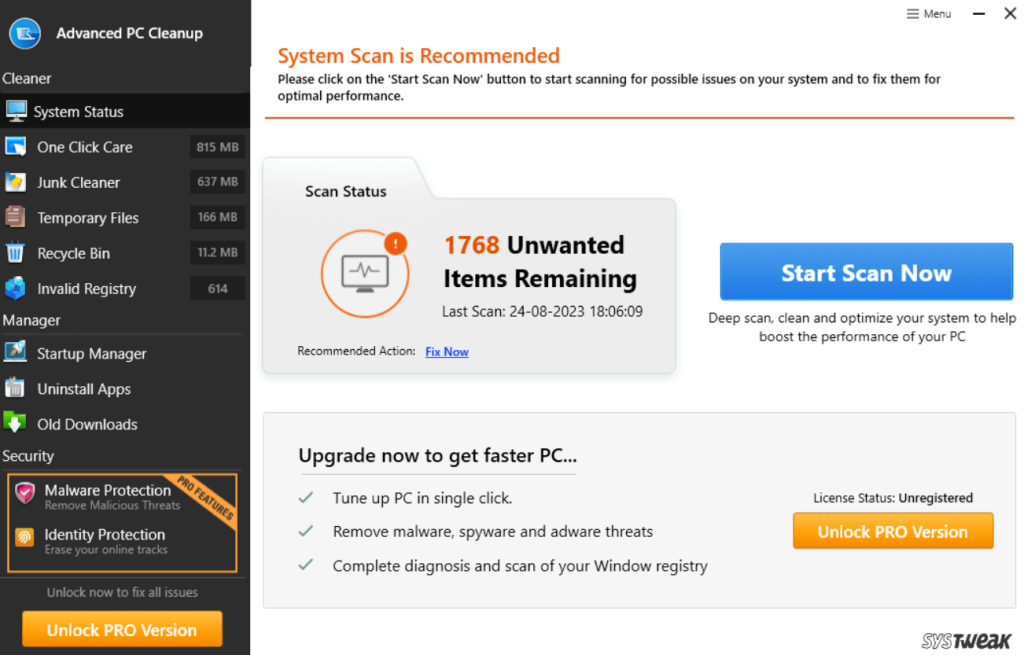 It is a powerful tool that comprehensively cleans junk and temporary files from every nook and cranny of your PC. With "One-Click Care", you can gauge and get rid of junk files, temporary files, recycle bin trash, invalid registry entries, and much more. It is also a computer temp file cleaner that helps identify and remove malicious threats from your computer quickly.
Notable Features
Delete junk and temporary files with one click.
Separate modules where junk and temporary files are listed and you can remove them.
Check how much space you have recovered by removing junk and temporary files in real time.
Remove malware threats and identity traces.
Manage recycle bin items.
Manage startup items from the interface itself.
Uninstall apps and old downloads.
Get rid of invalid registries.
You can search and remove files as well.
Malware protection and identity protection features are available in premium version.
Pricing – Free trial available. Then, pricing starts at $39.95
4. Piriform CCleaner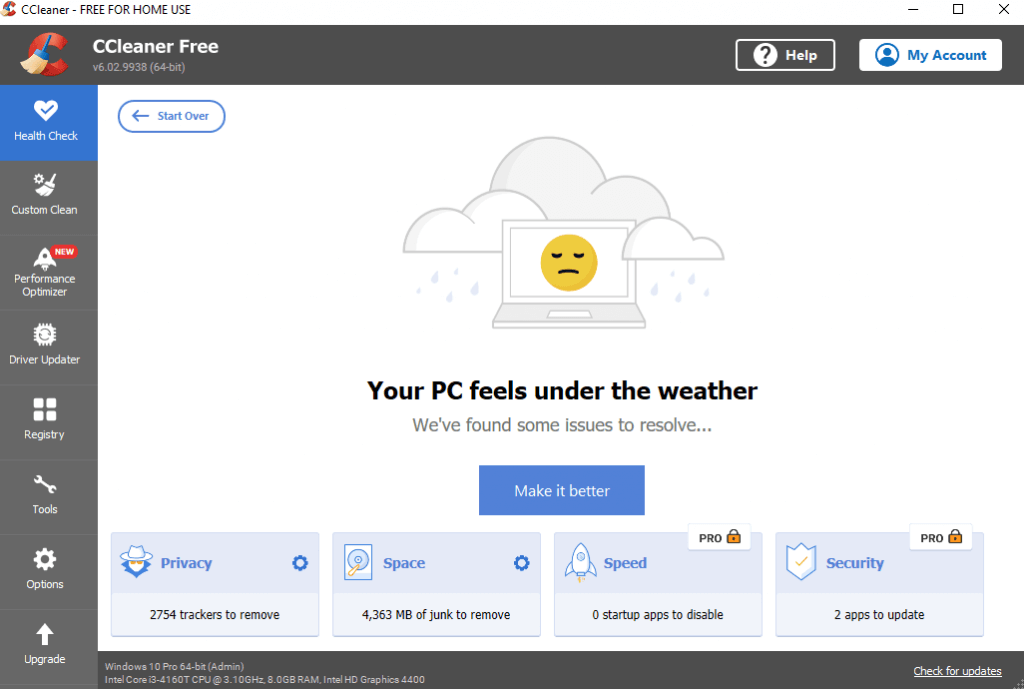 Looking for a free utility to clean junk and temp files on your computer, Piriform CCleaner is often hailed as one of the top choices to declutter PCs and save precious storage space. One of the reasons why users like this temp file cleaner is because it gives you the option of the kind of junk file you want to clean, it could be browser cache, saved passwords, Taskbar jump lists, Windows Log files and so much more.
Notable Features
Custom clean
Clean unwanted registries safely.
Remove duplicate files. For more advanced duplicate file cleaners, here are some great options.
Easily manage startup items.
Remove unwanted programs.
Straightforward interface.
See in real-time how much space you will be able to free up by cleaning unwanted items from your PC.
Check the overall health of your PC.
Light file size.
No explicit option to remove malicious threats.
Pricing – Free trial available. Then the pro version starts from $29.95
5. Advanced SystemCare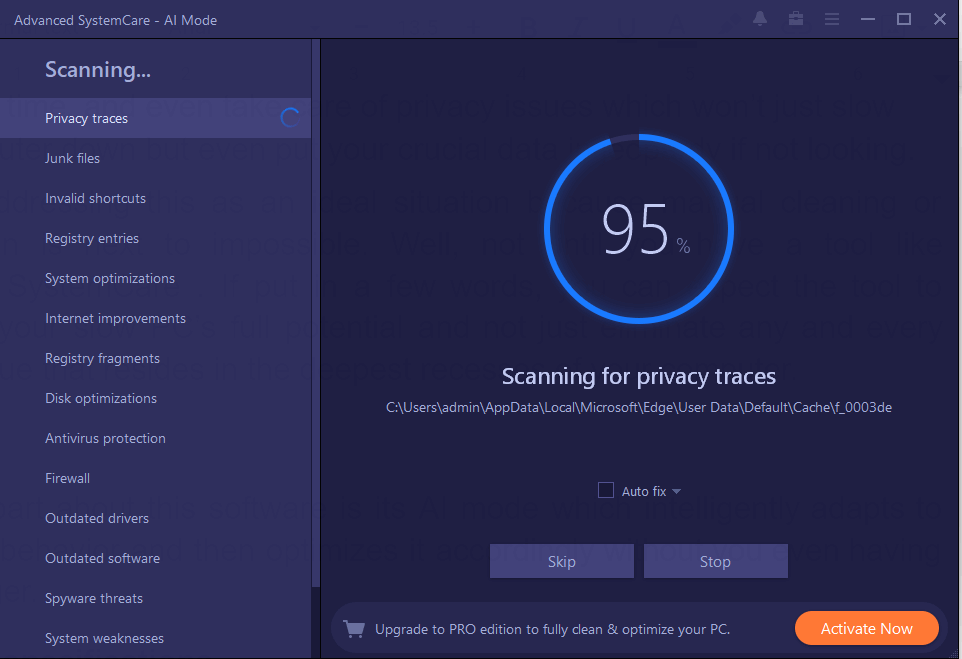 It comes from the house of IObit, makers of software like IObit Uninstaller. Advanced System care is an easy-to-use temp file cleaner that scours every nook and cranny of your PC and gets rid of junk files that are responsible for not just slowing down PC but also clogging up storage space. What gives this tool more power and efficiency is the one-click AI mode. To know more about this wonderful tool, check out this post.
Notable Features
Get rid of junk files from not just PCs but popular applications like Dropbox, Steam, Photoshop, and many others.
Clean up unnecessary logs, cache, and leftovers from third-party tools.
30+ troubleshooters to optimize PC.
Get rid of privacy traces.
Boost internet speed.
Easy to understand interface.
Real-time tuneup.
Delete, include, and exclude folders from scanning.
Update software.
Scanning speed could be better.
Pricing – Free trial available. Pricing starts at $29.99/ year
6. Avast Cleanup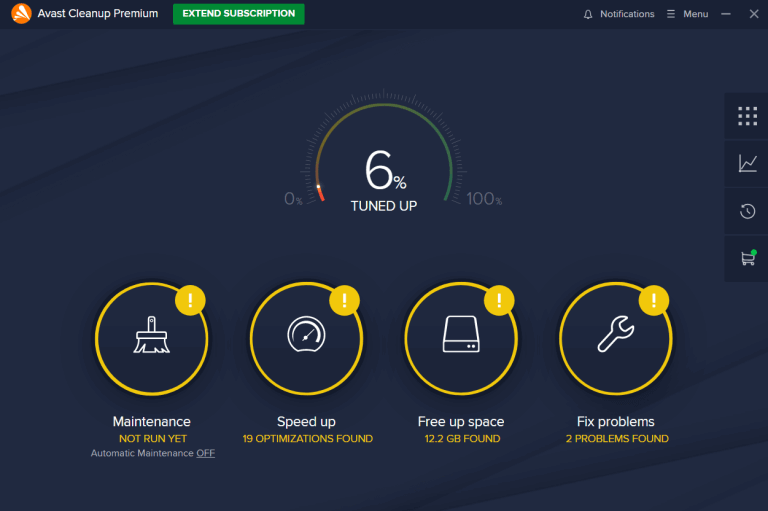 If you use Antivirus tools, you have probably heard of Avast Antivirus which is one of the best lightweight Antivirus for Windows. It is also the maker of Avast Cleanup, a tool known for not just cleaning temporary and junk files from your system but a tool renowned for helping you get rid of adamant bloatware as well. Have a look at some of its best features.
Notable features
Get rid of junk files and leftovers from over 200 browsers, applications, and Windows per se.
Automatic maintenance.
Remove unwanted plugins and toolbars.
Get rid of bloatware.
Temporarily put files to quarantine if you are unsure whether or not you wish to remove them.
Defrag and optimize hard disk.
Manage startup items.
Shun background processes.
Deeply scan applications for leftovers that are taking up storage.
Pricing – Free trial for 30 days. Then, $2.89/ month (Billed as $34.68/ year)
7. AVG Tuneup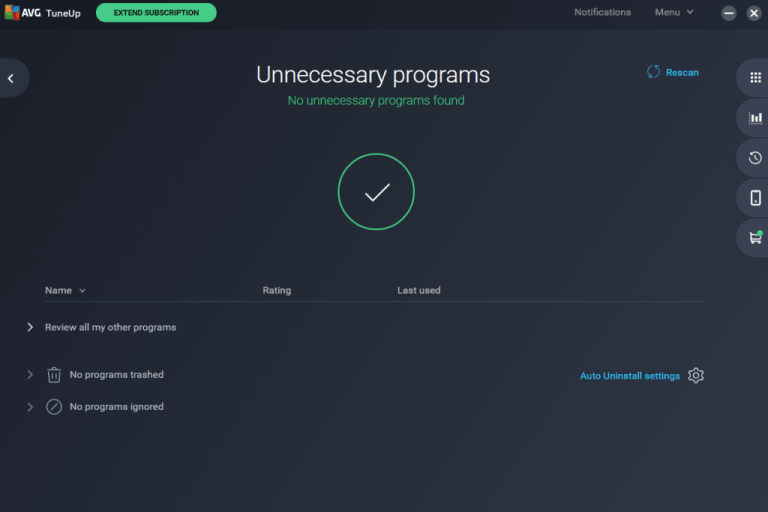 Quite like Avast, AVG is also the maker of one of the best Antivirus tools. However, here we'd like to say that it reprises the role of a PC cleaner quite decently. Whether it is automatic maintenance, removing junk, temp files, or optimizing disk space, AVG Tuneup does the job with flying colors. Let's have a look at some of its notable features and other aspects.
Notable Features
Scan disk for errors and take corrective measures.
Remove all kinds of junk – browser traces, cache files, cookies, and program leftovers.
Sleep mode puts unused apps to sleep.
Remove installer files, backups, and tempoirary system files.
Clean old junk files.
Updated outdated applications.
Get rid of bloatware.
Helps increase startup time.
Automatic maintenance.
Could have had better options for managing the registry.
Pricing  – Free trial available. Pricing starts at $29.99/ year.
8. iolo System Mechanic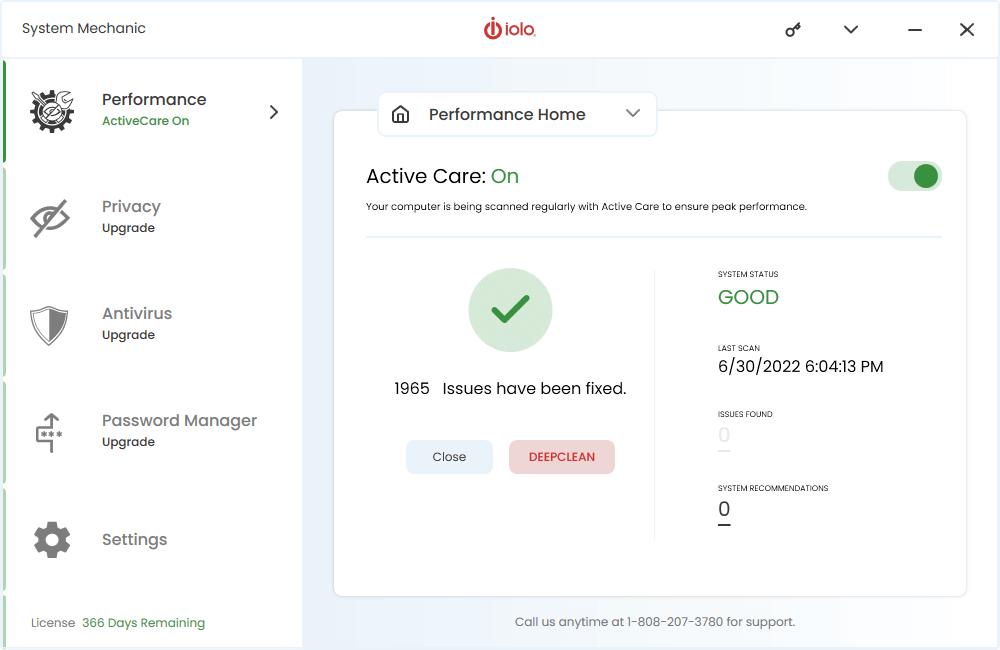 Although it is one of the best optimizers for PC, the fact cannot be denied that it is equally capable of cleaning junk files. It offers a multitude of ways with which you can steer clear of junk and temp files. One of the best aspects of the tools is that some features even save you the plight of manually cleaning junk files instead you can automate such tasks.
Notable Features
Automatically clean up excessive system clutter.
Free up drive space with PC Cleanup.
Get rid of bloatware.
Secure connected home devices and open ports.
Check PC health in real-time.
Monitor hard drive status with "Drive Sense"
Clean junk from all major applications and browsers.
Boost system startup time.
Inbuilt password manager. Looking for more advanced password managers, check out these alternatives.
Enhanced features are available in the paid version.
Pricing – Free trial available. Pricing starts at $29.95/ year/ 1 PC
9. Wise Disk Cleaner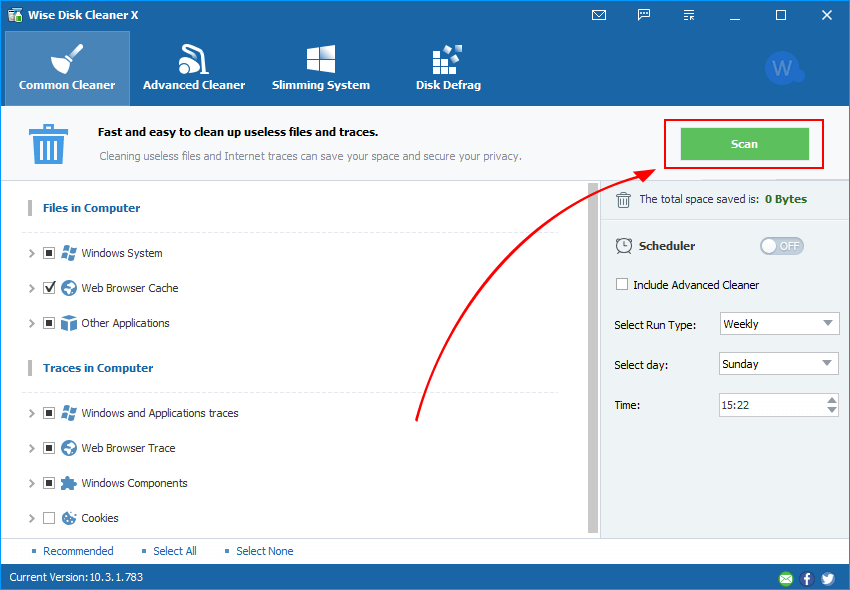 When it comes to cleaning up a PC and even optimizing it, Wise Disk Cleaner is often hailed as one of the top choices. As opposed to the native temp file cleaner of your PC, it is well capable of getting rid of a variety of junk and temp files from various locations on your Windows 11/10 PC. Here are some of the notable aspects of Wise Cleaner.
Notable Features
Remove temporary, junk or useless files from PC.
Add or remove files from scanning.
Clear cache, internet histories, and cookies from browsers on your PC.
Keeps you informed about the space saved after removal of junk or temp files.
Disk defragment.
Schedule cleaning.
Get rid of privacy traces.
Light and dark themes.
Hasn't been updated in a while.
Pricing – Free
10. Glary Utilities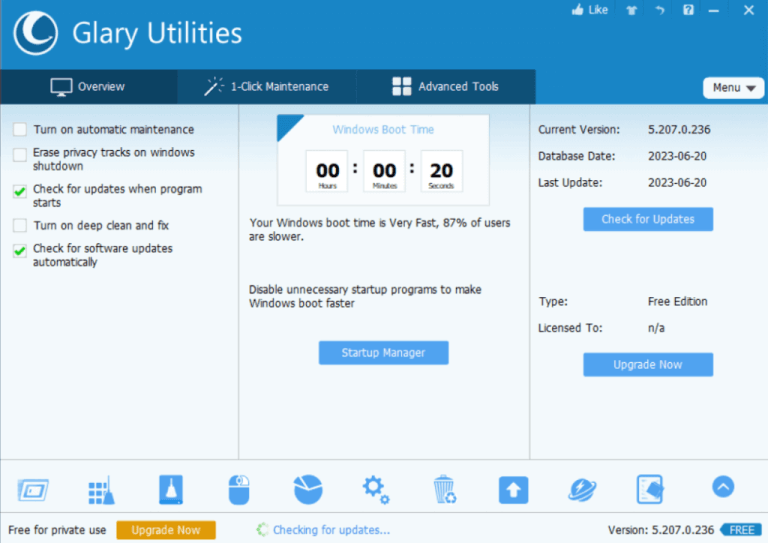 Just because it is last on the list, doesn't mean it can't cleanup junk or temporary files. As a free junk or temp file cleaner for PC, Glary Utilities from Glarysoft does a commendable job at safely and deeply cleaning unwanted files. It also helps in fixing various other issues which otherwise are hard to fix. Here are some of the notable features of this tool.
Notable Features
One One-click cleaning to clean junk files for free.
30+ tools to troubleshoot issues.
Delete old temporary files, log files, obsolete installation files, and much more.
Recover lost or deleted files. If you aim to recover lost or deleted files, here are some alternatives.
Software updater.
Automated cleaning.
Remove privacy traces.
Additional tools like duplicate file finder.
Malware removal.
Automatic maintenance is not available in the free version.
Pricing – Free
Bid Good Riddance To Junk and Temporary Files
With a dedicated junk and temporary file cleaner for your PC you can rest assured that your Windows 11/10 PC can breathe freely without being clogged up by unnecessary files some of which have absolutely no role in your system's functionality. And, you can also be sure of the fact that you won't be making any mistakes by removing important system files. That said, do let us know which of the above tools is your favourite. For more such content, keep reading Top10PCSoftware.
Frequently Asked Questions –
Q1. How do I clean temp files?
You can either use Windows' own Disk Cleanup or you can choose from some of the best third-party junk and temp file cleaners like Advanced System Optimizer, CCleaner, Advanced PC Cleanup, and many others as we have discussed above.
Q2. Can I safely delete temp files?
Yes, temp files or temporary files are safe to delete as they are typically non-essential files that are created temporarily and they clog up storage space.

Q3. Can I manually delete temp files?
Although temporary files can be deleted manually. However, a third-party temp or junk file cleaner is a safer option as it creates a distinction and a safety net between temporary files and those that are important for crucial system functions.
Q4. What happens if I clean temporary files?
Cleaning temporary files frees up storage space on your system. It can also improve system performance by reducing clutter and allowing your system to run more efficiently.