Action Packed Review of Action! Screen Recorder For Windows 11/10
If you are an avid gamer, at least once you may have thought of keeping and sharing those memorable moments – that epic raid of yours, those wicked drifts, the insane headshot, or any other gaming moment. If your hunt for one such tool is on, consider Action! which is regarded as one of the best game recording and streaming tools. In this Action! review we'll cover all its aspects – features, pricing, interface and everything else, so read on. 
A screen recording utility is such nifty software to have. It lets you capture your desktop on-screen activities – gameplays, tutorials, webinars, online videos and so much more. And, if you are searching for one such tool, this is the post for you. Here we will dive deeper and review Action! which is regarded as one of the best gameplay recording and streaming utilities. 
What Is Action! Screen Recorder?
Action! from Mirillis is a screen and game recording utility that lets you record your Windows desktop on-screen activities in Ultra HD quality. It even offers the functionality to capture screenshots while the screen recording is in process. 
When recording gameplay or a section of the screen, you can configure audio settings as per your desire. In fact, you can save your audio as a separate file and treat it in a professional audio editing tool. 
Record screen and gameplay up to 4K. 

Record any region of the screen. 

Impressive HUD that shows existing and average frame rate and 3D scan engine.

Competitive frame rates can be compared to the best screen recorders. 

Live stream on a variety of platforms. 

You can record your last gameplay actions using

this feature

. 
When selecting a custom region on the desktop for recording, cross-hairs are missing as in the case of competitors like

Advanced Screen Recorder

.

Occasional crashes. 
How To Use Action! Screen Recorder For Recording Gameplay and Screen?
1. Download, run, and install Action! on your Windows PC. 
2. Select the mode of your video recording – you can choose to record your game, an area of your desktop or a device connected to your laptop or PC.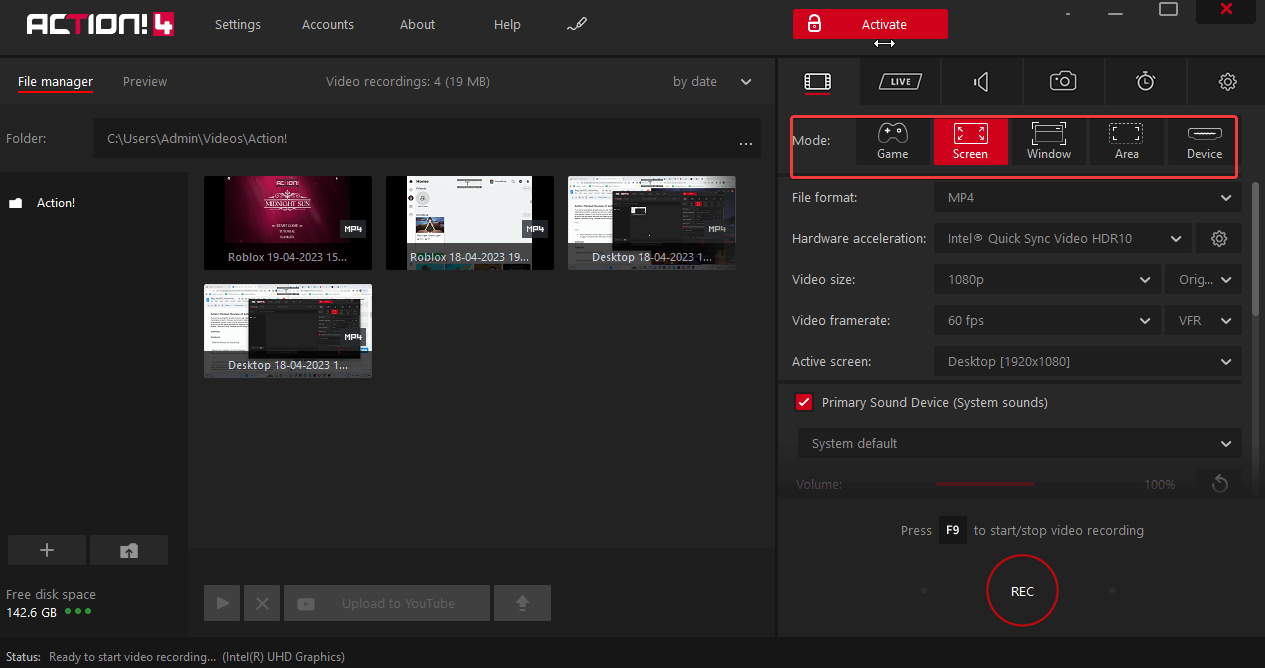 3. Configure settings such as file format, hardware acceleration, video size, frame rate, select audio device, webcam overlay settings, etc.
4. To record a game, first, open the game that you want to record, else the REC button will be disabled. 
5. Once you have opened the game, click on the REC button or press F9 or function (fn) F9 to initiate the recording and again press the same button to stop the recording. 
When you launch Action! on your desktop, you can see a single screen that houses a variety of options. The first part lets you manage folders or access recordings right from the interface. Here you can also keep a track of how much hard drive storage is consumed or what is the file size of your recordings. At the bottom, you also have the option to directly upload your recording on YouTube.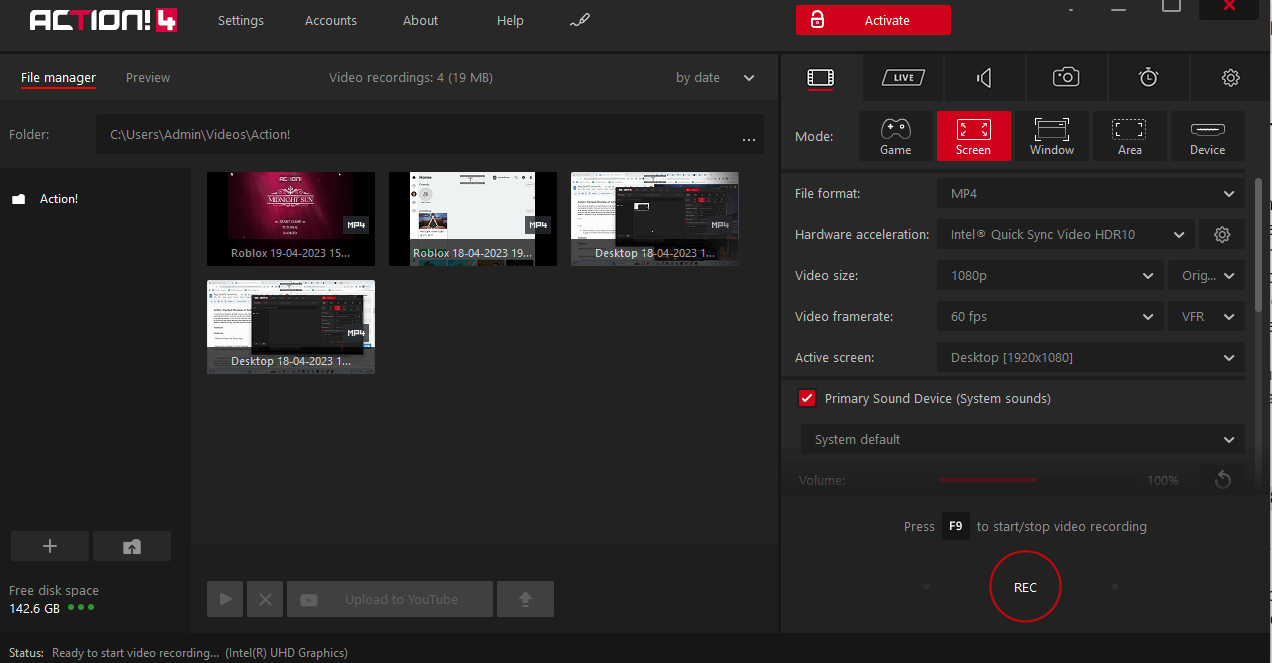 The right side panel is where the actual action happens. Here you can choose what it is that you want to record – a game, a particular section of the desktop or a device. Under each of these options, you can further configure settings such as the file format, hardware acceleration, frame rate, resolution, save audio as a separate file, overlay webcam, etc. 
On the top, you also have options for choosing and configuring the live streaming platform, audio settings, taking screenshots, benchmarking, and others. 
An important aspect of the Action screen recorder's interface is the HUD or heads-up display that shows the current and average frame rate, status icon, progress bar, 3D engine detected, and microphone volume bar. You will see this when you are either recording gameplay or when you are recording your screen. You can control the HUD using F5 – reset average framerate, F6 – hide/ show HUD, and F7 – change HUD position. 

One small thing that we felt in our usage of Action! the game recorder is that we couldn't snap the Action! interface by using the Windows + arrow keys combination.  
Action! Game and screen recorder is packed with several features. Here we have enlisted some of the most notable ones. You can try out the tool and explore all the features – 
1. Different Modes for Recording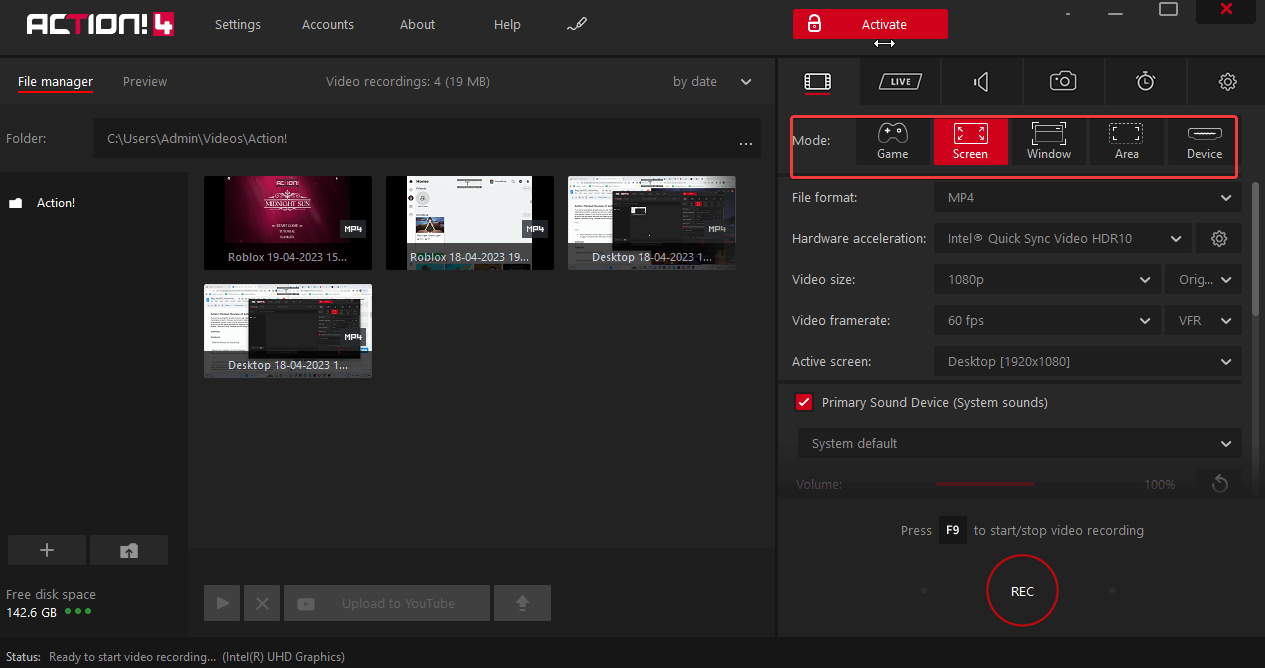 Action! Broadly offers you two different modes of recording –
Game Mode:

It is a dedicated mode with the help of which you can record your gameplay. This means only that portion of the screen will be displayed where you are playing the game. 
Desktop:

Here you can record any region of your screen. 
2. Record Any Region Of Your Desktop
When it comes to recording your desktop on-screen activities, Action! offers you multiple options. 
Screen:

This option records your complete screen. 
Window:

 You can choose an active window to record. More specifically, this option lets you choose the application you want to record. 
Area:

This option lets you drag and select a custom region of your screen that you wish to record. You can also snap the selection area to an active window. The only drawback here is that you can't keep a track of pixels in the magnifying glass as is the case of some of the

other screen recording tools

, like Advanced Screen Recorder. 
3. Record Audio As A Separate File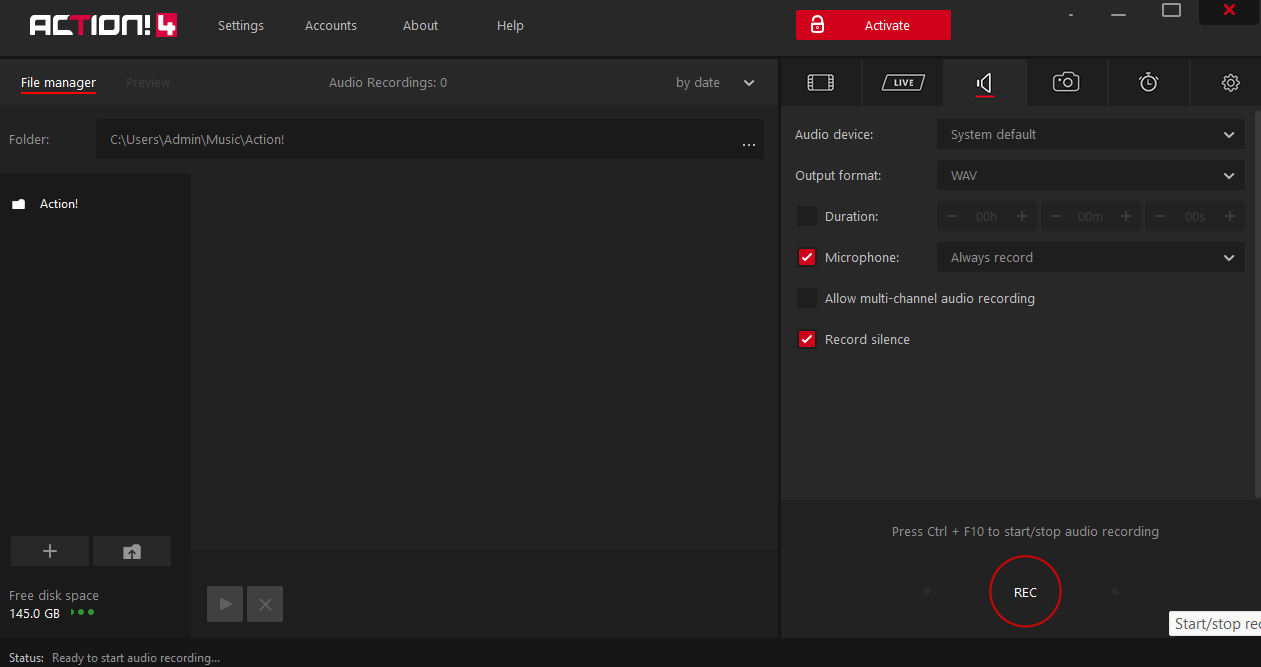 Let's assume that you encountered too much background noise and other disturbances which were hampering your otherwise great gameplay. Action! lets you record your microphone as a separate audio file that you can later treat and process in third-party audio-editing software like Audacity. 
To begin with, you can choose your audio device – it could be an external USB mic or your headphone or speaker etc.. Next, you can save your audio in WAV and MP3 file formats. Plus there are multiple other settings you can configure so that your audio is on-point. 
4. Record Screen and Gameplay Up to 8K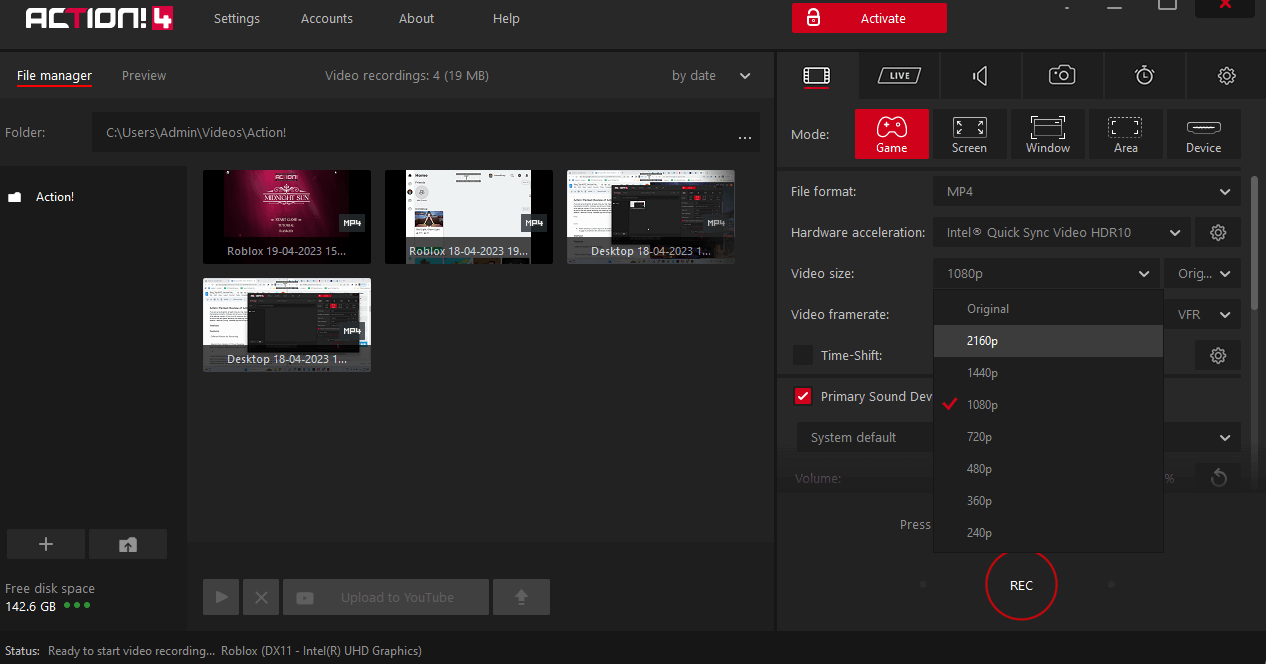 With Action! screen recorder, you can record videos up to 8K. The high-resolution recording starts from 2K, 3K, and 4K for single displays. The aforementioned resolution is supported for both AVI and MP4 file formats. The 8K resolution is supported for AVI file format for NVIDIA 3D Vision setups and AMD Eyefinity.
5. Best-In-Class Performance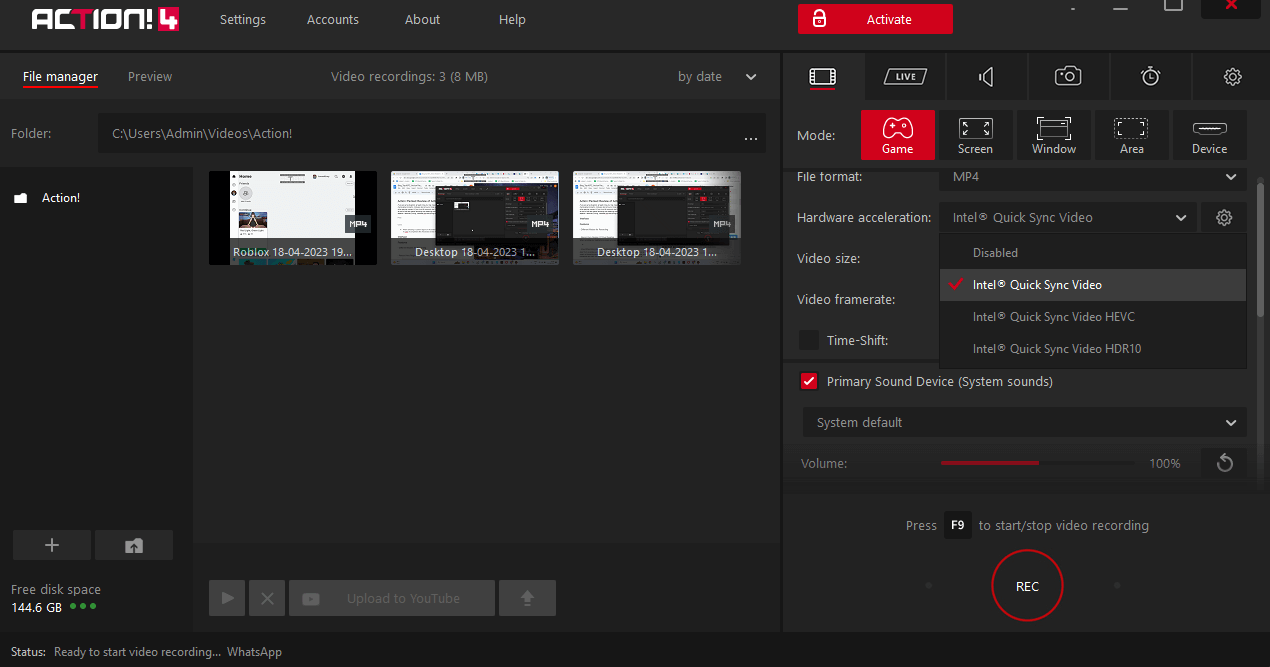 For gameplay recording Action! uses Mirillis ultra-fast, multi-core optimized, proprietary video codec that together with a highly optimized application engine lets you perform high-quality real-time HD video recording. 
Furthermore, it captures video in MP4 format using NVIDIA NVENC, AMD APP or  Intel® Quick Sync Video hardware acceleration. Not only is the screen recording smooth but this also ensures that the file size is small as well. 
6. Record Webcam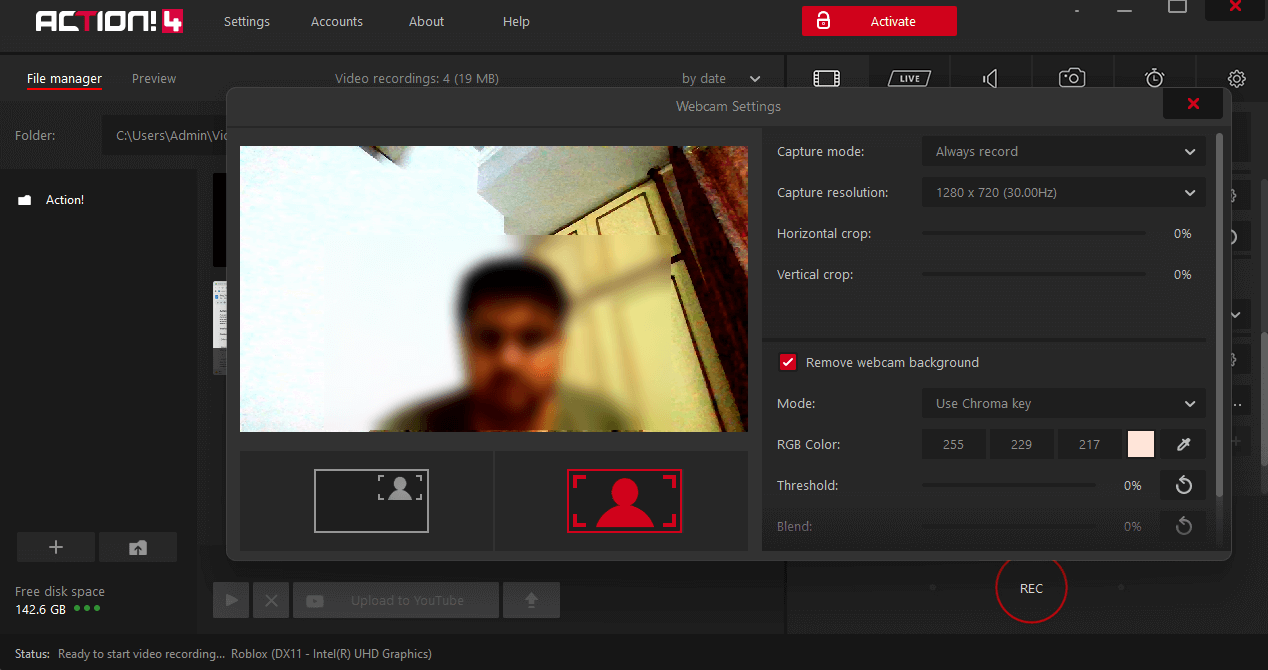 Action! lets you instantly record your webcam. Here you can either choose your complete webcam footage or position the webcam left, right, top or bottom. You can even remove background from webcam footage as well, thanks to Intel® RealSense™ technology. 
7. Live-Streaming and Live Audio Commentary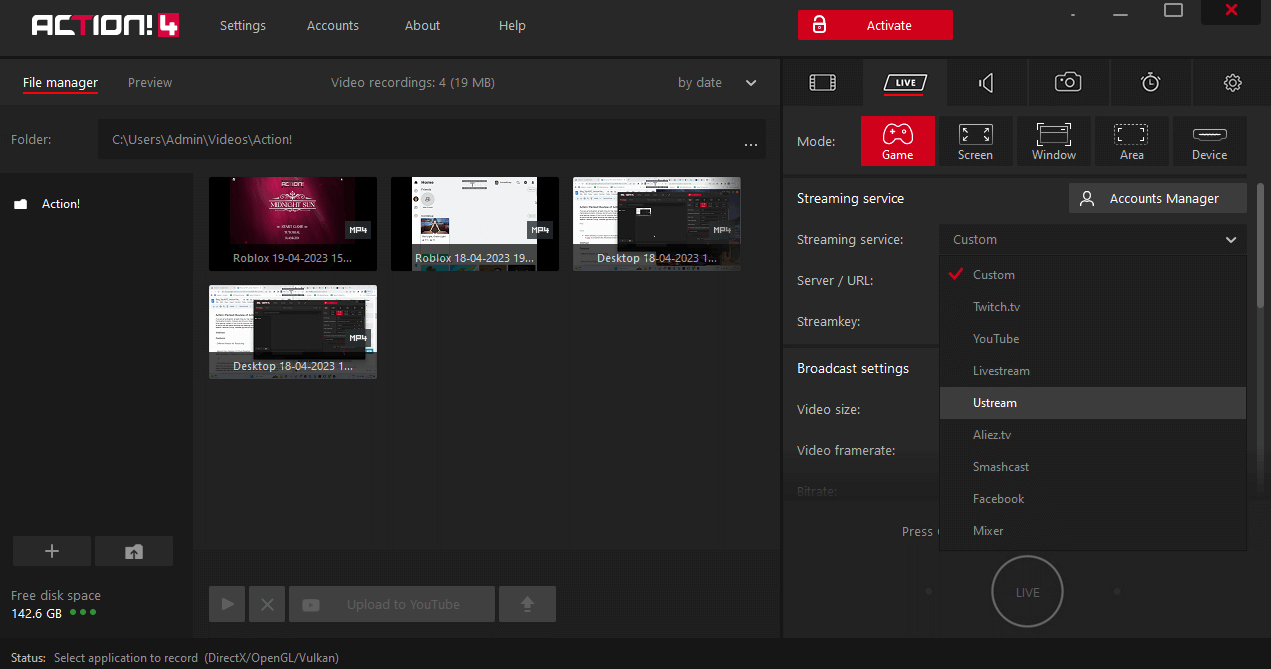 Apart from recording your screen, Action! also lets you live stream. You can choose from a variety of streaming services such as YouTube, Facebook, Twitch.tv, Ustream, etc, enter your credentials and start live streaming. You can stream live both your gameplay as well as desktop activities. You have a complete grip on the broadcast settings where you can choose your resolution, framerate, and other settings. 
Another great aspect of this screen recording tool is that you can add additional live audio commentary to your desktop broadcasts or gameplay. This would help make your gameplays, tutorials, and other screen recordings more interactive. 
8. Time-Shift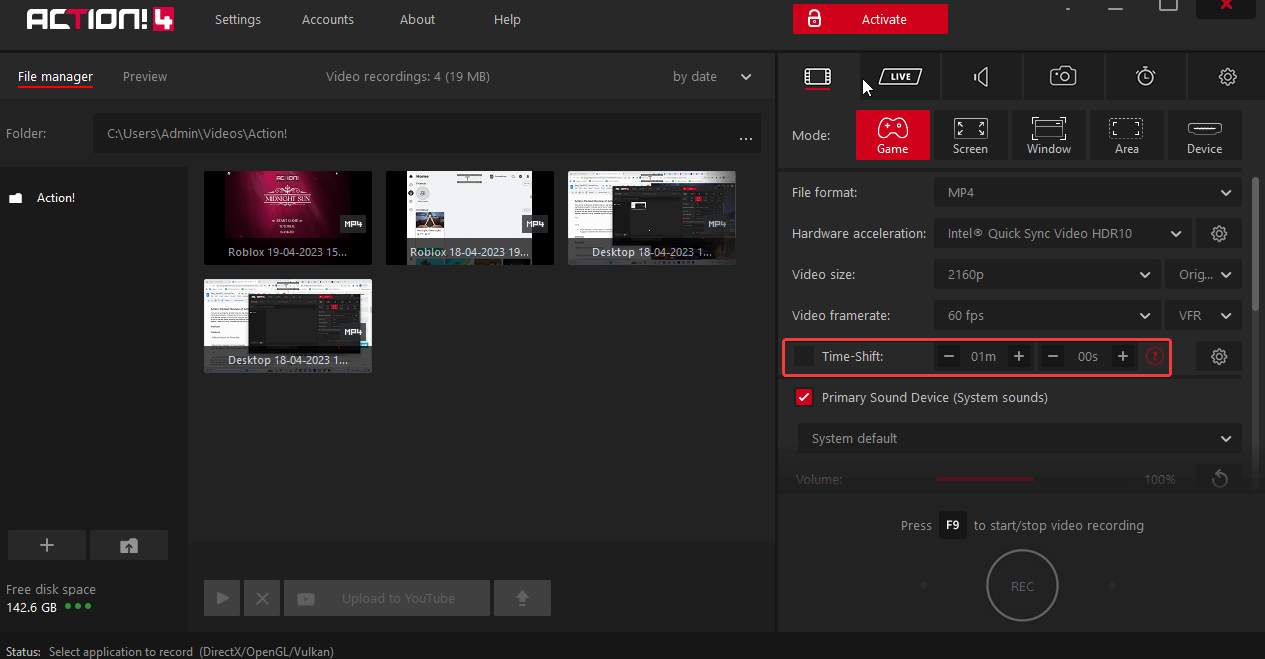 Let's say you forgot to record a great moment from your gameplay. Needn't worry, the Time-Shift feature can help you out. It lets you save your last gameplay actions with the help of a single hotkey. You might be wondering how it does that. It keeps recording all your actions. 
Before you use this feature, make sure that you have selected the Game mode. Now under this mode locate the Time-Shift feature and adjust your duration, and video recording settings. Once you have enabled it you will be able to see it on the HUD. If you wish to save this file, click on the Alt + F9 key combination. 
Please note:
The minimum and maximum duration for Time-Shift is 10 seconds and 10 minutes respectively. 

The recording will be saved in MP4 format only

A maximum resolution of 1920 X 1080 is supported. 
9. Bookmark Recordings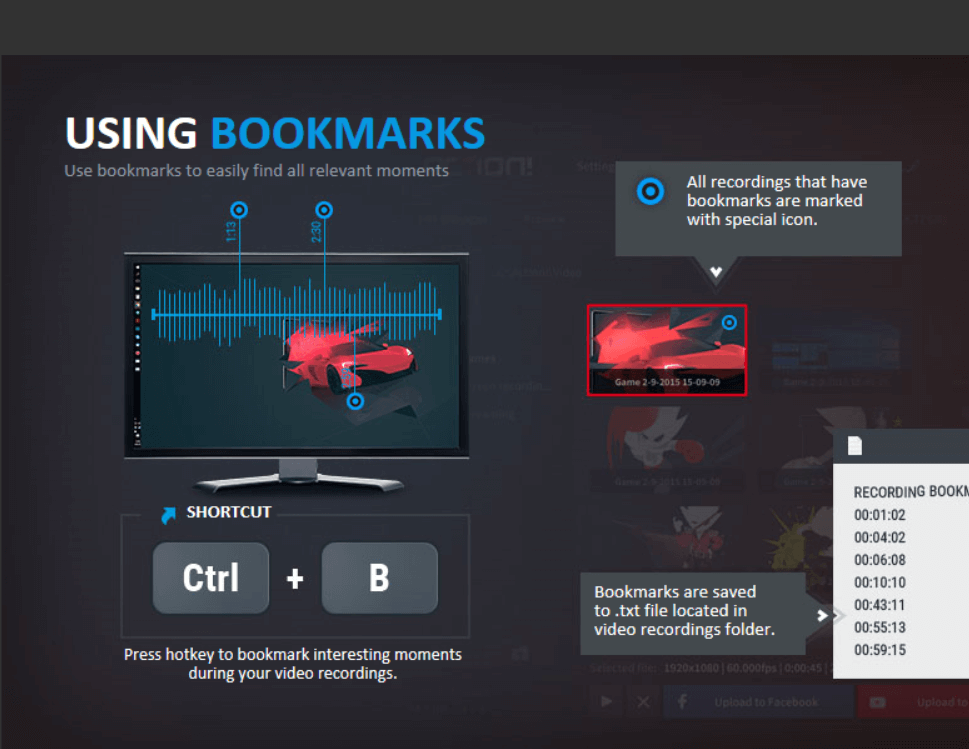 You can use bookmarks to find relevant moments from your screen recording. To bookmark an interesting moment in your video recording press Ctrl + B. All video recordings that have bookmarks are marked with a blue colored icon and they are saved in .txt file format in the video recording folder. 
10. Capture Screenshots
If the need arises to take a screenshot of memorable moments, Action! also lets you take high-quality screenshots as well.  You can save the captured screenshots in PNG, BMP or JPG format.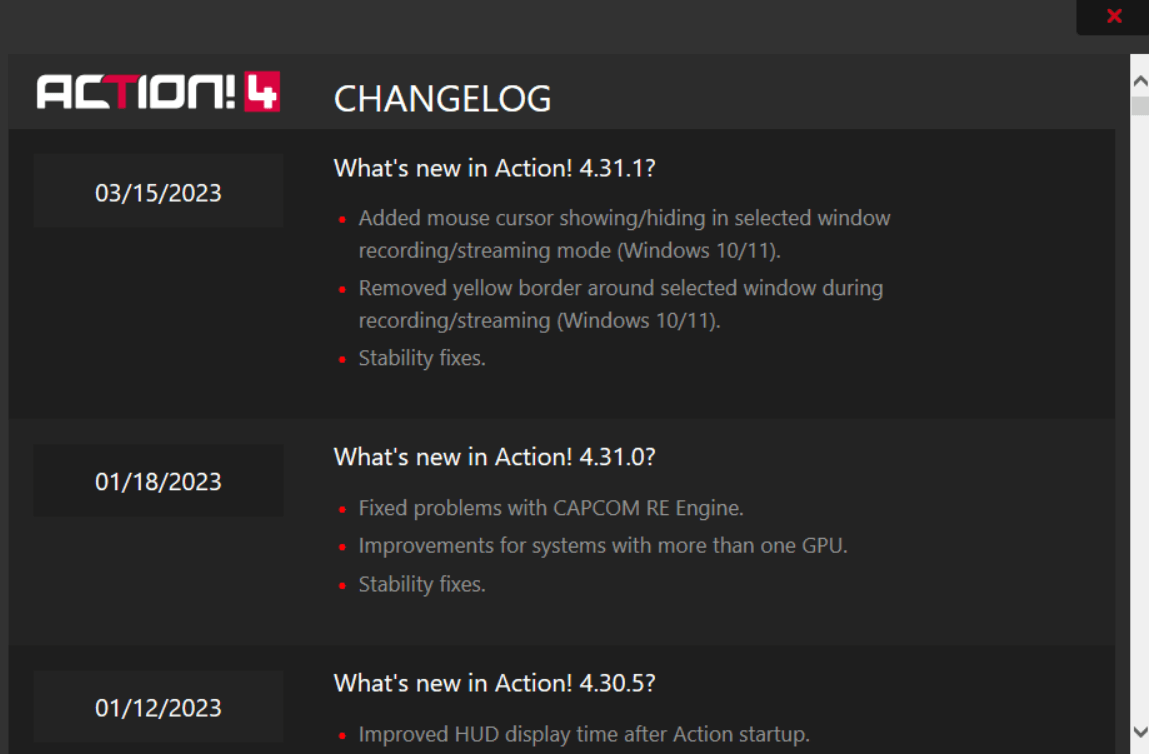 As is evident from the screenshot above, by the way of updates, developers of Action! screen recorders ensure that bugs and stability issues are fixed. And, new features are introduced from time to time. Checking for updates in Action! is very simple. All you have to do is click on the About menu from the top and click on Check for updates.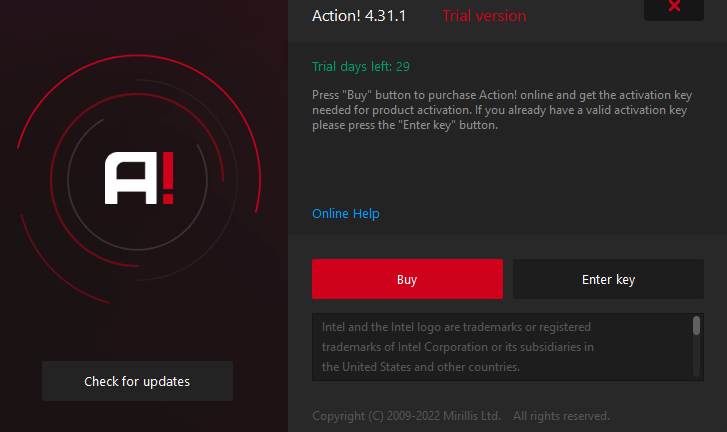 You can use Action! free of cost for 30 days. Here you can test out all the features of this screen and game recording tool. After the 30-day trial period is over, you can choose from two paid variants namely – Lifetime (Home use) and Lifetime (Commercial use). The pricing for each of these variants starts from $29.95. Mirillis runs regular discounts and you can purchase Action! license for as low as $19.77.
As compared to some other screen and game recording utilities like Bandicam,  Action! uses fewer system resources and all in all the recording process was smooth. However, there are occasional crashes that can easily be dealt with.
On recording a game at 1080p on a laptop with mediocre specs, and choosing 60 fps as framerate and Intel Quick Sync Video HDR10 mode for hardware acceleration, the HUD showed these results.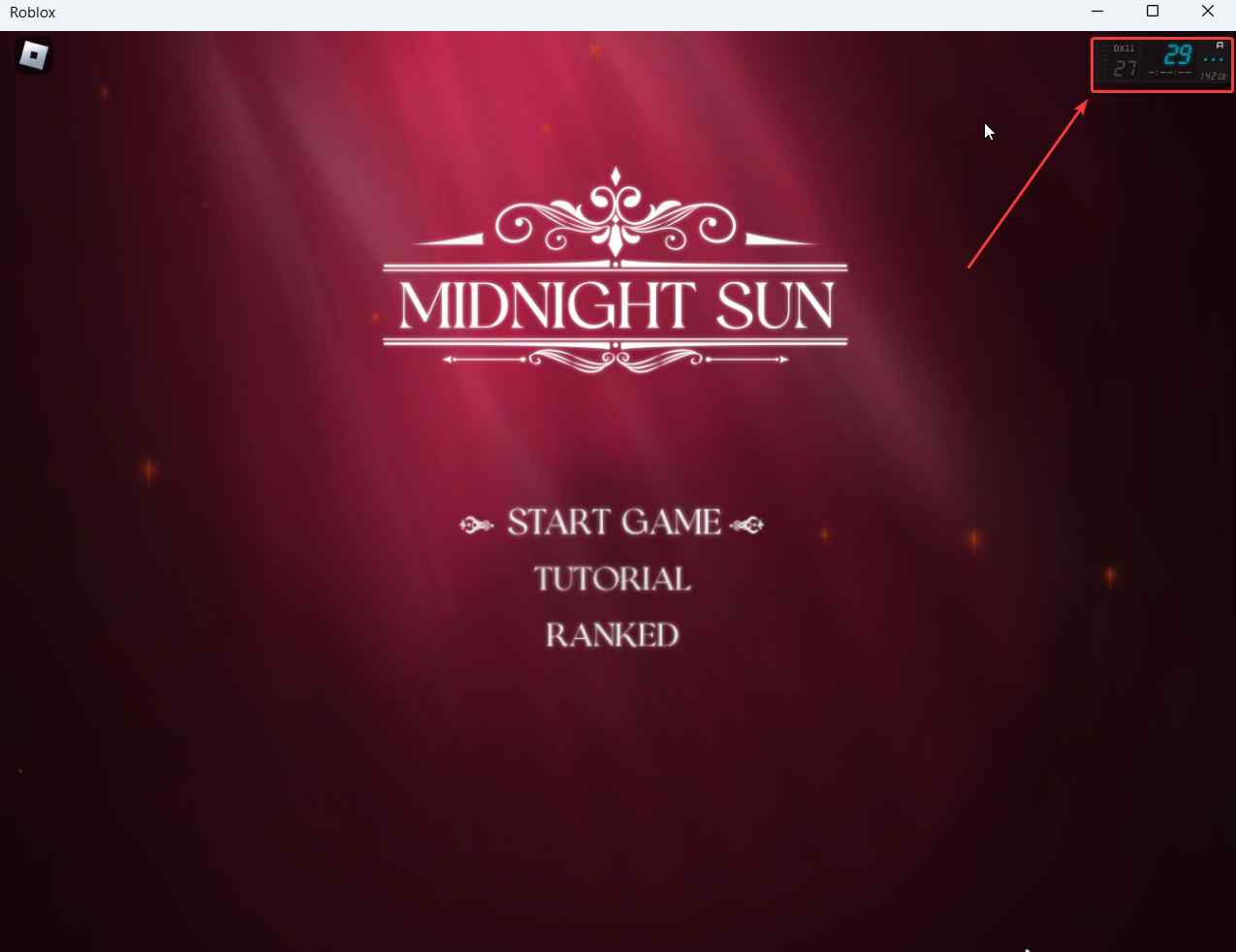 At any point, if you are stuck with something – the functionality of the tool or license renewal or any other issue, you can visit the customer support page and fill in the required form. Someone from the support team will promptly get back to you with a solution. You can also post your doubts in the community forum.
Did Action! Stand Up To Your Expectations?
All in all Action! is indeed a decent game and screen recording utility that consumes less of your computer's resources and at the same time lets you record ultra-HD videos. It is also a great live-streaming tool as well. If you have used it or find it better than any of its competitors, we'd love to know your views and experiences. For more such content, keep reading Top10PCSoftware.   
Frequently Asked Questions –
Q1. What are the features of Action! Screen Recorder?
Action game and screen recorder come with a variety of features such as super HD game and video recording, live streaming, hardware acceleration, webcam overlay, saving audio as a separate file, annotating screen recordings, bookmark recordings and many others.
Q2. How much does Action! Screen Recorder cost?
You can purchase the premium variants of Action! Screen recorder for as low as $19.77. 
Q3. What type of videos can be recorded using Action! Screen Recorder?
You can record a variety of videos with the help of Action! screen recorder. You can record gameplays, webinars, tutorials, web player videos, etc, 
Q4. Does Action! Screen Recorder provide a free trial?
Yes, Action! screen recorder offers a free trial period of 30 days during which you can use all its features for free. The screen recordings captured with the free version carry a watermark.