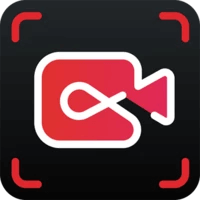 iTop Screen Recorder
iTop Screen Recorder Review: Is It Worth the Hype?
Want to capture an urgent staff meeting? Want to record an exceptional gaming session? What you need is a screen recording tool. Here we are going to review iTop Screen Recorder which is often hailed as one of the best tools to record on-screen activities. Is it worth the hype, let's find out. 
A screen recording software is a nifty tool that you can have on your PC. With the help of one such tool, you can record meetings, create tutorials, record online classes, and, content from popular streaming platforms, webinars, and much more for later reference, and that too in HD or UHD (4K) in a hassle-free manner. If you are looking for one such tool, iTop Screen Recorder is one option you can consider. This iTop Screen recorder review covers major aspects of this tool such as the features, the interface, the pricing, and others. 
What is iTop Screen Recorder?
iTop Screen Recorder is an intuitive and easy-to-use screen recording software for your Windows PC that lets you capture the on-screen activities of your desktop. Not only activities, but you can also capture various other elements such as mouse clicks and keyboard inputs too. 
Considering the fact that audio is an important element of a video recording, iTop Screen Recorder comes with multiple options that can help you fetch the desired audio output. Here you can choose to have (or not have) system sounds and select your desired audio device; for example, you can record the audio from your microphone. 
Once you are done recording your screen and before you publish it or share it with others, you can perform a variety of editing tasks, some of which are mentioned in the features section below. Here we'd like to mention that for basic to intermediate video editing, iTop Screen Recorder for PC does a great job. Still, for more professional editing, you can choose from some of the best video editing tools for your workflow. 
Record any region of the screen in HD.  

Screen capture tool.   

Full-fledged video editor.  

Customizable hotkeys.  

Facility to schedule recording.  
Occasional lags when recording some games. 
System Requirements
Latest version –  3.5
Windows OS Compatibility – Windows 11,10,8.1,8,7
Processor – 1 GHz
RAM –  512 MB
File size – 6.30 MB
Hard disk space required – 1 GB recommended
How To Use iTop Screen Recorder?
Let's assume that you want to record an active Window on your desktop using iTop Screen Recorder Pro. Here are the steps to do that –
1. Download, install, and run iTop Screen Recorder. You can download the tool for free initially. And, if you want to remove the restrictions with the free variant you can upgrade to iTop Screen Recorder Pro. 
2. From the four options shown in the screenshot below, click on the "Record Screen" option.

3. Since our aim here is to capture a particular Window, click on the "Select Window" option. 
4. For example, you can hover your mouse on the Taskbar and record the activities there. 
5. Once you have selected the Window, click on the "Record" button. 
6. You can either click on the pause button to pause your recording or click on the red-colored stop button to stop your recording.

7. To access your recorded clip, click on the "My Creations" option.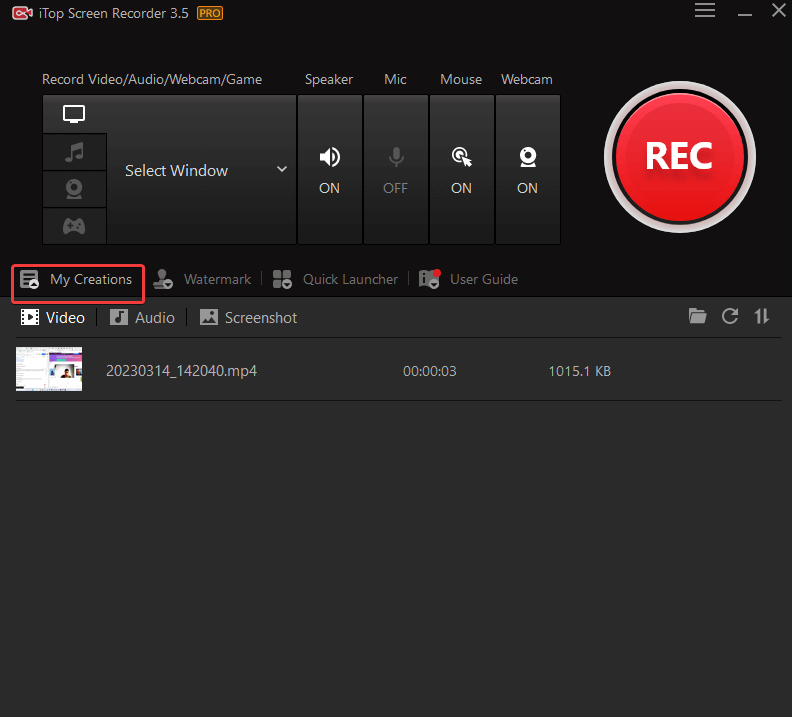 8. You can further choose to preview the recorded clip, delete it, edit it or perform more tasks on it by hovering over the clip.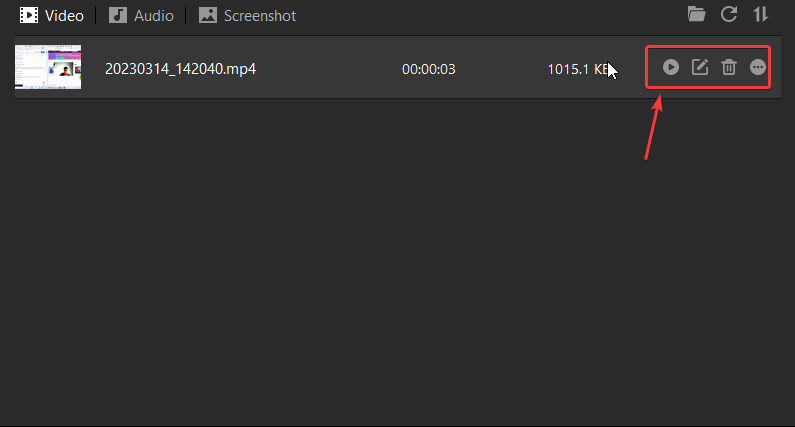 If we had to describe iTop Screen Recorder's interface in one word, it would be concise. At first look, the interface looks small but there's a lot that the tool packs inside. This is the interface that pops up after you have downloaded and installed the iTop Recorder. 

Let's try and understand the interface a little better –

In the first section, you can see four options. The first option is to conduct a simple screen recording. When you select this option, you can further choose a region of the screen that you want to record. Next comes the audio recording. Here the audio recording will be saved as an audio file. The third option lets you remove or change the background. You can find more information on this in the features section below. The last option is for recording games. Here you can add a game and choose whether or not you want to have a heads-up display. 
Moving towards the right, depending on the option you choose, you might see a slight change in the interface. With the "Record Screen", you can enable/ disable the speaker, mic, mouse clicks, and webcam. The "Record Game" option lets you enable the HUD.
1. Screen Record Any Region Of Your Screen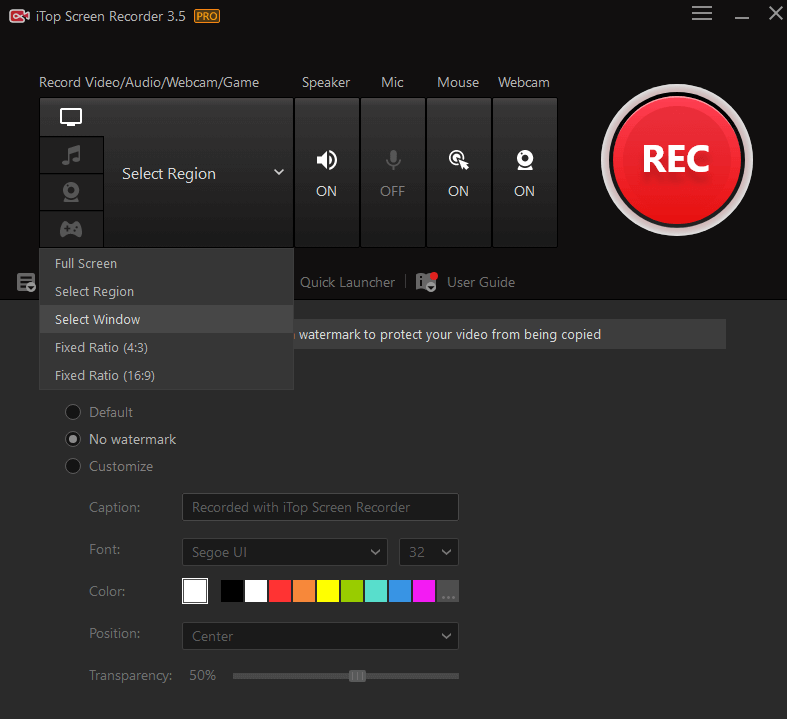 iTop Screen Recorder lets you choose the screen that you want to record. You can record your complete screen, drag and select the specific region you wish to record, capture an active window or choose the screen ratio you want to capture. The screen recording utility ensures that you grab the exact area that you want to capture by letting you make a pixel-perfect selection.
2. Choose the Audio That You Want To record

iTop Screen Recorder Pro is not  only about screen recording; you can also control the audio of your screen recording. You can choose to have your computer's speaker on, and enable or disable your mic as per your needs. iTop Recorder also lets you turn on/ off the mouse clicks. Want to record your mic or speaker's audio separately? You can click on the "Record Audio" option, turn on/ off your speaker or mic and record the audio output separately.  
3. Remove Background Noise
Talking of audio, iTop Recorder also lets you remove background noise with just a few clicks  to get a clear audio file. In our test, the output was decent; however, if audio editing is your primary goal, you can choose from some of the best audio editing tools, such as Audacity, Adobe Audition, etc.  
4. Schedule Recording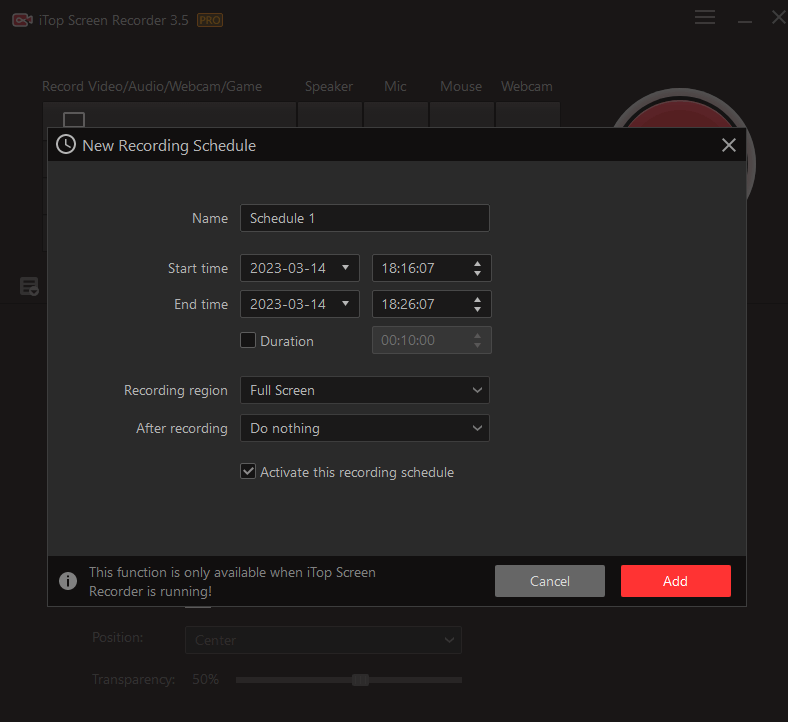 iTop Screen Recorder Pro lets you create a predefined recording schedule to record meetings, gameplays, online classes, and webinars automatically at a set date and time. 
It means you won't have to manually start a recording session every single time. While creating a recording schedule, you can specify the start time, end time, and the screen area you want to record. You can also choose what you want the screen recorder to do after the recording has taken place. 
5. Edit Recordings
You can edit your screen recording by clicking on the "Edit" option, or open the "Video Editor" separately. Not only screen recording, but you can also choose any video clip and perform video editing tasks. 
The editor provides you with two options – Quick Editor and Advanced Editor. With the Quick Editor, you can trim your video, and add filters, stickers, background music, and subtitles.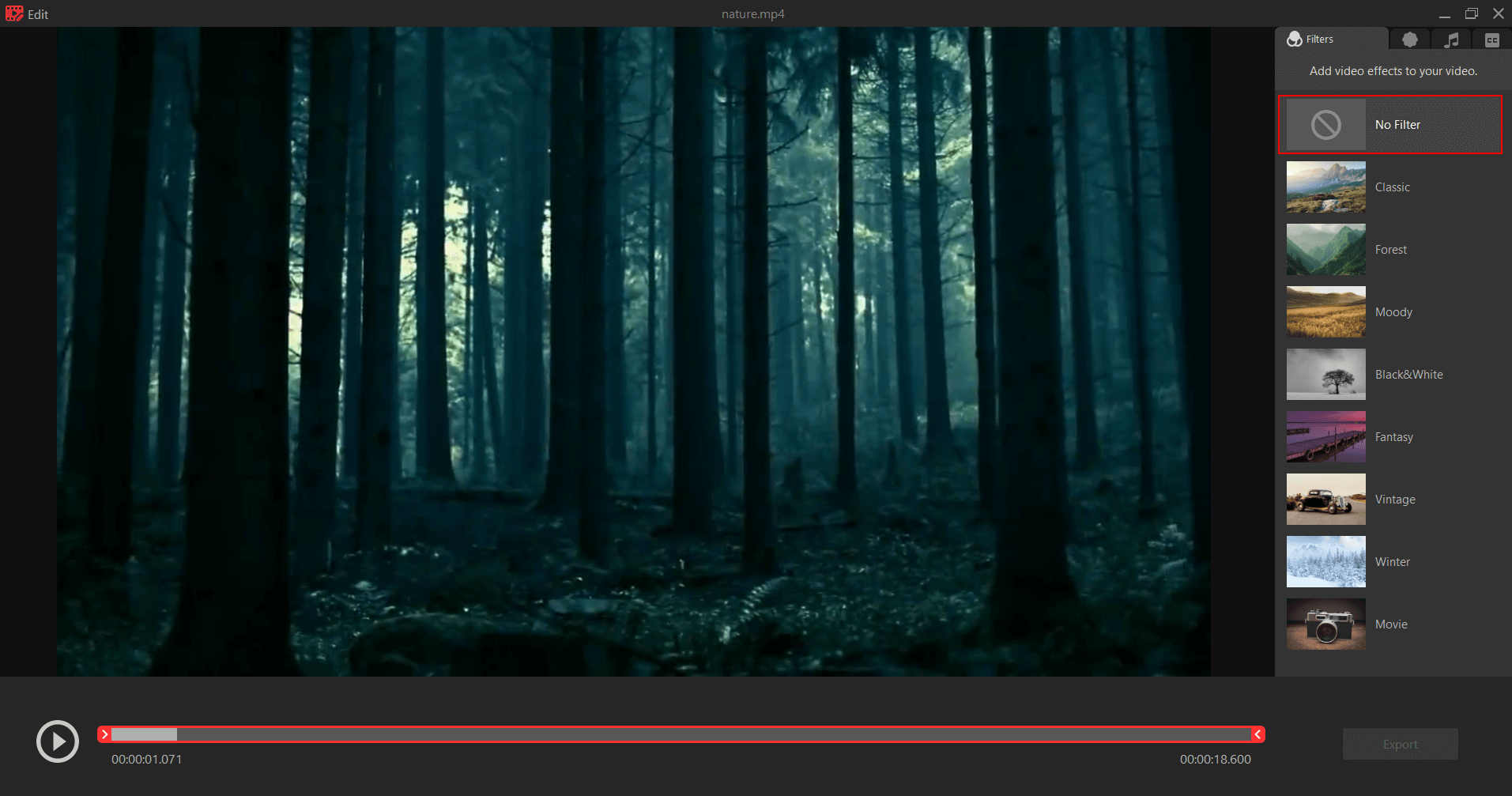 The Advanced Editor is a full-fledged editor. Here you don't just get to add effects but even do more advanced tasks such as splitting a video clip, adding transitions, adjusting volume and opacity, and much more.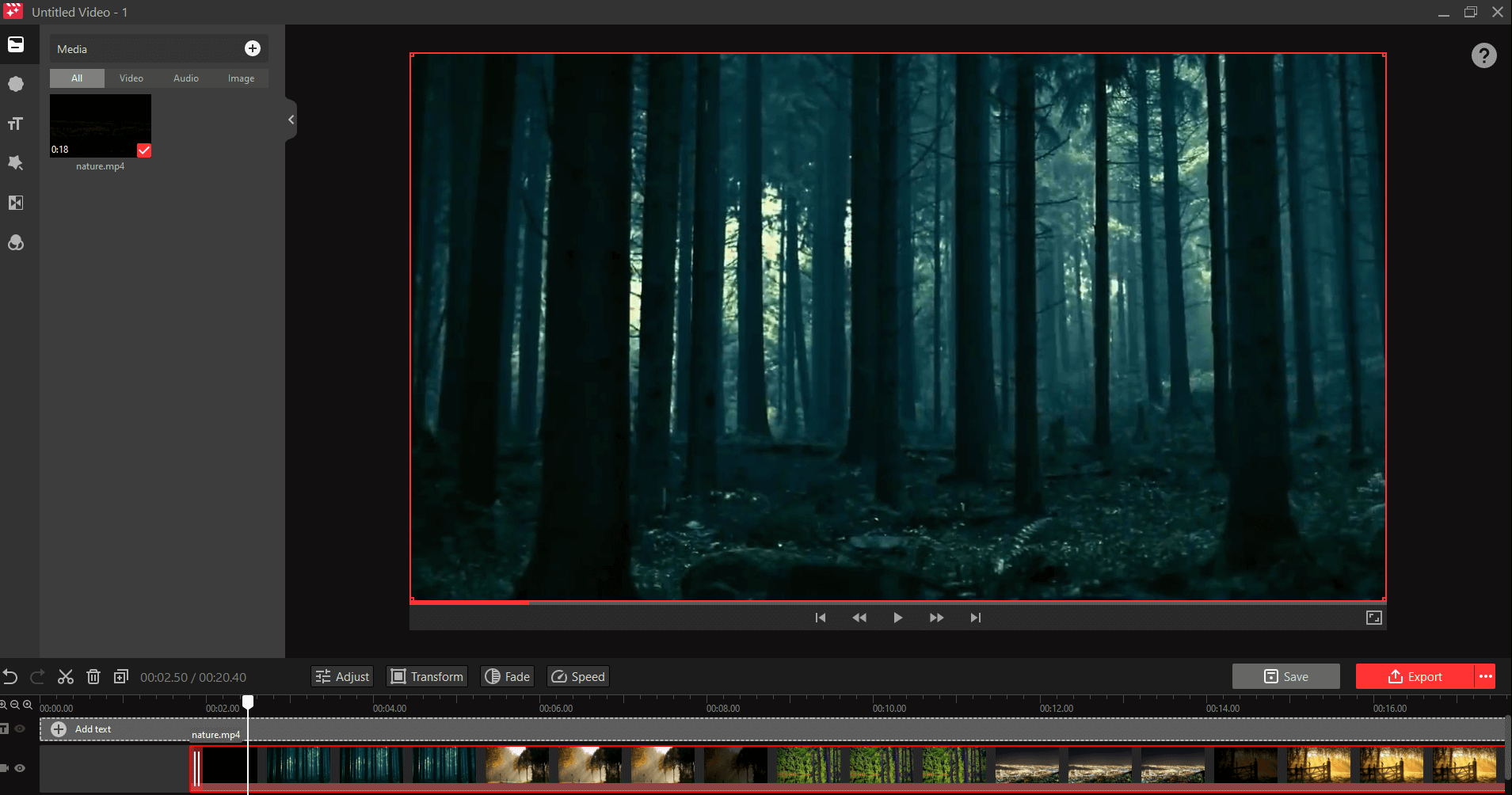 6. Change Background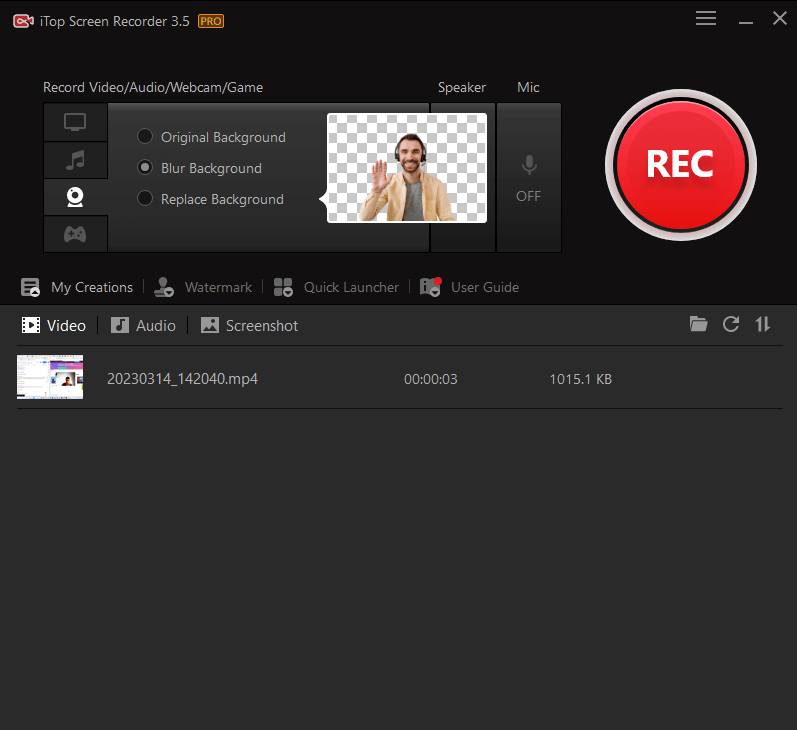 Want to get rid of the dull walls, distracting curtains, and other elements in the background? By downloading iTop Screen Recorder, you can do just that. You can blur the background or replace it altogether. Although, the free variant of iTop Screen recorder for PC doesn't let you change the background. 
7. Dedicated Game Recorder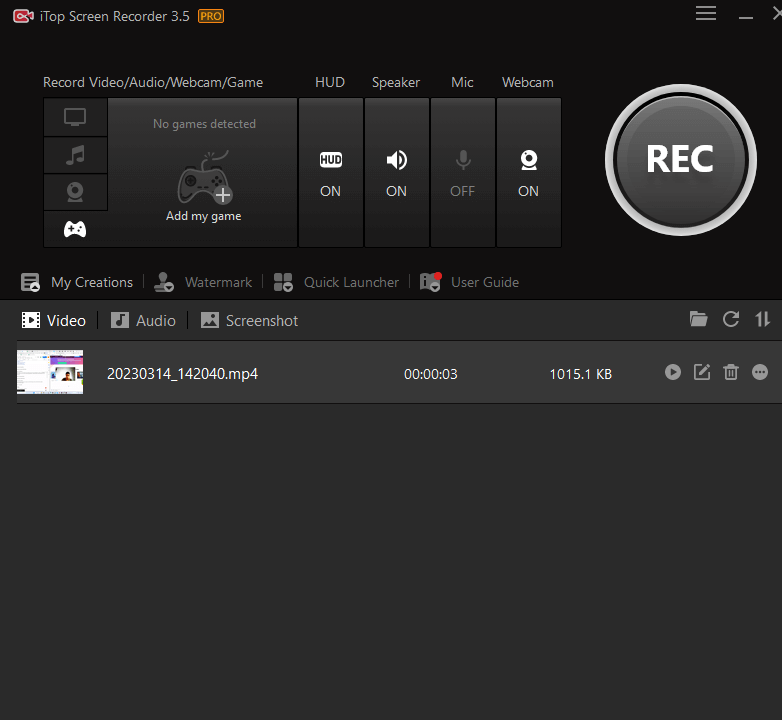 For avid gamers who wish to showcase their gaming skills, iTop Screen Recorder offers some great options. You get a dedicated option to record games where you can add your game and even select the HUD or Heads Up Display. You can add the "Game Path" and other parameters. 
8. Record Webcam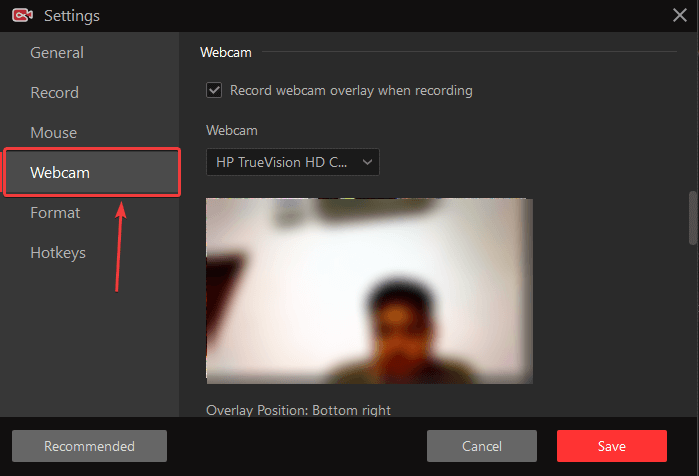 With this option, you can stream your webcam while recording your screen. This feature can be helpful when you are live streaming gameplays, creating tutorials, giving feedback to your students, etc. 
9. Capture Screenshots
iTop Screen Recorder also doubles up as a utility with the help of which you can capture screenshots. You can either capture the entire screen or a scrolling window. As a screen capture tool, iTop Recorder also lets you annotate your screenshots using a variety of elements, such as arrows, lines, and shapes.. 
You can also pixelate areas that you don't want the end user to see. Once the screenshot is up to your liking, you can also share it on platforms Facebook, Pinterest, Twitter, and Imgur. 
Looking for more options as far as screen capture tools are concerned? Consider checking out this post.
10. Customize Watermark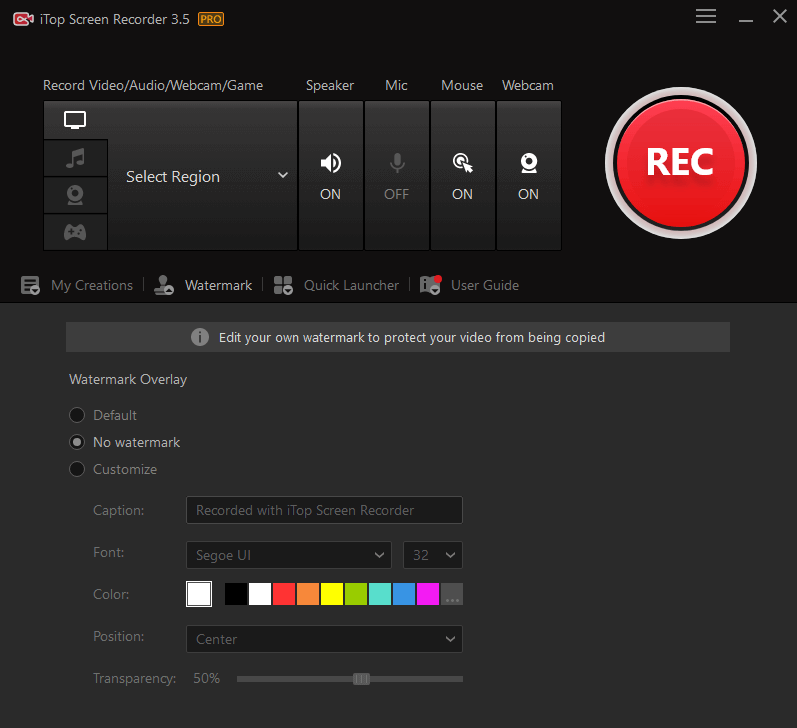 To protect your screen recordings from getting copied, you can add custom watermarks to your recorded videos. You can change the name of the watermark and replace it with your organization's name, change the font, color, transparency and features. 
11. Compress Videos
You can compress videos to a smaller size with the help of iTop Screen Recorder without compromising the quality. 
Through updates, the developers of iTop Screen Recorder ensure that new features are released, and bugs are resolved. For instance, with the recent update, an improved record engine has been introduced, making recording HD videos smoother even on PCs with lower configurations. The update also comes with an improved video coding algorithm where users can export high-quality videos after editing. To update the utility, click on the hamburger icon at the top right corner of the screen and click on Check for Updates.
iTop Screen Recorder for PC comes in two variants – the free variant and the pro or the paid variant. The iTop Screen Recorder Pro starts from $19.99 for 1PC/ month. Here are the kind of features you can expect from iTop Screen Recorder Pro – 
Capture 4K ultra HD videos

Recording schedule

4K video editing

Blur the background or replace it altogether

You can remove the default watermark or customize it.
Here is a breakdown of the pricing and features that come with the free and paid variants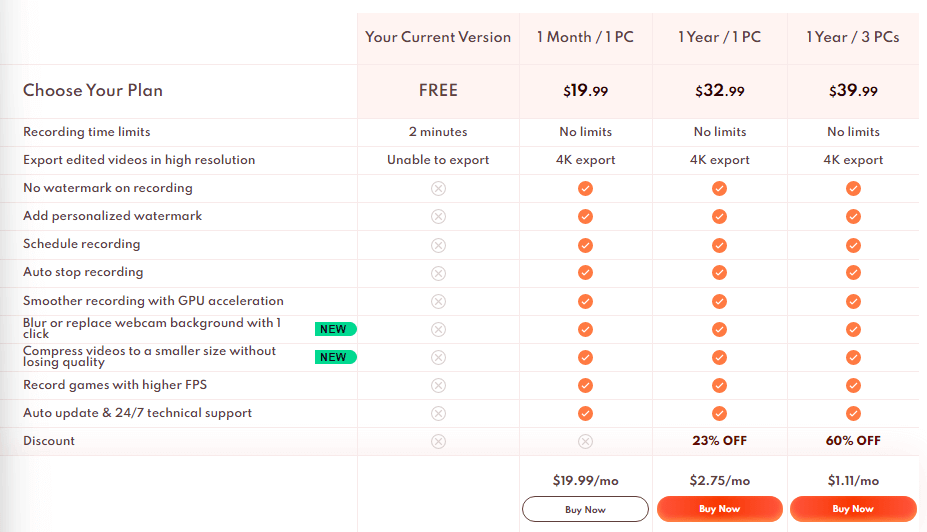 When we used iTop Screen Recorder, we didn't come across any major speed or performance-related issues. In fact, iTop Screen Recorder can also work well on PCs with low specs, thanks to iTop Screen Recorder portable variant. However, when playing high-end games or switching options, there were a few occasional lags. Besides that, it is a smooth screen recording utility.
There are times when you might get stuck with some functionality or face license renewal or other issues. In that scenario, you can first refer to the guide that the iTop recorder comes with. The guide will help you get acquainted with all the basic operations of the tool.  
Even if after referring to the guide, you can still not find a solution to your problems, you can visit the support page, specify your issues and get them resolved. The support staff is prompt, and you should expect a reply in 24-48 hours. 
Wrapping Up
iTop Screen Recorder is not just your average screen recording software. Apart from letting you record any region of the screen or even letting you record games, it even helps you edit your video clips and refine them before you put them out for later reference. Try it out and share your experience with us in the comments section below. For more such content, keep reading Top10PCSoftware. You can also find us on Facebook, Flipboard, and Pinterest.
Frequently Asked Questions –
Q1. Is iTop Screen Recorder legit?
Yes, iTop screen recorder is a legit tool that can help you record the on-screen activities on your desktop hassle-free. It comes with a variety of add-ons that make it stand above many of its competitors. For example, it comes with a dedicated video editor. 
Q2. What Is the Most Trusted Screen Recorder?
There are many options you can choose from as far as screen recording is concerned. Advanced Screen Recorder, iTop Screen Recorder, and OBS Studio are some of the trusted names preferred by users for recording screens. 
Q3. Is iTop screen Recorder free?
Yes, iTop Screen Recorder is free for the most part. However, the free version comes with certain limitations discussed in the pricing section above. For instance, the free version bears a watermark and restricts you to 2 minutes of recording. 
Q4. Is A Screen Recorder Safe to use?
Most screen recorders are safe to use, provided you download them from a trusted website. iTop Screen Recorder, in particular, implements technical measures to ensure that no malware sneaks inside. However, when downloading a screen recorder software, or any software for that matter, you can always keep an Antivirus tool handy. That way, you would not risk your computer.