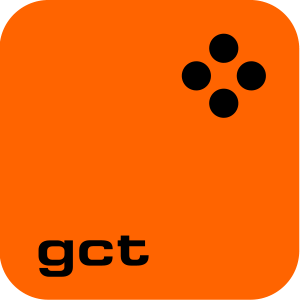 Movavi Gecata
Is Movavi Gecata the Best Game Recording and Streaming Tool Out There? Our Take!
Want to record that insane headshot you took? Wish to capture a wholesome gaming stream for those who couldn't make it? The thing you're looking for is a  game recorder. Today,  we will review one such excellent tool – Gecata by Movavi which is often regarded as one of the best tools that can help you record your gameplays and even assist users to stream gameplays on a variety of platforms. By the end, we will find out if this tool stands up to its hype.
There are several instances, when you might feel the need to capture the on-screen activities on your desktop. You might want to record your online lectures, office meetings, presentations, gaming sessions, and more  so that you can keep them for later reference.
Let's say, you are an avid gamer who conducts regular gameplay sessions. Also, there might be times when your subscribers request you to share the highlights of a gaming session they couldn't attend. Hence,  you would need a tool like Movavi Gecata to record your favorite glimpses!
In simple terms, it is an intuitive screen and game recording tool that doesn't just let you capture on-screen activities but also help you stream on a variety of platforms. It even  lets you record while the streaming session is in progress.
System Requirements
Current Version – 6.1.2
Windows Compatibility – Windows 11/10/8.1/8/7 (32 and 64-bit)
RAM – Minimum 2GB recommended
CPU – Intel i3 or higher, AMD equivalent to Intel i3 or higher
Hard Disk Space – 150 MB for installation and 5 GB for operations
Graphics card – DirectX 9 compatible graphics card with 512 MB VRAM
Display – 1024 × 768 screen resolution, 32-bit color
How To Use Gecata By Movavi?
Using Gecata is pretty straightforward. Both novice & pro users can easily get started with this recording & streaming solution.
1. Download Gecata by Movavi and install it by running the installation file.
2. Choose whether you want to record a game or desktop screen.

3. Next, you need to  head towards  the following tabs and settings and adjust them as per your needs and preferences:
Under the Device tab – Enable or disable (mute) System Audio, Microphone, and Webcam.

Under the Files tab – Choose the location on your hard drive where you want to save your output videos and screenshots. Here you can also select the default format for your screenshots.

Under the Hotkeys tab – You can either stick to the default hotkeys for executing an operation or you can assign new hotkeys or change the exisitng ones as per your preferences & convinience.

Under the Video tab – You can change the video-related settings such as codec, resolution, frame rate, etc.

Under the Web Camera tab – Select your webcam, its resolution, frame rate, and overlay position.

Under the Streaming tab – If you wish to stream, choose the required service, server, and stream key.

4. Once you have chosen the  desired settings click on the red colored button. You can press the F9 key to pause your recording and the F10 key to stop your recording.
5. On the farthest right, you can click on the folder icon to open your output folder where all your recordings are saved.
6. Just above the folder icon or the Output Folder is the editor that lets you perform basic tasks such as trimming the video, taking out a fragment or deleting it, etc.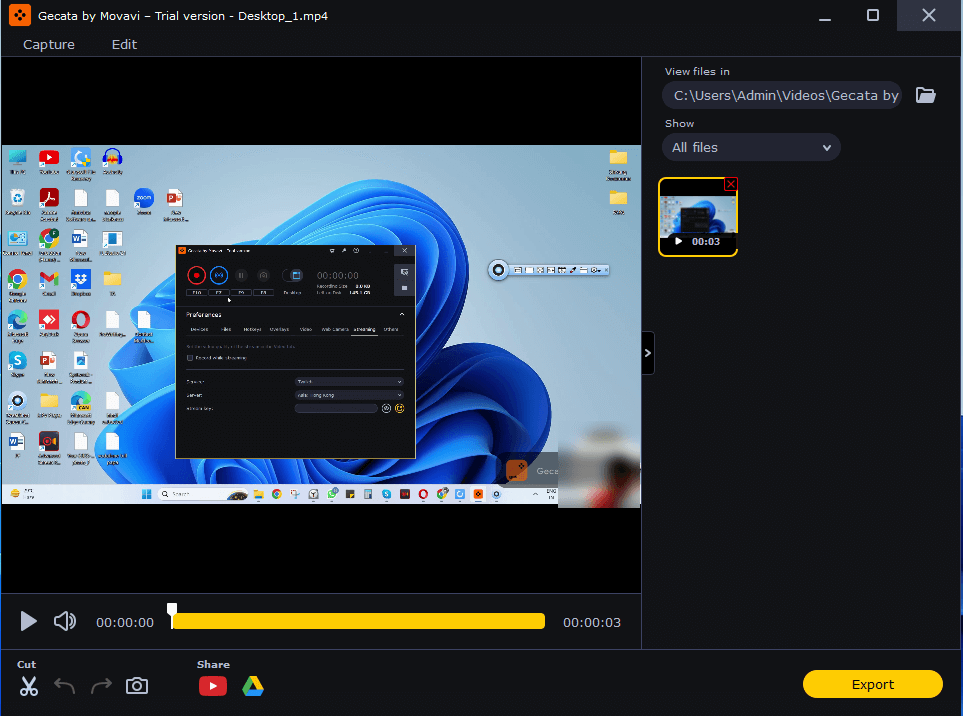 Record gameplay up to 120 FPS in 4K.
Customizable hotkeys.
Several options for webcam overlay.
Record and stream at the same time.
See the recording time, size left on the hard disk, and file size in the interface itself.
Customizable hotkeys that allow you to enjoy gameplay without touching the mouse.
Record audio as a separate file in AAC format.
The free version bears a watermark.
Can't access recordings in the interface.
Lags in games such as Shutter games and Call of Duty.
Movavi Gecata has a simple, self-explanatory user interface. When you install the screen recording tool you will be able to see a box that features a record button, streaming button, two screen capturing modes – game and desktop, a time bar that shows the duration of recording, recording file size,  total storage space, the output folder and the video editor.
When you click on the dropdown next to Preferences, you can see a range of tabs discussed above. By clicking on each of these tabs you can choose and adjust settings pertaining to the webcam and microphone and even  customize hotkeys to operate the screen recording utility, streaming options, and others settings conviniently.
After you have recorded a game or desktop screen, you can find the captured content under the output folder.  recorded files will open in a separate File Explorer window, unlike many of its competitors where recordings can be accessed from the interface itself.
1. Game Mode and Desktop Mode
There are some great reasons why Movavi Gecata is  regarded as one of the best game recording tools. And one of the main reasons is the excelllent  Game mode that lets you start recording your screen activity as soon as you launch the game. The screen recorder tool has been tested while playing  popular titles such as Grand Theft Auto, Minecraft, Fortnite, Roblox, League of Legends, and many others. As soon as you pop up the game, the recording will start  instantly.
You can also see some figures showing the frame rate, the size on the disk, and the various shortcuts. You can change what you want to show in game recording by clicking on the overlay tab.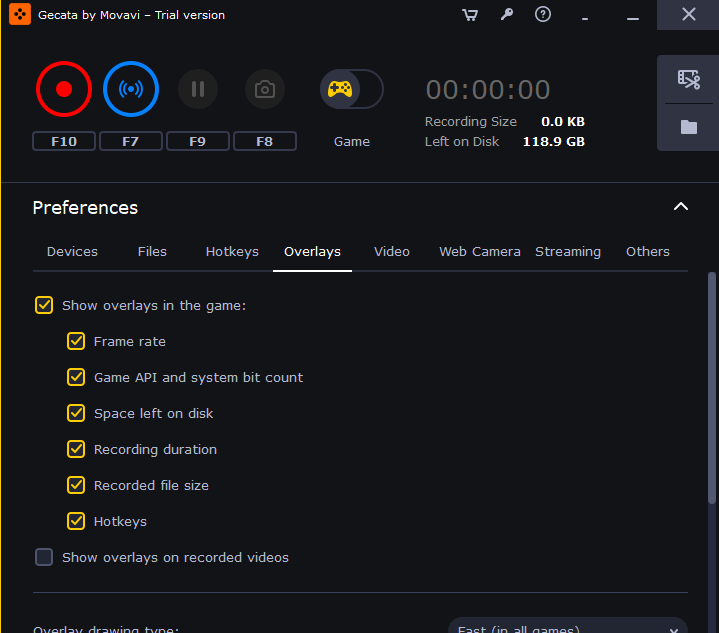 If it's just your desktop screen that you want to record, you can simply toggle the Game Mode  switch to Desktop mode.
2. Optimize Video Recording As Per Your Needs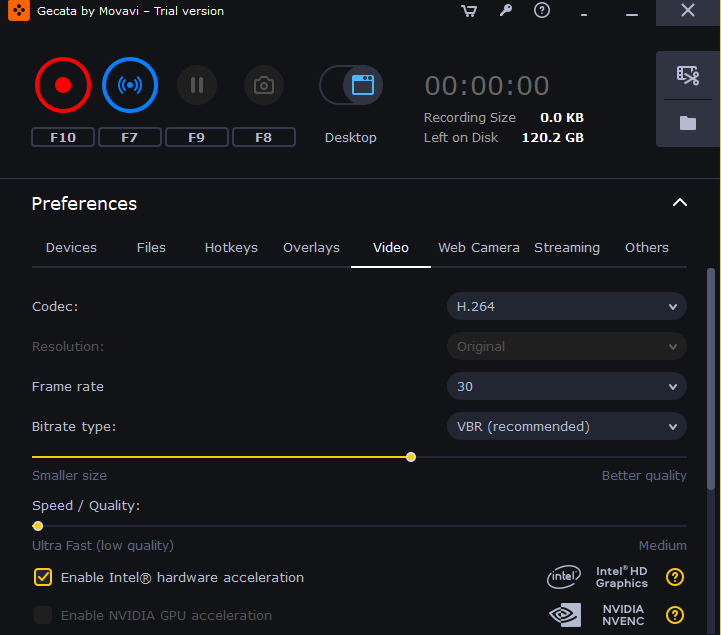 When we talk about "optimizing video recording", Movavi Gecata offers you several options. You can choose your desired Codec, video resolution, frame rate, bitrate type, and speed. And, if you have Intel HD Graphics or NVIDIA NVENC, you can even make use of hardware acceleration settings that enhance the overall experience.
3. Save Audio As A Separate File
Gecata from Movavi lets you capture two-way capturing modes of in-game music, audio files, and speech. Here's what we mean – Let's say you want to add a commentary or voice-over on the happenings of the game and want your viewers to listen to the same. And, keep the recorded audio for later references as well, so that you can add  it in future streams. For this, you can save sound streams as separate sound files in AAC format. Additionally, you might want to cut out any bloopers or disturbances from the audio.Hence, the tool can assist in the same!
4. Overlay Webcam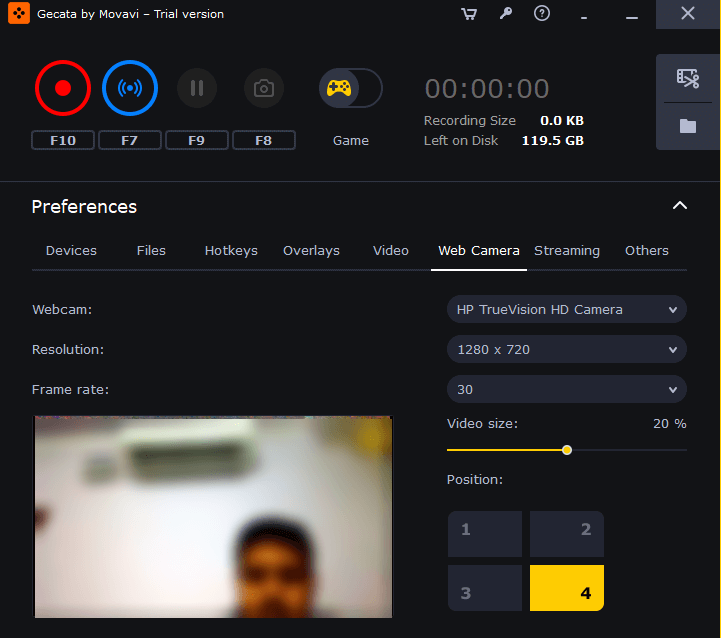 When recording your streaming session, you can also overlay your webcam. Again, to do that you have several settings you can tweak. To begin with, you can choose your webcam settings, change the resolution, choose your desired frame rate and video size. You can also choose where exactly you want to position your webcam on the screen recording.
5. Inbuilt Editor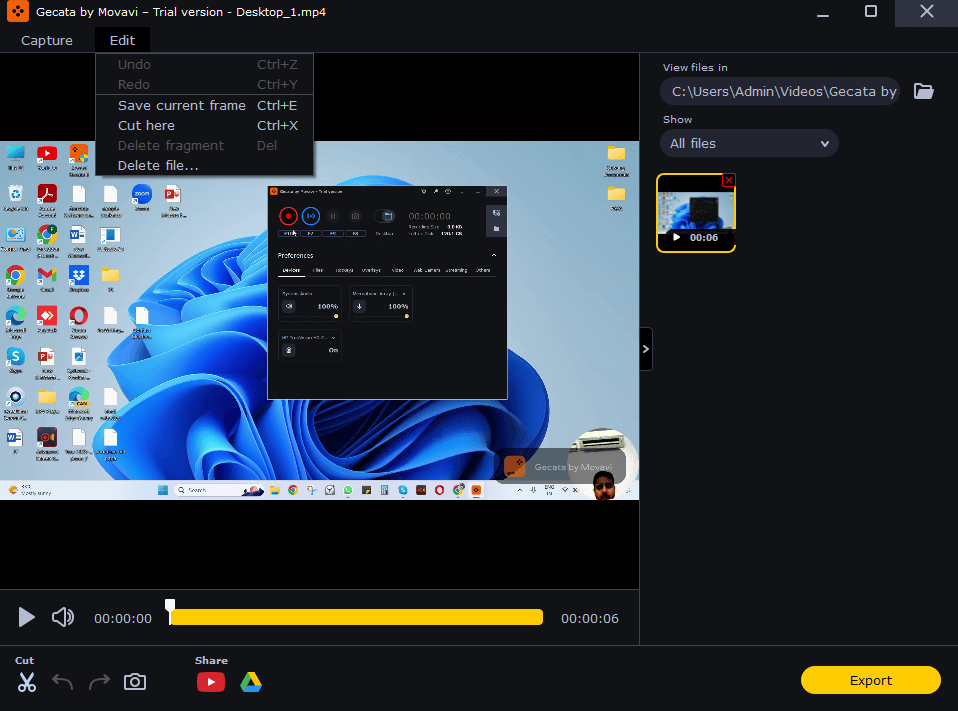 Movavi Gecata comes with an inbuilt editor where you can perform edits on your recorded videos. You can either edit an existing video that you have recorded or you can import a video file into the video editor. As far as editing goes, you can select a fragment of the video and cut it out or even delete it. Next, you can save a selected frame from the video and share the edited videos directly on YouTube and Google Drive.
6. Capture High-Quality Screenshots
Movavi Gecata isn't just a screen and game recording tool. It also lets you grab high-quality screenshots while you are recording your on-screen activities.
7. Record While Streaming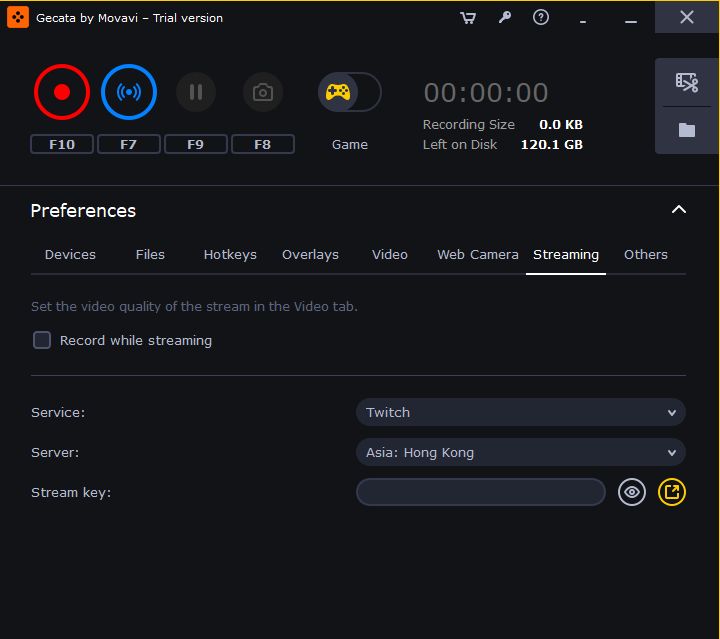 Gecata lets you record and stream at the same time. This is pretty useful for those users, who want to share their  videos with people  who may have missed their r live streams. When recording while streaming, you can choose the streaming service, the server, and other settings.

Talking about theupdates, Movavi ensures that new features and updates are regulalry released for Gecata. It also makes sure that all the major & minor bugs are fixed. To fetch an update and check for the  available latest & compatible version of the screen recording tool, click on the "?" icon at the top of the interface and click on Check for Updates.
Gecata by Movavi is available in two variants – free and paid. You can use the free variant forever, however, it comes with limitated functionalities. For instance,  all the screen recordings comes attached with a  watermark as opposed to the paid variant that doesn't have a watermark. The free version restricts you to 10 minutes of non-stop recording and 30 days of recorded video optimization whereas the paid variant has no restrictions. Also, there is neither a free technical support nor free software updates with the free version. Whereas, with the premium version you get both of these.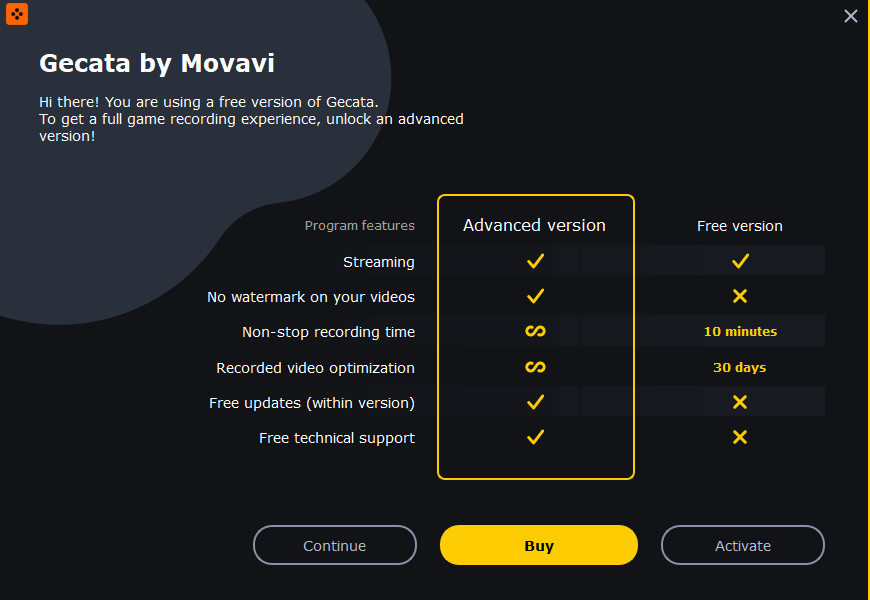 The question arises how much would the Advanced or premium version cost you? The premium version is priced at $35.95.
When you download and use Gecata by Movavi, you can enjoy smooth user experience. You can easily record and stream most games easily with no lags to follow. However, in our usage, when we played certain games like Call of Duty which are resource intensive, we did face some minor lags. But, not to forget the game recording utility offers two hardware acceleration modes as well, using which we did see some improvement in the recording.
Experience Seamless Recording and Streaming with Movavi Gecata: Our Take!
All in all, Movavi Gecata is a slick game capture tool that not  just let you record games or stream games but even optimizes your recordings for a variety of platforms including YouTube. Looking for more such  feature-packed game recording tools? Check this post out.
If you have used Movavi Gecata, share your experience in the comments section below. For more such content, keep reading Top10PCSoftware.
Frequently Asked Questions –
Q1. What is Movavi Gecata?
Movavi Gecata is one of the best tools to record and stream games. It also lets you record games while the streaming is in session. It also lets you save game audio files, commentary, etc as a separate file so that you can edit out any bloopers or refine the audio for later use.
Q2. Is Movavi Gecata really free?
Yes, Movavai Gecata can be used as a free screen recording tool. Although, the free variant comes with certain restrictions. For instance, you can only record non-stop for 10 minutes and the screen recording will bear a watermark.
Q3. How much does Movavi Gecata screen recorder cost?
The premium version would cost you $35.95.