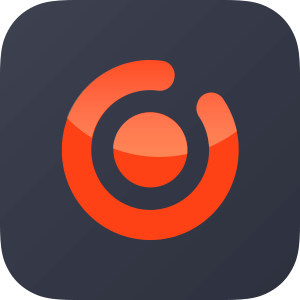 EaseUS RecExperts
EaseUS RecExperts Review – Features, Guide, and Alternatives
Wish to record the on-screen activities of your computer in a hassle-free manner? Give EaseUS RecExperts a try. In this review, we have discussed the various aspects of this screen recording program for Windows – features, pricing, pros and cons, and several other aspects.
Capturing the on-screen activities of your computer can help you save them for later reference. There are some great screen recording programs that can help you record your computer's screen and not just that, many of them even automate the various screen recording tasks.
Here we are going to review EaseUS RecExperts which is a popular option among screen recording utilities.
Where Can EaseUS RecExperts Be Helpful?
EaseUS RecExperts can be a great tool to record any on-screen activity and can be helpful in various scenarios like the ones mentioned below –
Record online meetings on Teams, WhatsApp, Skype, Zoom, and various other platforms.
Create a video tutorial demonstrating troubleshooting steps for an issue on your or another user's computer.
Recording gameplay with and without webcam overlay.
Capturing minutes of a presentation and sharing them with other colleagues for later reference.
Recording videos from streaming platforms like YouTube, Netflix, Amazon Prime, Hulu, BBC, etc.
Pros and Cons
Record any region of the screen.
Capture webcam.
Automate tasks using features like Auto split and Auto stop.
Schedule screen recordings at a desired date and time.
Record gameplay while displaying aspects like frame rate.
GPU acceleration that uses less system resources and delivers great output.
Apply watermark on-screen recordings.
Occasional crashes in which case you can open the Task Manager, select EaseUS RecExperts, click on End Task, and restart the tool.
How To Get Started With EaseUS RecExperts for Windows
Step 1 – Download EaseUS RecExperts and run the installation.
Step 2 – From the left pane, click on the Record screen option. Choose the region that you want to record. You can record your complete desktop screen or a particular region of your computer's screen.

Step 3 – If you intend to record your webcam, click on the Webcam dropdown and select your webcam. You can further, click on Settings and choose other options pertaining to how you want to overlay your webcam or the background that you want to choose.

Step 4 – Configure System sound and Microphone settings by clicking on the dropdowns next to each of these.

Step 5 – Once you have selected your desired settings, click on the orange colored REC button from the farthest right.

Step 6 – You can pause the recording by clicking on the Pause button and further, click on the Continue to restart recording. Once you are done, you can either click on the Stop button to terminate the recording process or the same thing can be done by pressing the F9 key.
Step 7 – You can click on the last option from the left-hand pane and access all your recordings.

Step 8 – Just above the REC button, is the Screenshot tool with which you can capture screenshots while you are recording your screen.
EaseUS RecExperts has a simple and easy-to-understand user interface. As soon as you download and install the screen recording software, this is the interface that you get.

On the left-hand pane, you have the main options. You can click on each of these and the subsequent options will appear on the right-hand side. You have options for choosing the screen area that you want to record, sound configuration settings, gameplay recording settings, recording online video, and recording your webcam. You can also access all your recordings from here itself.
Whenever you choose an option from the left-hand pane, you'll get a different set of subsequent options on the right, except for the Auto split, Auto stop, and Task scheduler that appear on the bottom-right of the interface.
1. Record Any Region Of Your Desktop
With EaseUS RecExperts, based on your needs you can record any part of your desktop's screen. It could be full screen or a specific region on your desktop.
And, here we are not just talking about one screen. In case you have multiple displays, you can choose the display and then proceed with screen recording. Moreover, based on the region you have selected, you can even choose the resolution.
2. Complete Grip On Audio
When it comes to screen recording, audio plays a very important role. With EaseUS RecExperts you can configure your system as well as microphone audio.
Save an Extra Audio File While Recording and Reduce Background Noise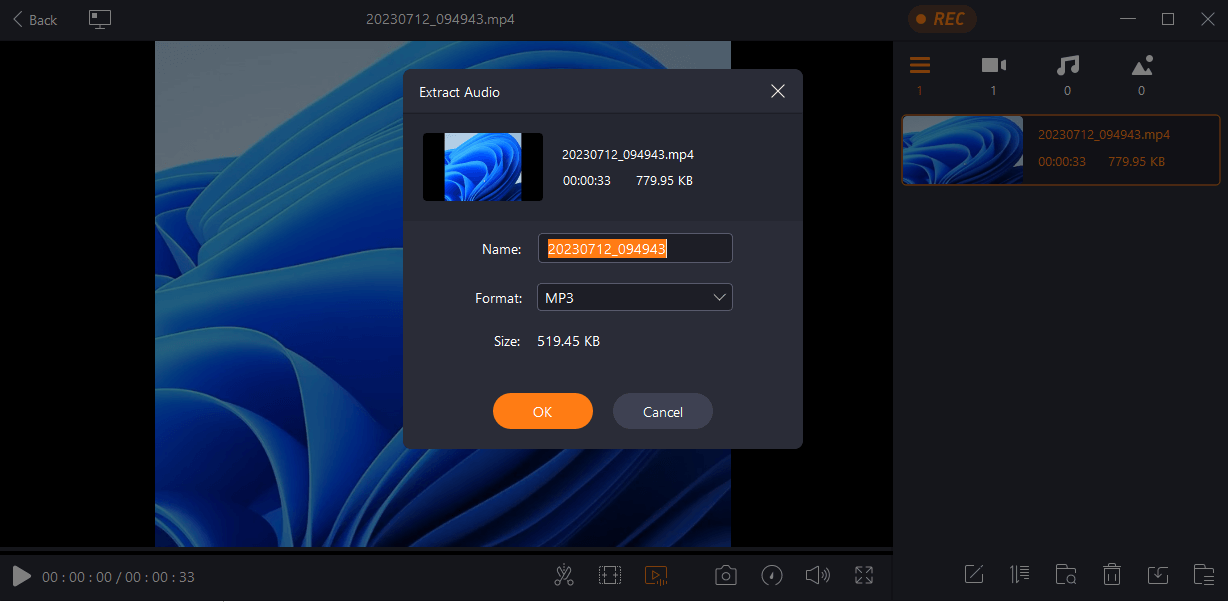 One of the reasons why you may want to purchase the EaseUS RecExperts Pro version is that it lets you save an extra audio file while you are recording your screen. In fact, the tool helps you extract audio from video using AI. You can use this file in more scenes or any other videos that you have recorded or edited.
EaseUS RecExperts full version also lets you use the power of AI to boost Mic volume as well as reduce any background noise that can otherwise hamper the quality of your audio.
3. Record Webcam
Another great feature of EaseUS RecExperts is that it lets you capture screen and webcam at the same time. You can easily record presentations, make tutorial videos and gameplay videos where your engagement requires you to overlay your webcam. Not just that, you can even customize your background and replace it with a virtual one.
4. Record Gameplay
While Xbox Game Bar might be your go-to tool to capture gameplay on your PC, EaseUS RecExperts can be a great alternative. For one, it lets you record your gaming session in a lag-free manner and adjust various settings beforehand such as frame rate, hotkeys, output format, and much more.
And, as we mentioned above, you can capture both your gameplay as well as webcam and audio in high definition.
5. Trim Recording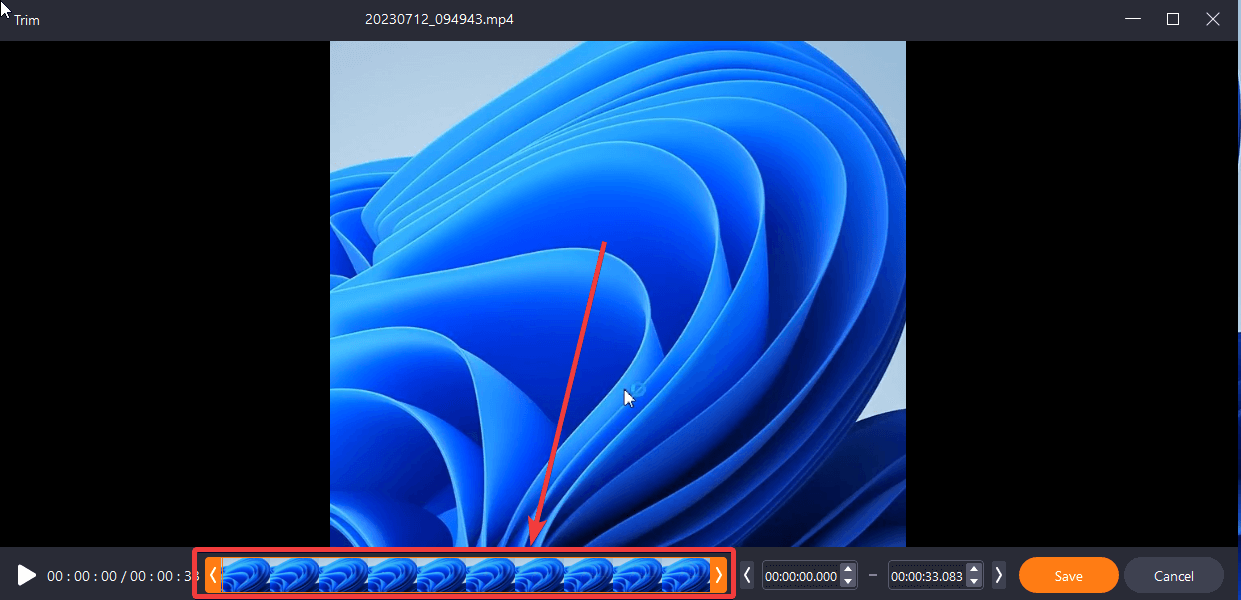 Let's assume that you have recorded a video of a lecture and want to remove some unwanted parts. With EaseUS RecExperts you can utilize the built-in video editor to do just that. You can import the video or even trim a video framewise by dragging either handle as shown in the screenshot above.
6. Auto Stop, and Split Screen Recording
When you have multiple tasks at hand, you may forget to record your screen. For example, you have a packed schedule, and in between there is a webinar that you wish to record for later reference. With EaseUS RecExperts you can automate your screen recording by assigning a start time or stop time. You can also specify the file size after which the screen recording will stop or an action that you want to happen once your screen recording concludes.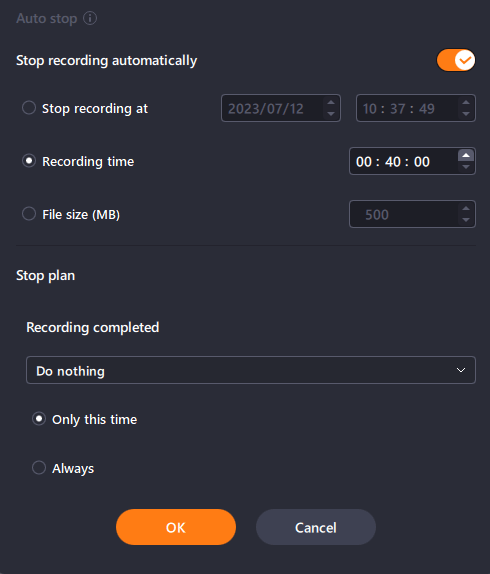 Apart from the Auto-Start and Auto-Stop features, there is yet another aspect that can be helpful which is the Auto-Split feature. What this does is that it splits the recording file as soon as it reaches a user-defined time limit or a user-defined file size.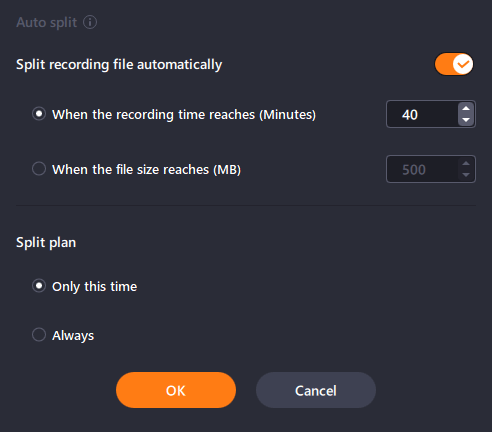 7. GPU Hardware Acceleration
The screen recording software utilizes GPU hardware acceleration. It uses fewer system resources and at the same time delivers supreme recording quality.
8. Schedule Recording Tasks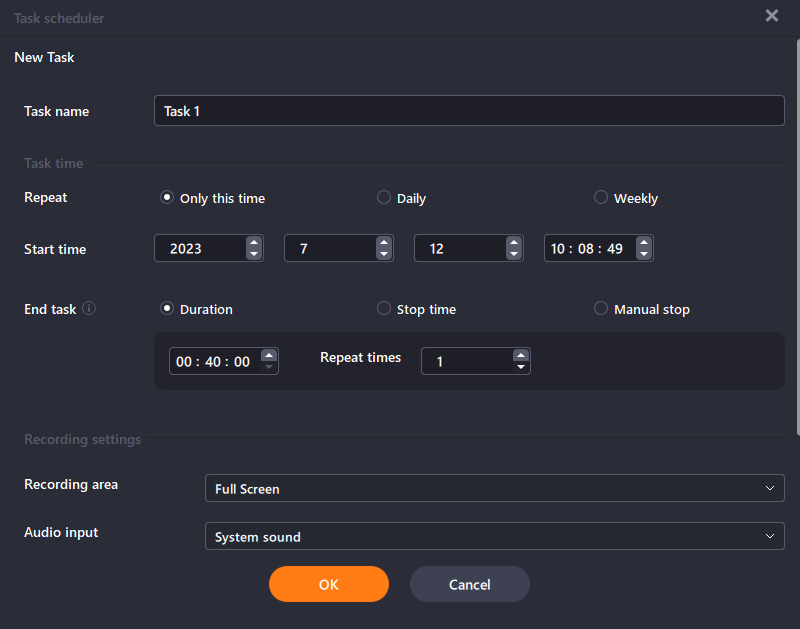 EaseUS RecExperts lets you create recording schedules so that you won't have to manually start and stop screen recording sessions. With regards to scheduling a recording, you can do the following things –
Repeat tasks daily or weekly.
Choose the date, start, and end time when the recording will commence and stop.
Select the recording area.
You can even choose the audio output as well.
9. Annotate While Recording the Screen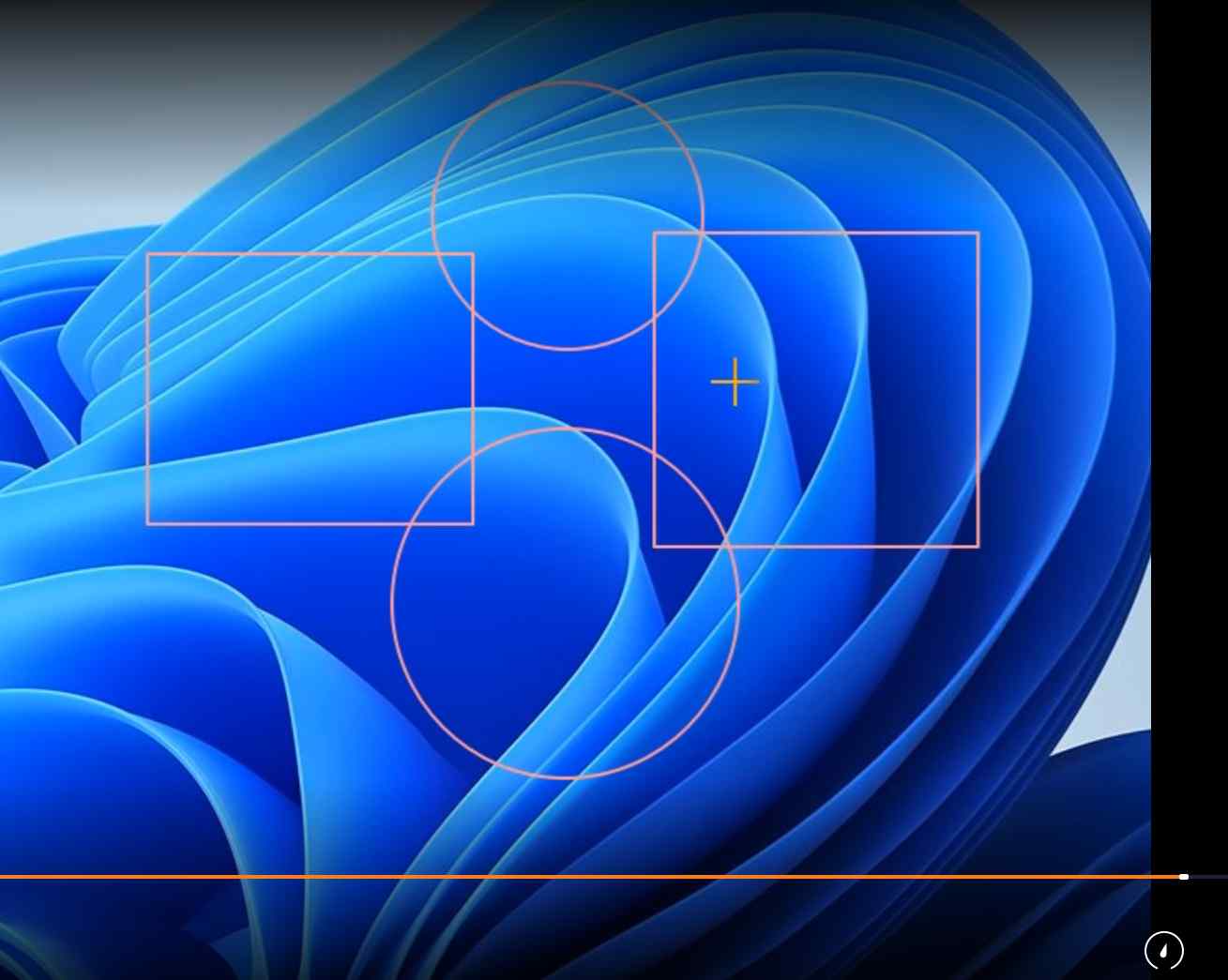 To make your screen recording more engaging, you can annotate it using text, lines, shapes, and various other kinds of annotations. EaseUS RecExperts supports real-time drawing, as such you can record your annotations and make your recordings more interactive.
10. Record Video Online

This is a feature that not many screen recording tools have. When you download EaseUS RecExperts you can directly choose a platform from which you can record videos. You can record videos on YouTube, Netflix, Vimeo, Amazon Prime, Disney, Hulu, and many others.
11. Add Watermark
In order to prevent your screen recording from getting copied, EaseUS RecExperts for Windows lets you add a watermark. You can use both text as well as images as watermarks. To make your watermarks more personalized, there are several options as can be seen in the screenshot below.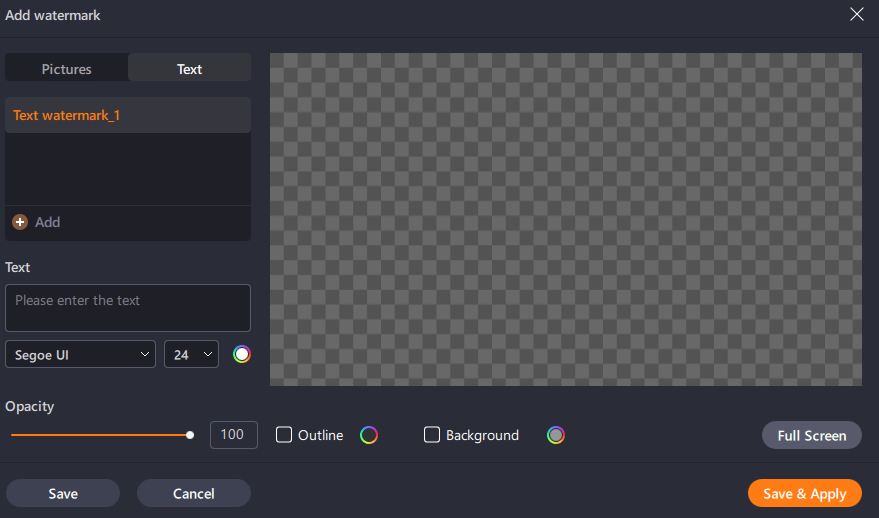 EaseUS RecExperts comes in broadly two variants – EaseUS RecExperts Free, and EaseUS RecExperts full version (Pro). The free variant lets you save screen recordings for up to 1 minute. While you can access most of the features, there are many features for which you will have to purchase the EaseUS Full version.
Here is what you can expect from each of these variants –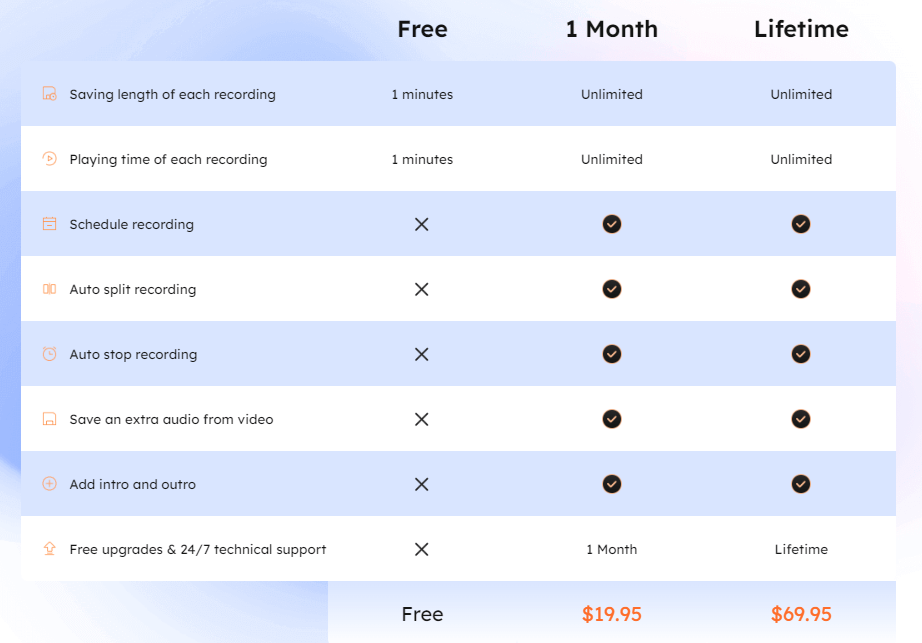 In our personal experience, we didn't come across any performance issues. In fact, it utilizes GPU acceleration which helps consume less system resources and produces optimum output.
By way of updates, developers ensure that new features are released on a regular basis and bugs and vulnerabilities are fixed. To check for updates manually. You can click on the hamburger icon from the top right-hand side of the interface and then click on Check for updates.

In case of doubts, there are many ways you can reach out to the customer support team. You can seek assistance via live chat or fill out a form and submit your query to the support team. In most cases, the team replies promptly. However, 24/7 technical support is available for EaseUS RecExperts Pro and Business users.
Screen Recording Made Easy
EaseUs RecExperts is a decent feature-rich screen recording utility that doesn't just let you record any portion of your screen but even helps automate screen recording tasks. Do give it a try and share your experience in the comments section below. For more such content, keep reading Top10PCSoftware. You can also reach out to us on Facebook, Pinterest, and Twitter.
Frequently Asked Questions
Q1. Is EaseUS RecExperts trustworthy?
EaseUS RecExperts is a safe and trustworthy screen recording software that comes with various great features. In our testing, it wasn't flagged as a malicious threat by any of the Antivirus tools.
Q2. Is EaseUS screen recorder free?
Yes, EaseUS RecExperts offers you a trial version where you can save and play a recording of up to 1 minute. To get access to all the features, you can purchase one of the premium variants.
Q3. Does EaseUS RecExperts have a watermark?
This is one of the highlights of EaseUS RecExperts. Even when you screen record using the free version, you won't find a watermark on your recording, unlike some other competitors.