Best Screen Capture Programs are designed & developed to make your workflow easier and much more productive. These nifty tools help in capturing snapshots of an image for educational purposes or record screens for sharing Mockups with clients. Whatever your reason for hunting the Desktop Screen Recorders are, here're the best bunch of paid & free utilities. Some of our favorite choices in the category are Advanced Screen Recorder (Paid) & OBS Studio (Free).
Top Software Reviews
Rating
1.

Advanced Screen Recorder

2.

OBS Studio

3.

Bandicam

4.

Wondershare DemoCreator

5.

IceCream Screen Recorder

6.

Screencast-O-Matic

7.

Screenpresso

8.

ShareX

9.

Movavi Screen Recorder

10.

FlashBack Express
What is Screen Recording Software?
Screen Recorders are dedicated software that allow users to capture entire screens or specific portions of your display. Be it capturing particular regions of windows, complete webpage, scrollable screenshots or recordings that include cursor movements and more. A good Screencasting Software is the one that brings all these features in a single package to ease daily workflow
Factors to Consider while Choosing a Screen Recording Tool for PC:
Selecting the perfect screen capturing program can be tough especially when there are tons of options available in the market. Here are some important factors you should consider while choosing a suitable tool for you:
Should be easy-to-setup and use.
Should have a straightforward interface.
Offer handy tools to capture a variety of screenshots.
Provide easy and hassle-free sharing experience.
Can handle a variety of file formats for export.
Should have a built-in editor.
Budget-friendly.
Why Should You Use Screen Capture Software?
There are several useful things can do by using a Screen Recording Utility on your Windows PC:
Develop a Visual Plan: By turning a series of screen captured images, you can create a manual, presentation, reference guide or a storyboard for a project.
To Share Clear Feedback: Instead of typing and sharing lengthy descriptions of specific bugs, try using screen capture. You can further annotate them to provide clear feedback on Mockups and other projects.
Save Important Things you Might Want to Refer Later: Instead of copying and pasting the entire webpage and saving it into a document, rely on computer screen recorders to capture scrollable snapshots for later viewing
Share a Brief Portion of a Video: Skip sending large videos over different platforms, take help of a simple screen recording tool to capture significant parts of video and share it on the go. 
A Picture is Worth a Thousand Words: Rather than explaining your point, show it. Screen capturing software gives an opportunity to illustrate your point visually.
List of 10 Best Screen Recorder Software For Windows PC (2023)
1. Advanced Screen Recorder
Latest Version: 1.0.0.78368
Compatibility: Windows 11,10,8.1,8 and 7
Advanced Screen Recorder is number one in our list of Best Windows Screen Recorders with audio and video. The reason is simply that the application is everything you will require in a good screen recorder for Windows PC. It comes with powerful and effective features which will help you record your screen easily.
Use it to record screens in video quality such as 4K and HD. Multiple kinds of screenshots and record the screen using the tool, Selective region screen recording gives you options from a single window, particular region, and full screen. Add a personalized watermark to use it professionally. Give your customized settings for recording the on-screen movements. Moreover use it to record yourself while screen recording as it allows you to grab webcam video as well

Highlights: Advanced Screen Capture Tool
Different modes to capture screen recordings.
Allows users to grab microphone audio.
Add personalized watermarks to the screen recording.
Captures screenshots.
Allows you to record the webcam.
Supports taking an on-screen mouse cursor as well.
Multiple formats are supported such as 4K, HD, MP4, FLV
Pros:
Record specific regions on Screen.
A quick way to take customizable screenshots.
Supports recording microphone, system audio.
Record yourself using a webcam
Cons:
Not available for Mac or another operating system
OUR VERDICT: Why Get Advanced Screen Recorder?
Choose Advanced Screen Recorder if you are looking for a professional-level screen recorder. It can be used to grab quick screen recording for the entire screen, single window, or a selected region. The video quality can be defined and you get results in HD and 4K as well. Plus, the software is capable of recording the microphone and webcam. Along with that multiple formats are supported making it the number one choice.
2. OBS Studio
Latest Version: 26.1.1
Compatibility: Windows 10, 8
OBS Studio is an open-source and free screen recording application for computers. It enables high-quality capturing along tons of streaming options to get best results. The application is available at multiple platforms with a lot of online materials, reference guides and walk-throughs to understand how the Screencasting utility works, beneficial for beginners and advanced users. You can rely on the tool for multi-window scene creation, transitions for editing and more.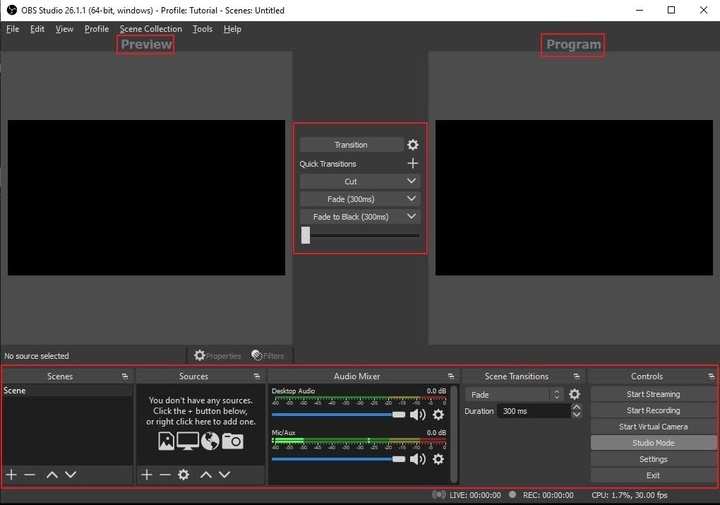 Highlights: OBS Studio
A plethora of video editing tools and audio-mixing features.
Take advantage of video filters and adjustment tools.
Unlike most of the screen grabbing applications, OBS Studio supports installing custom plugins for enjoying extra functionalities & options.
Supports broadcasting your content to different public or private servers.
Supported File Formats: FLV, MKV, MP4 and more.
Pros:
Excellent screen recording software with audio.
Effortlessly manage all your content.
Highly compatible with popular platforms like FB Live, Twitch & more.
Intuitive audio mixer
Several transitions to choose between scenes
Cons:
No "pause" function for recording
Intricate interface with some learning curve involved
OUR VERDICT: Why Get OBS Studio?
All things considered, OBS Studio is an impeccable utility that delivers all the essential functionalities for on-the-go recording and live streaming. The desktop screen recorder is user-friendly and has tons of editing functions to get terrific results.
3. Bandicam
Latest Version: 5.1.0
Compatibility: Windows 10, 8, 7, Vista (Both 32-bit & 64-bit)
Bandicam is an impeccable computer screen recorder, equipped with a wide range of tools for producing high-quality and professional results. With a registered version, you can record screen with audio over 24 hours without stopping. It features a top-notch Game Recording utility that lets you record your gameplay and share directly over YouTube or other Social Media Platforms. Using Bandicam, you will certainly experience less lag as compared to other Screencasting tools.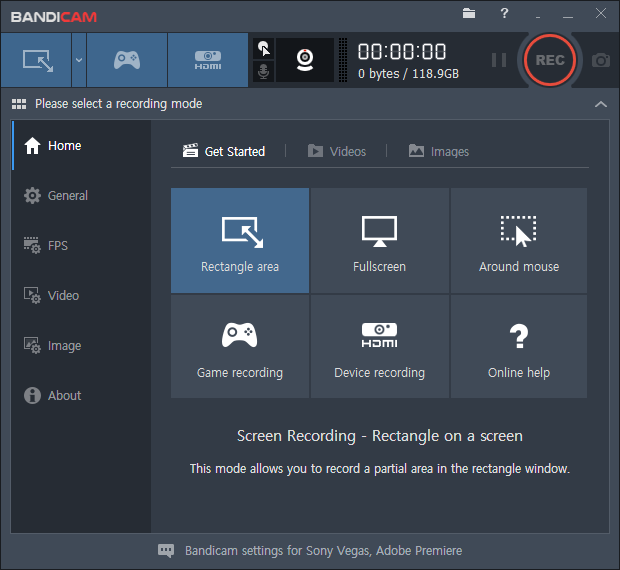 Highlights: Bandicam 
Provides a dedicated mode to help users record gaming sessions.
Several video and audio configuration settings to select FPS, Codec, Frequency etc. 
Customizable recording options for professional & high-quality results.
Auto-complete recording mode to limit the video capture after a specified time/size.
Assign hotkeys for a better control over the entire process.
Supported File Formats: AVI, MP4, MOV, M4V, WEBM, FLV, BMP, PNG, JPG & more.
Pros:
Lightweight screen recording tool.
Comines simplicity & useful features for professional results.
Offers an intuitive environment for helping all types of users.
Improved the audio stuttering issue
Cons:
Watermark on the output file in the unregistered
10 minutes recording limit in unregistered version
OUR VERDICT: Why Get Bandicam?
Bandicam is an amazing option available for Windows users. You can record in 4K Ultra HD at resolutions up to 7775 * 2160 in size and share the file directly on YouTube without any conversion required. It's a lightweight screen capturing app for PC and eats less system resources.
4. Wondershare DemoCreator
Latest Version: 4.6.0.2
Compatibility: Windows 10, 8, 7
DemoCreator by Wondershare is one of the best screen recording software for Windows 10, 8, and 7. The application supports capturing screens and recording them through a webcam as well. It brings a powerful blend of editing tools, video effects, annotating features to get more creative. The screen recorder app for PC saves your final files in multiple formats so that you can further share them with numerous social networking platforms. Here are some major highlights offered by the app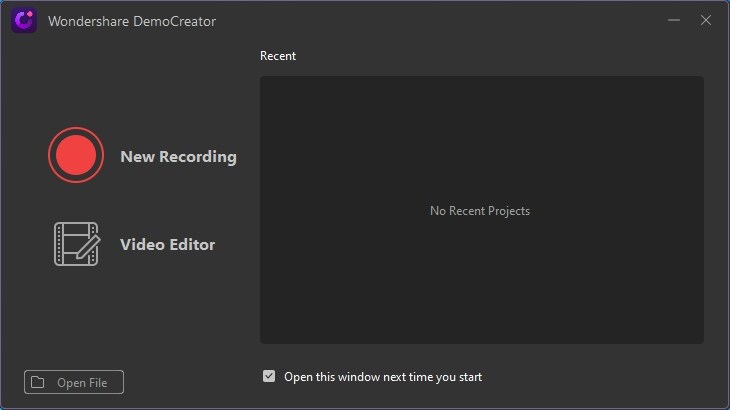 Highlights: Wondershare DemoCreator 
A console-menu will pop-up to set the captured screen area & more.
An editing mode for correcting & enhancing aspects of your recordings.
You can quickly stop/start, pause/resume your recording using the F10 and F9 keys.
Capability to add text boxes and speech bubbles with any type of information. 
Multiple video effects to add better transitions to your recorded screen.
Supported File Formats: AVI, DV, FLV, MKV, MP4, M4V, 3GP, APE, AIF, AIFF, JPG, JPEG, BMP, PNG & more.
Pros:
Easy-to-navigate interface.
Neat application for PC to help you capture accurately.
Set peripherals you want to use for recording such as microphone, speakers etc.
Effortless desktop screen recorder designed for newbies & pro users
Cons:
Receives infrequent updates.
Poor tech support
OUR VERDICT: Why Get Wondershare DemoCreator?
You should definitely get your hands on Wondershare DemoCreator if you quickly want to record, edit, save and share screen captures instantly. It brings flexible screen capturing tools along with powerful annotation features and vivid video effects to enhance quality.
5. IceCream Screen Recorder
Latest Version: 6.25
Compatibility: Windows 10, 8, 7 Vista (Both 32-bit & 64-bit)
IceCream Screen Recorder is a feature-rich and flexible screen recorder app for PC that assists users in taking snapshots and records certain regions of display without any hiccups. Be it for educational, instructional or personal purposes, IceCream Screen Recorder provides an impressive set of tools to provide accurate results. Using the paid version, you can take advantage of features like No watermark, scheduled recordings, trimming, and so on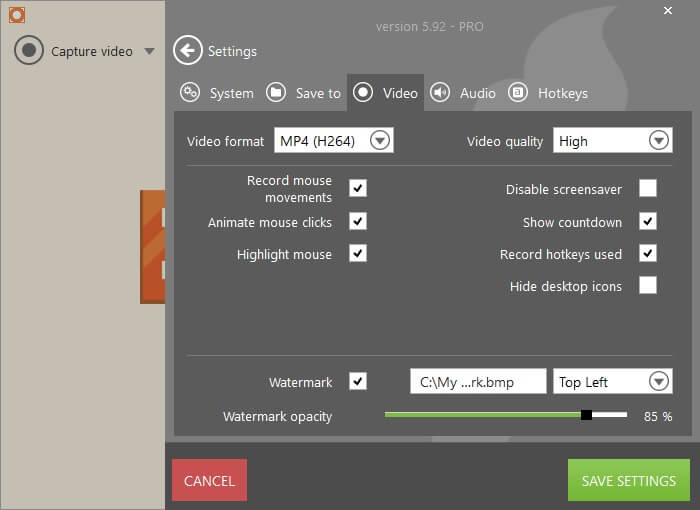 Highlights: IceCream Screen Recorder
Ability to capture full screen, specific region, through webcam & audio.
Ability to show and hide mouse cursor or desktop icons while screen recording.
Capability to Zoom or Draw while screen capturing on Windows with sound.
Tool to trim the beginning and end of recordings.
Supports recording full screen 3 Games as well.
Supported File Formats: WebM, MP4, AVI, MOV & more.
Pros:
Add a custom watermark to your screen recording.
Add text, shapes & arrows to make demonstration tutorials.
Gives you the ability to choose output quality.
Make GIFs using this Screencasting tool
Cons:
Free version limits you to 5 minutes of recording time
OUR VERDICT: Why Get Icecream Screen Recorder?
IceCream Screen Recorder is a fantastic application for Windows PCs to record Live streams, Skype calls, webinars, make video tutorials for apps/games and so much more. The software even helps users to record screens with a webcam overlay. Interesting, right?
6. Screencast-O-Matic
Latest Version: 2.0
Compatibility: Windows 10, 8, 7 Vista
Screencast-O-Matic is basically a web-based screen recording application, but it will be launched and used as a desktop app without an Internet connection as well. You just need to install the full version and you are all set to use numerous features ranging from snap grabbing, video editing, hosting, and sharing. With the paid version, you can record the screen for an unlimited duration with no watermark on the final output.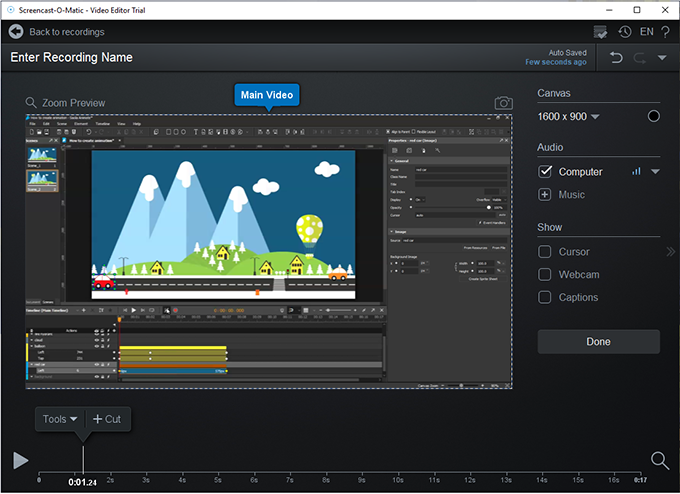 Highlights: Screencast-O-Matic
Supports capturing a single window, particular region, through webcam and audio.
You can use tons of editing features like cutting, trimming, annotations etc.
You have the ability to password protect your files.
Supports drawing, zooming while screen recording on Windows.
Unlike popular Screencasting programs, it supports closed captioning & automated speech-to-text captioning.
Supported File Formats: AVI, FLV, MP4 and more.
Pros:
As soon as you have made your video you can publish it on YouTube & other platforms.
You can also record the screen and webcam simultaneously
A zooming option that will make your experience even better.
Tons of options for video & audio editing
Cons:
Restricted from trying paid features before purchasing.
Limited functionalities in the Free version
OUR VERDICT: Why Get Screencast-O-Matic?
Screencast-O-Matic is a simple screen recorder that comes with both free and paid versions. Utilizing the basic version, you can capture a variety of snapshots along with screen recording up to 15-minutes long. Once you are done finishing editing, you can publish it to YouTube, Facebook, Twitter, Google Classroom & more.
7. Screenpresso
Latest Version: 1.9.9
Compatibility: Windows 10, 8.1, 8, 7, Server 2012+
Next on our list of Best Screen Recorders with Audio for PC is Screenpresso, a lightweight tool with multi-platform support. Using it, one can grab screens instantly and edit them with professional editing tools. It supports exporting files in popular file formats and it would certainly take a few moments for you to master the program. Screenpresso is the best screen recorder software for pc & provides the ability to highlight captured screens with arrows, bubbles & more.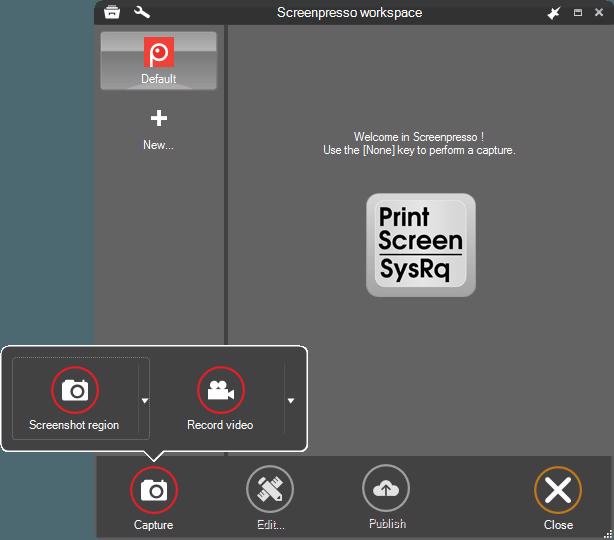 Highlights: Screenpresso
Capability to capture particular regions, full screen, scrollable web pages & more.
Dedicated tools to annotate the screenshots you've captured.
Powerful photo editing tools to enhance quality.
Supports tools to crop, resize or change the entire canvas size.
Additional tools to add frames, borders, shadows, reflections, annotation & more.
Supported File Formats: PNG, JPG, GIF, BMP, TIF, PDF, MP4, WMV, OGV, WEBM & more.
Pros:
Allows you to convert screenshots into PDF, MS Word or HTML Docs.
Advanced features like portable mode & Android capture.
Multilingual support.
Integrated sharing through different platforms
Cons:
Interface is a bit outdated
OUR VERDICT: Why Get Screenpresso?
Screenpresso comes with both paid & free versions and supports one-click grab, which makes it a wonderful option for newbies. You can include a cursor in your screen captures and zoom the important aspects while screen recording. So, it's an affordable choice for you to get on a Windows PC with a multitude of additional options.
8. ShareX
Latest Version: 13.4.0
Compatibility: Windows 10, 8, 7 (Both 32-bit & 64-bit)
ShareX is the best free and open-source screen grabbing program that lets you capture and record the whole or particular regions of your display. Once you are done capturing snaps, you can further use image enhancement tools to improve the orientations and quality of images using borders, shadows, text and more. Once it's done, you can share the final output over Dropbox, Google Drive, Imgur and so on.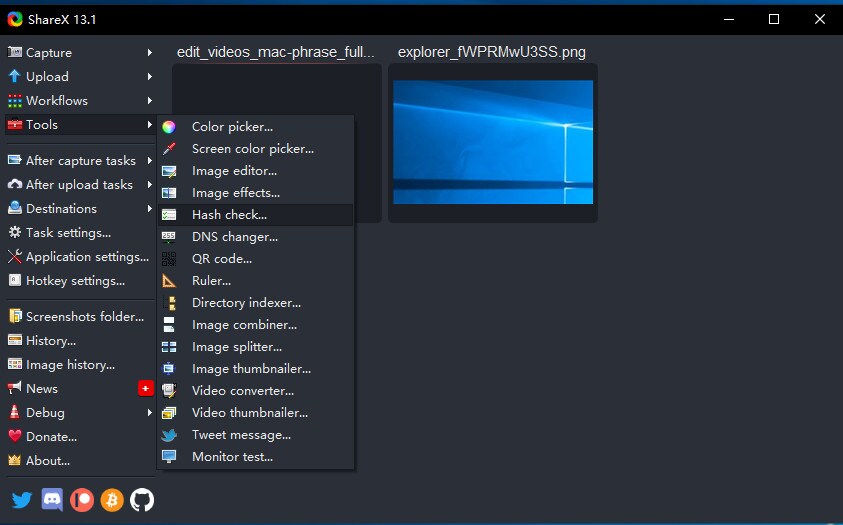 Highlights: ShareX
Ability to execute automatic post-grabbing functions
Make numerous image adjustments for quality content.
Capability to take full screen, active window, rectangle, round shape, triangle, free hand and specific region screenshots.
Multitude of post-capturing tools to resize pictures, add watermarks, captions, borders, shadows and more.
Supported File Formats: Over 80 different images, text and video formats.
Pros:
OCR functionality
Allows annotation
A dedicated image editing tool
Lightweight screen snipping
Customizable workflow
Cons:
The dashboard seems underwhelming to some users
Windows 11 already assigned hotkeys clash at times
OUR VERDICT: Why Get ShareX?
ShareX is a perfect combination of advanced screen capture, screen recorder and file sharing utility. It proffers a variety of methods to take screenshots, just like TweakShot. You can further customize it using annotating, effects, watermarking and whatnot.
9. Movavi Screen Recorder
Latest Version: 21.2.0
Compatibility: Windows 10, 8, 7
Movavi Screen Recorder is one of the most popular screen recorder apps for PC among the glut. It allows users to record monitor activities, grab screenshots and save it in numerous file types. You can simply resort to the drag & drop functionality to reposition the capturing process and alter the resolution according to your needs. Additionally, you can activate or deactivate the audio recording option in a click.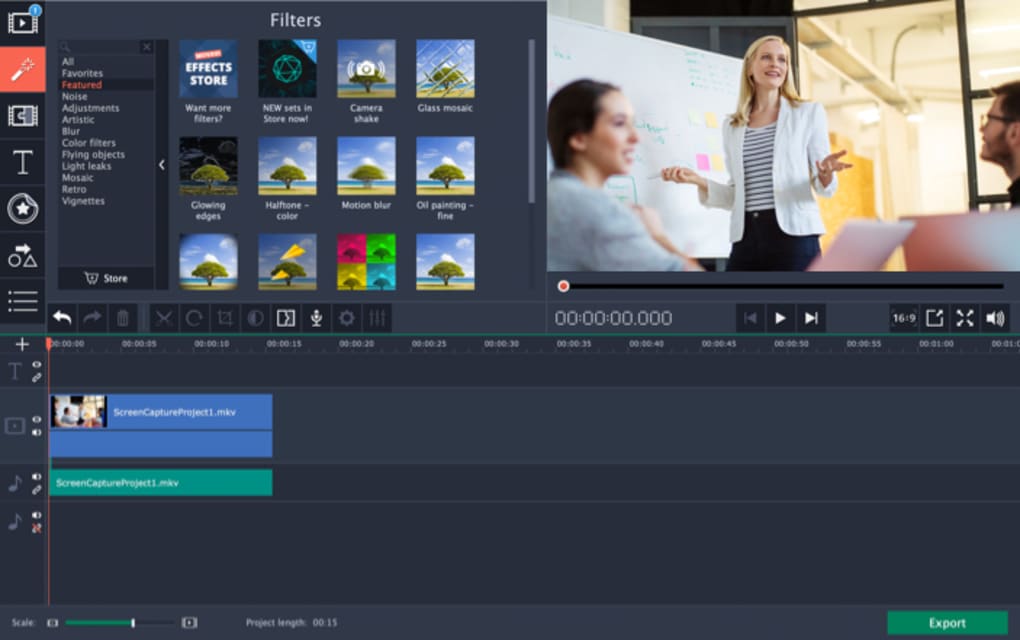 Highlights: Movavi Screen Recorder 
The setup operation is swift and uncomplicated.
Supports high-quality Screencasting on Windows PC.
Gives users the opportunity to capture live streams, video calls and so on.
Customize the settings according to your needs to get the accurate output.
Supports sharing recordings on a variety of social media platforms.
Supported File Formats: AVI, FLV, MP4, WMV, HD etc.
Pros:
Perfect screen recording tool with sound.
Extensive file support.
Supports online publishing & sharing.
Variety of interactive video effects
Cons:
Free version has a watermark on the processed video
OUR VERDICT: Why Get Movavi Screen Recorder?
Movavi Screen Recorder is best-known in the market for its simplicity and flexibility. The tool supports recording audio and screen simultaneously or separately. Additionally, you can incorporate a webcam as well & ultimately you can save the video in HD and other popular file formats.
10. FlashBack Express
Latest Version: 5.51.0
Compatibility: Windows 10 (Both 32-bit & 64-bit)
Our list of Best Paid & Free Screen Recorders for Windows PC comes to an end with FlashBack Express. It's a wonderful program that allows you to capture snaps, record displays, webcam, and sound. Unlike most of the screen-grabbing utilities, FlashBack doesn't restrict yours on a time basis or stamp watermarks on the final output. You can make use of the Scheduled Recordings option to set the start and stop timings of screen recording.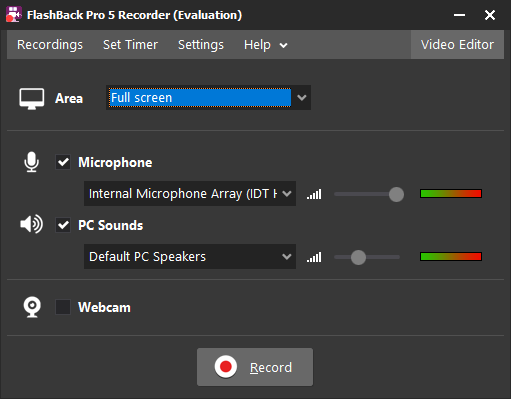 Highlights: FlashBack Express
Allows taking full screens, one window, specific region & so on
Allows you to password protect your videos.
Supports uploading your work directly to YouTube & other popular platforms.
Using the registered version, you can save the videos as GIF, Flash & more.
Supported File Formats: MP4, AVI, or WMV and more.
Pros:
Allows you to highlight cursor & mouse movements.
Supports recording videos as per schedule.
Allows you to record multiple monitors.
No time limit for screen capturing
Cons:
Limited video editing options.
Limited file format support
OUR VERDICT: Why Get FlashBack Express?
FlashBack is certainly a full-motion-based Windows screen recorder with audio, packed in a straightforward interface. It offers friendly 'zooming' and 'panning' options to create interactive outputs. Download this screen recorder for PC and do not forget to share your experience in the comments below!
Frequently Asked Questions
Q1. What is the best software for recording your computer screen?
Advanced Screen Recorder is certainly the best screen recorder for PC with an extensive range of features suitable for capturing different modes of a computer screen.
Q2. How do I record my screen with good quality?
For demonstration purposes, we are using the Advanced Screen Recorder to record your screen in high-quality such as 4K and HD. All you have to do is:
Install Advanced Screen Recorder on your computer.
Launch the tool and select the area for recording.
Click on the Record button.
You can set the option to allow the app to record audio as well.
(Note: Make sure you connect the microphone to your PC to ensure successful screen & audio recording.)
A countdown will appear on your display.
After that Advanced Screen Recorder will start recording the screen. You can press the Stop button to end the recording!
Q3. Is screen recording dangerous?
If you try to record a screen which is not trustworthy you can face repercussions of capturing unauthentic content or so. Sometimes, you download screen grabbing software from non-trustworthy sources, which later turns out to be virus or malware, which further infects your device causing tons of performance and security issues.
Q4. Does Windows 10 have a screen recorder?          
Yes, Windows comes integrated with a built-in screen recording program called as Xbox Game Bar, it's a basic utility to capture screen, shoot gameplays, equipped with elementary editing tools for novice users.
Q5. How can I record my screen on Windows 10 for free?
To get started with Xbox Game Bar, all you have to do is:
Press the shortcut keys Windows key + G button to launch Game Bar.
Hit the Yes button to proceed.
Press the Start button to begin the process.
Once you are done, you can click on the Stop button and start trimming your video to add final touches to our captured screen.
Conclusion: Which Is The Best Desktop Screen Recorder App For Windows 10, 8, 7?
Our list comprises both best paid & free utilities for capturing screens on Windows. Whether you should or not spend money on any of the programs outlined above totally depends on the nature of your needs and requirements. If you are someone who regularly works for creating demonstration, instructional and educational videos, you can choose Advanced Screen Recorder. If you have basic needs for capturing snapshots and so, choose none other than OBS Studio.