TweakShot Screen Capture: Windows Screen Recording Software Review
Screen capture tool is a must-have for every device. For Windows PC, although users get the inbuilt tools they have limited functionality. Therefore, additional screen capturing software is needed, and what is better than TweakShot Screen Capture? It offers taking screenshots of full screen, single window, specific area, and also capture screen recordings. To find out more about it, read the blog on TweakShot Screen Capture review
What Is Screen Capture Software?
Screen capture tools are the programs to help you take screenshots and/or record screens. These can be used for multiple things such as support, educational tutorials, presentations, troubleshooting, YouTube videos, etc. The screenshots are meanwhile used a lot by the education system and businesses. As an individual, you can also take advantage of the screen capture tools for explaining a problem to your support or to share a specific thing from your screen.
Screenshots and screen recordings are widely used in today's world as sharing media has become so easy. Every platform comes with the feature to upload and share media files. Therefore, to keep up with the trend and to help yourself with the most mundane jobs using screen recording software is recommended. Here we talk about the third-party software: TweakShot Screen Capture.
Introduction: TweakShot Screen Capture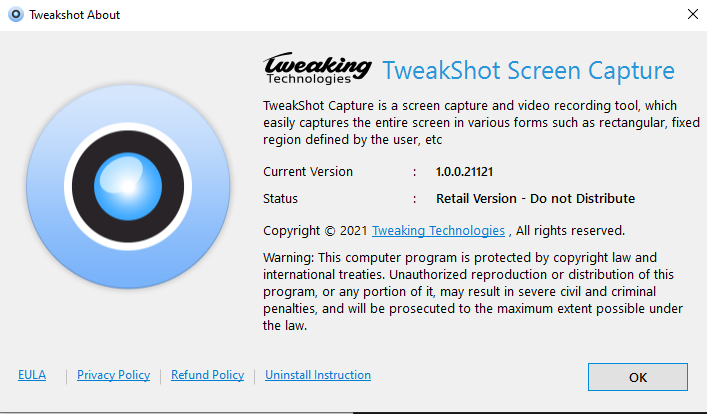 TweakShot Screen Capture by Tweaking Technologies is a fast screen capture software that can be used to take screenshots, edit them, and record screens. This will be your one solution for all screenshot-related queries. As the tool is capable of capturing the single window, selected area, full screen, and scrolling screen. Moreover, with the advanced features in the Image editing tool, you can mark, highlight, crop, and add texts to your captured screen.
This can be used to create presentations for school and work, offer help with customer support, and be used as a teaching tool. You can be more productive with TweakShot Screen Capture and its features such as color picker, image editor, screen recorder.
Why Choose TweakShot Screen Capture?
You can choose TweakShot Screen Capture for all of its features as it is going to amaze you. A few of the features which will make you select TweakShot Screen Capture for Windows PC are –
Capture a single window.
Capture Full screen.
Capture scrolling screenshot.
Capture video.
Edit images.
Capture selected regions.
Pick a color from the screen and images.
Customizable HotKey commands.
Directly upload on Cloud Storage.
Custom video capture quality.
Record screen with or without taskbar.
Add pointers and steps buttons.
Add blur and pixelate effects in screenshots.
Edit any image on your computer.
Screenshots Supports
Fullscreen
Scrolling Screenshot
Selected Region
Single Windows
Recording Supports
Full screen with taskbar
Full screen without taskbar
Scrolling Screenshot
Selected Region
Single Windows
Capture Image Editing tools
Add pointers
Add Steps
Add Text
Blur & Pixelate
Color Picker
Crop
Draw
Highlight
Mark
Undo button
Storage Support
Dropbox
Google Drive
OneDrive
Technical Specifications –
Latest Version – 1.0.0.78641
New Additions – Enhanced Crop feature in Image Editor.
System Requirements-
Windows Compatibility – Windows 10, Windows 8.1, Windows 7 (both 32 bit and 64 bit)
Processor – Intel Core i3 or better.
Memory – 4GB RAM or more.
Hard disk – Minimum 2 GHz free space, SSD for best performance.
Display – 1280×768 size or more.
Windows-based hardware PC with mouse or similar input device.
How To Install TweakShot Screen Capture?
Follow the steps given below for easy installation of TweakShot Screen Capture-
Step 1: Download TweakShot Screen Capture from the download button given below
Step 2: An executable file is downloaded on your computer, run it. Remember to give it system permissions to access the system. 
Step 3: A Setup window opens as you double click on the downloaded file. Click on Next.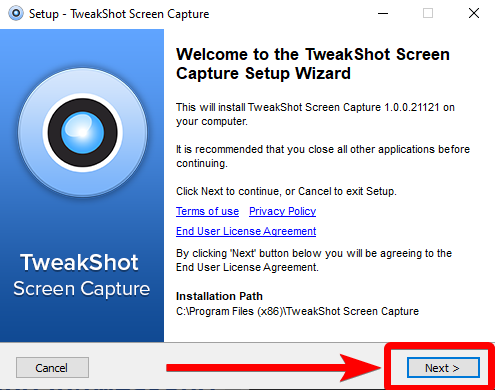 Step 4: The installation process will begin and it will take a few moments to process.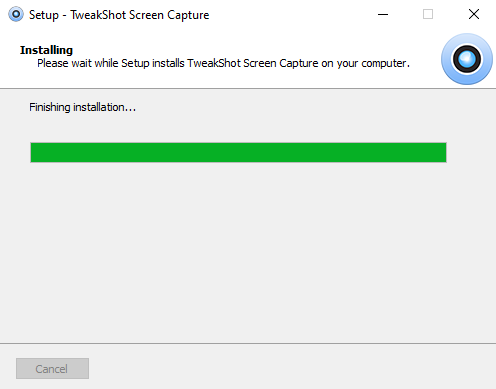 Step 5:The installation is complete and you can click on Finish.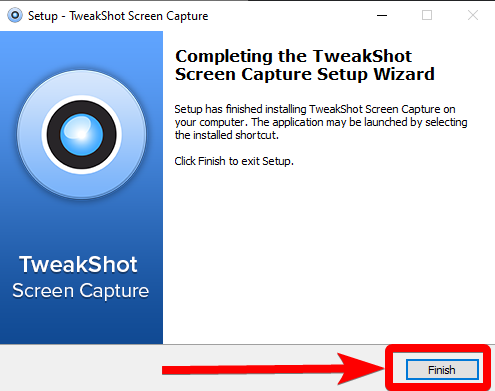 Note: By default, the option to run the application right after the installation has been marked, if you want otherwise, uncheck the box.
TweakShot Screen Capture is ready to be used.
How Does TweakShot Screen Capture work?
So how do you make TweakShot Screen Capture work? Well, it's very easy and let's begin with these easy steps.
Step 1: Download TweakShot Screen Capture from the download button.
Step 2: Once the application is successfully installed, launch it.
Step 3: Click on the middle of the round eye and you will be able to take a screenshot of the desired region.
Step 4: Select the area by using the mouse or the similar attached device.
Once done, click the mouse.
Step 5: TweakShot Screen Capture will open its image editor for you to make changes simultaneously.
If you want to crop, blur, pixelate, highlight, mark, add text, etc., you can make the changes here.
Step 6: Click on the Save button.
Here your screenshot is saved, now similarly, you can take the screenshots of the full screen, single window, and desired region on screen using the tools on TweakShot Screen Capture.
Step 7: You can also upload the edited image to Cloud Storage directly from the TweakShot – Image Editor. All you need to do is have your Google Drive, OneDrive, Dropbox accounts linked to it.
TweakShot Screen Capture has the most interesting interface by far. It is a personal favorite as it comes in a sleek and quirky design with a soothing blue hue. The tool is so small that it can be easily placed anywhere on the screen all the while you are working and it is still visibly available. The big circular eye can be customized to take screenshots quickly, while the sliding pane is also helpful with the placement of all the important tools.
1. Full-Screen Capture –

Taking a full-screen screenshot with one command is super easy using TweakShot Screen Capture. You can change the HotKeys commands to any keyboard shortcut and grab the screen by pressing one key.
2. Single Window Capture –

It is very important to have a single-window screengrab option and TweakShot Screen Capture includes that. Here you can easily move your cursor to a window opened on the screen and it will set the frame for taking a screenshot quickly.
3. Selected Region Capture –

With the option to select the region, you get the ease to take a screenshot of anything and everything. All you have to do is specify the XY bar on the screen to select a region to be screen-captured.
4. Screen Recording –

Record screen with the help of TweakShot Screen Capture and get the audio and video captured quickly. It includes a countdown, video quality customization, screen capture settings for full screen with or without the taskbar, specific region, or single window.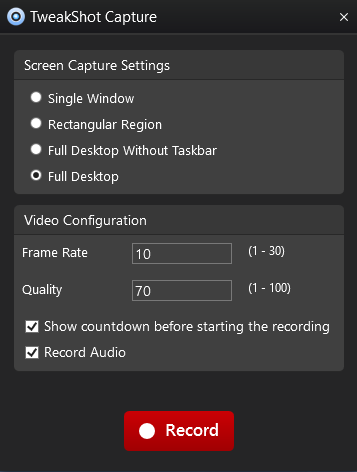 5. Scrolling Screenshots –

When you wish to capture the full webpage or all the contents on a single window, you will need a scrolling screenshot. TweakShot Screen Capture provides you a dedicated tool for capturing a scrolling screen of a selected region.
6. Image Editor –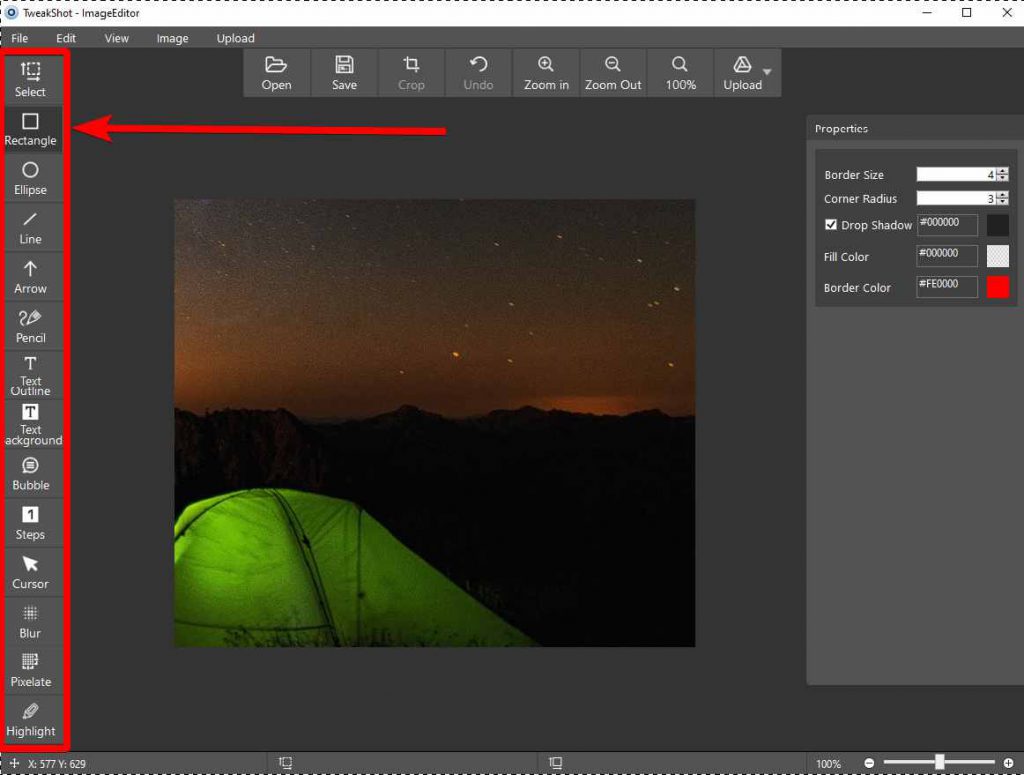 With a set of useful image editing tools, you can count on TweakShot Screen Capture to be your ally. It not only works as a screen capture tool but an amazing image editor for your Windows PC.
7. Colour Picker –

Color Picker is another tool that will help you get the best colors for editing the images. This feature allows you to pick any color from the images and screens.
8. Upload Images On Cloud –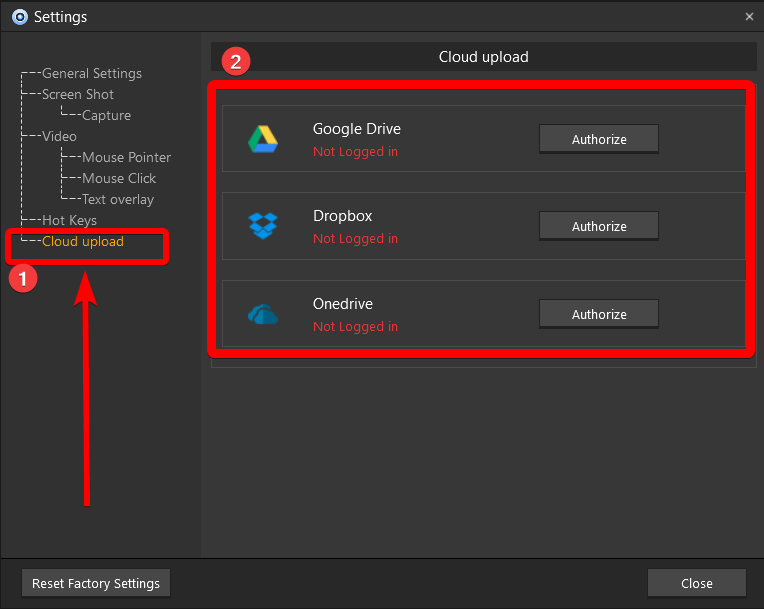 You can use TweakShot Screen Capture to directly upload the screenshots on cloud storage. All you need to do is link your Google Drive, OneDrive, and Dropbox account with it. You can easily find it in the Settings > Cloud Upload.
You need to worry about TweakShot Screen Capture getting updates and it periodically checks for updates. It will show you when a new version is available with a notification on your screen. You can also check for any updates yourself by going to the tool Settings > Check for updates. It will easily download the updated version of TweakShot Screen Capture on your PC.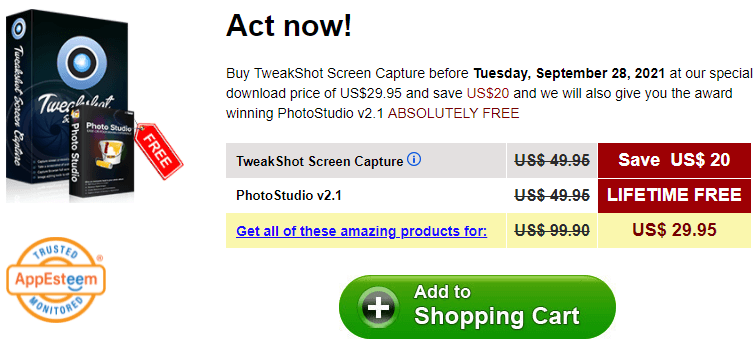 TweakShot Screen Capture
TweakShot Screen Capture

1 PC, one year free updates, Fully featured
TweakShot Screen Capture comes as a handy software and costs you $39.95 for using all its features. It also provides you with a free trial of 15 days, which is a good amount of time to try and find out all about its features. The free trial will expire and a few features will be available afterward.
For speed, TweakShot Screen Capture can be deemed as fast screen capture and recording tool. It works with no lags and provides you with a smooth ride from taking snaps to editing them. In a hurry, TweakShot Screen Capture got you as it will efficiently take a snapshot of your computer screen. The recording video process also starts quickly and you won't miss a thing using this best screen recording software on Windows.
TweakShot Screen Capture helps the users with the much-needed information on the product with its FAQs. TweakShot Screen Capture can be contacted on its official website's Contact page –
https://www.tweaking.in/contact-us/& the email support –support@tweaking.in
You can get more information on upcoming offers and deals on the official webpage –
Frequently Asked Questions –
Q1. How do you use TweakShot?
To use TweakShot Screen Capture, download and install it on your computer and give keyboard shortcuts to open commands to take snaps on your screen.
Q2. Is Tweakshot safe?
Yes, TweakShot Screen Capture is a safe and secure software and it gets regular updates.
Q3. How do I capture a continuous screen?
To capture a continuous screen, use TweakShot Screen Capture as it comes with a scrolling screenshot option. It will readily take a scrolling screenshot of the entire web page or a single window on your screen.
Q4. How do I enable screen capture?
You can enable screen capture using the keyboard shortcut with TweakShot Screen Capture. It becomes easier to operate as TweakShot Screen Capture provides you the ability to set your screen capture HotKeys.
Q5. How do I get a high-quality Snipping Tool?
To screen capture high-quality images, you can rely on TweakShot Screen Capture software. It is one of the most versatile and easy-to-use software for capturing screens on Windows PC.
Verdict –
TweakShot Screen Capture is not only the ultimate snipping tool but a screen recording tool. Therefore, it can be regarded as one of the best screen recording software for Windows PC. If you ever need to take snaps of your screen for support, tutorials, presentations, etc, you must get this tool. We recommend using TweakShot Screen Capture for making your life easier as a blogger, student, corporate official, support staff, or home PC owner.  TweakShot Screen Capture can be greatly used as an image editing tool for Windows PC. The easy-to-use and quick to learn tool can be termed as the best screen capture tool for Windows 10.
We hope this TweakShot Screen Capture review will help you in finding out all about the best screen capture tool. We look forward to your comments to know more about your opinion on this blog post. For more such reviews on Windows software, keep visiting Top10PCSoftware and also follow us on Twitter and Facebook for regular updates.