Soda PDF Review: Pricing, Alternatives & More 2023
In this day and age, where we deal with hundreds and thousands of digital documents, possibly daily, PDF is a widely popular and acceptable format. Today, we perform several tasks on PDFs, editing being one of them. Here we are going to talk about one such PDF editing and viewing software – Soda PDF. And, in this Soda PDF review, we'll try and gain more insights about this free PDF editor app.
What Is Soda PDF?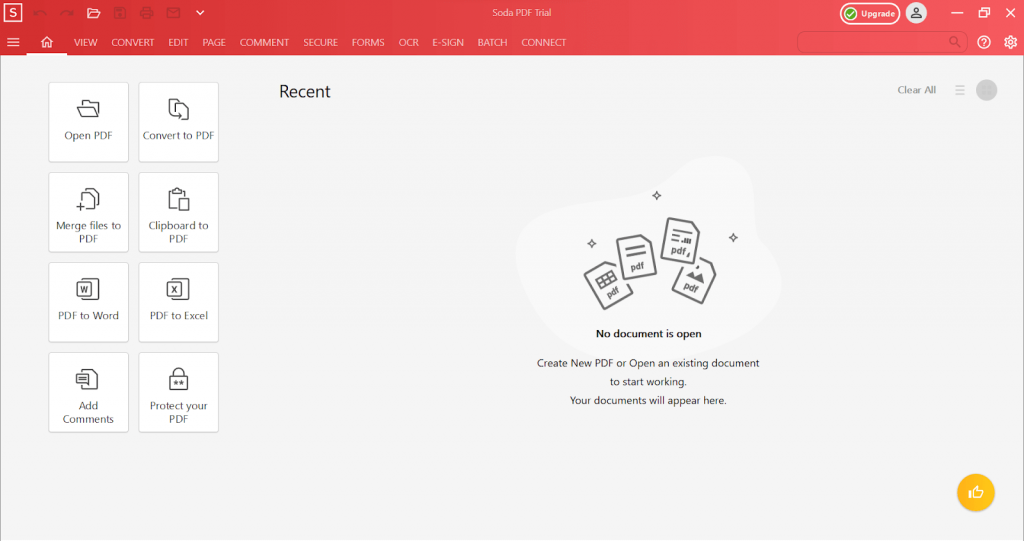 Looking for a free PDF editing software that also doubles up as a PDF viewer? Consider using Soda PDF which is one of the best PDF editors for your Windows 11/10 PC. It comes packed with various features as you can see in the screenshot above. In just a few clicks, you can merge, convert, protect and edit your PDF documents in a hassle-free manner.
To begin with, you can either open a document by clicking on Open PDF and then selecting a PDF from a location on your drive or drag and drop a PDF file from your desired drive location onto the interface. Soda PDF even has great OCR capabilities which we will discuss a little later in this blog.
Reasons To Choose Soda PDF –
There are various reasons why you should choose Soda PDF as your desired PDF application. Here we are listing some of them for you –
Smooth viewing experience 
Soda PDF creator helps you create PDFs from the scratch
Some of the best-in line features to edit documents  
Convert PDFs to popular formats and vice versa 
OCR capabilities 
Security features that give you control over your PDF's protection 
Edit documents with ease
 Split and merge documents of a variety of file formats
 Add and remove pages
Technical Specifications
Current Version – 12.0.278.16268
System Requirements
Operating System – Windows 11,10, 8.1, 8, 7 (both 32 bit and 64 bit)
Processor –   Pentium III or equivalent
RAM – 1 GB minimum
Disk Space – 100 MB or higher
Organize
Add/ Remove Pages
Compress PDF
Merge PDF
Split PDF
Conversion
PDF to Excel
PDF to HTML
PDF to JPEG
PDF to Powerpoint
PDF to Word
Security
Add password
PDF to PDF/ A
Remove password
Sign/ Get Sign
PDFs
Add page numbers
Add Watermark
Batch Editing
Edit PDF
Repair Corrupt PDF
How To Install Soda PDF?
1. Download, run and install Soda PDF. During installation, you can choose its advanced option where we can set custom setup
2. When the UAC prompt occurs, click on Yes
3. Hit the Next button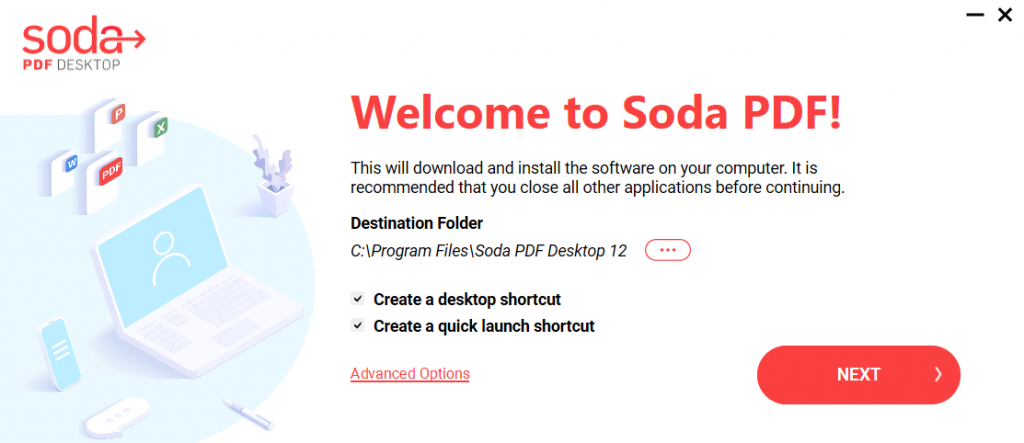 4. Agree to the terms and conditions by clicking on the Accept button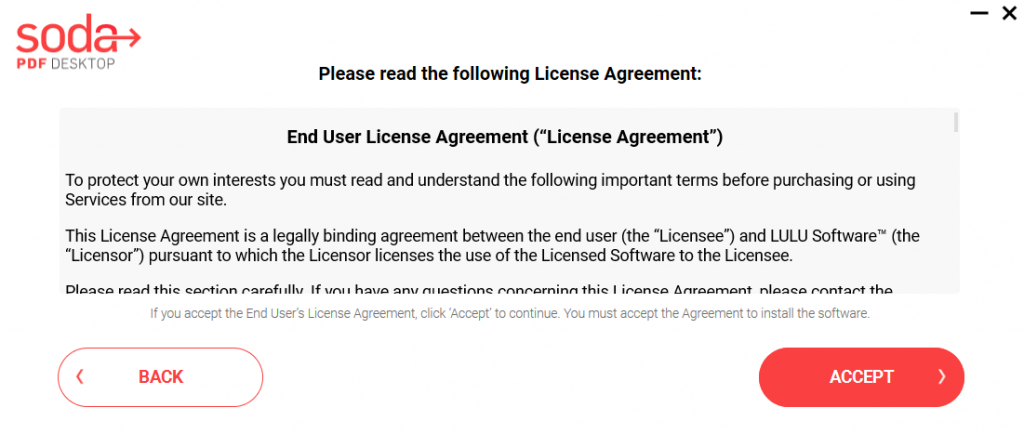 5. Let your computer incorporate necessary changes. Soda PDF will install the necessary modules on your computer

6. Soda PDF will prompt you to create an account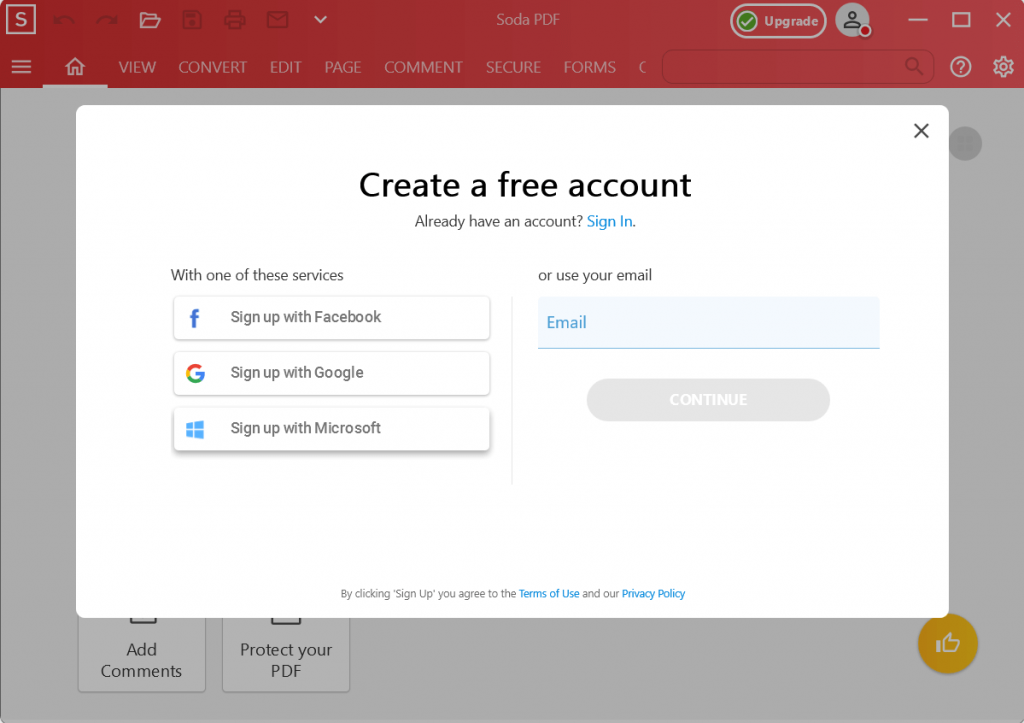 7. Head to your email and approve it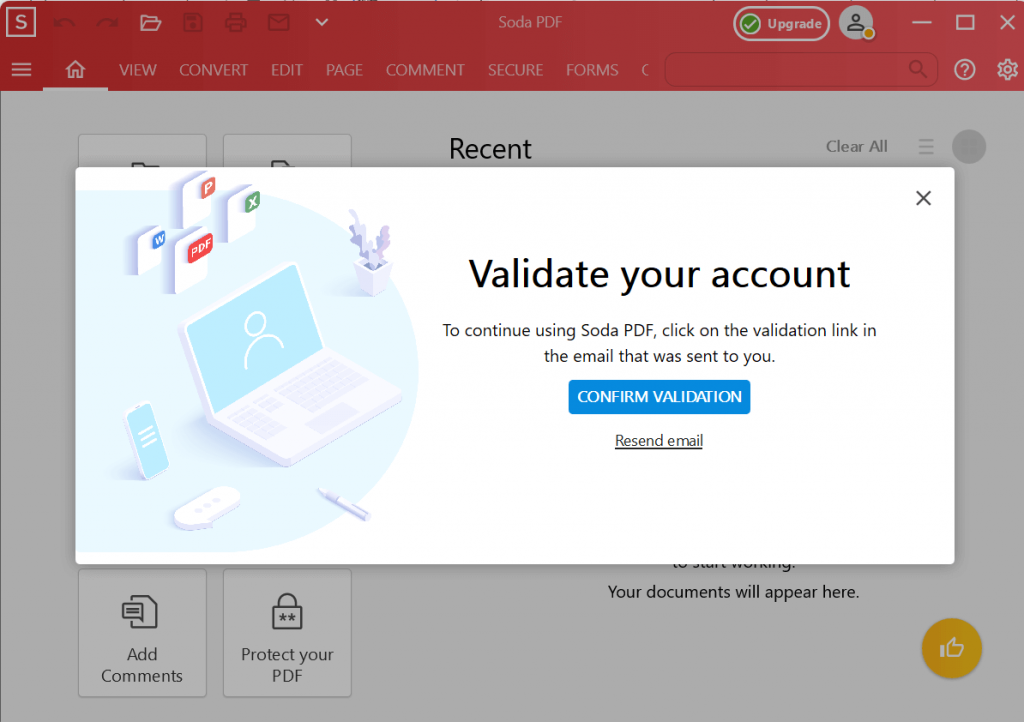 8. Hit the refresh button on the interface, and you can see your name at the top-right corner of the interface
How Does Soda PDF Work?
Now that you have installed Soda PDF, it's time to see this PDF viewer and editor in action. Here are the steps that will get you started.
1. Since the home screen will be the first thing you'll see, you can select a task that you want to perform on your PDF and then choose a PDF document.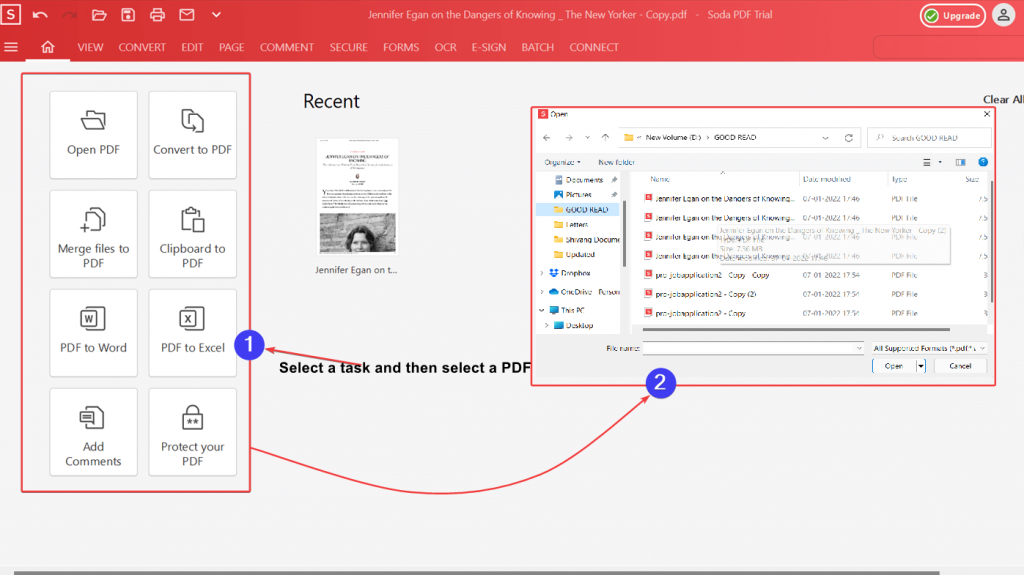 This can be an apt place especially if you want to merge several documents spanning across several file formats into one single PDF.
2. However, let's say you have decided to perform multiple tasks on one single  PDF document. In such an event, you can drag and drop the PDF file from a location onto the interface and then from the menus above choose and perform tasks accordingly.
3. Let's take the scenario in step # 2. Here we have dragged and dropped a PDF file and now we want to convert it into a Word file format and later want to secure it with the help of a password.
To convert the PDF to word –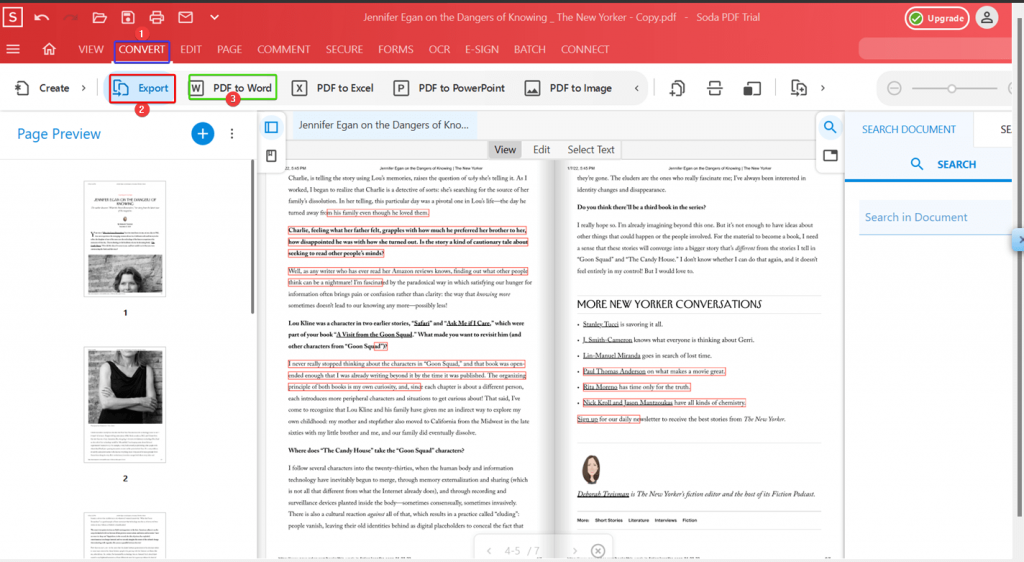 Click on Convert  as shown in screenshot
Click on Export
Select PDF to Word
To secure the document with a password –
1. Click on Secure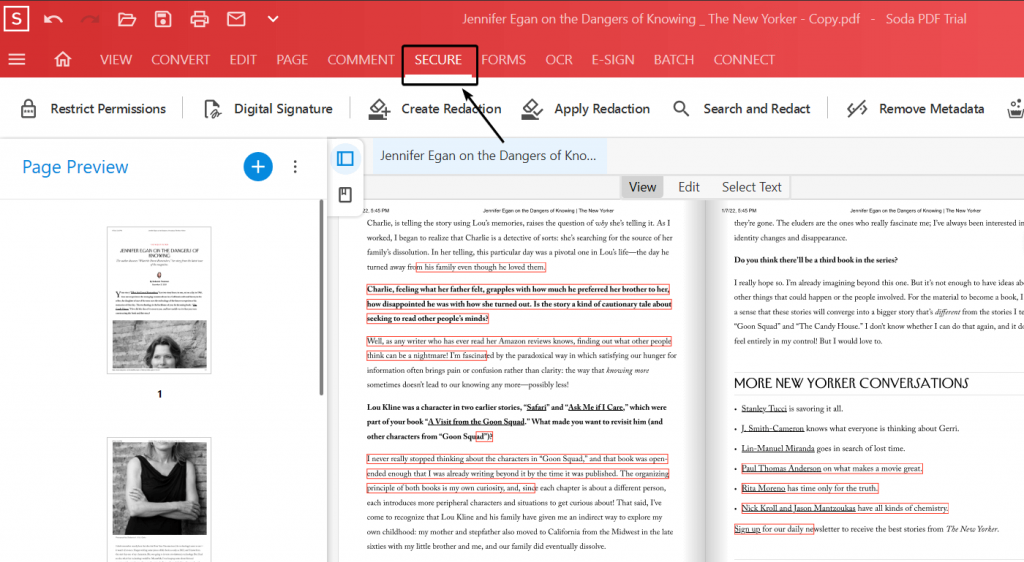 2. Click on Restrict Permissions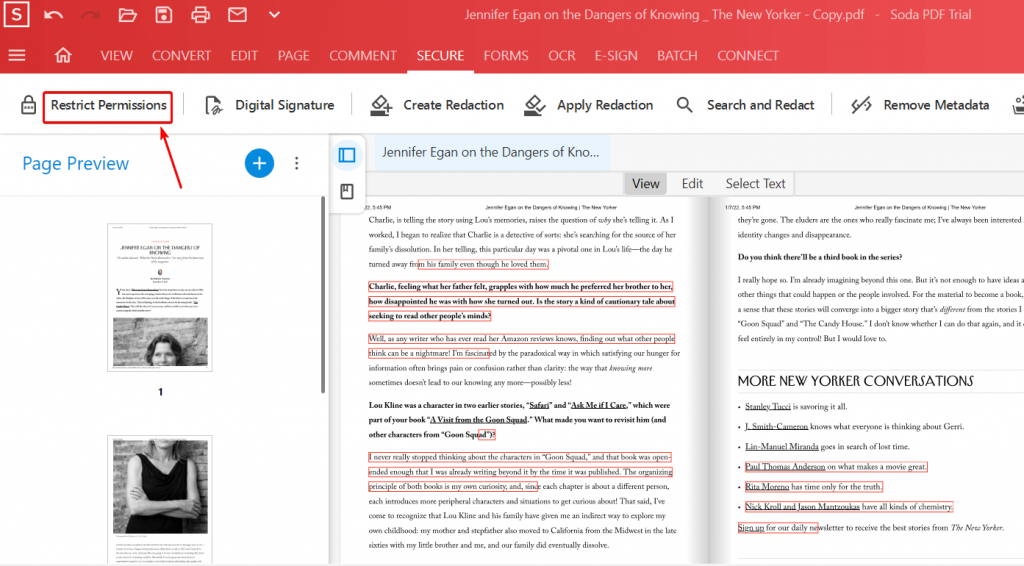 3. Select Require Password To Open The Document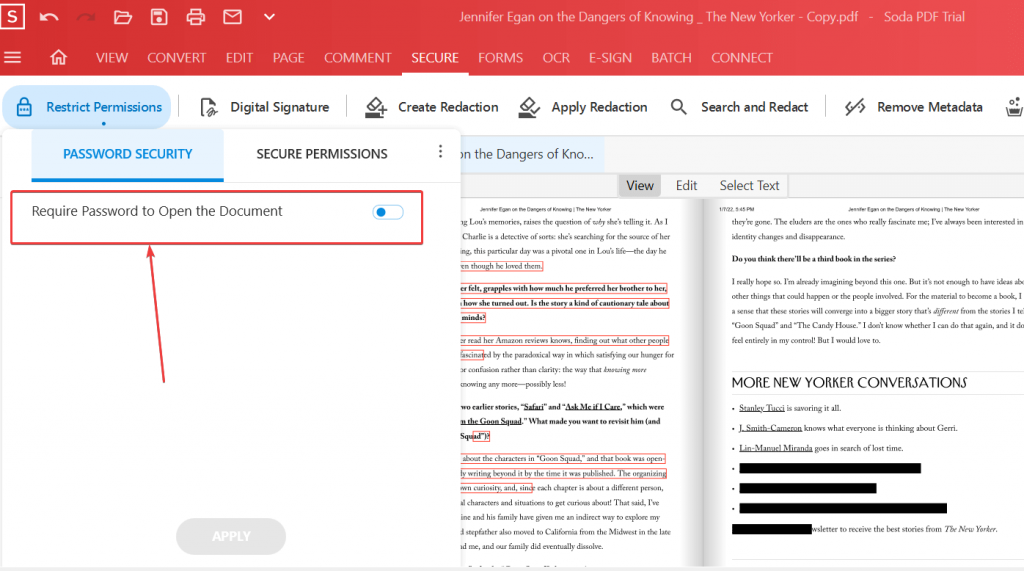 4. Provide a password
5. Click on Apply
These are a few of the many wonderful things you can do with this free PDF editing software. Feeling creative – you can even go ahead and use Soda PDF creator to create a PDF from the scratch as well.
And, here's how you can go about this –
You might as well create a report that has Word files, Excel sheets, images, etc, and then you can share it while assigning a password or redacting information so that your PDF becomes suitable for your intended audience.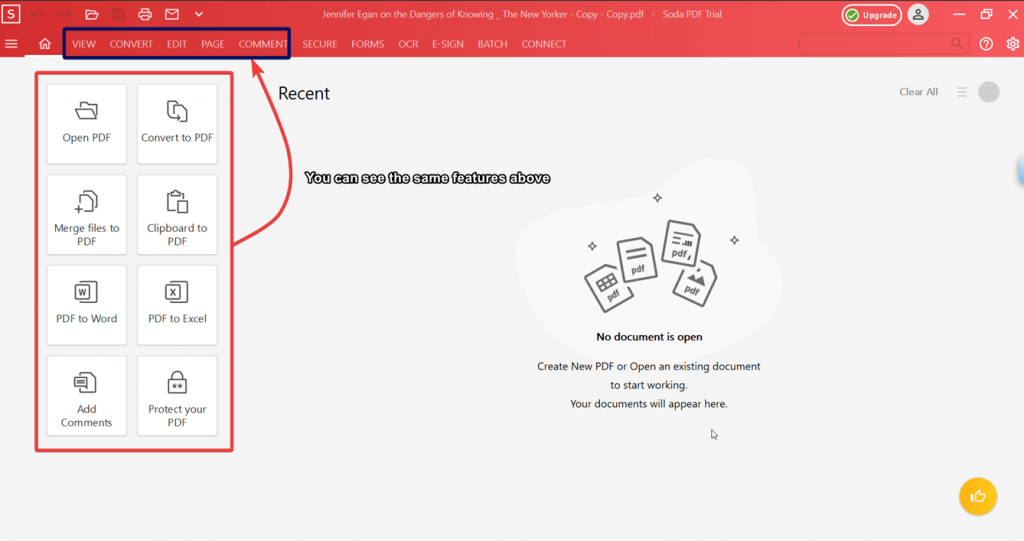 Every time you click on a feature, the sub-features are aligned just below it, without falling over the various elements of your PDF. This way we believe that you can see the elements of your PDF while accessing the features, unlike some other PDF tools where menu options fall over the contents of the PDF and it then becomes difficult to view PDF while performing tasks.
Let's have a look at some of the best features of Soda PDF –
1. View PDFs
In its very basic form and even if you download Soda PDF for free, it lets you view and read PDFs seamlessly, giving you an ultimate viewing experience. You can add bookmarks, rotate PDFs any which way you want, select multiple modes for reading depending on your needs and even choose the 3D viewing mode which will make you feel as if you are turning the real-life book or document pages. Here you can even take snapshots while viewing the document, something that not many PDF readers offer.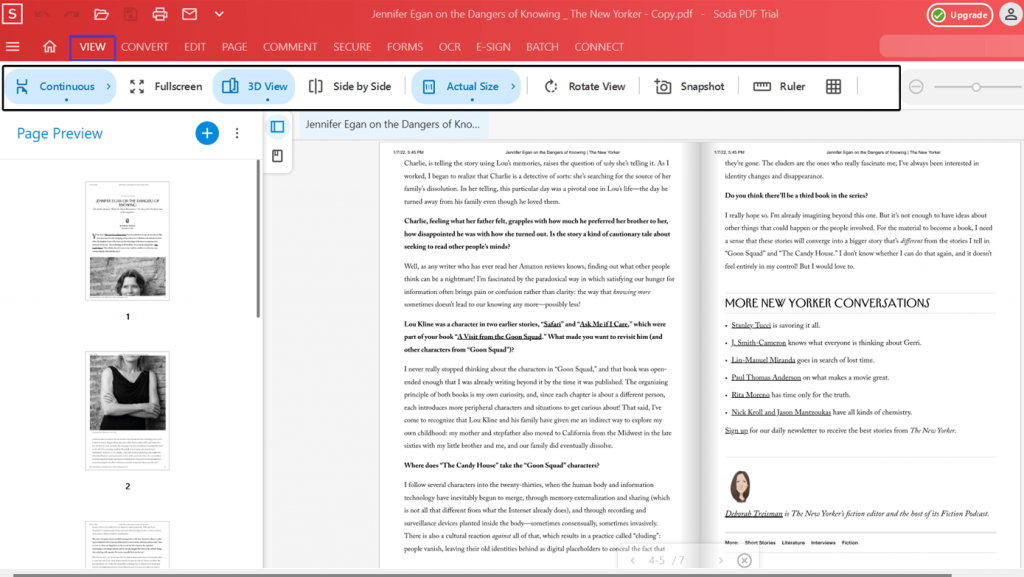 2. Convert to A Variety of File Formats
Soda PDF lets you convert your PDF into all popular file formats. For example, you can go ahead and use Soda PDF to convert excel to PDF or vice versa. Or, to gain more freedom on text editing and formatting in your PDF, you can Soda PDF to word converter. For this click on the Convert option and then click on the Export sub-option. Choose your desired format and convert.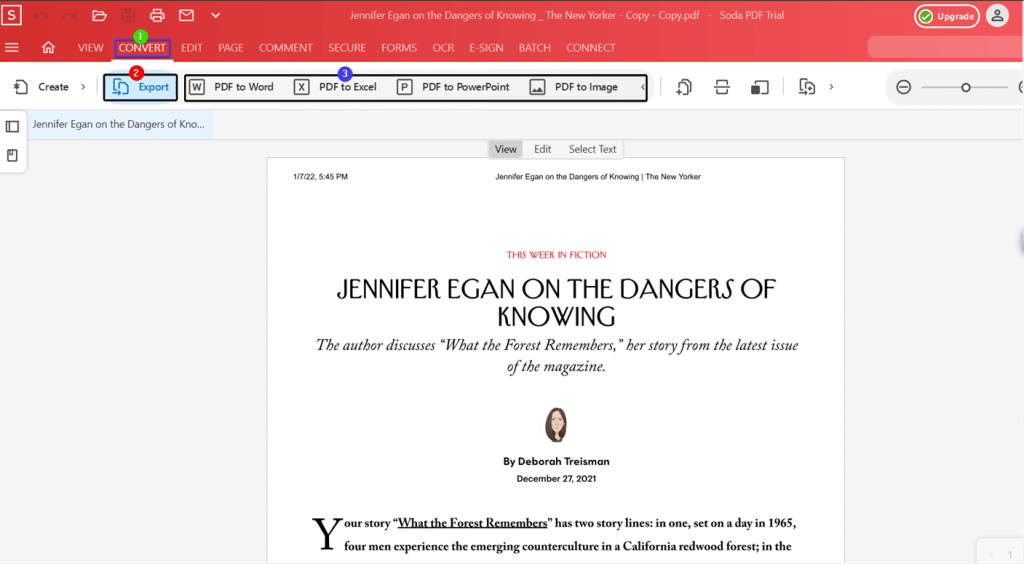 3. Combine PDFs
Let's say you have several PDFs that you want to combine into one. Or, you have several documents spanning across several formats that you want to merge into a single PDF. Soda PDF makes all this possible. As you can see from the screenshot below that we are combining three different file formats into one single PDF file.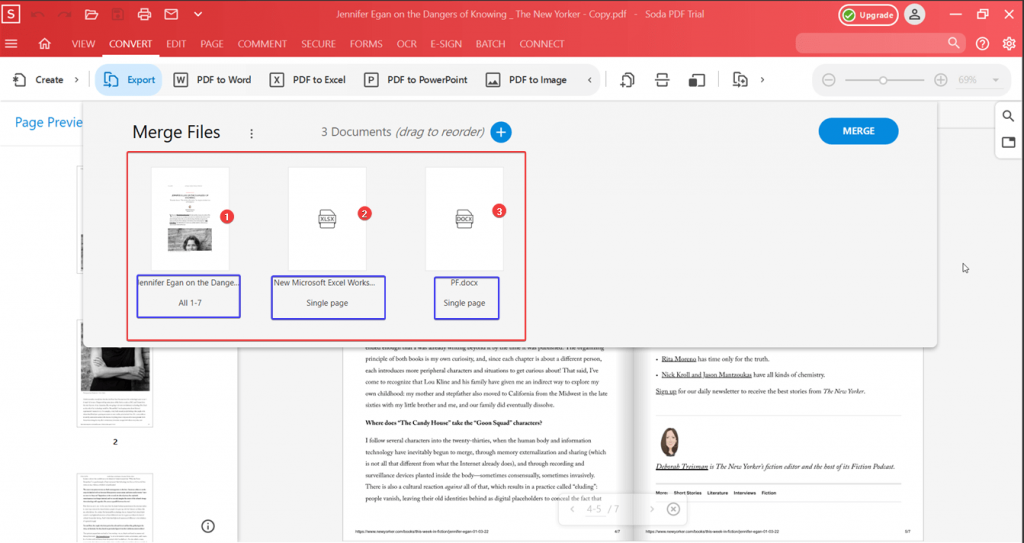 4. Secure PDFs
Before sharing a PDF, you may want to secure your PDF with a password so that only people with appropriate rights can access the PDF. However, what if you were tasked with redacting or censoring selective parts from your PDF so that maybe you could make it consumable for a specified audience. Soda PDF lets you do that. And, not to forget when it comes to securing PDFs with a password, Soda PDF is capable of adding AES-256 password encryption, strong enough security, right?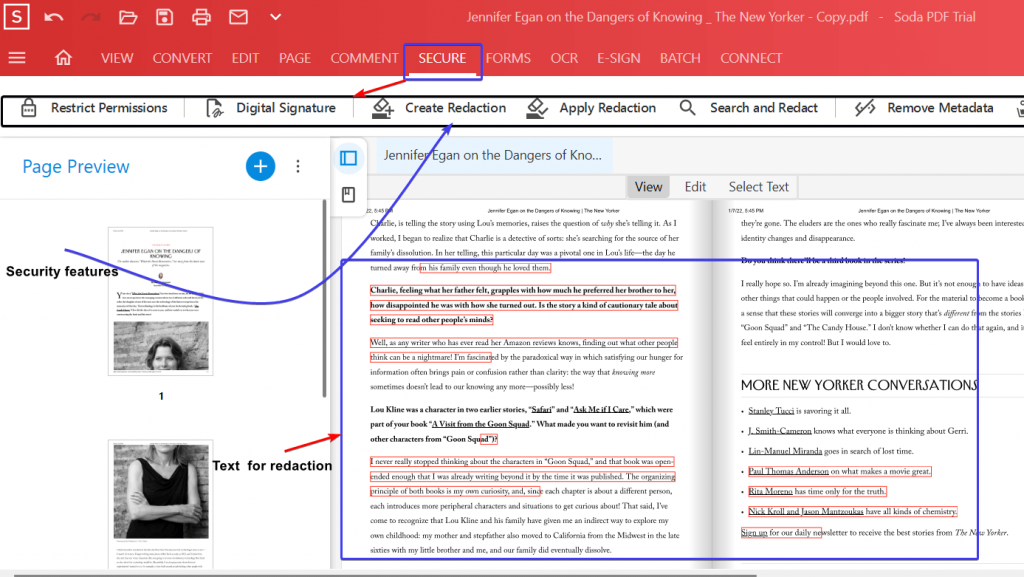 Soda PDF has a repute of constantly updating itself or rather bettering its features so that users can get a better and more enhanced experience. It also gives you complete control over manually fetching updates. For that –
1. Click on the cog icon from the top-right corner of interface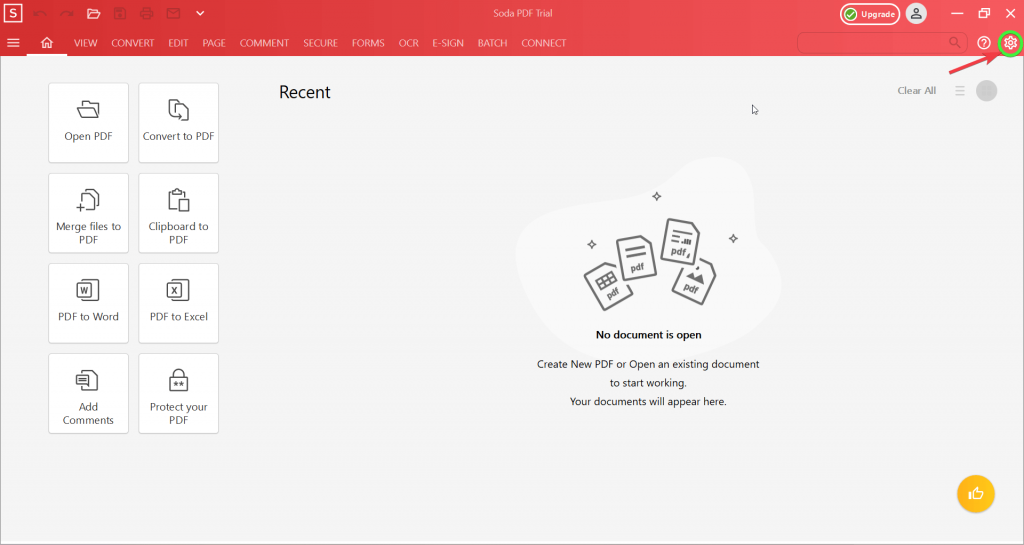 2. Under Applications Options, click on Updates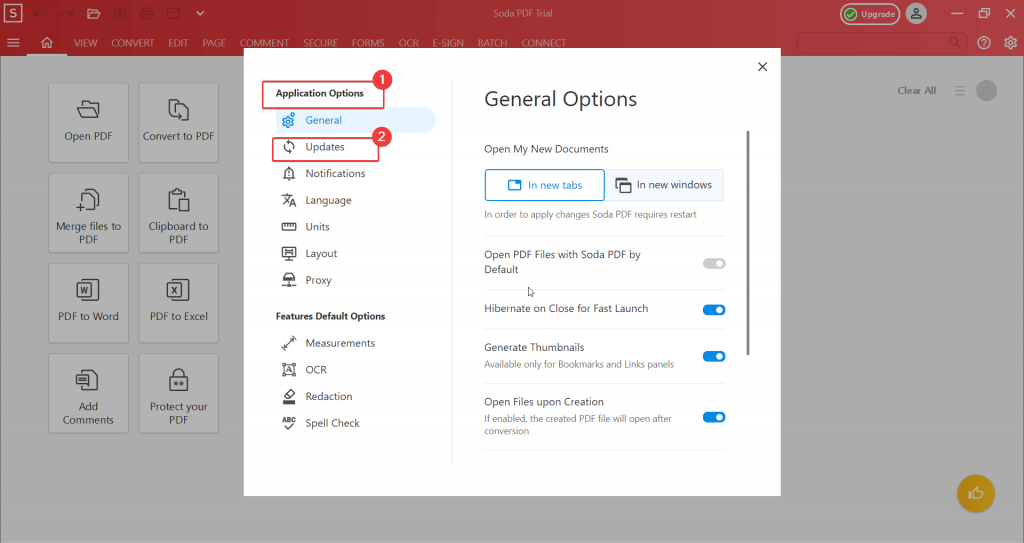 3. From the right-hand side, choose from one of the options for Auto-Update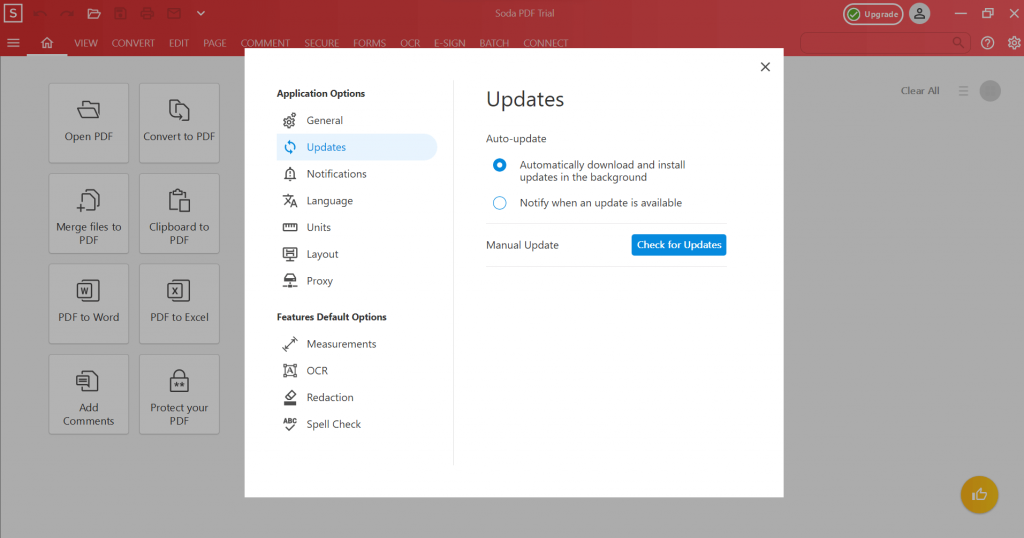 4. Or, to manually check for updates, click on Check for updates button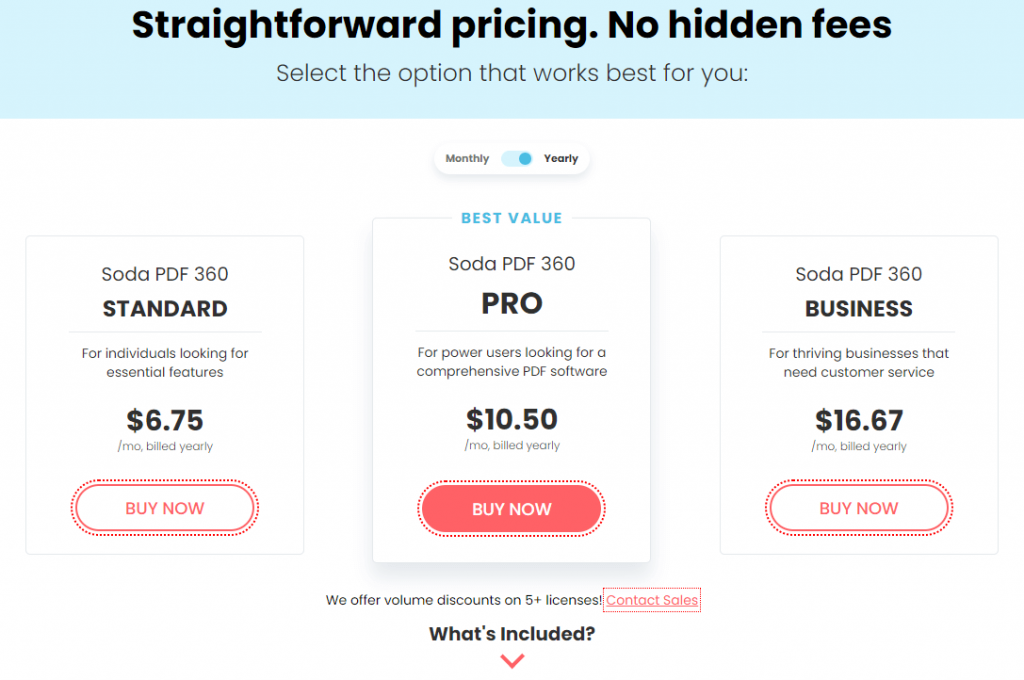 If you have exhausted the free trial and have decided to purchase the premium versions of the tool, here is how the various variants of Soda PDF cost. Soda PDF comes in three variants, namely – Soda PDF 360 Standard, Soda PDF 360 Pro, and Soda PDF 360 Business. While the Standard variant is priced at $6.75/ month billed yearly, the Pro and Business variants cost $10.50/ month billed yearly and $16.67/ month billed yearly respectively.  You can check out the features from the screenshot below.
Soda PDF 360 Standard

Interface & Improved User Experience, E-Sign functionality for remote signings, Devices per plan, Unlimited Device switches per year

Soda PDF 360 Pro

OCR Search, Personalized forms, Add sticker comments, 20 Pack of E-sign, Unlimited Device switches per year

Soda PDF 360 Business

Unlimited of E-sign, Phone Support, Device switches per year, Self-serve plan management, Windows, GPO, SCCM, Citrix deployment, Mac, Linux deployment (Web)
We won't say that the speed is the best, having said that speed is decent enough. Now, when we say speed, here is what we are referring to – adding documents, sifting through their various pages, working across several functions such as editing, converting, etc. Also, in a few instances, we found that the software lagged a bit. Apart from that, working on Soda PDF is smooth, quick, and enjoyable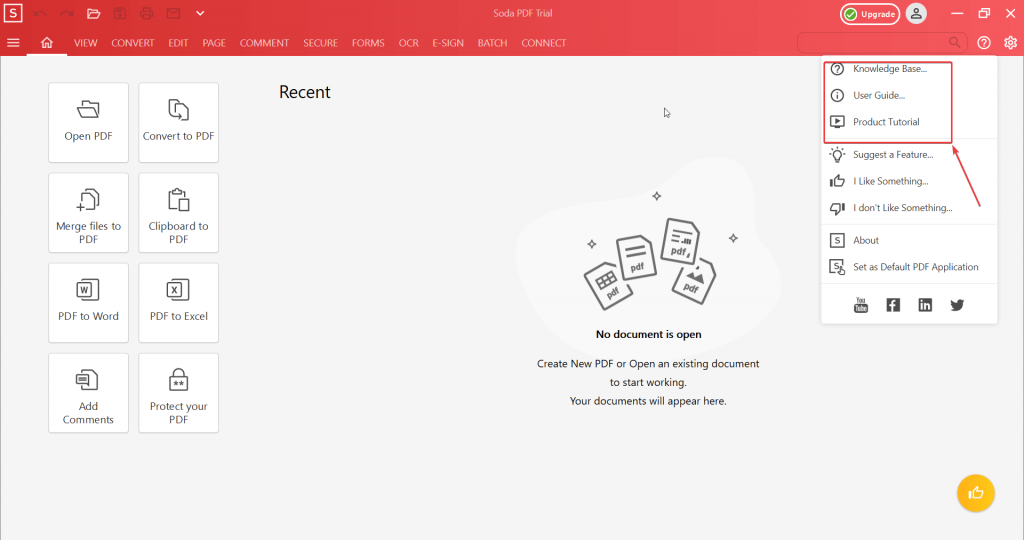 How easy it is to fetch Soda PDF's support, in case you are stuck? Even with its trial version, it offers a user guide, several knowledge-based products, and videos that you can access right from the interface. You can even mention what you have liked about the software, or what it is that you would want to be incorporated as well.
But, is there a way to reach out to the support team in case you are stuck? You can always Submit a request where you can specify your exact request type and further, you can elaborate on your issue based on that request type. You can even add attachments or screenshots of the issue, if applicable.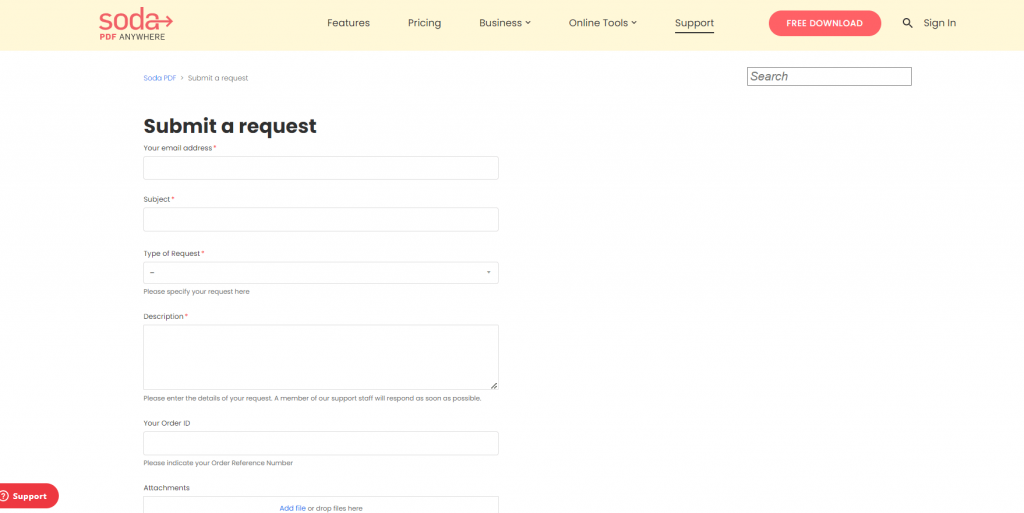 Frequently Asked Questions
Q1. Is Soda PDF Safe?
Yes, whether you are using Soda PDF's desktop version or a web-based platform, you can rest assured that the tools you are using are 100% safe. None of security or information will ever be compromised, something that millions of users have already vouched for.
Q2. Is Soda PDF As Good As Adobe?
In many ways, yes, you'll find that Soda PDF is simpler to use than Adobe. Especially, if you consider editing the text, you will observe that Soda PDF makes this task a breeze. For one, in many ways, it works just like a Microsoft Word Processor. To gain more insight, you can check our review of Adobe Acrobat DC.
Q3. Is Soda PDF Free?
Soda PDf offers you to use all its features without spending a single penny for a matter of seven days after which you can choose to opt for one of its premium variants.
Verdict
All in all using Soda PDF editor is an enjoyable experience. Even if you consider Soda PDF alternatives like Adobe, PDF Element, you will still find that Soda PDF is much simpler to work with. If not anything else, try out the viewing features, especially the 3D flipping feature and we bet you will be motivated to use the rest of its features. For more such reviews on Windows software, keep visiting Top10PCSoftware. Also, follow us on the social media platforms for the latest updates for Windows software. We are on Twitter, Facebook, Pinterest, and Flipboard.