PDF Candy Reviews: Is It Safe To Use?
Are you someone who has to juggle with PDFs – make forms, edit PDFs, convert them to a variety of file formats, password protect them, or do several other tasks related to PDF documents? If yes, you need a PDF editor tool. Here we are going to review PDF Candy which is often regarded as one of the best PDF editing and management tools.
What Is PDF Candy?
PDF Candy Desktop is one of the best PDF editors and a one-stop shop that contains a variety of tools that can help you complete several PDF-related tasks. With more than 40 tools, you can carry out PDF tasks with utmost ease and thereby enhance your productivity.
Broadly speaking it has several conversion tools that help you convert your PDF to several file formats and the same goes for the other way round. It is for this reason that the PDF Candy converter is one of the best options if converting documents to various formats is your goal.
You can also use PDF Candy to split or merge documents, add or remove pages from a document as well. The PDF editor isn't just about creating or managing PDF files you can even secure your PDF documents by adding passwords as well. Again, the vice-versa situation is also true since you can also unlock a PDF that is password protected.
If you are looking for a PDF Candy alternative, you can check out this review of Foxit PDF Editor.
Reasons To Choose PDF Candy
There is not just one but many reasons why you should choose PDF Candy as your PDF editor. Here we are stating some of them –
Easy to use interface
Add and remove pages in a hassle-free manner
Easily split and merge documents
Protect documents
Get control of metadata by editing it
Organize
Add/ Remove Pages
Compress PDF
Merge PDF
Split PDF
PDFs
Add page numbers
Add Watermark
Batch Editing
Edit PDF
Repair Corrupt PDF
Conversion
PDF to Excel
PDF to HTML
PDF to JPEG
PDF to Powerpoint
PDF to Word
Security
Add password
PDF to PDF/ A
Remove password
Sign/ Get Sign
System Requirements:
Compatibility –  Windows 11/10/8.1/8/7/Vista
Downloaded File Size –  138 MB
Processor – 1.33Ghz Intel® AMD or any other compatible processor
RAM –  Minimum 512 MB, 1 GB for best performance
Disk Storage Space Required – 440 MB
How To Install PDF Candy?
1. Double click on the PDF Candy installer.
2. Select your desired language and click on OK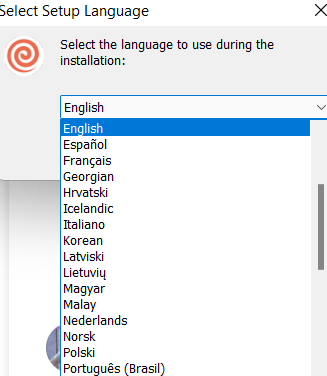 3. Accept the license agreement and click on Next.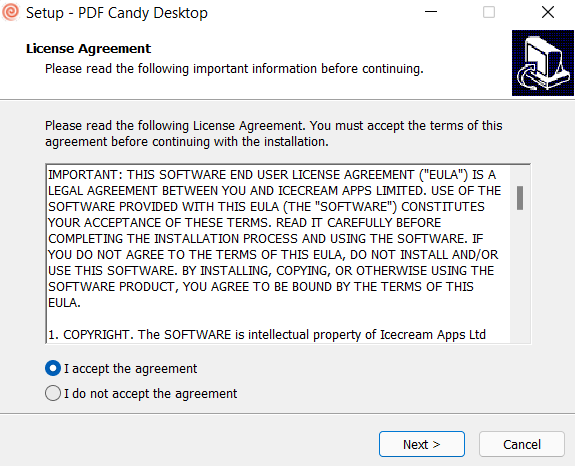 4. Choose a location where the PDF Candy desktop will be installed and again, click on Next.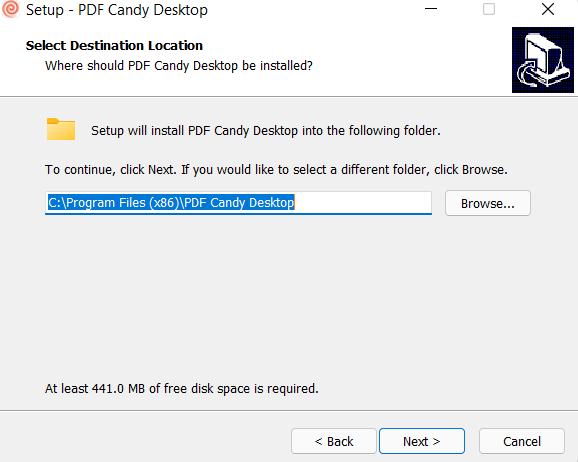 5. Wait while the setup installs PDF Candy on your computer.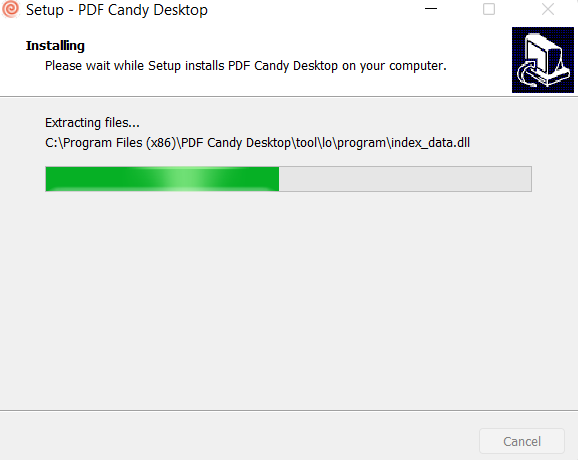 6. Choose whether or not you want to launch PDF Candy Desktop and then click on Finish.
How To Use PDF Candy?
Using PDF Candy is a breeze, let's get into the steps which will help you get started –
Step 1: After you have unpacked the installer, run, and installed PDF Candy, you can either select an option by clicking on All Tools from the left-hand side and then selecting a task from the right-hand side or you can click on either Convert from PDF, Convert to PDF or Other tools and then select a task to perform on your PDF file. As you can see from the screenshot below if you have chosen the All Tools section you can even search for the particular task that you want to perform as well.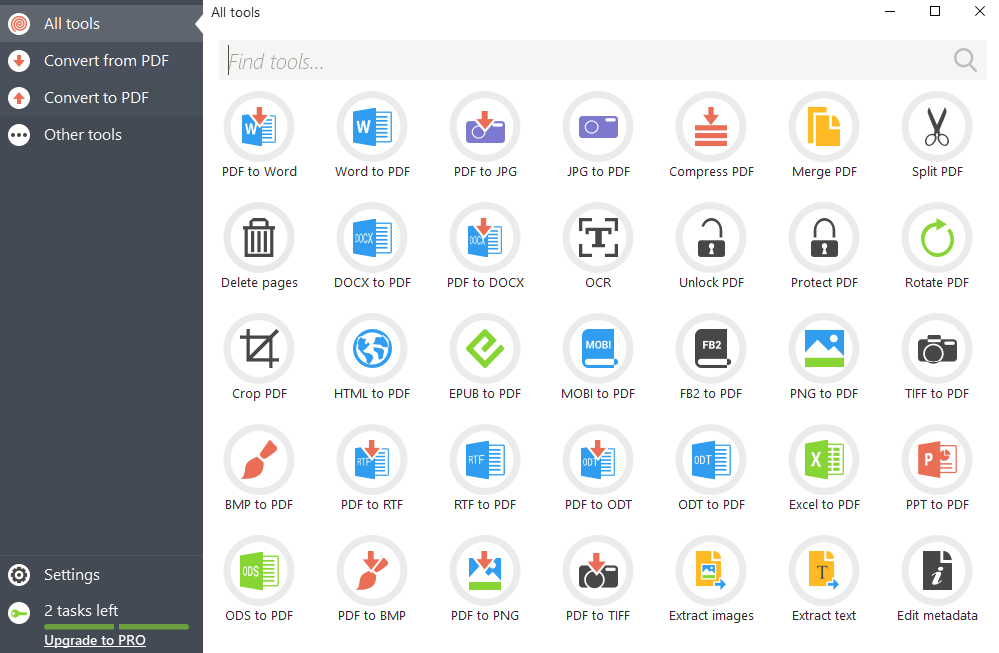 Step 2: Since we have so many options for conversion, let's convert PDF to word using PDF Candy and see how this works. So, click on Convert to PDF from the left-hand side of the interface and then select PDF to Word from the right-hand side.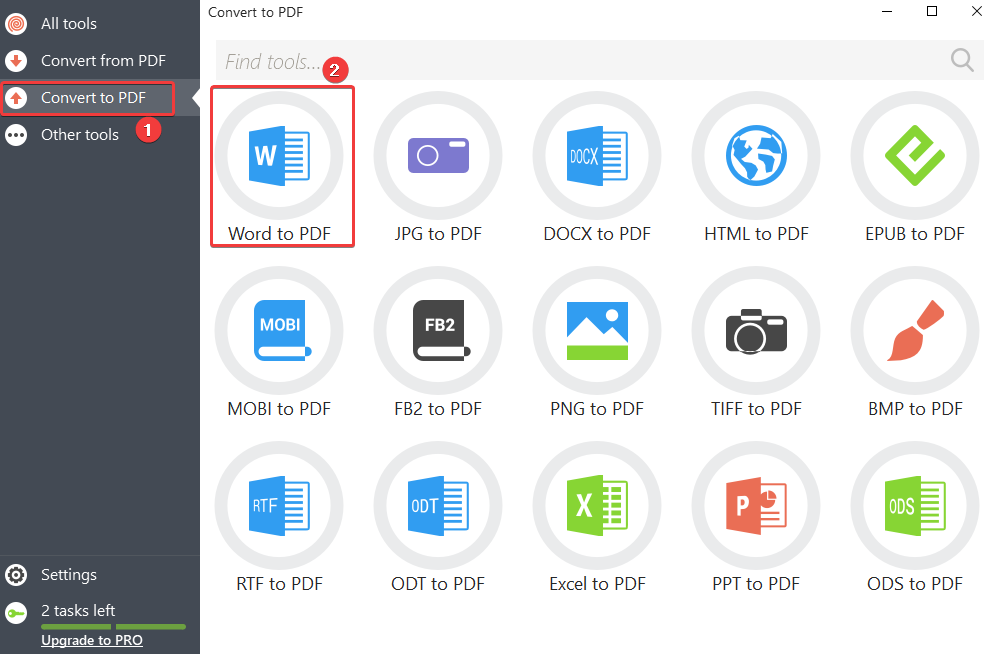 Step 3: Browse the location in your file explorer from where you want to select the word document. And, here you can multi-select documents.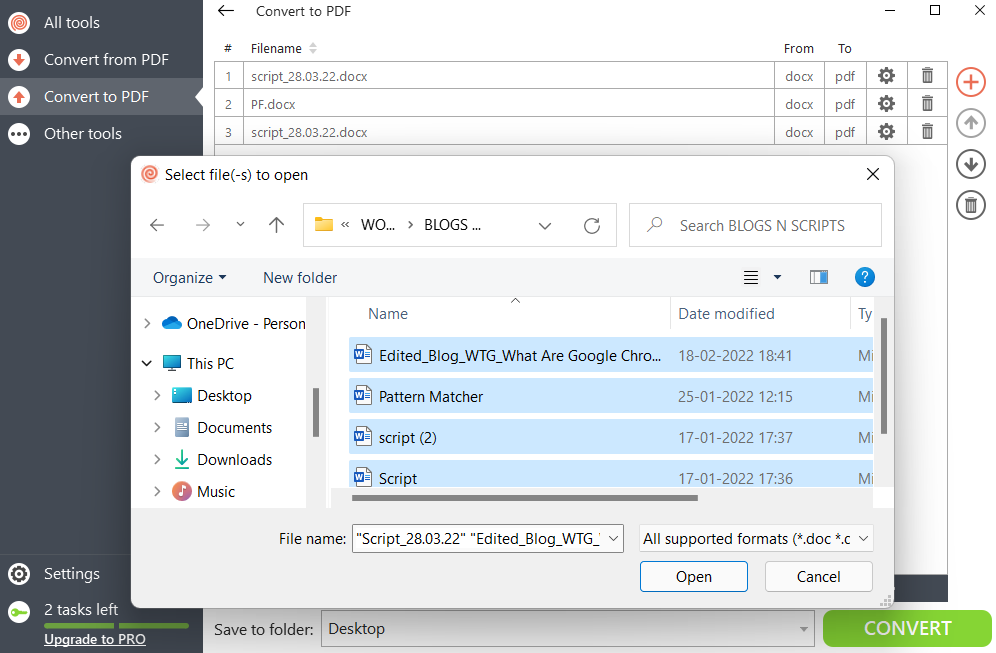 Even if you have forgotten to add a document and want to add it later, you can simply click on the red-colored + sign from the farthest right.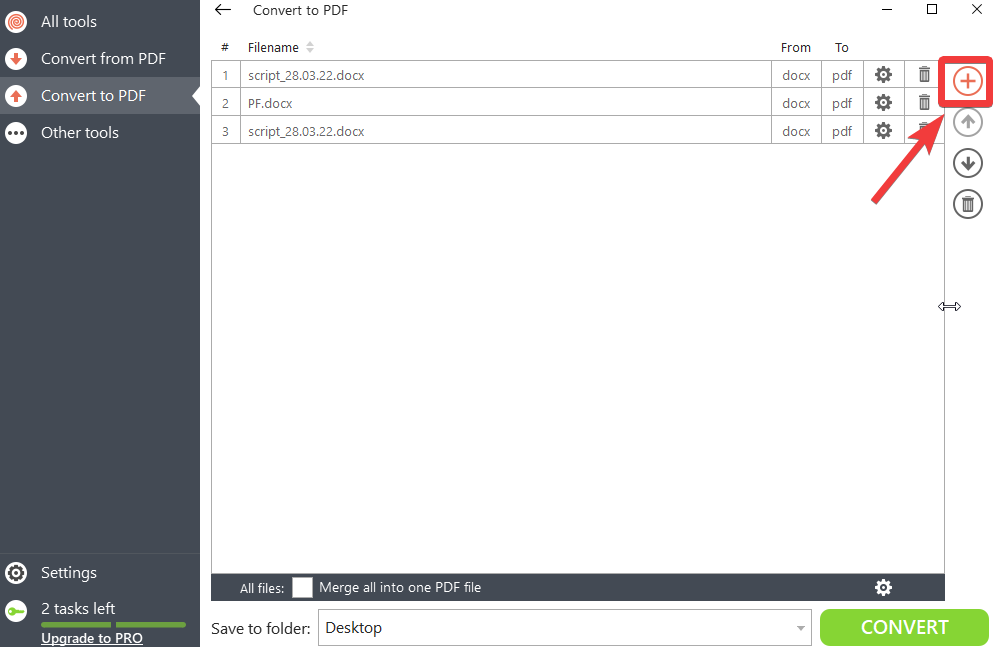 Step 4: That's it! You can choose to change settings pertaining to each of the documents, change their file name, add passwords, etc. And, if you are okay with the document, click on the Convert.
That's how simple it is to get started.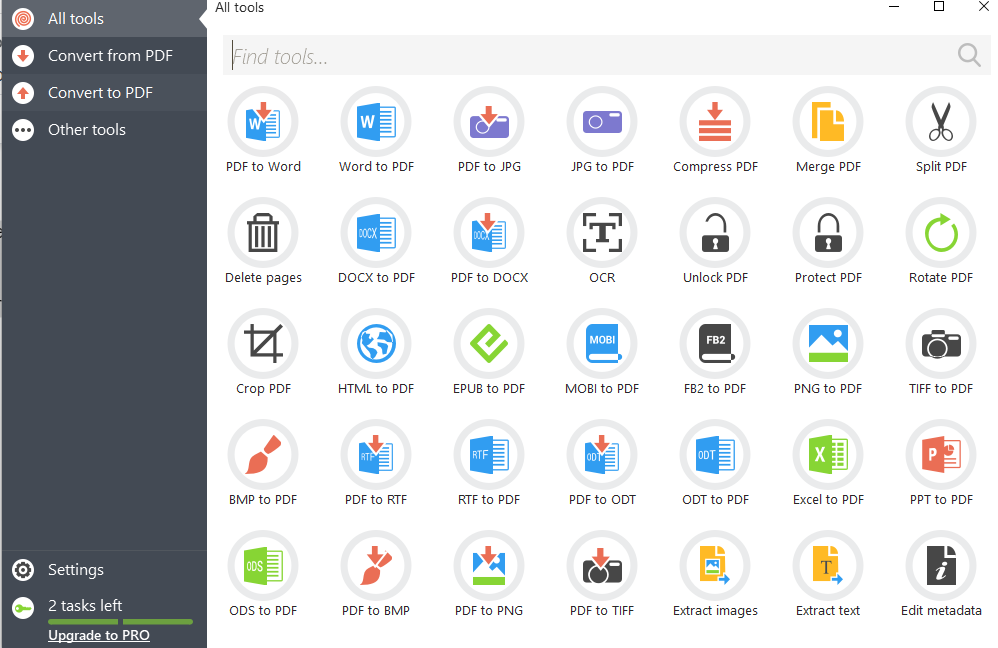 PDF Candy for desktop has a clean, easy-to-use, and easy-to-understand interface. While you can see and access all the features when you click on All tools from the left-hand pane. However, if you want to take a more focused approach, you can select appropriate options from the left hand where you can find tools to convert PDF to different file formats and vice versa.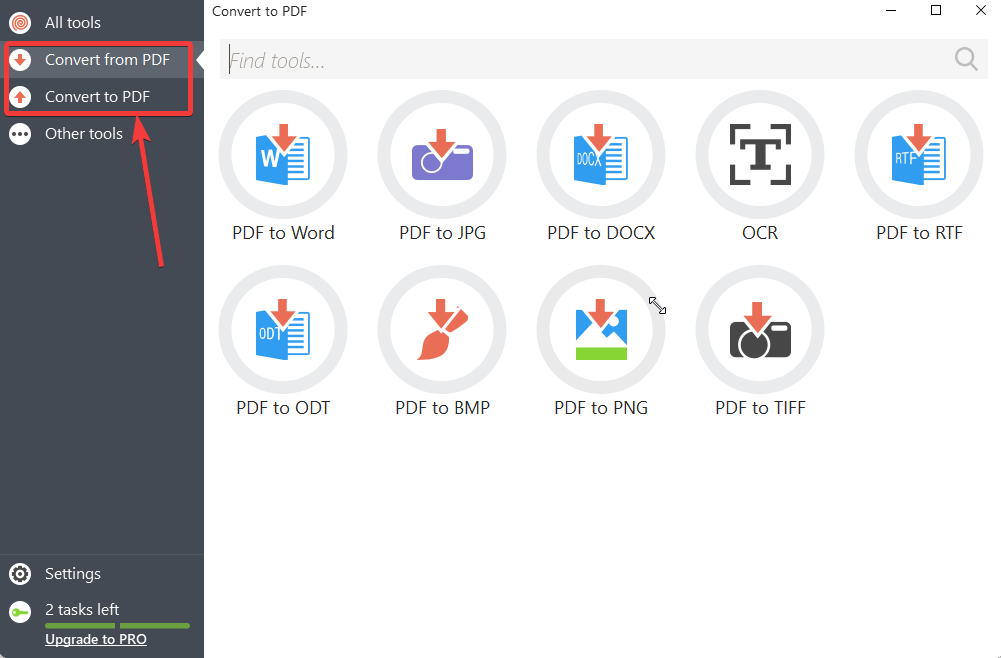 In the Other Tools section, you will be able to find tools for compression, merge and split PDFs, add remove pages from PDFs, tools related to protection, and a few more.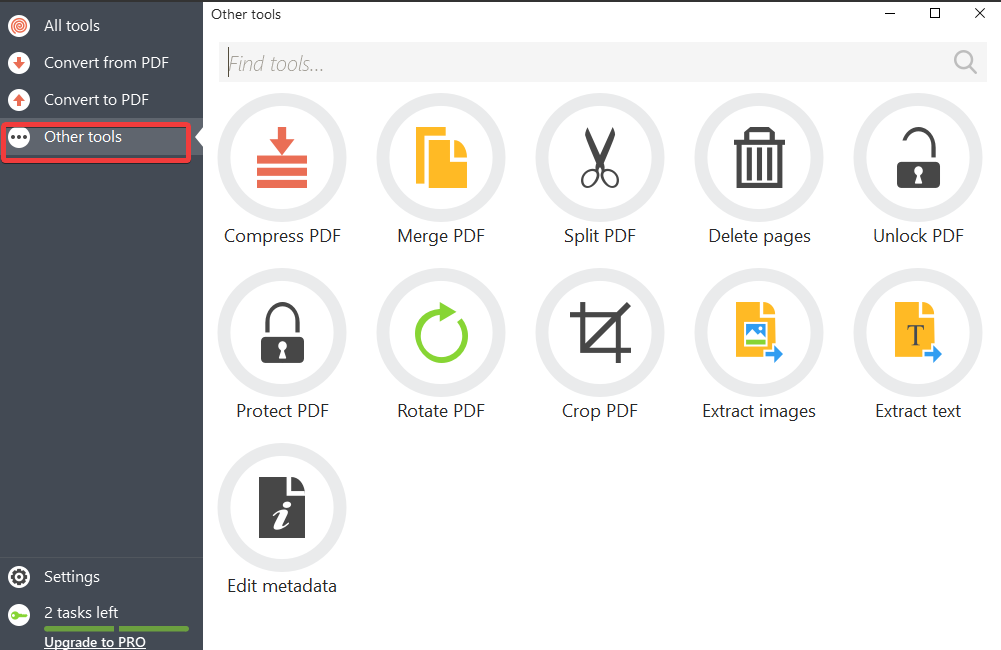 1. Conversion To A Variety of File Formats:
With the help of PDF Candy for your desktop, you can convert your PDF to a variety of formats and vice versa. For example, converting PDF to word with PDF candy is hassle-free and fun.
The PDF Candy converter has 9 tools using which you can convert your PDF into a variety of file formats such as PDF to Word, JPEG, TIFF, BMP, etc.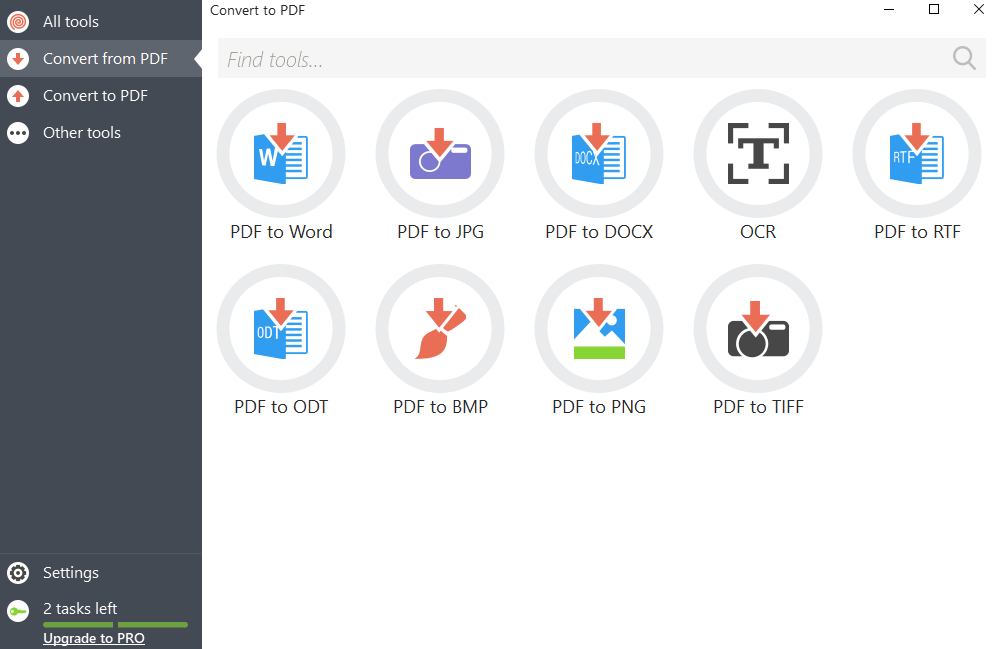 And, if you intend to convert a file format into PDF, then you have 15 tools to do that. This means you can convert 15 file formats into PDF. These include all of the above-mentioned file formats plus ODS, ODT, RTF, etc.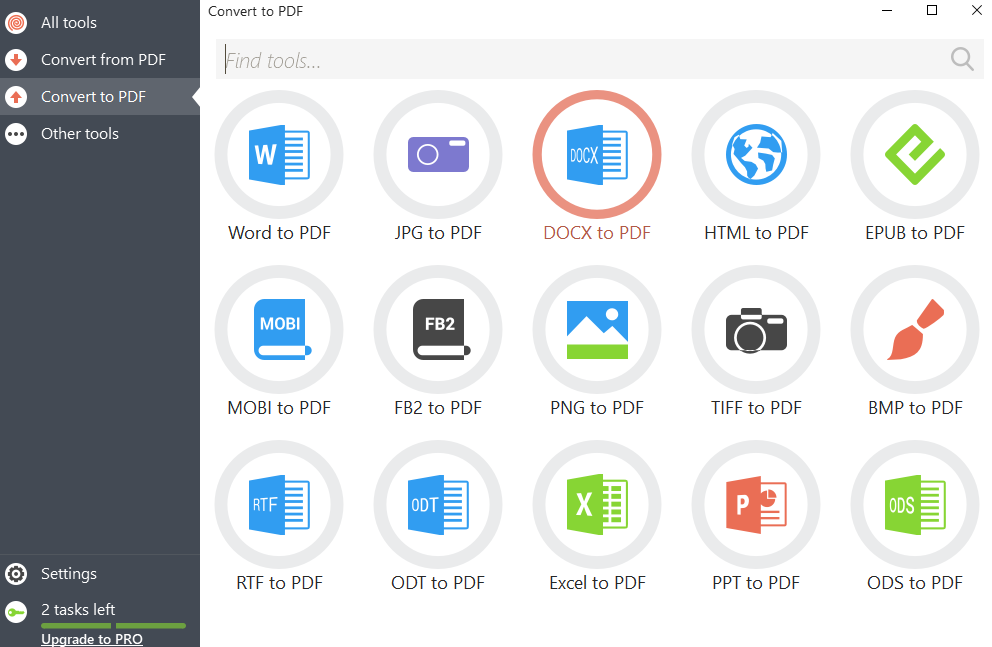 The best part here is that while you are performing the conversion you can perform few more tasks from the same place. You can change the file name, publisher name, add a password, merge files (if there are more than one file).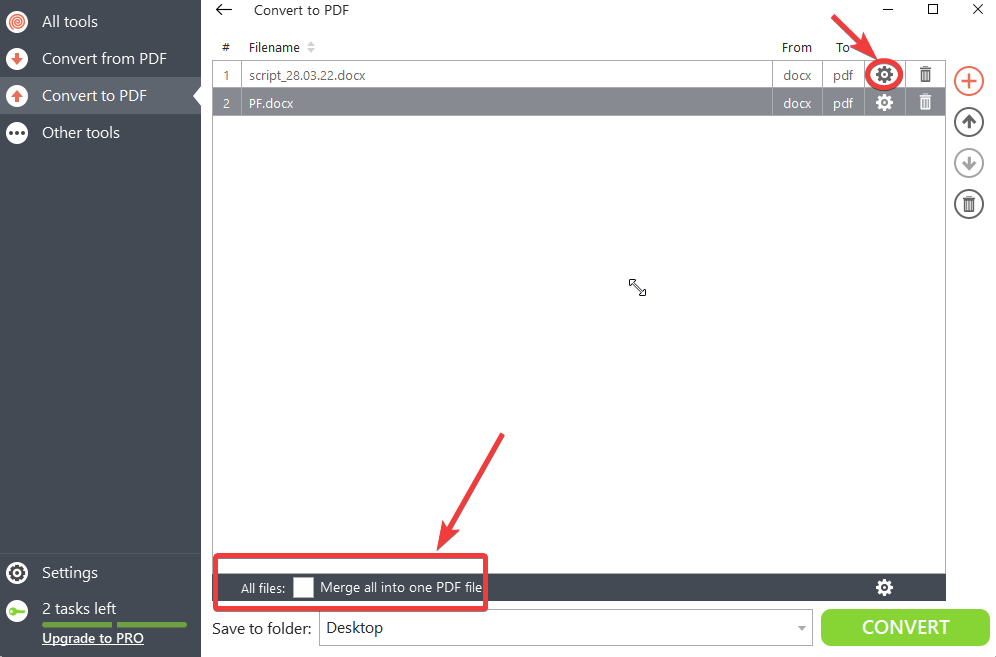 2. Password Protection: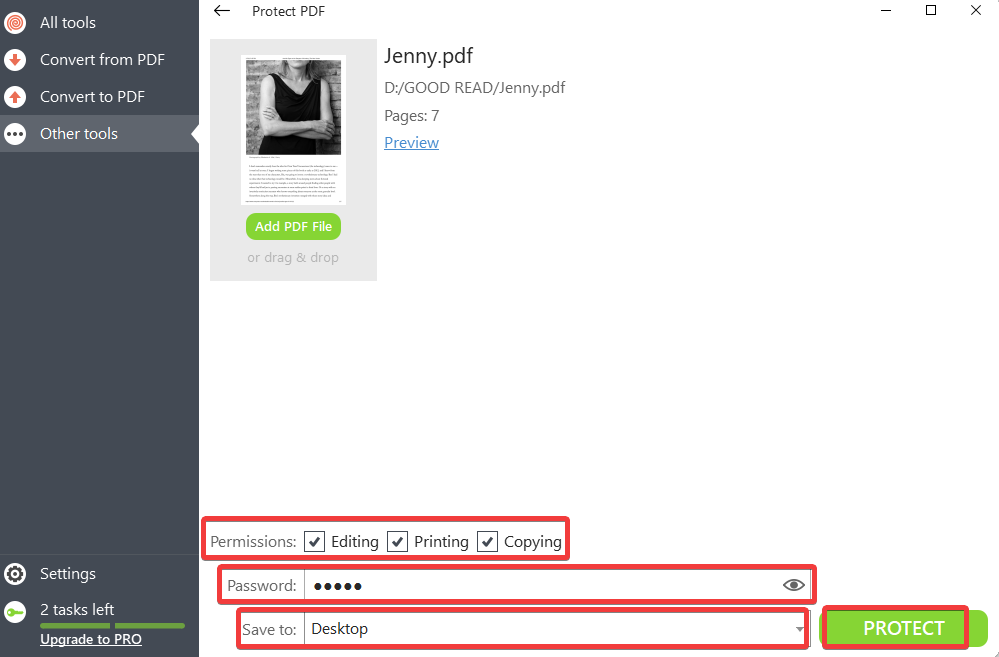 In case you want to password protect an important document you needn't go elsewhere because you can lock your document behind a password using PDF Candy desktop. The password would also encompass permissions for editing, printing, and copying. After having assigned a password, you can even choose to save the password-protected document at your desired location on your computer.
3. Merge PDF Documents: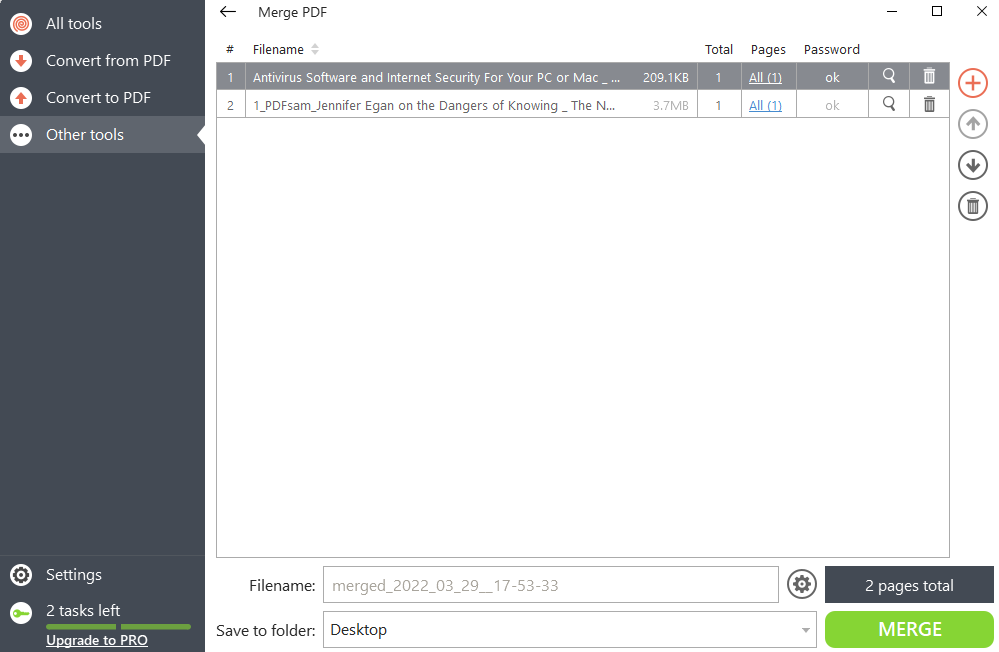 With PDF Candy, merging PDF files is not just about adding a bunch of PDF files and merging them. Here you get a complete grip on individual pages of the PDF files you have selected. For example, here you can select an individual PDF and select a page range that you want to merge.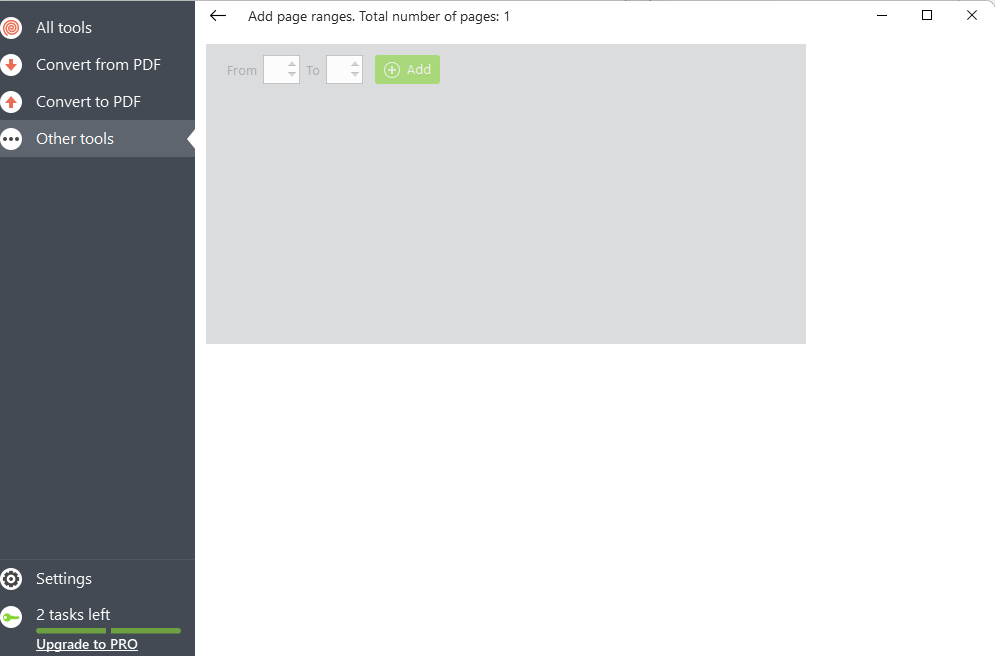 4. Split PDF Documents: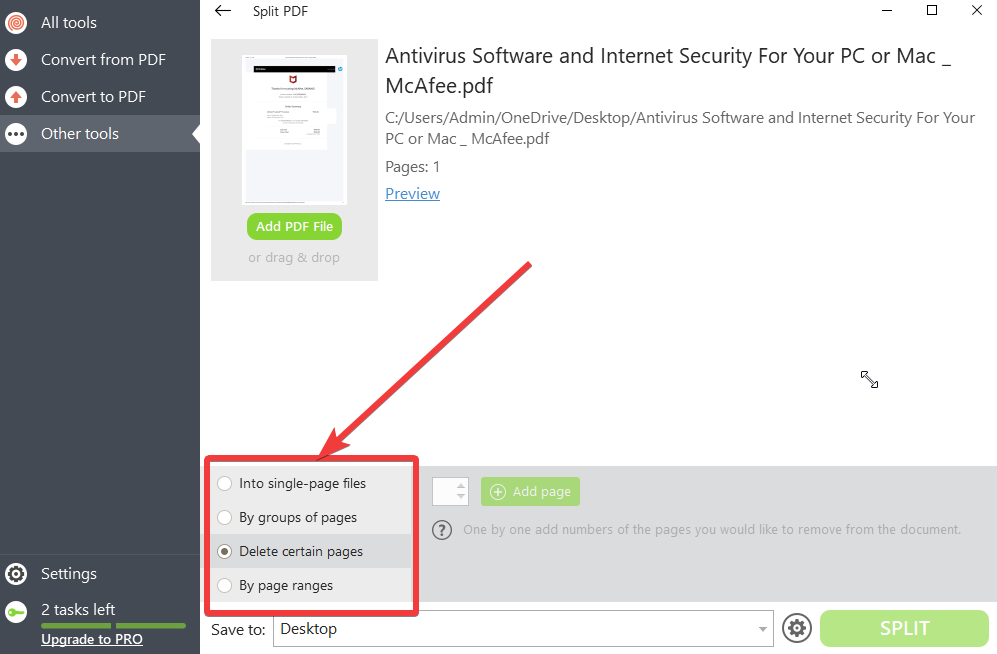 You can use PDF Candy to split the pages of your PDF documents. And, it offers not just one but four different ways to split pages. You can split a PDF document in such a way that every page of your PDF file will be saved as an independent page. Then You can split pages into groups. In the next method, you can choose to remove certain pages, and lastly, you can split pages by page range. And, once you are done using PDF Candy to split PDF documents, you can password protect the end result or the end document you are saving.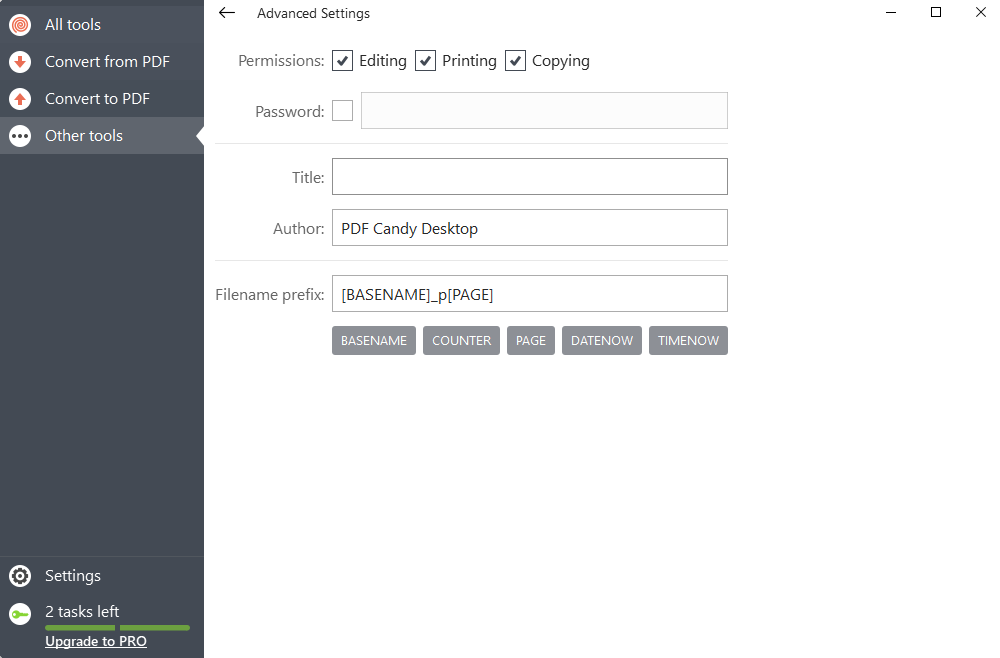 5. OCR Functionality:
The OCR capability of PDF Candy can be used to identify text in a PDF document that you have scanned. PDF Candy offers more than 10 languages in which you can identify text in an image in a PDF document. You can even change the OCR language in the Settings as well.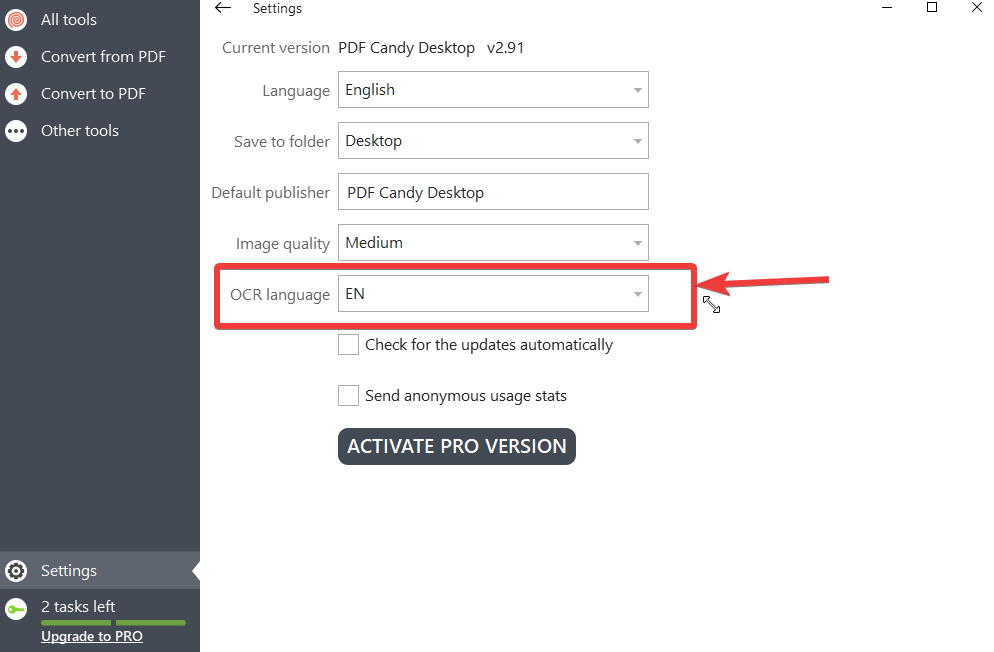 6. Batch Processing:  
Even with PDF Candy free version, you can perform tasks on not just one but several PDF documents all at once. You can use the PDF Candy PDF editor and split several PDFs into batches.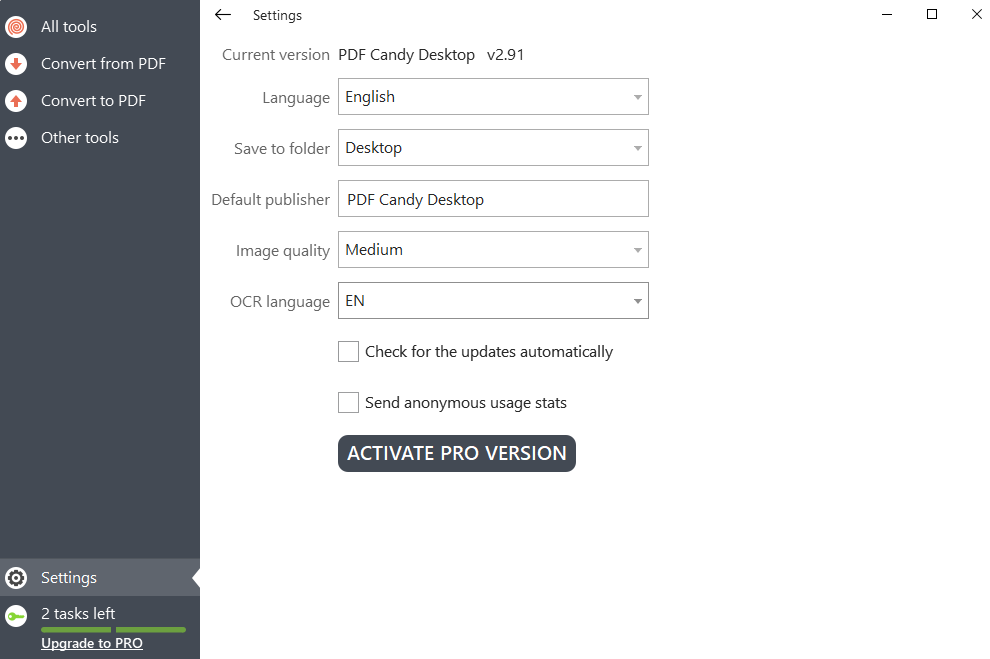 Ever Since its first release, PDF Candy Desktop has come a long way as far as features as concerned. And, going by the track record, we are very sure that in the coming time it will come up with more new features that it will roll out via updates. Talking of which, there is an option in Settings that lets PDF Candy fetch updates automatically. Although, we couldn't find an option to fetch updates manually.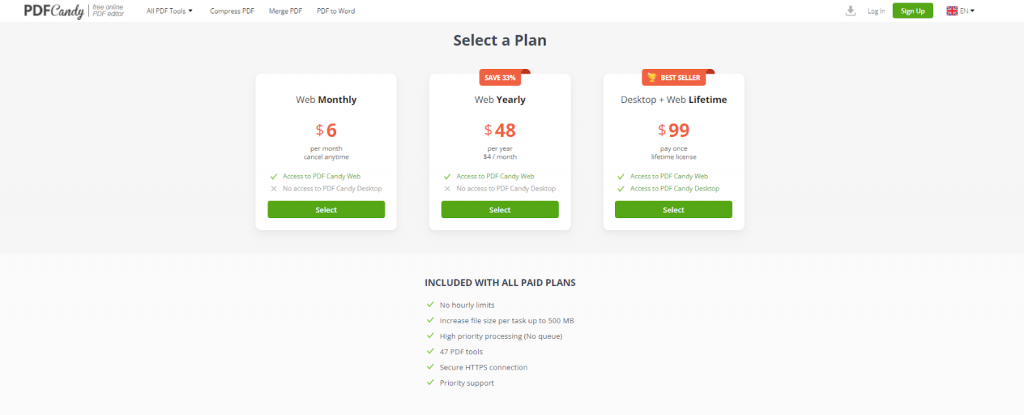 PDF Candy PDF editor comes in three variants namely – web monthly, web yearly, and desktop + web lifetime. Just to differentiate between free and paid variants, even with a free web platform you have hourly restrictions. However, when you opt for any of the paid variants these restrictions are removed. The paid variants even include priority support from the customer support team as well. Talking of the pricing you can refer to the screenshot above. If you want to have unlimited access to PDF Candy desktop tools and also want unlimited and unrestrained access to the PDF Candy web platform, you will have to pay US$ 99. With all the paid plans you get –
Web Monthly
Web Yearly
Desktop + Web Lifetime
Note: These were the pricing plans and discounts that were applicable at the time of writing this blog.
The speed at which PDF Candy performs a variety of tasks is decent enough if not the best. For instance, when uploading a document to find texts or to extract text or images, the task does take some time. But, again, there are times when a document is heavy  and the time to extract the image or to find the text may be time-consuming.
It is very important for software to provide customer support should a user get stuck. For instance, a user may have issues with his license after having signed up for a premium variant or a user may also have technical issues where he or she might be dealing with frequent app crashes. PDF Candy does a good job at covering up users on that front. Let's say you have a technical issue, in that case, you can narrate your issue in detail, attach the file/s you are having issues in processing, and even take a screenshot of your issue. After a while, the customer support team will return with a resolution. You can click on this link to reach their help center for your issues and concerns.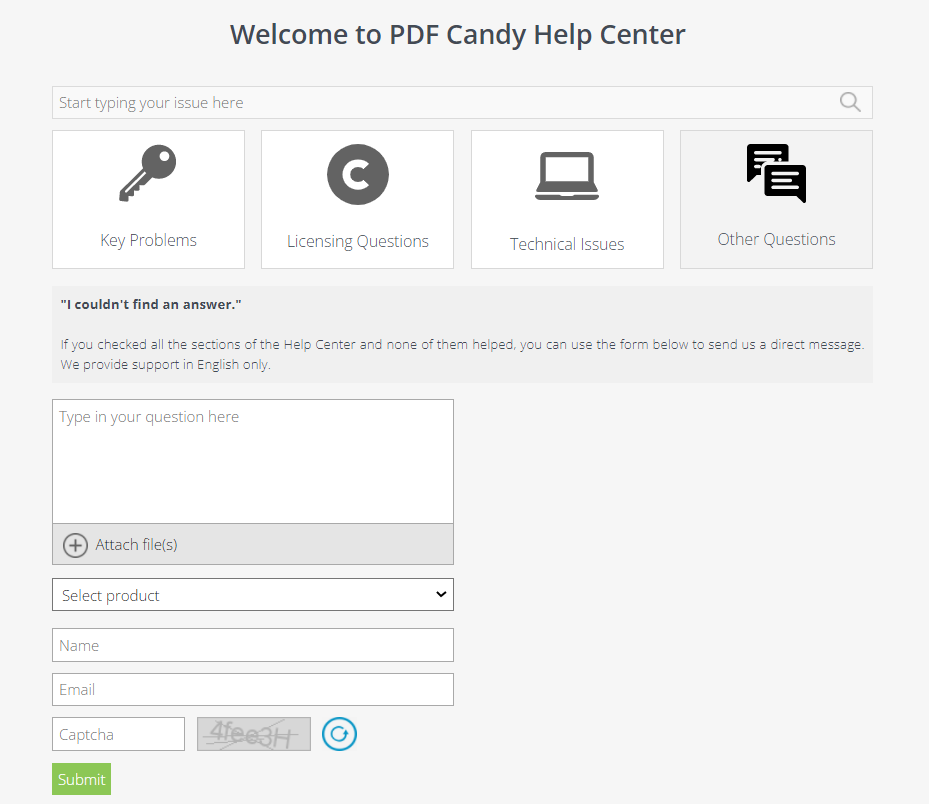 Unlike other other competitors, PDF Candy doesn't offer a way to reach the customer support team via interface but we must appreciate that on the above-linked help center page, the issues that users may have are neatly categorized. You can click on each of these and then perform the next step. For example, if you want to get the invoice for your order, you can simply furnish the order number, enter the captcha and attain the invoice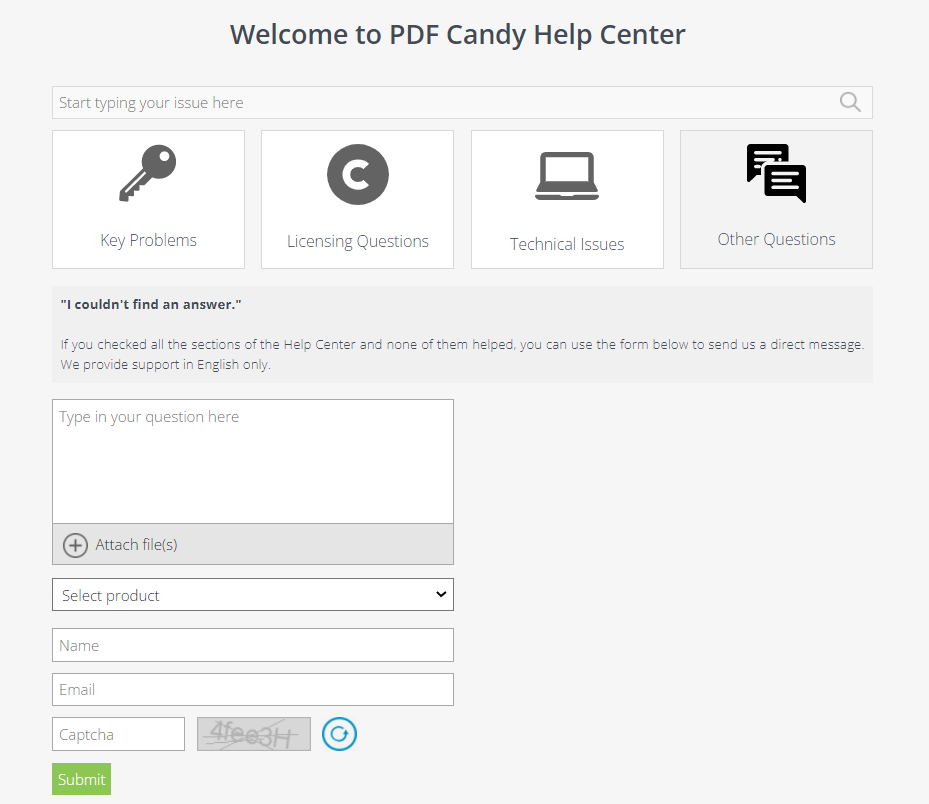 For any other queries pertaining to the PDF candy desktop variant, you can click on Other Questions, select your product and type your question and related files in detail and further submit your query. You can then expect a prompt reply.
Frequently Asked Questions
Q1. Is PDF candy free to use?
The online version is free to use. If you download PDF Candy desktop, you can try 2 tasks for free after which you will have to upgrade to a premium variant.
Q2. Is PDF candy safe?
Yes, PDF Candy is safe to use. It comes from the house of Icecream apps which are already known for several other tools for the Windows operating system. Some of these include a video editor, screen recorder, and several others.
Verdict
All in all PDF Candy is undoubtedly one of the most featured PDF editors and managers out there that offers tons of options to increase your productivity around PDF files. Be it converting PDFs to file formats or vice versa, securing PDFs, editing, rotating, cropping or whatever the task is that you want to accomplish, PDF Candy is the tool for you. Do give it a try and let us know in the comments what your experience has been. For more such reviews keep reading Top10PCSoftware. You can also find us on Facebook, Twitter, Pinterest, and Flipboard.