Movavi Screen Recorder
Movavi Screen Recorder Review 2023
Want to capture memorable moments from your game? Want to record an important meeting and share it with those who were absent? Took a webinar and wished to provide a recording of the same to those who paid for the training but couldn't make it to the session. What you need is a screen recording utility. Here we are going to review Movavi Screen Recorder which is one such tool. We delve into its features, pricing, and other aspects, so read on!
What Is Movavi Screen Recorder?
Movavi Screen Recorder Studio is a handy software that can help you record your desktop on-screen activities. The screen recorder from Movavi is a video recorder and doubles up as screenshot-capturing software. You can record any region of the screen, be it your active window or any custom region on your screen. With Movavi Recorder, you can capture online calls, webinars, tutorials, streaming videos, gaming sessions, and other online events. 
While recording the video, you can also choose the audio that you want in your recorded video. You can choose to record the sounds from your system and choose your microphone. With Movavi Video Recorder, you have a complete grip over video and audio quality. You can save your recorded video in multiple formats such as AVI, MP4, MOV, PNG, GIF, MP3, BMP, MKV, and JPG
Why Choose Movavi Screen Recorder 23?
Record both audio and video. 
Capture screenshots.
Annotate videos while recording. 
Multiple sharing options. 
The 7-day trial bears a watermark. 
Technical Specifications
Latest Version –

23.1.0

 
File Size –

1.7 MB
System Requirements
Windows Compatibility –

Windows 11,10,8.1,8,7

Processor Required –

 Intel®, AMD®, or compatible dual-core processor, 1 GHz

Memory –

2 GB 

Hard Disk –

300 MB for installation, 2GB recommended

Display –

1280 × 768 screen resolution, 32-bit color
Once you download and install Movavi Screen Recorder, it takes very less space on your desktop. You can drag it to whichever side you want – up, down, right, or left and it will snap there easily.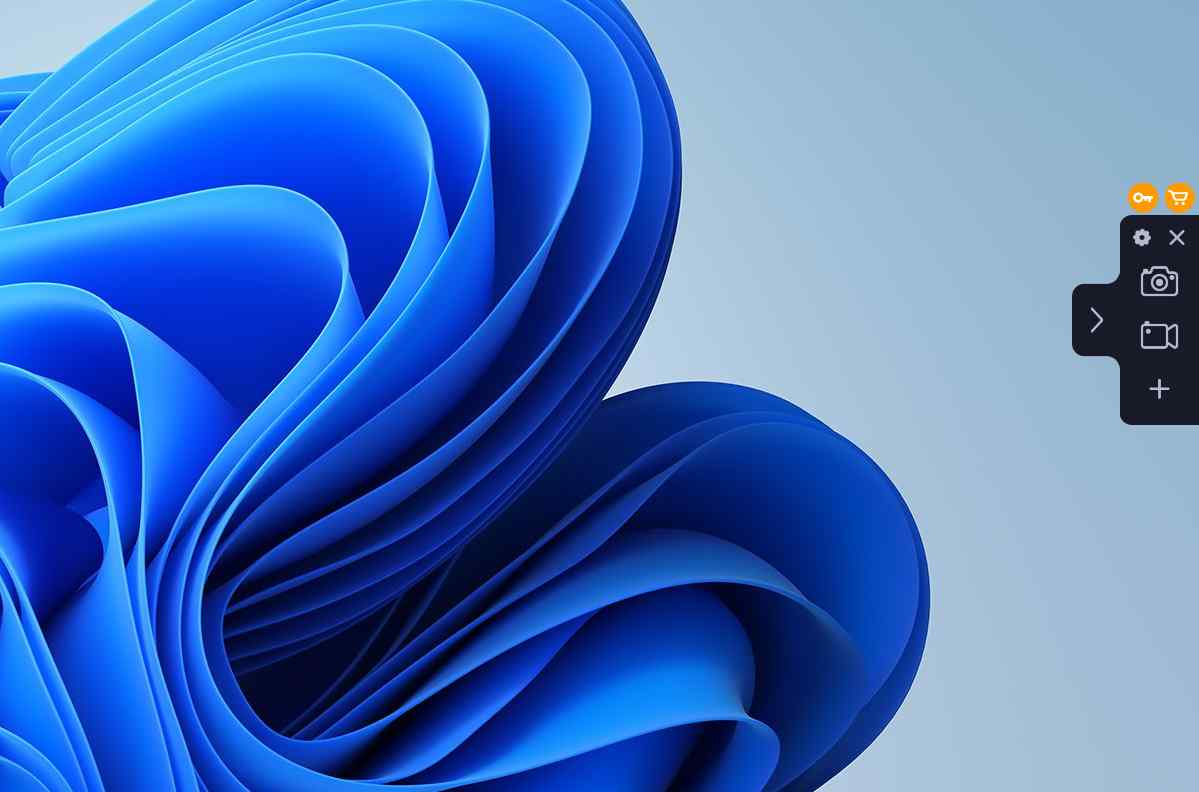 The initial interface consists of the settings, a close button, options for video recording and screen capture, and a collapsible button. When you click on the right arrow button (the collapsable button), it changes to a left arrow and hides all options. 
Coming to each of these options. When you click on the screenshot capture button signified by a camera, you get a crosshair, with the help of which you can select the region of the screen you want to take a screenshot of. Similarly, when you click on the video recording option, you again get crosshairs, using which you can capture any region of your screen.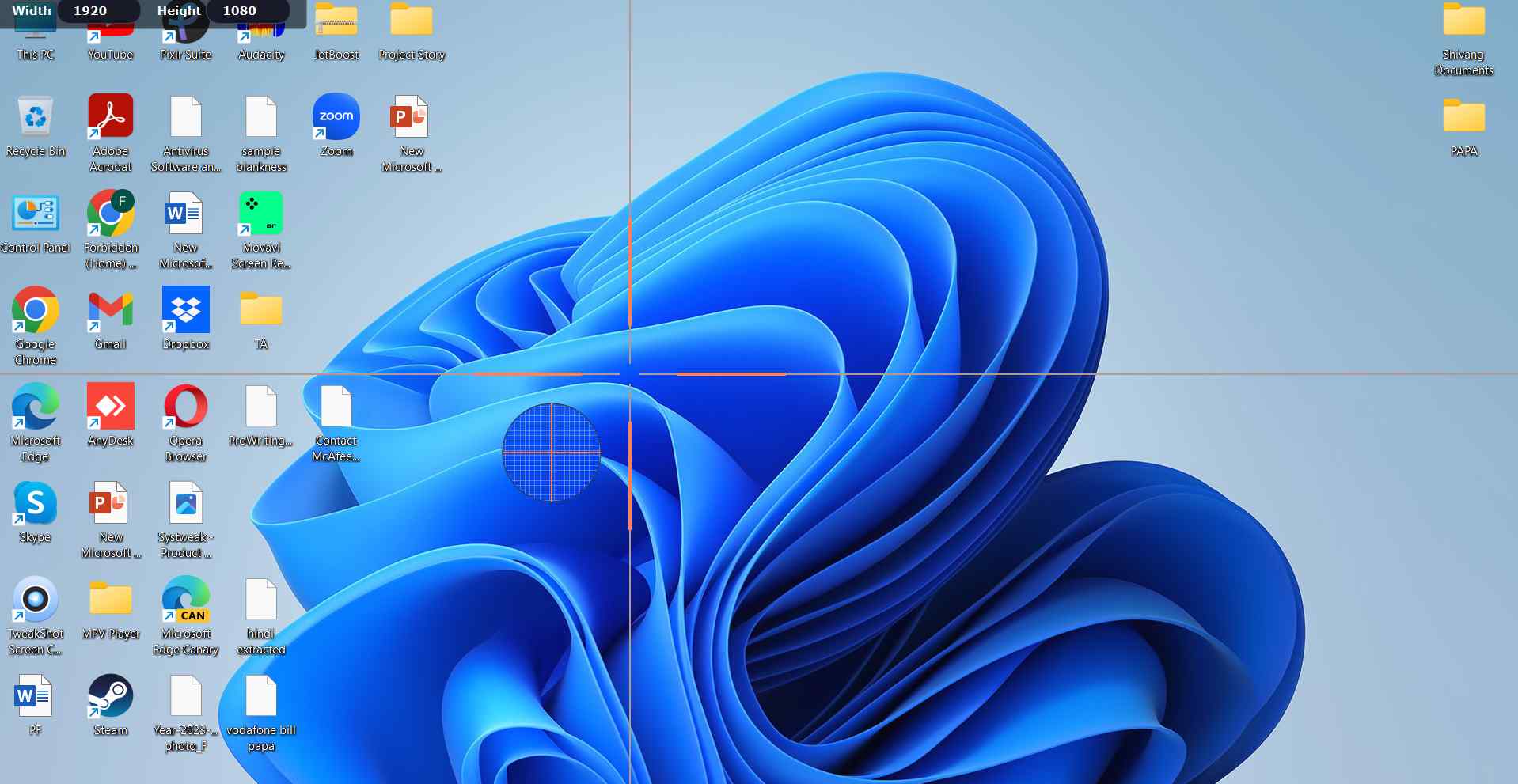 What we liked is the fact that you can capture or record pixel-perfect regions.  When you click on the "+" button you can choose to record your webcam or audio. 
Let's discuss some of the notable features of Movavi Recorder in greater detail – 
1. Record Videos and Capture Screenshots
Movavi Screen Recorder lets you take screenshots as well as conduct screen recording sessions. One of the aspects that we liked is that you can increase or decrease the size of the area whose screenshot you want to capture or record. If you are looking for a dedicated screen capture tool, you can check out this tool. 
2. Record/Take Screenshots of Any Area
You can choose the exact area you want to record or take a screenshot. You can capture an active window or a custom region on your screen. And, as we said in the feature above, you can increase or decrease the height and width using the handles or specifically mentioning the height and width in pixels. You can even move the anchor placed in the middle in order to change the capture region. 
3. Dedicated Editor for Editing Screenshots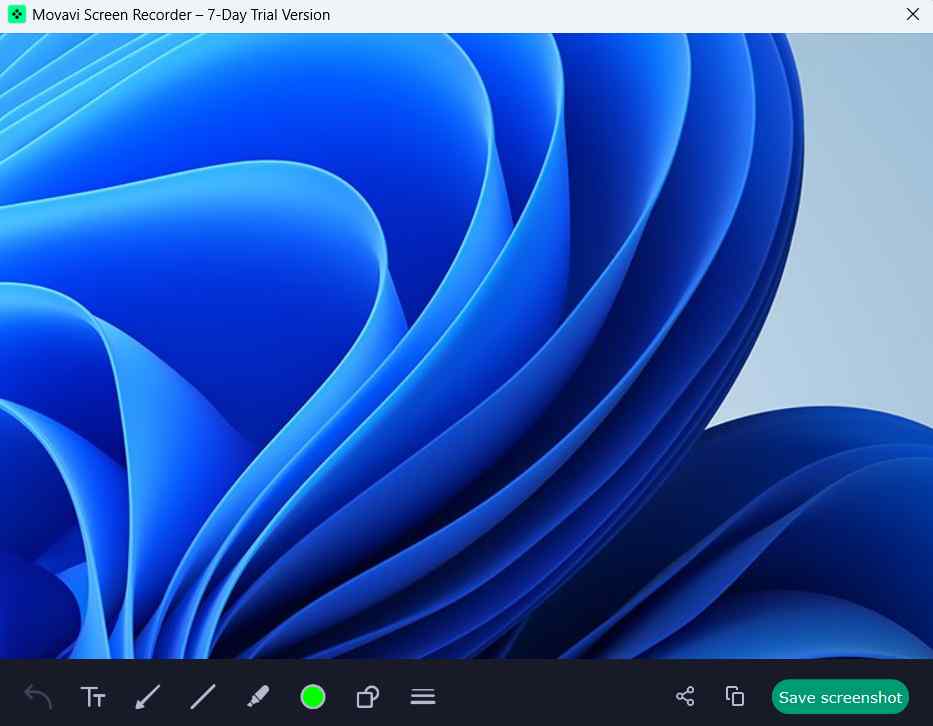 Once you have captured a screenshot, Movavi Screen Recorder provides you with a dedicated editor with the help of which you can further annotate your screenshot. This can be useful when for example, you have to mark specific areas of a webpage or a screenshot for review. You can add shapes, text, arrows, and much more. 
4. Schedule Recording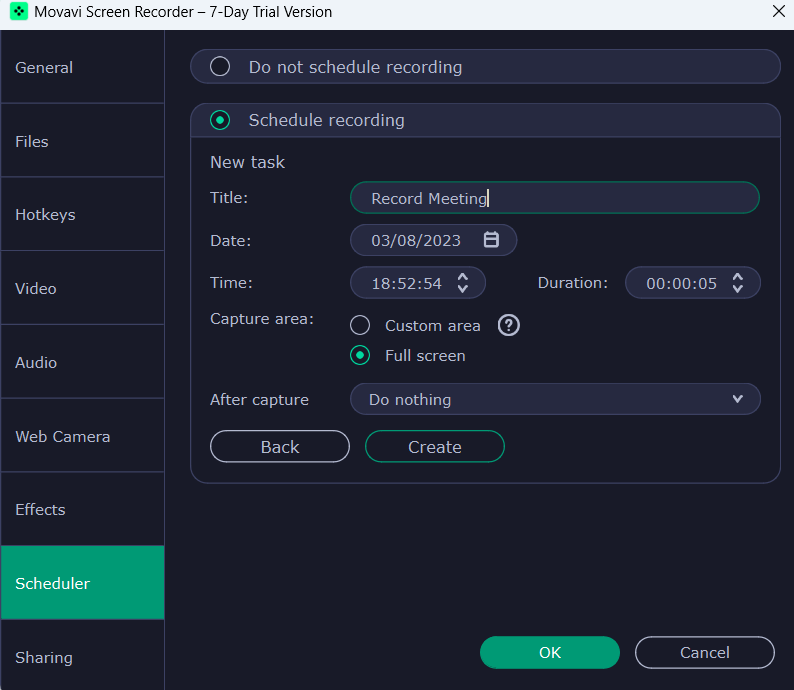 With Movavi Screen Recorder, you can schedule your screen recording. To do that, you can choose the date and time when the screen recording will start and set the time limit of the recording session. 
5. Capture Webcam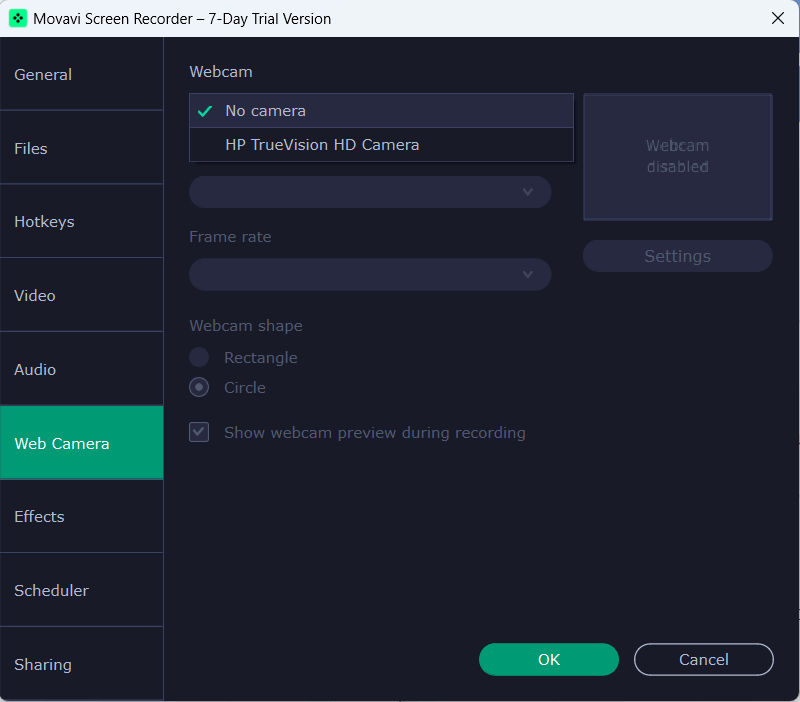 Sometimes the need arises when you want to record your webcam. Movavi Screen Recorder lets you record your webcam. Here you can even choose only to record your webcam and not the screen. Moreover, you can even capture your photo via your webcam.
6. Record Only Audio
Want to record just your mic or system sound? With Movavi Screen Recorder, you can select your audio output, such as the microphone you are using or the sound of pop-ups and other elements on your screen, and record it. You can then save this audio as an mp3 file. Additionally, you can choose the audio quality and even reduce microphone background noise.    
7. Annotate On Your Video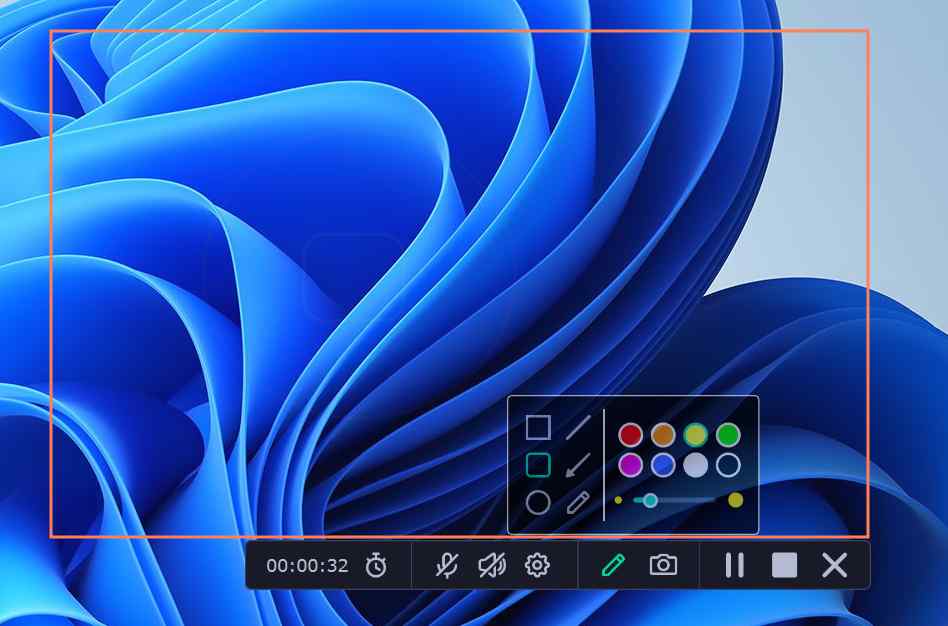 To make your screen recording more interactive, you can annotate your videos while the screen recording is in process. For example, when recording your screen to create a tutorial, you can use arrows, lines, circles, and boxes to annotate your screen recording. You can also change the color of these elements. On the downside, the editor lacks many advanced tools such as the blur tool, availability of more shapes, adding steps, and many other tools, as seen in other counterparts.
8. Record Mouse Clicks and Keystrokes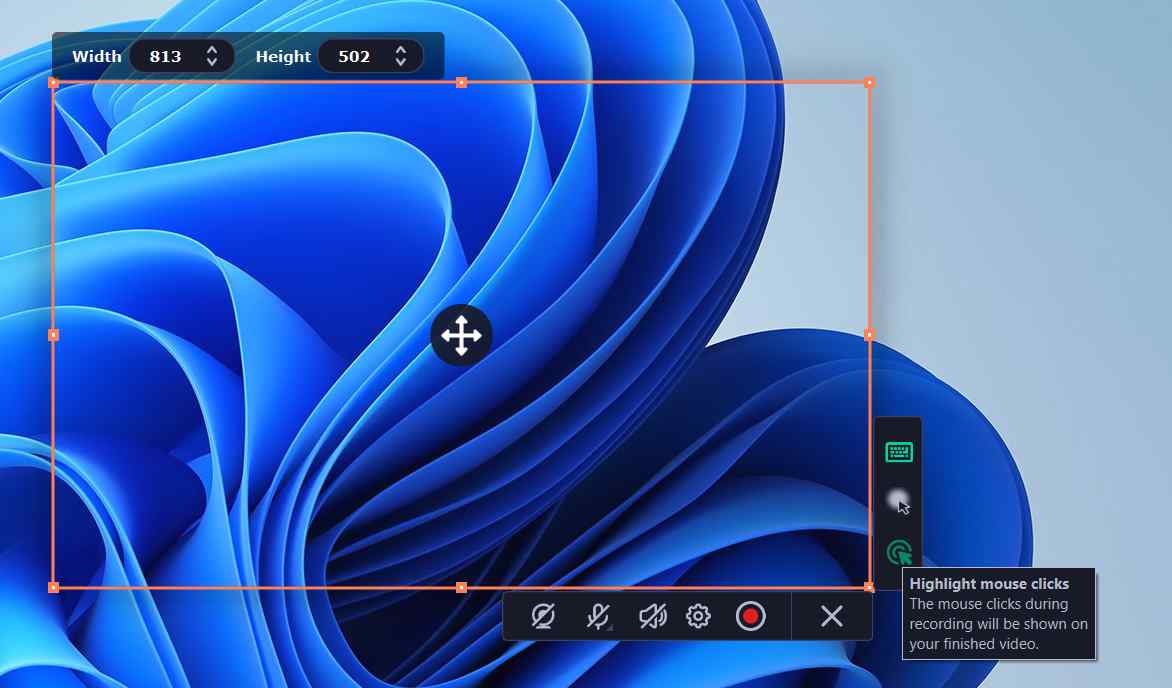 When recording a screen using Movavi Screen Recorder, you can record the cursor movements of your mouse around your screen. You can even record mouse clicks during recording. Furthermore, you can even choose to have mouse click sounds and, you can even change the color of the cursor or clicks for the recording.  
9. Easy Sharing
Once you have recorded your screen or captured screenshots, you can share them using various options and on multiple platforms. You can share the output as a link, on WhatsApp, via email, YouTube, and Google Drive. 
Movavi Screen Recorder frequently comes with new features that you can access via updates. You can choose to automatically check for updates by following the steps mentioned below- 
1. Click on Settings. 
2. Click on General. 
3. Click on the More dropdown. 
4. Next, click on the checkbox that says Automatically check for updates. 
5. Click on OK.
You can use and try out all the features of Movavi Screen Recorder free for a time frame of 7 days. The free version bears a watermark, whereas the full version does not. After the trial period of 7 days ends, you can opt for a premium version. 
The annual license of Movavi Screen Recorder begins at $42.95. The breakdown of other variants is given below –
| | | |
| --- | --- | --- |
| | Personal | Business |
| Screen Recorder (1-Year subscription) | $42.95 | $85.95 |
| Screen Recorder (lifetime subscription for 1 PC) | $59.95 | $129.95 |
| Video Suite (lifetime subscription for 1 PC) | $99.95 | $189.95 |
  Below is the screenshot of features you can expect from personal and business – 
Personal License –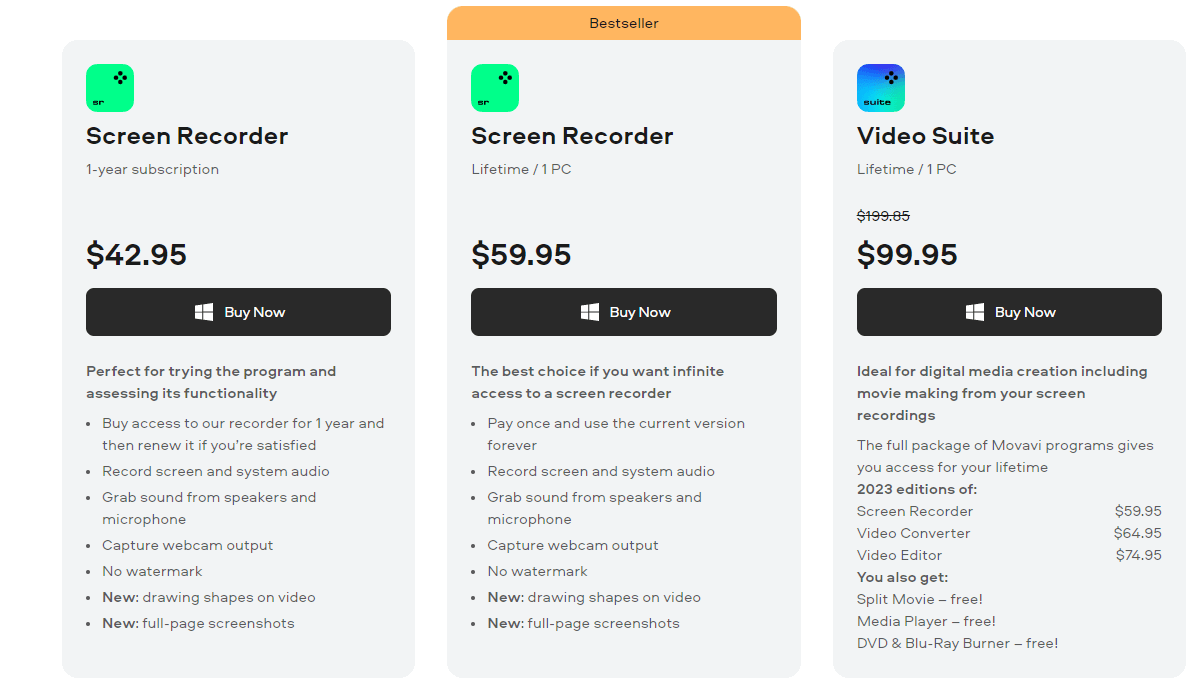 Business License
As far as the speed and performance of Movavi Screen Recorder are concerned, we didn't come across any major lags. However, at one point, after we had recorded a video, we were unable to preview the video. However, after a couple of uses, the issue went away. On the upside, you can control the smoothness of your video; you can choose your desired frame rate. 
For saving your videos faster, Movavi Screen Recorder provides you options such as "Enable SuperSpeed conversion", "Enable Intel hardware acceleration," "Enable NVIDIA GPU acceleration," and "Enable AMD Acceleration." 
If, at any point, you get stuck with Movavi Recorder, there are multiple channels through which you can address your issues. In most cases, you can get your queries answered via FAQs. Even if you have a query, you can submit a ticket or have a live chat with support staff. There is a dedicated support page where you can find answers to a variety of questions. 
How Does Movavi Screen Recorder 23 Work? 
1. Download, run, and install Movavi Screen Recorder
2. Once installed, you can click on Settings (gear icon) to customize various aspects. For example, you can disable the countdown, change hotkeys, change audio and video resolution, choose your webcam, tweak options for showing mouse cursor and clicks, schedule video recording, etc.
3. Once you have chosen your desired settings, click on either option – the video recorder or the screenshot capture tool. 
4. Let's say you want to record a video, click on the Movavi Video Recorder, and select the region by dragging the crosshairs. If you want to capture an active window, you can simply drag the crosshairs and the recording region will snap to the active window.
5. Once you have selected your desired region, click on the red-colored start recording button. 
6. To schedule a recording, click on Settings. From the left-hand pane, click on Scheduler and click on the Schedule recording button. Click on Add Task  and fill in the fields. Click on Create. 
Wrapping Up
All in all, Movavi Screen Recorder does a good job as a video recorder as well as capturing screenshots. It is an easy-to-use tool that doesn't just let you capture the screen but even perform edits on it, choose its quality, and do so many other things. You can try it out for seven days before investing in one of its premium variants. You can also find us on Facebook, Flipboard, and  Pinterest.
Frequently Asked Questions –
Q1. How does the Movavi screen recorder work?
Download and install Movavi on your PC; go to Settings to customize your options for audio, video, mouse hotkeys etc. Now, on the main interface, select the Recording option and the area on the screen to be captured. Click on the Red button to start the recording. Once done, stop the recording and play the file from the saved location.
Q2. What makes Movavi software good?
Movavi Screen Recorder is an easy-to-use screen recording utility that lets you capture any region of the screen. You can annotate your screen recording while the recording is in progress. It comes packed with a variety of features and it lets you record audio separately. 
Q3. What is the best screen recorder to record a screen?
There are some great screen recorders out there. Movavi Screen Recorder 23 is one of them. As for other options, you can try out Advanced Screen Recorder, OBS Studio, Bandicam, etc.
Q4. How much does Movavi cost?
You can try out the various features of Movavi Screen Recorder Studio for a time period of seven days. After that, the annual license of Movavi Screen Recorder begins at $42.95.