You hear a captivating background score in a video, but you don't want to download the entire video. You just want to extract the audio. This is where an MP4 to MP3 converter software comes in. It allows you to  easily convert the MP4 file to MP3 format. Not just that, you can even trim the video so that you can get only the desired audio clip. Interesting, right? Let's explore the best options in the category! 
Top Software Reviews
Rating
1.

Wondershare UniConverter

2.

Movavi Converter

3.

Any Video Converter

4.

MiniTool Video Converter

5.

VideoProc Converter

6.

EaseUS VideoKit

7.

Icecream Video Converter

8.

MediaHuman

9.

Freemake Video Converter

10.

VLC Media Player
Has there ever been an instance when a background score of a short MP4 video completely mesmerized you and you wanted to use  that audio elsewhere? One of the most convinient way to do that is to convert the MP4 video to MP3 format. Thankfully, using dedicated  conversion software on Windows can help you dothat in a few clicks.  If you are cruious to learn about these third-party utilities, you've come tot the right place. Here we have enlisted some of the best choices for you!
What Is An MP4 to MP3 Converter?
An MP4 to MP3 converter is a software that helps extract MP3 audio files from an MP4 video file. While extracting the audio, the software also compresses it,to preserve more storage space. Most MP4 to MP3 converter tools for PCs ensure that the audio maintains supreme quality, even though the file size is significantly reduced..
What Features To Consider In An MP4 to MP3 Converter?
When downloading software that helps you convert video to audio, look for the following things –
Support for all popular formats – The MP4 to MP3 converter shouldn't just let you convert files to only MP3 format but various other common formats as well.
Control over output settings – You should have full control over output quality settings such as quality, bitrate, and others.
Edit or preserve metadata – Ability to edit or preserve metadata of the file.
Fast processing – The converter should be known for its fast processing speed.
Basic editing tools – The best video-to-audio format converter tools should offer basic editing tools such as trimming or cutting clips.
Ability to preview files – Before converting to MP3 you should be able to preview the video file so that you can decide which part of the MP4 file you want to convert to MP3.
Best MP4 To MP3 Converter To Extract Audio From Video
Here are some of the best tools to convert your MP4 videos to audio and that offer most of the features mentioned above –
1. Wondershare UniConverter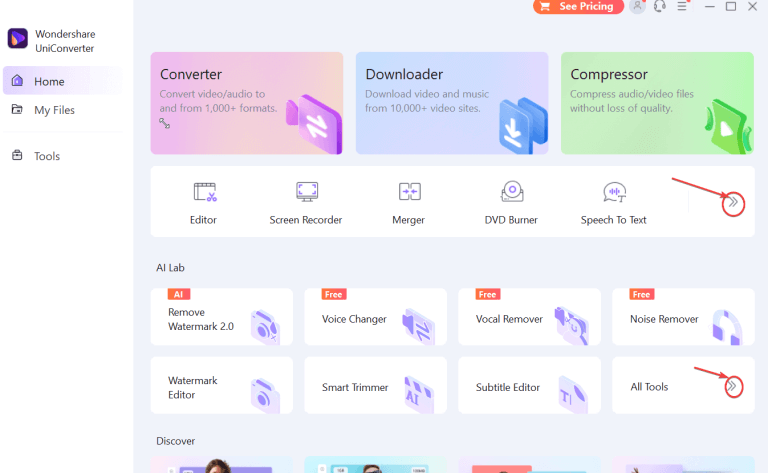 Wondershare UniConverter is atool that comes packed with  several great features. First and foremost, you can easily convert many MP4 files to MP3. Before onversion, if you wish to conduct basic edits, trim your video orcompress it, UniConverter can help you do all of that in a hassle-free manner. To know more about this tool, check out this unbiased review.
Notable features
High-speed conversion.
You can convert videos to VR.
Easily download content from the web.
Compress audio or video size.
Record screen webcam and other applications.
AI capability
Highly customizable.
You can even add special effects, filters and a lot more.
Comes packed with extra tools like a screen recorder, speech-to-text, subtitle editor, and much more.
Installation can take time.
Pricing – Free trial available. Then, pricing starts at $29.99/ quarter 
2. Movavi Converter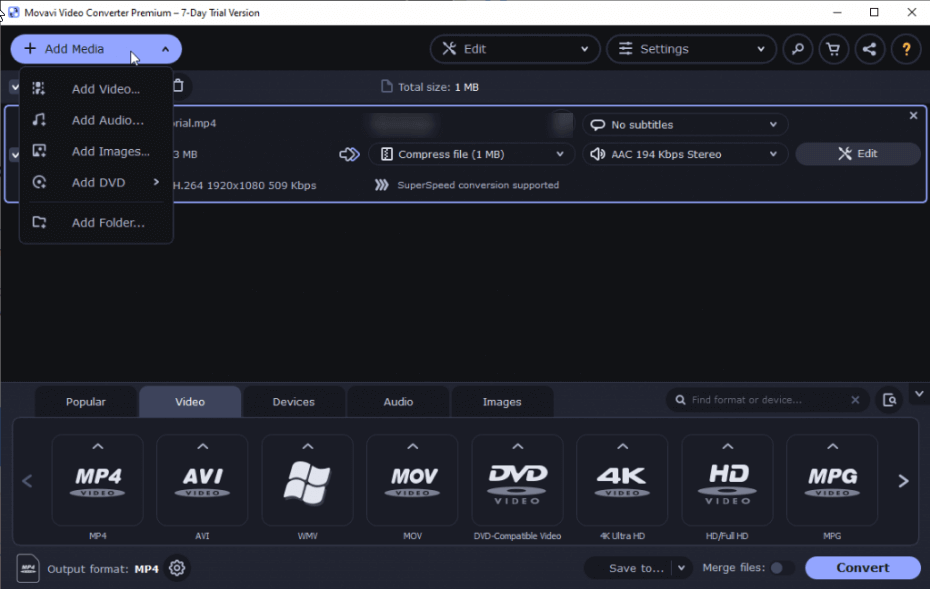 Movavi Converter is a fast MP4 converter designed for Windows 11/10 users, that can help you convert videos to MP3 audio files,without affecting the original quality. It is also one of the best video compressors for Windows PC, which can help you compress large video files. It has an intuitive and a simple to understand user interface to make navigation a breeze. Here are some of its notable features.
Notable Features
Convert MP4 video to not just MP3 but to any format in high quality.
Trim and crop video files.
Add subtitles.
Drag and drop functionality.
SuperSpeed technology for fast conversions.
Use AI to upscale the quality of your videos.
Compress large videos.
Fast processing.
Convert video to 180 formats.
The trial version comes with a watermark.
Pricing – Free trial available. Pricing starts at $54.95 for a yearly subscription. 
3. Any Video Converter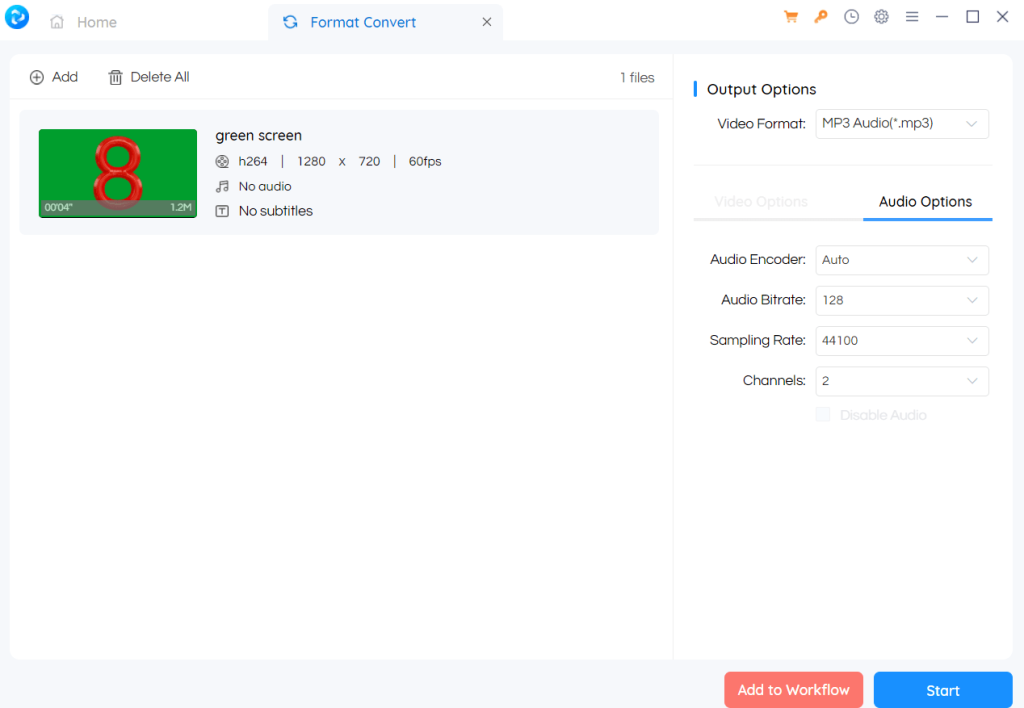 If you are looking for a fast and easy-to-use MP4 to MP3 converter, Any Video Converter can be a great choice. It is an all-in-one software for Windows computers to convert and edit videos. Not just that, it also helps download videos from popular websites like YouTube while giving you complete control over the quality. It also comes with a screen recorder, which gives it an extra edge over other counterparts.
Notable Features
Batch convert MP4 to MP3.
Adjust aspects like Audio encoder, sampling rate, channels, and bit rate.
GPU acceleration because of which is 47 times faster.
Edit video clips; cut, flip, crop, and add special effects.
Manage files right from the interface.
Convert to 200+ formats apart from mp3.
Drag and drop functionality.
Hi-efficiency H.265 video encoding.
Also comes with a screen recorder.
Advanced features require a subscription.
Pricing – Free version available. Pricing starts at $49.95 
4. MiniTool Video Converter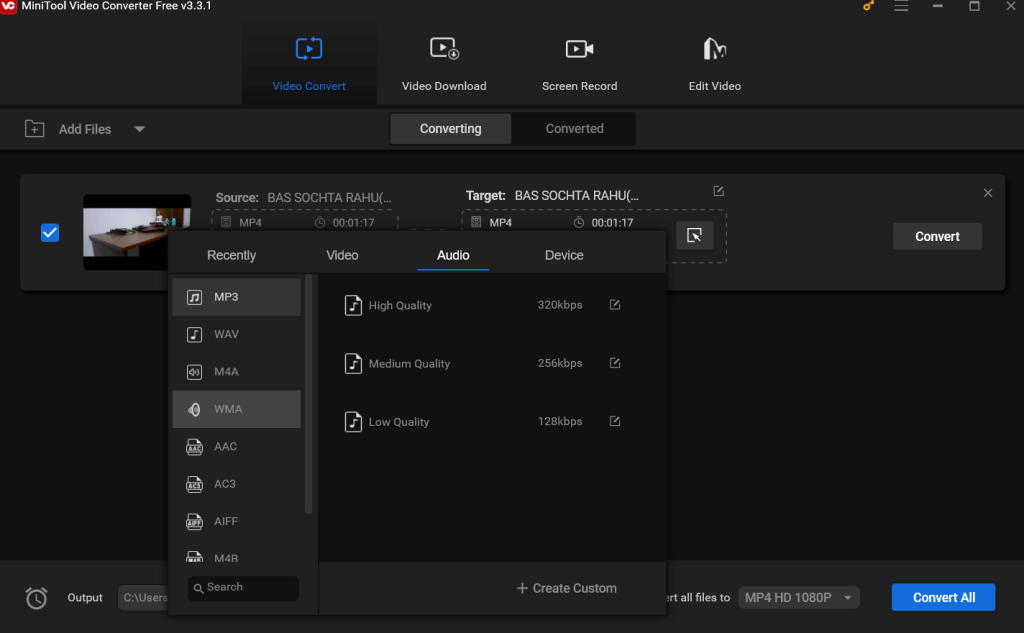 MiniTool Video Converter is a reliable tool that can help convert videos to MP3 format. What adds to its reliability is the fact that it is the maker of some great tools like MiniTool ShadowMaker, which is one of the best Windows backup tools in the market right now. Sticking to its video format converter capabilities, here are some of the notable aspects of MiniTool Video Converter.
Notable Features
Batch convert files from MP4 to MP3
Choose conversion format and other configuration settings for each video.
Manage files right from the interface.
Download YouTube videos
See the download history in the interface itself.
Choose a resolution when converting.
Works with all Android and iOS devices, regardless of their unique requirements.
Record screen with the same tool.
You can choose what to do when a task is done.
Download a limited number of videos from YouTube in the free version.
Pricing – Free trial available. Pricing starts at $9.99/ month. 
5. VideoProc Converter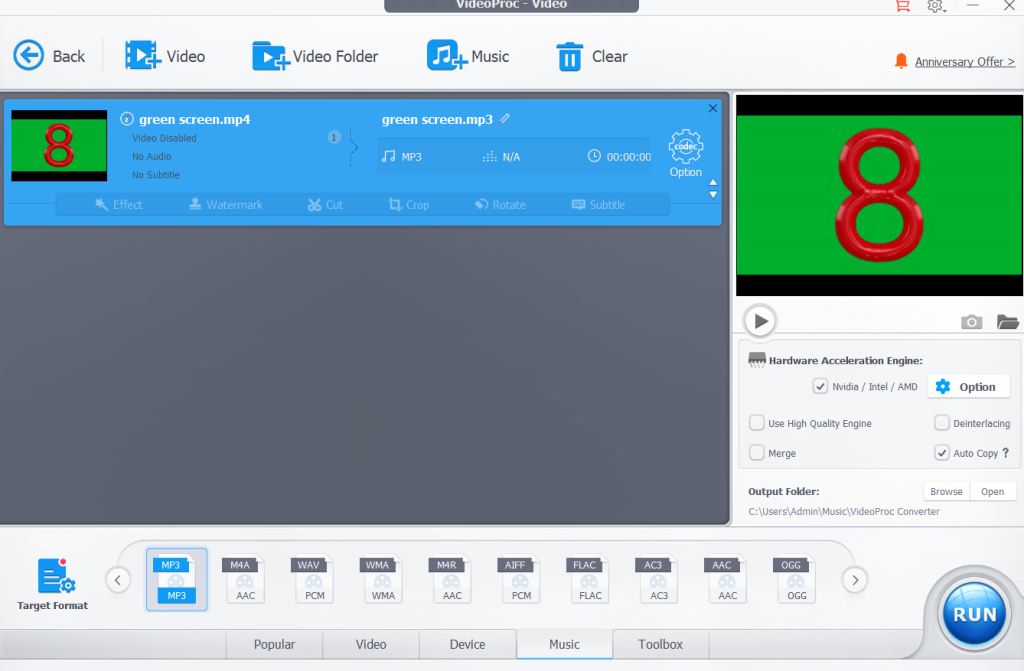 VideoProc Converter is an MP4 to MP3 converter that comes from the house of Digiarty, a well-known software development company known for creating multimedia and digital video software. Their video-to-audio converter utility can even convert,ultra HD videos (4K) to MP3 format quickly, thanks to the level-3 hardware acceleration technology that it comes armed with. Apart from conversion, you can even fix 6 video problems and enhance your footage.
Notable Features
Convert video to more than 420 target formats
Preview file before conversion
Edit name and tag of the file right from the interface.
Reorder MP4 to MP3 conversion tasks.
Save videos/ audio files from 1000+ sites.
Support for picture in picture.
4K video converter.
Maintain quality after conversion.
Comes with a myriad of other tools like compress, deshake, create GIF, etc.  
It may take some users some time to get frequented with the interface.
Pricing – Free trial available. The pricing for a full license starts at $25.95/ year. 
6. EaseUS VideoKit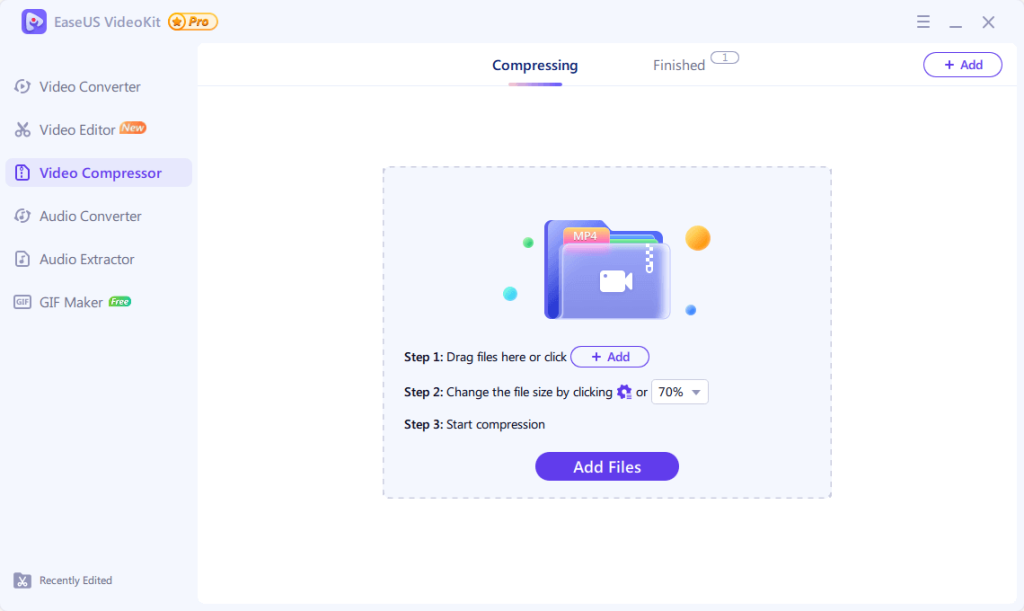 It is one of the best MP4 to MP3 converters that you can initially download for free. You can convert your video to all major audio formats. To do this you can head to the Audio Extractor section, drag and drop your MP4 video, and select the MP3 as your chosen format for conversion. Once you have done that, you can click on the "Extract" button and the MP3 file will be extracted from the video.
Notable Features
Support 1000+ format conversion for audio and video.
Choose format and bit rate.
You can even select a previous MP4 to MP3 conversion configuration.
Merge audio files (premium feature)
High-speed conversion.  
Convert video to GIF.
Supports lossless batch compression.
Comes with an inbuilt video editor.
Track tasks in real time.
Since you can find MP4 to MP3 in the audio extraction section, it could be a little confusing for once.
Pricing – Free trial available. Pricing starts at $17.97/ month.  
7. Icecream Video Converter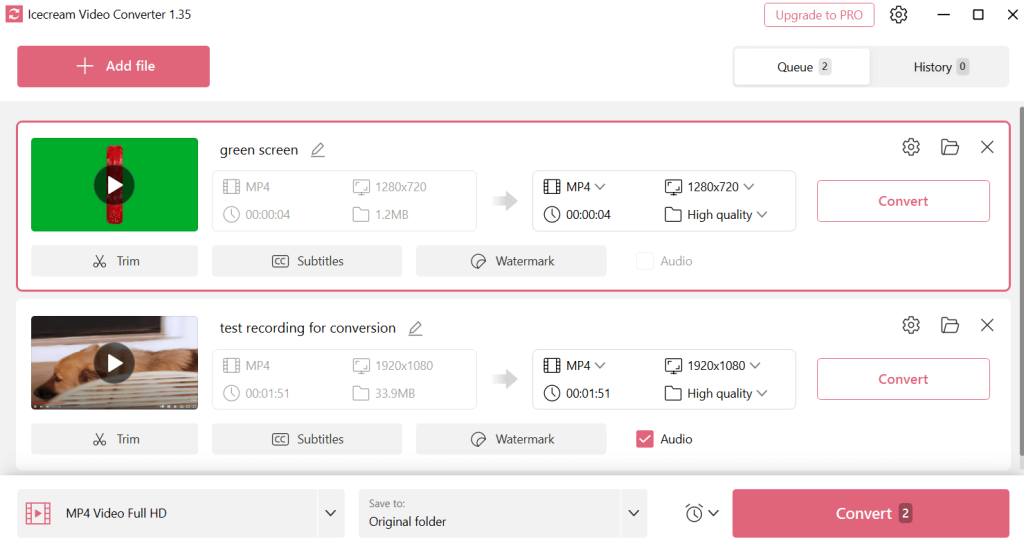 IceCream Video Converter can help you convert your MP4 files to MP3 file format free of cost while giving you complete control on the various aspects of conversion. These aspects include choosing the resolution, quality, bitrate & post-conversiontasks, among others.
Notable Features
Choose the resolution and format for each video queued for conversion.
Track the history of previous conversions.
Compress large videos.
Trim the size of the video that you want to convert from MP4 to MP3.
Mute videos if need be.
Add watermark on the converted video
Trim video.
Add subtitles.
Choose from a multitude of tasks when conversion is complete.
Management of queued videos for conversion could have been better.
Pricing – Free trial available. Pricing starts at $29.95 billed annually. 
8. MediaHuman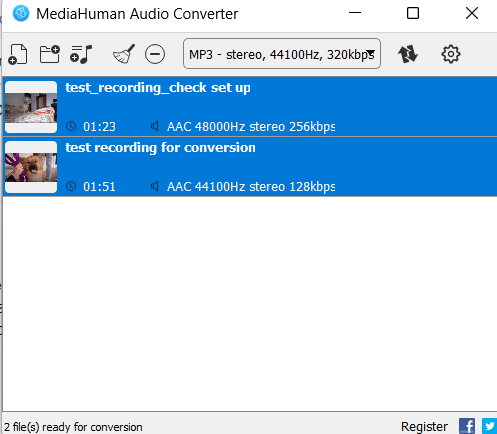 MediaHuman MP4 to MP3 Converter is a user-friendly software that effortlessly transforms MP4 videos into MP3 format. Its intuitive interface and batch conversion feature make the process swift and accessible. With the support for various platforms and file formats, it ensures a seamless transition from video to audio for your listening pleasure.
Notable Features
Convert MP4 to MP3 and other popular formats.
Change quality and size to fit a device or the size of your computer's storage.
Batch converts various files at once.
Choose a stereo channel.
Drag and drop functionality.  
Fast conversion
Convert an iTunes playlist to your preferred format.
Locate source files.
No preview or individual task selection.
Pricing – Free 
9. Freemake Video Converter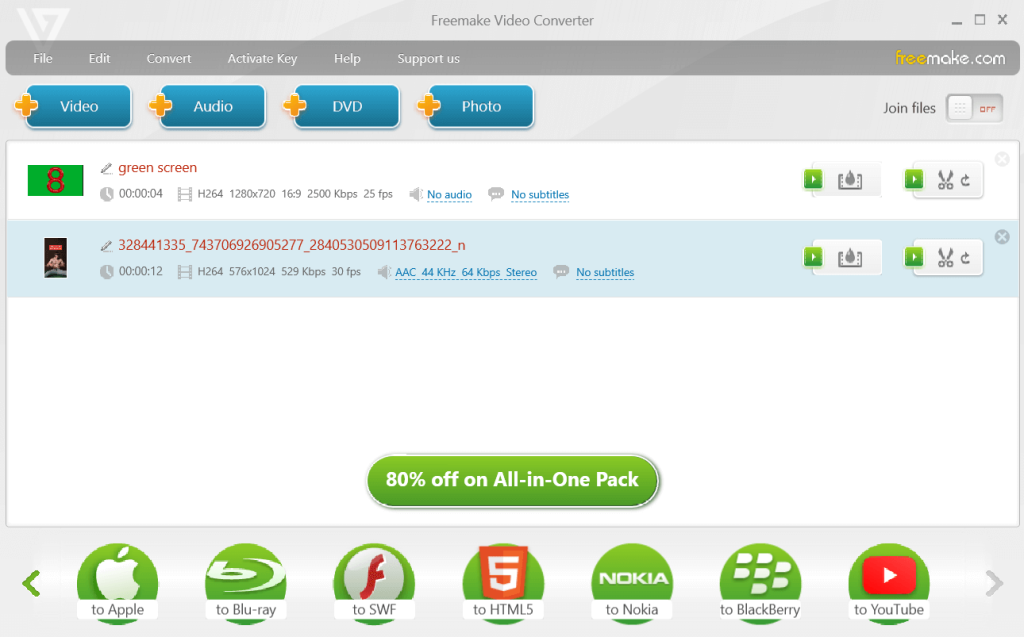 As the name suggests, Freemake Video Converter helps convert videos. By downloading this MP4 to MP3 converter you can convert movies in more than 500 formats,free of cost. To work with Freemake Video Converter you will require .NET Framework 4.5 Client Profile. In case, it's not already installed, Freemake setup wizard will install it on your behalf.
Notable Features
You can choose to add or remove audio.
Convert without losing quality.
Add watermarks.
Add subtitles right from the interface.
Convert between 500+ formats.
Cut, join, and rotate clips.
Functionality to upload clips directly to YouTube.
Dated interface, drag and drop functionality is missing, and no free version.
Pricing – Free
10. VLC Media Player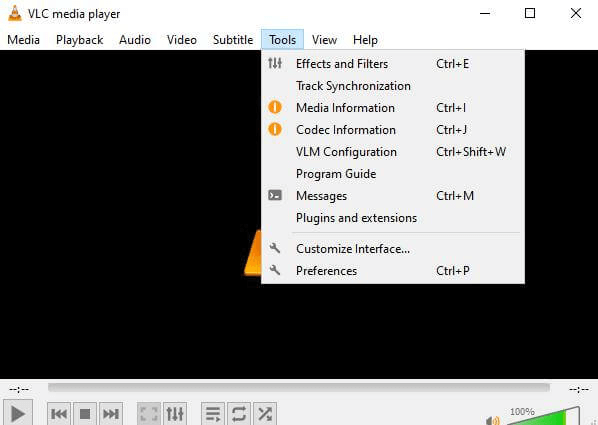 Last but not the least in consideration, VLC Media Player is one of the most popular option you can consider for extracting audio from MP4. Chances are it's already installed on your Windows PC. Many of us know VLC media player as one of the best media players for Windows. However, a lesser-known fact is that it also helps convert any MP4 file to MP3 in a matter of minutes. The option is available in the "Media" section of VLC Media Player.
Notable Features
Various profiles to choose from.
Support for a variety of formats.
Plays most codecs.
Comes with a variety of filters and subtitles sync ability. 
Fast hardware encoding.
Customizable skins.
Support for third-party plugins.
Not as feature-rich as many other MP4 to MP3 players.
Pricing – Open source and free
Convert MP4 to MP3 With Ease
Sure, there could be several online and offline tools that can help you convert your MP4 videos to MP3 audio format, but the above list consists of some of the most popular and most effective tools that don't just convert files but also ensure that you get supreme quality and output that you desire. For more such content, keep reading Top10PCSoftware.
Frequently Asked Questions
Q1. How do you change video format on PC?
To change video format on PC, use a video converter tool like Wondershare UniConverter. Simply drag your video, choose the desired format, and click Convert.
Q2. Is any video converter to MKV?
Yes, many converters, like Movavi and VideoProc, support MKV format conversion, ensuring flexibility in video handling.
Q3. Is there a free video converter?
Yes, Freemake Video Converter is a popular free tool for video conversion, supporting various formats with ease.
Q4. How do I convert video to MP4 on Windows?
Convert videos to MP4 on Windows using tools like Wondershare UniConverter or Movavi Converter. Import your video, choose MP4 as the output format, and click Convert.