Do you need to quickly compress a large video into a smaller size? Are you facing issues while transferring the large video due to its size? Let's solve both problems efficiently!  To solve this, we have compiled a list of some of the best video compressors for Windows PC.  
Top Software Reviews
Rating
1.

Movavi Video Converter

2.

iMyFone AnySmall

3.

Wondershare UniConverter

4.

VideoProc Converter

5.

Any Video Converter

6.

VLC media player

7.

Freemake Video Converter

8.

HandBrake

9.

WonderFox HD Video Converter Factory Pro

10.

VSDC
There are times when processing large files is not an easy feat. And, let's assume that you are someone who regularly has to deal with hundreds or more such videos on a regular basis. A need would arise when you will have to reduce the size of those video files. For this, the best bet is to install video compressor software on your computer.
Here we have discussed in brief some of the best video compressors for Windows PC. Most of these come with a trial version. You can, therefore, give these a try and choose the one that fits your needs.
Why Do You Need A Video Compression Software For Your PC
Let's quickly have a look at some of the common reasons why you should consider installing a video compressor tool on your Windows PC –
Large videos especially HD and super HD videos take up huge storage space. Video compression software lets you decrease their size without compromising the quality.
You get to choose how much you want to reduce the size – both in terms of percentage as well as size (For example – GB to MB).
You can select the device or platform for which you are compressing the video. For example, you can reduce the video size till the point it becomes fit for mailing on Gmail.
A video compressor software for PC supports various formats like MP3, MP4, AVI, MPG, FLV, MKV, and the list goes on. In fact, most video compression software also let you convert video from one format to another.
Most video compression software comes with technology like hardware acceleration with which you can compress several videos at once.
Best Video Compressor Software for Windows 11/10 PC –
1. Movavi Video Converter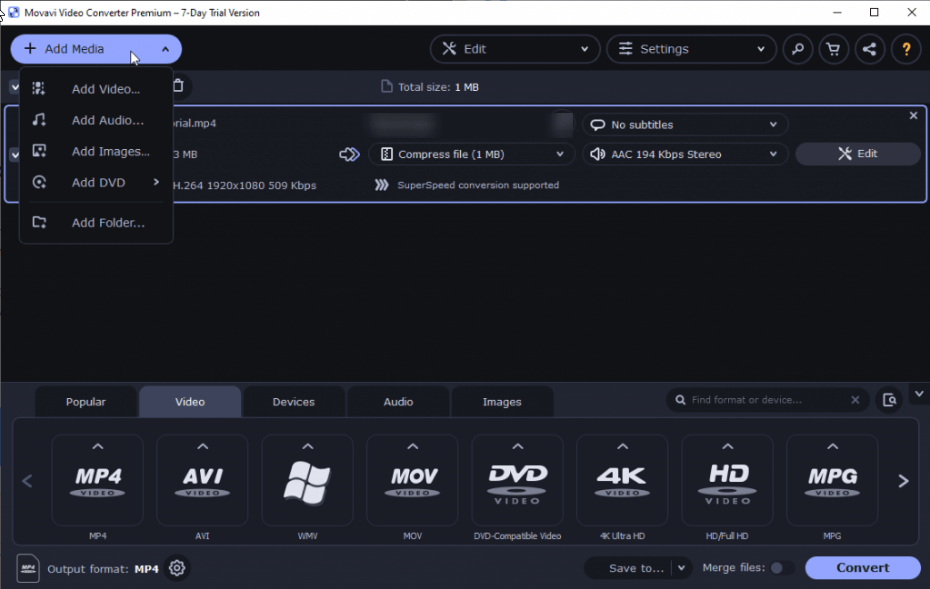 It is primarily a converter that converts videos to over 180 video formats. But, not everyone know that it is also capable of compressing large video files so that you canupload them on various platforms. Even though it compresses video it doesn't compromise on the quality.
Notable Features
Compress video without losing quality.
Fast processing.
AI-powered upscaling.
Choose compression size.
Drag and drop functionality.
No quality loss.
Easy to use.
Free trial available.
The trial version comes with a watermark and there are no video editing tools.
Pricing – Free trial. Then, yearly subscription starts at 54.95
2. iMyFone AnySmall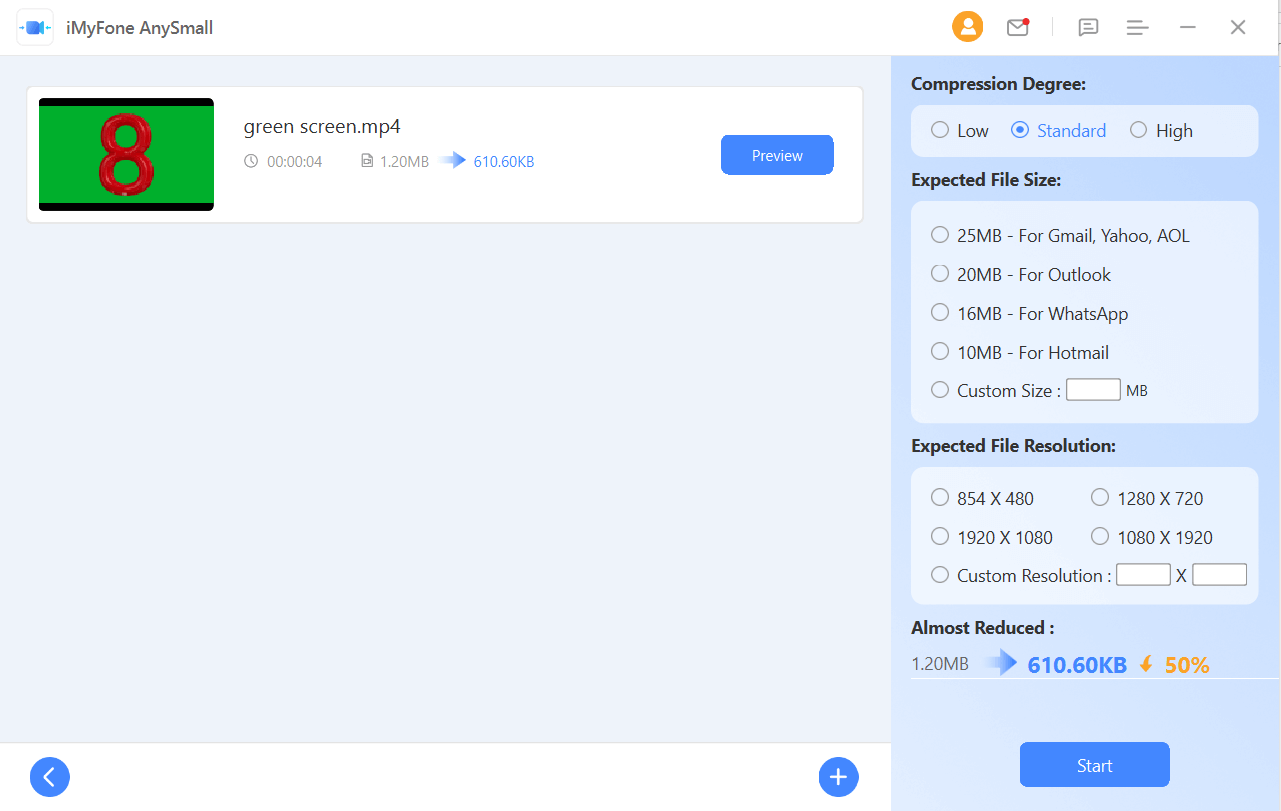 iMyFone AnySmall isanother popular video compression software for Windows that is known for lossless compression. It is also the maker of iMyFone D-back which is one of the best Android phone data recovery software and many other great utilities.
Notable Features
Choose compression degree, file size, and file resolution.
You can even choose a custom resolution as well.
Preview videos before saving them.
Pause compression in between if needed.
Batch video compression.
See in real-time how much you have been able to compress the video.
You can also ascertain the progress of the video in the queue for compression.
No watermark on compressed videos even in the free version.
With the free variant, you can't batch-compress videos.
Pricing – Free trial available. Then, a one-time payment of $29.99
3. Wondershare UniConverter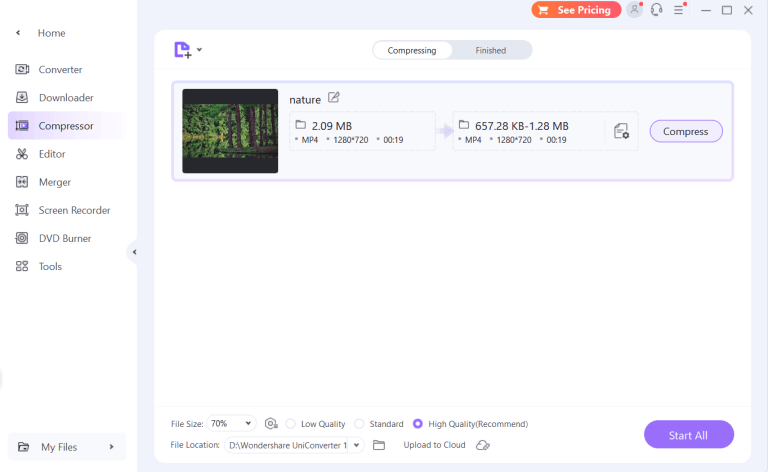 Another converter that doubles up as an efficient video compression software is Wondershare UniConverter. It offers a complete toolset using which you can convert, compress, burn DVDs, perform basic video editing, and do a lot more. For more advanced video editing, you can check out this post where we have talked about some of the best video editors for PC.
Notable Features
Compress video as well as audio files.
Compression without losing quality.
You can even compress Ultra HD formats like 1080p, 4K or 8K videos.
Flexible settings.
Fast compression.
AI-powered.
Apart from compression you can add special effects, edit using various filters, and do a lot of things.
Choose how much you want to compress a video.
Pricing – Free trial. Then, $49.99/ year
4. VideoProc Converter
It is a complete video processing software that lets you compress large/4K videos and even lets you transcode H.264/ HEVC videos as well. Apart from converting and compressing videos, you can cut,crop and merge videos of all resolutions. The best part? VideoProc is an ultimated video processing software that is backed by GPU acceleration technology for achiveing higher efficiency & effectiveness.
Notable Features
Directly specify the target for which you want to reduce the video size.
47 times faster because of GPU acceleration.
Several compression methods to reduce the size of the video.
Adjust audio and video properties easily.
You can even deshake, rotate, denoise, or trim videos.
No significant change in quality after the video is compressed.
One of the fastest video compression.
Easy to use.
Advanced features require a subscription.
Pricing: Free trial. Then, $25.95/ year for 3 PCs
5. Any Video Converter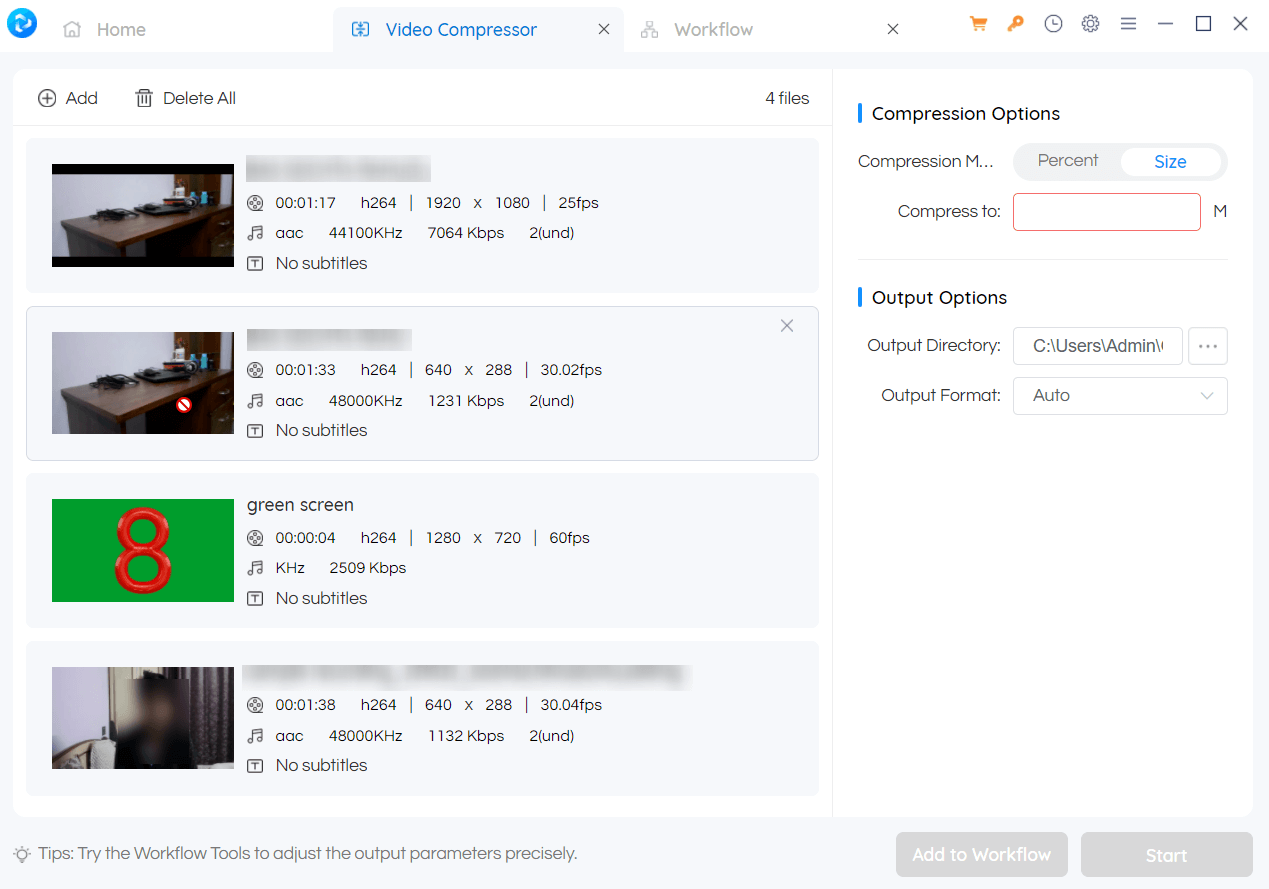 Any Video Converter has many tools packed into one. To begin with, it is one of the best YouTube to MP3 converters, as we have discussed in this post. It comes with a video clipper, cropper, merger, video downloader, editor, DVD burner & more. It already boasts of over 600 million customers worldwide. It has a modern user interface that lets you easily manage videos that you have queued up for compression.
Notable Features
Comes with many tools – video compressor, converter, downloader, clipper, screen recorder, cropper, and merger.
Compress videos in batches.
Choose compression percentage or size (MB) to reduce video size.
Add/ remove videos for compression right from the interface.
You can add video compressor in the "Workflow Tools" section.
The compressor is available in the free version.
Most frequently tools are added as tabs so that workflow becomes smooth.
Fast video compression.
Bundles software that are not needed.
Pricing – Free trial available. Then, $19.95/ month ( 1- License for 1-PC)
6. VLC media player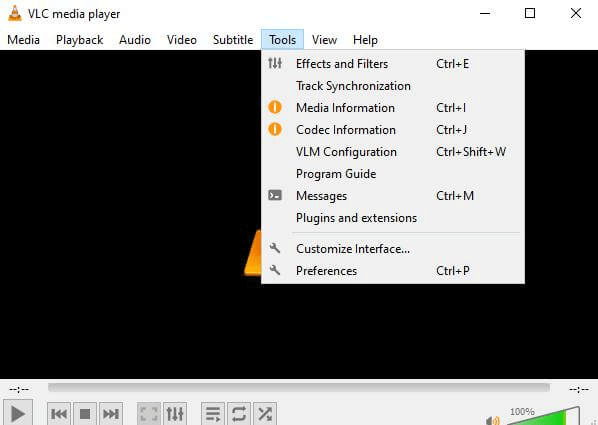 VLC is one of the best video (media) players for Windows PC which is also capable of compressing large MP4/ MKV/ MOV and 4K files. The only downside here is that a beginner may find it a little complicated to reduce the size of video files. But, once you have attained a hang of it, you can reduce videos without compromising quality in most cases.
Notable Features
Cut video size by up to 80%.
Uses an interframe, intraframe coding algorithm that accounts for a higher compression ratio.
Various ways to reduce the size of video – lower resolution, cut/ trim/ crop videos, etc.
GPU acceleration is used to compress HD and UltraHD videos 47 times the real speed.
Change video encoding parameters.
Open source and free of cost.
Comes with a large number of plugins.
Support for a wide range of formats.
Slow compression as compared to many competitors.
Pricing – Free
7. Freemake Video Converter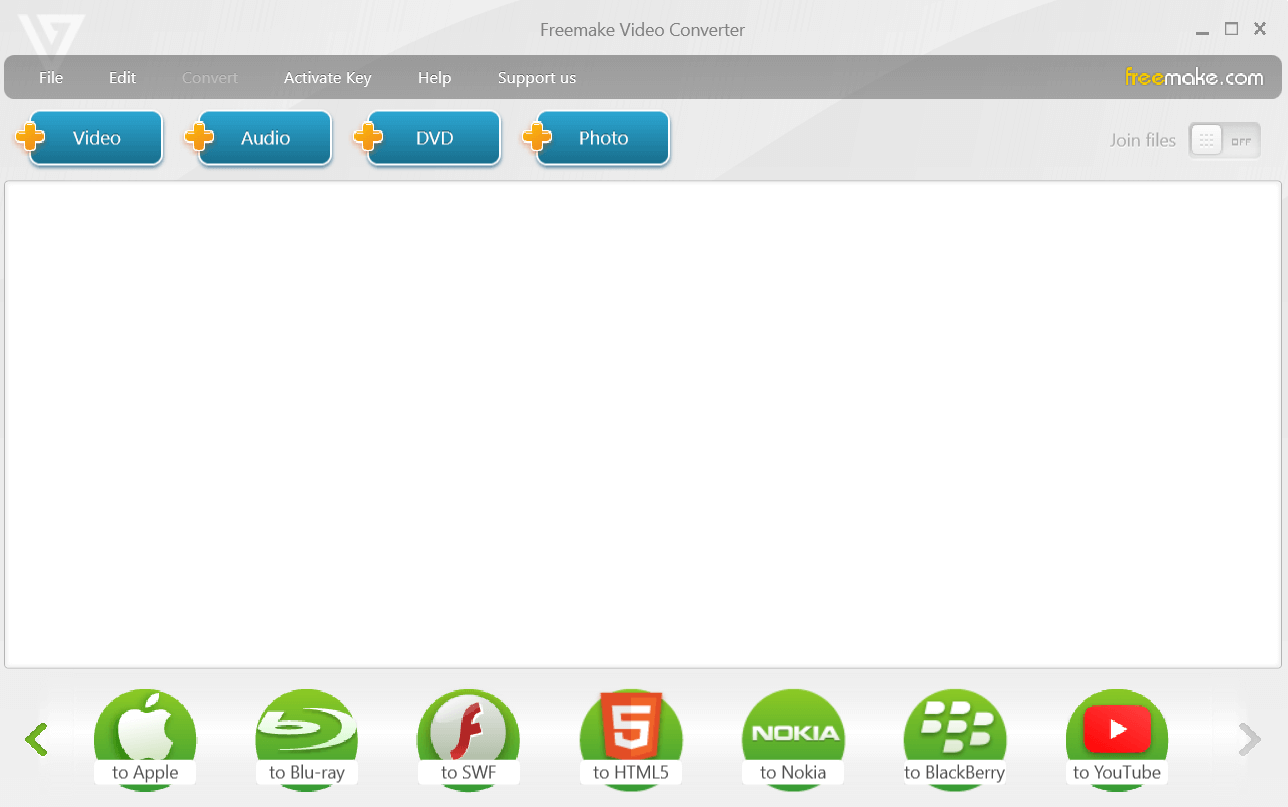 Freemake Video Converter is one of the best video compressors for Windows computers. Even though it is available for free, it ensures high quality as far as compressed file output is concerned. It lets you reduce the size of both videos that are there are stored on your computer locally or available on the web.
Notable Features
Automatically reduce the size of Video files.
Supports multiple formats like MKV, MP4, AVI, and many more.
Cut, rotate, or join MP4 files.
Export straight to YouTube.
Rip and burn Blu-ray/ DVD
Compress videos by gaining control of output size.
Preset profiles for devices.
Easy shareability on social media.
Pricing – Free
8. HandBrake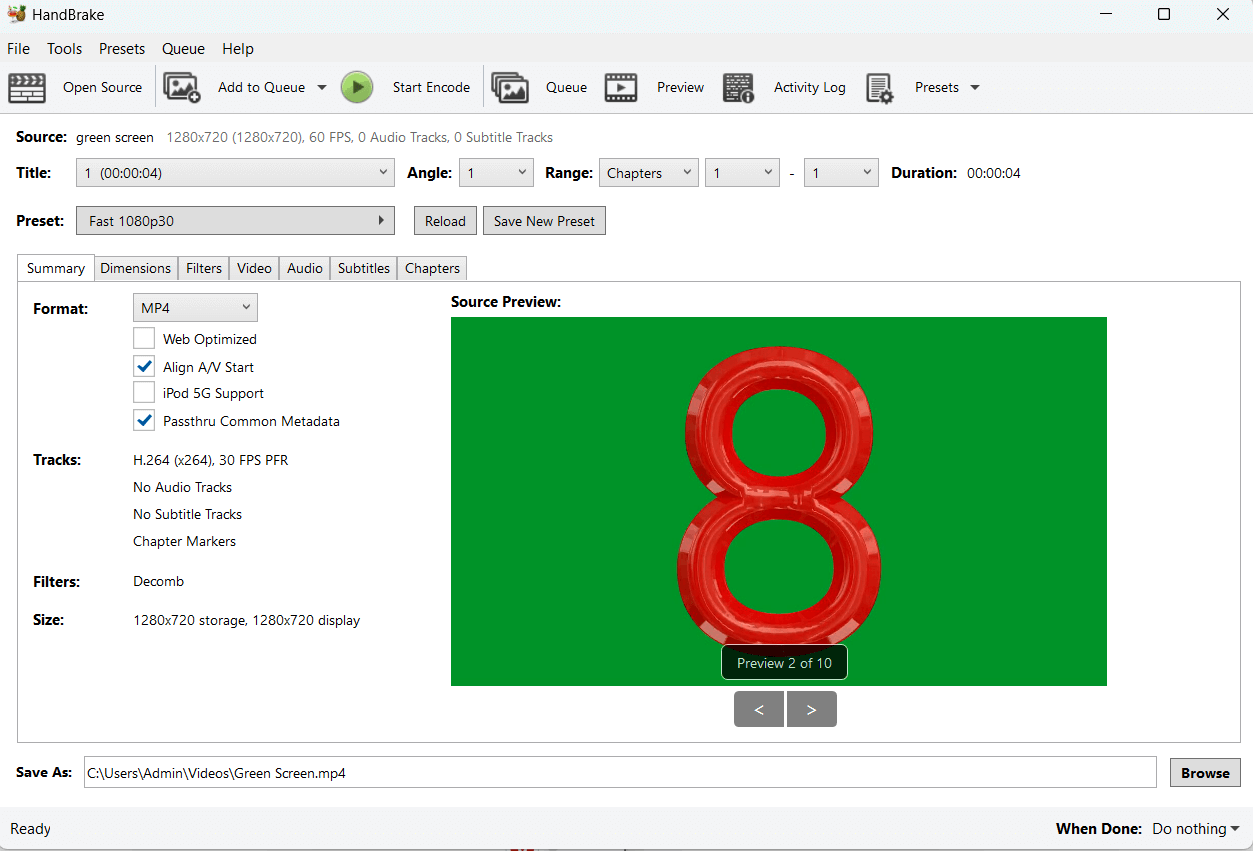 Primarily, HandBrake is an open-source video transcoder. But, it is also known as one of the best video compressors for Windows PC that helps reduce the size of videos without compromising on their quality. It is based on FFmpeg and is capable of compressing videos with supported formats like MP4, MOV, AVI, H.264, and HEVC.
Notable Features
Choose a profile optimized for your device.
Supports a variety of video and audio encoders.
Manage chapters of a video easily by assigning chapter markers.
You can adjust settings like video dimensions, size, codec, bitrate, frame rate, quality, and much more.
Intel, AMD, and NVIDIA hardware acceleration facilitates fast video compression.
Seamless workflow.
Batch video compression.
Lightweight and doesn't consume a lot of system resources.
Some settings can be complicated for beginners.
Pricing – Free
9. WonderFox HD Video Converter Factory Pro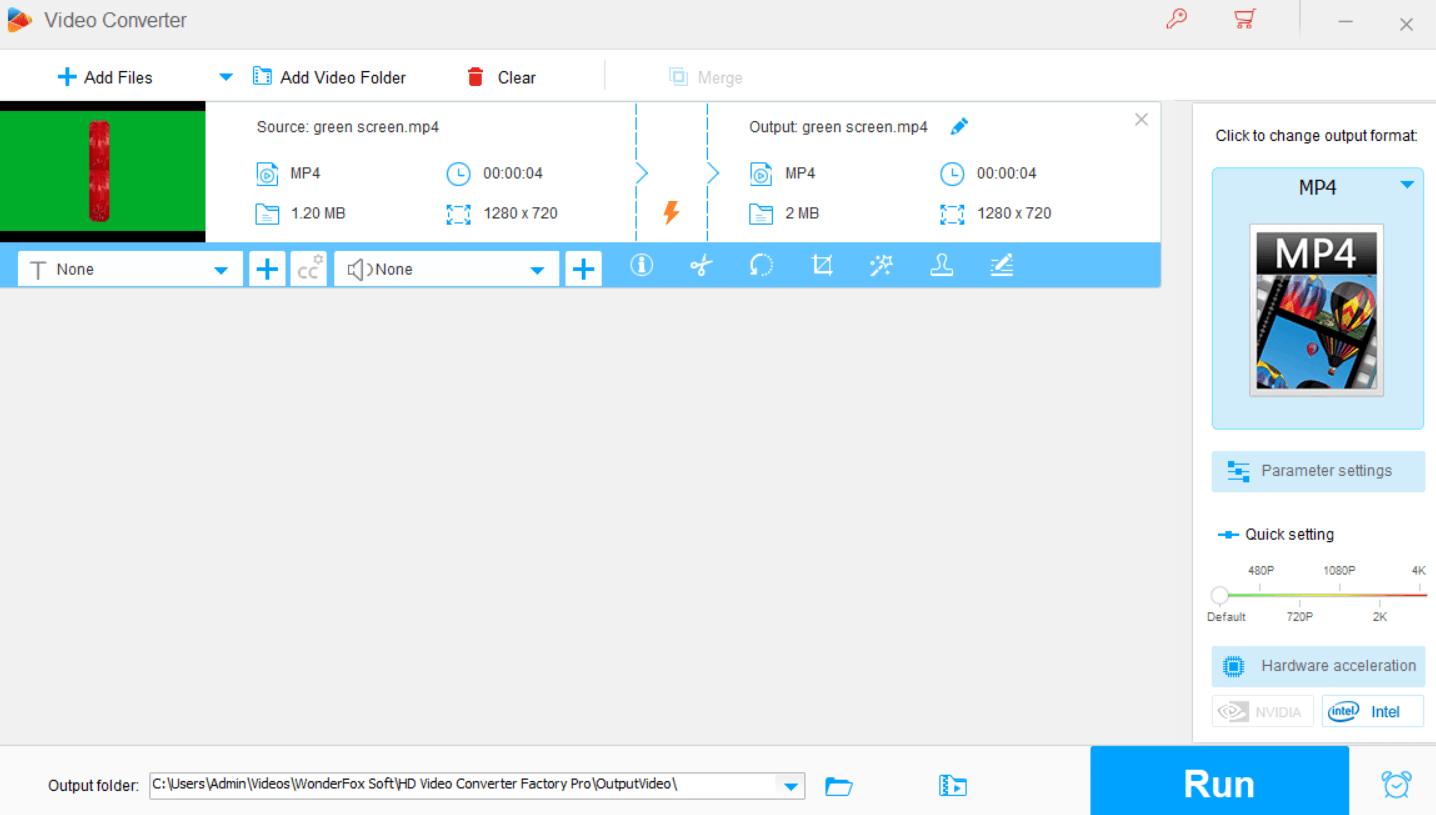 A decent bulk video compressor, WonderFox HD Video Converter comes with several tools. You can batch-convert videos into various formats, perform basic editing operations like trim, merge, crop, create animated GIFs, andmore. It also lets you download audio and videos from popular sites (supports over 1000+ video hosting platforms).
Notable Features
Support for HD, FHD up to 8K videos.
Compress large videos in batches.
The tool automatically chooses the best parameters to choose optimum quality.
Enhance blur videos.
Add/ extract subtitles.
50X conversion speed.
Screen recorder inbuilt.
Create GIFs
Occasional crashes.
Limitations in the free version.
Pricing – Free. Then, $29.95/ day
10. VSDC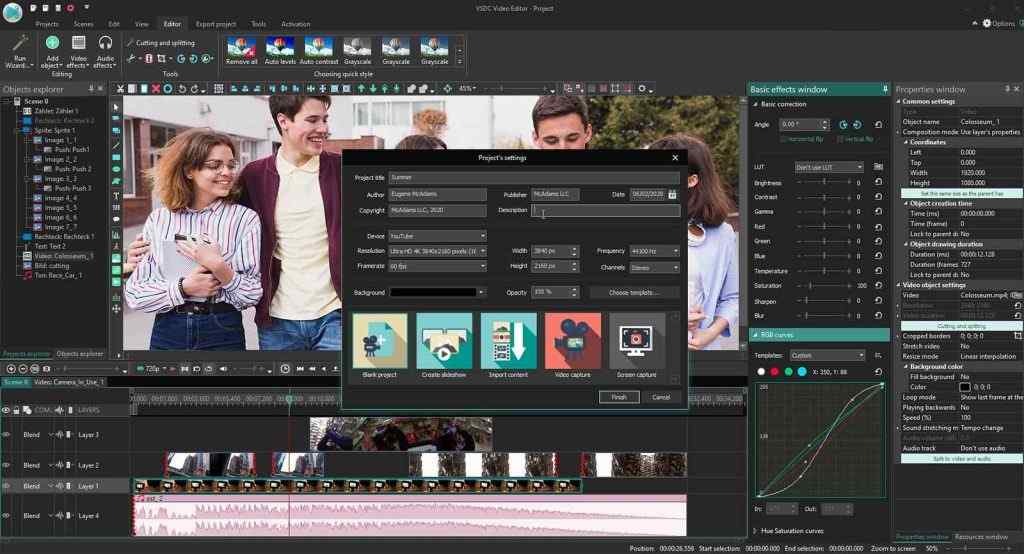 VSDC is a lightweight and free split-screen video editing app and it also lets you compress your video size for output without compromising the quality. This makes it an excellent choice when you have edited a video for a specific platform but find the output size too large for exporting and uploading.
Notable Features
Reduce output size by almost 70%
Ability to select the platform where you want to upload the video – Web, YouTube, Instagram, etc.
Choose from multiple formats such as AVI and MP4.
Change bitrate and video resolution.
Various H.264 settings.
Fast processing.
Video editing capabilities.
Various options for video compression.
Not a dedicated video compressor and beginners may find it a little hard to use.
Pricing: Free
Compress Videos While Keeping The Quality Intact!
So that's a wrap! We hope that no matter what format your video is in, we hope that above video compressor apps will let you compress your videos while delivering optimum video quality.
We highly recommend using Movavi Video Editor to compress videos in any format, such as MP4, AVI, MOV, MKV, etc., and make them suitable for uploading online, sharing with friends, or storing on your PC. You can choose from various presets for different platforms and devices, or customize the compression settings according to your needs.  It is relatively fast & easy to use, and highly compatible as compared to its counterparts.
But don't take our word for it. Here are some statistics and testimonials from satisfied users and experts:
For more such content, keep reading Top10PC.
You can also reach out to us on Facebook, Flipboard, and, Pinterest.
Frequently Asked Questions
Q1. Can you compress a video without losing quality?
Yes, you can easily compress a video without losing quality by using a paid or free video compression software. These let you choose settings such as resolution, the output file size (in terms of percentage and MB or GB), bit rate, etc.
Q2. How do I compress an MP4 without losing quality?
When using a video compressor utility, you can simply import multiple MP4 videos into the interface. Then you can adjust a variety of compression settings. Once done you can save the compressed video on a desired location of your computer.
Q3. What is a video compressor?
A video compression software helps you reduce the size of your video by eliminating some data. The best video compressors ensure that there is not much difference between the video's original quality and the final quality.