Wondershare UniConverter
Wondershare UniConverter Review For Windows – It's Not Just Your Average Converter
What would you do if you have several videos that you have captured on one device that is incompatible with another? What if there further are small edits like trimming sections, increasing audio tempo, adding watermarks, etc? Needn't scratch your head, we bring to Wondershare UniConverter, one tool that packs a powerful converter and several basic editing tools. But, is it worth it? Let's find out in this Wondershare UniConverter review.
If you are someone who regularly captures raw video or audio files, you might need a converter tool with which you can convert files from one format to another. And, knowing the fact that your job doesn't just end at converting audio and video files, you might also have to perform some basic edits like cropping videos or trimming sections of audio, etc, something for which you might not need full-fledged video editing software. Would you download separate tools for each of these tasks? With Wondershare UniConverter, you might not have to.
In this review, we will discuss all the various aspects of this tool – its features, pricing, pros and cons, and others.
What Is Wondershare UniConverter?
The first thing that probably comes to mind when you hear the name "Wondershare UniConverter" is that you can convert your audio and video files to multiple file formats. That's true. But, that's not the only thing it does. Wondershare UniConverter for Windows PC is one tool that packs inside several other tools. You get a converter, video editor, screen recorder, compressor file merger, trimmer, and a host of other tools. It supports a large number of file formats (over 1000). This includes the latest 4K- capable codecs like H.265.
Hardware Specifications
Current Version – 14.1.7
Windows Compatibility – Windows 11/10/8/7/Vista
Processor – 750MHz Intel or AMD CPU
RAM – 256 MB or more
Hard Disk Space Required – 100 MB or above
How To Use Wondershare UniConverter On Your Windows PC?
Wondershare UniConverter is an easy-to-use utility where most of the features are self-explanatory-
1. Download, run, and install Wondershare UniConverter.
2. Click on Converter from the right-hand side.
3. You can either click on the + icon and select files for conversion or you can drag and drop files.
4. If need be and if you want to add more files or folders, you can further click on the + icons and add files and folders from device, or camcorder, or even load ISO and IFO files.
5. Next, to choose the format you want to convert the file to, click on the gear icon and select the format and other settings as shown in the screenshot below –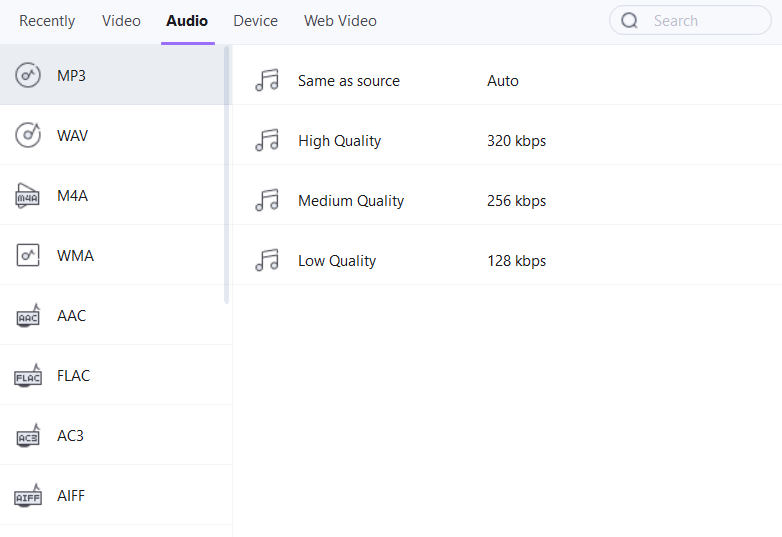 6. You can even click on Settings to create, and save conversion Presets that you can use in other conversions that you have lined up.
7. Once you have selected the settings, click on the Convert button or you can click on the Start All option from the bottom-right in case you have lined up multiple conversions.
The user interface is streamlined. The home screen can be divided into two sections. From the left-hand pane, you can access the files you have worked on and the several tools that Wondershare UniConverter 14 offers.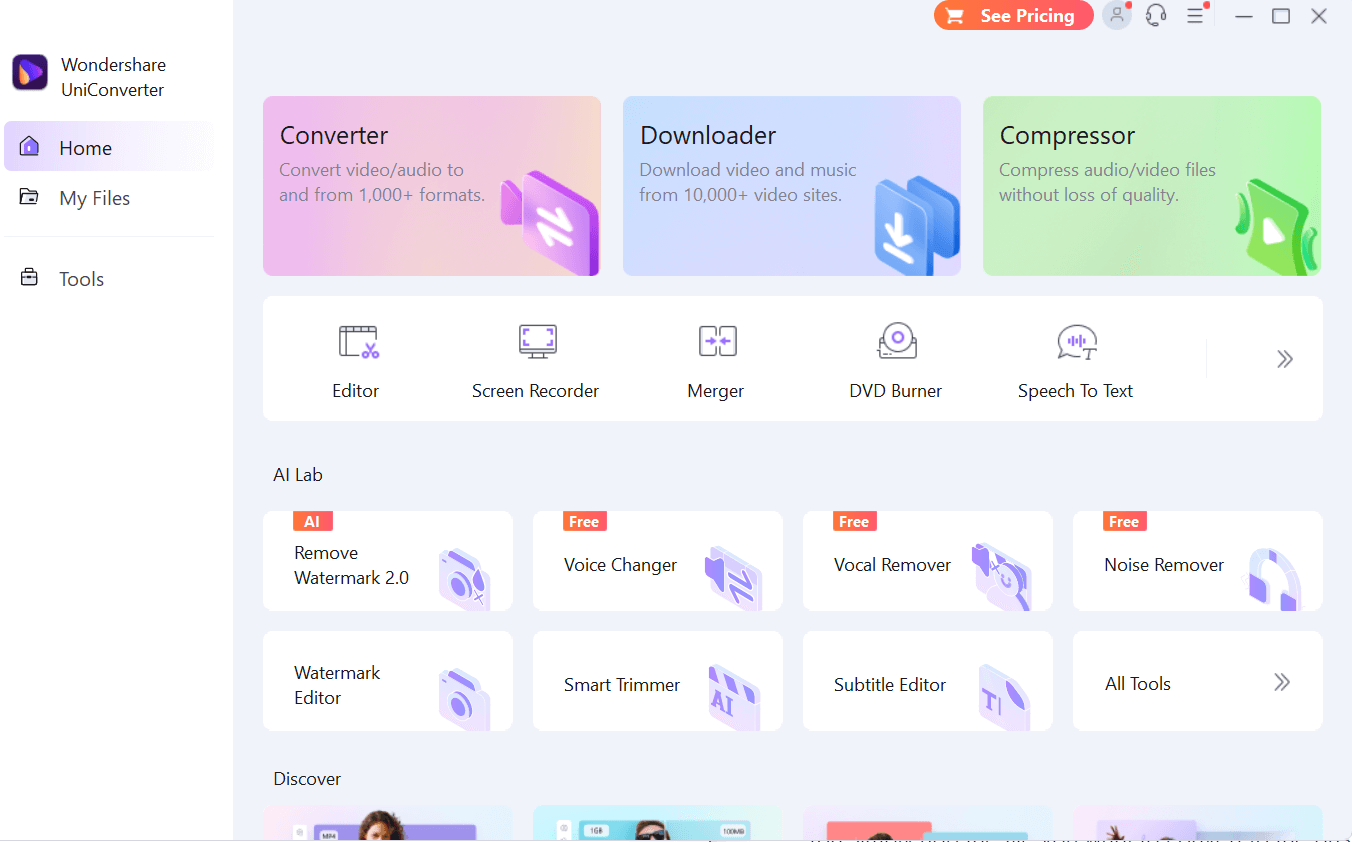 On the right, you can find the three main tools namely – the Converter, the Downloader, and the Compressor. Below these, you can find tools – Editor, Screen Recorder, Merger, DVD Burner, Speech to Text, and many others. At any point, you can click on the right arrow key and access all the tools that you get when you download Wondershare UniConverter.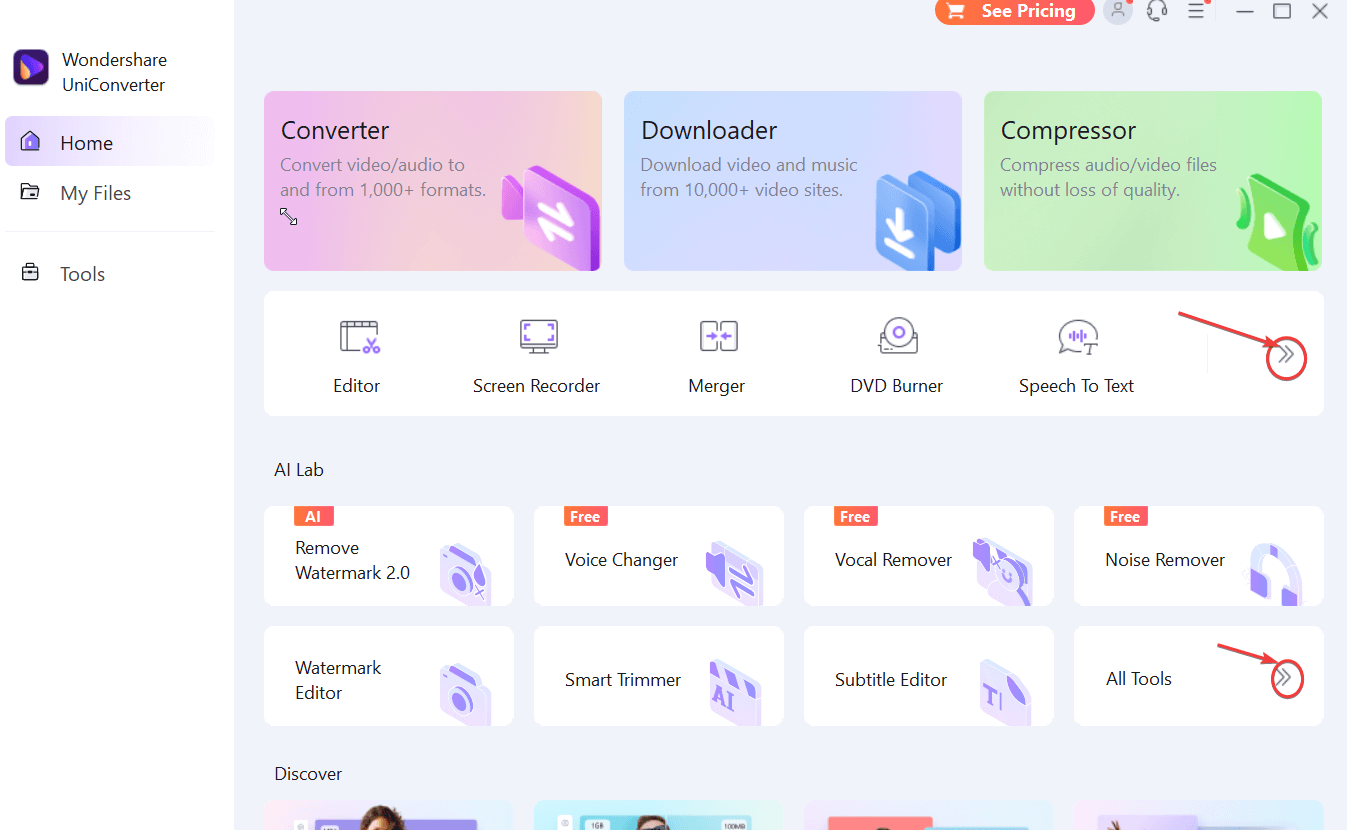 What we liked about the interface is that, under each of the tools, you are shown steps on how you can add or download files, etc. Plus, after you have added files, you can easily figure out the way to adjust settings. For example, when converting files from one format to another.
Certain parts of the interface are repetitive. For example, if you head to the Screen Recorder section you will find that the options are mentioned twice as icons and with names. But, that shouldn't be a problem since a user shouldn't have any issues figuring out what an option regarding screen recording is meant to do.
1. High-Speed Conversion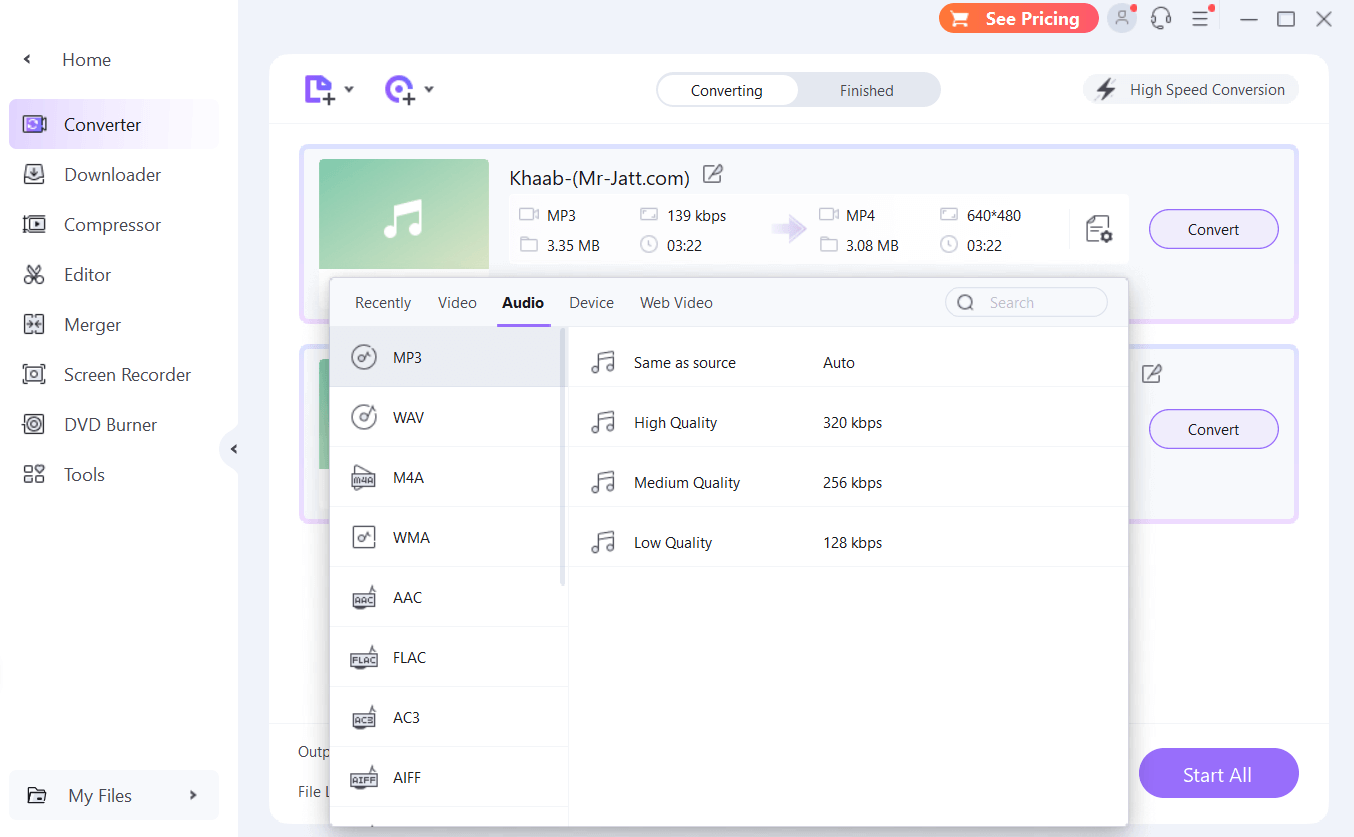 As can be derived from the name, Wondershare UniConverter is a converter with which you can convert your audio or video file to 1000+ file formats. To enhance the speed of conversion, you can also use hardware acceleration. In fact, you can enable High-Speed Conversion and convert compatible formats without losing quality.
Moreover, you can convert audio and video files from multiple devices. You can click on the Settings icon and select the format, the device for which you want to convert, file location, etc. You can even upload the converted file onto the cloud storage. The above screenshot gives you a glimpse of the number of formats supported
2. Convert Videos To VR
Wondershare UniConverter 14 is also capable of converting videos to Virtual Reality. Here you can select the view mode and the VR device for which you want to convert. Currently, it supports HTC Vive, Oculus Rift, and Samsung Gear.
3. Download Content From The Web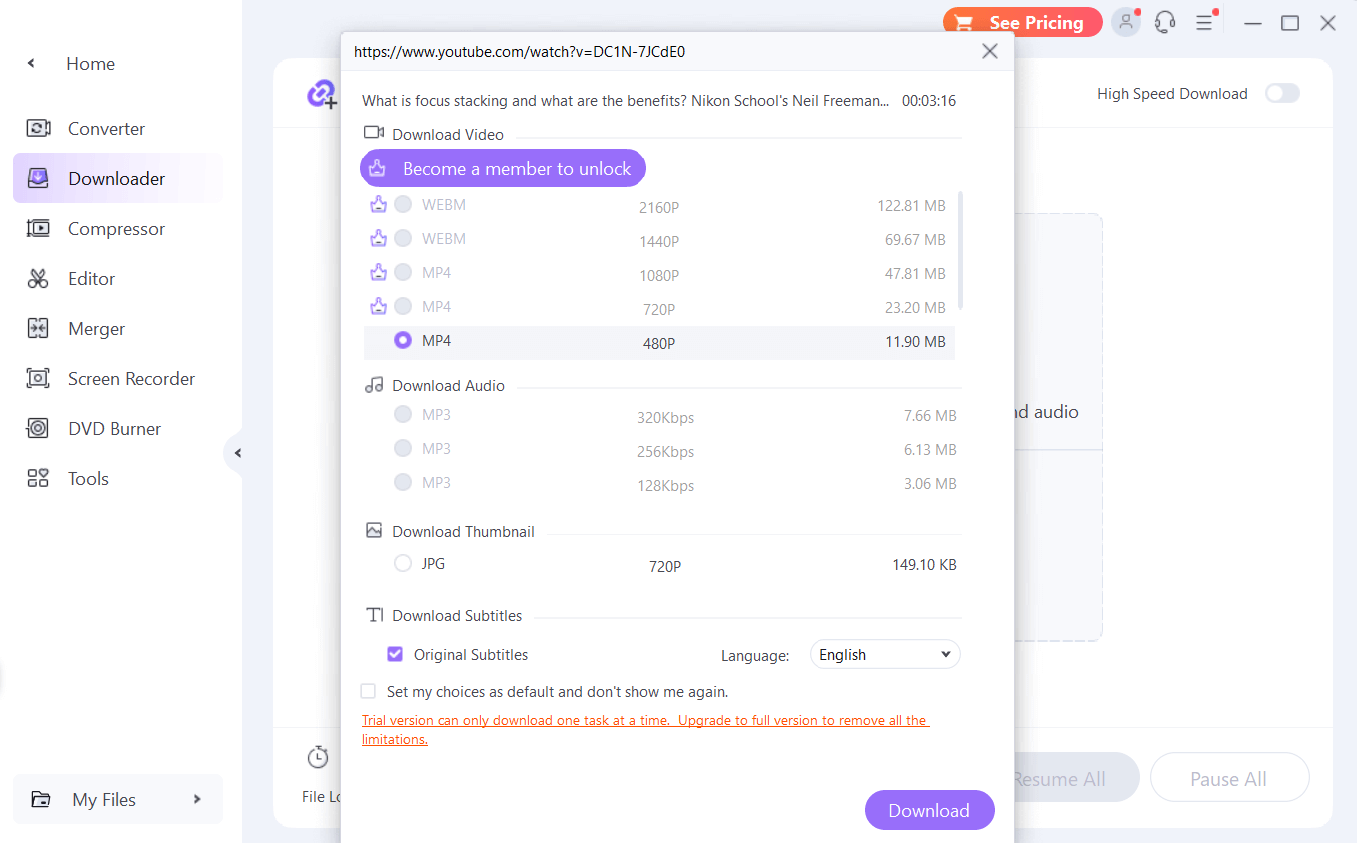 Apart from converting audio and video files, you can also download videos and audio from over 10000 websites. In the case of videos, you can choose the resolution and in the case of audio, you can also choose the bitrate.
We observed that once you have selected the URL, Wondershare UniConverter takes some time to analyze the URL and extract the audio or video as compared to many other platforms that do this quickly.
4. Compress Audio or Video Size Easily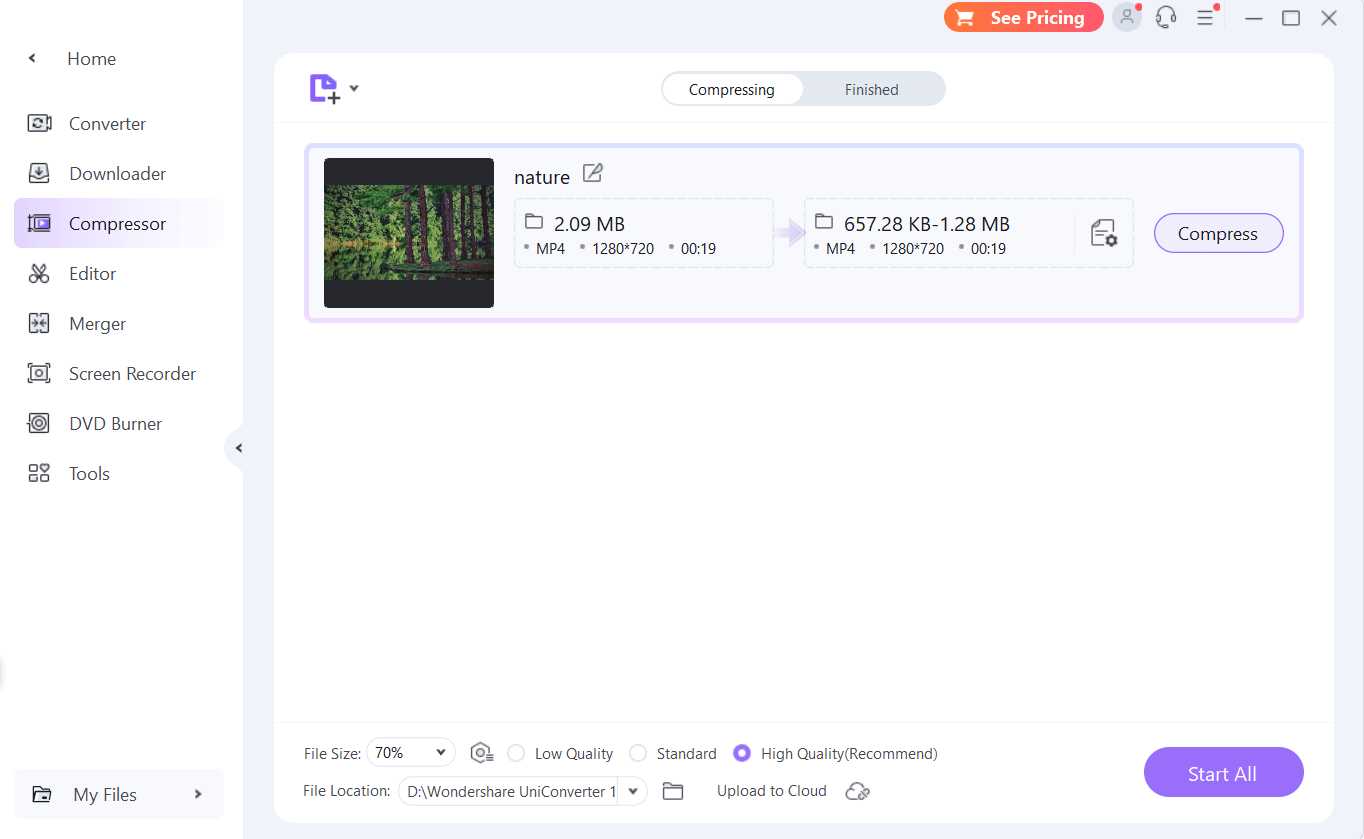 Whether it be audio or video, if it is of a large size, you can compress the file size up to 90%. The compressor even lets you choose the quality – low, standard, or high and intelligently reduces the file size accordingly. Here again, in Settings, you can choose the file format and even preview the compressed file to ascertain the quality.
5. Record Screen, Webcam and Applications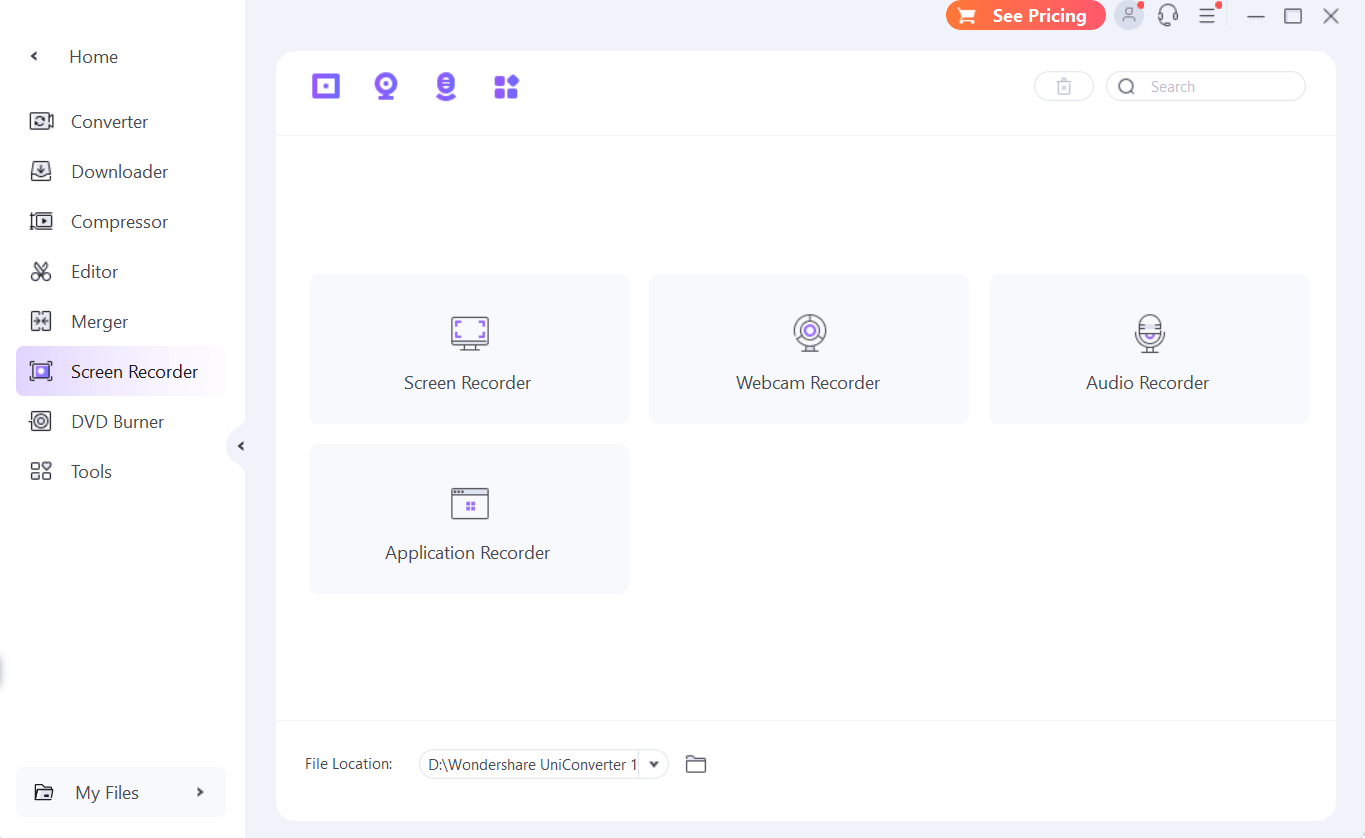 With Wondershare UniConverter you also get a screen recorder. In fact, the screen recording feature further brings along a screen recorder, a webcam recorder, an audio recorder, and an application recorder.  The Screen Recorder lets you choose the area you want to record, webcam, and audio. The Audio Recorder gives you a complete grip on your microphone, system audio, and the format in which you would like to save your audio recording. The Application Recorder lets you select the exact application window that you would like to record.
6. Basic Yet Handy Video Editor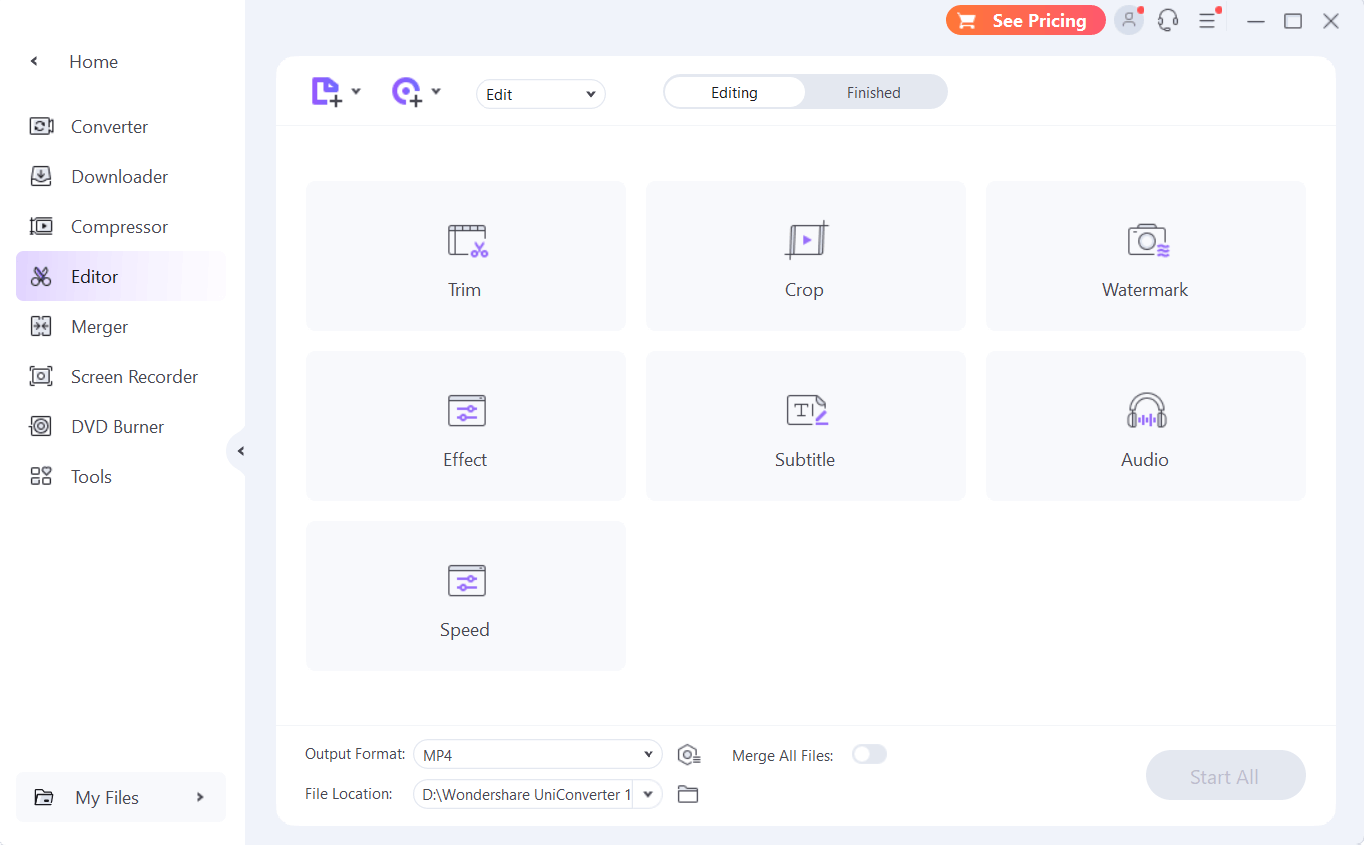 Even though not an extensive professional-grade video editor like the ones in this post, Wondershare UniConverter provides an editor that can help you perform basic video editing tasks. Below is a list of things you can do –
Trim – To trim a section of the video you can playback and drag the handles to choose the section.
Crop – Crop video, choose crop area size, rotate clockwise and anticlockwise, flip the video horizontally or vertically, and change the aspect ratio.
Watermark – You can even add your own watermark to your video. You can choose your desired image and text, and tweak its opacity.
Effect – At a basic level, you can adjust the brightness, contrast, saturation, white balance, and deinterlacing of your video. You can also choose from multiple filters that you can apply to your video.
Subtitle – Want to add subtitles to your video? Wondershare UniConverter lets you add subtitles, provided you have subtitles files (for example – .srt, .ass, and.ssa). You can also change the subtitle font, outline width, opacity, background color, and position.
Audio – Add basic audio effects; increase/ decrease volume, enhance human voice, increase stereo volume, remove background noise, and add fade-in and fade-out effects.
Speed – Change the tempo of the audio. You can decrease it to .25 X or increase the tempo to 3X.
7. Merge Several Files Into One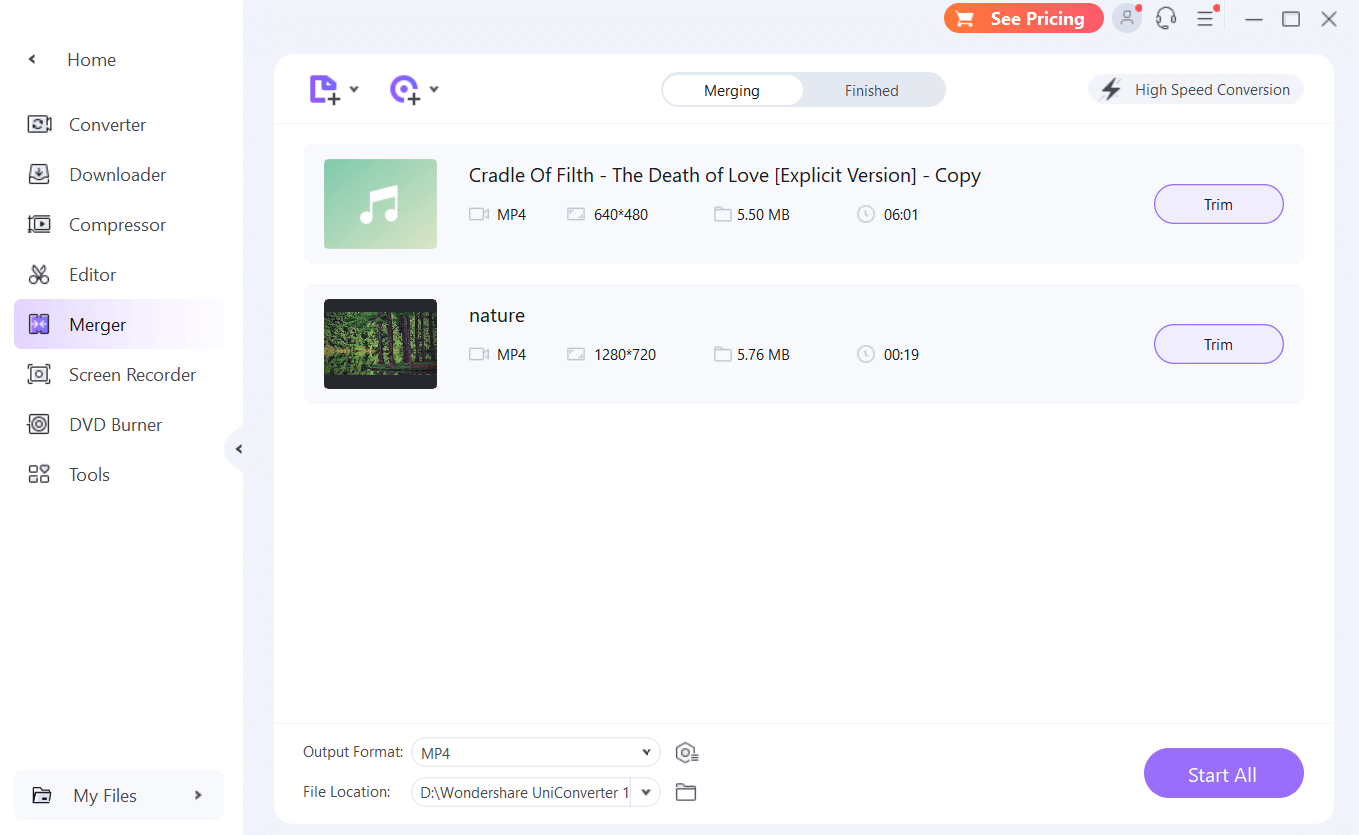 Wondershare UniConverter lets you merge several video or audio files into one file. Before merging files you can trim specific sections of your video or audio clips. You can also take advantage of hardware acceleration and merge or convert video and audio files of multiple formats faster. You will have to download each of the tools shown in the screenshot below separately.
8. AI Lab
When you download Wondershare UniConverter, you also get a range of AI tools that can help you deliver results that would otherwise require a considerable amount of editing skills and time. For instance, you can use the power of AI and convert voice, separate vocals from music, automatically trim videos, remove jitter from videos and do a lot more.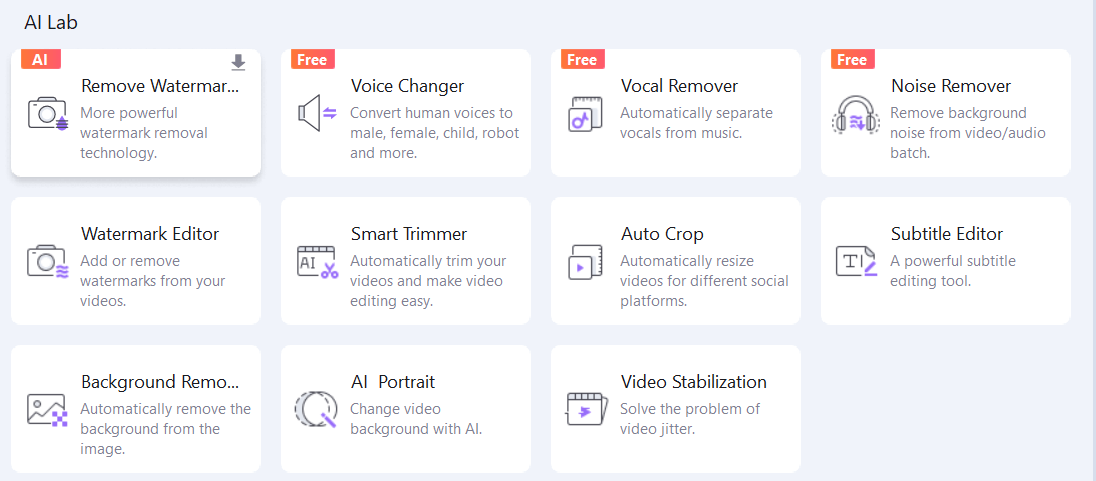 9. Convert and Burn CDs and DVDs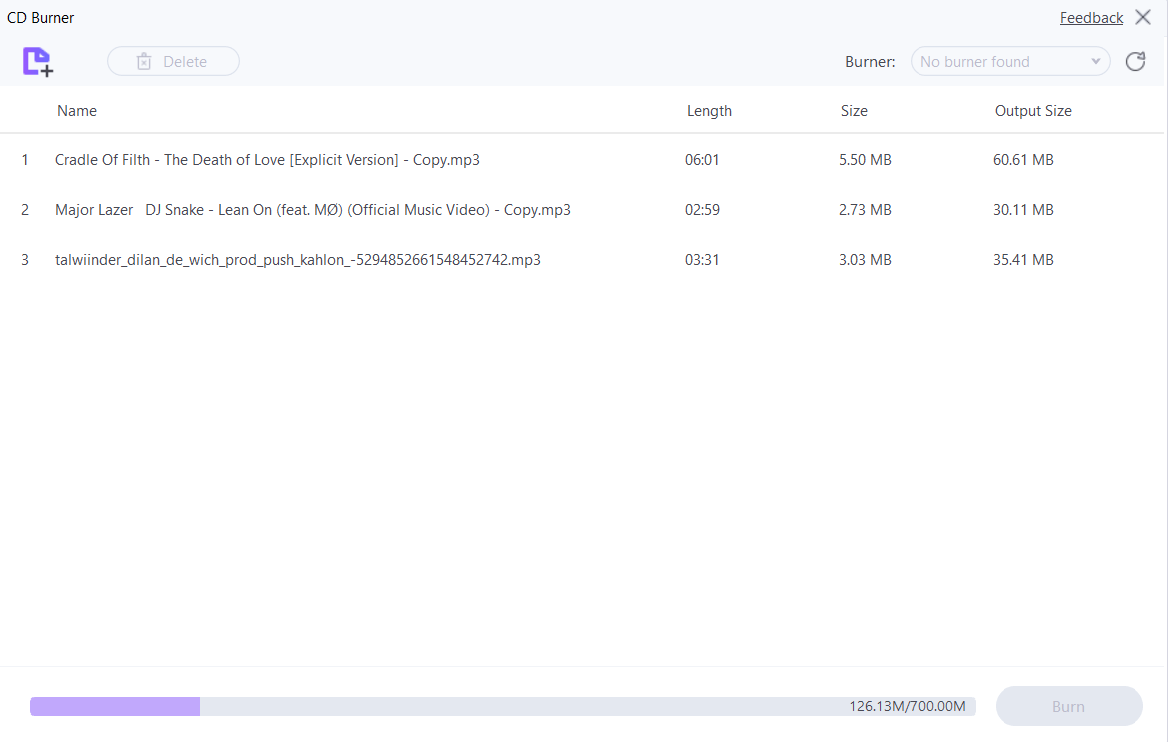 CDs and DVDs are almost on the way out, yet there are many music and video lovers who love to collect music and movies on CDs and DVDs. If you are one of them, Wondershare UniConverter can help you burn CDs and DVDs.
You can download and try out the free version of Wondershare UniConverter that puts certain restrictions such as –
You can't merge files in the trial version.
With the trial version, you can download one file with a maximum resolution of 480p.
The trial version lets you compress one file of a maximum length of 5 minutes.
Only 3 AI tools are free.
The trial version only supports recording up to 1 minute.
There are other restrictions as well. To get the full functional unrestrained version of Wondershare UniConverter 14, you can purchase its premium version. For individuals, the paid version of Wondershare UniConverter 14 comes in three variants – Quarterly Plan, Annual Plan and Perpetual Plan. The screenshot with details for the same is mentioned below –
Here's what you can expect from the trial and paid versions –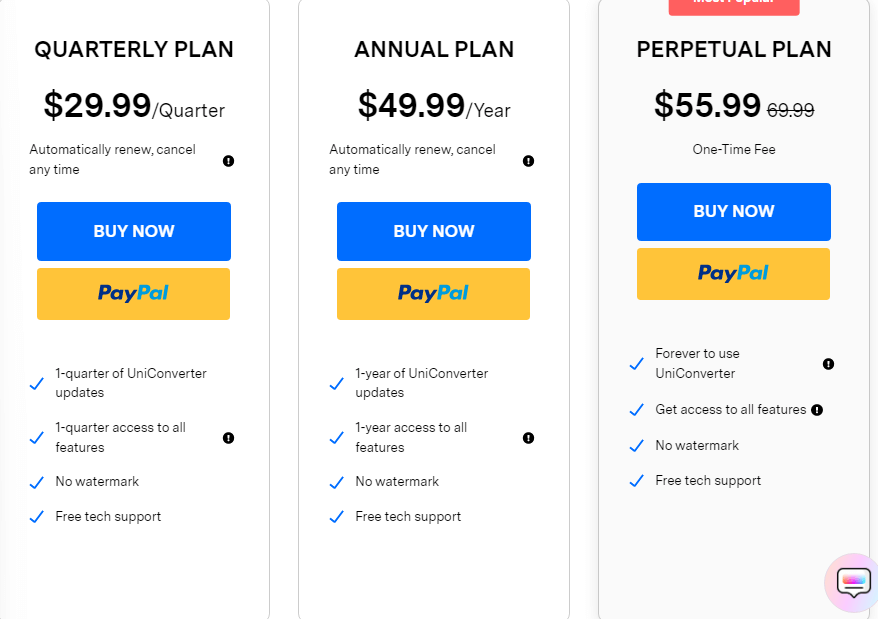 Ever since 2010, when version 5.3.0 was released, various new features have been added to Wondershare UniConverter. Developers regularly remove bugs and add the latest features to make improvements. For example, in August 2022, the Voice Changer function was added. Recently in April 2023, the product was optimized to add cover images for MP3 to MP4 conversion. You can see all the release notes for the Wondershare UniConverter versions here.
On most tasks, Wondershare UniConverter does a fair and rather speedy job. We randomly added a video and audio for conversion. The video file was  33.21 MB and was to be converted to MOV. The audio file was an MP3 file that we wanted to convert to AAC at 320 kbps. Even though we hadn't used High-Speed Conversion, the conversion took place in about 1 minute.
Then we tasked the tool with downloading a video from YouTube. It took nearly 30 seconds to analyze the URL and grab the video from it. And, furthermore, it took to download the same video in 480P. Again we didn't choose high-speed downloading and it took nearly 40 seconds to download the video of 14.96 MB in MP4 format.
The Compressor took a little longer to compress audio approximately 1 MB at 70%. It took almost a minute but it brought the size of the file in the range of 345 – 690 KB.
At various instances, you might need assistance. It could be regarding the functionality of the tool or even license related issues. You can seek assistance right from the interface itself. You can click on the headphone icon at the top-right corner and chat with an agent.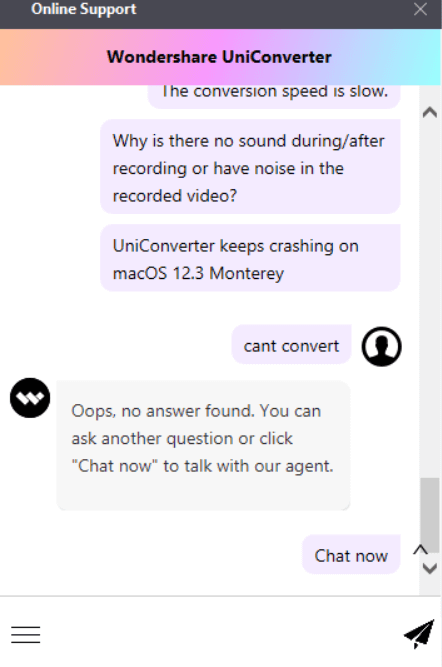 You can also refer to various guides and tutorials in order to gain a better understanding of the features of this tool.
One Converter, Many Solutions
Whether you want to convert audio and video files in multiple formats, download content from the web, or, perform basic editing tasks like trimming, cropping, adding watermark, merging files, etc, Wondershare UniConverter 14 can be a great tool to have by your side. In certain instances, it might not match up with full-fledged tools but for basic to intermediate tasks, Wondershare UniConverter is a force to reckon with. If you have been using this tool, share your experience with us in the comments section below. For more such content, keep reading Top10PCSoftware.
Want us to write a review of a Windows software that you are curious about? You can hit us up on  Facebook, Flipboard, and Pinterest.
Frequently Asked Questions –
Q1. Is Wondershare UniConverter safe?
Yes, it is. It was not flagged off as a malicious threat by either Windows Security or even by any third-party Antivirus tools.
Q2. Is UniConverter completely free?
Yes, you can use UniConverter completely free with no boundation on the number of days. However, the trial version comes with certain restrictions that we have mentioned in the post.
Q3. Is UniConverter a good program?
Wondershare UniConverter is a useful program as it packs in various functions that can help you when you are dealing with audio or video files. It has a converter, merger, screen recorder, trimmer and host of other tools many of which are powered by AI.
Q4. Can Wondershare be trusted?
Wondershare is a technology-based company that has developed several great software and apps across a variety of device platforms. They are easy to use and most of them cater to even a beginner user group.