Want to watch videos of all formats offline in high quality? Want to explore some of the best video players for Windows PC? This is where you will find what you have been looking for. Regardless of the format, quality, rare or not, these movie players will let you play whatever video is thrown at them with ease. What's better? Most of these are free video players.
Top Software Reviews
Rating
1.

VLC Media Player

2.

PotPlayer

3.

5KPlayer

4.

Windows 11 Media Player

5.

GOM Player

6.

Kodi Player

7.

DivX Player

8.

MediaMonkey

9.

KMPlayer

10.

MPV Player
What is A Video (Media) Player?
A video (media) player is a software that can help you play any media file on your computer. A media player can also help you play audio files. From short video clips to large movies, you can play any media file on a media player. 
In its basic form, a media player can help you open video and audio files from your local hard drive. You can even create and manage playlists. However, media players these days let you do many things. For example, you can play videos of all file formats. And, even if a file format is not supported, the media player will let you convert the video. 
Media players these days also come with several codecs as such you can play video of any resolution or size without compromising on the quality of the video. 
Why Use A Media Player On Your Computer?
Why would you install a media player on your Windows PC knowing that there are streaming sites when you already have a player installed on your computer? This is quite a relevant question and here are few reasons why you should install a media player-
Play media files offline. 

Play media files across all file formats.

Access videos and audio from a local drive on your computer. 

Get access to other features such as video encoder, converter, downloader, etc. 

Enjoy UHD, 4K, 8K, and 360-degree videos in all perspectives. 

Capability to play videos from websites by typing in the URL.
These are just a few of the features that modern media players offer. There are several other features that top video players for PC offer. 
List of Top Video Players for Windows PC
1. VLC Media Player
Latest Version: 3.0.18
Compatibility: Windows 11/10/8.1/8/7/XP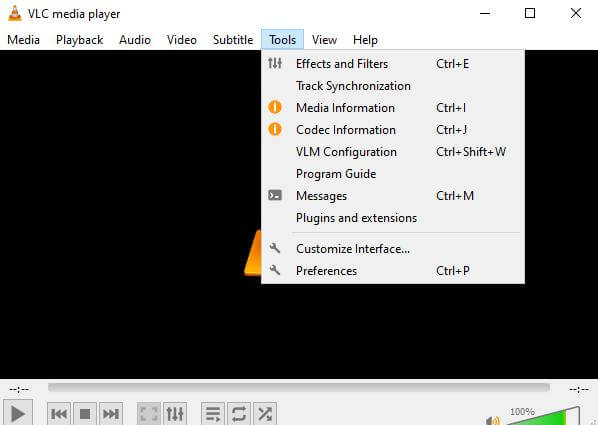 It is one of the most reliable and most installed video media players on Windows PC starting from Windows 11 and going back to Windows XP. It is open-source and completely free to use. It comes packed with a variety of features that can help you play videos of all formats. It also comes with extended support for internet radio and podcasts.
Highlights:
Comes with a variety of video and audio filters and subtitle synchronization.     

Fast hardware decoding.  

Plays most codecs; no codec packs needed.

Highly customizable skins.
Pros:
Open source and free.
Supports all formats.
Great for outbound streams.
Great support for third-party plugins.
Cons:
Editing metadata can sometimes be a challenge. 
2. PotPlayer
Latest Version: 221215 (1.7.21862)
Compatibility: Windows 11/10/8.1/8/7/Vista/XP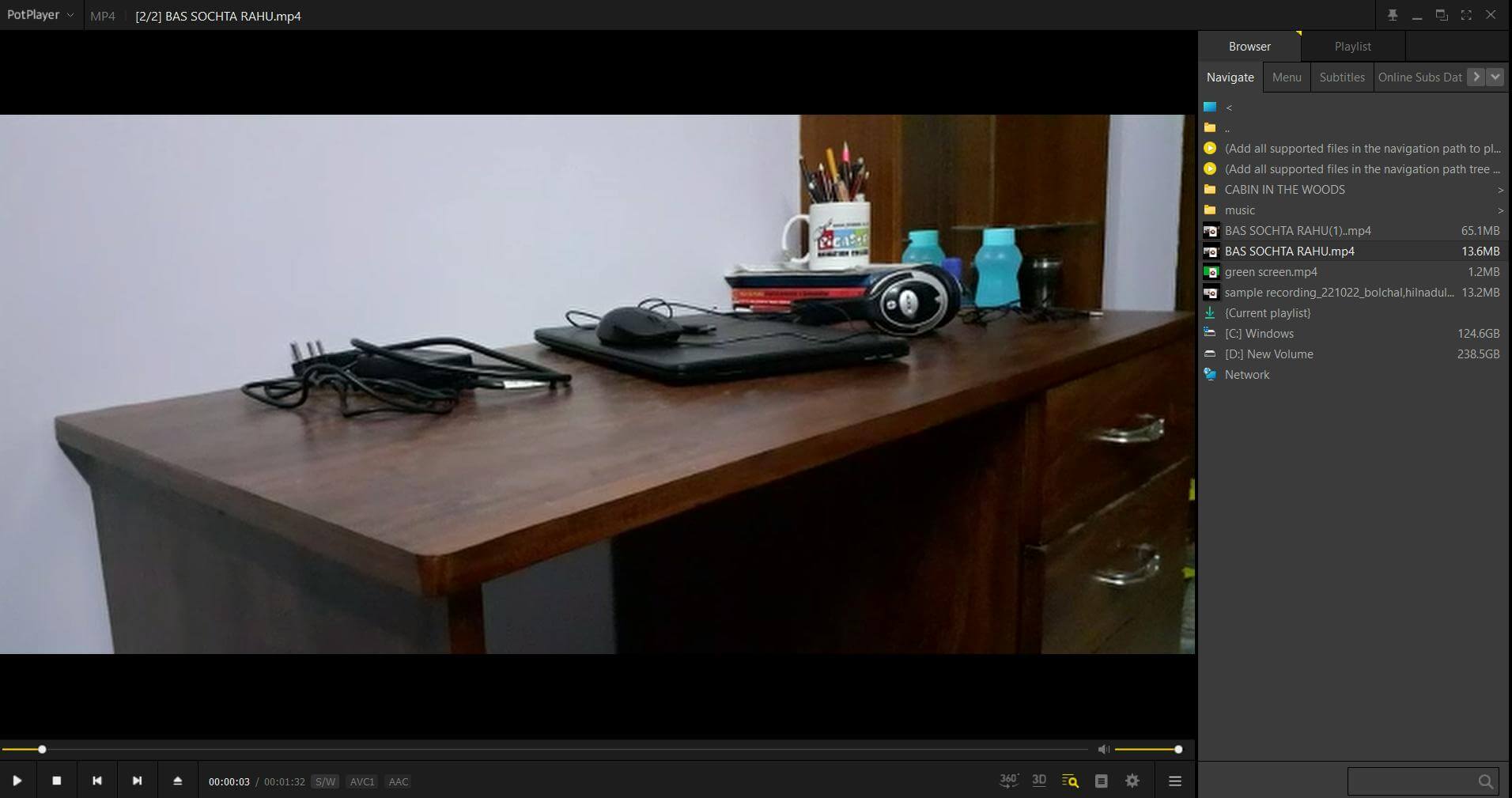 PotPlayer is one of the best movie players for PC. For a more immersive 3D viewing experience, it even supports a variety of 3D glasses and various output formats. Despite being feature-rich, it utilizes minimum resources thanks to CUDA, DXVA, and QuickSync. It supports a variety of codecs and file formats which eliminates the need to convert videos. 
Highlights:
Easily switch between hardware and software processing.

  

Convert HDR video to SDR.

  

Play videos directly from the web.

Facility to bookmark favorite chapter or scene. 

 
Pros:
Puts less load on CPU and memory      
Supports majority of file formats  
Watch 3D movies with immersive viewing experience 
Ability to capture snapshot  
Cons:
Some advanced settings may overwhelm users 
3. 5KPlayer
Latest Version: 6.9
Compatibility: Windows 11/10/8.1/8/7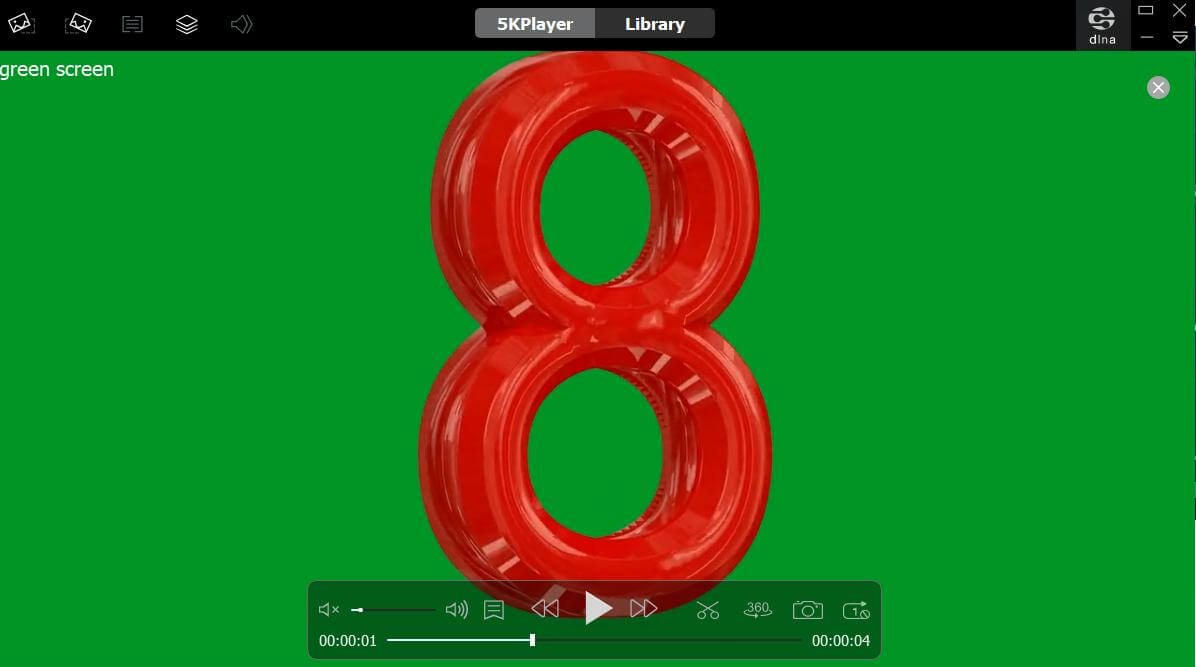 This media player from Digiarty packs in loads of features, namely, a video player, online downloader, music player, AirPlay, DLNA and so much more. It is capable of playing all kinds of videos 4K, 360 degrees, and 1080p. 
Highlights:
Download videos right from the media player interface. 

Convert, compress, and record videos.  

Make non-linear edits.

Import music from other streaming sites like YouTube and Facebook. 
Pros:
GPU acceleration
Video and music downloader
Supports playing 4K videos
One of the best codec libraries
4. Windows 11 Media Player
Latest Version: 11.2211.36.0
Compatibility: Windows 11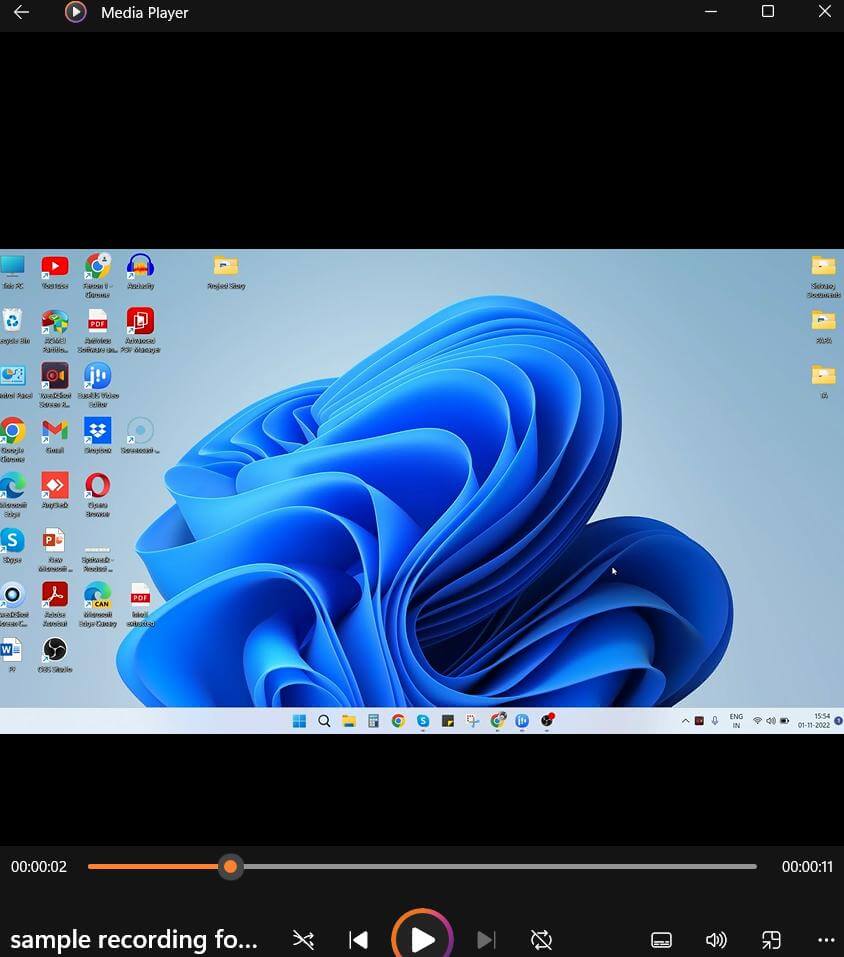 If you are a Windows 11 user and are looking for a video player for your computer, you may not have to go anywhere else. Your PC itself has a feature-loaded media player. Although, we do agree that there are some features that are not present in this player. But, for the most part, it does a decent job. 
Highlights:
Quickly browse and play music and videos.   

Add subtitles.  

Edit videos with Clipchamp video editor.   

Increase or decrease the speed of the video.   

Wide range of equalizer options. 
Pros:
Basic and easy to use.
Support for a variety of file formats.
Always available on top mini players.
All the videos on your local hard drive appear automatically.
Cons:
Playback takes a little time as compared to some of its counterparts.
5. GOM Player
Latest Version: 2.3.83.5350
Compatibility: Windows 11/10/8.1/8/7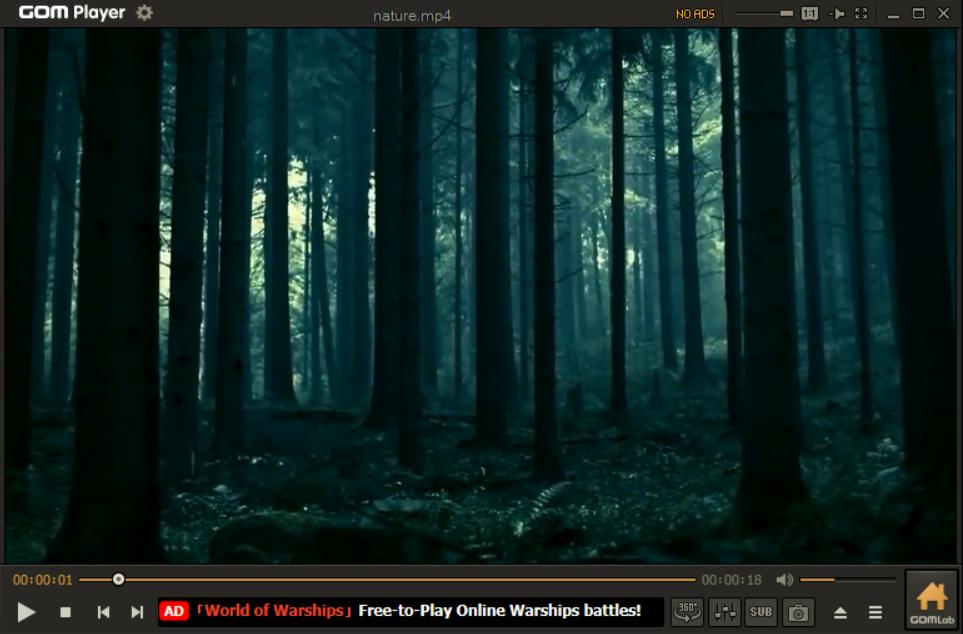 Looking for a free video player for your Windows PC that's easy to use and that can enhance your viewing experience? Give GOM Player a try. Users have applauded it for its easy-to-use interface and its capability to even play damaged video files to an extent. The media also lets you play 360 degrees VR videos.
Highlights:
Functionality to change everything from subtitle displays to audio sync, to frame grabs to bookmarks.  

Subtitle editor.  

Image and audio capture.

"Always on top while playing" functionality helps manage watching videos with other tasks. 
Pros:
Lag-free video playback experience. 
Highly customizable.  
Comes loaded with all codecs; if you find one missing it lets you download them. 
Opens all media files with ease.
Cons:
Some file types may be unplayable and some shortcuts may be confusing. 
Too many ads of products while installation. 
6. Kodi Player
Latest Version: 20.0.0.0
Compatibility: Windows 11/10/8.1/8/7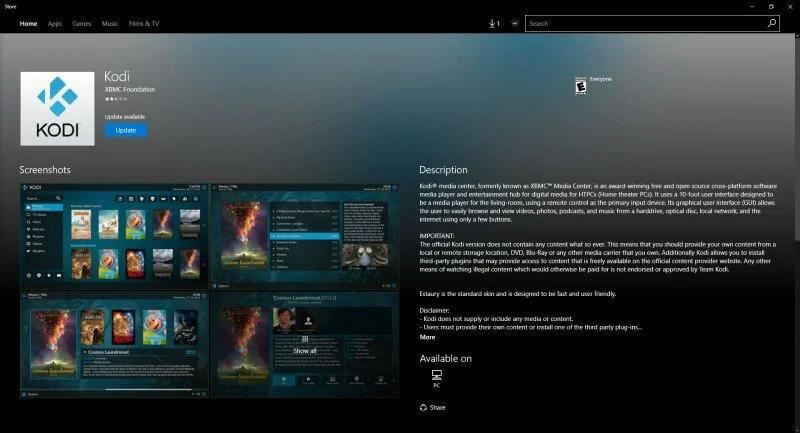 Whatever it is that you want to play – music, movies, TV shows, or anything else, Kodi Player lets you do just that. It even lets you record and watch live TV as well. Don't want to play videos from your local drive, try from 1000 different add-ons and get access to live TV, TV show catalogs, movies and so much more. 
Highlights:
Stream radio from the internet   

Parental controls  

Easily organize media files.   

Support for all media formats.
Pros:
Completely free to use.   
Support for a large variety of third-party plug-ins.  
Play games and record live videos too.  
Several customizable skins.    
Cons:
It keeps a track of what videos you watched even if you delete the records.  
7. DivX Player
Latest Version: 10.9.0
Compatibility: Windows 11/10/8.1/8/7/XP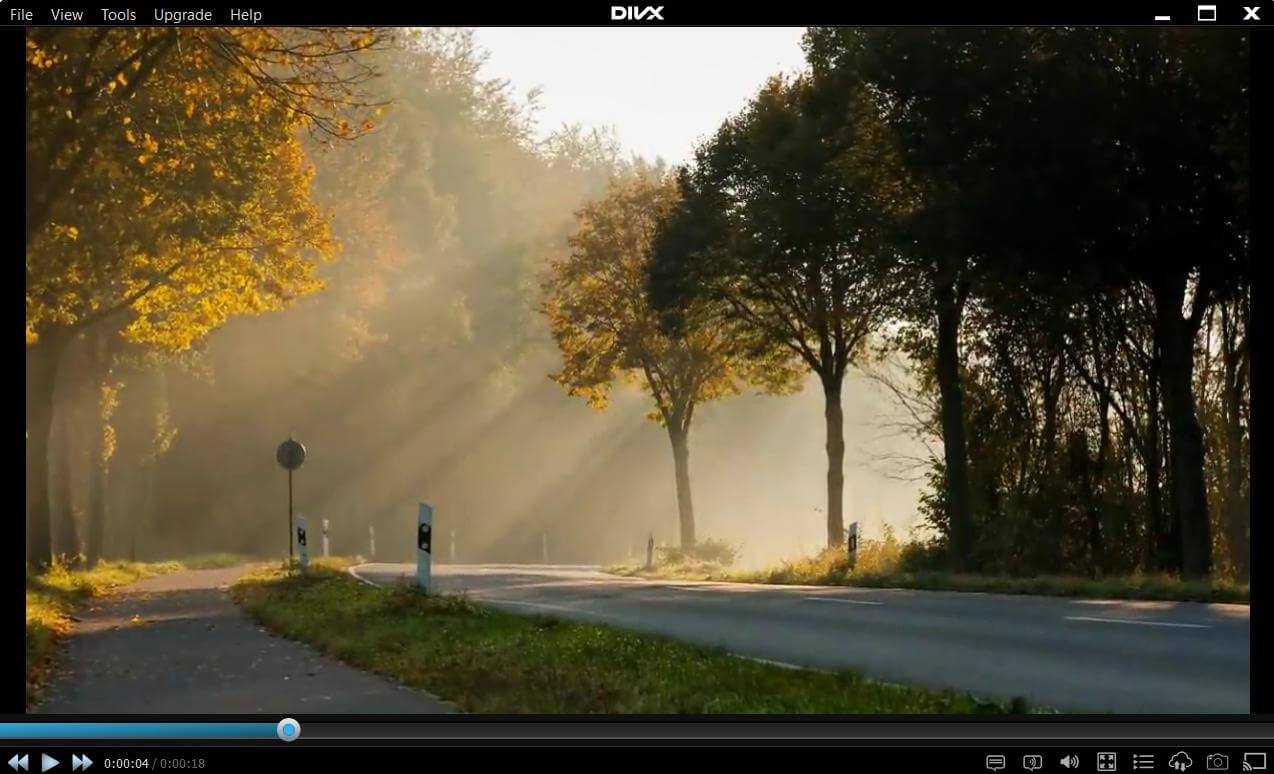 Over 1 billion licensed downloads says a lot about the credibility of DivX Player. It doesn't just let you play videos, but even cast and convert videos across a variety of file formats. Some of these formats include AVI, DivX, MKV and HEVC. It can play video files of upto 4K. 
Highlights:
Custom encoding.

Watch 360-degree videos from any angle – pan, zoom, rotate, or even set aspect ratio.   

Stream video files onto a bigger screen.  

DFX audio enhancer helps enhance sound quality.
Pros:
Playback's smooth
Hardware acceleration available.
Cast videos on a bigger screen.
Converter comes built-in.
Cons:
Can be slightly heavy on the system resources.
8. MediaMonkey
Latest Version: 5.0.4.2690
Compatibility: Windows 11/10/8.1/8/7/XP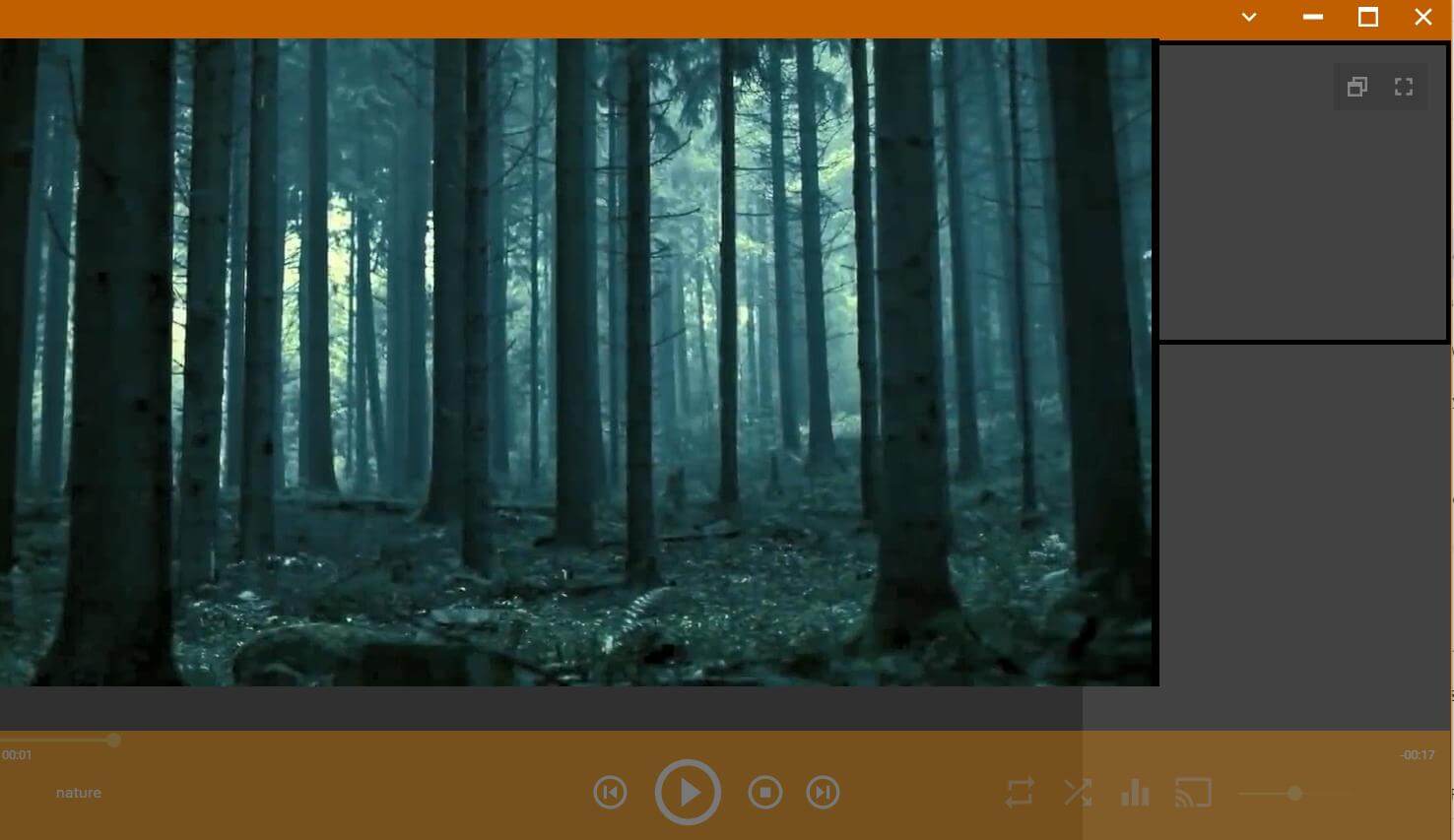 MediaMonkey is one of the best video players for Windows. It can play video across several file formats. Not just media files on your PC, but you can even access content on YouTube, listen to online radio, and even sync Spotify playlists. 
Highlights:
Share library with TV or other consoles such as the DLNA server.   

Set timer to end playback after a desired time.   

Backup library content to cloud storage. 

Remove duplicate tracks and sort your collection. 
Also : If you are looking specifically for a dedicated duplicate finder tool, you can try Duplicate Files Fixer.
Pros:
Automatic tag editor.
Several customizable skins.
Automatic library organizer.
Cross app compatibility.
Cons:
Learning curve when it comes to understanding the interface.
9. KMPlayer
Latest Version: 2022.12.22.15
Compatibility:  Windows 11/10/8.1/8/7/XP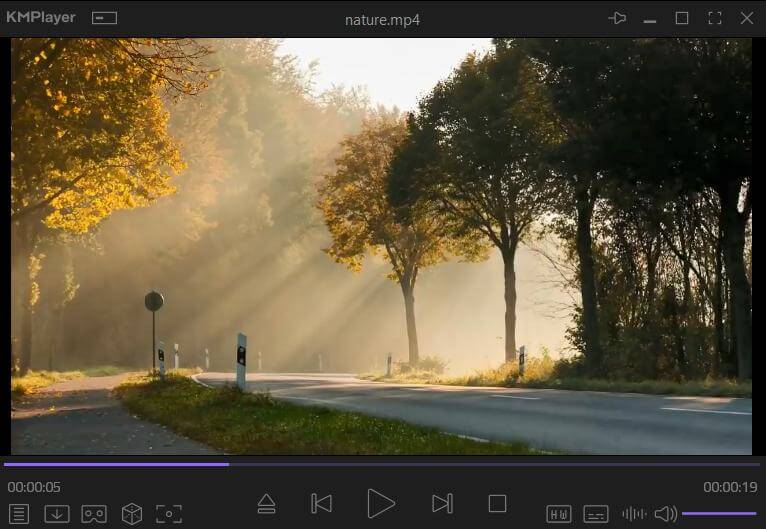 It's a widely popular video playback tool for Windows PC. It lets you watch videos of all resolutions including 8K at 60 FPS with great clarity. Since it uses hardware acceleration, the CPU usage rate is low and you can also juggle other tasks at hand. 
Highlights:
Decode 3D, UHD, and 4K videos without compromising on quality.

Support for a variety of subtitles le MPEG1, MPEG2, RTS, etc.

Slideshow creator.  

Functionality to improve sound quality using the normalized feature.
Pros:
3D playback feature.
Remote playback support.
Can download extra codecs from KMPlayer official website.
Availability in several languages.
Cons:
 Some users have reported stability issues.
10. MPV Player
Latest Version: 2.0.0.0
Compatibility: Windows 11/10/8.1/8/7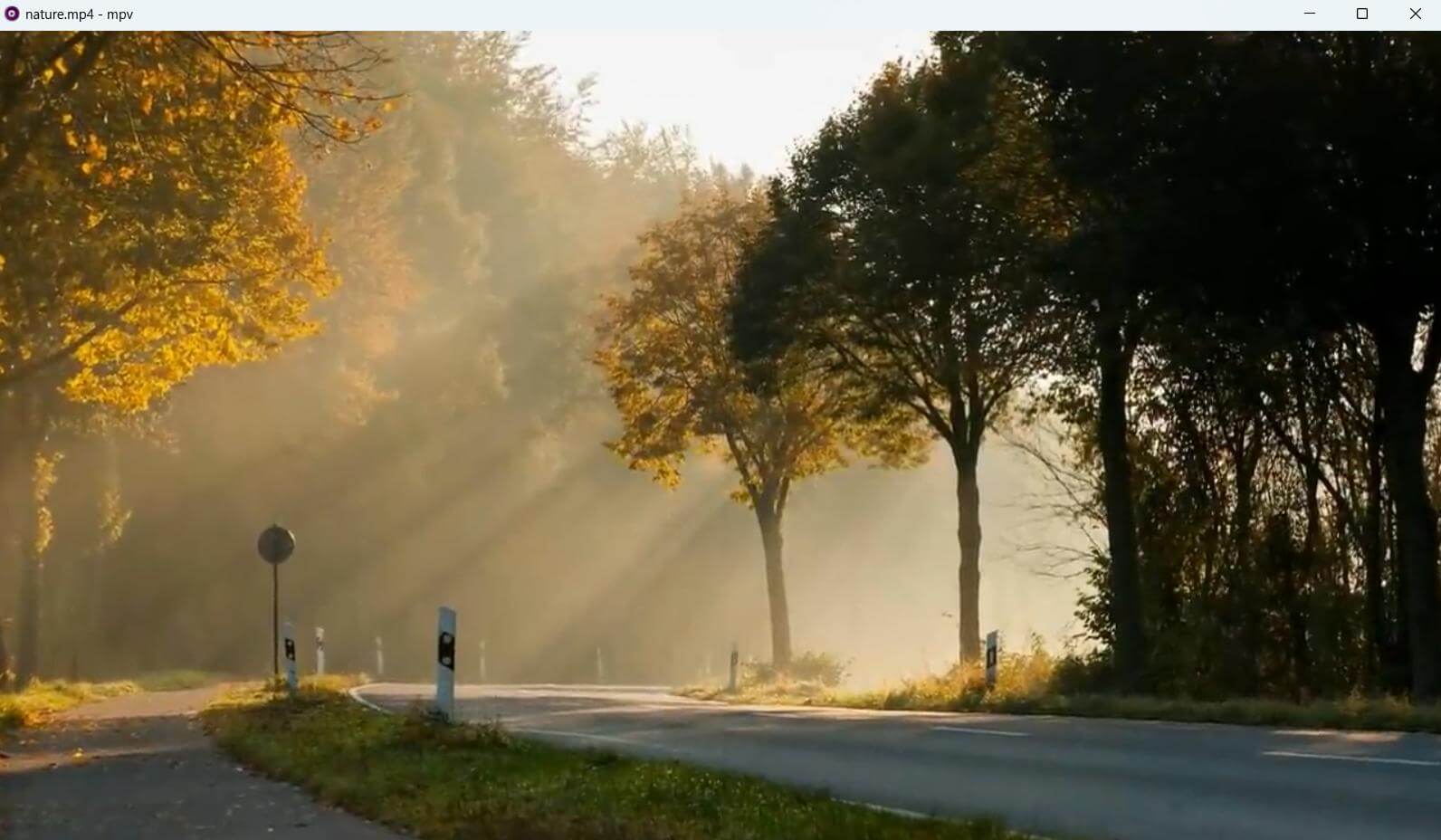 MPV is a free and open source and cross-platform media player released under General Public License. It is less taxing on your card and still renders high-quality video output. One of the best aspects of the media player (if you are an advanced user) is that it has powerful scripting capabilities where you can choose and implement from amongst a large selection of user scripts.
Highlights:
A straightforward C API lets you integrate MPV into other applications

Minimal control interface that accounts for high-quality output.    

Hardware encoding.  

OpenGL, Vulkan, and D3D11-based video output that delivers high-quality video and related features such as color management, interpolation, frame timing, etc.  
Pros:
Small on-screen controller for basic control.
Cross-platform compatibility.
High-quality video.
Free and open source.
Cons:
Microsoft Defender may flag it off as a danger, so it is better to have additional Antivirus software that can validate that the media player is secure.
Wrapping Up
So, with this we end up with our list of best video (media) players for Windows PC. Which one's your favorite? If there is a media player that you like and that didn't make it to the list, do let us know in the comments section below. For more such software listicles and reviews, keep reading Top10PCSoftware. You can also find us on Twitter, Pinterest, Facebook, and Flipboard.
FAQs
– 
Q1. What are the best free media players for PC?
The media players that we have mentioned here are free. Some of these include VLC Media Player, PotPLayer, 5KPlayer. If you like minimalistic design and still want supreme quality, you can also choose MPV PLayer as well. 
Q2. What is the best MP4 player for Windows PC?
While all the above media players come with MP4 playing capability, you can go with the likes of GOM Player, MediaMonkey, and DivX Player. Windows' own Media Player too is capable of playing MP4 files in high quality. 
Q3. Do I need a video player for my Windows PC?
In our opinion, you should consider downloading a media or movie player. For one, it lets you play videos offline. You can easily manage playlists, add tags and bookmarks and do many other things. Many media players also let you stream any video online and not just that you can even download videos. You can also convert a video if a file format is not supported. 
Q4. What is better than VLC?
Whether a media player is better than VLC or not depends on your needs, but media players like 5KPlayer, Kodi Player, and many others have features that VLC Media Player lacks. To know more you can check the post above.