Have you installed CCleaner for making your PC perform better? Looking for better alternatives? Here are some of the best CCleaner alternatives for your Windows PC.
In the world of PC cleaners, CCleaner is often hailed as a popular choice and why won't that be, after all, it is an efficient tool. However, for several reasons, you might be on the lookout for a better cleaner and optimizer for your Windows PC.
Reasons Why You Should Look For Tools Better Than CCleaner
Back in 2017, CCleaner was hijacked by hackers and approximately 2.27 million machines were affected. But, it conquered that battle and came clean. Still there are many users who wish to switch from CCleaner to a better alternative. Talking of which, here are some reasons why some alternatives may prove to be better than CCleaner –
Better User Interface – There are many programs similar to CCleaner that have a more intuitive and more visually appealing user interface as compared to CCleaner.
Better Optimization Options – Tools like Advanced System Optimizer offer better optimization algorithms to optimize system resources when performing various tasks such as gaming.
Additional Features – Many alternatives similar to CCleaner offer additional powerful tools like duplicate file remover, advanced backup utilities, and more robust privacy and malware removal tools.
Cheaper Alternatives – Even though CCleaner has a free trial version, there are alternatives that offer you better features even when you are using their trial versions and their paid versions are also less as compared to CCleaner.
Best Alternatives To CCleaner for Windows PC (Free and Paid) –
1

Advanced System Optimizer

Clean and optimize Windows PC
Removal of privacy traces
Fix common computer issues
Clean and optimize registry
Update drivers
Get rid of malware and privacy traces

$49.95

/ year
2

Advanced SystemCare

Modern attractive interface
AI mode
Tools for optimization, speed, and cleaning
Spyware, malware, and firewall protection
Software updater

$16.77

/ year

Download Here
3

AVG PC TuneUp

Fast scanning
Fixes broken registry
Removes system junk and browser cache
Removes unnecessary programs
Closes startup and background programs

$29.99

/ year

Download Here
4

Avast Cleanup

Set up automatic maintenance scan.
Address issues that need to be fixed. For example, if any programs need to be updated or if there are any disks that need to be checked.
Speed up the PC by closing the background or unnecessary programs.
Junk and unwanted files are well categorized showing you how much space can be retrieved.

$34.68

/ year

Download Here
5

Advanced PC Cleanup

Startup Manager
Cleans Registry
One-click PC care
Removes temporary files
Detects and removes malware

$39.95

/ year
6

CleanMyPC

Multi-language support
Dedicated registry maintenance
Sorts startup (autorun) items
Capably handles unwanted extensions
Option to disable hibernation file

$39.95

/ year

Download Here
7

Wise Disk Cleanup

Completely free
Disk Cleanup
Disk defraggler

FreeDownload Here
1. Advanced System Optimizer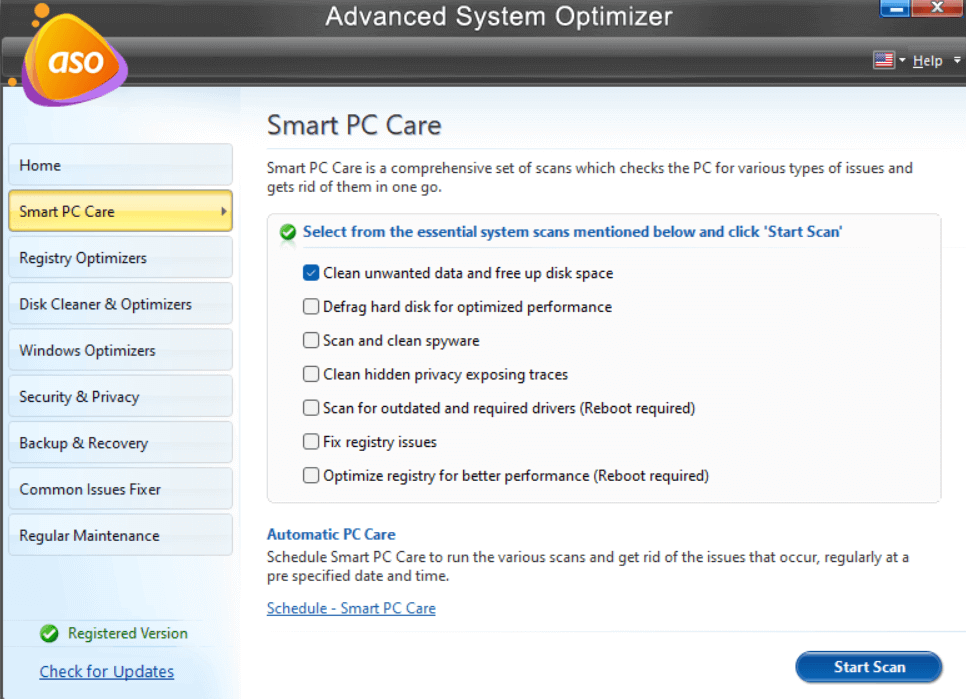 As the name suggests, Advanced System Optimizer is one of the optimization tools for your Windows PC. At the same time, it also has some of the most powerful cleaning tools with which you can take grasp of unwanted files and processes and clean your computer so that it can function more swiftly and you can enjoy more disk space. To know more about its features, check out this review.
Notable Features
Smart PC Cleaner checks the PC for various issues and resolves them with one click.
Several optimizers like disk optimizer, and game optimizer amongst others.
Helps create a restore point before making changes.
Driver updater
File shredder feature.
PC cleaning and optimization in one tool.
Security and privacy feature helps keep threats away.
Registry optimization
Backup and recovery.
Free trial available for 24 hours.
Pricing: Free fully functional trial for 24 hours. Pricing starts at $49.95
2. Advanced SystemCare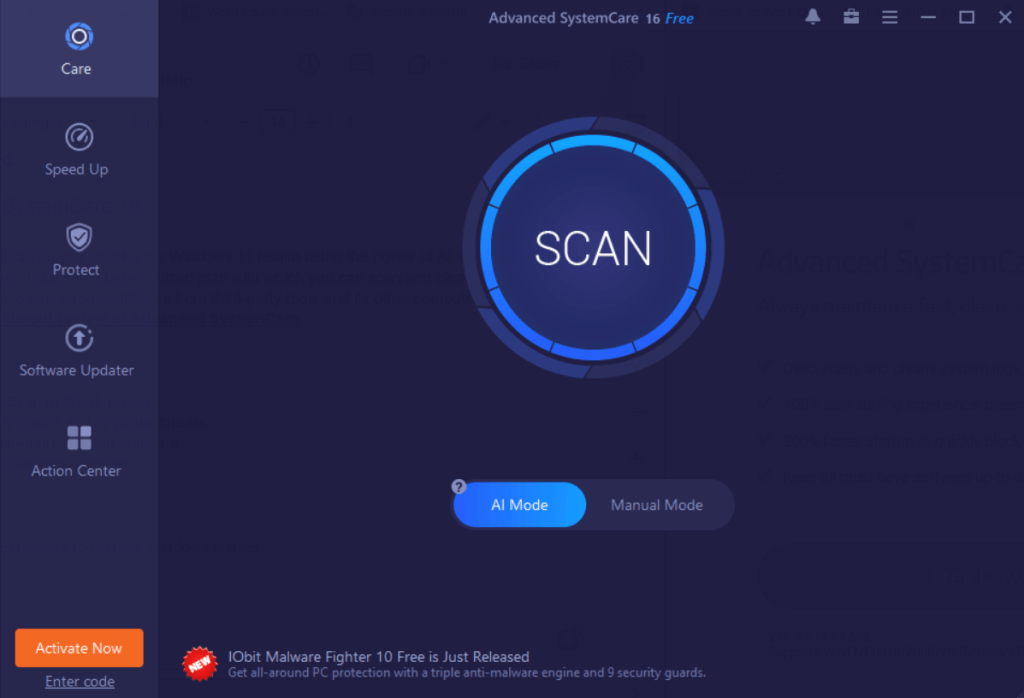 Advanced SystemCare is yet another capable alternative to CCleaner. The computer optimization utility helps both secure your PC as well as enhance its performance. With it you can fix registry issues, clean unwanted junk, and even improve the startup speed of your Windows PC. We have discussed its feature in detail in this post.
Notable Features
Internet improvement module.
Hardware accelerator.
Privacy protector.
Turbo boost.
Software updater.
Startup optimizer.
Delete, move, or exclude folders from scanning.
Real-time tuneup.
Over 30 troubleshooters to fix Windows-related issues.
Scanning is a little time-consuming.
Pricing – Free and $29.99/ year.
3. AVG TuneUp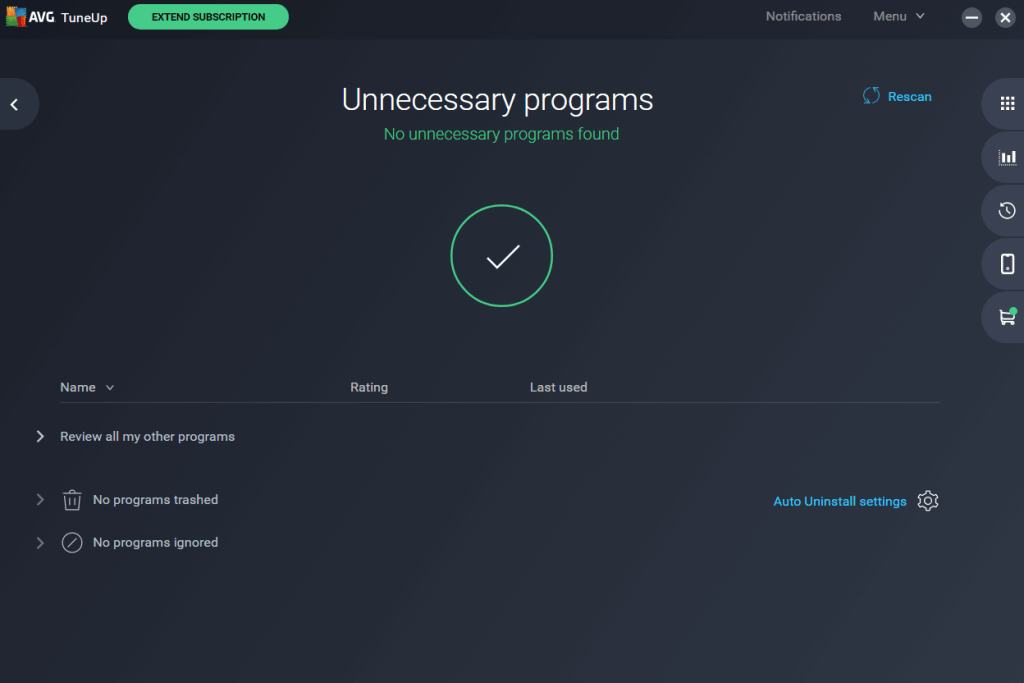 When you read the brand's name AVG, quite a bit of credibility can already be ascertained. However it's not just the name that speaks, AVG TuneUp comes packed with several features to revive a low-performing PC in no time at all. It has a neat and clean interface that makes you aware of the issues right off the bat. To get to know the tool better, check out our review of AVG TuneUp.
Notable Features
At a glance, you can see the task required to optimize and clean up PC.
Scan the disk for errors and take necessary actions.
Update outdated programs.
Remove system junk and see how much space is being freed up
Remove unwanted software with a software uninstaller.
Bloatware removal.
Increases startup time.
Sleep mode helps put unused apps to sleep.
Automatic maintenance.
Pricing: Free version gives you a cursory look at issues. To clean you can purchase a subscription at $29.99 annually.
4. Avast Cleanup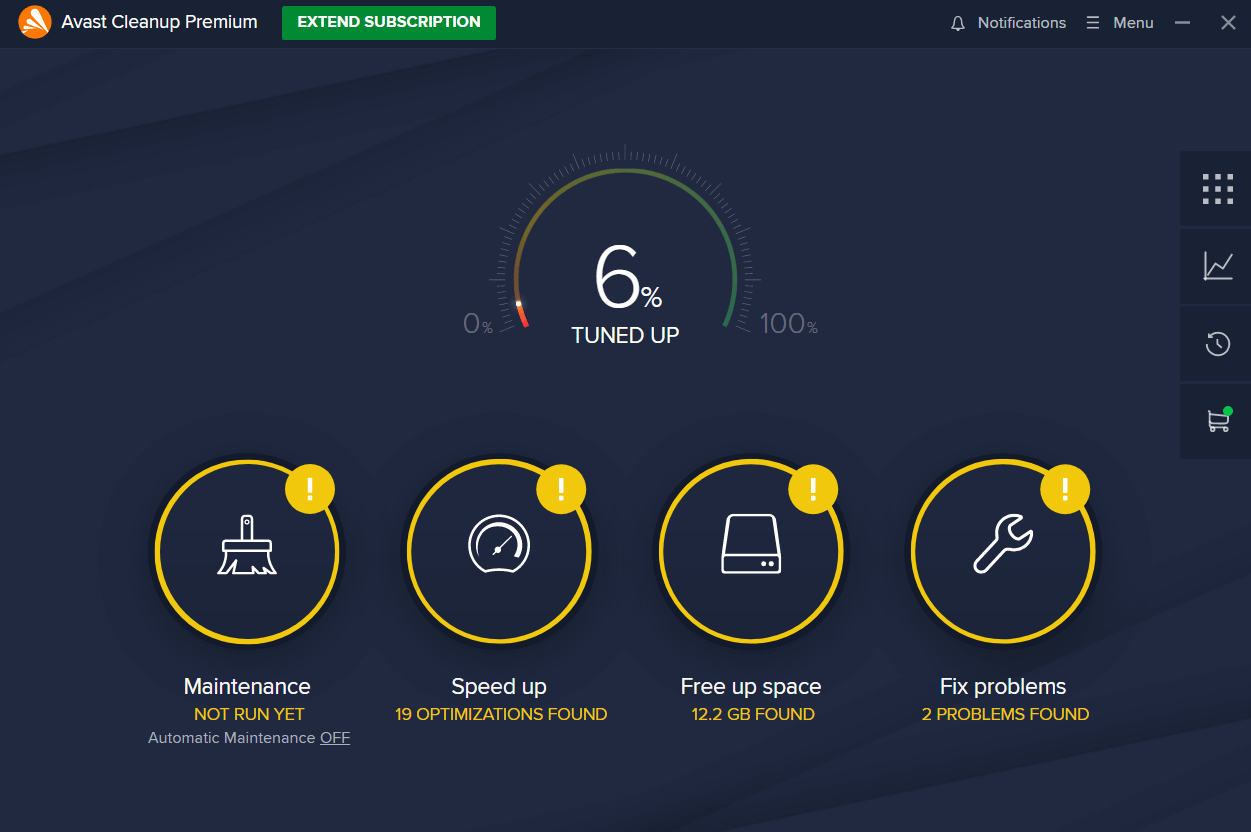 Avast is already a well-recognized name, thanks to Avast AntiVirus. Its optimization tool, Avast Cleanup is no less. It helps clean up and optimize your PC in a way that you can get rid of junk files and retrieve storage space in a few clicks.
Notable Features
Set up automatic maintenance scan.
Address issues that need to be fixed. For example, if any programs need to be updated or if there are any disks that need to be checked.
Speed up the PC by closing the background or unnecessary programs.
Junk and unwanted files are well categorized showing you how much space can be retrieved.
Clear browser data across all the browsers on your PC.
Shows you how much your PC is tuned up in real-time.
Before taking any action, you can get complete information about the task.
Track changes you have made using Avast Cleanup
Delete broken shortcuts so that files and apps can open quickly.
Lacks features for safeguarding privacy.
Pricing – Free trial for 30 days. Then, $2.89/ month (Billed as $34.68/ year)
5. Advanced PC Cleanup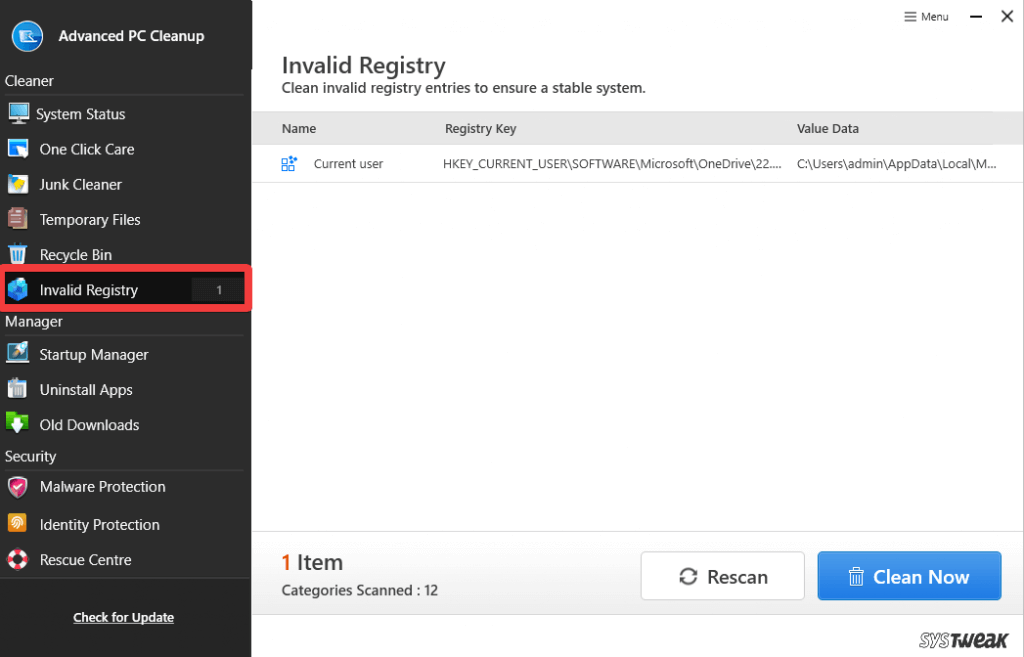 The tool is quite aptly named. Whether it is relieving your computer from redundant files or clearing old downloads, Advanced PC Cleanup does a decent job. Apart from that it performs advanced functions such as fixing invalid registries and removing identity traces from your computer. You can get a crystal clear picture of the tool in this blog.
Notable Features
One-click care
Junk cleaner
Remove invalid registries
App Uninstaller
Remove temporary files
Clear out trash from recycle bin
Get rid of old downloads.
Erase online tracks.
Pricing – Free trial then US$ 39.95
6. CleanMyPC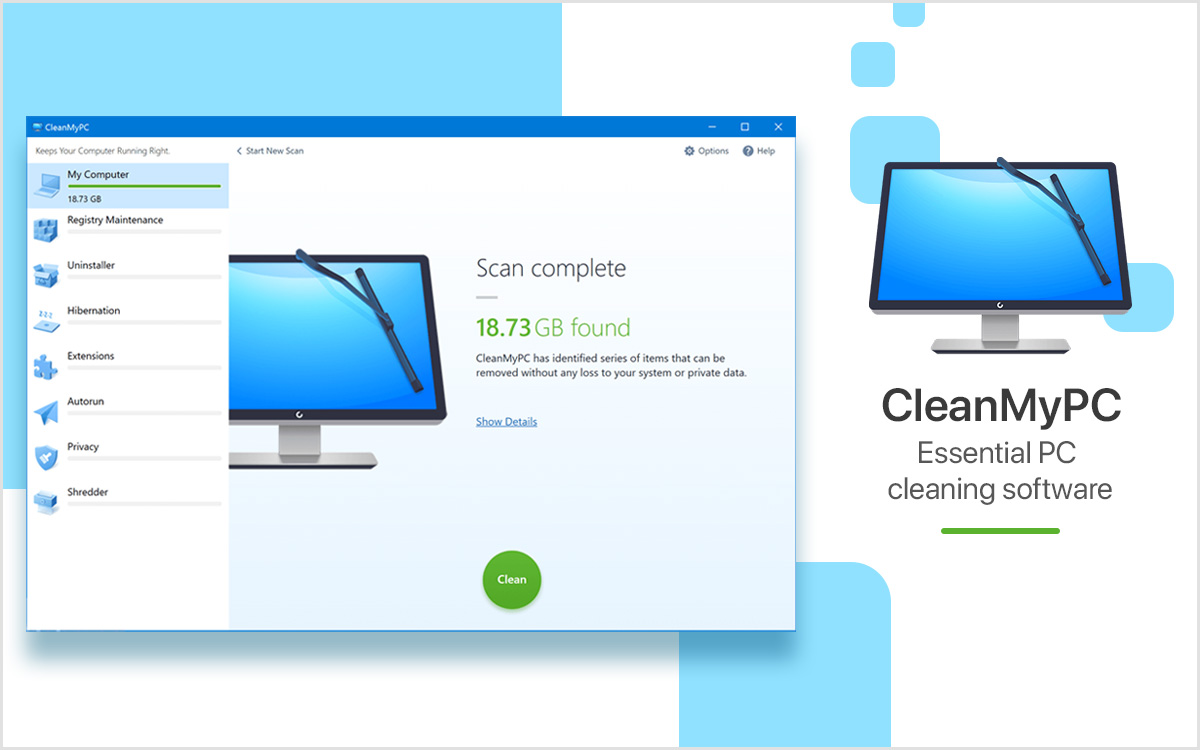 CleanMyPC is yet another intuitive and powerful replacement of CCleaner that can easily help you boost your computer's performance. It knows exactly where to identify useless files and not just that it further helps you get rid of them safely, something that you can infer from the screenshot above.  Here's a demonstration of its various features.
Notable Features
One-click computer cleanup
Remove unwanted extensions from the interface itself.
Registry maintenance.
File shredder.
Disable the system hibernation file and reclaim enormous disk space.
Removes all kinds of junk files.
Uninstall multiple applications completely.
Clean recycled data on external drives and USB sticks.
Add folders that you want to remove forms scan.
Cant fix disk fragments and lacks backup facility.
Pricing – Free. Then, $39.95
7. Wise Disk Cleaner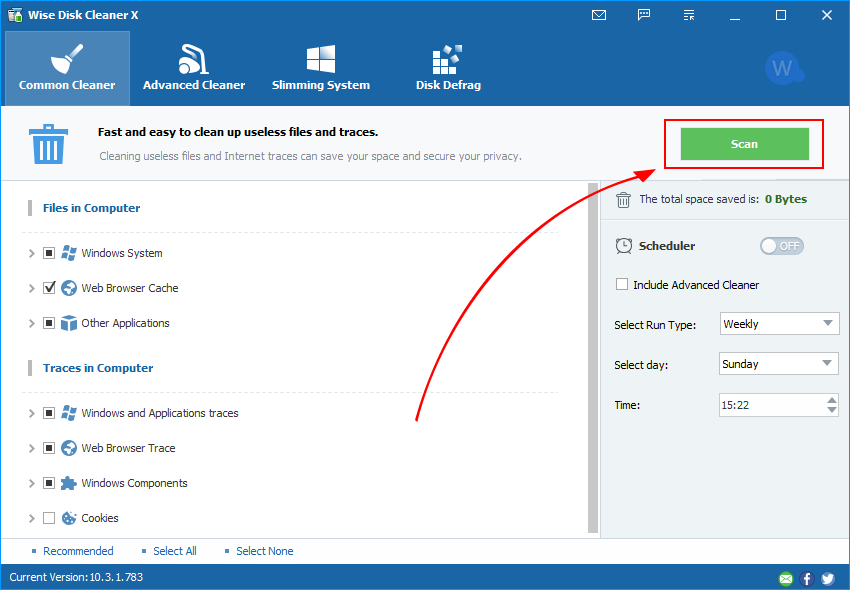 As a CCleaner alternative, Wise Disk Cleaner doesn't just optimize disk space but even put forth various options to clean your PC inside out and see a remarkable improvement in your computer's performance. It lets you choose specific locations or file types that you can select and clean.
Notable Features
Get rid of junk, temporary, and other useless files.
Clear internet histories, cookies, and cache files of all browsers on your PC
Add or remove files from scanning.
Disk defragment feature.
tells you how much space you will be able to save in real-time.
Schedule disk cleaning
Light and dark mode available for user interface.
Remove privacy traces.
It is portable.
Pricing – Free
8. Glary Utilities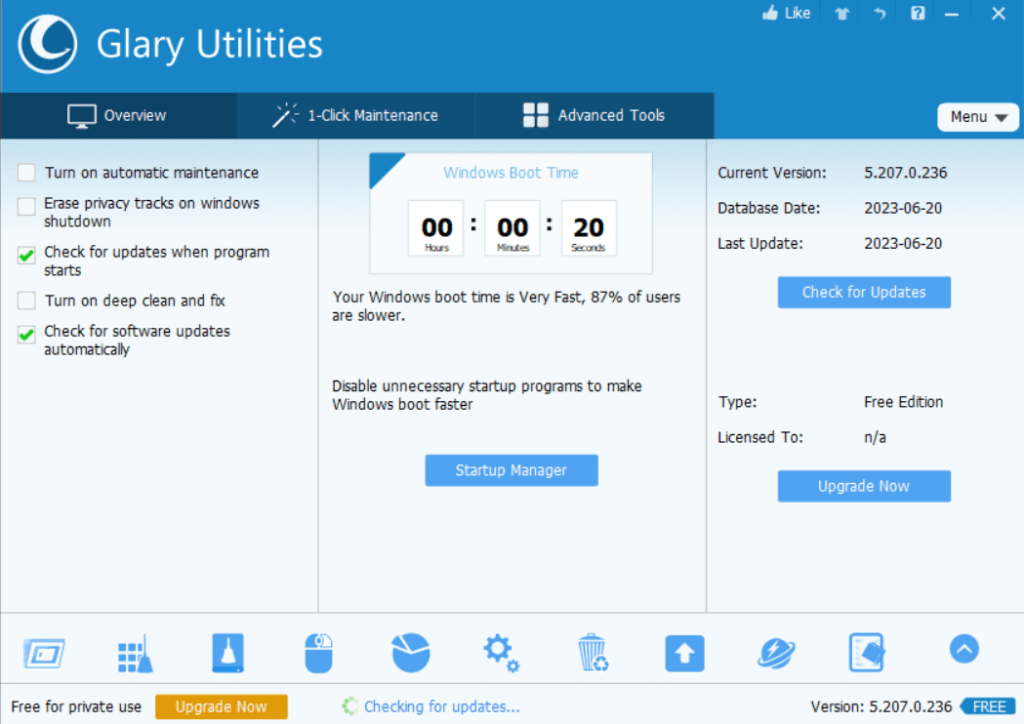 It comes from Glarysoft, makers of some of the best PC tools. It is an all-in-one application that helps automate cleaning and optimization tasks on your computer. Additionally, with this CCleaner alternative youget some other powerful tools like file recovery, software updater and malware remover.
Notable Features
One-click maintenance to remove freezes, crashes and several other issues.
30+ tools to troubleshoot variety of PC issues. .
Disable unnecessary startup items.
Software updater
Recover lost files.
Automatic maintenance requires a premium subscription.
Pricing –  Free. Then, a yearly subscription at $19.97
9. BleachBit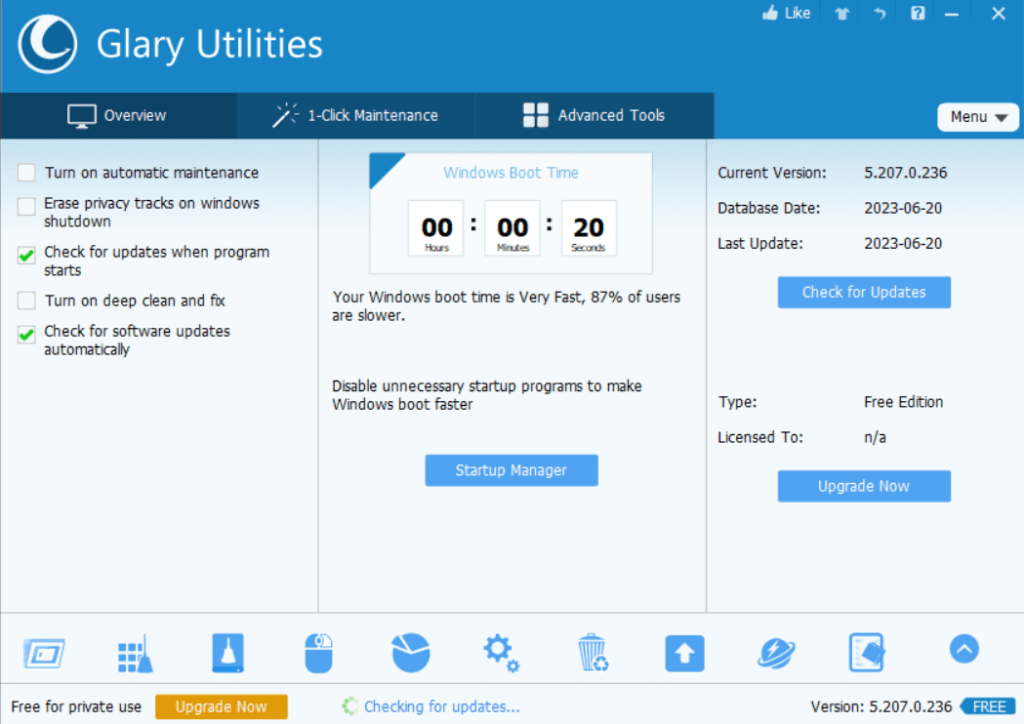 It is a free and open source PC cleaning and privacy tool that can be a great option if you are looking for a CCleaner replacement. It helps remove temporary files, clear cache data, unnecessary files and free up disk space. It also helps in enhancing performance by eliminating redundant data and clutter from PC.
Notable Features
Delete redundant system data.
Delete browser related data – cache, cookies, passwords, etc.
See how much space can be retrieved.
Whitelist items.
File shredder.
Simple operation.
Several customizable cleaning options.
Free and open source.
Overwrite free disk space and hide files that have been deleted.
Pricing – Free
10. PrivaZer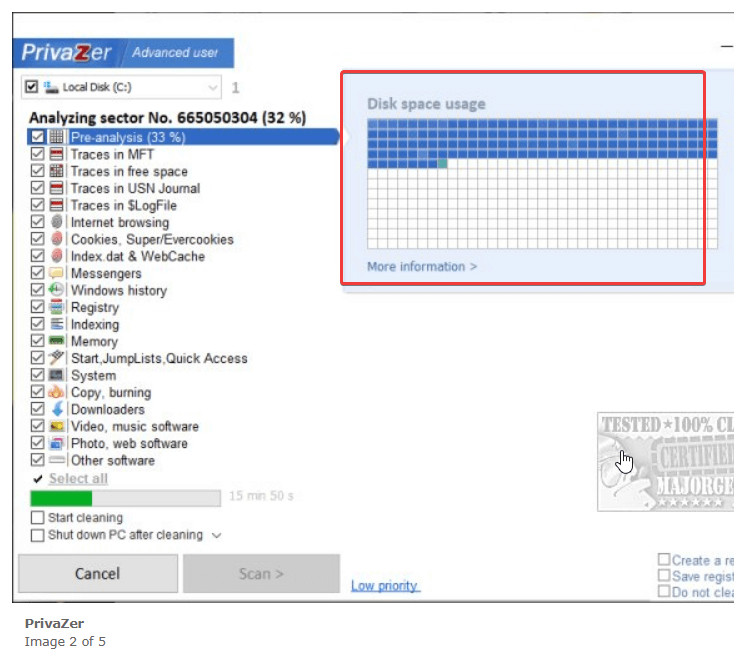 Privazer is a privacy-focused PC Windows cleaner that aims at protecting sensitive data. It does that by securely deleting online activity traces and even helps in recovering disk space. It uses advanced algorithms for cleaning and privacy protection.
Notable Features
Delete files securely
Comprehensive cleaning.
Privacy protection.
Optimize disk space.
Deep clean sensitive data.
User friendly interface.
Privacy and data protection.
Regularly updated.
Free version has limited features.
Pricing – Free
Which CCleaner Alternative Will You Choose?
CCleaner is a popular and effective tool for cleaning up your computer. However, there are also a number of alternatives that offer similar or better features. Some of these alternatives include Advanced System Optimizer, Avast Cleanup, Glary Utilities, and System Mechanic. These tools offer a wider range of features, such as registry cleaning, startup optimization, and privacy protection. They may also be more effective at cleaning up your computer and improving its performance.
Ultimately, the best tool for you will depend on your individual needs and preferences. If you are looking for a simple and easy-to-use tool, CCleaner is a good option. However, if you are looking for a more comprehensive tool with advanced features, you may want to consider one of the alternatives.
Frequently Asked Questions –
Q1. How to clean Windows 10 without CCleaner?
If you don't want to use a tool, you can use command-line commands like sfc /scannow or DISM /Online /Cleanup-Image /RestoreHealth. You can even uninstall applications that you don't need. But for more effective cleanup and optimization, you can take aid of CCleaner alternatives listed above.
Q2. Does Windows have something like CCleaner?
Windows has a built-in tool known as Disk Cleanup that can help in cleaning old system files, temporary files and various other redundant files.
Q3. Is CCleaner still safe?
Despite the backdoor attack back in 2017 that affected over 2.27 million 32-bit Windows computers, CCleaner is now safe and malware free.