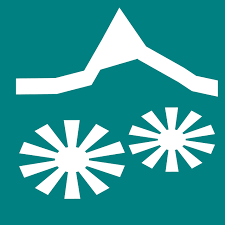 Pictureflect Photo Viewer
Does Pictureflect Photo Viewer for Windows 11/10 Elevate Your Photo Viewing Experience?
Looking for an image viewer that offers an immersive viewing experience while letting you customize the interface as per your needs? Pictureflect can be an option you can consider. In this Pictureflect Photo Viewer review, we have discussed its features, pros, cons, pricing, and other aspects.
Nowadays, a photo viewer goes beyond the simple act of opening and looking at photos.Taking a unique approach, Pictureflect Photo Viewer does much more to enhance your picture viewing experience. It is a minimalist photo viewer that comes packed with a variety of features and customization options. Justifying its name, it offers several features to review and refine your images. It supports all major image formats and even RAW formats such as DNG.
And, hey while you're at it, we'll discuss some of its best alternatives as well, you can check out this post to learn everything about them.
Why Choose Pictureflect?
Let's quickly have a look at some of the reasons why you should consider downloading Pictureflect as your default photo viewer for Windows PC –
Great viewing modes
Tweak slideshow settings, change the order of photos and even videos shown in the slideshow.
Variety of zoom options.
When exporting images you can resize, crop, and convert images even in bulk.
Easily manage metadata of photos. This also includes location links to Bing or Google Maps.
Support for a large number of file formats including RAW file formats.
Ability to remember settings for photos.
Select the viewport or clip to preview how your photos would look when you crop them to different sizes.
Hide the menu with a single click.
Several zoom-in and out options
Ability to remember zoom setting for all the images.
Several options for photo management.
Monitor changes in folders.
Several export options.
Basic editing options.
Some larger photos may take some time to load.
System Requirements
Windows Compatibility: Windows 10 version 17763.0 or higher.
File size: 7 MB
RAM Requirements: 4 GB and above
Architecture: x86, x64, Arm64
Pictureflect Photo Viewer (formerly known as Basic Photo Viewer) offers a minimalistic fullscreen interface for an immersive viewing experience.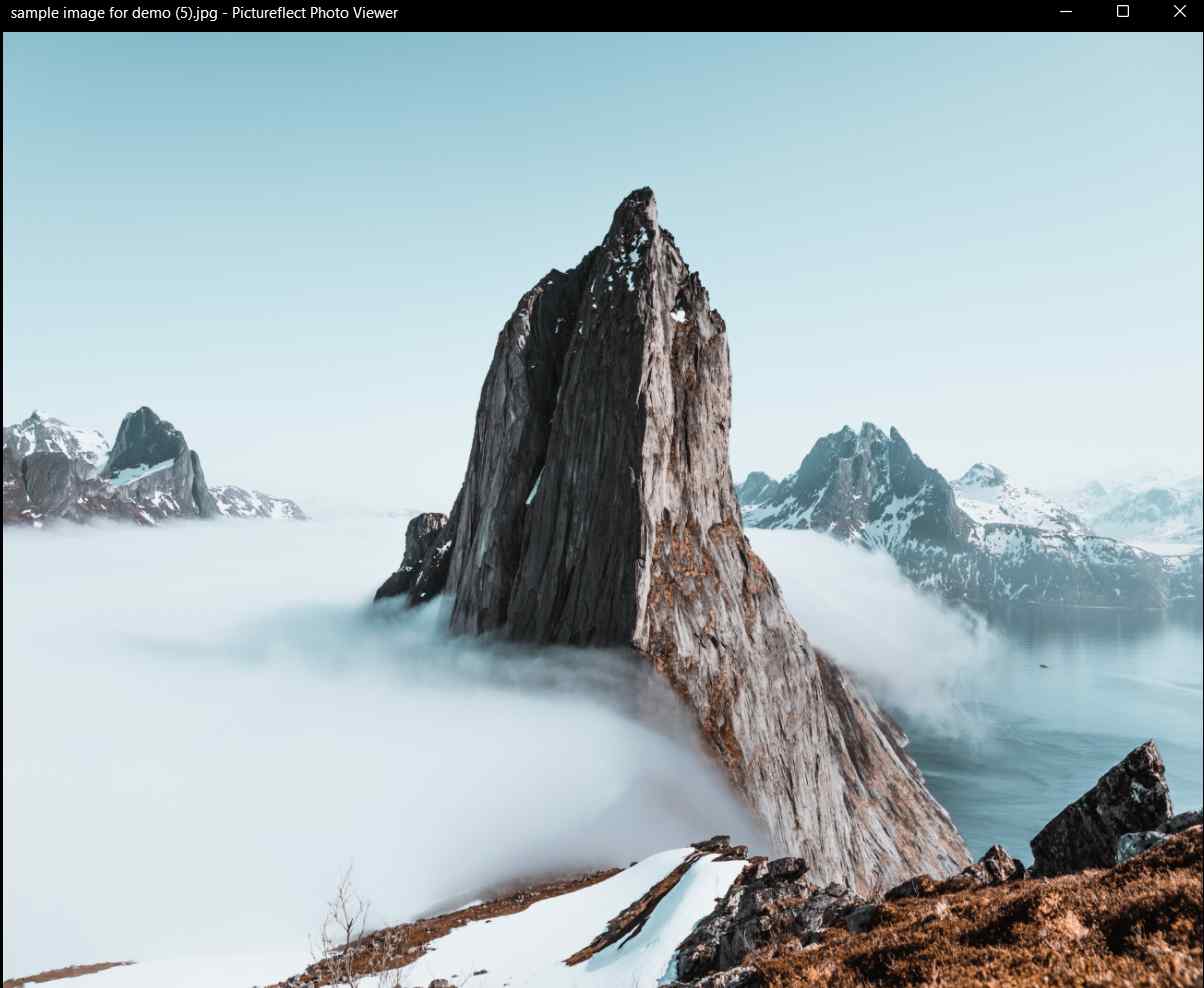 On the top of the interface, you can see the menu bar that has options for opening files and folders, changing the photo viewing modes, zooming options, and a variety of tools that enhances your overall experience. You can make the menu bar disappear by just clicking once which in turn renders a very minimal interface for a distraction-free view.
Talking about thetools, Picturflect offers several tools for viewing and editing as can be seen below. You can open tools by clicking on the tools icon from the top-right corner of the screen. Or, you can right-click on any area of the interface and the tools will appear.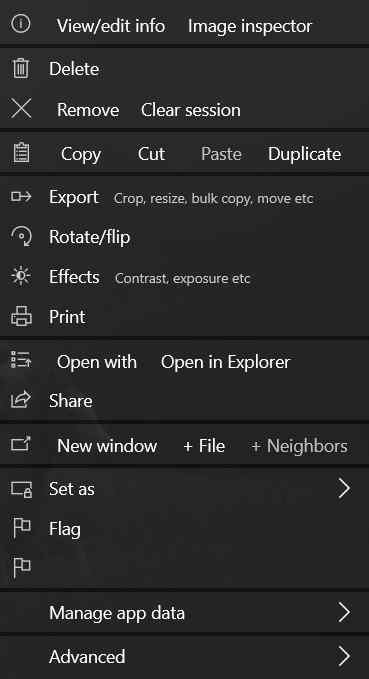 How To Use Pictureflect Photo Viewer
Step 1 – Download, run and install Pictureflect Photo Viewer. You will be directed to Microsoft Store for download.
Step 2 – The simplest way to open images in Pictureflect Photo Viewer is to open the location/s where your folder and files containing images are kept. Then drag and drop them into the interface.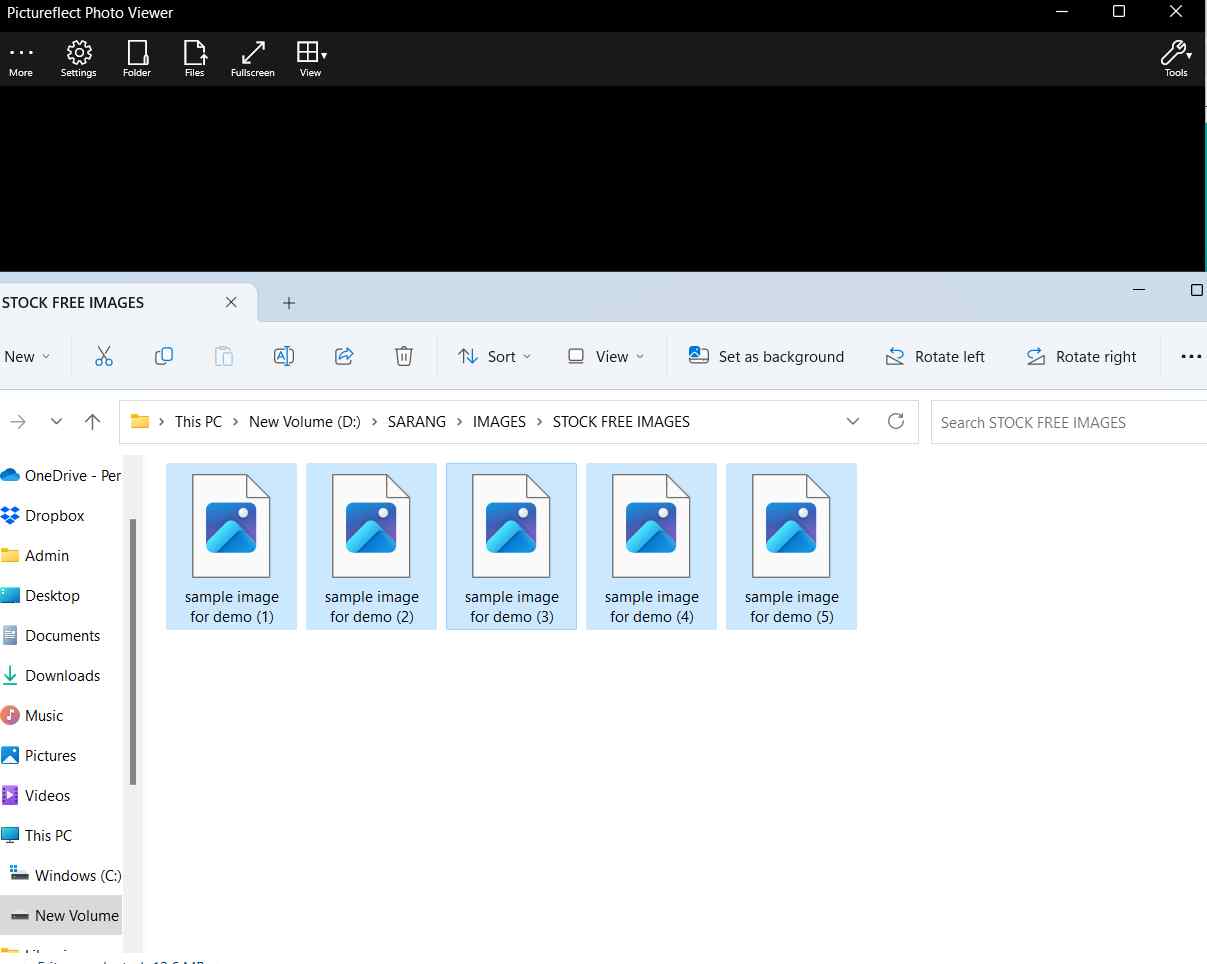 Step 3 – Want to start a timed slideshow of the images you have just dragged and dropped into the interface? First, click on the cog icon or Settings from the menu bar on the top. Then click on Slideshow which you will find just under Settings as shown below –
Step 4 – Change settings related to the slideshow.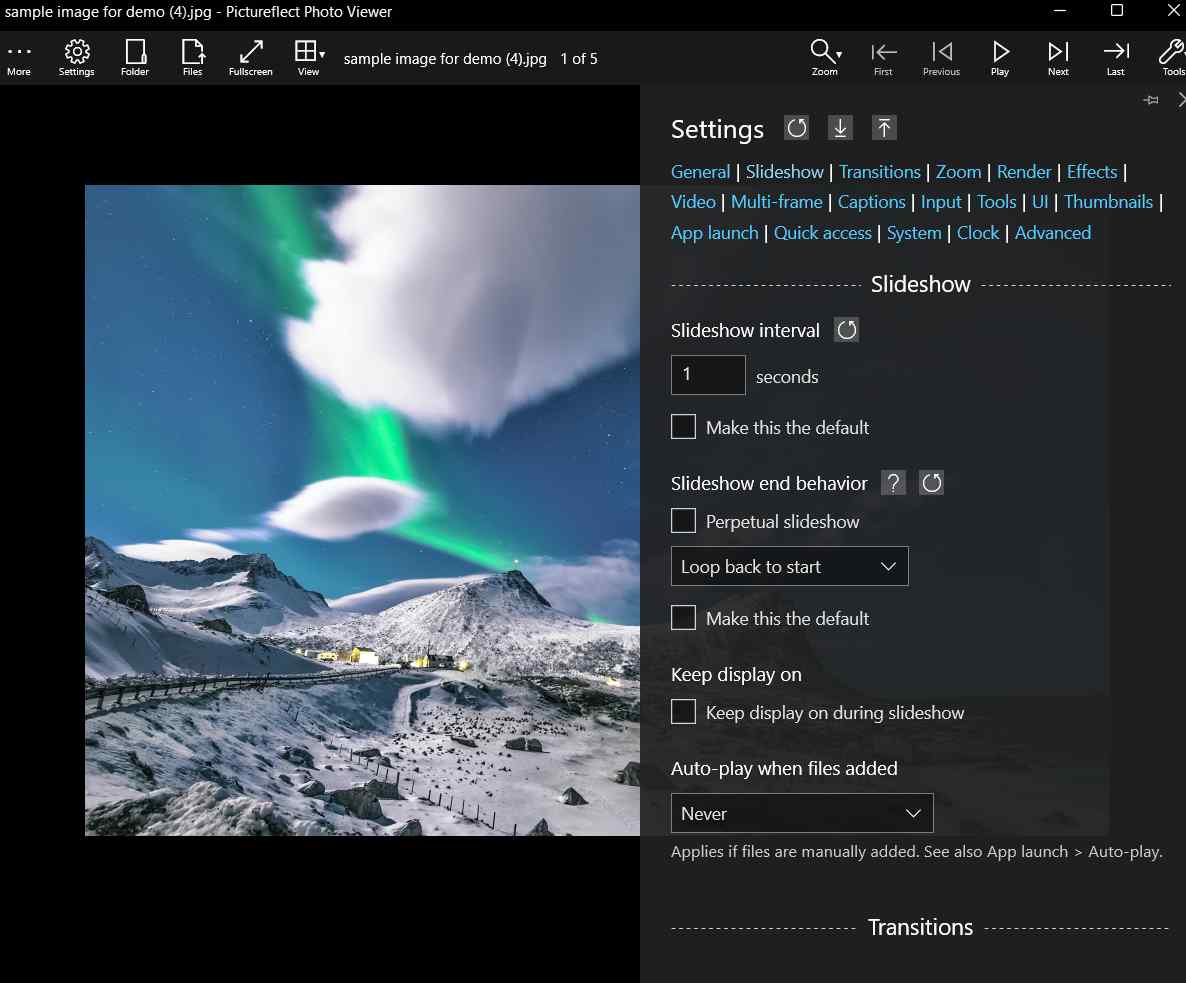 Step 5 – To Zoom in and out you can use your mouse scrolling wheel or you can change the Zoom in-out behavior by clicking on the Zoom icon in the menu bar.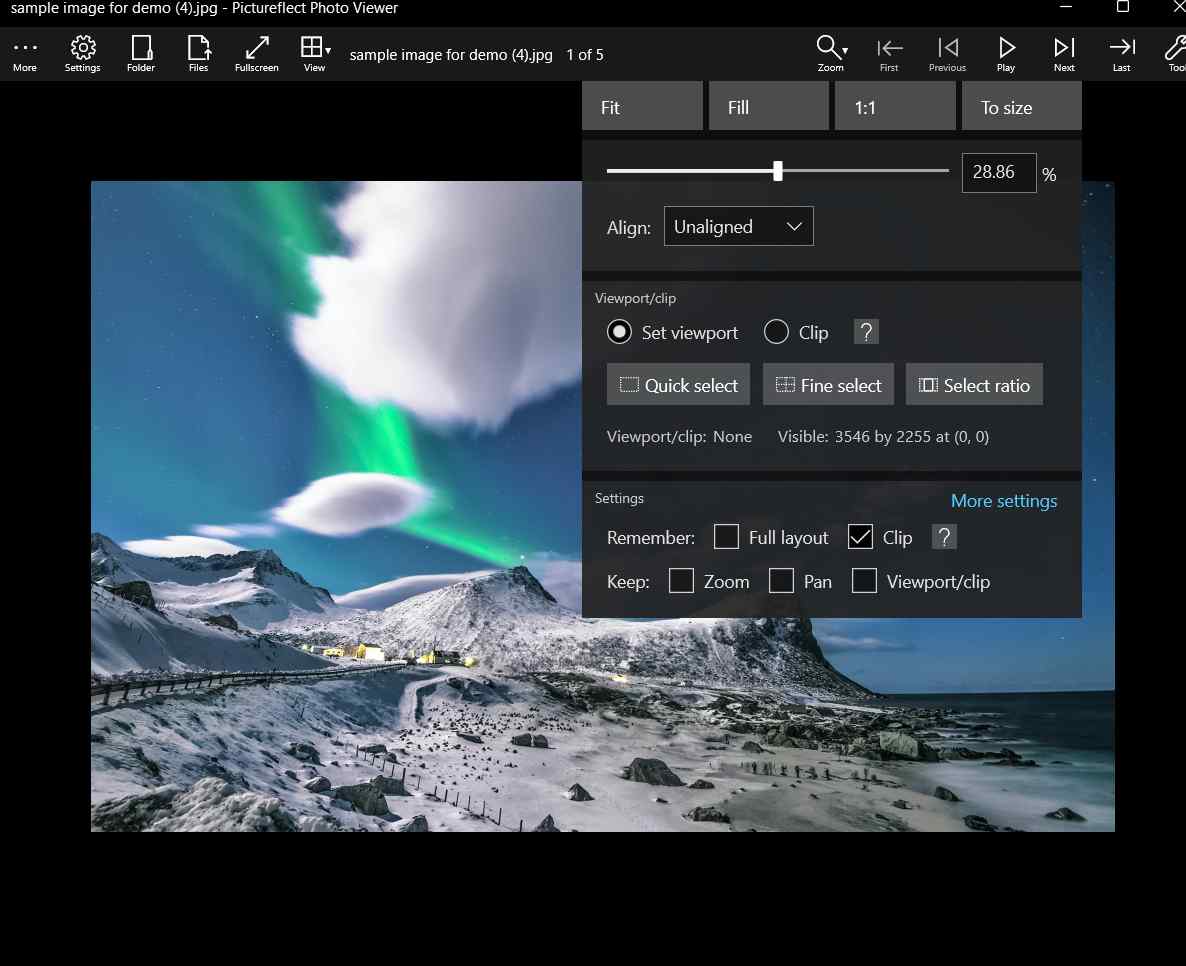 1. Multiple Ways To Open Pictures
There are multiple ways you can open photos in Pictureflect Photo Viewer. You can open files and folders directly from the menu or you can drag and drop photos from your file explorer into the interface. It also lets you keep a check on the changes (if any) that have been made to folder contents. You can include subfolders and add any additional folders and files to the selection.
2. Immersive Viewing Experience
When working with a photo viewer you wouldn't want any distractions and Pictureflect Photo Viewer ensures the same kind of experience. When viewing photos in Pictureflect, no popups would appear when you hover your mouse. You can work in full screen and hide the menu with a single click. All this while maintaining the original resolution of your photos.
3. Support for Many Image Formats
The picture viewer supports all major image formats as well as animated image formats such as GIF images. It supports JPEG, WebP, TIFF, JPEG-XR, ICO, BMP, HEIC, CUR, and DDS image formats. To access WebP and HEIC images, you would need Windows 10 October 2018 or later update. Talking of HEIC images, if you are looking for a more feature-rich HEIC Photo Viewer to watch photos taken from iPhone, check out this photo viewer.
4. Several Zoom Options
While you browse your pictures, you would certainly want to zoom in and out for focusing well on important areas of your image. Pictureflect offers several options for zooming or selecting the visible area. To begin with, you can zoom in and out using the mouse scrolling wheel, text box, or slider. Then you can zoom in to fit, fill or assign a ratio of 1:1. One thing that we liked is the fact you can choose to remember the zoom for each photo which makes it easy when you are comparing photos.
5. View/ Edit Metadata
When you view your photos, there are moments when knowing metadata becomes crucial. You might want to learn about important aspects such as exposure details, timestamps, location information, and more.In some instances, you might also want to export or even edit the metadata. Pictureflect makes this task easy for you. If you wish to change the metadata of multiple images, you will have to subscribe to a premium version.
6. Transition Effects
When it comes to applying transitions, Pictureflect offers several transition effects. But, on the downside, you can only access most of them if you have purchased the pro version. From tweaking the colors of your photos, adding filters, and textures to even loading effects, Pictureflect has a lot to offer. However, the free version only lets you tweak the contrast and exposure. Another great aspect of Pictureflect photo viewer is that it lets you remember effects or keep effects for each of your photos.
7. Image Inspector
This feature is available in the pro variant. The image inspector contains an eye dropper with which you can pick colors from an image. Next, it also comes with an image histogram. It also lets you pick coordinates from images as well.
Have a glance at the "Changelog" and you will see that several updates have been released over the years in Pictureflect Photo Viewer ever since its initial release back in 2015. For instance, in a recent update, the developers added the ability to adjust the maximum image scale in the thumbnail view. Then, in another update, an option was added to order photos by aspect ratio.
To check for such updates, click on More from the top left corner and then click on Check for updates.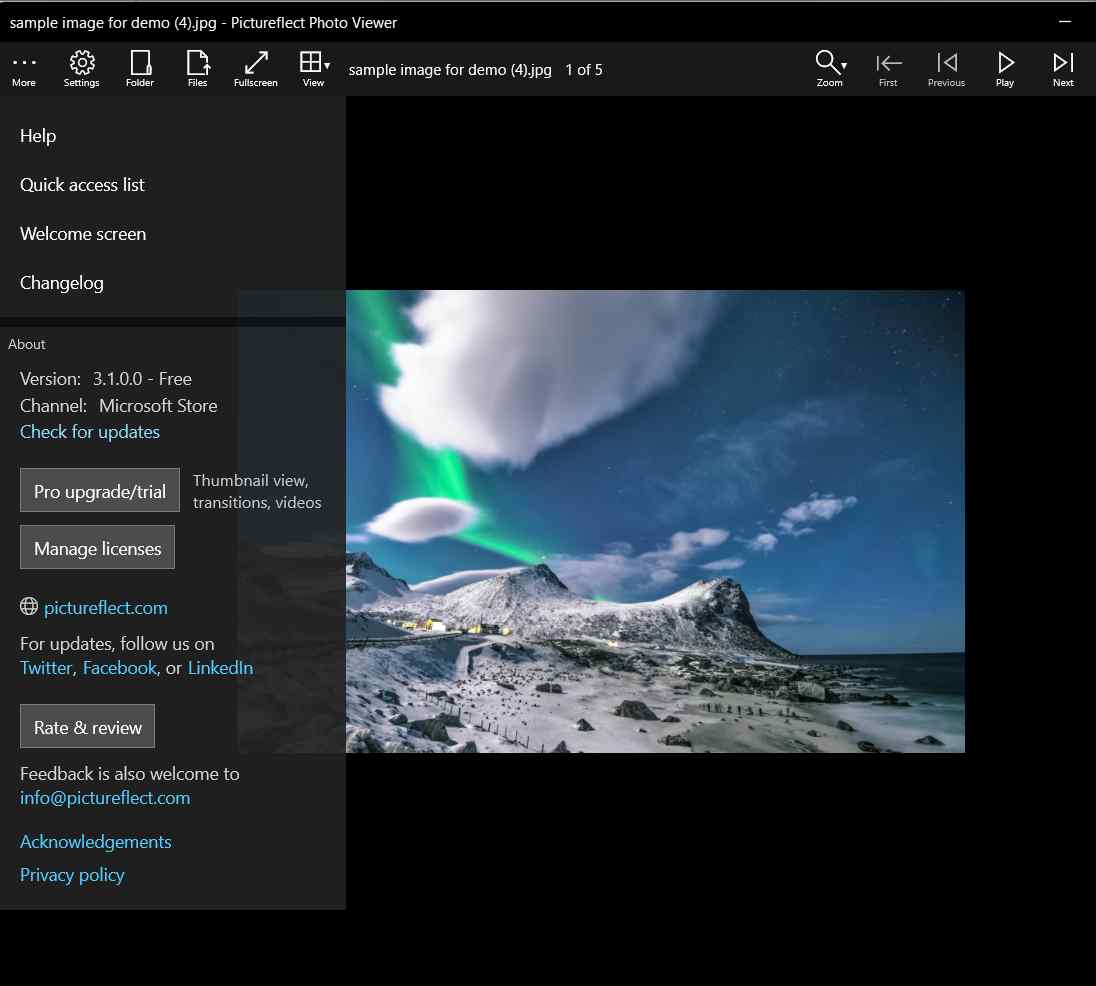 Pictureflect photo viewer is available in two variants – the free and the pro version. Initially, you can download Picturflect Photo Viewer for free. The completely free version restricts you to certain features which are only accessible in the pro variant. it is priced at $3.99 in the US and Western Europe but you can get it for a much cheaper price in other parts of the world.
That being said, you can still access all the features of this photo viewer for free for 48 hours. Here's how you can get access to all features for 48 hours –
Step 1 – Click on the Tools dropdown from the top right corner of the interface (Make menu bar visible first)
Step 2 – Click on Image Inspector.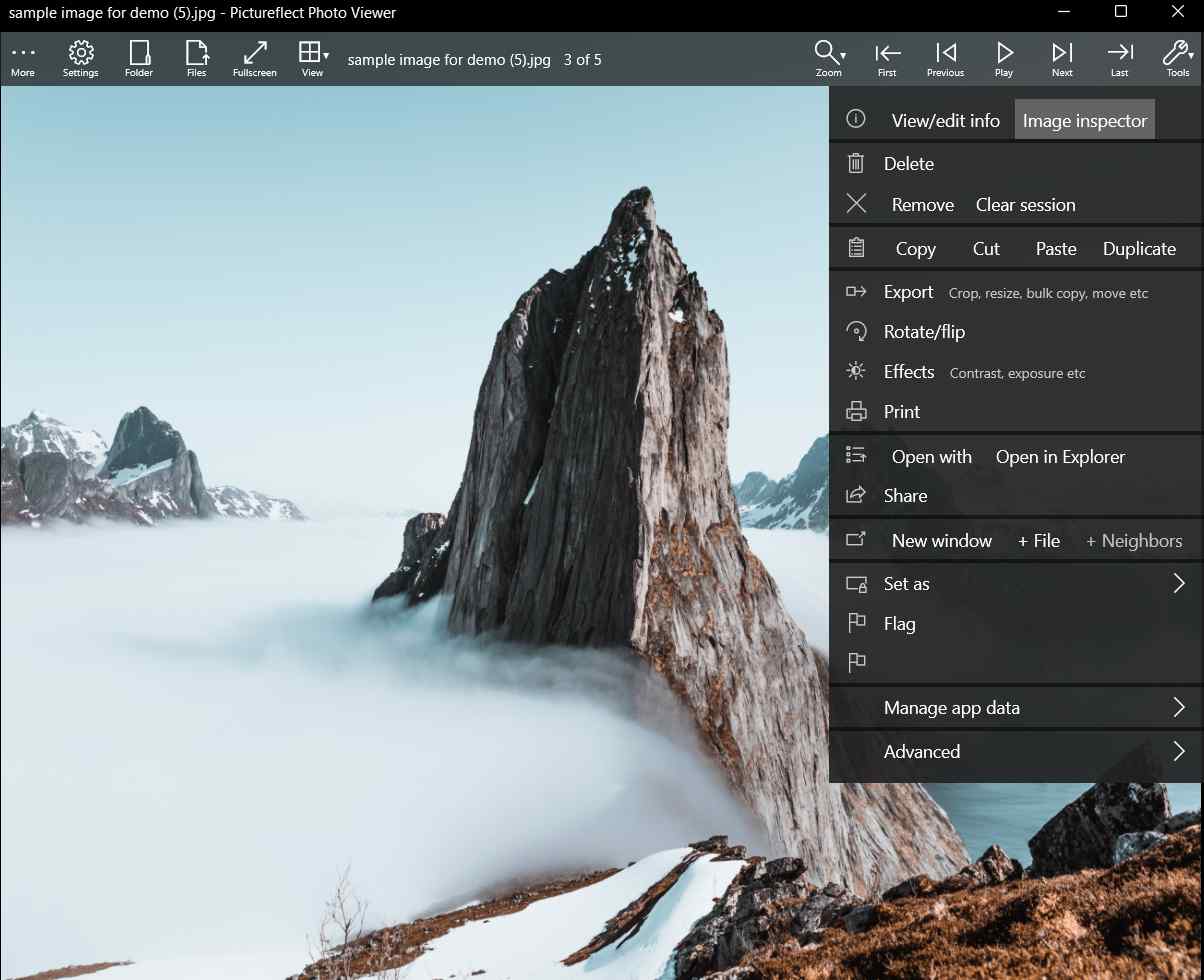 Step 3 – Under Pro version, click on Free trial for 48 hours and click on Yes when the confirmation panel occurs.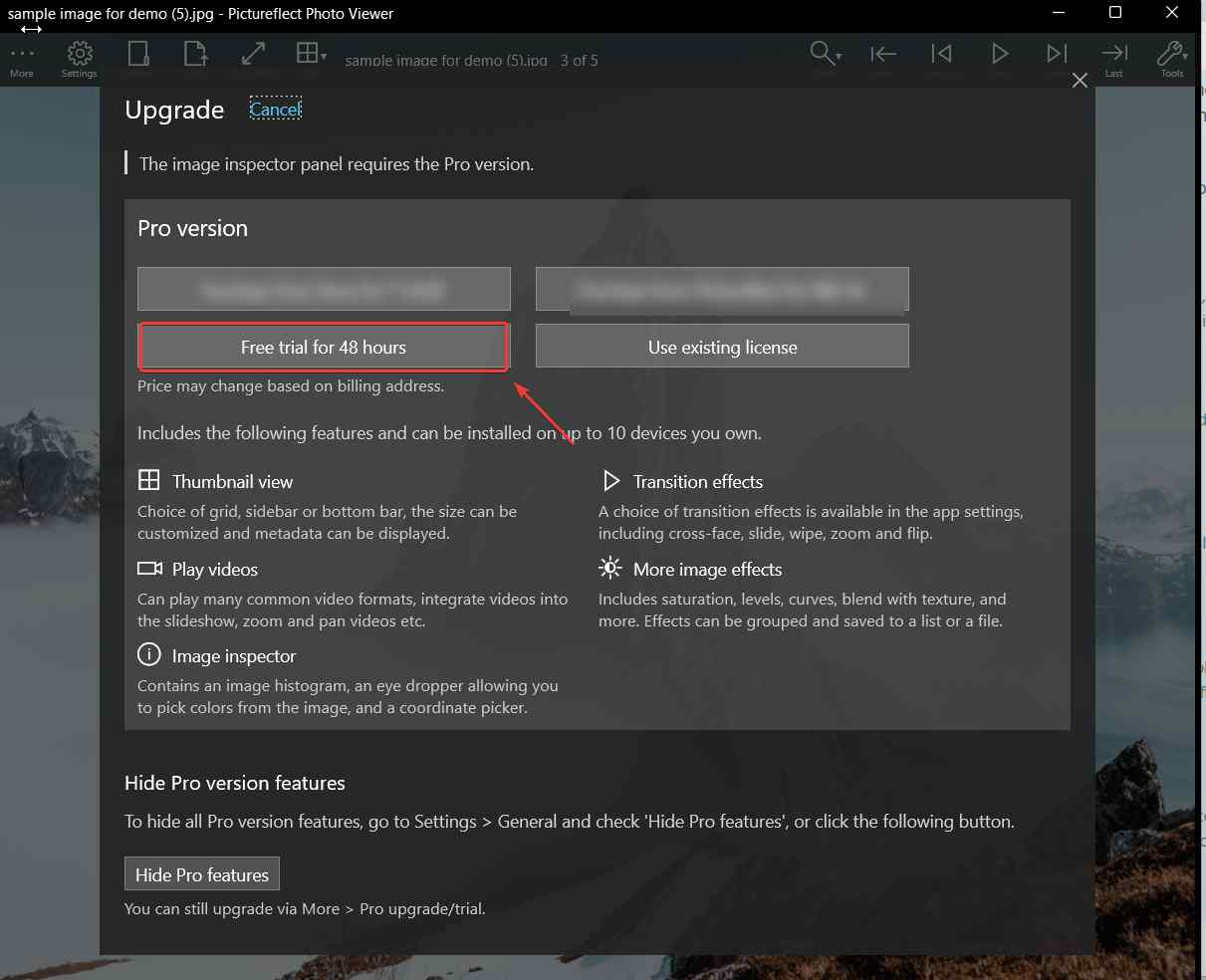 What Does The Pro Version Offer?
When you download the Pictureflect Pro version, here are the kind of features you can expect –
Access to All Transition Effects – Such as slide, cross-face, flip and zoom not available in the free version.
Thumbnail View – Choice of the sidebar, grid, and bottom bar. You can customize the thumbnail size and also have the option to show photo metadata with the thumbnail.
A multitude of Image Effects – You can play with saturation, color curves, and levels, blend with textures and do much more. Not just that, you can even group effects and save them to a file or list.
Play Videos – Play videos across major file formats, integrate them into a slideshow (autoplay them with images), zoom, clip, pan, and rotate video. Export frames.
Edit Metadata of Multiple Images – Edit the metadata of multiple images which is not possible with the free version.
Besides this, most transition effects are available in the pro version only. Hence, you should definitely consider switching to the paid version of the photo viewer tool for Windows.
To begin with you can refer to the help guide that you can access from the interface itself. Click on the More button and then click on Help.  
But in case you still have issues related to the functionality of the software or license issues, you can reach out to the customer support team. And, while there is no live chat option to connect with the customer support team, you can mail in your queries, doubts, and complaints at info@pictureflect.com. The customer support team is prompt in resolving queries. You can always attach a screenshot of the issue (if possible).
Remembering Cherished moments Was Never This Enjoyable!
Give and take a few ups and downs, Pictureflect is a decent photo viewer for Windows PC that can act as a great alternative to the Windows native Photos app. Do try it out and share your experience in the comments section below. If you have any personal favorite photo viewer that you think can compete with Pictureflect, do let us know in the comments section below.
FAQs –
Q1. What is Pictureflect Photo Viewer?
It is an immersive photo viewer that lets users manage and view photos. It also offers several options with which you can zoom into images, change slideshow settings, crop and rotate images, add effects, and do various others. It even lets you perform basic editing options.
Q2. Where can I buy the Pro version of Pictureflect?
Click on the More button from the left and click on Pro/ upgrade trial. You can then purchase the pro variant for up to 10 devices.  
Q3. What is the fastest image viewer?
Pictureflect Image Viewer is one of the fastest image viewers. If you are looking for alternatives, you can consider XnView MP, FastStone Image Viewer, IrfanView, and many others.
Q4. What is the lightest Photo Viewer for Windows 10?
Pictureflect is a lightweight photo viewer for Windows, weighing just a little over 43 MB. However, if you are looking for a lighter photo viewer, you can try out HoneyView.
Q5. Why is Photo Viewer so slow?
Large file size, software bugs, disk defragmentation, and many others could be the reason why your Photo Viewer has become slow.