If you need more than just a basic photo viewer and require advanced capabilities for  analyzing, managing, and editing your photos, a robust and efficient image-viewing tool is essential. Here is our roundup of some of the best photo viewers for Windows 10 PC.
Top Software Reviews
Rating
1.

ImageGlass

2.

Pictureflect Photo Viewer

3.

123 Photo Viewer

4.

XnView

5.

Apowersoft Photo Viewer

6.

FastStone Image Viewer

7.

Honeyview from Bandisoft

8.

Digikam

9.

Movavi Photo Editor

10.

IrfanView
A traditional photo viewer for Windows is a tool that can help you display pictures located on your computer. But, Modern photo viewer tools can do more than that! They are capable of playing tons of formats – both static and animated. They are backed with the power of AI to perform functions like tagging people or performing edits on your photos.
We have enlisted some of the best free (and paid) photo viewers with which you can do all the above apart from performing basic tasks like cut, copy, paste, delete and even batch convert images easily.
Why Choose A Third-Party Photo Viewer Over Microsoft Photos?
Wondering why would you look for another photo viewer for your Windows PC when you already have Microsoft Photos? At the outset, the intent of writing this post is not to demean Microsoft Photos. It is indeed a decent photo viewer.  However, it lacks some advanced features available in some of the best third-party photo viewers for Windows 10. For example, it lacks batch conversion capabilities, the ability to compare two or more photos,lacks file format compatibility and more.
Writer's Note:
With the native Photos app, it might not be possible for you to identify and remove duplicates. In that case, you can choose from some of the best duplicate photo remover tools. Also, if you frequently click photos using an iOS device and have several HEIC photos, you can opt for a feature-rich HEIC converter for your Windows PC.
Best Photo Viewer for Windows 11/10/8.1/8/7
We have taken into consideration factors such as performance, features, user-friendliness, and compatibility to ensure that you have a seamless and immersive visual experience. Each photo viewer on this list has been thoroughly evaluated and selected based on its ability to meet the diverse needs of users.
1. ImageGlass
Windows Compatability – Windows 11/10/8/7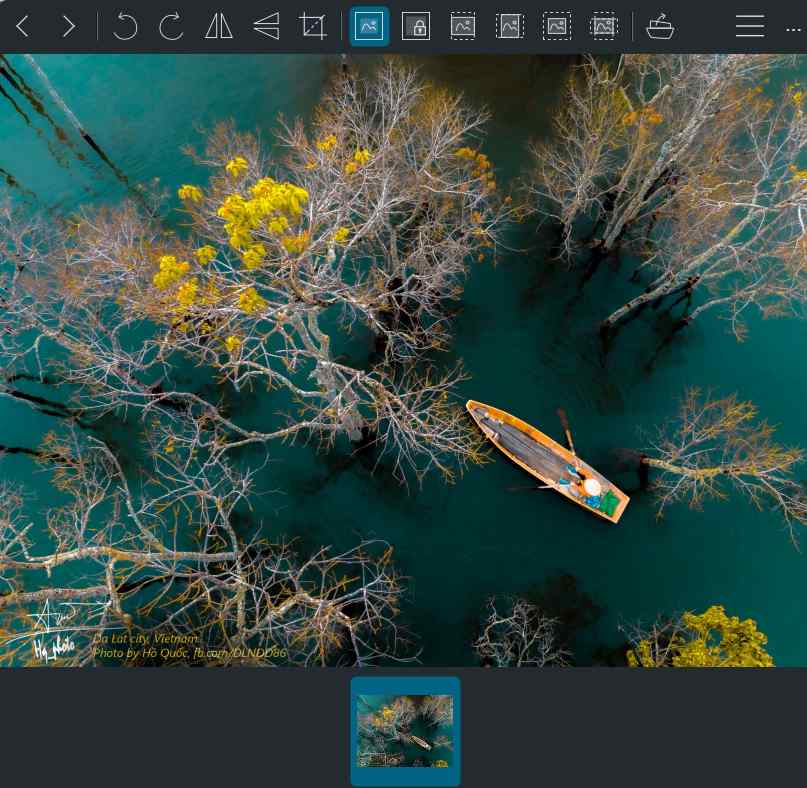 It is an open-source photo viewer for Windows computers that has a sleek, modern, and customizable user interface. Talking of customizability it comes loaded with various themes. It is lightweight and doesn't consume much of your computer's resources. It displays all the information pertaining to your photos in the title bar.
Notable Features
Minimal & modern user interface
Color picker and crop image.
Comes with an Exif editing tool.
Many options to zoom and scale.
Free and open source
Support for over 80 formats like JPEG, SVG, HEIC, GIF, just to name a few.
ImageGlass's interface can be made short or big by scrolling.
Lacks some basic editing features.
Pricing – Free
2. Pictureflect Photo Viewer
Windows Compatibility – Windows 11/10/8.1/8/7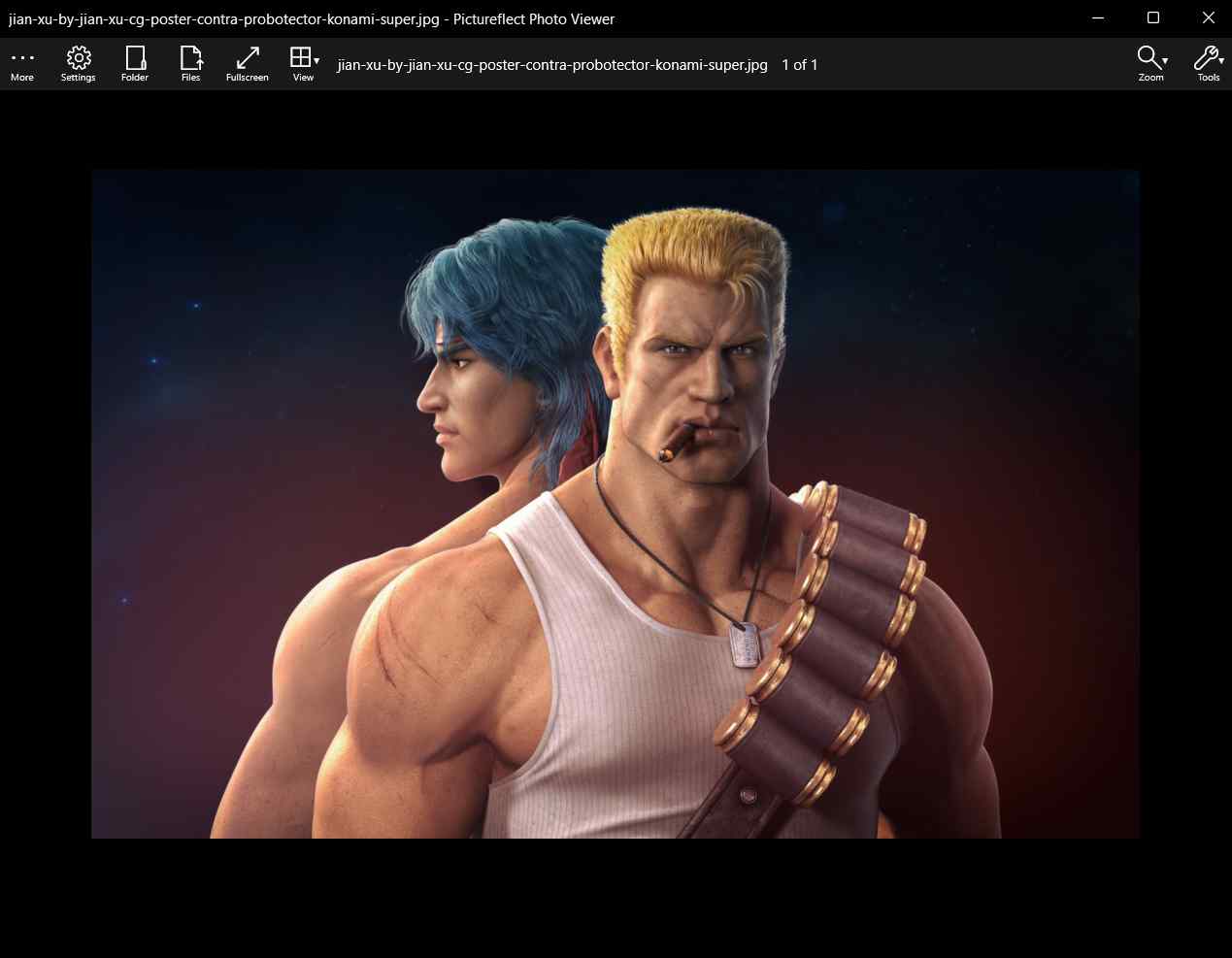 Pictureflect Photo Viewer previously known as Basic Photo Viewer is an image viewing app for Windows 10/11 that offers a minimalist fullscreen image viewer and various customization options. It is built on the UWP framework. It offers support for various formats like PNG, JPEG, WebP, RAW, and much more. It can even play GIFs with utmost ease.
Notable Features
Several zoom options are available.
Support all major picture file formats, including HEIC and RAW images. Although HEIC and WebP may require Windows 10 October 2018 update and later.
Batch resize, crop, convert and rotate images.
View and edit metadata.
Optionally remember the zoom for each photo for hassle-free comparison.
Hide the menu with a single click and process images in full screen.
Change brightness, contrast and add several other filters (available in pro).
Some bigger photos may take some time to load.
Pricing – Free version is available. Then, $3.99
3. 123 Photo Viewer
Windows Compatibility – Windows 11/10/8.1/8/7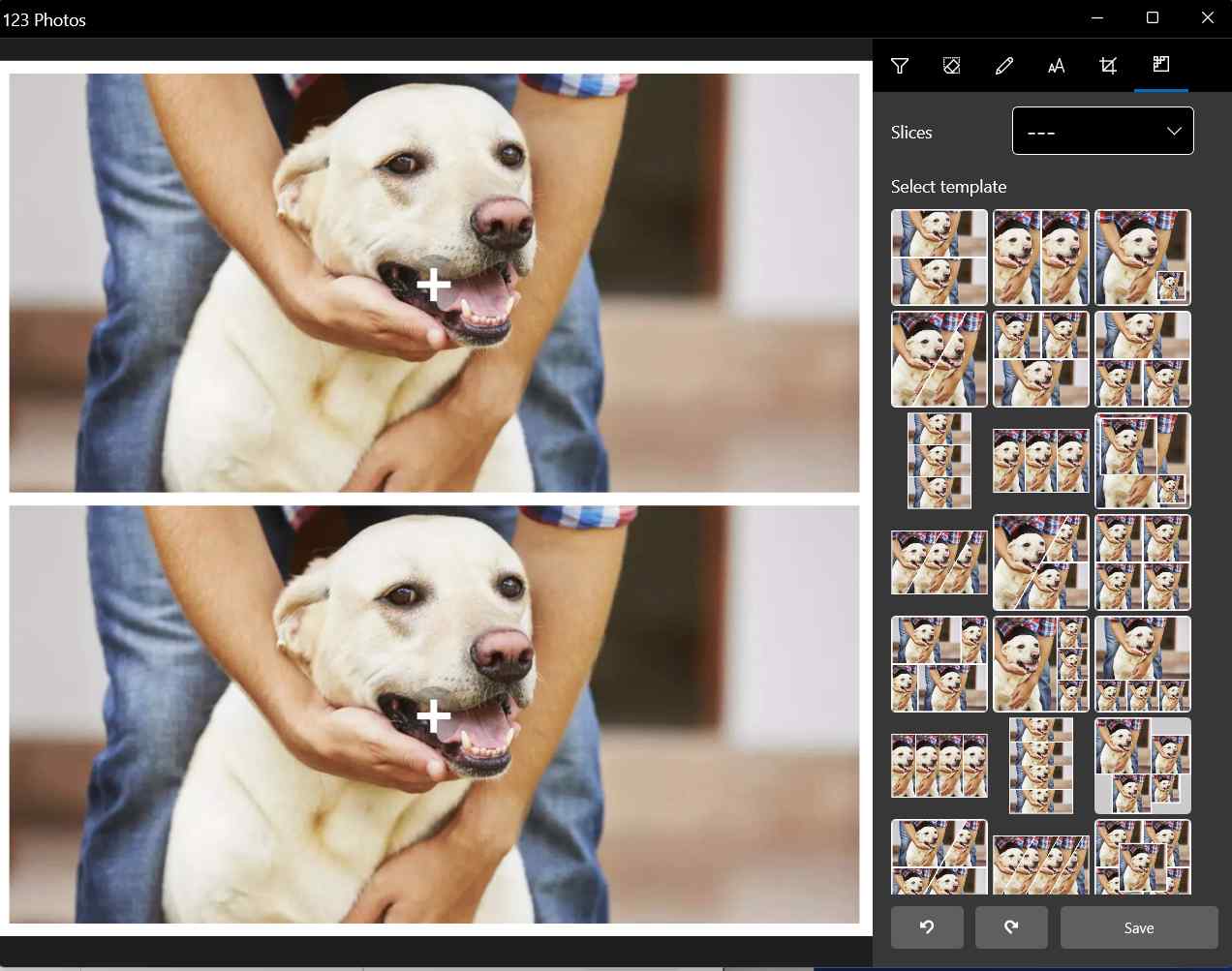 It is one of the highest-rated photo viewers for Windows on the Microsoft Store for several reasons. To begin with, apart from letting you watch both static and animated photos, it even lets you perform basic editing functions as well. If you are a photographer, you can also protect your work by watermarking it, right from within the viewer.  It is trusted by over 2 million users across the globe.
Notable Features
Five kinds of mosaic are supported and you can adjust their size and strength.
Batch processing – format conversion, change resolution, renaming, and watermarking
Add text to images
Several options to crop photos – you can change width, height, orientation, show pixels, etc.
Photo combiner with several templates
Compare original and edited images.
Support for 61 file formats and constant updates are released.
Sometimes photo viewer closes automatically when you open some images.
Pricing – Free for 1st month. Then, $0.99/ month
4. XnView
Windows Compatibility – Windows 11/10/8.1/8/7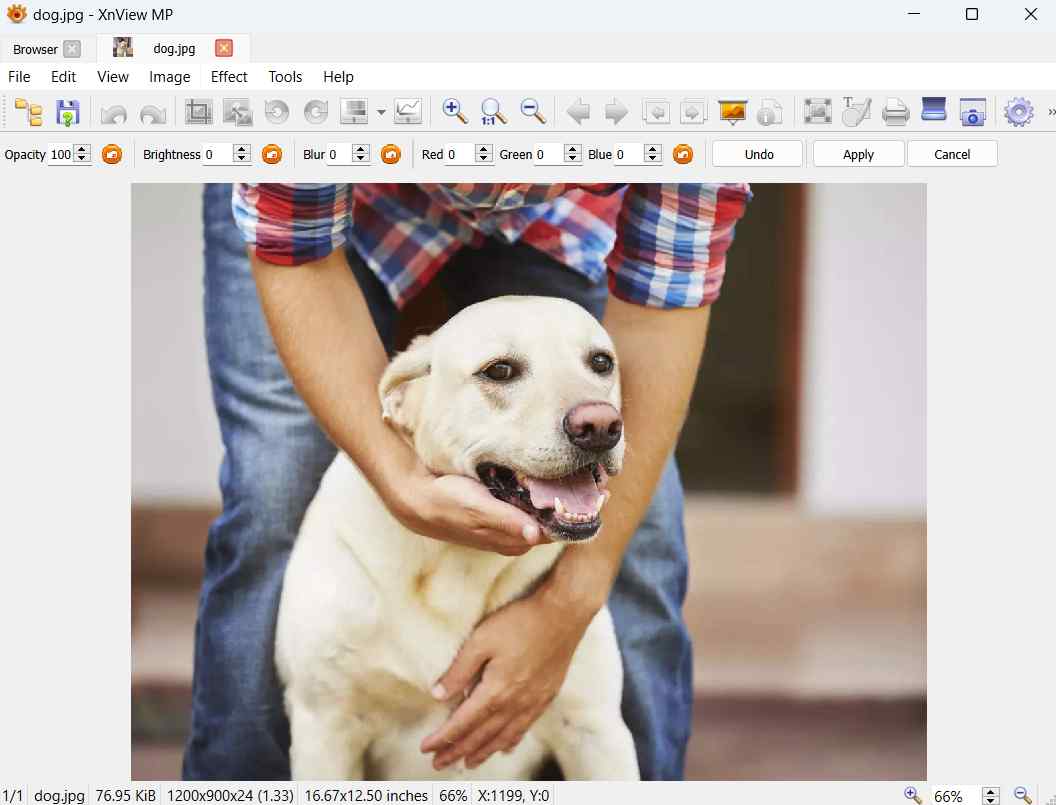 XnView is one of the best free image viewers for Windows that lets you  easily view and edit photos. It supports all major file formats including RAW files that come straight from DSLR cameras. It also makes it easier for you to manage photos and lets you view and edit metadata (IPTC and XMP).
Notable Features
Annotate and draw shapes on photos.
Lossless rotation and crop.
Batch conversion module
Tabbed browsing.
File tree structure to easily access photos.
Support for over 500 image formats.
You can apply several effects and filters.
Dated user interface and drag and drop not supported.
Pricing – Free
5. Apowersoft Photo Viewer
Windows Compatibility – Windows 11/10/8.1/8/7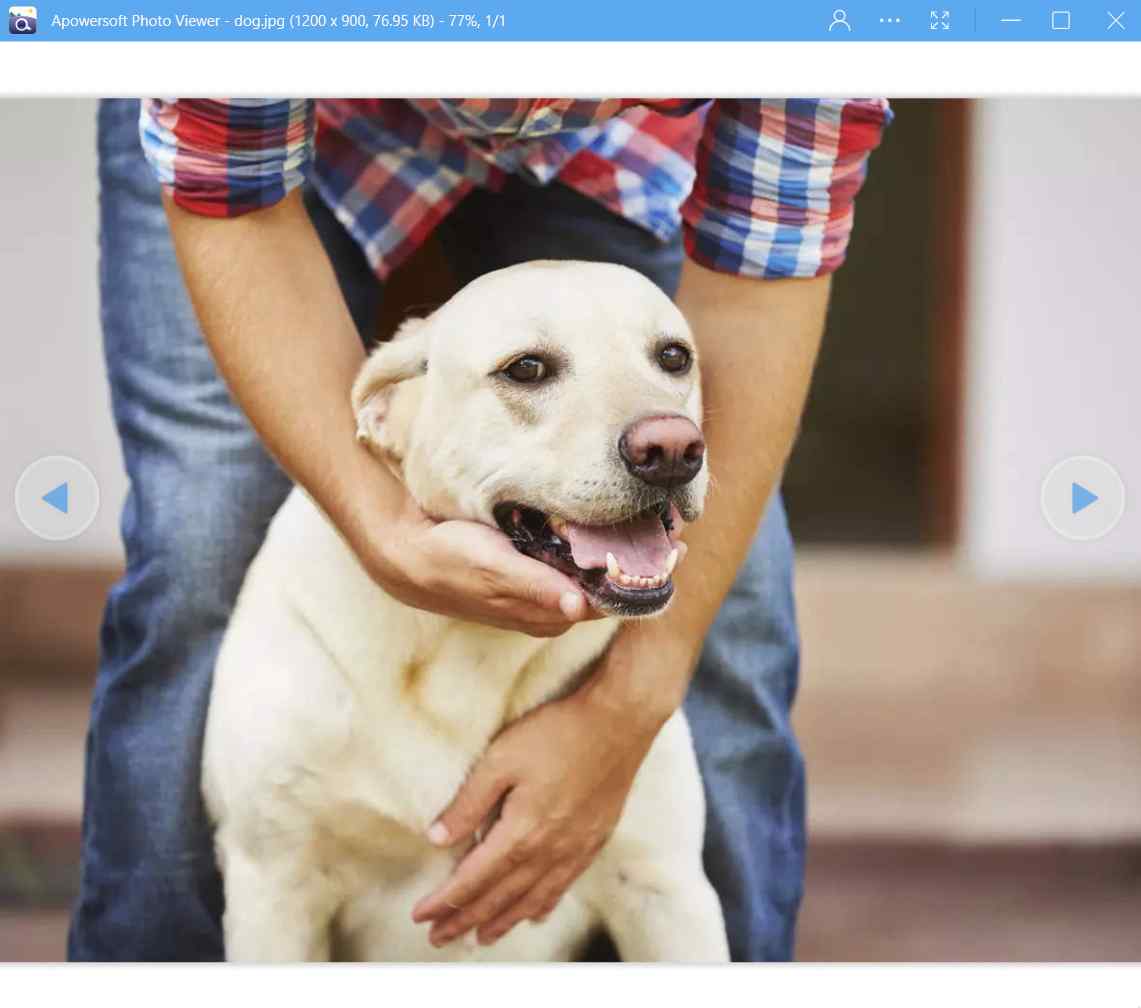 Apowersoft is a decent but very basic photo viewer for Windows 10/ 11 computers. It even poses no problems if you are willing to play Apple's HEIC format. The photo viewer lets you open images by using  drag and drop functionality as well as by going to the drive location and then opening the photos directly. It comes with efficient computing technology that lets you view images as soon as you click on them.
Notable Features
Easy zoom in and zoom out.
Batch process photos – change format, rename, and resize.
Doubles as a PDF reader. For a more efficient PDF reader, check this post out.
One-click screenshot feature and also easy annotation of screenshots.
Support for all major image formats.
Easily view long images in a hassle-free manner.
Less burden on CPU resources especially on low-end PCs.
Lacks basic editing functions.
Pricing – Free. The monthly plan starts from $29.95
6. FastStone Image Viewer
Windows Compatibility – Windows 11/10/8.1/8/7/Vista/XP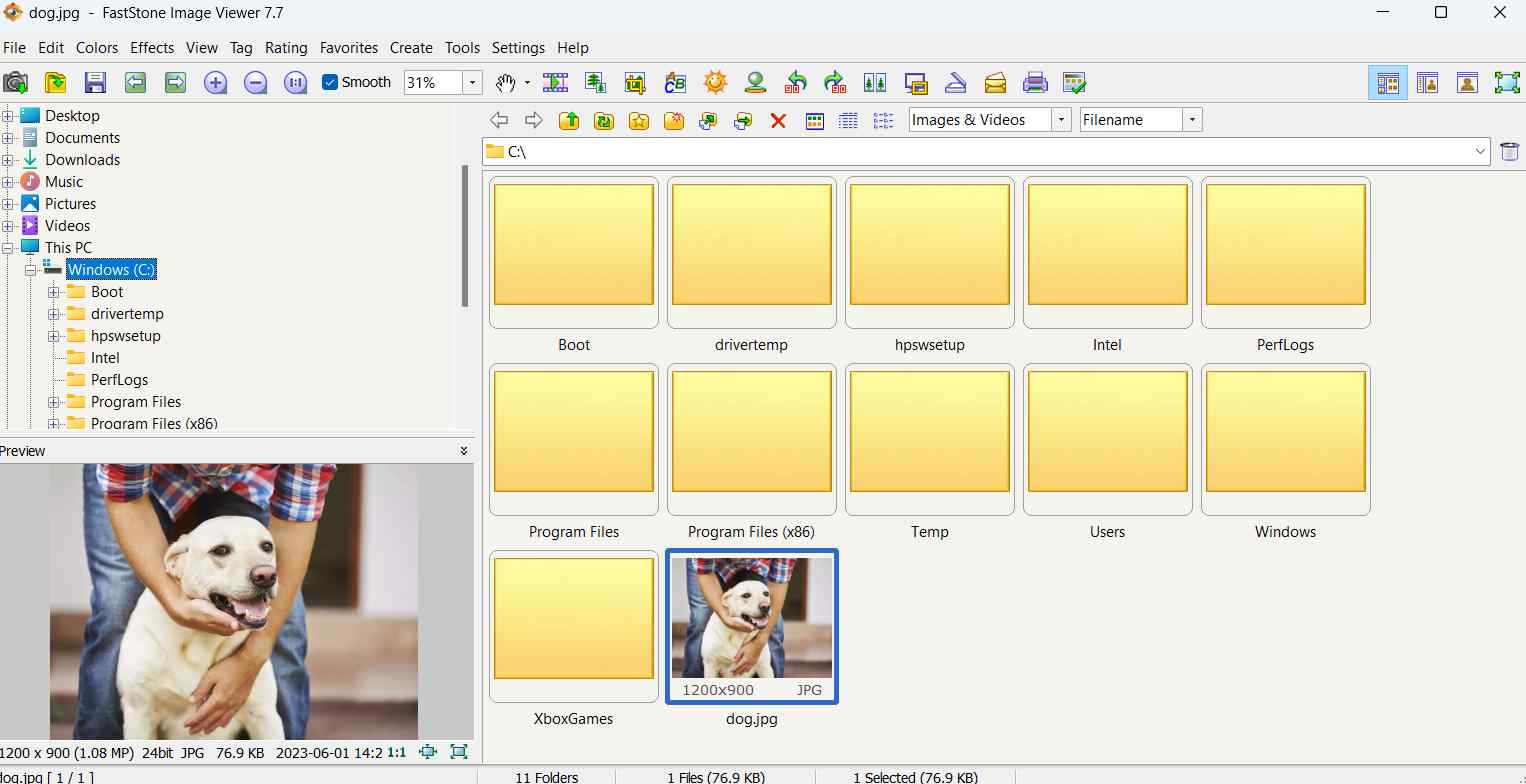 Keeping aside the dated interface, FastStone Image Viewer gives you a crystal clear view of images, thanks to its full-screen viewer. And hence, considered as  one of the best free photo viewers for Windows 10/ 11 computers. The full-screen view provides quick access to EXIF information and a thumbnail browser. For the latter, you can touch the edge of the screen.
Notable Features
Ability to batch convert and rename photos.
Adjust the color, and lighting of photos and add a variety of effects.
Compare multiple images.
Rotate right/ left and save (lossless for JPEG images).
Large variety of modes to navigate photos.
Support for various image formats.
Tree view to navigate drive locations and access photos.
There are better alternatives for dealing with RAW images.
Pricing – Free
7. Honeyview from Bandisoft
Windows Compatibility – Windows 11/10/8.1/8/7/Vista/XP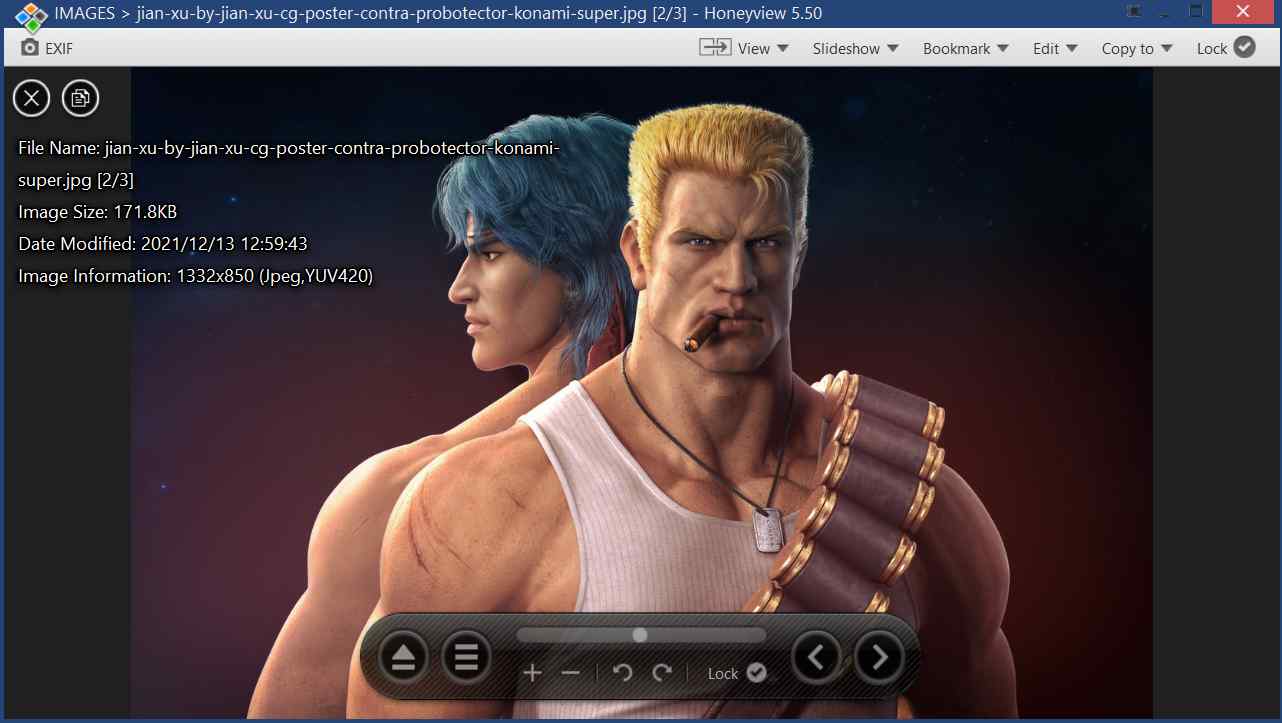 Honeyview from Bandisoft is one of the best free picture viewers for Windows 10/ 11 and even some older PCs. It provides a minimal interface with which you can focus attention on images. It provides you the ability to copy multiple images to the clipboard and then paste them directly in the intended folders.
Notable Features
Needn't extract zipped photos as you can view them directly.
Convert images, rotate, and resize.
A large number of slide show options.
Ability to lock controls.
SupportsRAW, animation, and archive image formats.
Ability to bookmark images.
You can configure photos to open with photo editors like Photoshop and Paint.
Pricing – Free
8. Digikam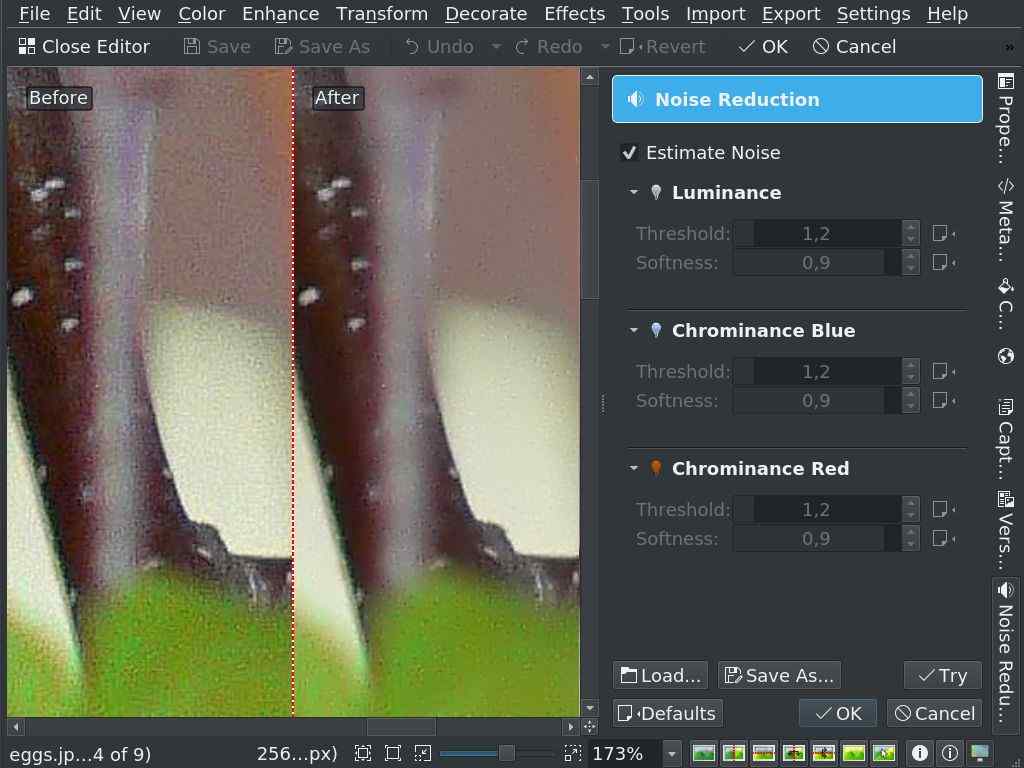 It touts itself as a professional photo management software powered by open source. And, stands true to its repute. It also comes with an efficient tag filter which further makes it easy to browse images in an easier fashion. After you have browsed photos and edited them you can directly share them on various social media platforms.
Notable Features
Browse, view, and compare photos.
Best in class color correction.
Integrated noise reduction functionality.
View and edit metadata.
Easy setting up of photo collection and sharing them.
Great searchability.
Organize the collection of photos.
Could be a little intimidating for beginners.
Pricing – Free and open source
9. Movavi Photo Editor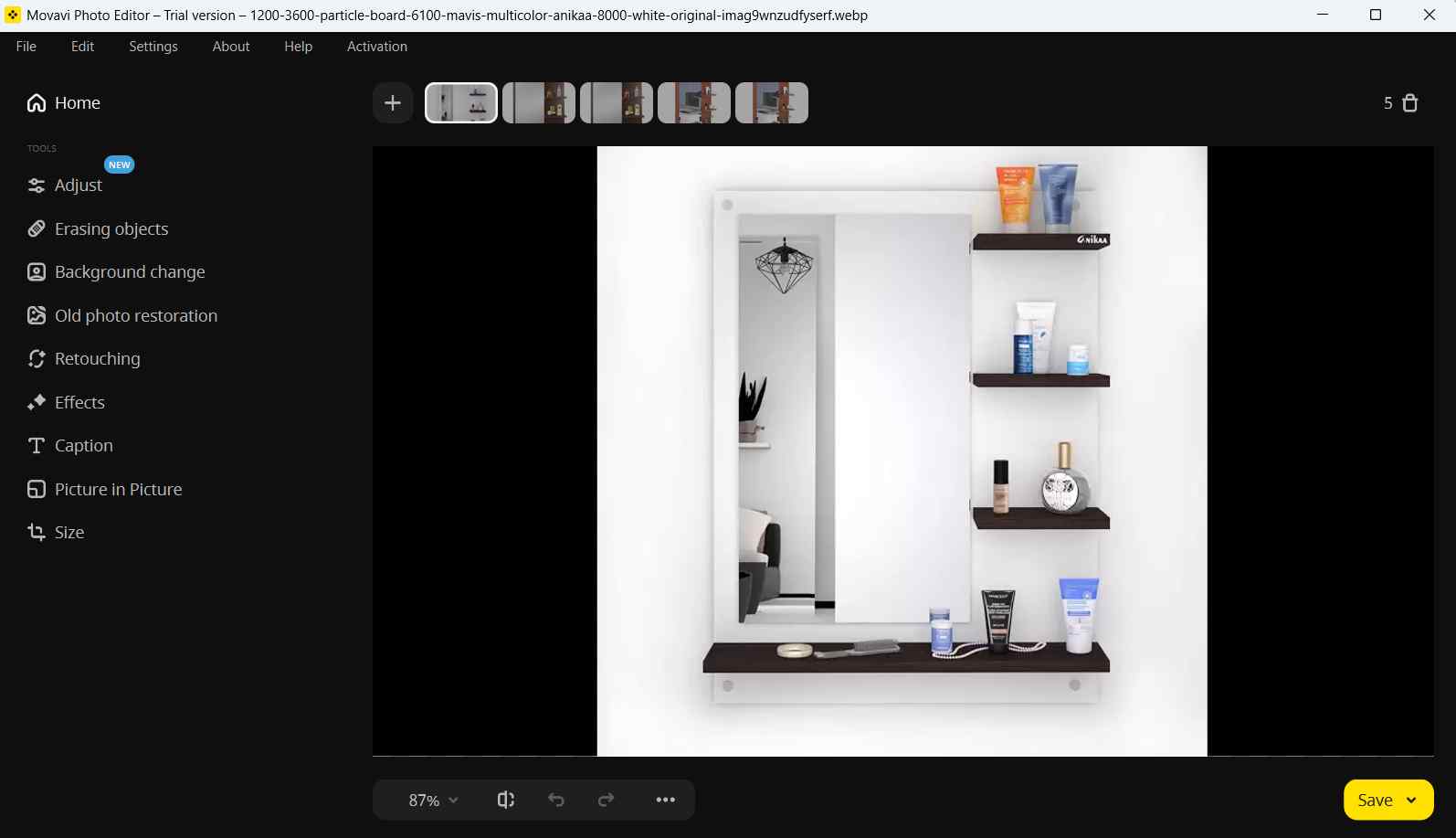 Don't get intimidated by the word "editor" because first, it lets you view and manage photos. And, then it offers easy editing capabilities which in fact will spare you the headache of installing another photo editing tool to refine and get the professional output. Learning Movavi Photo Editor is pretty straightforward, making it suitable for both novice and pro users.
Notable Features
AI-powered photo viewer.
Precise object removal.
Adjust sharpness from within the software
Various formats are supported for importing and exporting.
RAW image files are automatically converted to JPEG.
Add various effects to photos.
Light and color correction.
Editing tools are available in the premium version
Pricing – Free version is available. Pricing starts from $49.95/ year
10. IrfanView
Windows Compatibility – Windows 11/10/8/7/Vista/XP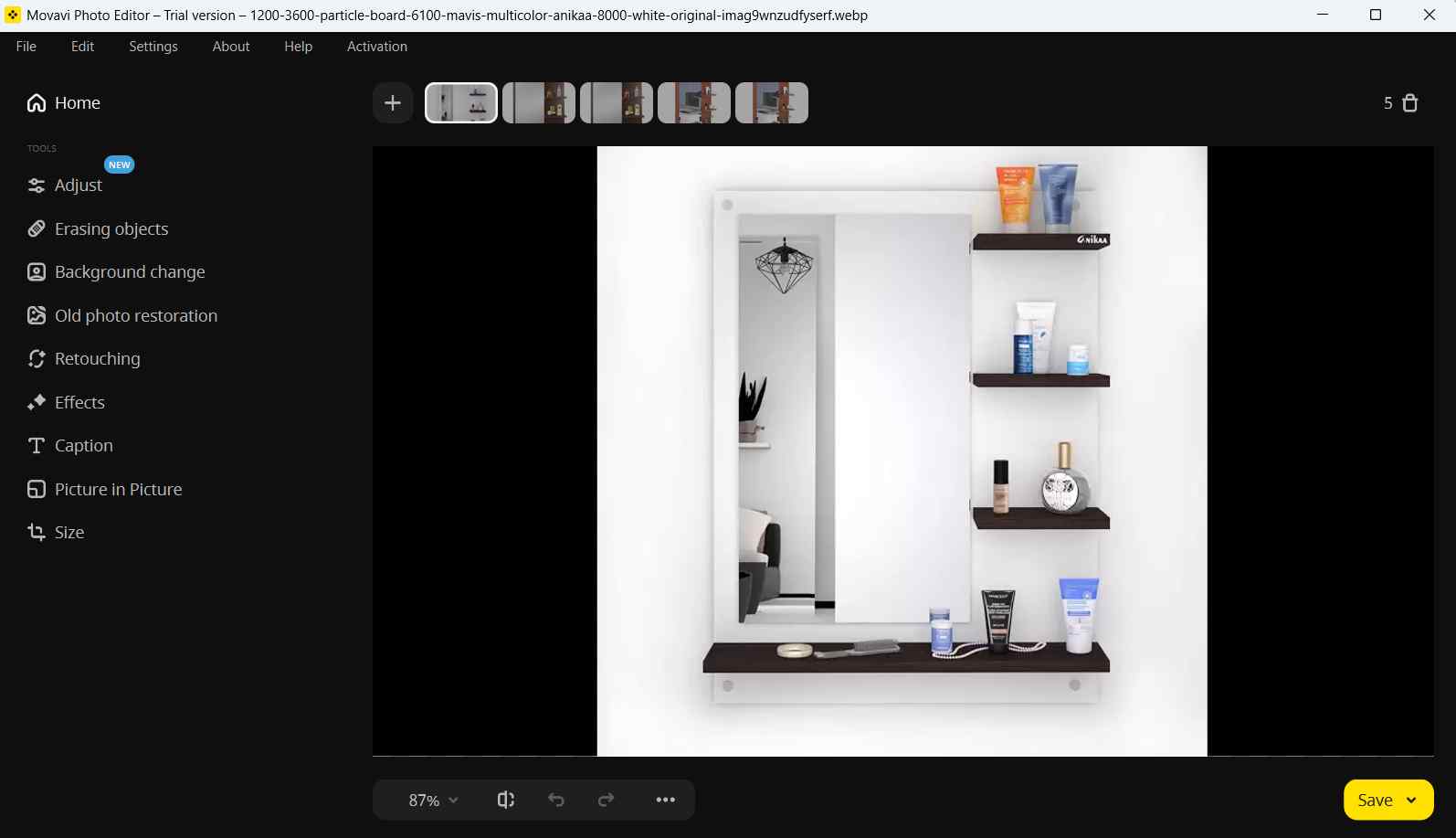 Last but not least, we have IrfanView. It was released back in 1996 but ever since then several updates have been rolled out and it still reigns as one of the best picture viewers for Windows 11/10 and older versions. It packs in an image viewer, organizer, editor, converter, and many other tools. The image viewer for Windows is also capable of playing audio and video files.
Notable Features
Comes with several editing options – insert text, watermark, auto crop borders, etc.
Supports slideshow and changing EXIF data.
Batch conversion and rename.
Various effects – blur, sharpen, Filter Factory, etc.
Fast and lightweight. Weighs just 6 MB.
You can integrate some useful plugins like the OCR plugin, JPG lossless rotation plugin, etc.
Highly stable.
In our usage we couldn't drag and drop photos.
Pricing – Free for non-commercial use. Pricing for commercial users start at US$12
Choose your photo viewer wisely for an immersive viewing experience!
Whether it is about enjoying the grandeur of photos you are viewing, performing basic editing tasks, comparing photos, or any other task, your photo viewer should be able to handle it all. With that perspective, we have enlisted some of the best photo viewers for Windows. Do let us know which is your favorite in the comments section below. If your favorite photo viewer tool didn't make it to the list, do let us know that too. For more such content, keep reading Top10PCSoftware.
You can also find us on Facebook, Flipboard, and Pinterest.
Frequently Asked Questions
Q1. Is there a better photo viewer for Windows 10?
Yes, there are some great photo viewers out there that can substitute your Windows 11/10 photo viewer. Some notable examples include – ImageGlass, Pictureflect Photo Viewer, 123 Photo Viewer, just to name a few.
Q2. What is the fastest image viewer?
All the above photo viewers for Windows let you play photos quickly. Some of these adopt efficient computing technology with which you can view images, the moment you click on it.
Q3. Does Windows 10 have a JPEG viewer?
Yes, Windows 10 has a default image viewer app called "Photos" with which you can access JPEG photos.
Q4. How do I open high-resolution Photos in Windows 10?
You can either use Windows 11/10's inbuilt Photos app or you can choose from some of the best picture viewer apps for Windows. Many of these offer you a minimal and modern interface with which you can enjoy viewing high-resolution images.