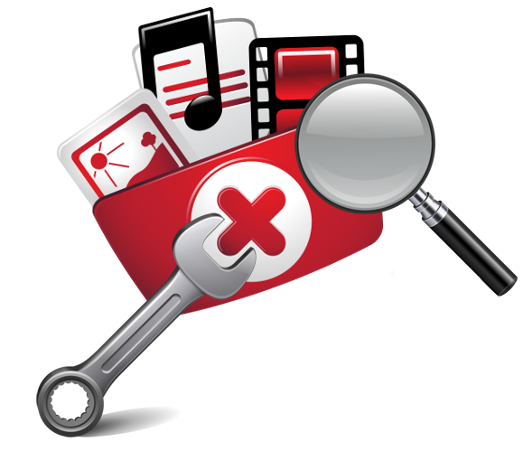 Duplicate Cleaner Pro
Duplicate Cleaner Pro 5 Review: Is Duplicate Cleaner Pro Free?
Over a period of time, it becomes important to find duplicate files and even remove them because unwanted duplicates consume a large part of your computer's storage space. Now, manually trying to find duplicate files can be a tedious and nearly impossible task. So, in this blog, we'll discuss Duplicate Cleaner 5 by DigitalVolcano Software, a duplicate file remover tool that comes with various useful features. Read on to know more in this Duplicate Cleaner Pro 5 review.
Brief Introduction to Duplicate Cleaner Pro 5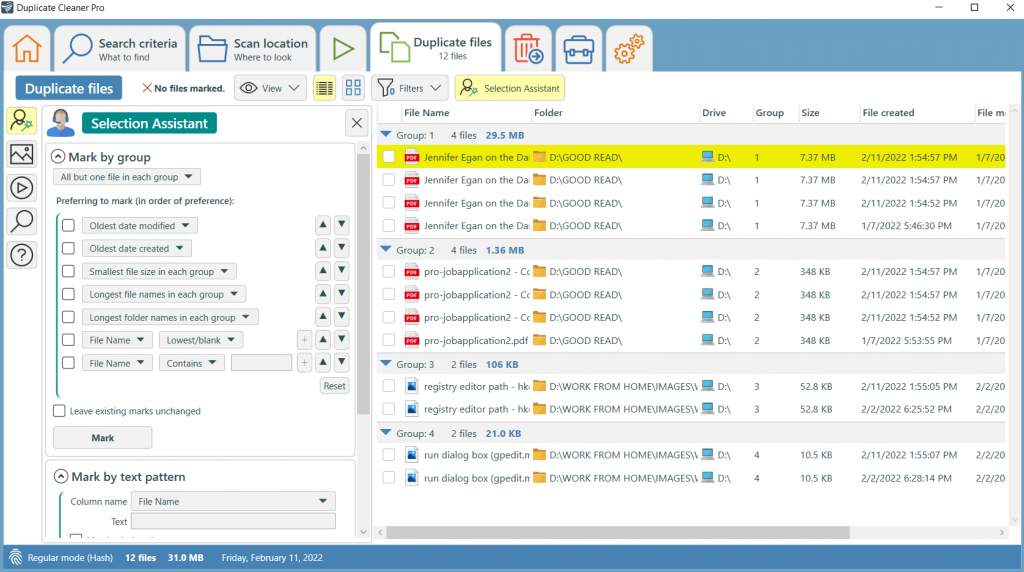 Duplicate Cleaner Pro 5, as the name suggests is a tool that can help you in the task of eliminating all kinds of duplicate files from your computer. It comes with several scanning modes which further ease up the process of finding duplicate files. More specifically, these modes help you scan your computer for duplicate audio, video, image, and other files. The best part about Duplicate Cleaner Pro 5 is that it helps find and remove duplicate files from both your computer's internal and external hard drives as well. The interface is highly customizable and you can tweak it according to your requirements. For example, you can use the selection assistant and mark duplicate files based on several criteria like file name, date modified, text pattern, etc
Certain search criteria make this tool all the more effective. For example, you can use the Wizard to find similar videos. When you use this function the tool compares the first 15 seconds of the soundtrack.
Reasons To Choose Duplicate Cleaner Pro 5
There are several reasons why you should choose Duplicate Cleaner Pro 5 by DigitalVolcano for your Windows PC. Here we have mentioned some of the main highlights of this duplicate file remover for Windows –
Easy to use, easy to understand interface.
Great searchability of files.
Scan both internal and hard drives for duplicates.
Fast scanning of duplicates.
Variety of scan modes.
Ability to preview files right from the interface.
Tutorial to guide through the majority of functions.
Smart selection assistant for better filtering of files.
Remove empty folders which otherwise make the task of finding duplicates very tough.
Technical Specifications-
Current Version – 5.0.0.13
File Size: Setup file – 63.7 MB, may take up to 68 MB
System Requirements-
Compatibility – Windows 11, Windows 10, Windows 8, Windows 7(32 bit or 64 bit)
Processor –  400MHz or higher processor
Memory –  512 MB or more RAM
Grouping Results
Automark
Change Auto Marking Selection Priorities
Clear Cache
Exclude Folders
Unmark All
Preview
Detailed view
Image view
Metadata
Others
All file formats supported
How To Install Duplicate Cleaner Pro 5?
Follow these steps to learn how to install Duplicate Cleaner Pro 5 on your Windows computer –
Step 1: Click on the Duplicate Cleaner Pro 5 download link given below.
Step 2: Run the setup file you have downloaded and click on Next.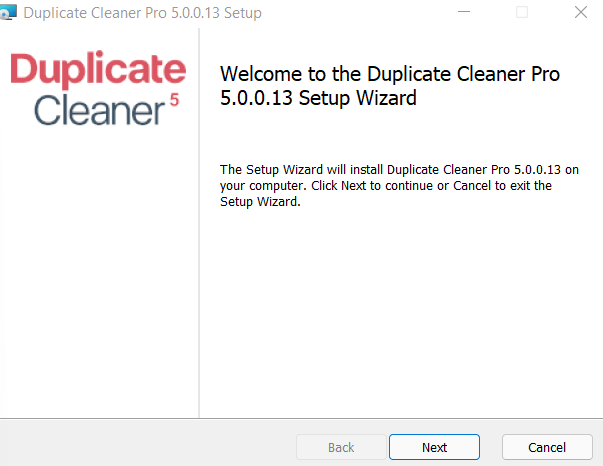 Step 3: Accept the terms in the License Agreement by clicking on the checkbox shown in the screenshot and again clicking on Next.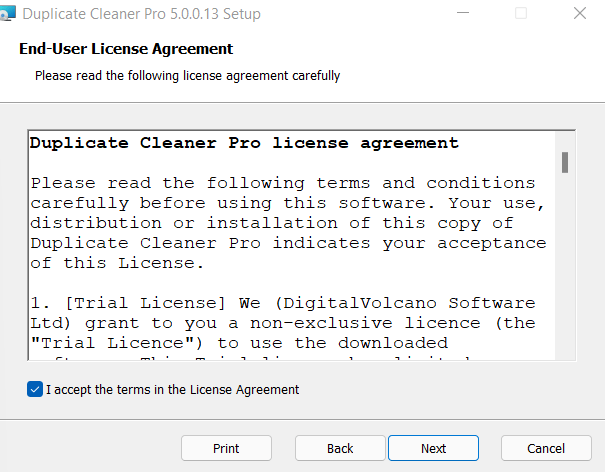 Step 4: Choose a location to install Duplicate Cleaner Pro 5 and again click on Next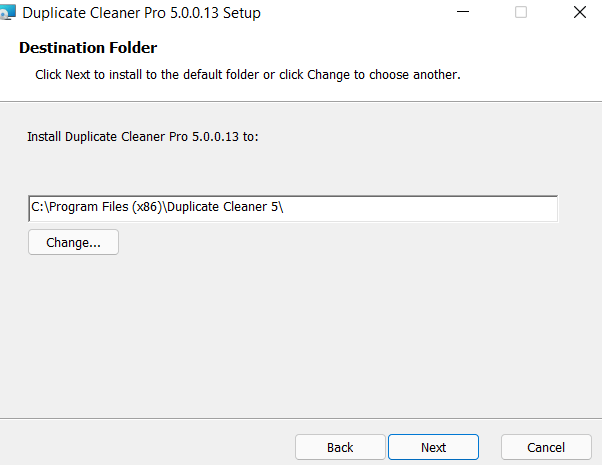 Step 5: Click on the Install button or you can even go back if you want to review your installation settings.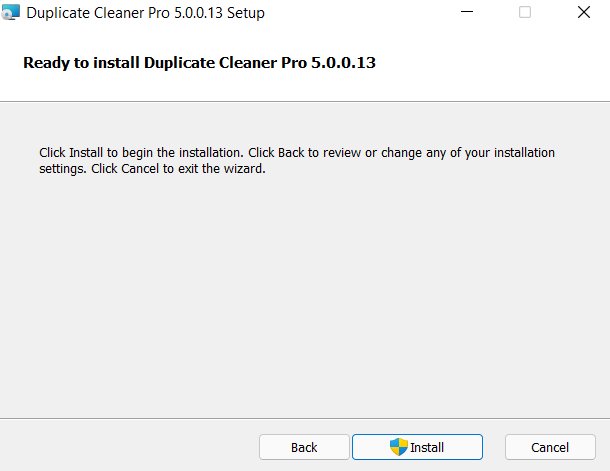 Step 6: When the User Account Control prompt occurs click on Yes and then click on Finish. You have the option to check or uncheck the Run Duplicate Cleaner now checkbox.Now choose when you want to run this duplicate file remover tool on your Windows PC.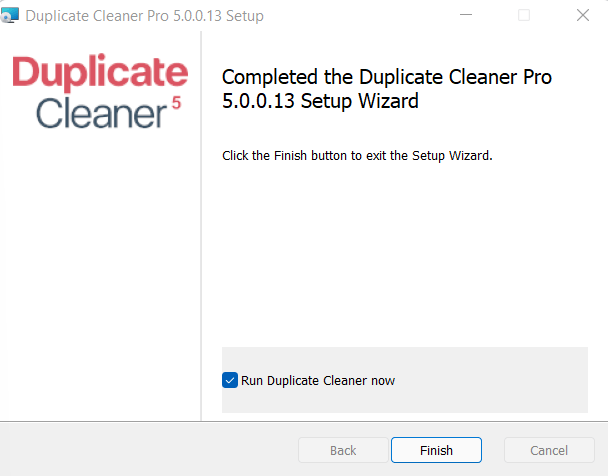 How To Use Duplicate Cleaner Pro 5
After you have downloaded Duplicate Cleaner Pro 5, here is how you can use it to reap maximum benefits –
Step 1: Open Duplicate Cleaner Pro 5.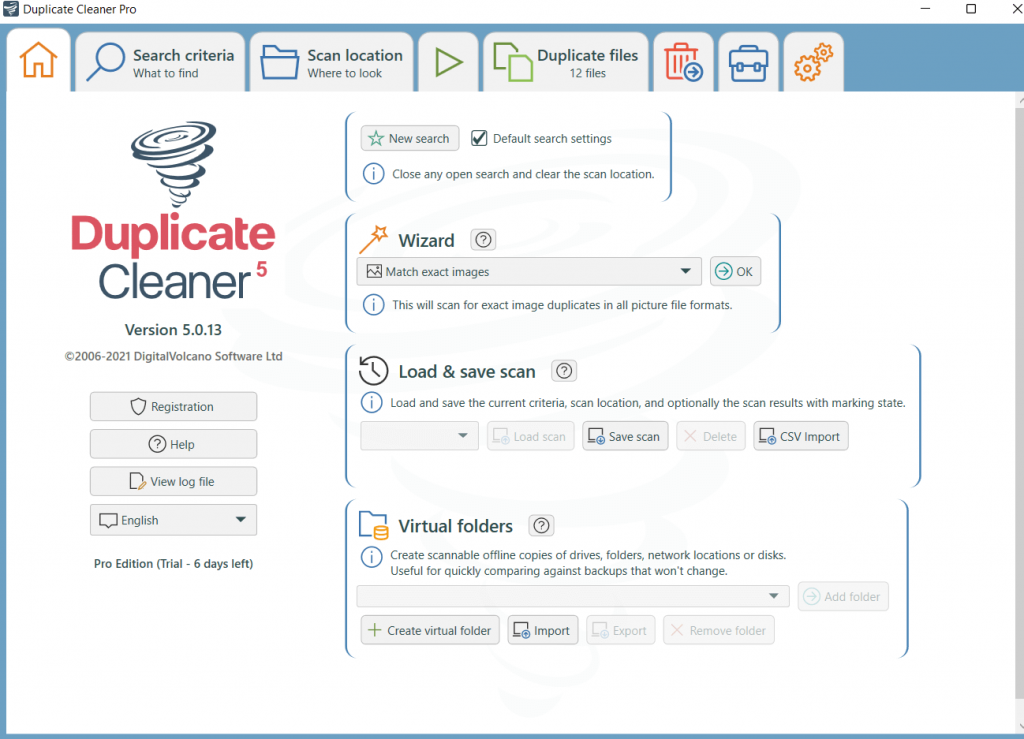 Step 2: From the top, click on the Search Criteria marked by magnifying glass icon and select your desired mode. You can even add more filters to zero down on the right duplicates.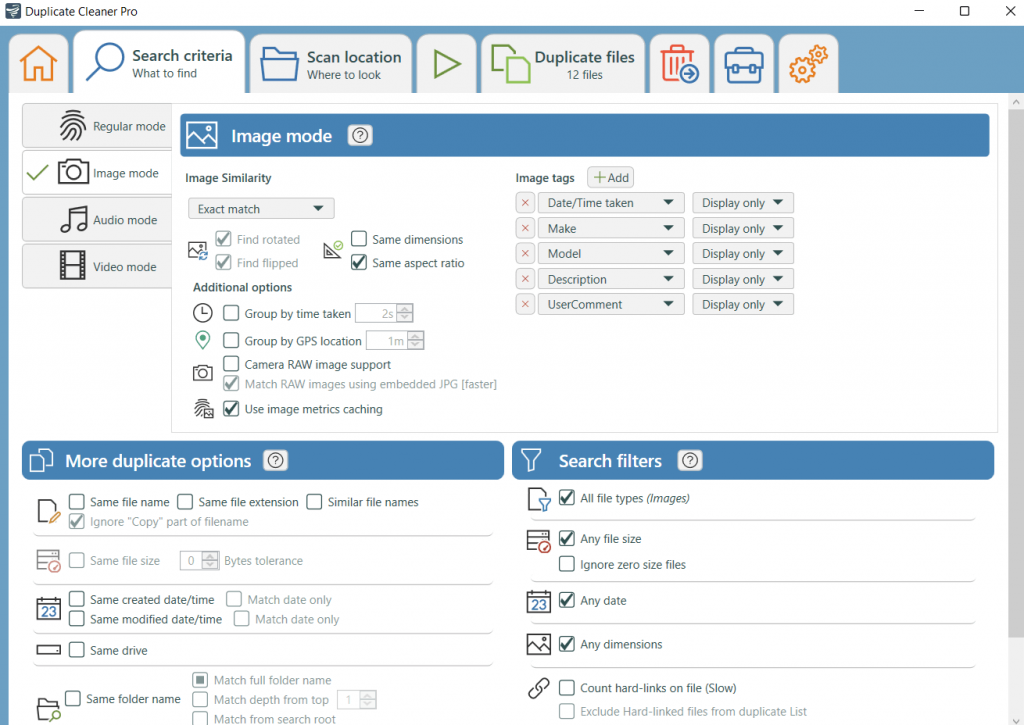 Step 3: Again, head to the top bar and click on Scan location to select the file location from where you want to add files or folders to take further action.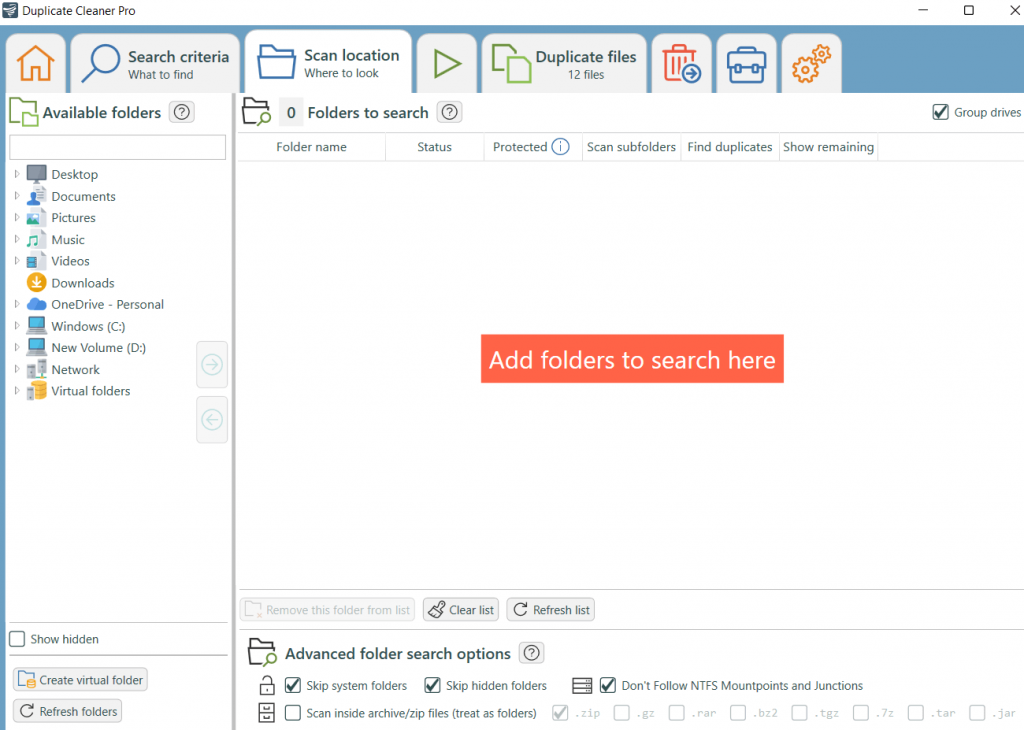 Step 4: Now, click on the play button on the top bar to start the scan.

Step 5: Head to the Duplicate Files tab on the very top and now you will be able to see all your duplicate files. You can double-click on any of these files and view them using an appropriate app.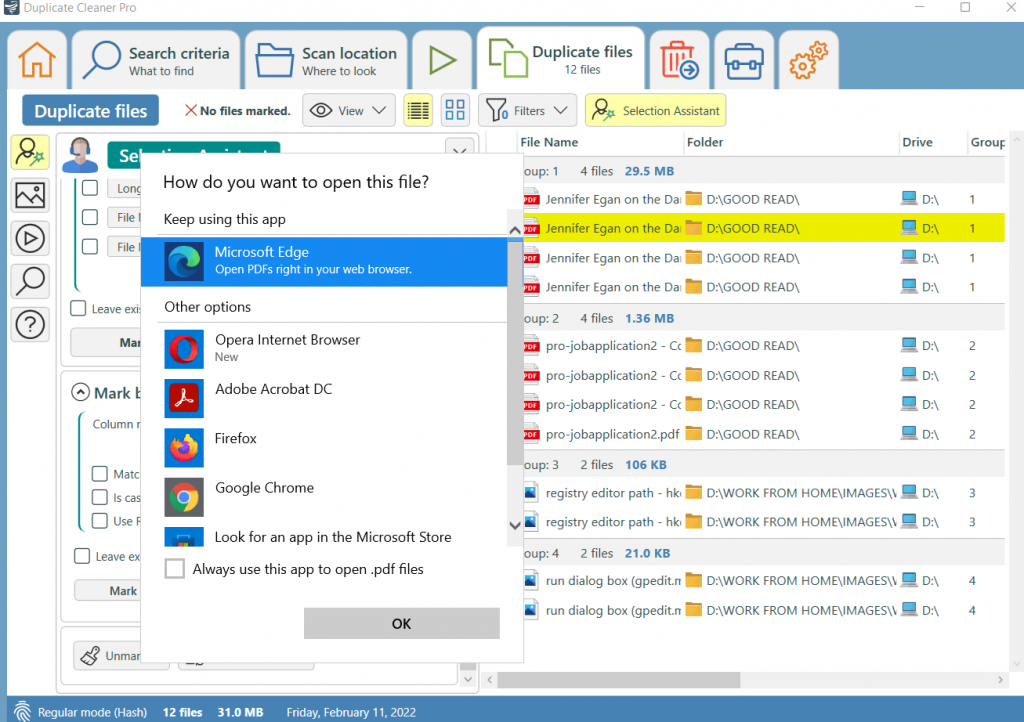 You can use the Selection Assistant to further filter out files based on the file name, date created, text pattern, and other customizable criteria. After every filter, you can click on Mark or Unmark or even Invert marked files to see the files that are selected.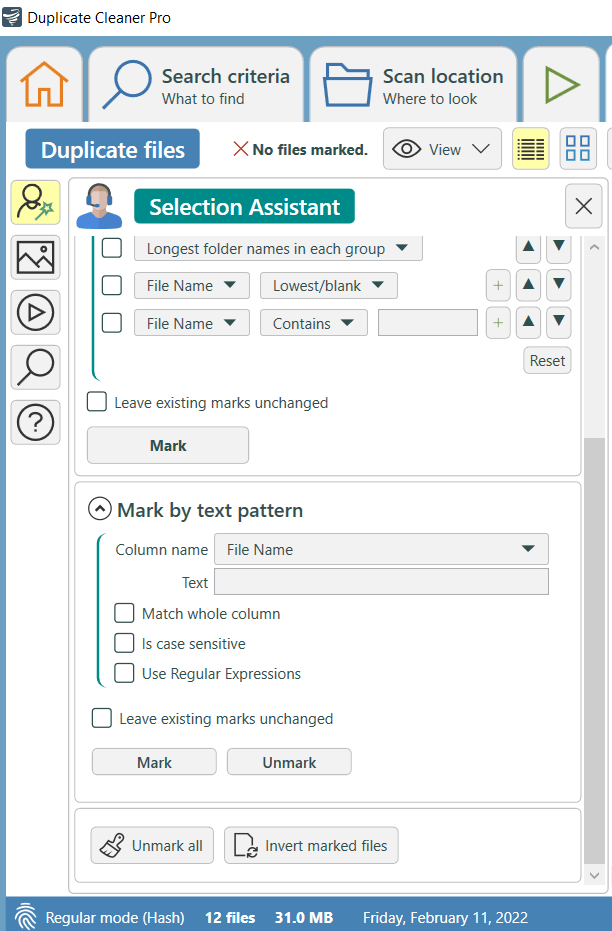 Step 6: Once you are sure of the files that you want to remove, click on the bin icon from the top.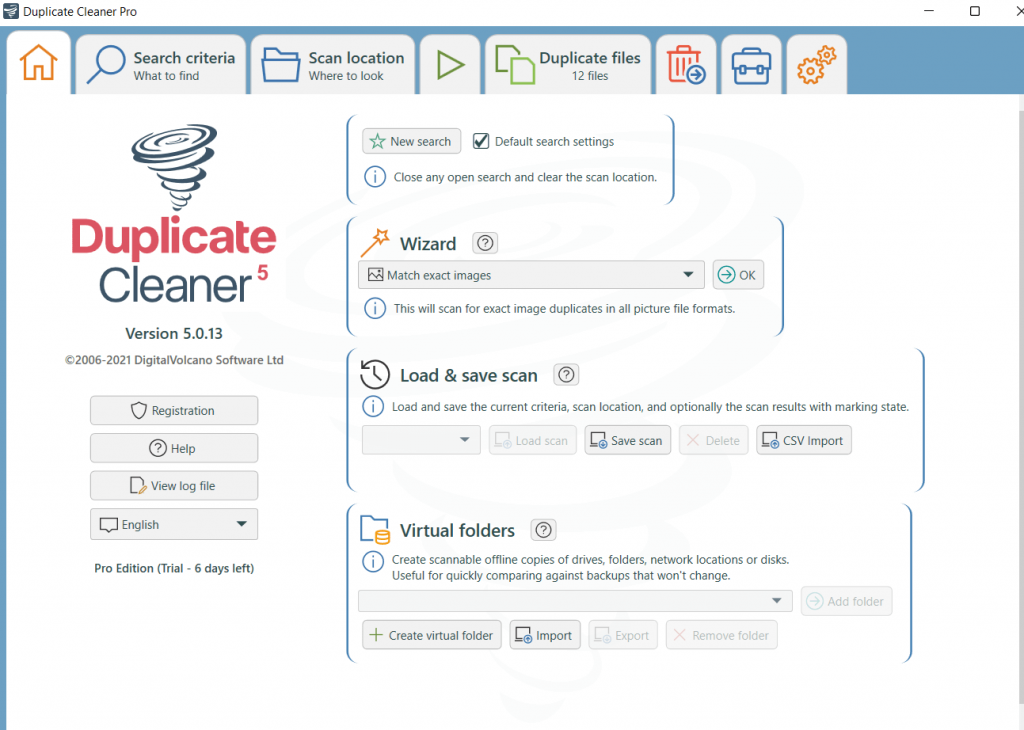 Duplicate Cleaner Pro 5 has a very decent yet plain interface. This implies that it is simple and there are no fancy elements that could distract your duplicate file removal journey. The navigation between the various functions and settings is seamless.  From the home screen itself, you know what to do. In fact, on the home, screen, you can find some interesting and advanced filters like the Wizard, or you can load and save current criteria, scan location, and scan results with marking state. Talking of interface, the Duplicate Cleaner Pro 5 also has a neat and clean duplicate folder browser where you can quickly see duplicated directory trees.
1. Scan Modes –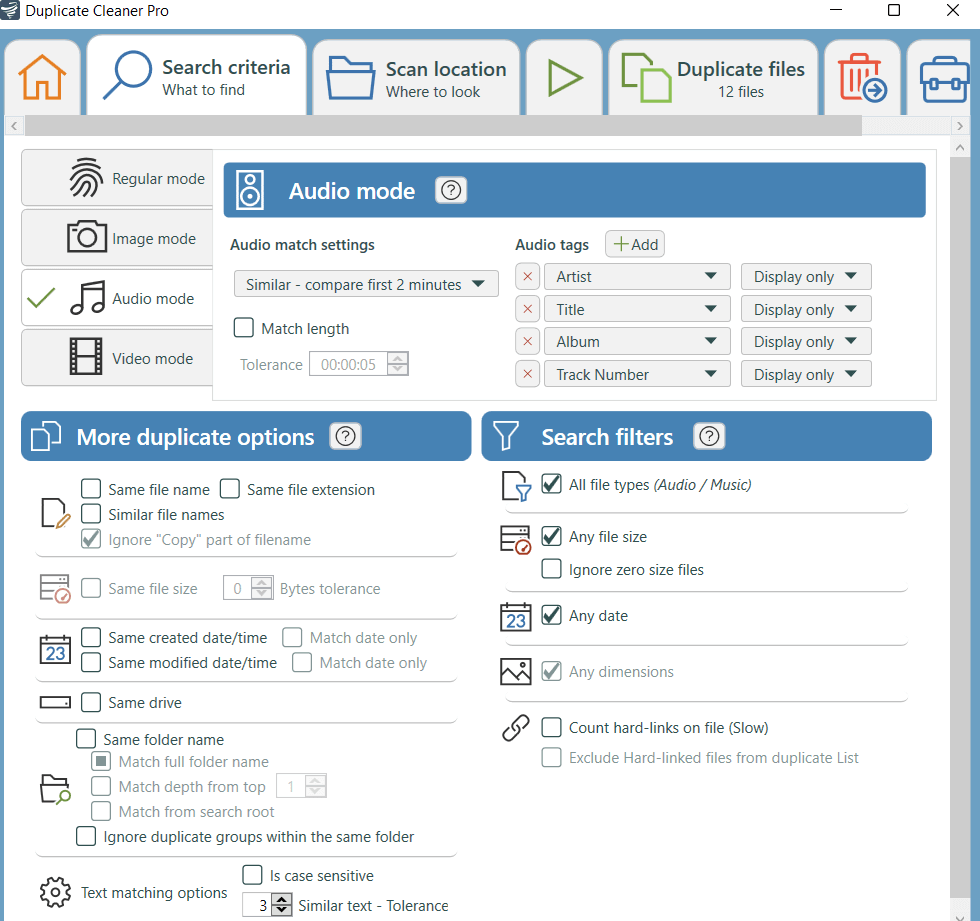 There are broadly four major modes namely regular, image, audio, and video mode. What we liked about these modes is that they are file type-specific. For example, to find duplicate audio files you can filter out files by artist, title, album, and track number. The same goes for the other 3 scan modes.
2. Selection Assistant –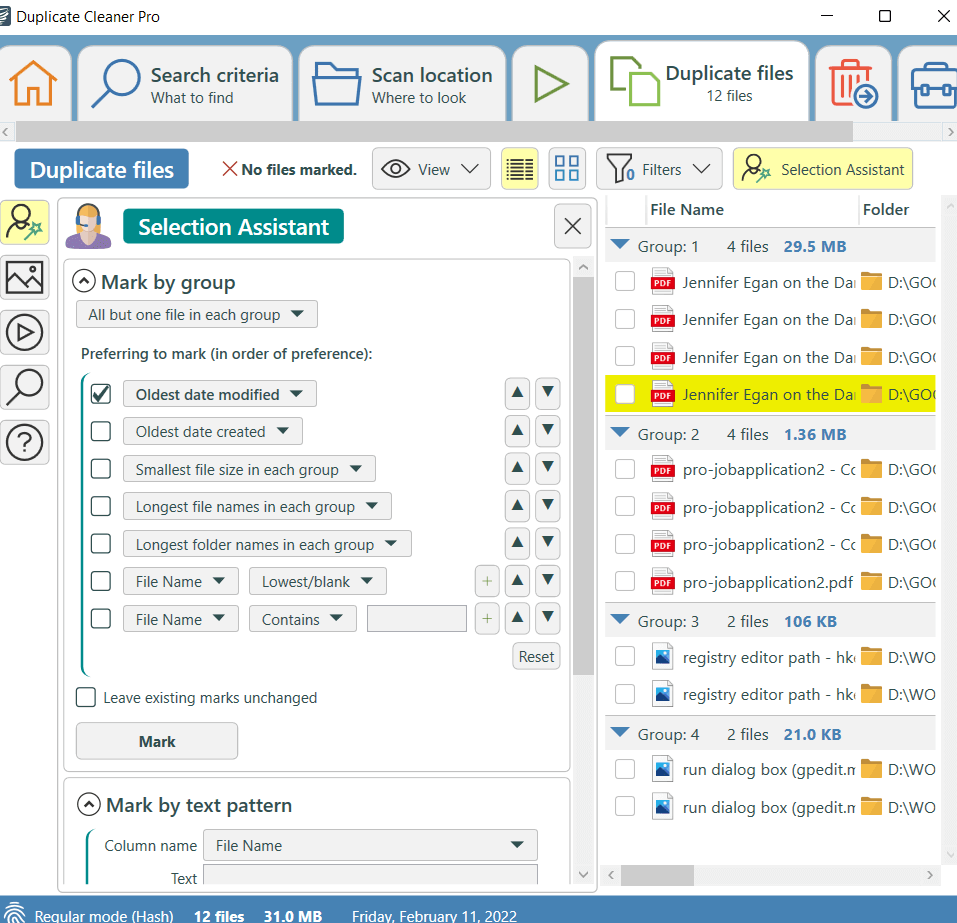 Thanks to the selection assistant, you will not get overwhelmed when dealing with a bunch of duplicate files. That's because the selection assistant, you can select files based on dates, groups, folders, drives, and more. The selection also lets you filter out files based on the kind of content they have. For example, out of two duplicate audio files, you can remove the one which is of lower quality.
3. Preview Results –
All your duplicates are neatly listed in a browser and that's not where the ease of use ends. The duplicate file cleaner lets you view all the details pertaining to a file. And, if you want to delve deeper, you can double-click on the file and then use an appropriate application to see the contents of the file.
4. Wizard  –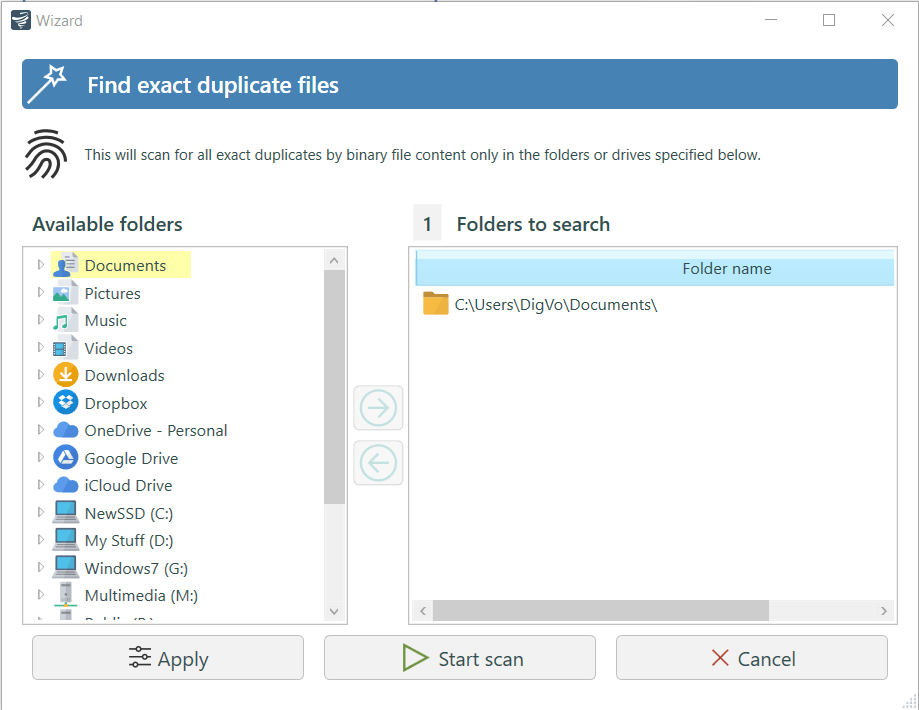 The wizard tool can be accessed right from the home tab. In simple words, this tool gives the user the control to get a quick start in most of the scanning situations. For this, the user can assign a preset combination of settings.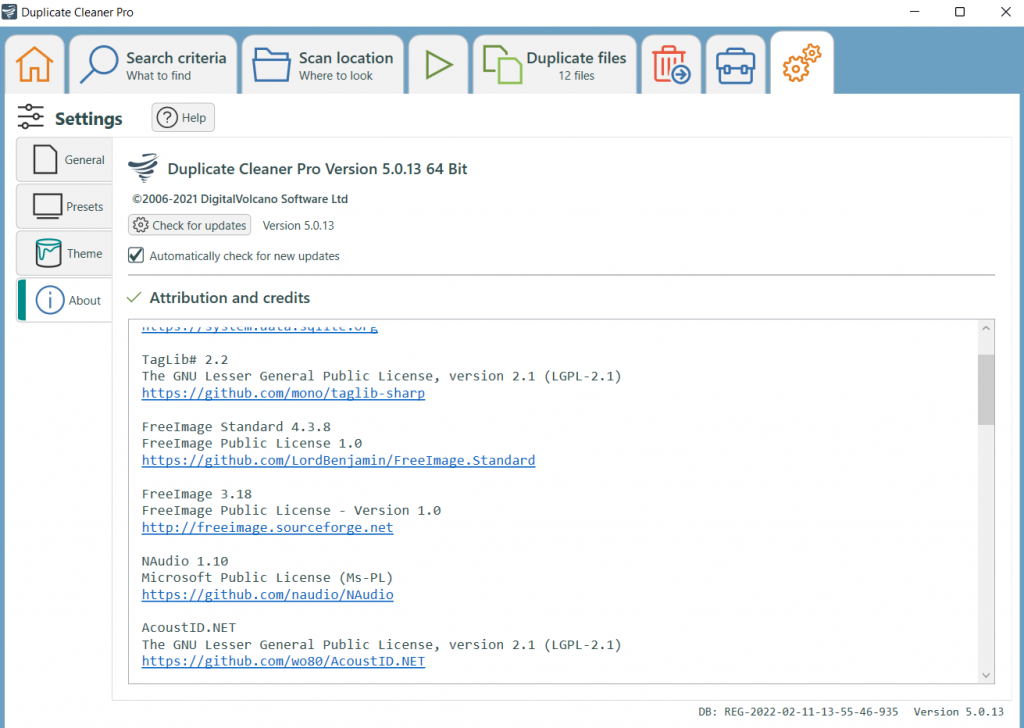 Duplicate Cleaner Pro 5 has been around for over a decade and it constantly upgrades its tool with new features, databases, and other elements. The question is how easy it is to fetch these updates. We'd say easy enough because you can fetch these updates right from the interface itself. For that –
From the top click on the gear icon.
From the left-hand side, click on About
From the right-hand side, click on the gear icon to Check for updates
Furthermore, we even liked the fact that the tool also lets you fetch auto-updates as well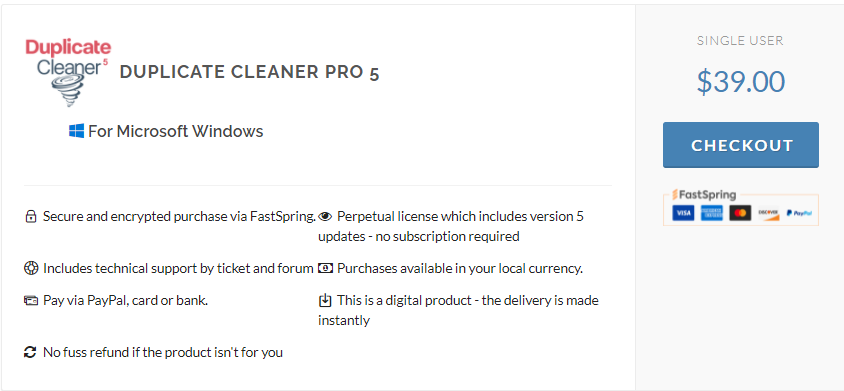 As a free duplicate cleaner, the tool has limited functionality but still lets you test the majority of functions as can be seen in the screenshot above.
After the free trial, at $39, we are not saying that Duplicate Cleaner Pro is the cheapest duplicate file cleaner software, but considering that it gives you 7 days of free trial where you can test the majority of its features and more importantly, the features that it offers, $39 is a good bet. In the screenshot below, you can get a clear glimpse of what you get with the free version and what you can expect from the paid version.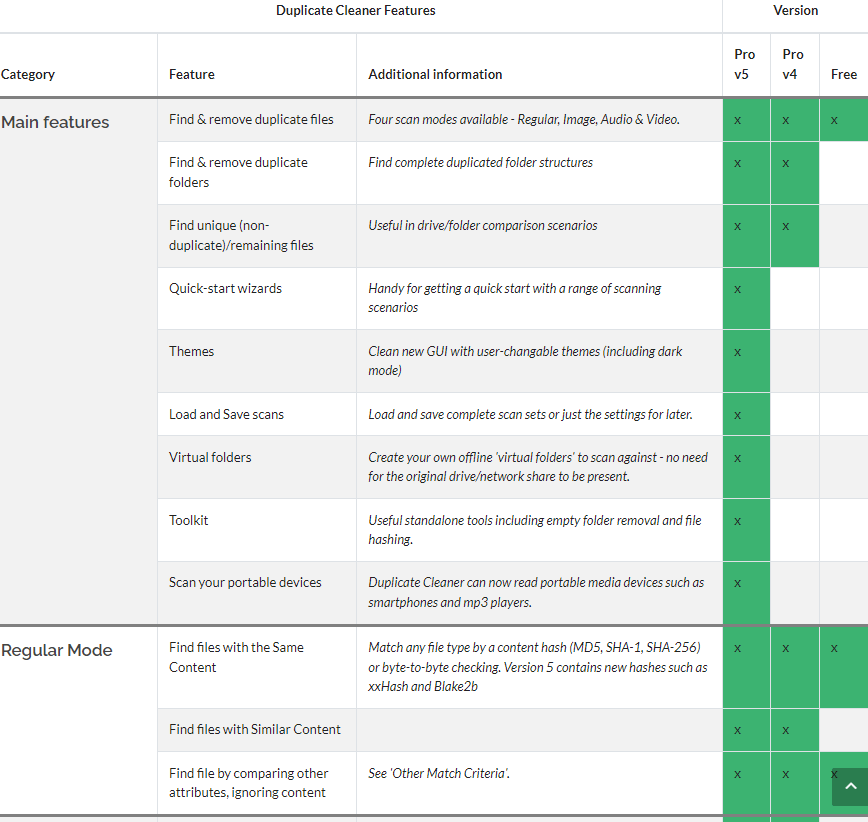 While the overall speed is decent, having said that there is still scope for improvement in the speed. The tool installs quickly. This means you can quickly get on the task of finding duplicates. However, depending on the size and contents of the duplicate files, the scanning may take a little time. But, otherwise, the tool is pretty quick at listing genuine duplicate files and even reduces the chances of deleting the right files.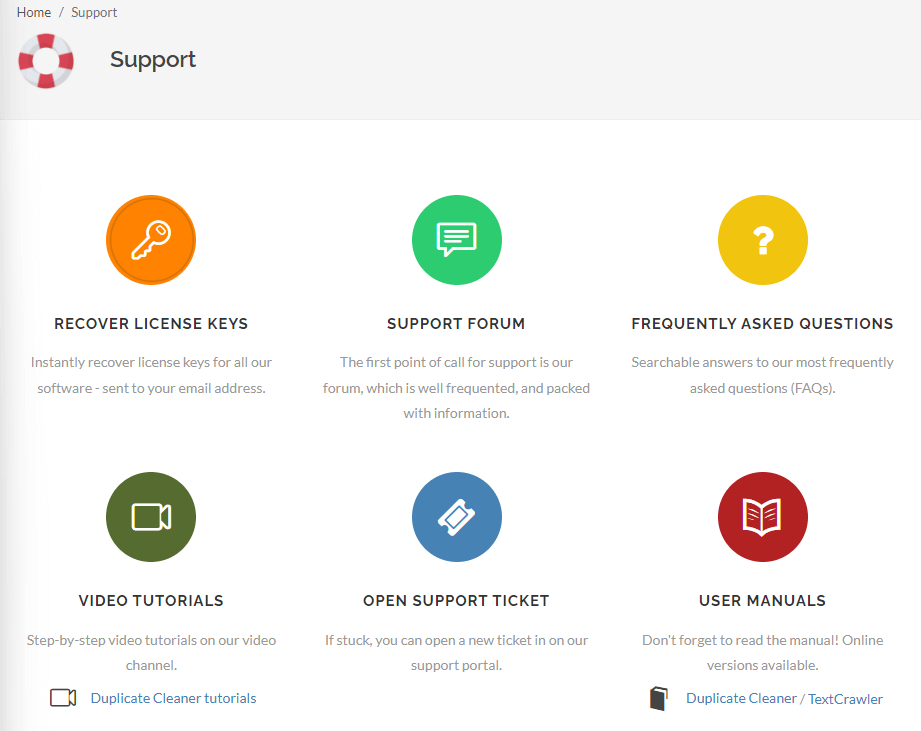 If you face any difficulties – whether it be the functionality, recovering license key, or any other issue, there are various channels through which your problem is taken care of. There is an extensive knowledge database that can act as your first point of reference to resolve an issue. If that doesn't help, you can even raise a support ticket and even check its status. Did we mention that while you are using the tool you can refer to the tutorial side by side to get acquainted with the functionality?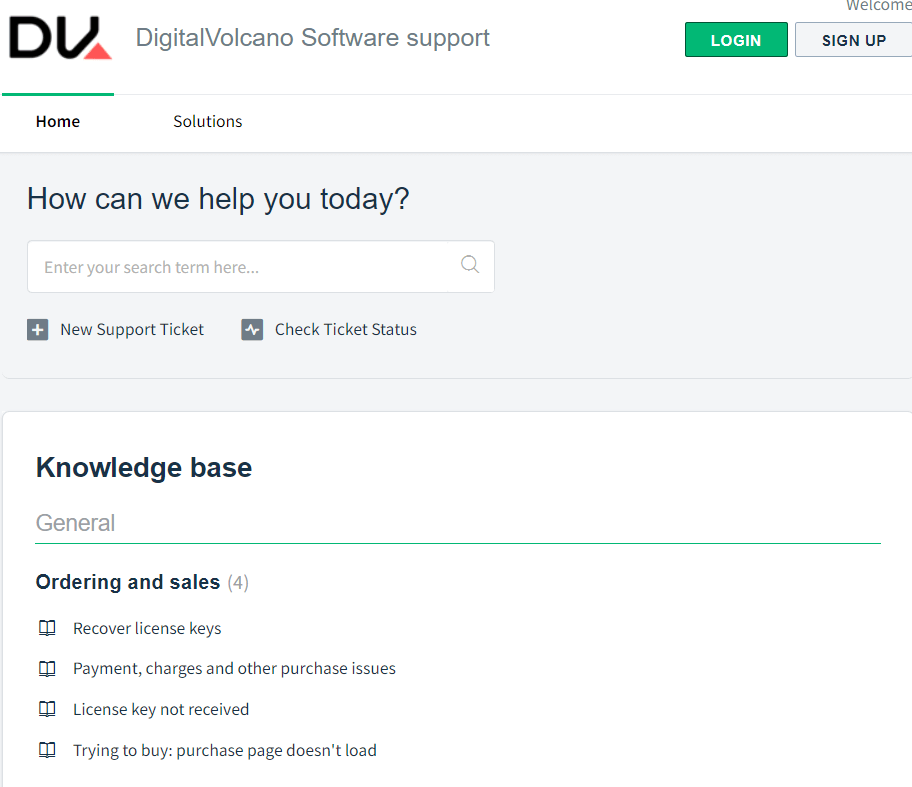 Frequently Asked Questions:
Q.1. What is Duplicate Cleaner Pro?
Duplicate Cleaner Pro 5 is a duplicate file remover for Windows PC that can help get rid of duplicate photos, documents, videos, music, and other files safely.
Q.2. Is Duplicate Cleaner Pro safe?
Yes, Duplicate Cleaner Pro is safe because first, it comes from DigitalVolcano software, the creator of many other renowned tools. It offers several safeguards to ensure that no important programs or system files are deleted. 
Q.3. How much does Duplicate Cleaner Pro cost?
As a free duplicate cleaner, Duplicate Cleaner Pro offers a 7-day trial where you can test the majority of its features