A duplicate file finder, like the Auslogics Duplicate File Finder, can help simplify and shorten the tedious task of removing useless file duplicates from your computer. We usually face a low memory issue on our computers due to the presence of duplicate files. A duplicate file finder software can ease the process of finding those files and let you delete either copy. If you also have many duplicate files present at multiple locations on your PC, read the Auslogics Duplicate File Finder review.
What Is Auslogics Duplicate File Finder?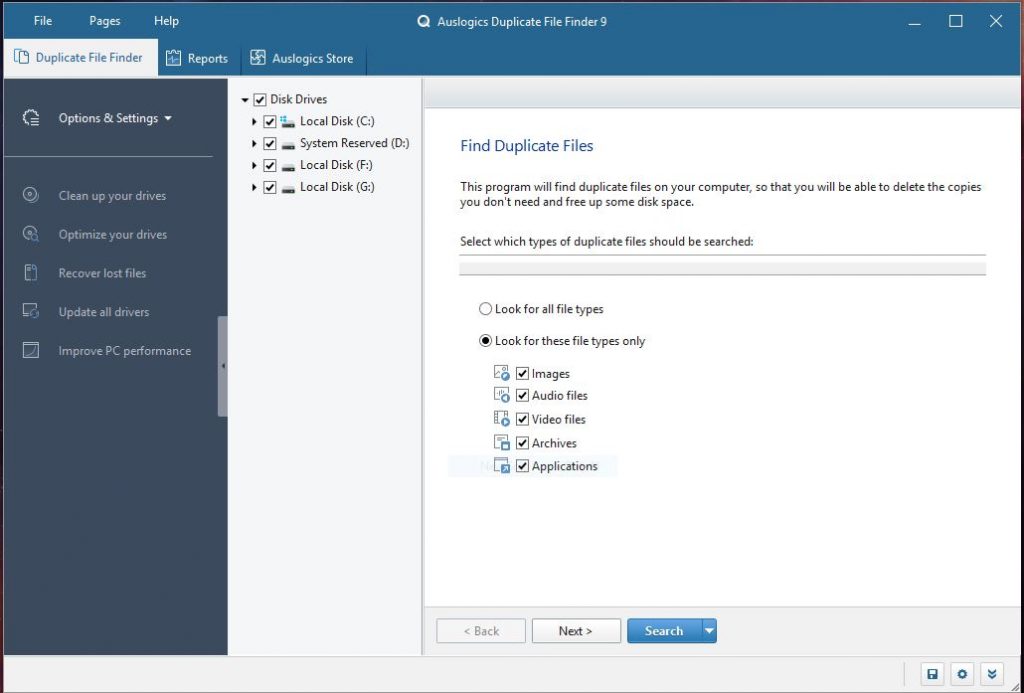 Auslogics Duplicate File Finder offers the easiest way to sort the files on your computer by removing useless file duplicates and freeing up storage space. It is easy to use and is available free of cost to delete duplicate audios, videos, images, and other files too. You can directly scan the intended folder and check if there is any duplicate file present. Once the files get listed, you can find and remove duplicate files you want to delete.
You must use this software if you are facing a low memory problem in your computer due to duplicate files. Let us see the key highlights of the software. Read the Auslogics Duplicate File Finder review and know more about the software and its usage.
Now, let's take a look at the pros and cons of Auslogics Duplicate File Finder
Pros:
Receives frequent updates.
Preview before recovery.
Sort files based on name, size & more.
Improves computer performance by deleting duplicate files
Cons:
The interface may seem overwhelming to some users
Technical Specifications And System Requirements
Current Version – 9.2.0.1 updated on 26 Jan 2022
File Size: 14.9 MB
Compatibility – Windows 10, Windows 8.1, Windows 8, Windows 7 (32 bit or 64 bit)
Processor – 400MHz or higher processor
Memory – 32 MB or more RAM
Disk space – 40 MB
Display – 1024×650
Change Auto Marking Selection Priorities
All file formats supported
How to Use Auslogics Duplicate File Finder?
The Auslogics Duplicate File Finder download and install process is pretty straightforward.
Step 1: Visit the Auslogics Duplicate File Finder product page on the Auslogics website. You will see the 'Download Now' option.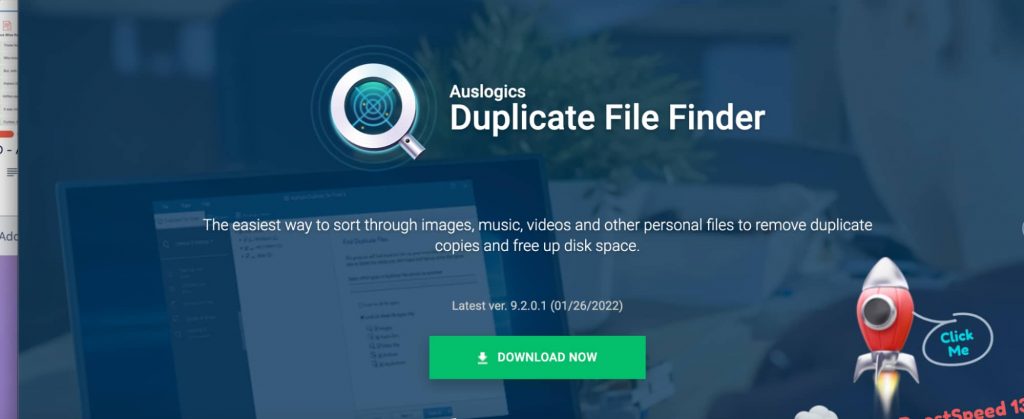 Step 2: Click on the downloaded setup file and follow the on-screen instructions. You will need to provide Administrator permissions for the software to run.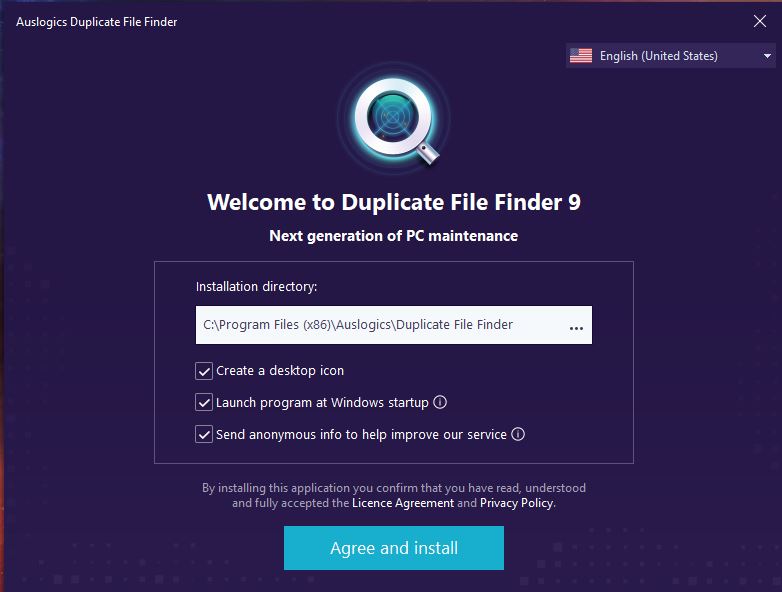 The software will be installed quickly and you launch it directly on your screen.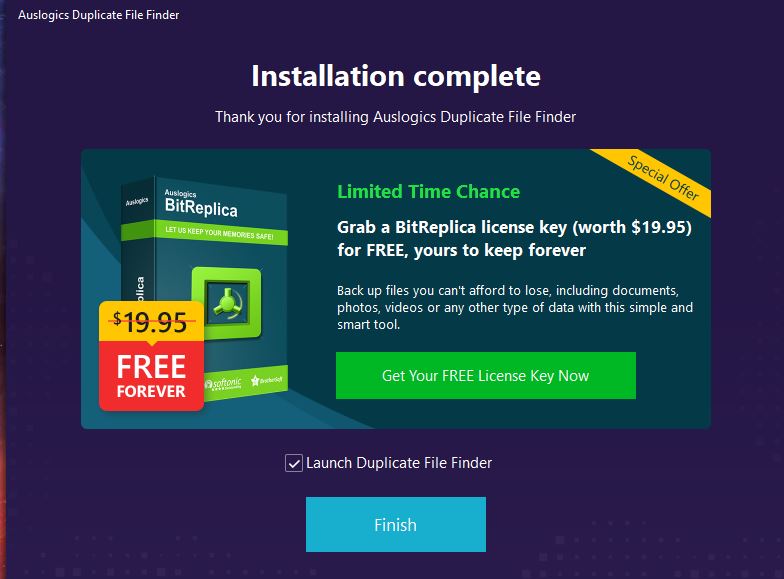 Step 3: On the main screen, you will see the drives in the middle section. Choose the location in your computer that you want to scan for duplicate files. After selecting the location, click 'Next.'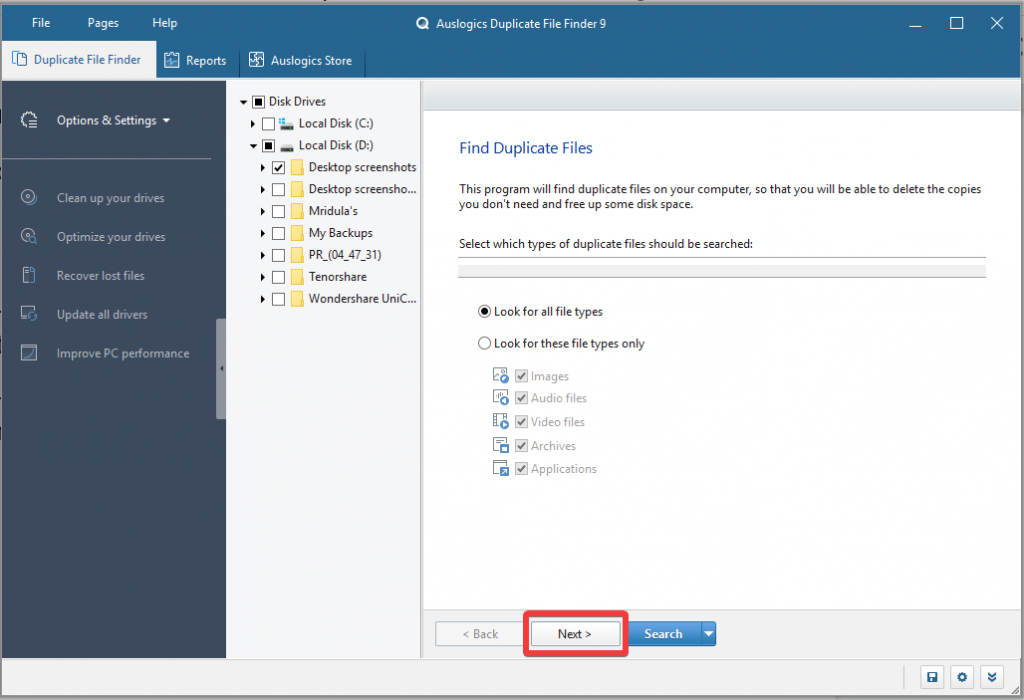 Step 4: Now, on the next screen, choose the file size as part of the Search Criteria. You can unmark or mark or customize options for – Ignore files smaller than and Ignore files larger than options. Click on Next.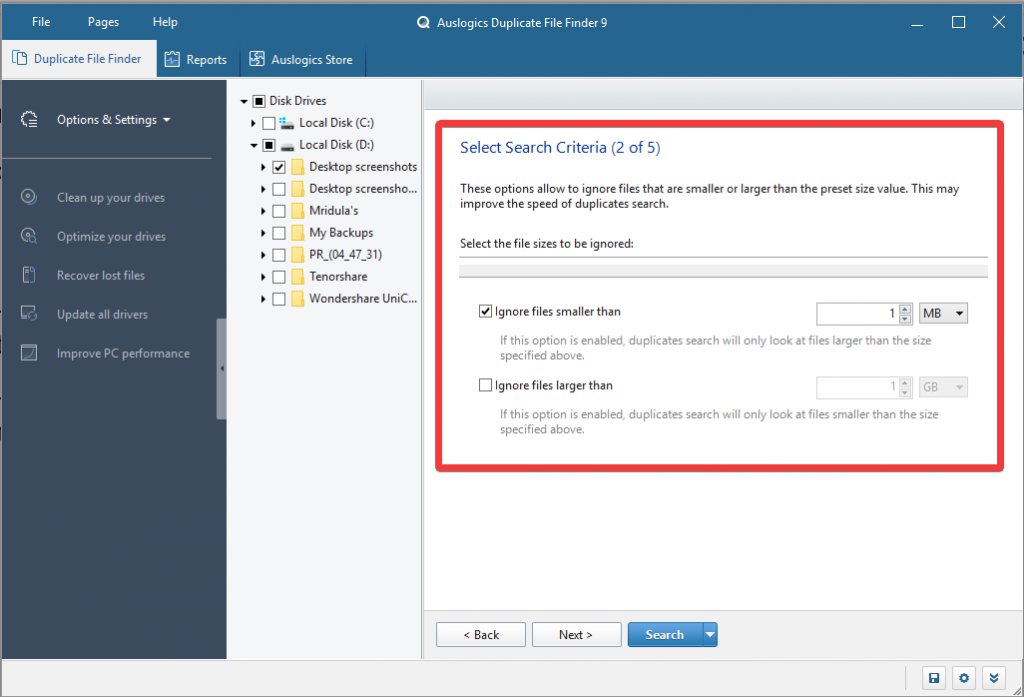 Step 5: Next up on the screen of Search Criteria will be the parameters – Ignore File Names, Ignore File Dates, Ignore Hidden Files, and Do not search in subfolders. Click on Next.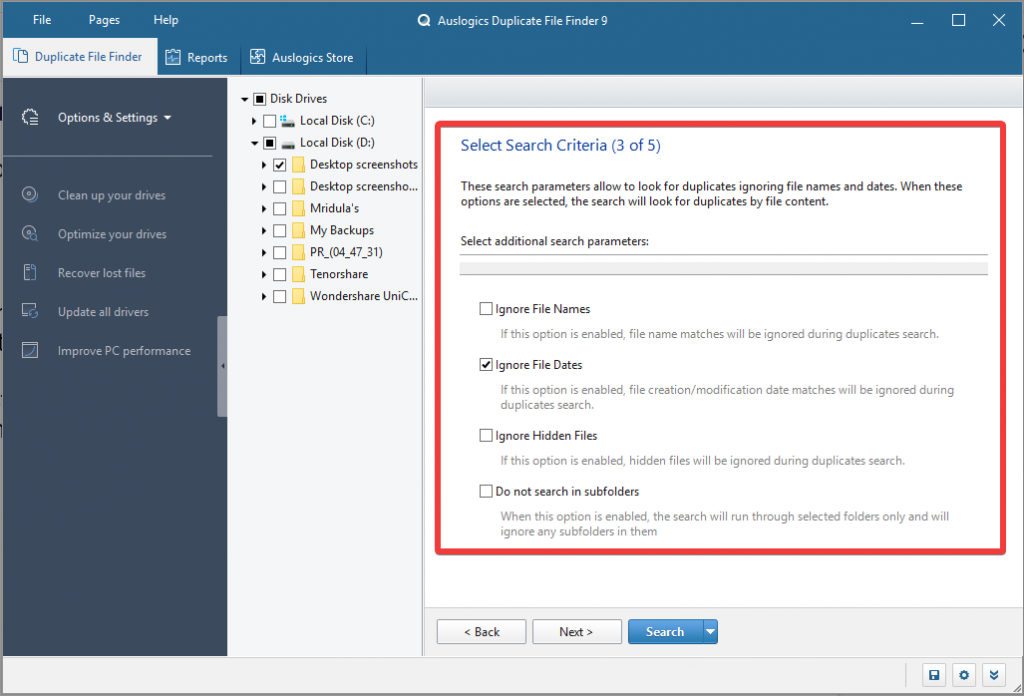 Step 6: Now, you need to specify a name of the file if you are particular about anything or else select Search for all file names and then Click on Next.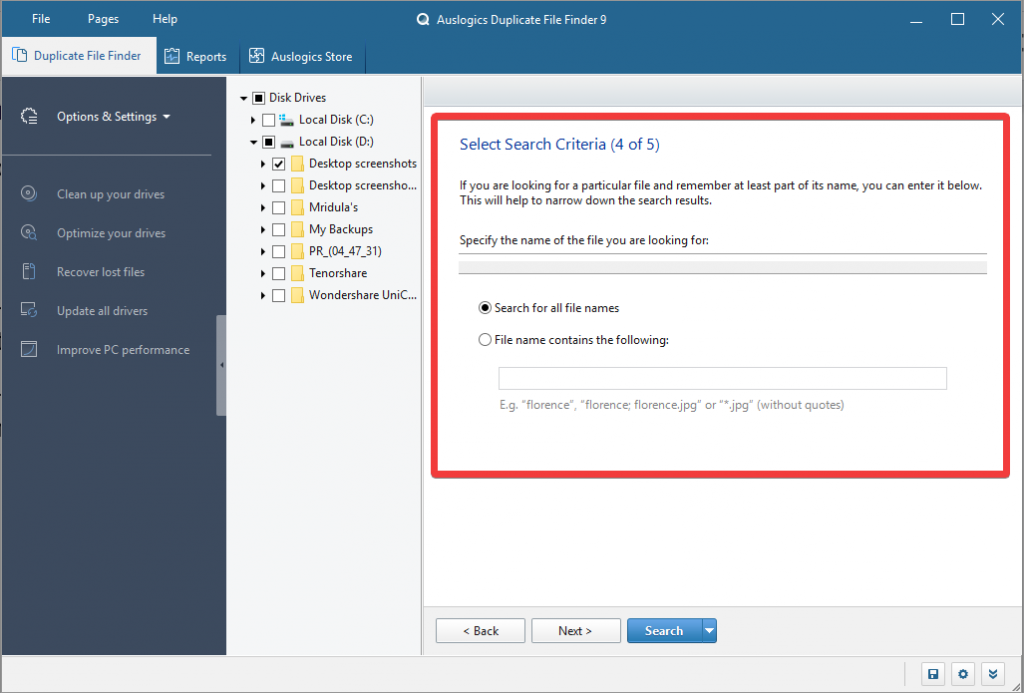 Step 7: This is a crucial step where you need to decide what happens to your duplicates. Here under the Delete Criteria, you will be given three options for deleting the duplicates- To Recycle Bin, To Rescue Center, Permanently.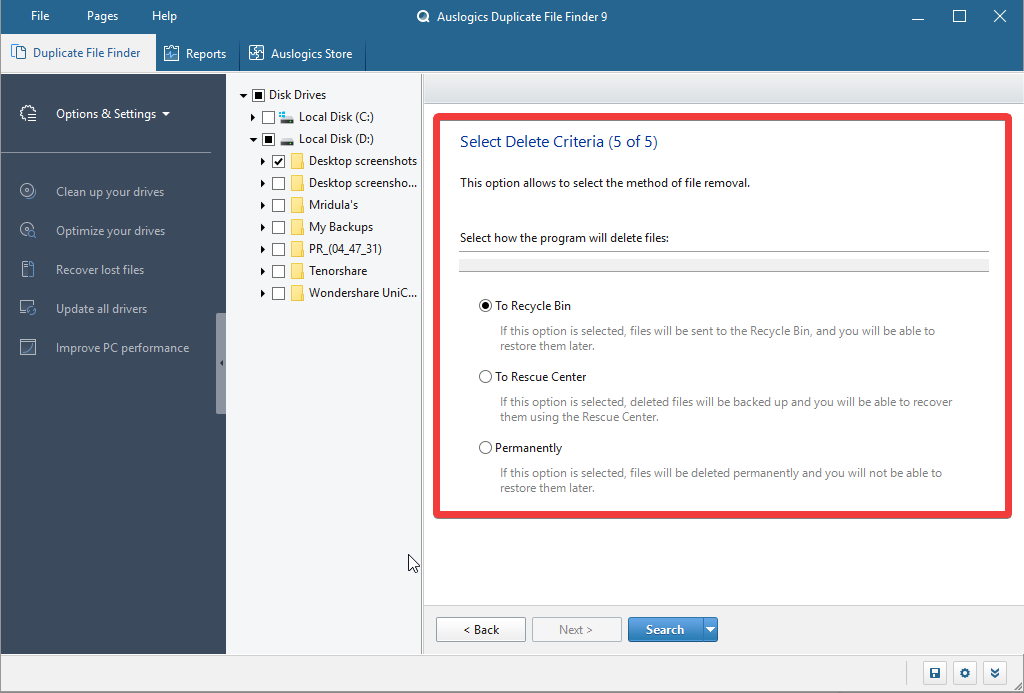 Once you have made the selection, click on the Search button.
The software will scan your computer to find duplicate files matching your selected criteria and will show the results.
Step 8: Select the files you want to delete. You can manually select each file or use the option to select all duplicates in each group. Or you can use the Filters to decide which files are selected from the groups.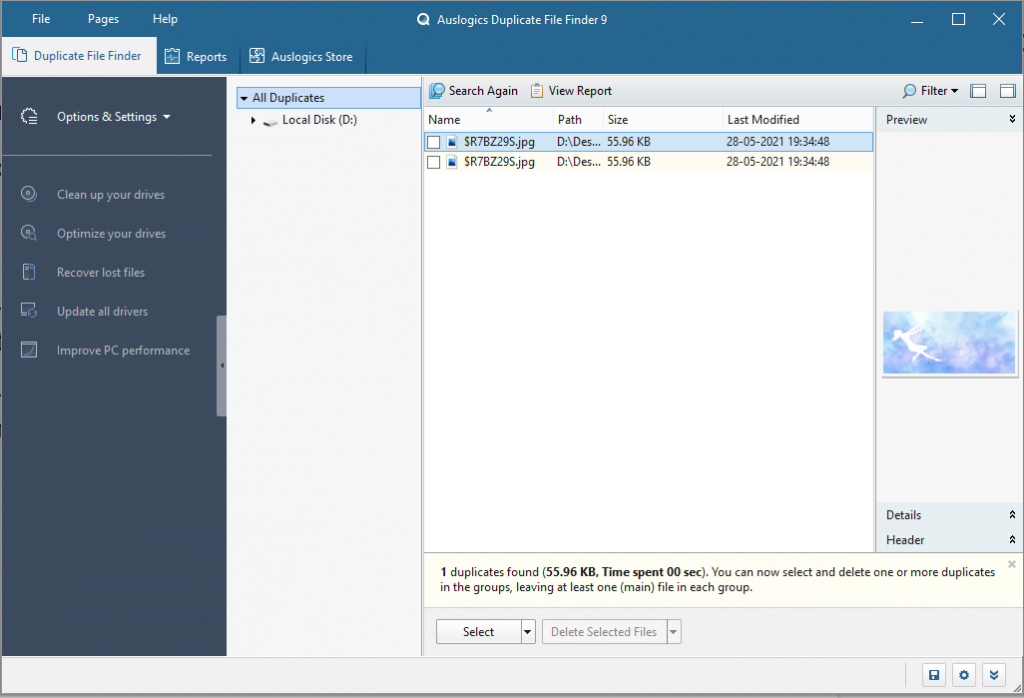 Once you have selected click on Delete Selected File.
Thus, there is a single and easy method to scan and delete duplicate files from your computer in Auslogics Duplicate File Finder.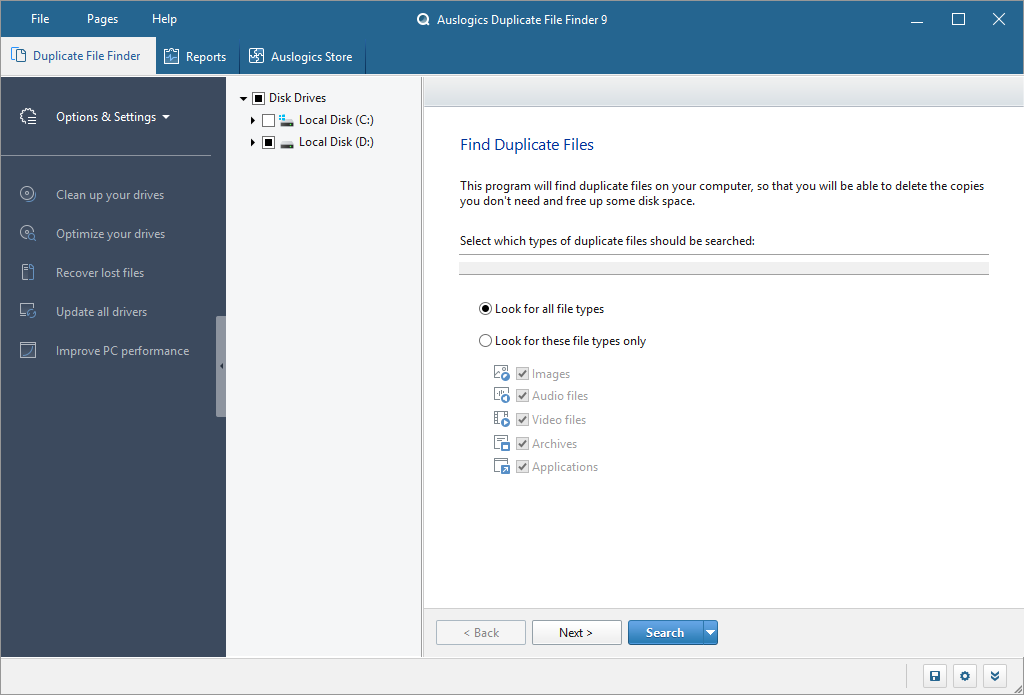 Auslogics Duplicate File Finder has a simple and easy-to-use interface. It has three tabs, viz. Duplicate File Finder, Reports, and Auslogics Store. Under the Duplicate File Finder tab, you can select the folder location where the files to remove duplicate copies are present. It allows you to select the drive, and under that, you can select the file type, such as video, audio, image or document, application, or archive. There are some advanced options under Options & Settings. These include improving PC performance, recovering lost files, optimizing your drives, cleaning up your drives, and updating all drivers.
Below are the main features of Auslogics duplicate file finder that makes it best to remove useless file duplicates:
1. Multiple Delete Options: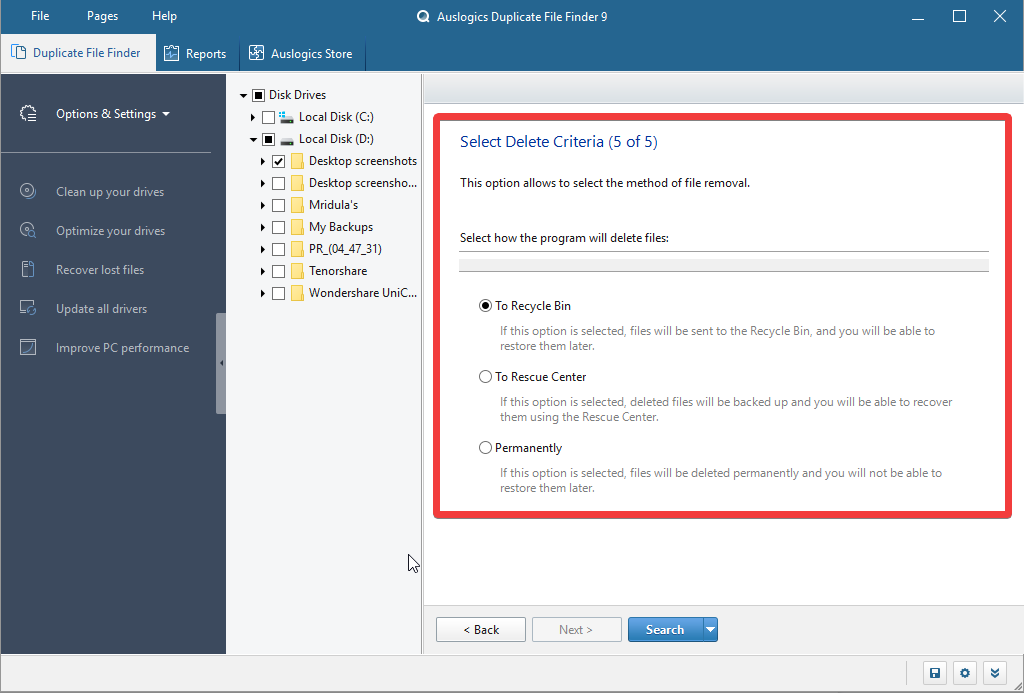 It gives you the full control to select the type of files to remove duplicate copies of and choose the copy you want to delete. You will get three deleting options – 'Delete to Recycle Bin', 'Delete permanently', and 'Delete to the Auslogics Rescue Centre'. Choose according to your preference and then the software will quickly perform that action.
2. Customizable :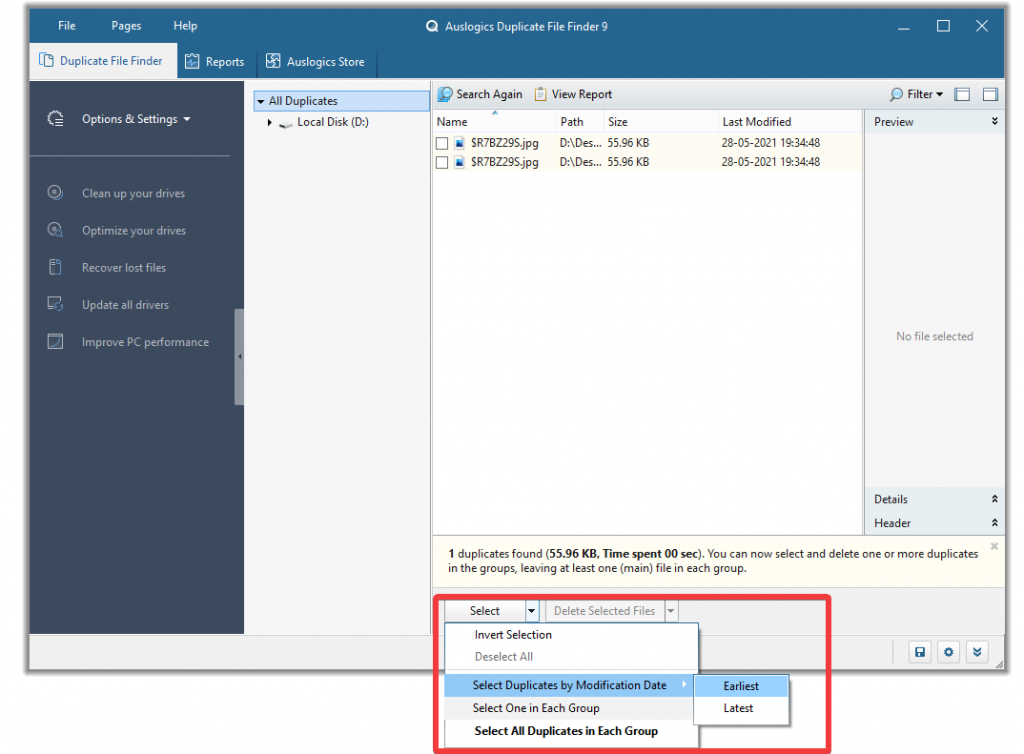 The software can be fully customized per the user's requirements, so you can choose a desired folder or file for the scanning. Also, in the result section, you can pick the files you want to remove. The users have the full power to customize the scanning and the removal of files.
3. Comparison Method :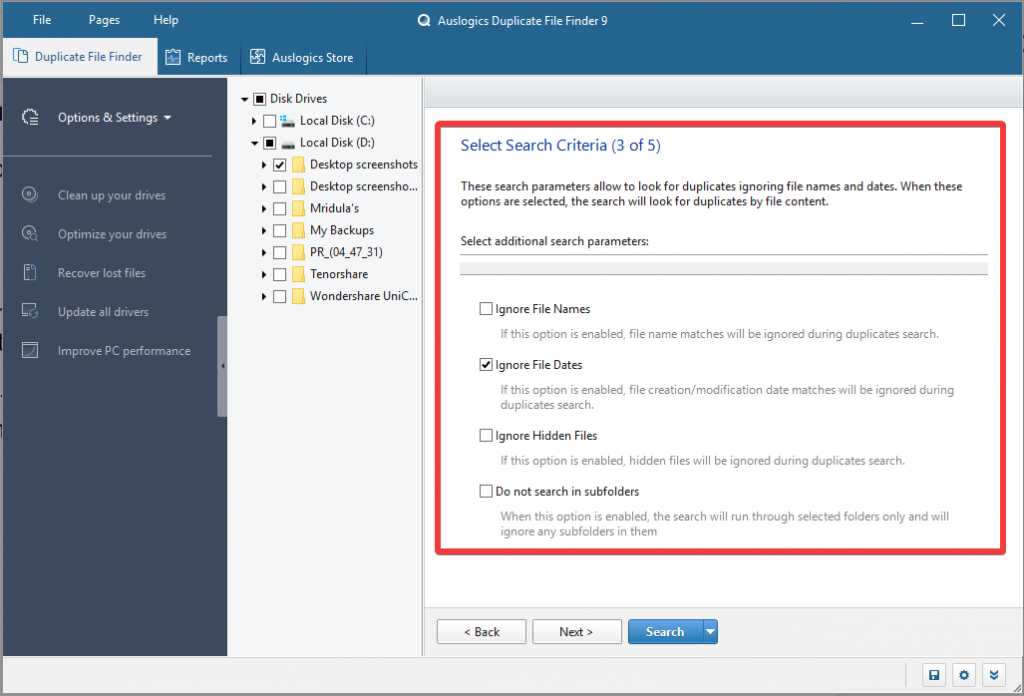 Before you scan using Auslogics Duplicate File Finder, it offers three comparison methods. These include matching options including matching based on the file name, file size, date & time, and content. Advanced option compares by ignoring the files smaller than the mentioned size. The third method is a file type, including audio, video, images, etc.
4. Rescue Centre: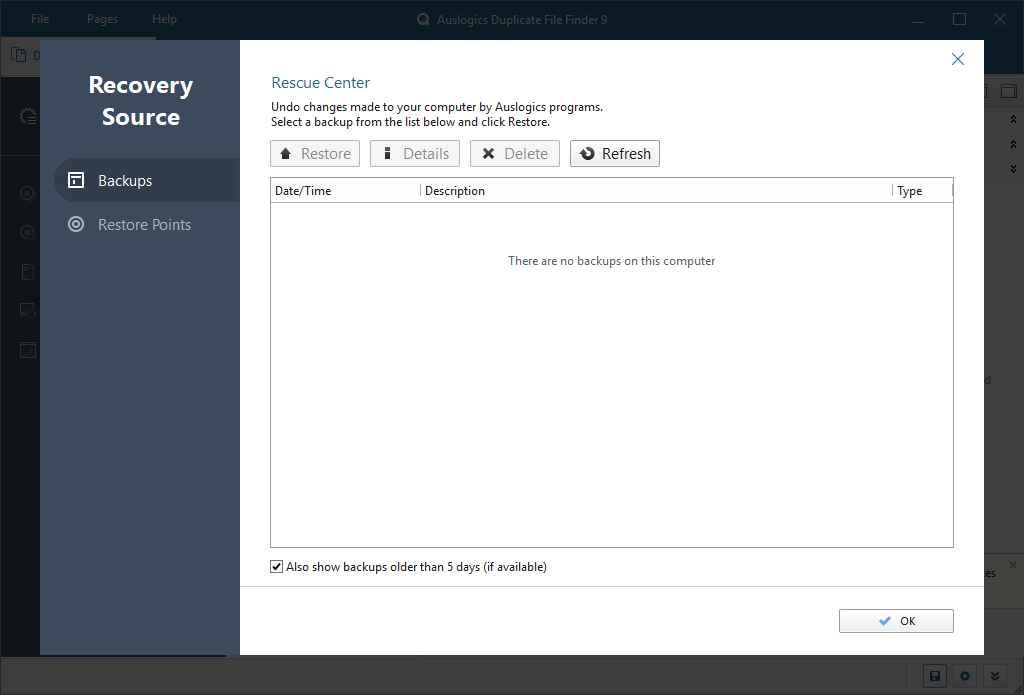 This option helps you to move the duplicate files found in the search by the tool. When you select the option to move to the Rescue Centre it will create a backup of those files. In case you are missing an important file or you have deleted the file accidentally, you can recover the file. Just go to the Rescue Centre from the File>Rescue Centre or the tiny button placed in the Bottom-right corner. It will show you the backups and then you can recover the files.
5. Reports :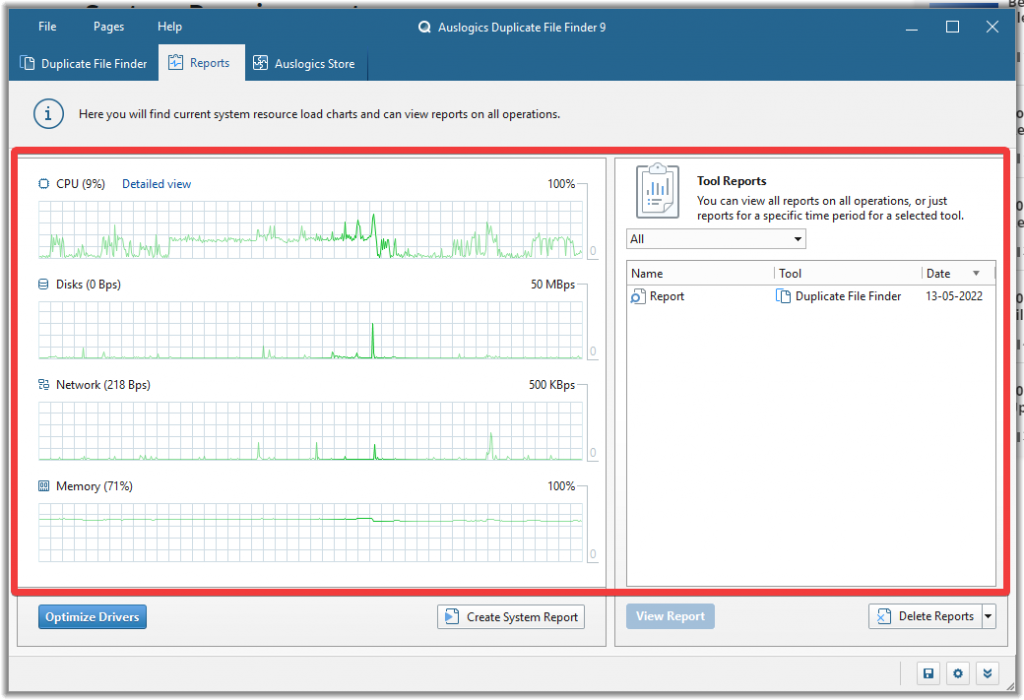 On another note, this feature is helpful for those who are concerned about the computer's health. This duplicate file finder will easily show you the status of the CPU, Network. Disks and Memory. It can be used as a PC monitor in case you are done clearing the duplicates. Save the reports from it for future reference and compare them if you have any doubts about the computer's health.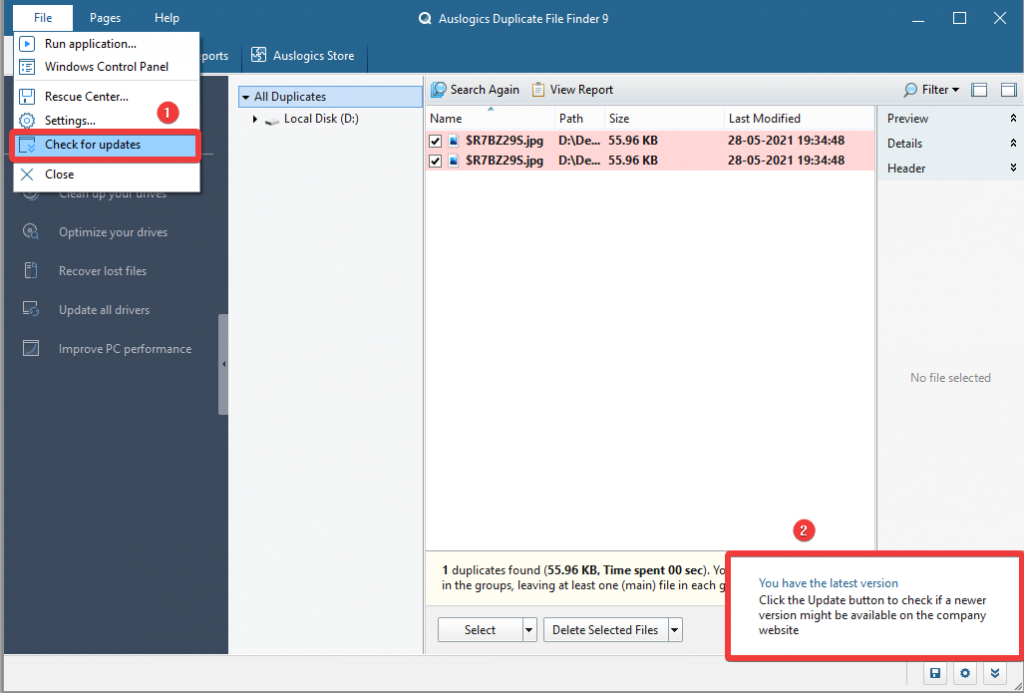 Auslogics Duplicate File Finder releases updates regularly. At times, to eradicate the bugs that not only ruin the software functionality but also cause risks related to the security of data. The updates for Auslogics Duplicate File Finder Windows 10 are available frequently, so the users can install the latest updates and get rid of the bugs. You can manually update the software and check for updates with the File>Check for Updates option.
The software is entirely free to use, inclusive of the regular updates, with no term limitations for home and commercial use. Auslogics Duplicate File Finder is available for Windows PC users as freeware. You can download the Windows duplicate finder and remover from its official website.
Speed is always an important factor while using any software, and this is the case with the Auslogics Duplicate File Finder. It, in no time, scans any folder on your computer and finds the duplicate photos, files, videos, or any files that are duplicates. Its speed is fast when you run the command to find duplicate files.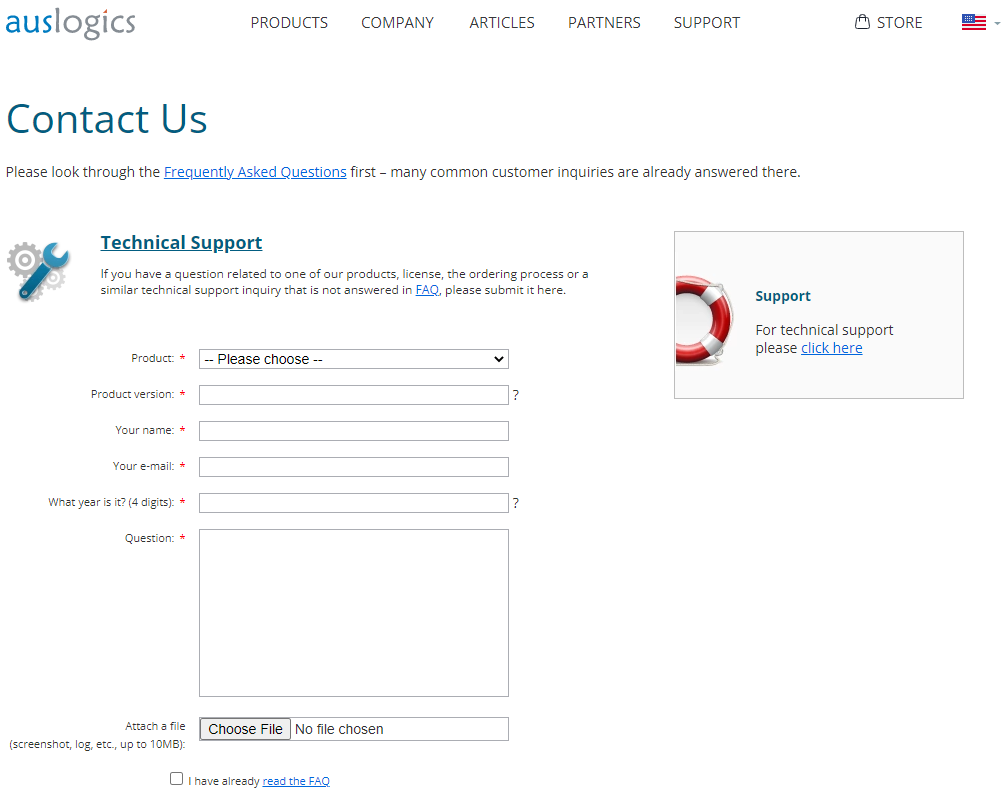 If you face any difficulty related to Auslogics Duplicate File Finder Download or usage, you can reach out for technical support. A Contact Us page is easily available on their official support website where you can share your query –
In addition to that, you can get more information on the product in the knowledge-based articles. You can also read the Frequently Asked Questions to find quick answers to your questions. The easiest way to reach out is through the tool with the Help button which gives you the options to Online Manual, Technical Support, Send Feedback, and Send Debug Log.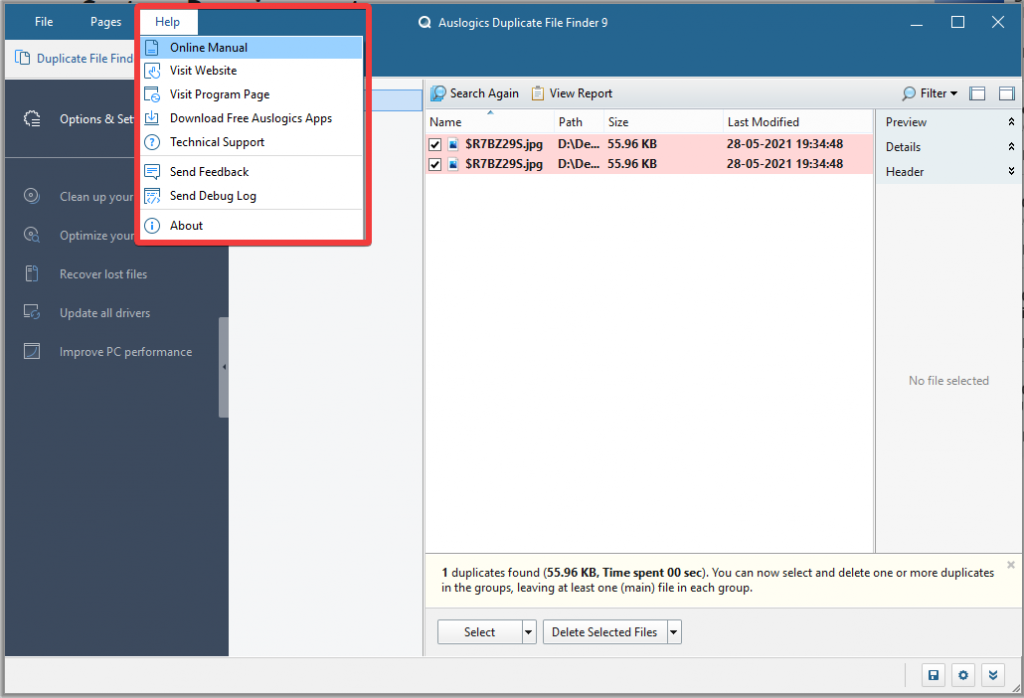 Frequently Ask Questions –
Q1. Is there safety in using Auslogics Duplicate File Finder?
Yes, its use is perfectly safe. It is recommended by some of the leading IT magazines and online resources.
Q2. Is Auslogics Duplicate File Finder free?
Yes, Auslogics Duplicate File Finder is FREE! You can download and use the software on Windows 10, 8.1, and 7. You can find and remove duplicate files easily with Auslogics Duplicate File Finder.
Q3. Is it worth using Auslogics Duplicate File Finder?
Yes, Auslogics Duplicate File Finder is indeed worth it. It helps remove useless file copies in just a few clicks. Auslogics Duplicate File Finder reviews from both critics and customers speak for the credibility and usefulness of the software. It has over 20 million downloads and has received 5-star awards from industry experts.
Verdict
During our testing, we found Auslogics Duplicate File Finder to be one of the best programs for searching for files to remove identical copies on computers. The scanning speed, features, accuracy, frequent updates, and customer support are excellent. The hardware and software requirements, too, are minimal. Its advanced algorithm intelligently scans and finds duplicates from the deepest of sources on your machine. You can easily install and use it on any computer. Download the Auslogics Duplicate File Finder Windows 10, 8.1, 8and 7 versions. While every software has some shortcomings, the pros outweigh the cons easily.
All in all, the software is a one-stop solution if you want to find and remove duplicate files and free up space on your computer. The software is free to use and has a proven track record among tech specialists, enthusiasts, and users alike. The cherry on the top is that the software is completely free to use. What more could we ask for!
We look forward to your comments to know more about your opinion on this blog post. Also, if you liked this, we recommend you to check out – Duplicate Files Fixer which can easily delete duplicate files on your PC. For more such reviews on Windows software, keep visiting Top10PCSoftware. Also, follow us on the social media platforms for the latest updates for Windows software. We are on Twitter, Facebook, Pinterest, and Flipboard.