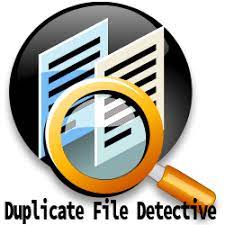 Duplicate File Detective
Duplicate File Detective Review 2023
One of the biggest nemeses of your computer's precious storage space is the duplicate files on your computer. Some of these duplicates are unwanted. Often we procrastinate and leave the duplicates be because let's face it, we don't have the time to analyze files or folders and pick out duplicates. That's where a specialist duplicate removal tool like Duplicate File Detective comes in. In this blog, we'll have a look at a comprehensive review of Duplicate File Detective and discuss its several features in greater detail.
Brief Introduction to Duplicate File Detective 7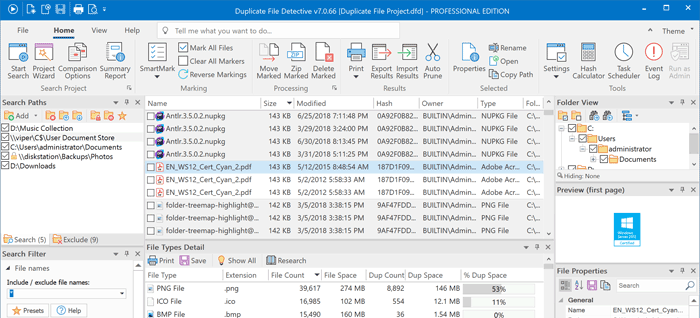 Duplicate File Detective 7 is a tool that can help you identify and eliminate all kinds of duplicate files, no matter where they are on your PC. They could be on your computer's hard drive, attached network storage, removable storage devices, or at some other location. Once you have been able to identify the duplicates, it is up to you whether you want to delete them or you want to move them to some other location or even zip them. That way, it doesn't just help you remove duplicate files but even eases up your backup processes, enhances indexing and file search process, and makes your storage more sorted. 
Some features of Duplicate File Detective for Windows include byte-for-byte file content analysis, facility to schedule duplicate file reports, file hash calculator, ability to link deleted or move duplicate files to original. These are just a few of the many features offered.
Reasons To Choose Duplicate File Detective 7
There are several reasons why you should choose Duplicate File Detective for your Windows computer. Let's have a look at some of the reasons for opting for this duplicate file removal software –
Exact duplicates can be identified based on file content
SmartMark technology intensifies selecting duplicates  
Multi-threaded analysis engine which helps find duplicates across all locations on your PC at once
Run duplicate reports on a scheduled basis
Export duplicate file search results in various formats  
Schedule duplicate file reports 
Duplicate file linking  
Get rid of empty folders when moving or deleting duplicates 
In-built file hash calculator that further improves file comparison  
File hash caching
Technical Specifications-
Current Version – 7.1.70.0
File Size: 39.5 MB
System Requirements-
Compatibility –  Windows 11, Windows 10, Windows 8, Windows 7 SP1, Windows Server 2022, Windows Server 2019, Windows Server 2016 and Windows Server 2012 R2 (both 32 and 64 bit) 
Memory – 256 MB or more RAM
 Disk Space – 77 MB or more
Grouping Results
Automark
Change Auto Marking Selection Priorities
Clear Cache
Exclude Folders
Unmark All
Preview
Detailed view
Image view
Metadata
Others
All file formats supported
How To Install Duplicate File Detective 7
Here are the steps to install Duplicate File Detective 7 on your Windows computer –
Step 1: Download Duplicate File Detective 7 from the download link below –
Step 2: When the Duplicate File Detective 7 setup wizard occurs, click on Next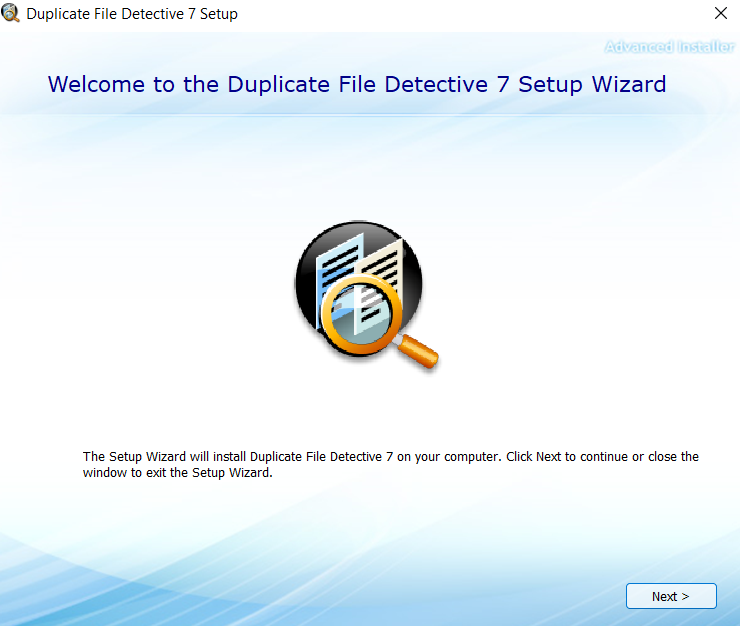 Step 3: Accept the license agreement and click on Next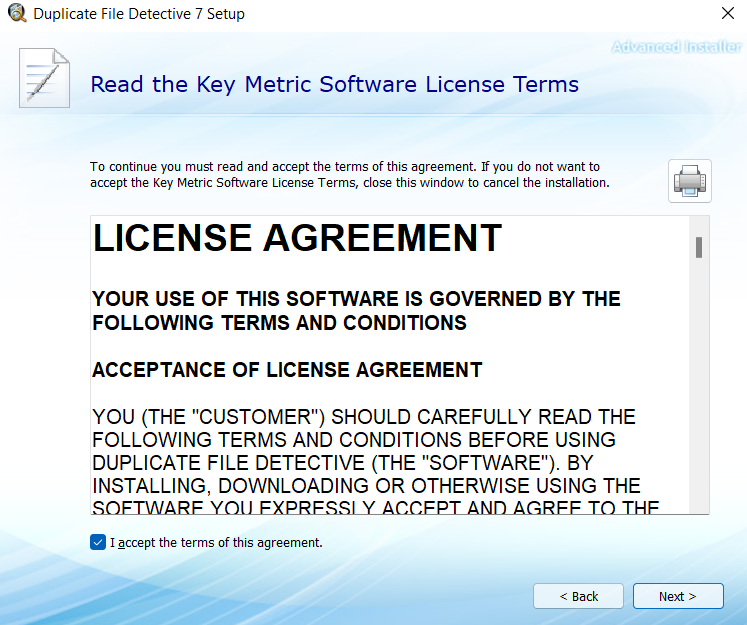 Step 4: Select the location where you want to install Duplicate File Detective 7 and click on Next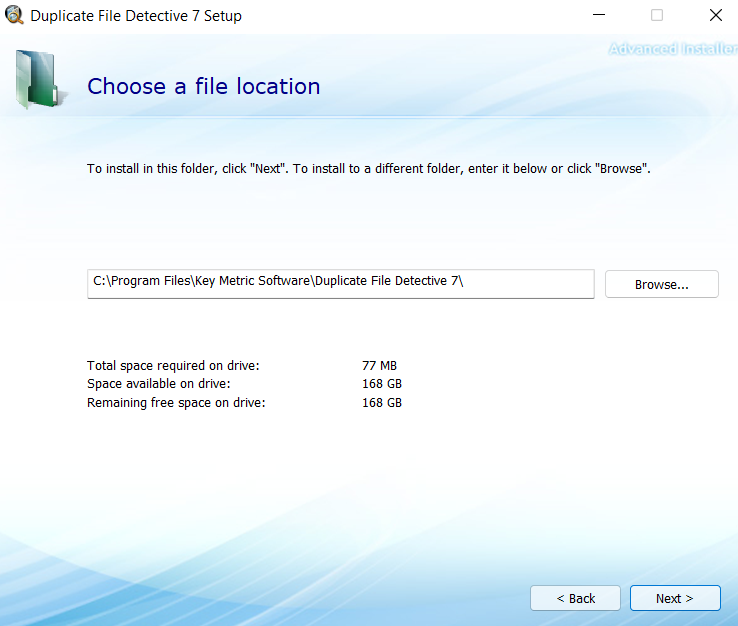 Step 5: Click on the Install button and wait for the installation process to complete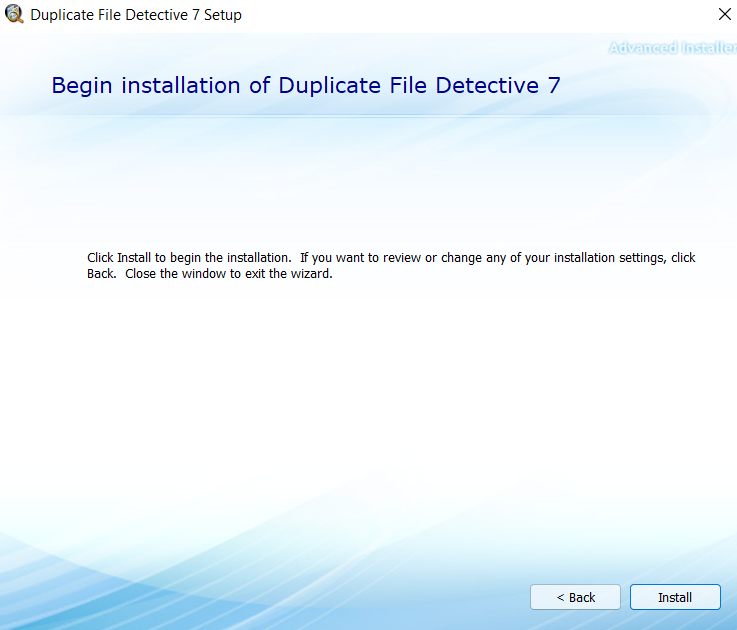 Step 6: Click on Run Duplicate File Detective 7
How To Use Duplicate File Detective 7
Once, you have installed Duplicate File Detective 7, here is how you can use this duplicate file remover application software on your Windows PC to your maximum advantage and remove unnecessary duplicate files. However, we'd like to mention that there is a lot to explore in this tool, so do give it a spin and let us know if you come across something that can take a user's productivity to the next level –
Step 1: Open Duplicate File Detective 7. Click on the Start Search button as shown in the screenshot below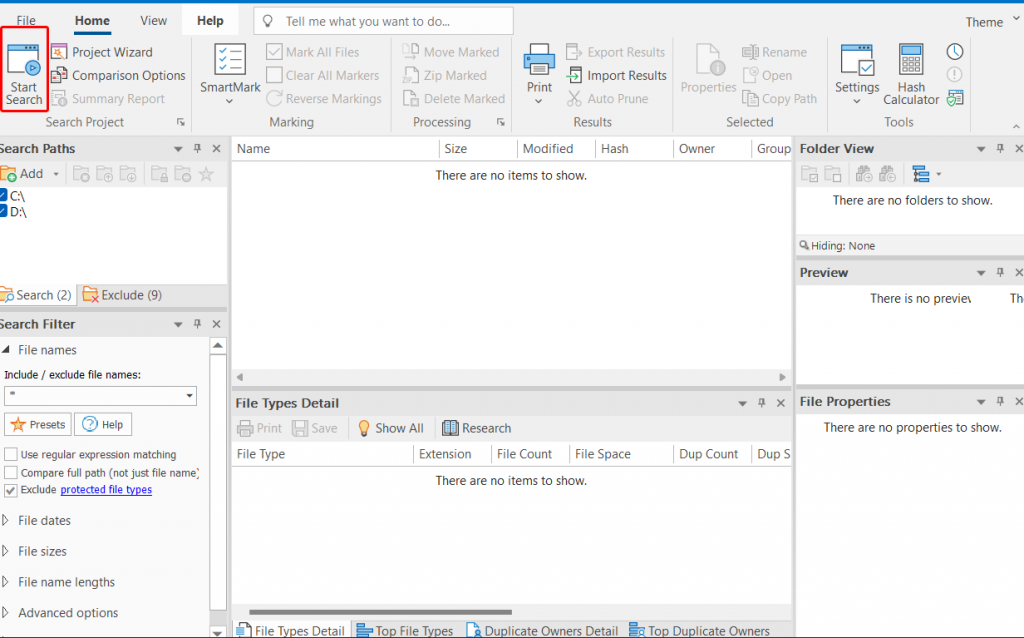 If you had previously saved a project, you can even load that as well by clicking on the icon shown below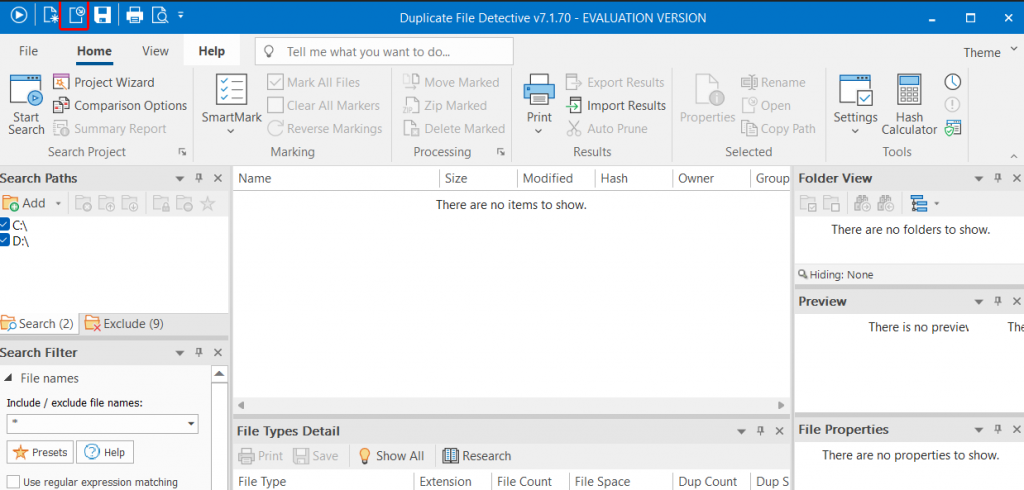 Step 2: From the left-hand side, you can add the path of the folder location that you want to scan for duplicates. From the same place, you can add a network drive and scan duplicate files or directly drag and drop files from the Windows Explorer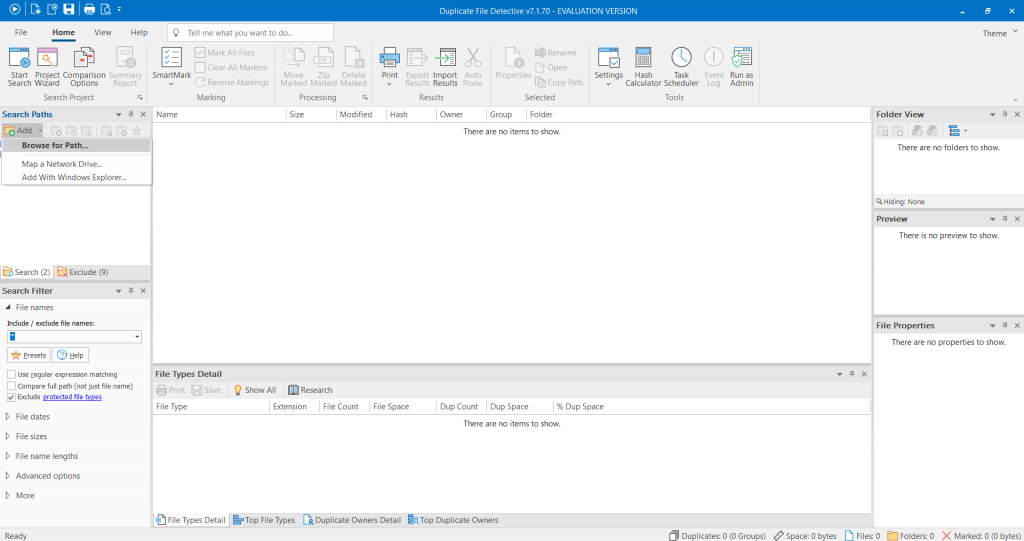 Step 3: To start the search for duplicate files either press Ctrl + R or click on the play icon or click on the Start Search option from the top-left corner of the interface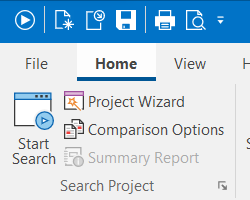 Step 4: We'd again like to refer to the screenshot just above. Here you can open the Project Wizard and choose a variety of scanning modes depending on how fast and accurate you want the scan to take place.
Secondly, you can even make modifications to the Comparision Options as well. For example, when finding duplicate music files you can compare music based on title, year, artist, genre, album, duration, track, and bit rate. Plus, there are a few more comparisons as well.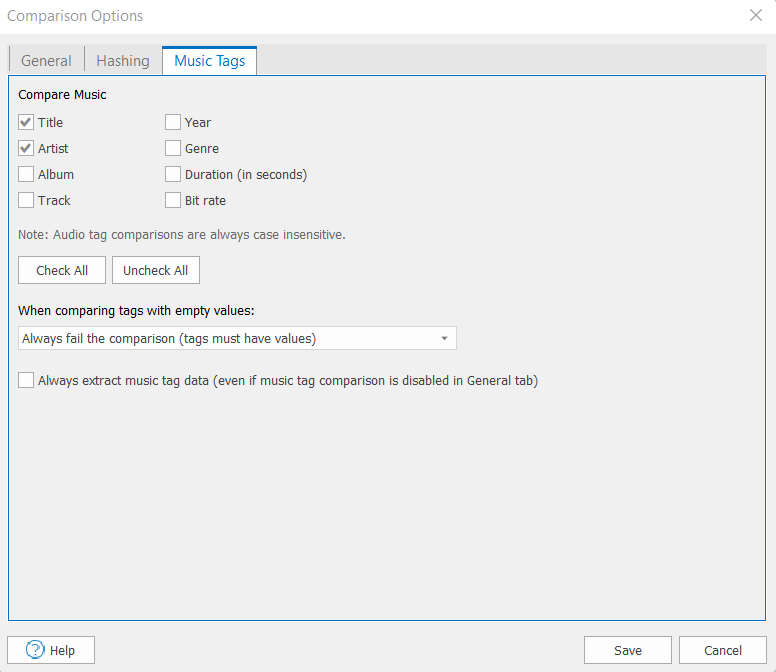 Step 5: Use SmartMark to mark files based on several criteria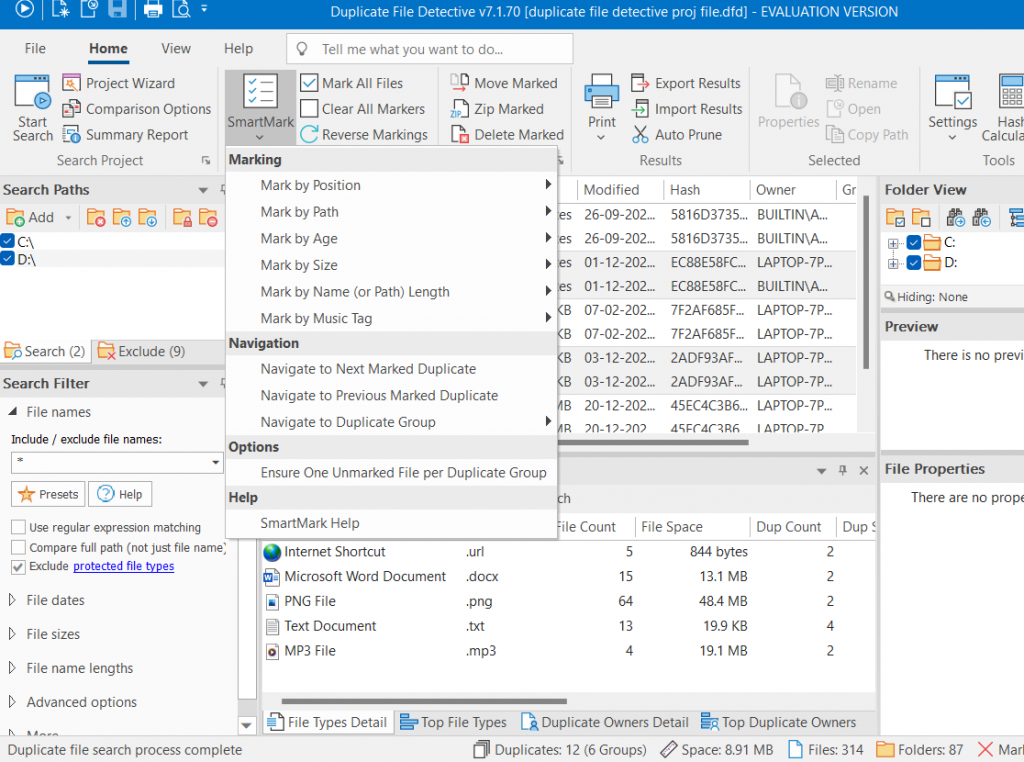 Step 6: You can also Preview files from the right-hand side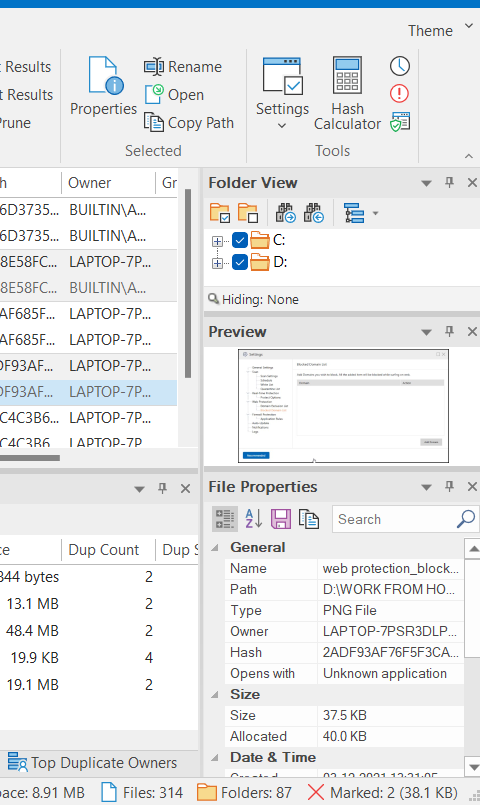 Step 7: Once you have selected the files, you can either delete them by right-clicking on them and then click Delete, or you can do various other things to manage these duplicate files as shown in the screenshot below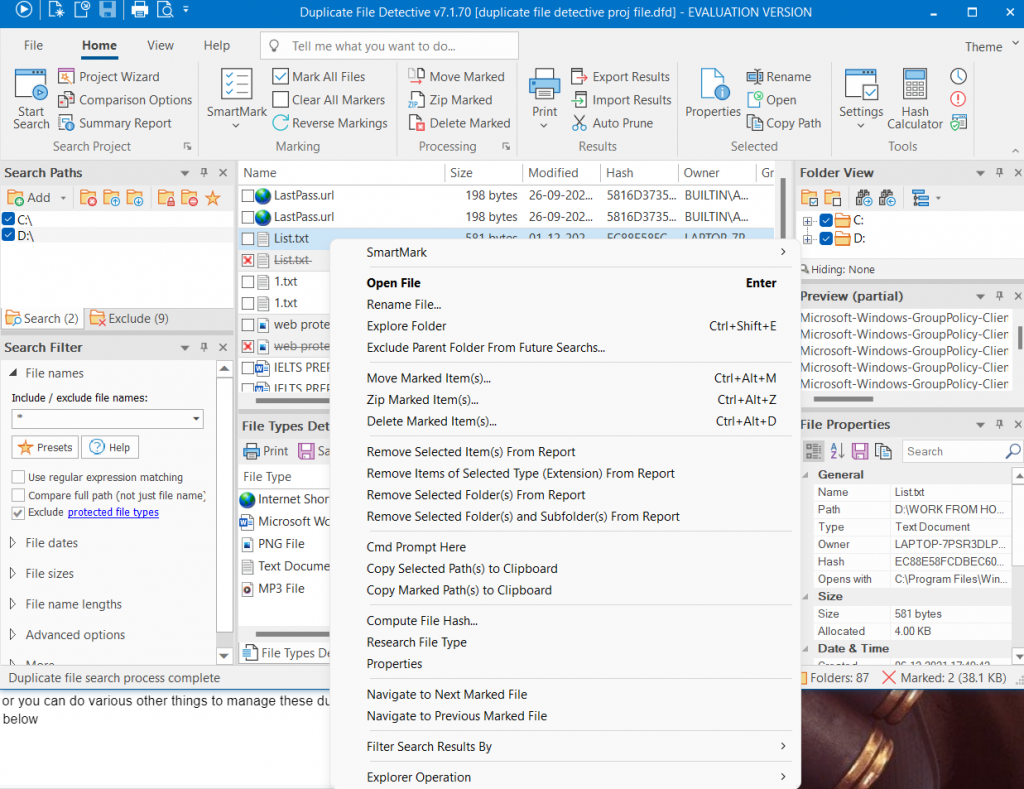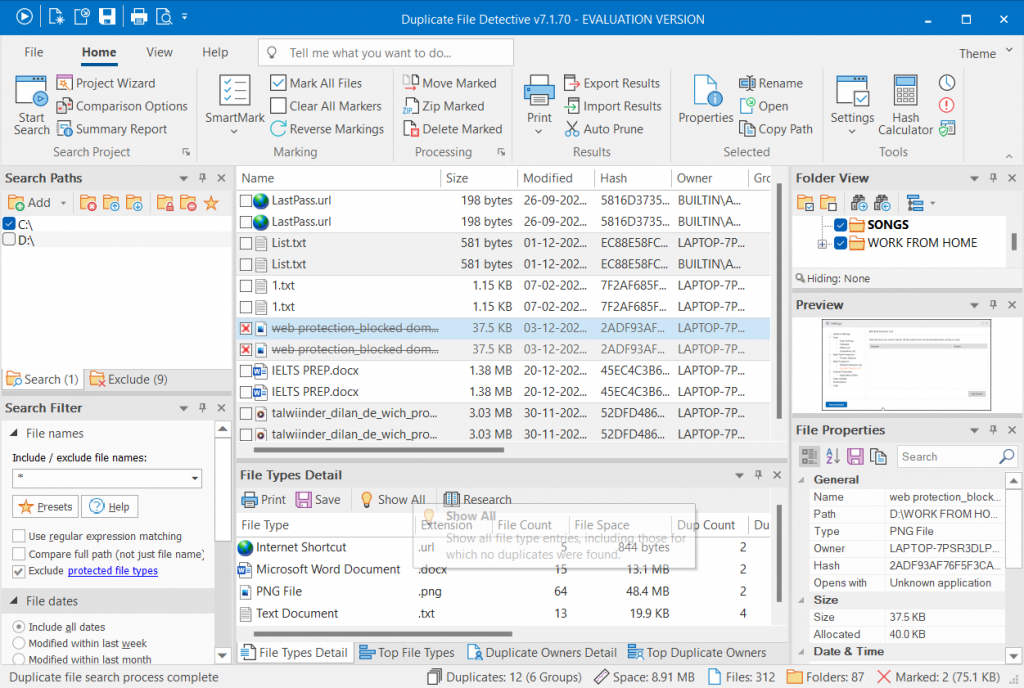 At the first glance, when you look Duplicate File Detective 7's interface, you would get a feel of Microsoft's applications like Word, Excel, PowerPoint, etc. If you are a regular at using these applications, you would feel as if you landed in very familiar territory, which should further enhance your ease of use and something that should instantly pique your interest in the software. Keeping the look and feel aside, every element does what it is supposed to. Sections are neatly segregated, as such, you can execute the task of finding duplicates in a hassle-free manner.
You can smoothly add files and folders, employ search filters, preview files and do a lot of other things. Feel that the interface is way too cluttered? You can simply click on the x icon just as you would do in any Microsoft application and remove that section.
Without a spec of doubt, Duplicate File Detective 7 is a feature-rich application. Here we are going to look at some of the best features of this tool –
1. Scan Modes
The tool takes its task of finding duplicates very seriously, something that is evident from a variety of modes that it offers. You can perform a quick search, basic and strong Checksum search, and even find duplicate audio files with utmost precision.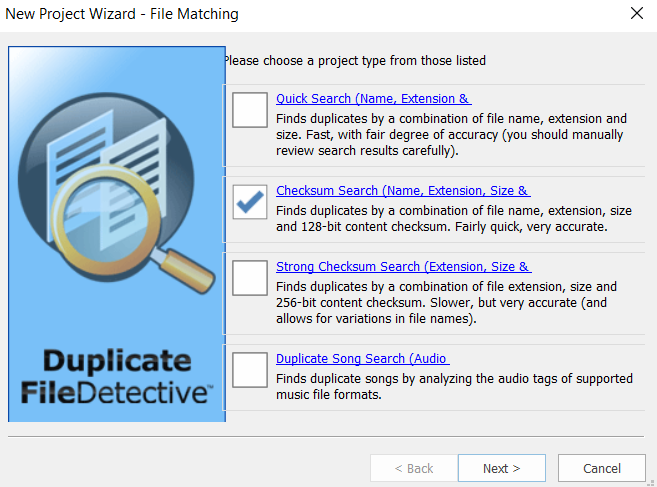 2. Inbuilt Scheduler
Duplicate File Detective 7 comes with a built-in scheduling facility with the help of which you can scan for duplicate files on both a recurring and deferred basis at your desired date and time. You can even mail duplicate file reports to individuals or save them directly to a file system.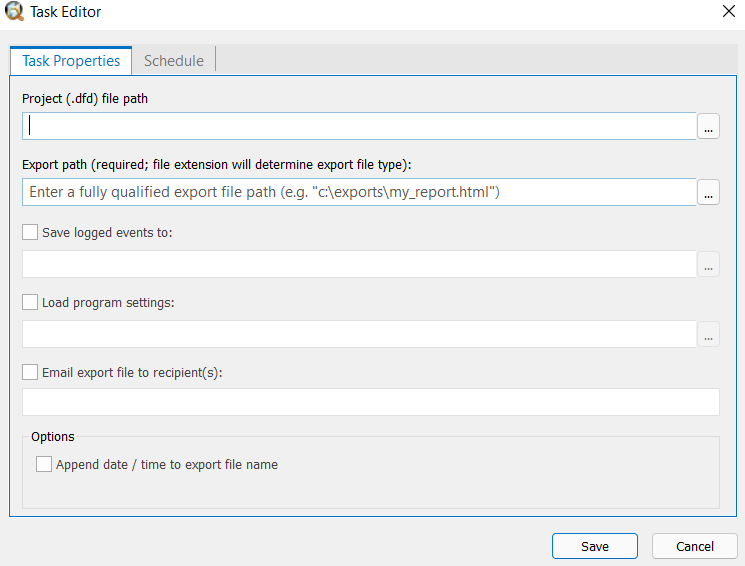 3. SmartMark Technology
Even when you have duplicate files in front of you, it might still be a daunting task to differentiate right from wrong. To get rid of that dilemma, you can use the SmartMark functionality using which you can mark files by position, age, path, size, name, etc, and that too automatically.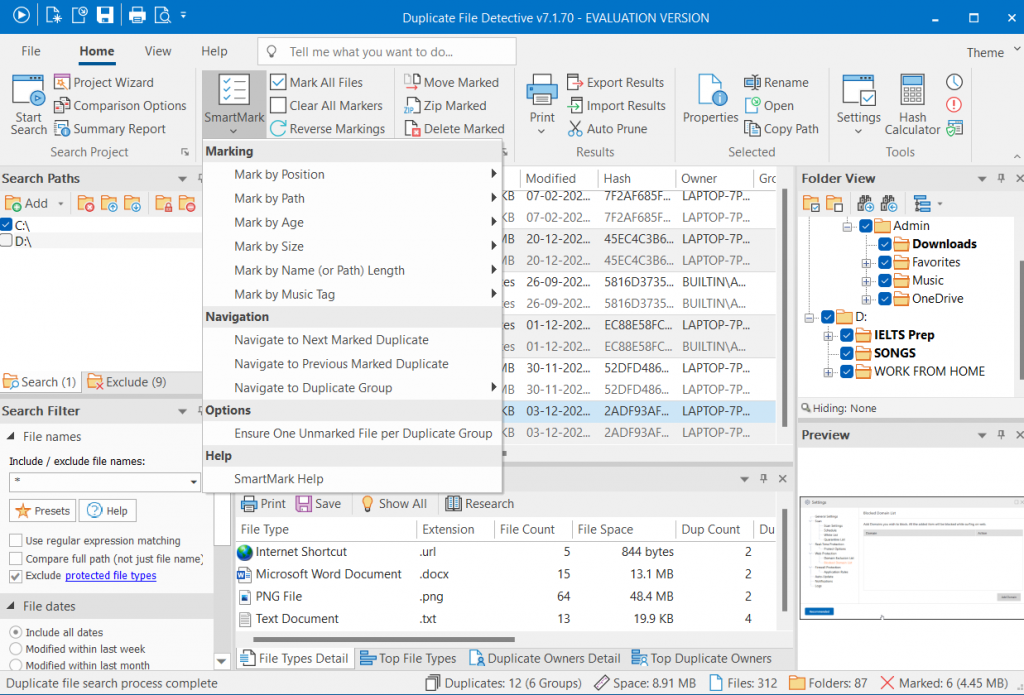 4. Easy Management Of Duplicate Files
The tool doesn't just find duplicate files for you but even lets you decide what you want to do with those duplicates. Once you have selected duplicates, as a part of further processing, you can choose to move, archive, or delete marked files.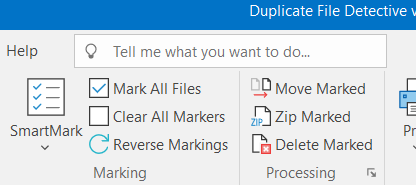 5. Link Duplicate Files
Often it so happens that, when we remove duplicate files we unknowingly obstruct the workflow because when we remove duplicates from shared storage areas, others become unaware of the location of the removed files. Duplicate File Detective 7 lets you link back the deleted file to the ones that are not removed. This way others won't lose track.
6. Project-Based Architecture
You can save and load a new or prior duplicate file searching project with utmost ease and share it with others working with you.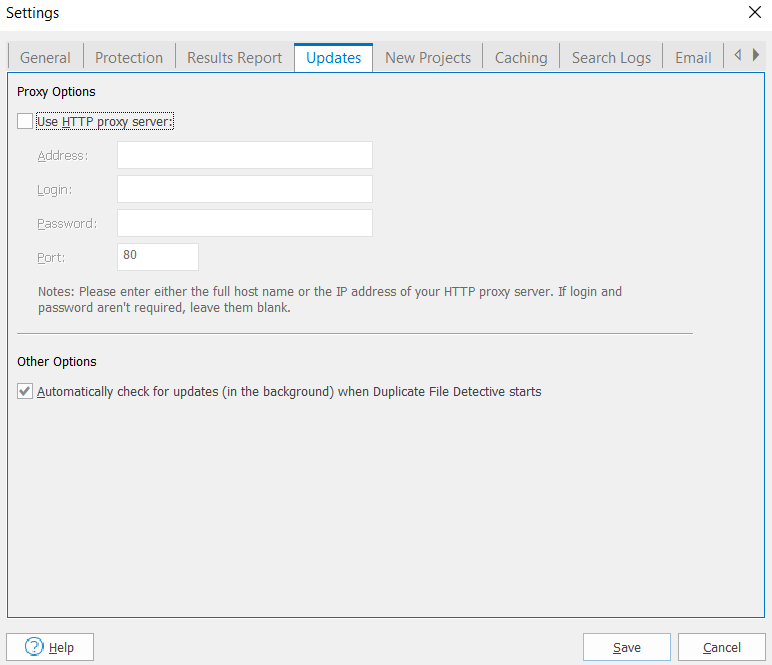 From both the standpoint of features and security, updates for software are very important. And, while Duplicate File Detective lets you fetch automatic updates, you can even search for them manually. To update the product –
Click on File
Click on Settings (shortcut – Ctrl + alt + G)
Click on the Update tab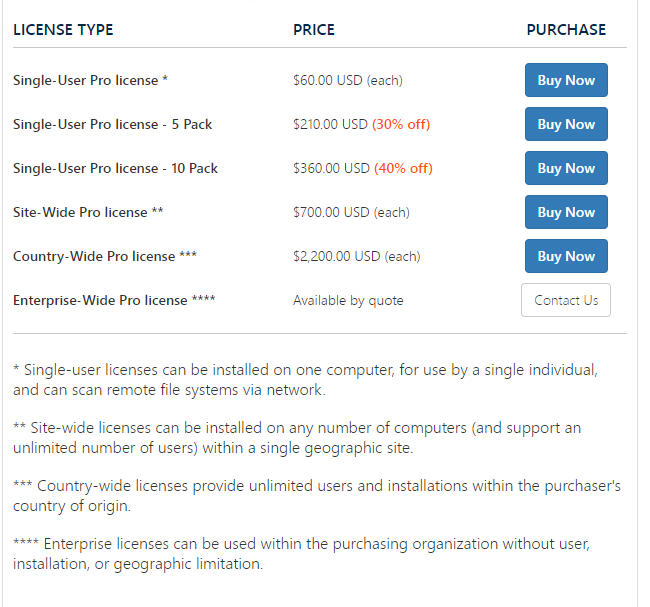 Duplicate File Detective 7 might not be the cheapest duplicate file finders, but, then it is its features that make it stand above the rest. To begin with, you can install a 15-day time-limited trial mode and enjoy all its features. Post that period, you will have to pay US$ 60 to obtain  a single-user license. For Duplicate File Detective Enterprise-wide Pro license, you can get in touch with the sales team and get a quote.
The overall speed of Duplicate File Detective 7 is decent. Even the installation is fairly simple and quick. Like we mentioned before, depending on how much time you have you can choose from various modes, where the Quick Search will find duplicate files fairly quickly with a decent level of accuracy, the other modes may take a little longer and deliver more accurate results.
There are multiple channels through which Key Metric Software, the makers of Duplicate File Detective 7 offer technical support to their customers. There is a comprehensive FAQ page regarding license and return-related queries. For further technical support, you can reach out to the customer support team via email – support@duplicatedetective.com. The team responds promptly.
Frequently Asked Questions
1. What is Duplicate Detective?
Duplicate Detective 7 is a widely acclaimed tool for identifying and removing duplicate files of various formats from Windows PC. it doesn't just help in removing duplicate files but even helps in managing them as well. It comes powered with a host of features and scanning modes based on which you can find duplicate files in an error-free manner.
2. How do I use Duplicate file Detective?
Once you have downloaded and installed Duplicate File Detective, you can import files and folders from your computer or load an existing project. You can then use the SmartMark functionality to choose the right files based on several criteria. Once you have done that, you can right-click on the selected files and manage them.
3. Is Duplicate File Detective legit?
We used the tool and after exploring it for a while, we can safely say that it is safe to use and it offers a variety of functionalities that further ensure that you don't delete wrong files. Though, still, we'd urge you to take a backup of your existing files. So, in case, something goes wrong, you have a backup to fall back on.