dupeGuru Review: Pricing, Features, And Installation [2023]
Many of us might just let them sit there and procrastinate over deleting them later. However, if not dealt with promptly, these duplicate files won't just consume precious storage space but even create confusion, the next time you will sit down to select the right file. Now, removing such duplicates manually can be painfully daunting and you may even risk deleting the right file. To save yourself from such a blunder, you can take the help of a duplicate file removal tool like dupeGuru. In this dupeGuru review, we'll discuss its features, pros, and cons in greater detail. 
What Is dupeGuru?
dupeGuru is free, open-source software, and, a feature-rich duplicate finder and removal program that can help you find and remove duplicates from your PC. It comes with three modes, namely, Standard, Music, and Picture. Based on each mode, you get different kinds of filters. dupeGuru scans both filenames and the contents of the files. This is the reason why it is able to identify duplicates even when the files are not exactly the same.
Brief Introduction to dupeGuru For Windows
When we say that dupeGuru is a tool that can help you find and remove duplicate files on your PC, it means it can deal with all kinds of file formats. Be it images, audios, archives, documents, music, and all other possible formats, dupeGuru can easily detect and remove duplicates.
It has a fuzzy matching algorithm which means it can delve straight to the right duplicates even when they are not exact. The tool is customizable and you can make modifications to its matching engine to zero down on the exact kind of duplicates you want. While the tool is easy to use, no matter what your expertise with but still you may have to spend some time to get familiar with it.
dupeGuru works across all major platforms and as for Windows, it works fine on all major versions, especially Windows 10 and 11.
Reasons to Choose dupeGuru for Windows 11/10
There are several reasons why you should choose dupeGuru for your Windows 11/10 computer. Here we have enlisted some main reasons to download dupeGuru –
Free of cost
Scans all kinds of files – images, documents, audio and video files, and all other kinds of files
Facility to exclude folders that you don't want to scan
Easy help or tutorial to get a user started
Several scan modes as per the file format you have selected
Fast scanning
Facility to preview files before deleting them
You can clean file caches
Copy, move, add, remove and manage duplicate files in various other ways right from the interface itself
Save and load results for later processing
Technical Specifications
Current Version – 4.3.1
File Size – 26.78 MB
System Requirements
Compatibility – Windows 11, Windows 10, Windows 8, Windows 7, Windows Vista, Windows XP (32 bit and 64 bit)
Processor – 400MHz or higher processor
Grouping Results
Automark
Change Auto Marking Selection Priorities
Clear Cache
Exclude Folders
Unmark All
Preview
Detailed view
Image view
Metadata
Others
All file formats supported
How To Install dupeGuru?
Once you have downloaded dupeGuru, here are the steps to install it on your Windows PC –
Step 1: Download dupeGuru from the download button
Step 2: Double-click on the installed .exe file to run the setup
Step 3: Select your preferred language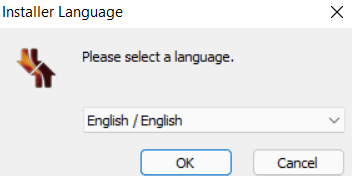 Step 4: Click on Next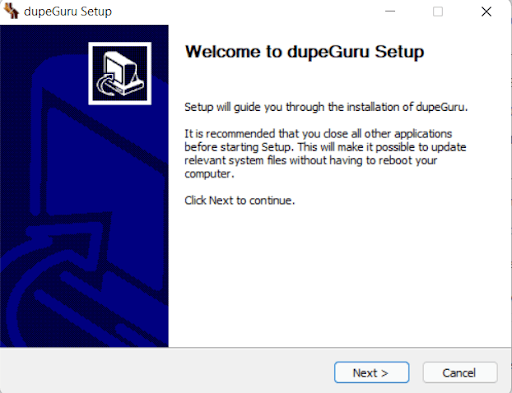 Step 5: Click on I Agree when License Agreement occurs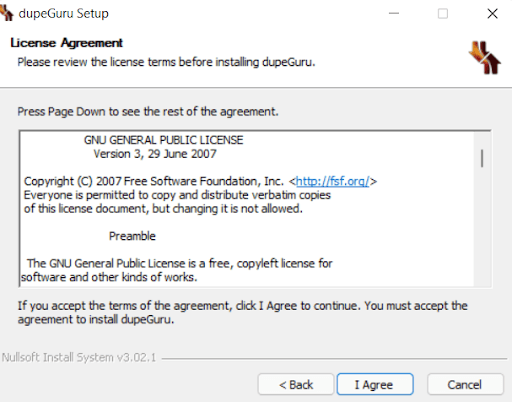 Step 6: Choose the users on your computer for whom you want to install dupeGuru and then click on Next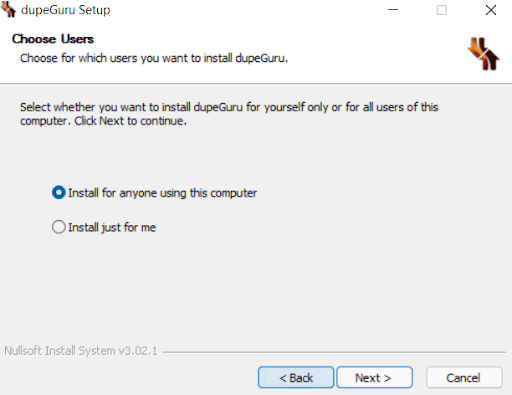 Step 7: Select a location where you want to dupeGuru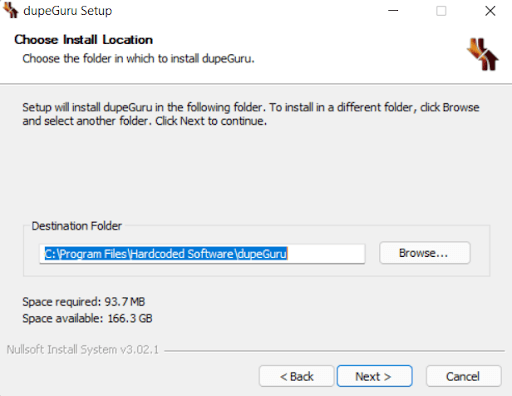 Step 8: You can also select the Start Menu Folder in which you can create program shortcuts. Once you have selected the folder, click on Install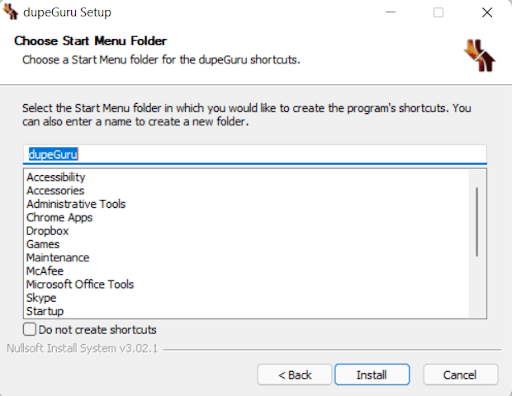 Step 9: Once the setup is finished, click on Finish to close the Setup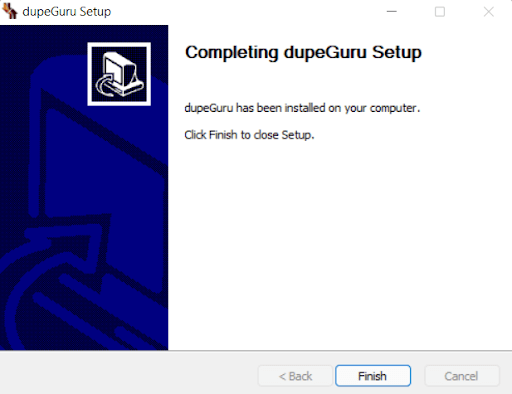 How To Use dupeGuru?
After you have downloaded and installed dupeGuru, let's discuss how you can use dupeGuru on your Windows PC for maximum advantage. Below are the steps using which you find and remove duplicates from your Windows computer using dupeGuru.
Step 1 – Click on the + icon from the bottom-left of the screen to add a folder that you want to scan for duplicates. You can also directly drag and drop files for comparison. In case you want to remove a file or folder, click on the – icon at the bottom-left of the screen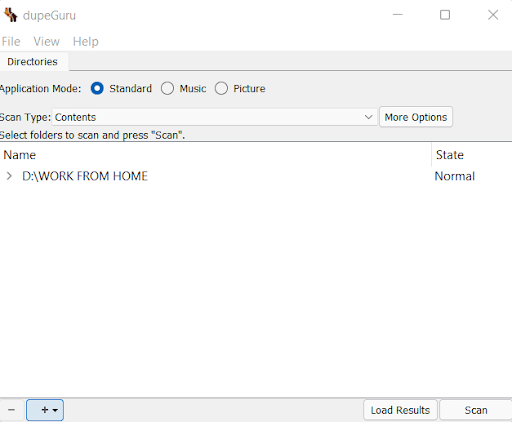 Step 2 –  Select the Application Mode and further select the Scan Type by clicking on the dropdown next to it.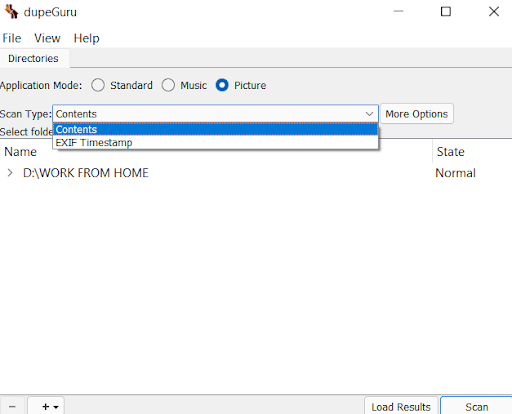 Step 3 – You can even narrow down the filtering by clicking on More Options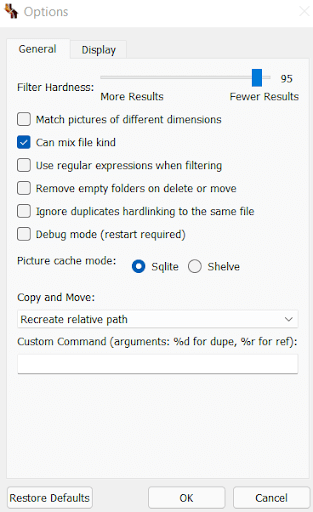 Step 4 – Click on the Scan button from the bottom-right corner of the interface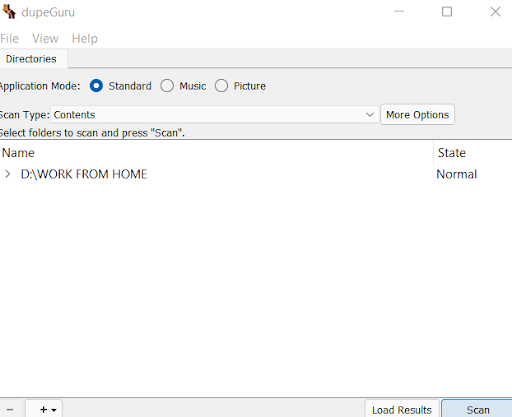 Step 5 – You can manually select files by clicking on the checkbox located left to it, or you can click on the Mark tab and mark the files you want to select.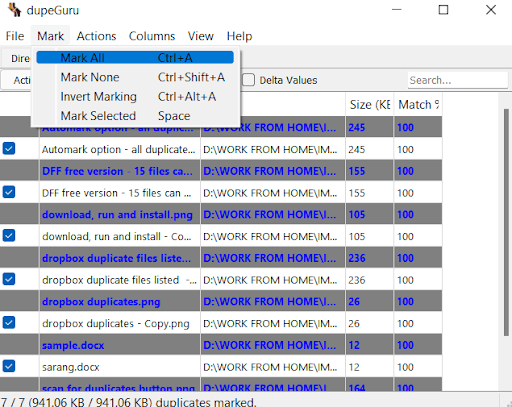 Step 6 – You can also use one of the modes mentioned in the screenshot below. For example, you can directly select duplicate files by clicking on the Dupes Only option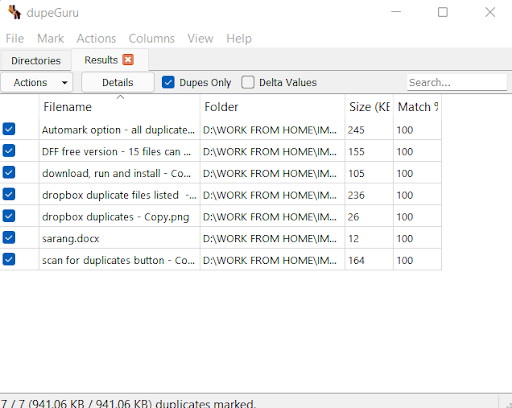 Step 7 – Head to the Actions tab, click on it, and choose what you wished to do with the duplicate files.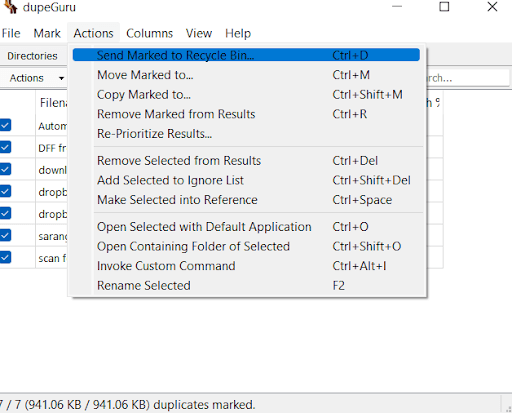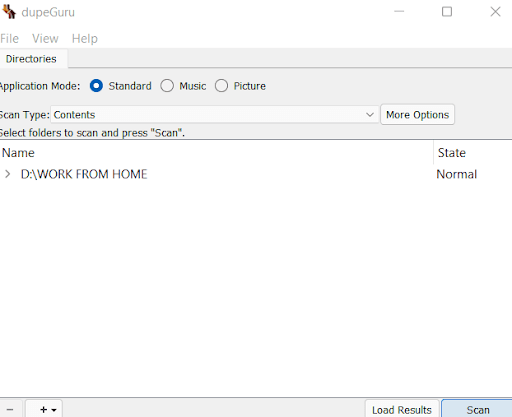 dupeGuru has a decent interface. However, it is slightly outdated especially if you compare it with its competitors like Duplicate Files Fixer For Windows. When working with dupeGuru you shouldn't have any problems except for one thing that you may have to spend some time to get used to the interface especially if you are new to using duplicate file removal software. You will most functions like adding files, loading and saving results, marking functionalities, filters, etc at the interface. Though, there are certain options that you may find missing as compared to some other tools that remove duplicate files. For example, the option to fetch updates directly is missing and you may have to install the updated version from the website itself.
1. Scan Modes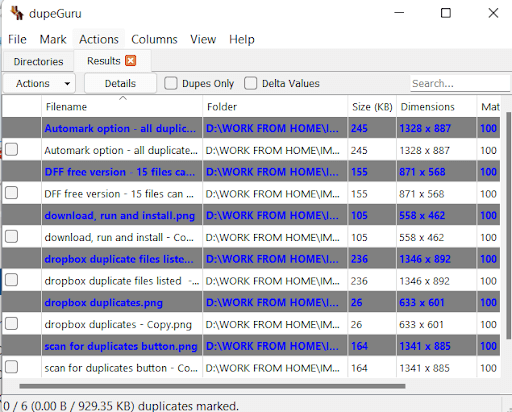 On the interface, you may see three modes i.e. Standard, Music, and Picture. But, there is more than meets the eye. For every Application Mode that you select, you get a different set of Scan Type and options. Once you scan a folder for duplicates based on a Scan Type you can further filter the search results based on Details, Dupes Only, and Delta  mode. For example in the search above, when you click on the Dupes Only checkbox, you will be able to see the duplicate files.
2. File Management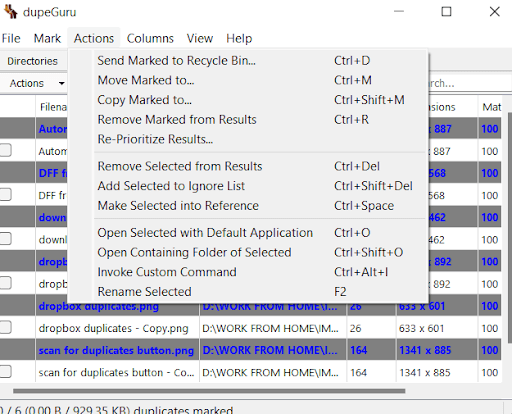 Even after you have the duplicate files right in front of you, you may want to exercise caution and that's where the file management capability of dupeGuru proves to be useful. There are a bunch of actions you can take on the selected duplicate files. You can send the files to the recycle bin and then delete them later, add the files to an ignore list, copy or move files and do a lot many things.
3. Preview Files
dupeGuru lets you preview files before you perform any action on them. You can do this in multiple ways. One way is to double-click on the selected file and the second way is to click on Actions and then choose Open Selected with Default Application. You can even click on the Details and see the preview of the selected file.
4. Save and Load Results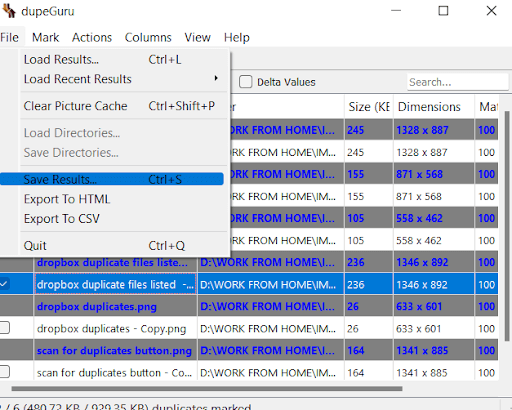 Let's assume you don't want to work on your results now and want to work on them later. When the next time you sit down to find duplicates, you won't again have to carry the search, add filters and do all that. Instead, when quitting an existing search, you can save it for later use. Next time, you can load your existing search and move forward with further processing.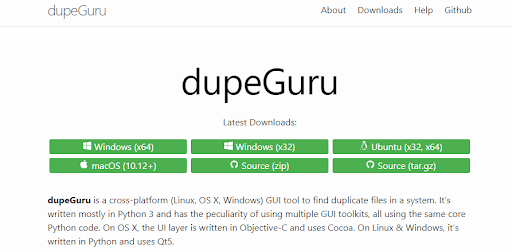 dupeGuru hasn't seen a major upgrade in its features for quite some time. Still, it is important that you install the latest version of the software from trusted websites only. You can download the recent version from dupeGuru's official website, the link of which is mentioned above.
You might be intrigued about how much does dupeGuru costs? dupeGuru is a free-of-cost, open-source software. This means, no matter how many Windows PC you are using, you wouldn't have to pay a single penny to buy a license and you will still be able to enjoy all its features. dupeGuru was initially released as commercial software, but, back in 2010, Hardcoded Software announced that all its apps have become open source.
dupeGuru works at a pretty decent speed. The duplicate removal tool downloads quickly and poses no issues whatsoever. As for the scanning speed, dupeGuru scans a given folder fast. You can also use filters to speed up the scanning process. Once you have caught hold of duplicates, you can remove them with an equally fast speed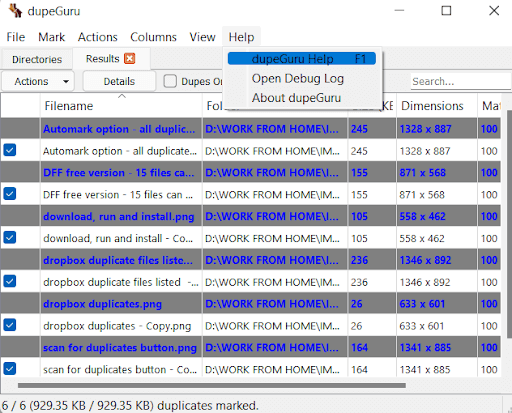 There is a dedicated help section that you can reach by going to help and then further clicking on dupeGuru help. The next place you can turn to, in case you want to report a bug or suggest a feature is Github. As we said, dupeGuru is open-source software, you can sign up on Github and then further open an issue. You can find the right steps to that on this link.
Frequently Asked Questions:
Q1. What Does dupeGuru Cost?
dupeGuru is a free-of-cost, open-source duplicate finder, and removal program for Windows 11/10 PC. This means you won't have to spend any money to purchase the license. That last paid version of dupeGuru was 2.12.0.
Q2. Is dupeGuru Safe To Use?
Yes, dupeGuru is safe to use. More specifically, you can safely install and even uninstall dupeGuru from your Windows PC. The installer that comes with dupeGuru is free of any adware and malware. Another great aspect of dupeGuru is that it takes preventive measures so that a user doesn't delete the right files by mistake. 
Q3. How Do You Use dupeGuru?
Do refer to our guide on how you can use dupeGuru to your maximum advantage. In the simplest possible way, you can click on the + icon located at the bottom left-hand corner and select a folder that has duplicates. Next, choose dedupes checkbox to directly bring duplicates in front of you, and then lastly, you can click on Actions from the top and move the duplicates to Recycle bin.
Verdict
From this dupeGuru review we can infer that it is a decent and speedy duplicate file remover application. In case you are someone who is new to the concept of using an application to find and remove duplicates and who doesn't want to spend money, dupeGuru can be a great option.
It comes with various scanning and filtering modes based on which you can accurately find duplicate files even if they are not exact duplicates. You can find duplicates based on filters, names, delta values, and several other aspects. dupeGuru even lets you create links (symlinks and hard links) of files before you delete them. 
What do you think about this review? Do let us know in the comments section below.