Cyberghost Review: Can CyberGhost be Trusted?
Thinking about giving a shot to the CyberGhost VPN service on Windows? You've come to the right place. So, this post covers a detailed insight into the CyberGhost review, including  features, pricing, speed and performance, customer support, and everything else  you should know that will allow you to invest wisely.
What Is CyberGhost VPN?
To ensure that your online activities remain secure while you keep the prying eyes at bay, using a reliable VPN service becomes a must. When you are connected to a VPN service, your device establishes a secure connection to the web, protecting your online identity. VPN is a must-have tool that offers you enhanced Internet security in this digitally driven world. A VPN makes it utterly impossible for adversaries to trace your browsing activities. CyberGhost is one of the most renowned and reliable brands in the VPN industry.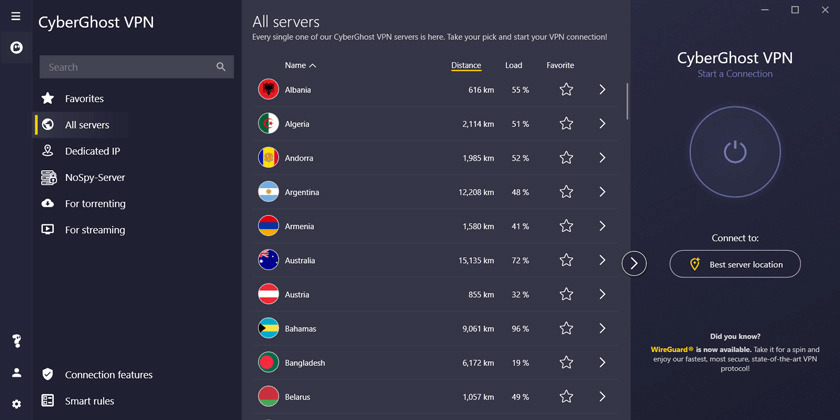 CyberGhost was founded in 2011 and is owned by Kape Technologies, an organization based in Bucharest (Romania). It has a massive VPN network of 8000+ servers spread across 90+ countries worldwide. Powered with more than 15+ years of professional expertise, CyberGhost is one of the
best VPNs in 2022 for Windows
, which adds an extra layer of protection to your online privacy. It comes packed with some excellent, top-notch security features that offer robust security and privacy measures while you browse online. CyberGhost VPN for Windows follows a strict zero-log policy and uses strong VPN protocols to keep you safe online. This nifty VPN service offers you unlimited access to popular streaming services, including Netflix, Amazon Prime, HBO Now, BBC Player, and more. You can even download the CyberGhost extension for free on Chrome and Firefox browsers.
Pros:
One-click connection.
Allows torrenting
Cons:
Costly for all full-feature plans
Why Choose CyberGhost VPN? Can it Be Trusted?
There are several reasons why you should rely on the CyberGhost, one of the best VPNs for Windows. You may notice a bunch of aspects here that give CyberGhost an edge over its top-rated VPN services competitors like NordVPN,
ExpressVPN
and
Systweak VPN
.
Follows a strict zero-log policy and uses strong 256-bit military-grade encryption.
Includes NoSpy servers to add an extra layer of privacy.
Protection against malware, adware, trackers, and other intruders.
Features advanced security features like Split Tunneling, DNS Leak Protection, and Automatic Kill Switch for maximum security.
Includes a "Connection Checker" feature that analyses the speed and connectivity while establishing a connection.
Protects your digital identity from government authorities, ISP, and other intruders.
Offers access to IP-restricted private networks like schools, universities, offices, and so on.
Peer-to-peer file sharing allows you to download torrents with complete anonymity.
CyberGhost VPN for PC also offers access to social media accounts like Facebook, Instagram, Twitter, and YouTube.
So, can CyberGhost be trusted? Well, yes! When it comes to protecting your online privacy, CyberGhost performs exceptionally well in all fields. Compared to free VPN software, paid ones like CyberGhost offers best-in-class WiFi protection that protects you from huge privacy risks. Also, if you want to steer clear of the government or the Five Eyes Network, CyberGhost proves to be an excellent choice.
Technical Specifications:
Compatible: Windows (Windows 11, 10, 8, and 7), macOS, iOS, Android, Amazon Fire TV Stick, Android TV, Linux, routers, Chrome, and Firefox.
RAM: 2 GB recommended.
Free Disk Space: 310 MB of free hard drive space is required to run the app.
Download Size: 8.5 MB.
Country of registration: Romania.
Supported protocols: WireGuard, OpenVPN UDP & TCP, L2TP/IPSec, IKEv2, PPTP
Languages supported: English, German, French, Romanian with 19 others      .
System Requirements:
Processor: 1 GHz PC 32-bit (x86) or 64-bit (x64) processor | .NET 4.6 compatible PC
Operating System Framework: Supports 32 and 64-bit processors.
Security
AES-256 encryption
Kill Switch
No logs policy
Streaming Servers
Netflix
Others like Hulu, BBC iPlayer, HBO Now
Customer Support
Email support
Live chat support
How To Install and Use CyberGhost VPN Service on Windows?
So, here comes the best part. CyberGhost also offers you a
24-hour free trial
period? Yes, you heard that right.
Visit this link
and start your CyberGhost free trial on Windows. Get access to all the premium features, including Quick connect, fast servers, streaming, and Smart Rules. (No credit card required).

Step:1 Tap on the "Start your Free Trial" button to get CyberGhost for Windows . As soon as you hit this button, the download process will begin automatically.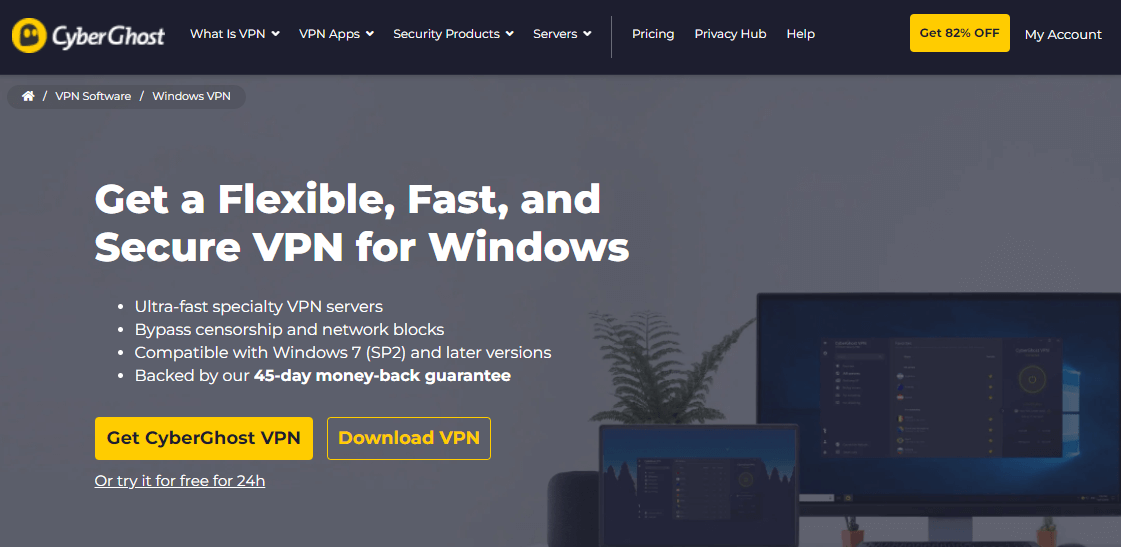 Step:2
After the setup file has been downloaded, run the file to start the installation process.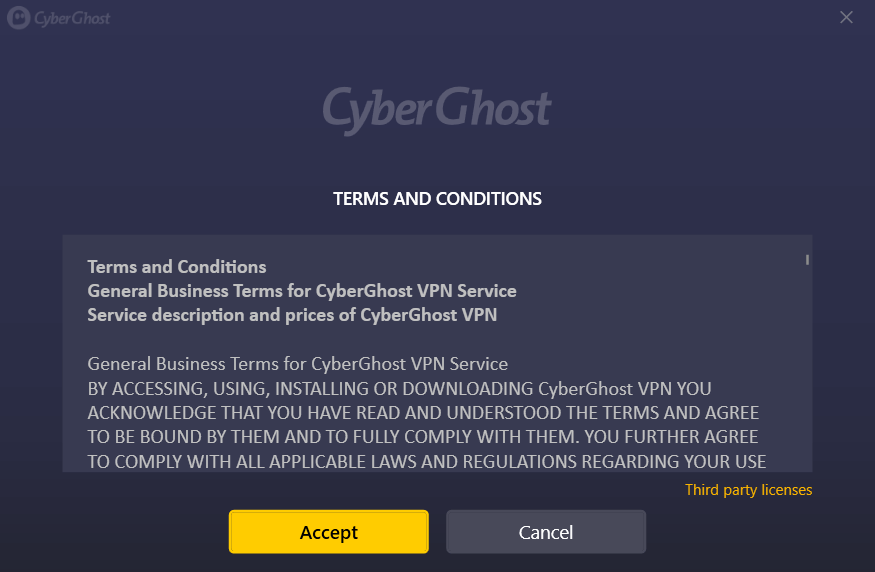 Step:3
Tap on the "Accept" button after reviewing the terms and conditions. The installation process will begin shortly.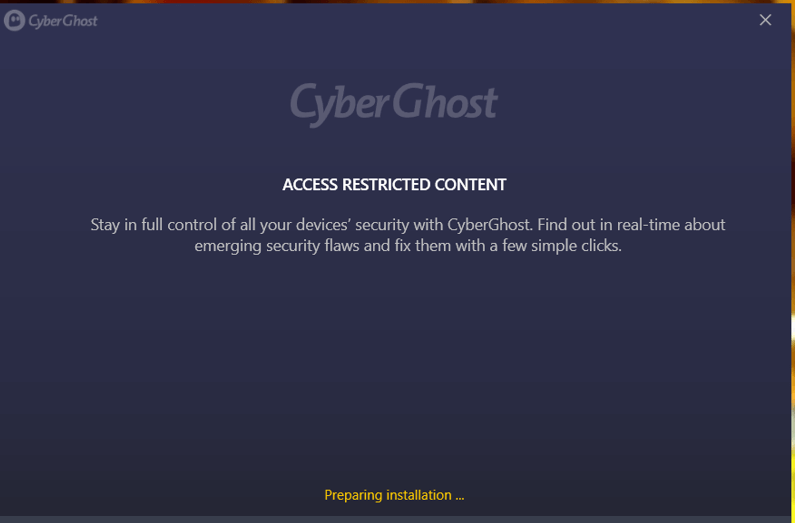 Step:4
Tap on "Agree on Continue" to proceed.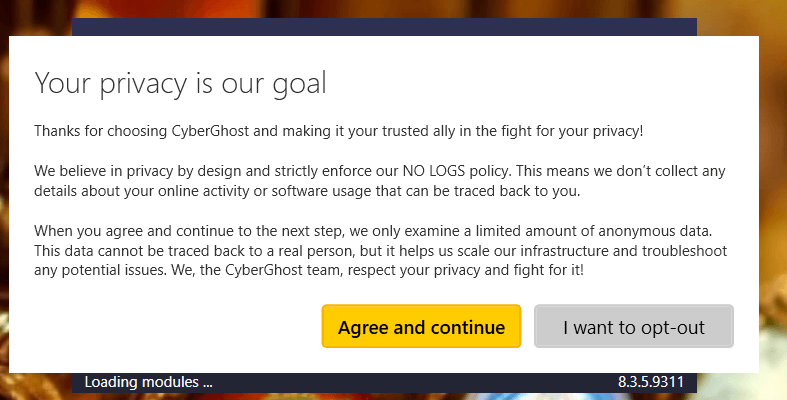 And that's it!
Step:5
Now that you have installed this VPN for Windows, you need to sign up. For that, click on "Click here to create one" option.
Step:6
Sign up with an email ID and choose a password for your choice to create an account.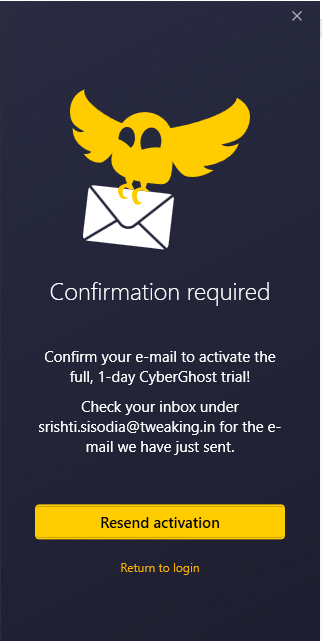 Step:7
Once you sign up, you will get an email on your registered email ID to activate your one-day CyberGhost trial.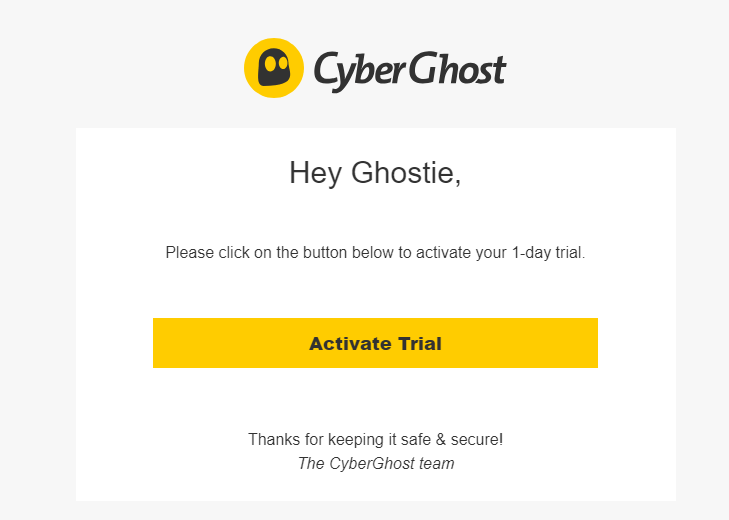 Step:8
Go to your Email and check your box for mail with the subject line: Ghostie, please confirm your e-mail. Open the email and click on Activate Trial.
Step:9
Now go to the App interface and log in again to start using CyberGhost.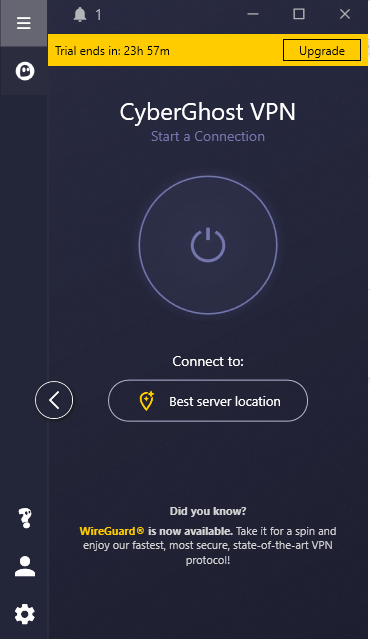 Step:10
To use, tap on the Power On button to start using VPN for streaming or surfing online without geo-restrictions.
Step:11
Click on the side arrow to expand and get more options and change the server location.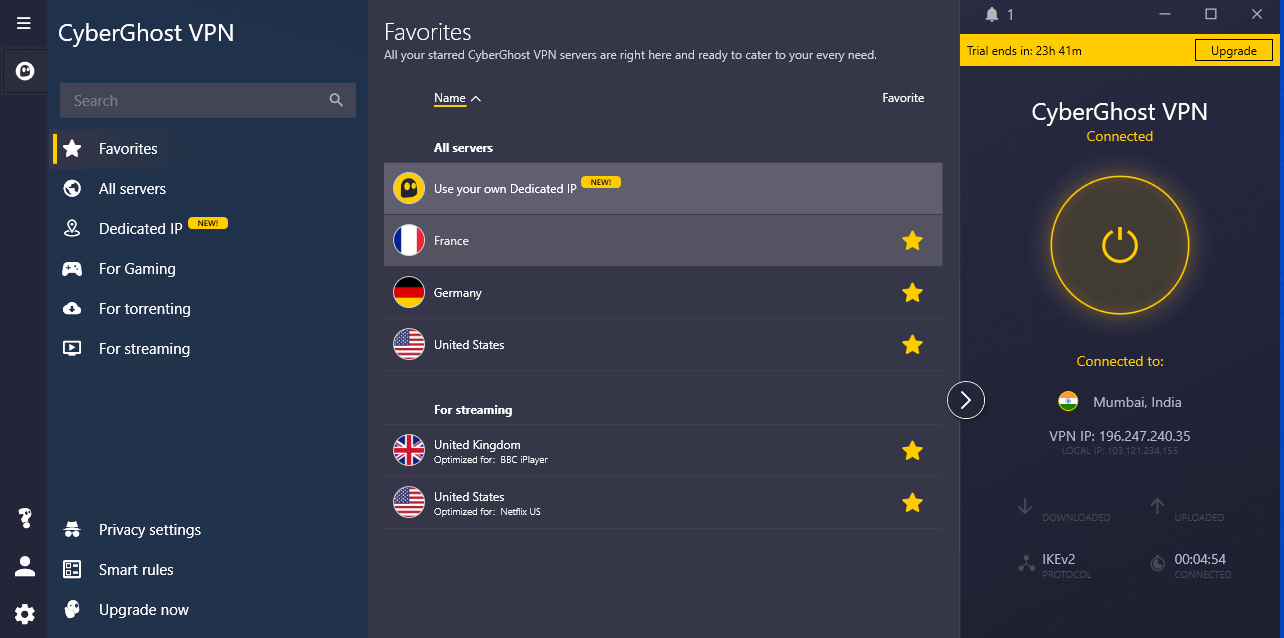 Step:12
You will get a list of servers, including those for gaming and streaming. You can also add the ones you want to use often in the Favorites.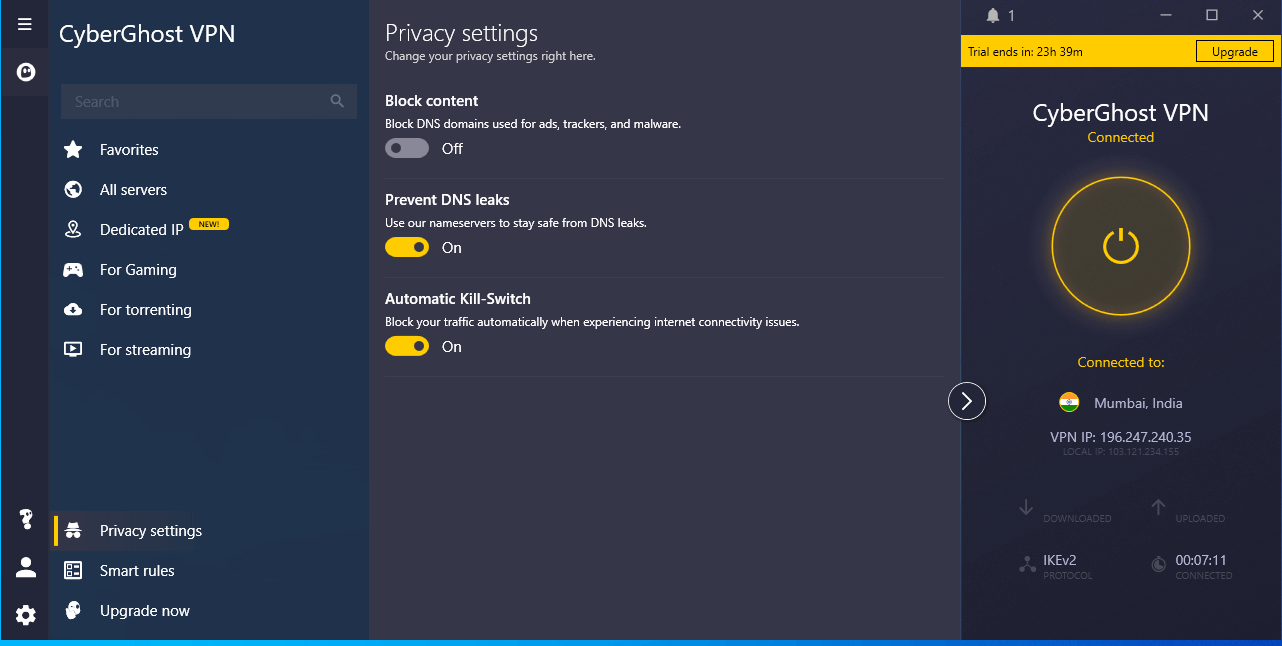 Step:13
Under Privacy settings, you get options like Block content, Prevent DNS leaks, and Automatic Kill Switch to maintain your anonymity while online.
Step:14
With the trial version, you also get access to Smart Rules. Under which you can customize the app's launch rules and Wi-Fi protection and add Exceptions and App Rules. And that's it! You're all set now to surf online and access a wide variety of geo-restricted media content on your device without being traced.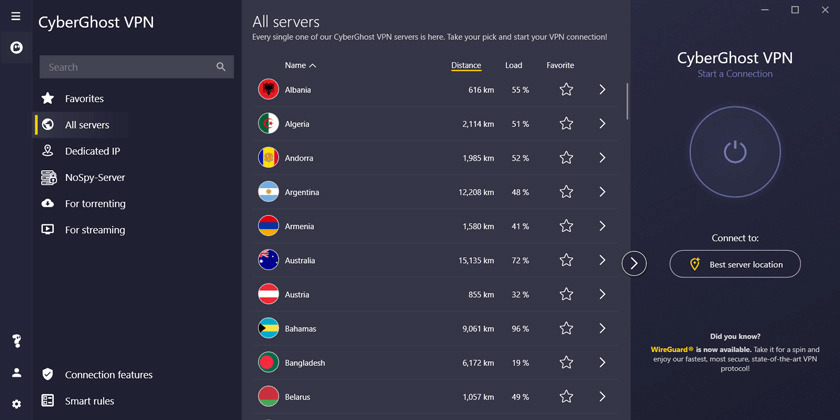 The CyberGhost VPN service features a crisp, easy to use, and understand minimalistic user interface. All the features, options, and icons are placed systematically to allow users to save time and effort. The look and feel of the desktop app for both Windows and Mac are pretty much the same. You get to see a long list of servers clubbed on the screen and the "Connect" button. You can simply tap on the "Power" icon to turn on/off the VPN service. Talking of extra features, the CyberGhost app includes advanced security options listed under the "Smart Rules" and "Connection features" sections. You can easily configure settings and perform custom actions here.
Here's a detailed list of features with the CyberGhost VPN Security Suite.
1. Military-Grade Encryption
The CyberGhost VPN uses a strong 256-bit military-grade encryption to establish a secure connection on the web. Military-grade encryption safeguards your sensitive information and protects your browsing activities from intruders. It follows a strict no-log policy that genuinely protects the user's privacy. The CyberGhost VPN service does not even store the connection logs and any other information related to your IP address, session duration, etc     .
2. Vast Network of Servers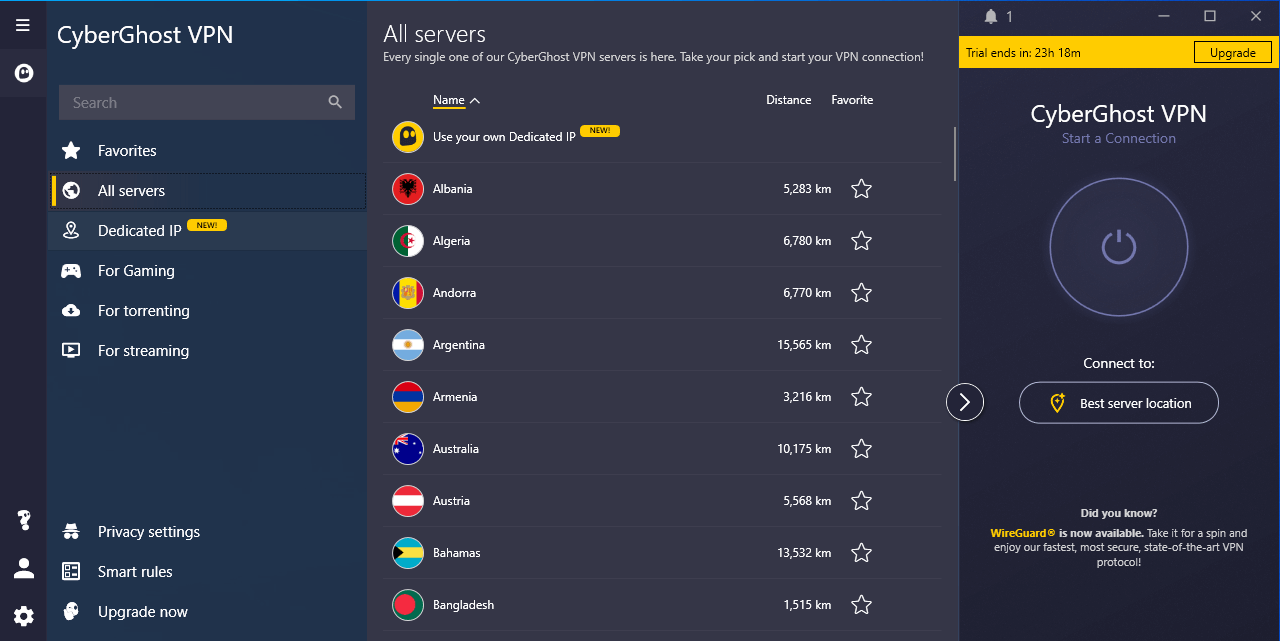 CyberGhost VPN service features a huge network of servers. The service is expanded to more than 90+ countries with 8000+ servers. You can instantly connect to any geo-location across the globe to browse anonymously. NordVPN service, a tough competitor to CyberGhost, features 6000+ servers in 70+ countries which is a pretty decent range.
3. NoSpy Servers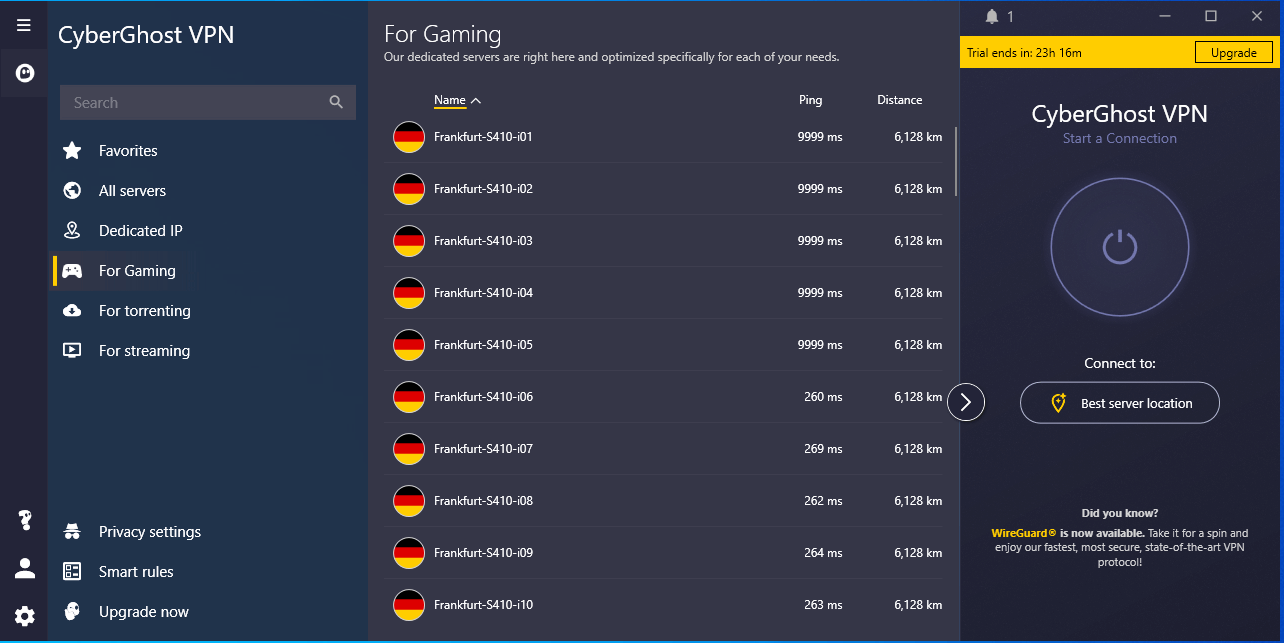 The "NoSpy" servers are one of the unique features offered by the CyberGhost VPN. NoSpy servers are a set of highly-secure servers located at the headquarters of the company, Romania. Only the internal parties and the staff manages these servers to add an extra layer of protection to your online privacy. Although, here's one catch. Compared to the regular servers, the connection and browsing speed might be a bit slow in the case of NoSpy servers.
4. Secured Protocols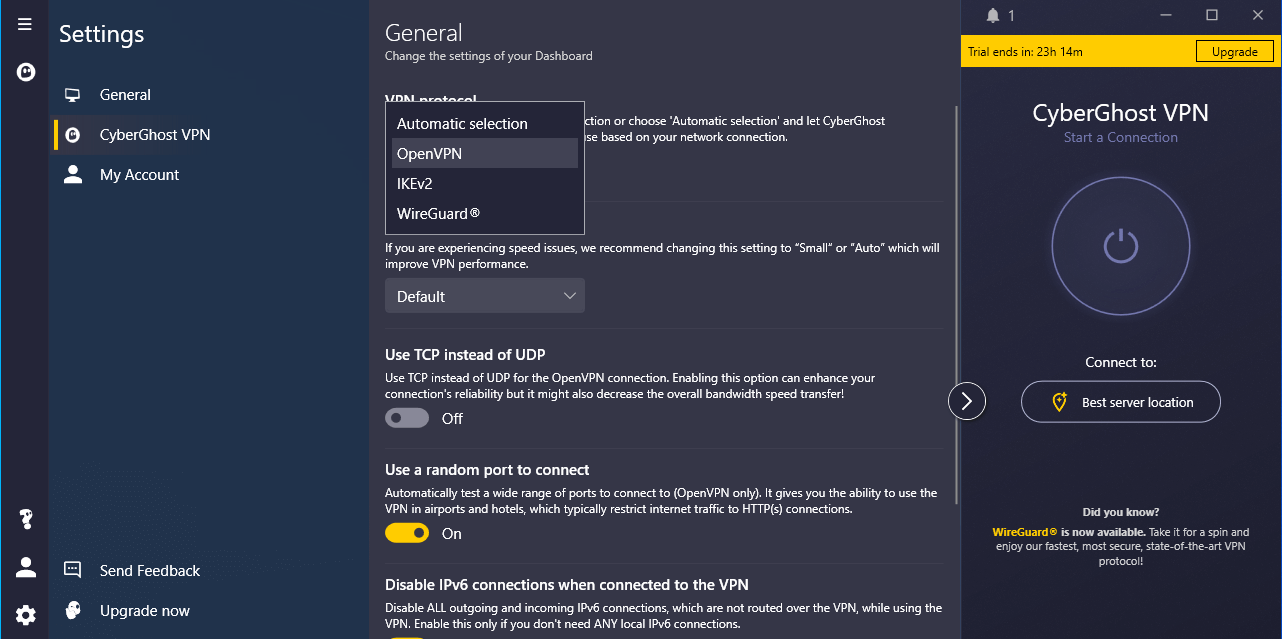 Some of the best industry-based protocols like OpenVPN, IKEv2, and WireGuard are Available with CyberGhost VPN service. WireGuard is quite popular as it delivers a promising performance out of all these protocols. CyberGhost also supports OpenVPN, an open-source protocol accessible on all compatible devices.
5. In-built DNS Leak Protection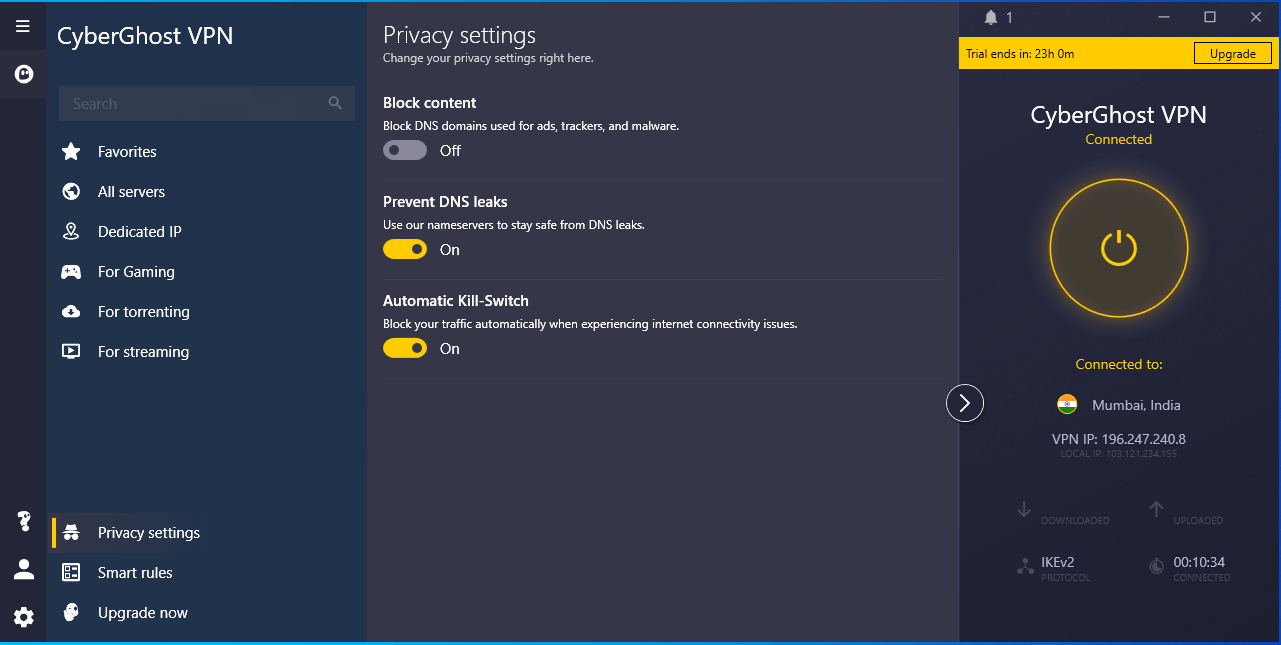 When talking about the in-built leak protection, CyberGhost comes out with flying colors. Experts tested CyberGhost for various server locations, including the US, Canada, Japan, and Australia, and it passed with zero DNS leaks.
6. Unblocks Geo-restricted Content for Streaming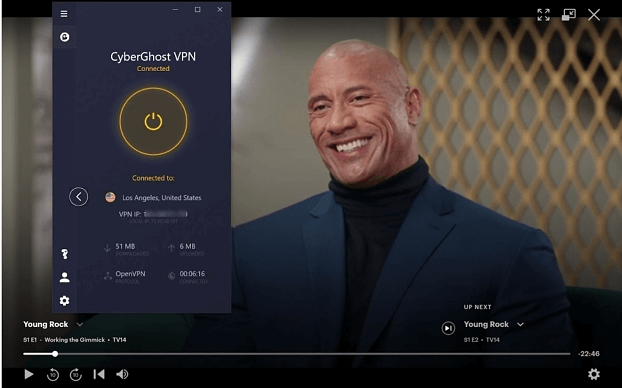 Looking for a VPN service that unlocks restricted content to let you stream freely? Well, you can choose the CyberGhost VPN app without a hitch. You can stream your favorite content on popular platforms like Netflix, BBC Player, Amazon Prime, HBO Now, and so on using CyberGhost's enhanced security protocols.
7. Supports Kill Switch and Split Tunneling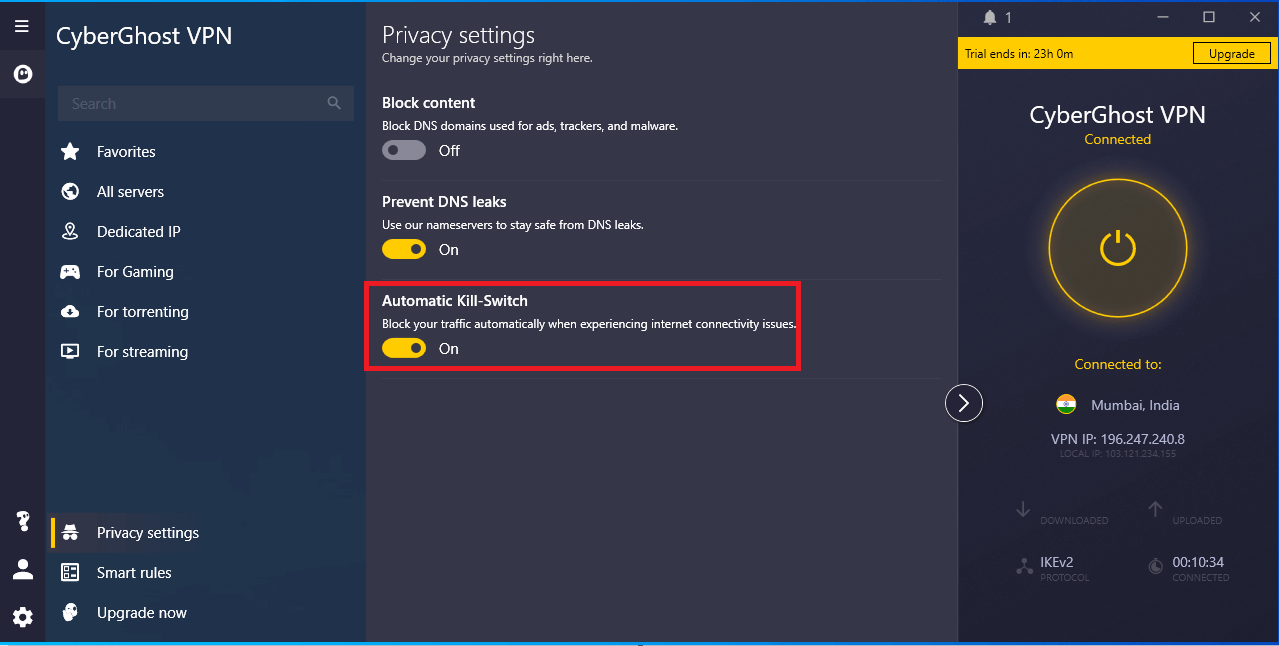 CyberGhost comes included with the automatic kill switch feature that successfully secures your sensitive information during connection fails/drops. The Kill Switch feature instantly disconnects you from the web and blocks all the incoming and outgoing traffic. Other popular VPN services like Express VPN, Systweak VPN, and NordVPN also feature an automatic kill switch to ensure your online privacy is protected     . Split Tunneling is another helpful security feature supported by the CyberGhost VPN but is only restricted to Windows and Android platforms. You can easily configure the "Split Tunneling" feature in the "Smart Rules" section of the CyberGhost application.
8. Smart Rules
Smart Rules option allows you to customize the CyberGhost's launch rules and Wi-Fi protection and add Exceptions and App Rules. With Smart Rules, you can control when VPN is enabled. Also, under this option, you can decide what to do when using public or home Wi-Fi. Furthermore, you can add sites to the exception list which you don't want to go through the CyberGhost tunnel. You can also make rules for the VPN to connect whenever a particular app is launched.
The CyberGhost VPN service is quite popular and used by millions of users worldwide. Hence, the company regularly keeps rolling out updates to improve the app's security, speed, and performance. All the noteworthy changes were included, along with the May 2022 update of the app.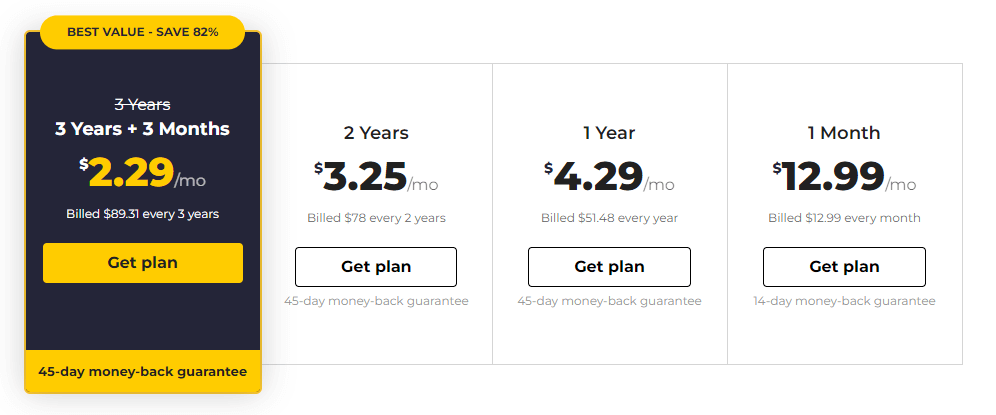 The CyberGhost pricing plans are listed below:
1 month: $12.99/ per month. (14- day money-back guarantee)
1 year: $4.29/per month (45-day money-back guarantee)
2 years: $3.25/per month (45-day money-back guarantee)
Value Saver Plan of 3 years+ 3 months (Recommended): $2.29/ per month (45-day money-back guarantee)
And yes, you can also avail the CyberGhost free trial that is valid for 24 hours. However, it is only supported on desktops. You can sign up for the free trial, although it only includes a limited set of features. It also offers a generous 45-day money-back guarantee so you can use the app and test all the features during this duration.
Supported payment methods: Credit or Debit Card, PayPal, and Bitcoins.
So, are you wondering how fast is CyberGhost? Well, you'll be amazed as a VPN user. The CyberGhost offers a lightning-fast connection speed to make the most of your browsing experience. While connected to the WireGuard protocol, CyberGhost fairly delivers a speed of 830-850 Mbps (Tested with the United States Server). Even if you connect it to far-off servers that are located thousands of miles away, CyberGhost managed to work seamlessly well and delivered a speed of around 50 Mbps.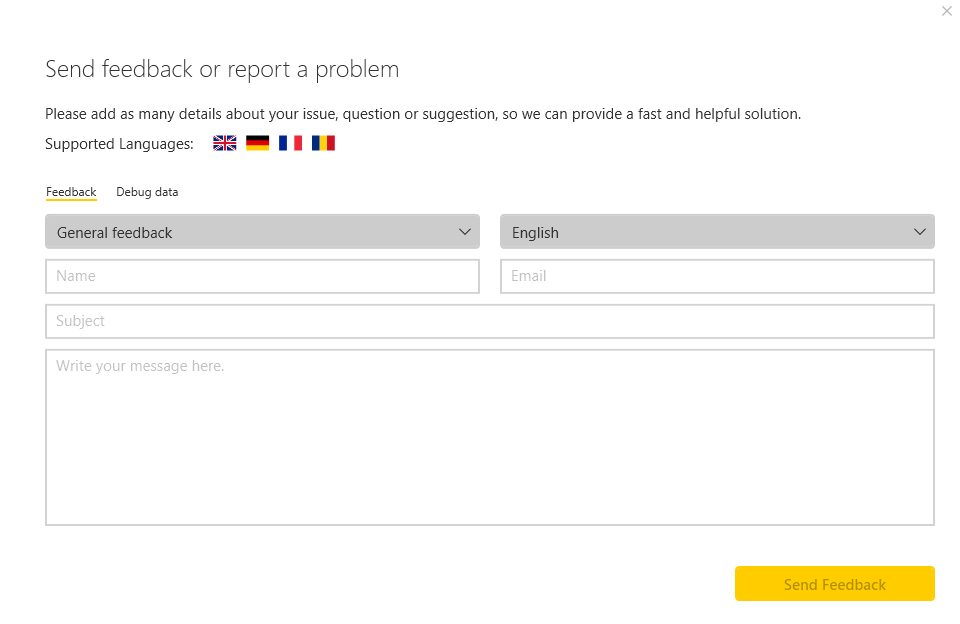 Let's discuss the CyberGhost customer service now. As a VPN beginner, if you get stuck at any point, CyberGhost's professional customer support team will guide you at every step. On the app's interface, you can locate Send Feeback option to enter your query. Alternatively, you can also go to the
CyberGhost support page
and click on Submit a request located at the top right corner to send your feedback. Apart from this, you can also access the knowledge base articles to perform troubleshooting at your end.
Frequently Asked Questions:
Q1. Which is Better: NordVPN vs. CyberGhost?
Whether you weigh it in terms of speed, performance, pricing, security features, reliability, and anonymity, these VPN services perform exceptionally well on every front. Although CyberGhost has a slight edge compared, it happens to be perfect for beginners.
Q2. How effective is CyberGhost VPN?
CyberGhost is undoubtedly one of the fastest VPN services available online. It offers you a wide variety of security tools that makes this VPN service worth buying. It also follows a strict zero log policy that keeps your sensitive data secure while browsing online.
Q3. Is CyberGhost good for streaming?
Yes, if you are looking for a VPN service that effortlessly unblocks geo-restrictions, CyberGhost can be an ideal pick. It unblocks more than 35+ streaming platforms, including Netflix, Amazon Prime, BBC Player, HBO Now, Disney+, etc.
Q4. Can CyberGhost VPN be tracked?
No, CyberGhost does not monitor any of your data or browsing activities. It does not even store your connections logs for maximum security. As long as you are connected to the CyberGhost VPN service, none adversaries can track you, including the government and the Five Eye network.
Q5. Are CyberGhost's Speeds Fast Enough for Gaming?
Keeping in consideration the unlimited bandwidth and exception connection speeds it offers, CyberGhost is also suitable for gaming. As it comes with an easy-to-use, accessible interface, you can use the CyberGhost platform to cater to your gaming needs.
Final Verdict
On this note, we finally wrap our post on a detailed CyberGhost review. To sum up, we would like to conclude that CyberGhost is one of the most potent and fastest VPN services available online. So, if you have finally decided to for this service, you won't be disappointed in terms of speed, performance, security, and most importantly, the amount you are investing. Although, if you are looking for the best VPN for PC (Windows), you  can try Systweak VPN instead. It is dedicatedly designed for the Windows platform and lets you access your favorite websites & entertainment content without any restrictions. It also comes with advanced security features like a kill switch  and ISP throttling prevents DNS leaks, bypasses censorship, and follows a strong 256-bit military-grade encryption. Also, before you sign off, don't forget to follow us on our social media platforms for the latest updates for Windows software. You can find us on
Twitter
,
Facebook
,
Pinterest
, and
Flipboard
.