When surfing the web online, there are times when it becomes a necessity to hide your online activity. For this, a tool that can be useful is a VPN. Whether you are shopping or banking online, surfing the web while at an airport or at a cafe, or if you are simply trying to access geo-restricted libraries of a streaming platform, VPN is a must-have tool. In this post, we will review Systweak VPN which is regarded as one of the best VPNs for Windows.
What Is Systweak VPN?
Systweak VPN is one of the best VPNs for Windows. It lets you 100% anonymous while you are online by hiding your IP address and it even secures your online connection. Furthermore, it provides a reliably encrypted tunnel between the VPN server and your device because of which there is no chance that your online data will be leaked.
Systweak VPN is designed and developed by Systweak Software which is a company of great repute when it comes to delivering software and applications for optimization, security, screen recording, etc. Some of the other famous products include Advanced System Optimizer, Advanced Driver Updater, TweakShot Screen Recorder, etc.
Pros:
Fast VPN
AES 256 military-grade encryption
Money-back guarantee
IP address masking.
DNS leak protection
Unlimited devices on one account
Cons:
Absence of minimizing buttons in the interface
No live chat support
What Is The Need To Use A VPN Like Systweak VPN?
There are various reasons why it would be a wise choice to use a top-rated VPN like Systweak VPN and here's why Systweak VPNs is one of the best VPNs for PCs –
Conducting online banking transactions and purchases while using public Wi-Fi at airports, cafes, hotel rooms, etc where hackers can easily intercept your connection.
Shopping products at subsidized rates.
Bypass geo-restricted content with the help of streaming-optimized servers.
Stop ISP throttling.
Accessing websites in prohibited regions.
Stop unnecessary ads and popups since VPN doesn't let your data be exposed.
VPN for gaming gives you access to different servers, reduces lag, improves ping, and keeps you protected against DDoS attacks.
Starts from
$
71.40
per year
Others like Hulu, BBC iPlayer, HBO Now
Technical Specifications –
Latest Version – Version v1.0.0.51
Operating System – Windows 11/ 10/ 8.1/ 8/ 7
Hard Disk Space – Minimum 700 MB recommended
RAM – 4 GB recommended
Download Size – 13.6 MB
Processor – Intel multi-core processor or higher
Languages supported – 13 languages, including English, Dutch, French, Italian and Portuguese.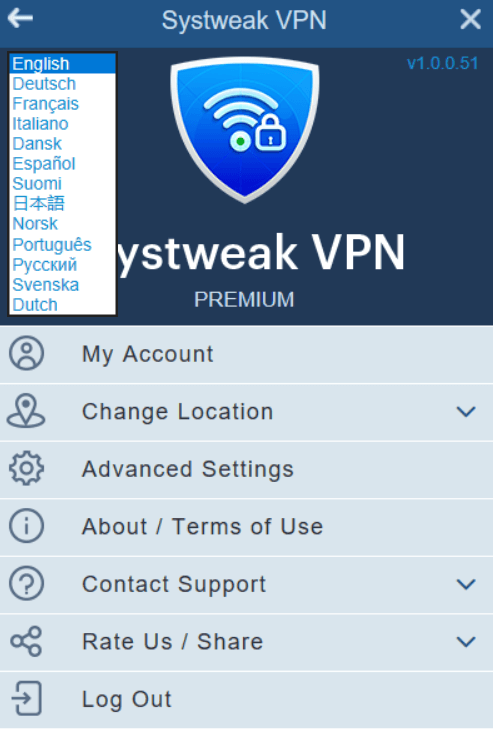 How To Use Systweak VPN?
Downloading Systweak VPN and installing is a fast process. And, using it too is quite simple.
1. Download, run and install Systweak VPN.
2. Unpack the installer and once the application is installed, click on the green-colored Sign Up button after which you can purchase a plan that works for you. For more information, you can refer to the pricing section where we have outlined the various different plans offered.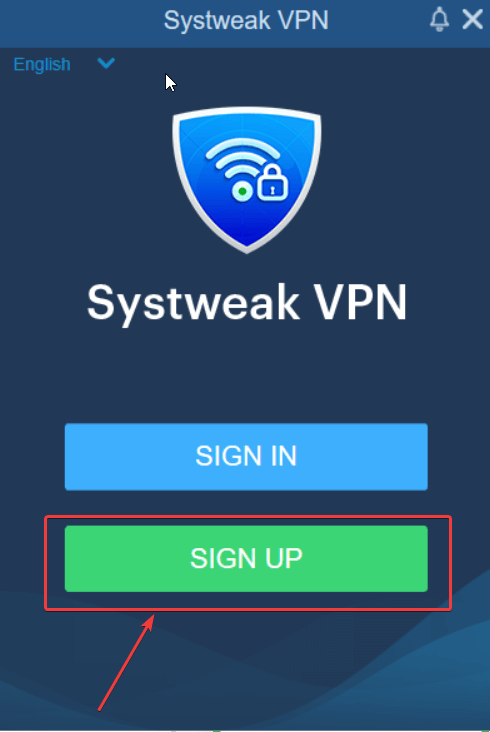 3. Once you have purchased a plan and have received your credentials over the mail, click on the blue-colored Sign In button and enter those credentials to log in to Systweak VPN.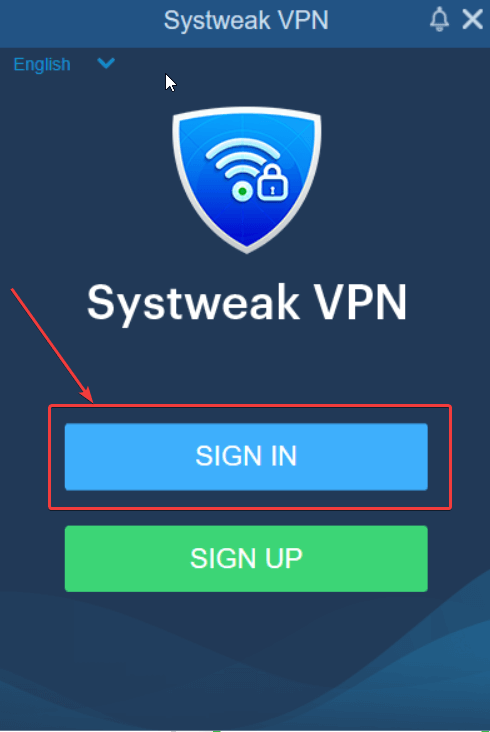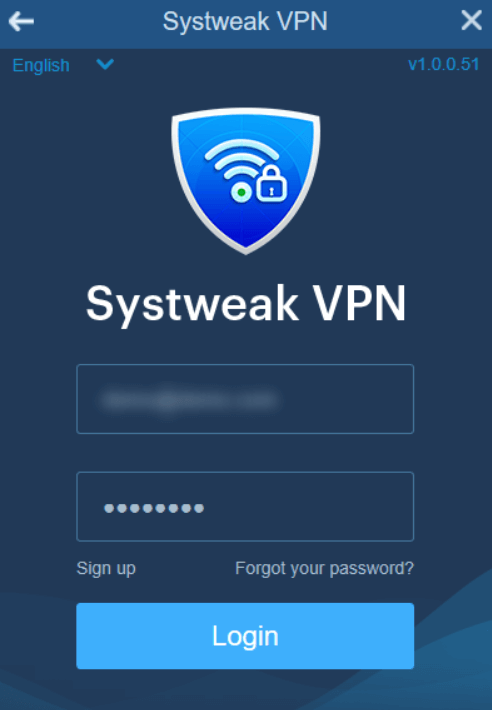 4. Click on the Login button at the bottom.
5. Toggle the ON/OFF switch to the right to turn on Systweak VPN.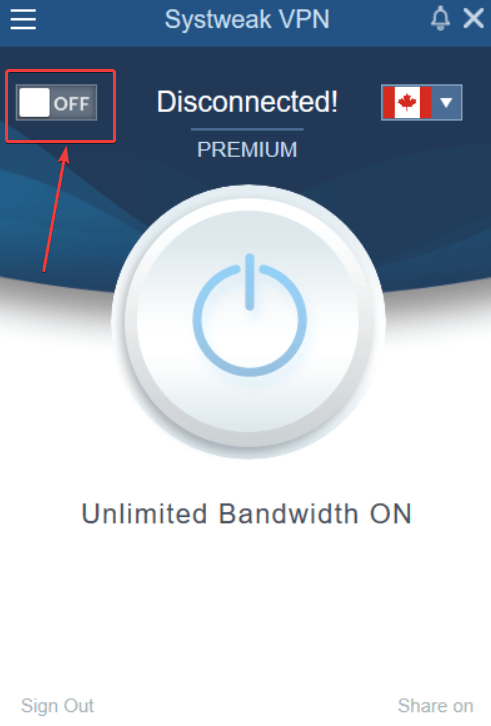 6. From the right-hand side, click on the server location dropdown and then select a server location of your choice as shown in the screenshot below.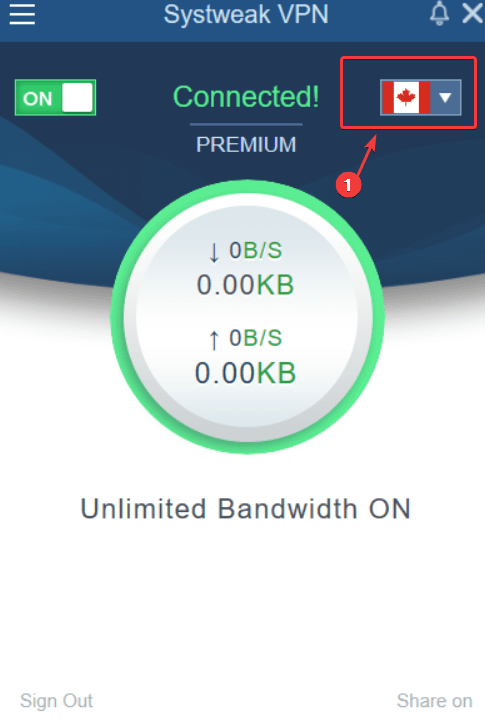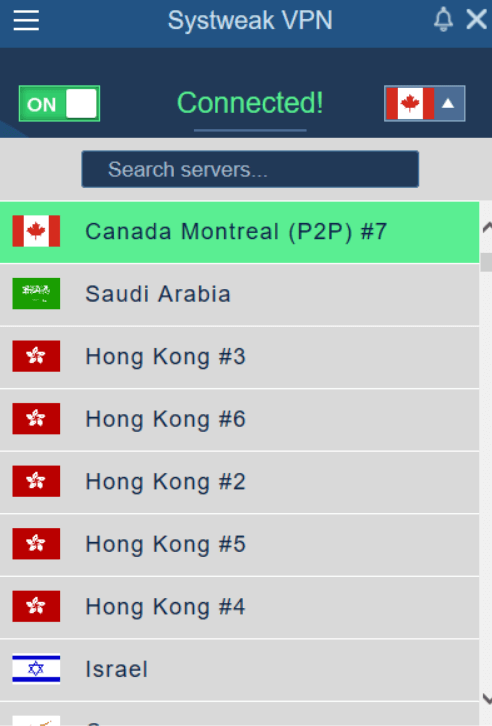 That's it! You are all set to anonymously surf the world wide web, enjoy streaming services and safeguard your data online.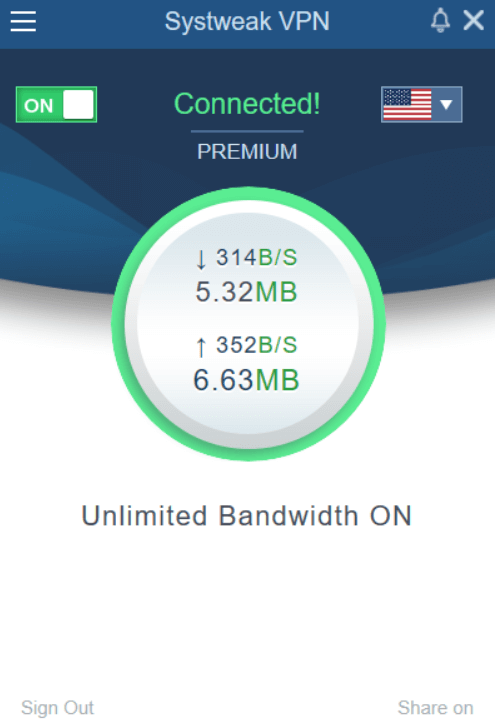 Systweak VPN has a simplistic, neat, and clean interface. Talking of the interface, Systweak VPN takes less space on your desktop and can easily be accessed even while you are juggling other tasks.
The basic settings and operations can be accessed right from the home screen itself. The ON/OFF button to enable and disable the VPN, the option to select the servers, and the Sign Out button are clearly marked on the home page. For more advanced settings such as changing VPN protocol from IKEv2 to OpenVPN or vice versa or Drop all network connections if VPN disconnects, you can either click on the three horizontal lines at the top-left corner and then click on Advanced Settings or click on the bell icon at the top-right corner next to the close button and then access the settings directly.
And, even if you end up closing the VPN, you can quickly reopen it by clicking on your System's Tray and then clicking on the Systweak VPN icon as shown in the screenshot below.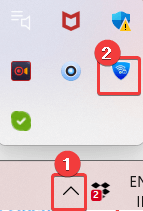 Through its large number of features, Systweak VPN first and foremost hides your IP address, and here are some of its notable features –
1. A large number of Servers – For a decent VPN, a large server network is important. As far as that is concerned and as one of the top-rated VPNs for Windows PC, Systweak VPN offers over servers spread in more than 53 countries in 200+ locations.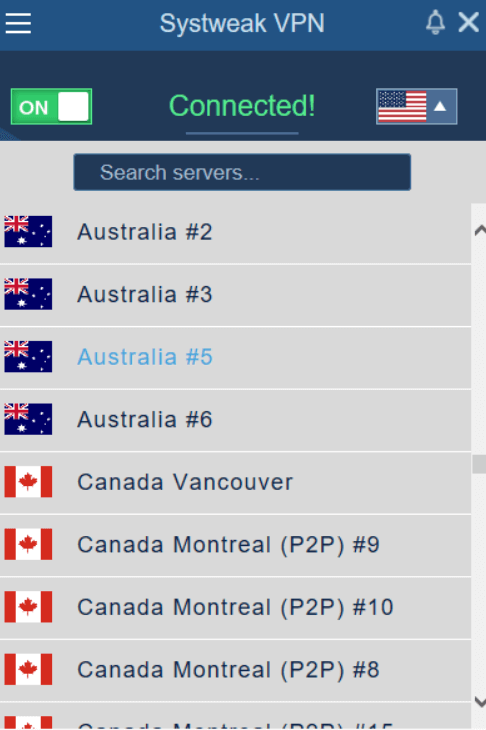 2. Top-Notch Security – To begin with Systweak VPN, use AES-256 military-grade encryption. This means not even the most brute force attacks will be able to crack this encryption.
3. Unblock Geo-restricted Content On Streaming Services – You can unblock geo-restricted content on platforms like Netflix, Disney +, Hulu, BBC iPlayer, and many others, thanks to Systweak VPN's streaming-optimized servers.
4. Kill Switch – In the event that the VPN connection drops, the kill switch will disconnect you from the internet and block all incoming and outgoing traffic.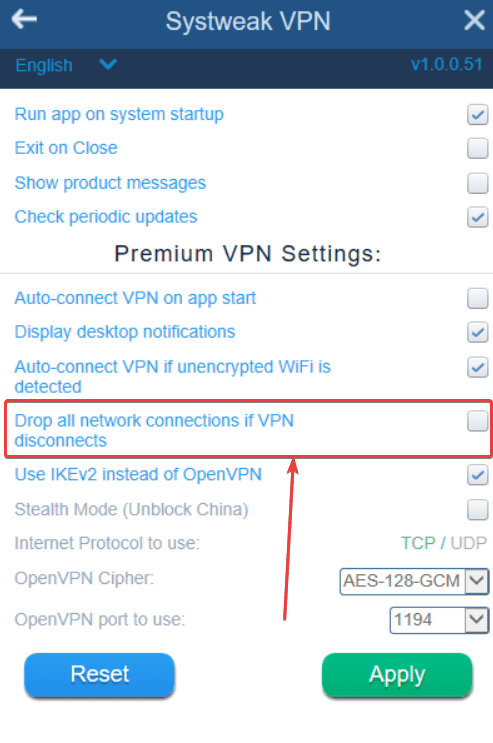 5. Secured Protocols – Security being one of the main features of Systweak VPN, the VPN comes armed with two protocols namely – OpenVPN (TCP/ UDP) and IKEv2 alongside the military-grade encryption we discussed a while ago. Even with OpenVPN, there are multiple ciphers to choose from. We'd recommend that you go with AES-2556-CBC or AES-256-GCM that's because these ciphers are more robust even against the strongest brute force attacks.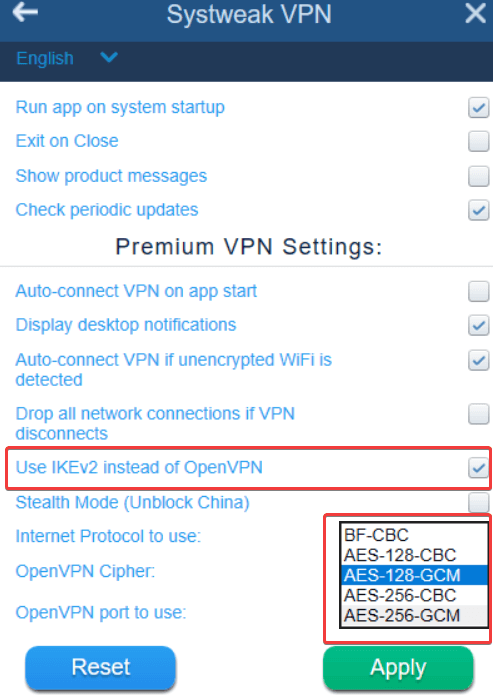 6. Your Private Data Stays Private – As has been tested by security experts and users alike, Systweak VPN does a great job at preventing DNS leaks, WebRTC leaks, and IP leaks.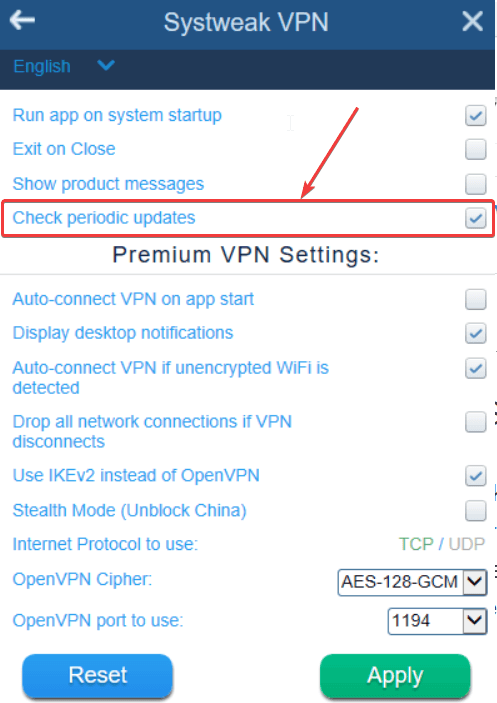 In a constant effort to roll out new and better features, Systweak VPN gets regular updates, something that is quite evident from the Advanced Settings section. As you can see you can click on the Check periodic updates to keep tabs on any new feature that is rolled out.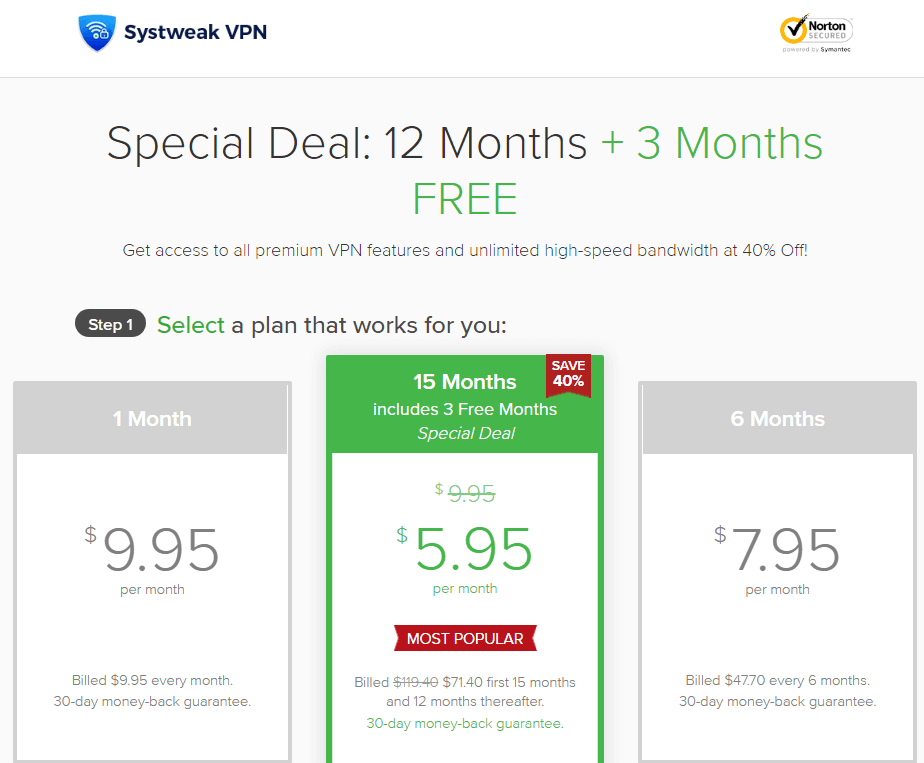 At the time of writing this post, Systweak VPN comes in three variants or plans – 1 Month, 6 Months, and 15 Months –
1 Month

This plan comes with a 30-day money-back guarantee.

6 Months

This plan comes with a 30-day money-back guarantee.

15 Months

A great deal as the best free VPN for Windows PC
Once you download Systweak VPN and click on the installation file, you can quickly install Systweak VPN. More specifically, it shouldn't take more than a few minutes to install. As for performance, there was a slight dip in speed and a little high ping even when we chose servers in distant locations. But, truth be told VPNs do slow down connections and render a high ping considering the fact that they reroute the data through different servers, enforce stringent encryptions and perform tunneling. So, we can put it as – A little dip is good since it's making your connection stronger than ever.
In simple words customer support for Systweak VPN is prompt and decent, if not the best. In case you have any issues regarding Systweak VPN, you can reach out to the support team via email to which you can expect an answer within 24-48 hours. To reach out to the support team from the interface –
1. Click on the hamburger icon at the top-left corner of the interface.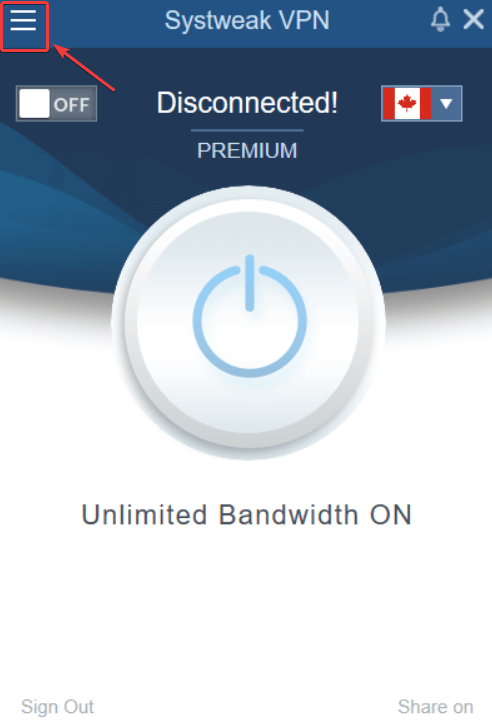 2. Click on the Contact Support dropdown.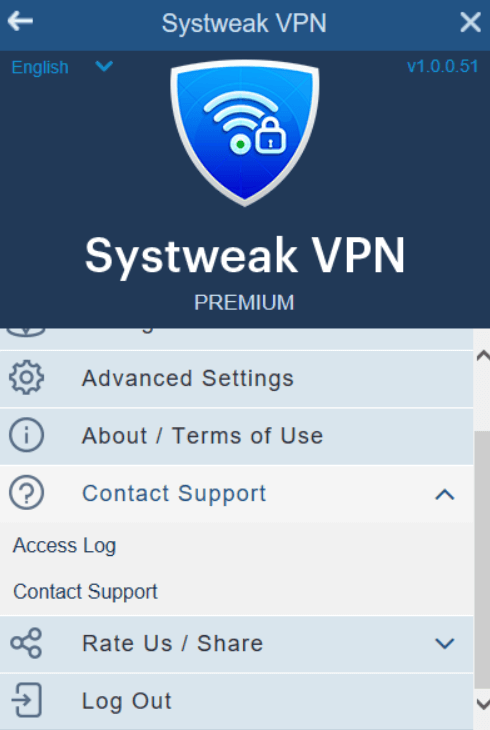 3. Click on Contact Support.
4. Once you are redirected onto the Contact Us page, fill in the fields as mentioned in the screenshot and then click on the Submit Now button to enter your query.
Final Verdict
If you are looking for one of the best VPNs for Windows, Systweak VPN can be a great choice. It is simple to use, performs very well on fronts like hiding IP addresses, unblocking streaming websites, protecting your internet connection in case of an emergency, providing secure protocols that can ward off brute force attacks, and many more. Do share your experience with Systweak VPN in the comments section below and for more such content, keep reading Top10PCSoftware. You can also connect with us on Facebook, Twitter, Pinterest, and Flipboard.
Frequently Asked Questions
Q1. Is Systweak VPN Safe?
Yes, Systweak VPN is safe and, one of the most trusted VPNs for Windows. It is Norton secured and even the other Antivirus tools don't flag it off as a malicious threat. As for safety while you are surfing the web online, in case the VPN drops, Systweak VPN comes packed with a kill switch that will terminate the internet connection and further bar incoming and outgoing traffic.
Q2. Can Systweak VPN unblock Netflix?
Yes, Netflix's geo-restricted libraries can be unblocked with the help of Systweak VPN. All you have to do is select the server location of Netflix's geo-restricted library and that's it, enjoy the movie or the show that you want.
Q3. Is Systweak VPN good for streaming?
Systweak VPN is good for streaming, as it lets you bypass geo-restriction and lets you stream content that you would not be able to without a VPN.
Q4. Is Systweak VPN fast?
As compared to many of its competitors that at times reduce your internet surfing speed drastically, Systweak does a good job at maintaining the speed. This means you can hide your IP, and stream content at a decent speed if not the best.
Q5. Is Systweak VPN worth it?
Considering the price plans, features, interface, and other aspects, Systweak VPN is worth giving a shot.
Q6. Does Systweak VPN track my internet activity?
Systweak VPN follows a strict no-logs policy. As one of the best VPNs that you can download on your PC, Systweak VPN ensures that none of your online activity or connection logs are saved. Plus, Systweak VPN is out of 5/9/14 Eyes jurisdiction.