hide.me VPN Review: Is It Worthy?
A VPN can help you safeguard your online activity and browsing data from snoopers, hackers, and other miscreants when surfing the web online. Amongst various VPNs available, hide.me is often regarded as one of the best VPNs to protect digital identity. Here is an inside-out review of hide.me where we will discuss its features, pricing, pros and cons, performance, and every aspect at length so that you can decide whether or not to use this VPN.
What Is hide.me VPN?
Published by eVenture Limited, hide.me is a Malaysia-based VPN service provider founded in 2012 to impart internet freedom and security to every world wide web user. The VPN offers over 2000 servers spread in over 75 locations across the globe. The servers that hide.me provides are optimized for hardened security and are self-maintained. The company claims that every server stores sensitive cryptographic keys. These are further stored in temporary storage because the chances of surface attacks are minimal.
hide.me was among the first few VPN providers in 2013 who published a transparency report that mentioned the different kinds of data requests that various authorities and organizations send. They republished a similar report back in 2020. To further maintain that they collect or sell data at no cost, they have submitted their system to independent security analysts who have audited hide.me and have concluded that they are a log-free service. Here are some of the other best VPN providers for Windows.
Pros:
Stealth Guard
IP leak protection
Why Should You Choose hide.me VPN for Windows?
Hide.me VPN for PC is one of the highest-rated VPNs. For one, it uses bolt technology because it offers a decent speed on Windows. Plus, it comes packed with WireGuard protocol which cements the encryption it provides.
Another reason you may consider hide.me over several other VPNs is that it is a completely independent VPN service provider that sells or consumes user data at no cost. It is very transparent in its operations and often has audits taking place.
Last but not least, it uses the next-generation IPv6 support. This further ensures that you won't have to worry about IPv6 leaks as a VPN user.
Technical Specifications:
Compatible Windows OS: Windows 11/ 10/ 8.1/ 8/ 7/ XP/ 2000/ 98 (32 and 64-bit)
Current version: 3.11.0
Processor: Intel Dual Core processor or later
Memory Required: 1 GB RAM
File Size: 14.2 MB, when unpacked – 53.0 MB
Languages: 17 including English, French, Portuguese, etc.
Security
AES-256 encryption
Kill Switch
No logs policy
Streaming Servers
Netflix
Others like Hulu, BBC iPlayer, HBO Now
Customer Support
Email support
Live chat support
How to Use hide.me VPN App on Windows?
Now that you have a brief overview of hide.me VPN, let's get you started –
1. Download, run, and install hide.vpn for Windows.
2. Unpack the hide.me set up the file and click on the Install button.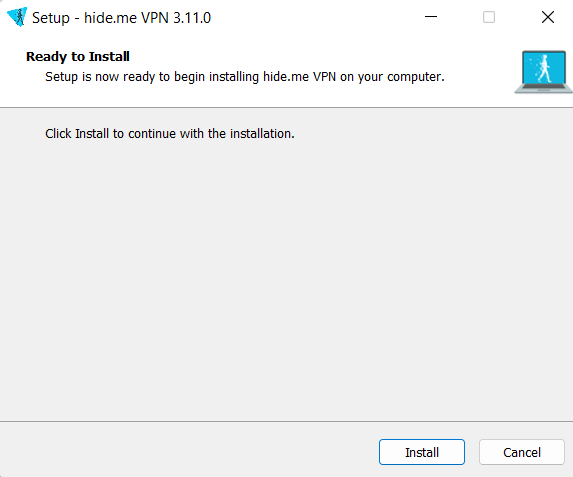 3. Click on the Enable VPN button.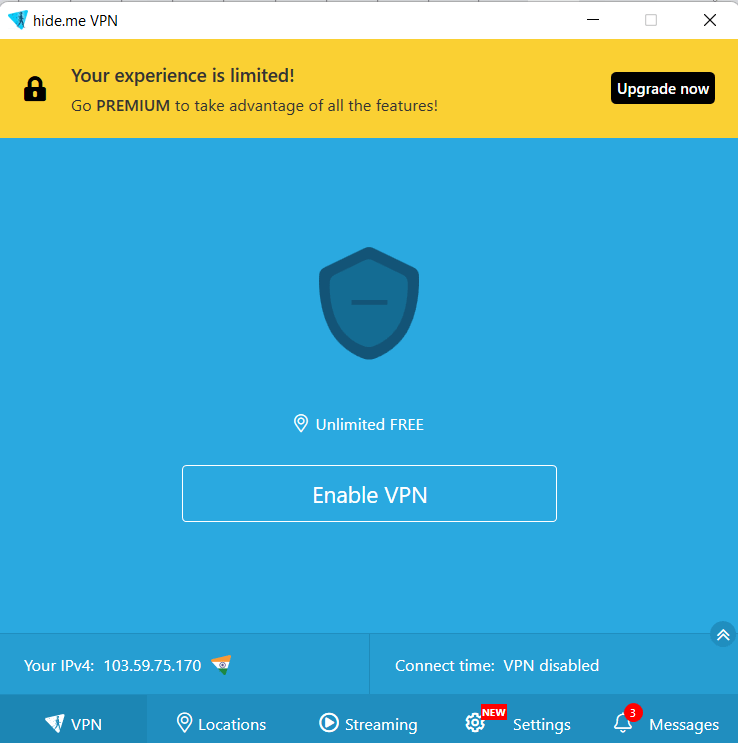 4. Click on Connect to VPN.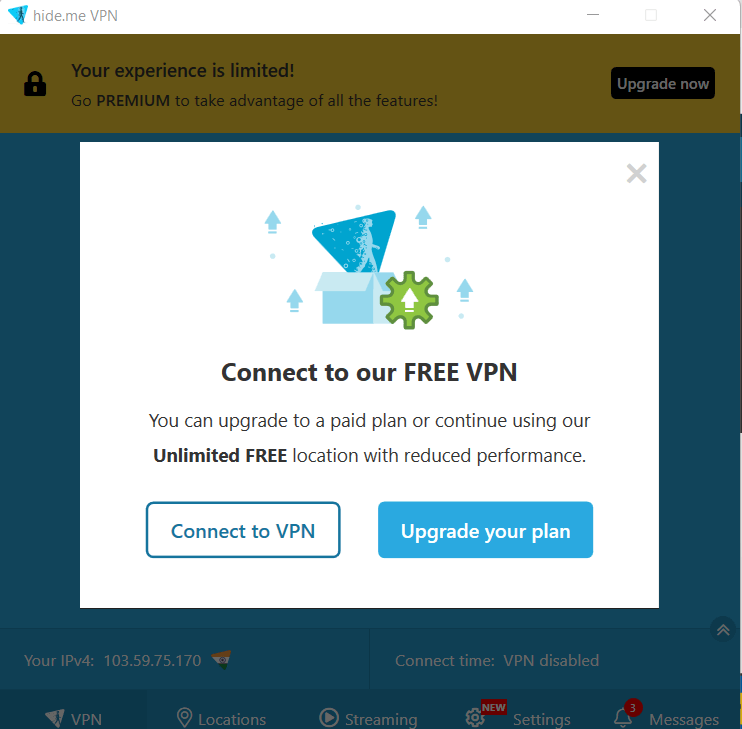 5. To change the location, click on the Locations tab from the bottom and then select a location of your choice. It is important to note that the free variant limits you to a 10 GB transfer limit that renews every month.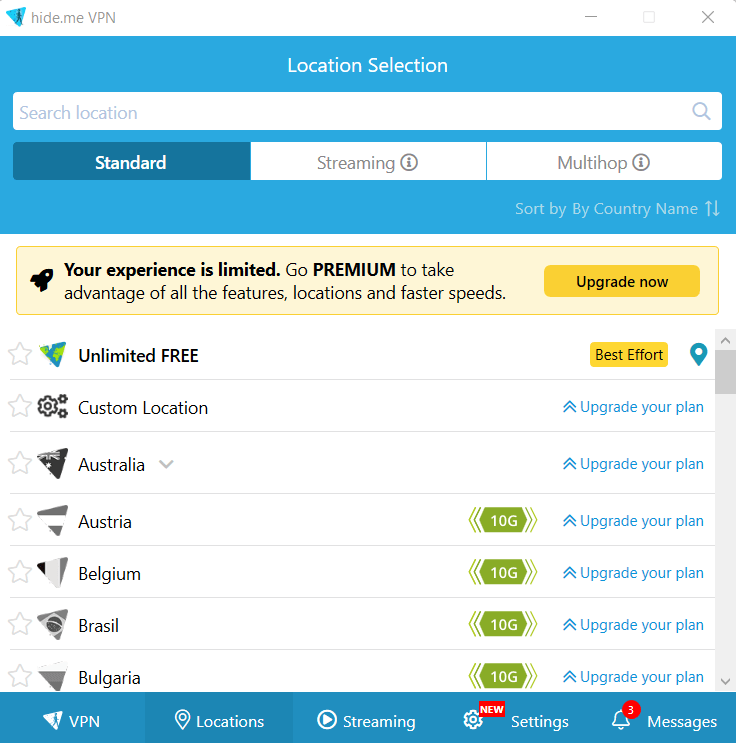 hide.me has a minimalistic, neat, and light-themed interface. What we liked about the VPN is that for using free hide.me VPN or even hide.me free locations, you won't have to go through a long and tedious signup process. All you have to do is select the free plan and then click on the Activate button. Immediately after clicking on the Activate button, you can quickly enable the VPN by clicking on the Enable VPN button after which hide.me VPN will select a fast and secure server for you.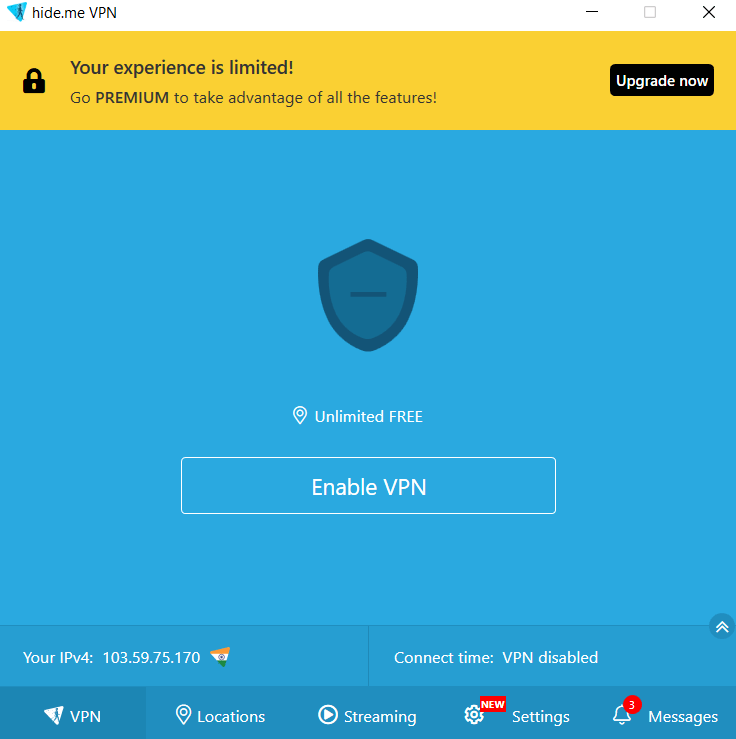 As you can see from the screenshot just above you can also choose a server of your choice by clicking on the Locations option from the bottom. Or, if you are trying to access a geo-restricted library of one of your favorite streaming services, you can click on the Streaming tab, and then select the location where the library is located. Although the latter is accessible only if you have signed up for hide.me premium variant.
By clicking on the Settings tab you can further select some very powerful features that we have discussed just below.
1. Split Tunneling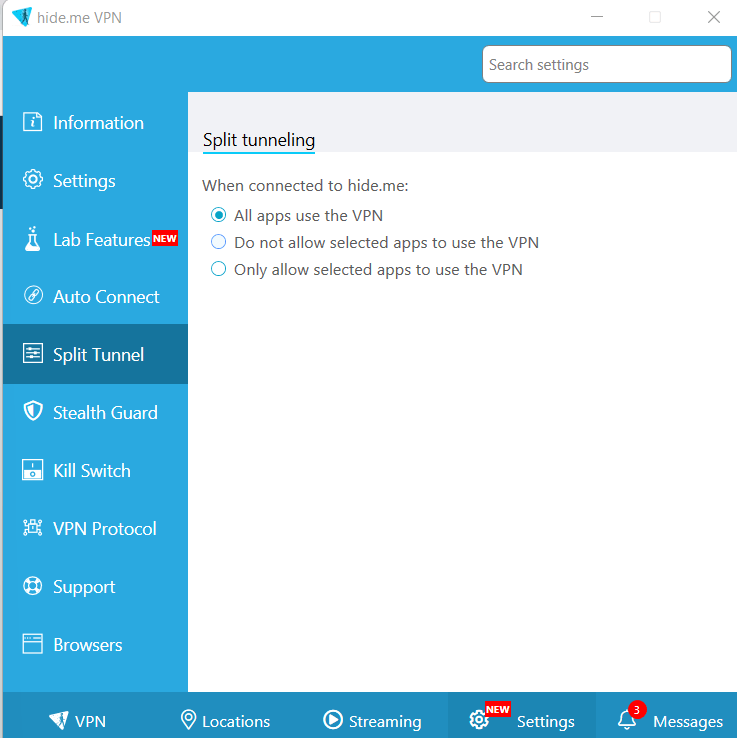 hide.me lets you perform split tunneling. When you login into hide.me and choose the Split Tunnel option from the left-hand pane, you can choose which apps should use the VPN. Here you can either select all the apps or only allow selected apps to use the VPN as shown in the screenshot below.
2. Kill Switch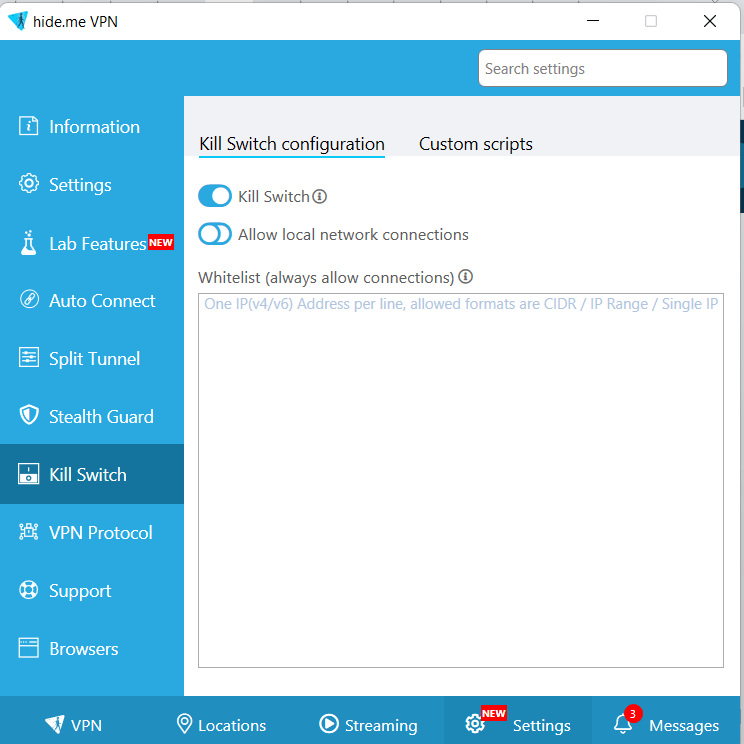 hide.me VPN for Windows comes with a Kill Switch. This functionality ensures that if your VPN connection drops, you stay out of harm's way. That's because, with this function on, an app will not be able to leak your IP address in the event your VPN connection drops.
3. Stealth Guard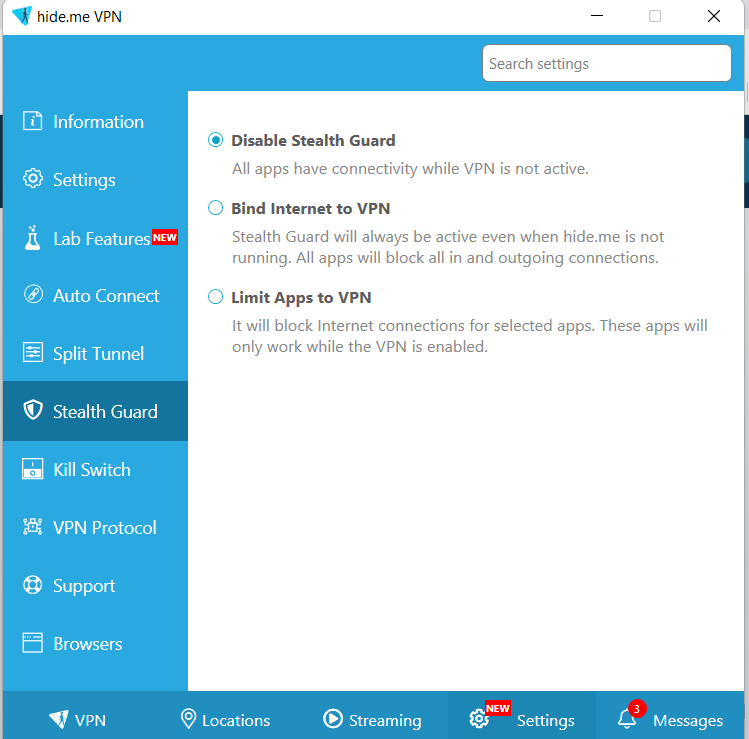 hide.me VPN app has a Stealth Guard which is further powered by a firewall. What this firewall does is that it restricts internet connectivity to apps if your VPN connection is inactive. Here you have total control over the apps on whom you want to put this restriction.
4. DNS Leak Protection
hide.me uses its dedicated DNS servers, which are capable enough of protecting you against DNS leaks.
5. Auto Connect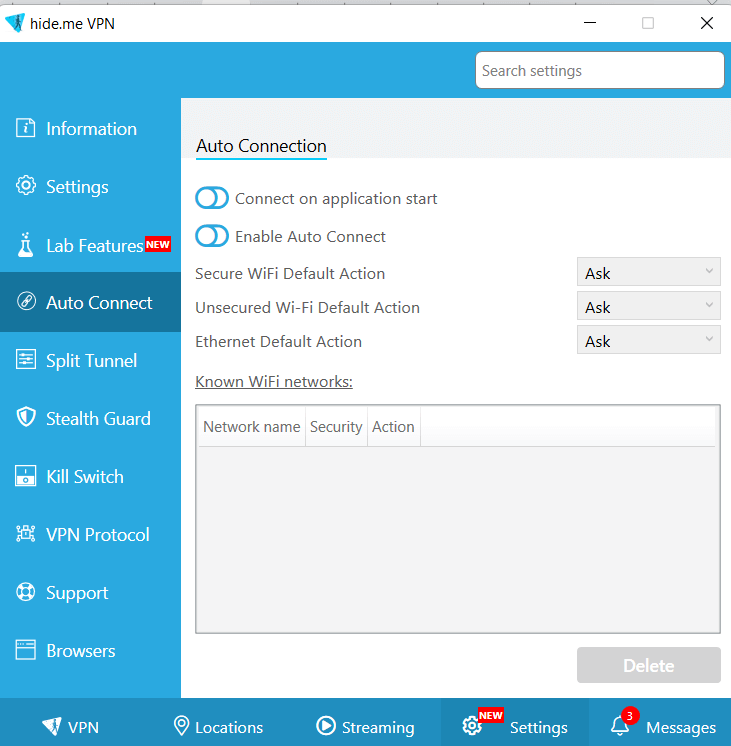 hide.me is aware that your internet connection can be attacked while trying to establish a VPN connection. To save you from that hide.me launches and connects to the startup itself so that you can protect yourself without waiting to establish a VPN connection. The option for Auto Connect can be chosen from the left-hand pane as shown in the screenshot below.
6. Auto Server
Confused? Which server location is optimum for you? hide.me helps you by selecting a server location that isn't just secure but also fast.
7. Multihop Double VPN
hide.me VPN for Windows lets you choose your entry server and the associated exit server, unlike many competitors (provide you with a set of predefined routes)
8. Free Proxy Browser Extension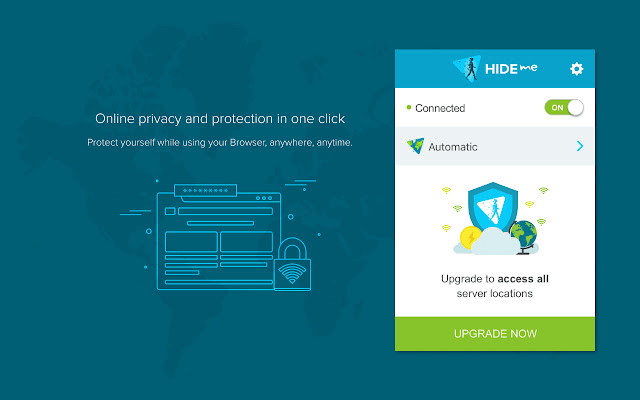 You can install the free and lightweight proxy hide.me associated exit server,d protect yourself from WbRTC leaks and visit or unblock any website in the world without revealing your real IP address.
As if quite evident from its release notes, from time to time hide.me releases updates so as to ensure new improvements in the existing features, the addition of new features, and fix bugs if any. Whenever there is a new update, you will be notified as soon as you will launch the app. Since, hide.me rolls out updates in batches, you may or may not receive updates in real-time. In this case, you can go ahead and fetch the update manually.
Click on the Update Now button in case you receive a security warning informing you about the latest released update.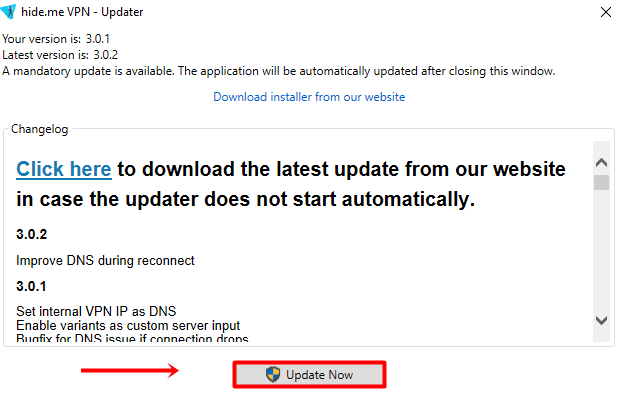 Once the hide.me application is updated; click on the OK button. To further check the version of hide.me and to verify if you have updated the app to the latest version, follow the steps mentioned below –
1. From the bottom, click on Settings.
2. From the left-hand side of the screen, click on Information. Under the About section, you can see the version, next to the Application Version.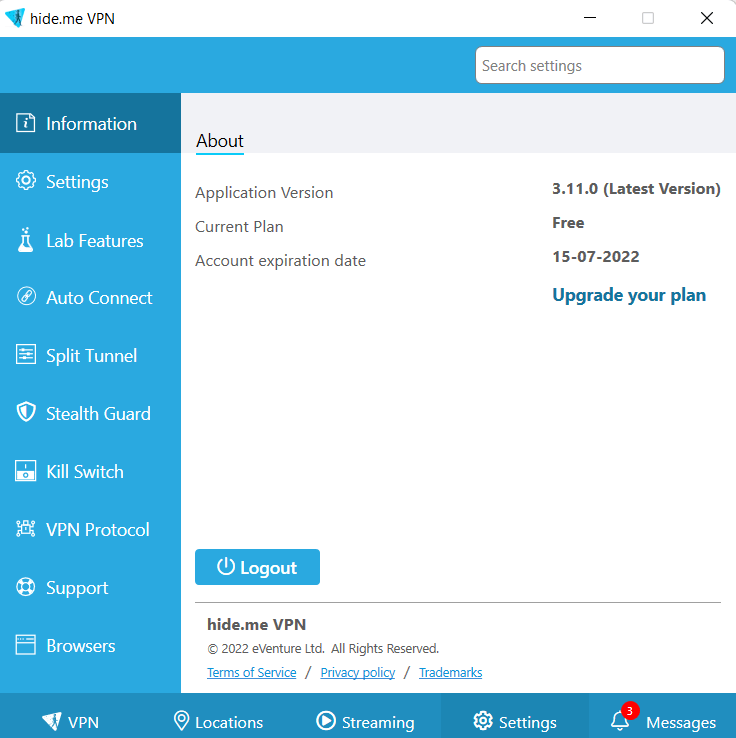 hide.me comes in two variants – the lifetime free Windows variant and the premium variant. With hide.me free plan, you can choose from 5 server locations – Netherlands, US East, US West, Germany, and Canada, whereas the premium variant lets you access over 75 server locations globally. Also, with free VPN, you are capped with a monthly data transfer limit of 10 GB; the paid users, however have no data transfer limit. The free VPect to a single device at once and if you subscribe for one of the hide.me premium variants, you can connect to up to 10 devices simultaneously. You can see a summary of your expectations in the screenshot below.
Wondering how much would the hide.me premium plans would cost you? Below is the screenshot of what the plans are priced as –

1 Month

$9.95, billed as $9.95 every month

12 Months

$6.66/ month, billed as $79.95 every 12 months

24 Months (+ 2 months free)

$3.84/ month, billed as $99.95 every 24 months
As you might have ascertained from the pricing section, broadly, the speed of hide.me is faster when you opt for the premium version and slow when you choose the free variant. Based on our experience, we found that the speed was decent, if not the best, to give you an idea of how fast and slow. On local servers, we saw a drop between 7-9%. However, we saw a drop of approximately 50% when we tried connecting to long-distance servers. Also, when using the free variant, once we reached the 10 GB monthly data cap, our speeds were restricted to 3 Mbps.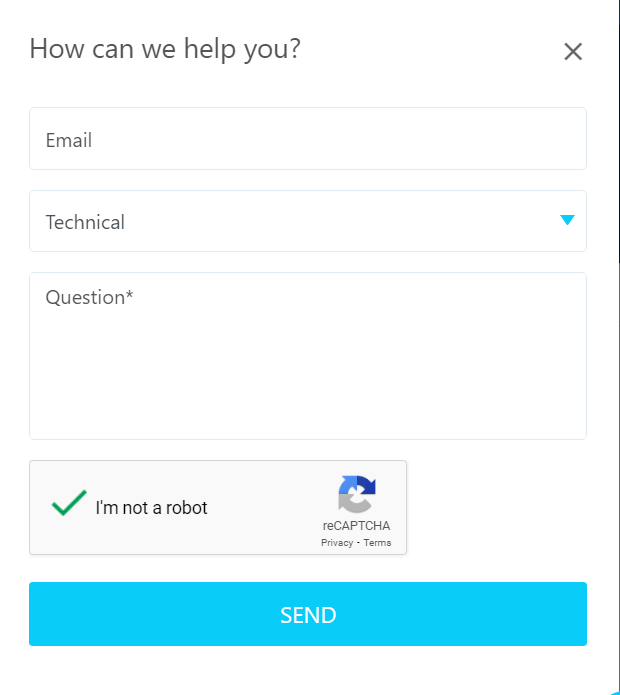 When you sign up for hide.me, regardless of the variant (free or paid), you get 24/7 customer support. You can get your queries resolved via tickets, live chat, emails, and FAQs, and you can even put out your queries in front of the global community.
When raising a support ticket, you can specify the type of issue you have and your email ID. The customer support team will then contact you and email you a prompt solution.
Apart from raising a support ticket, you can browse through an extensive corpus of articles and tutorials. Last but not least, you can even join a community of hide.me VPN users across the globe and share your feedback and queries.
Frequently Asked Questions
Q1. Does hide.me VPN work for Netflix?
Yes, hide.me VPN works on Netflix, provided that you are using hide.me premium. This means it won't work on any free locations in the hide.me. You can click on the Streaming tab and choose a location.
Q2. Is hide me unlimited free VPN?
Yes, hide.me is a free VPN where you use the VPN service free of cost but with certain restrictions like a data transfer cap of 10 GB and a few other restrictions like the number of devices you can connect to or limited server locations.
Q3. Is hide.me VPN safe?
Hide.me is a safe and fast VPN. None of the Antivirus applications flagged it off as malware, and there haven't been any reports. It is powered by military-grade AES 256 encryption, further intensifying a VPN user's security on the internet.
Q4. Does hide.me VPN sell your data?
No, it doesn't collect or sell your data. hide.me has a strict no-logs policy. To add on, it doesn't bombard users with adverts.
Final Verdict
So, there you have it. In this hide.me review, we have tried to cover every aspect of the hide.me VPN. In a nutshell, even as a free VPN, hide.me does a decent job, offers a good speed, and comes with enough servers with the help of which you can conceal your online identity and enjoy the internet to the fullest. All in all, hide.me offers decent performance.
Looking for an alternative to hide.me, Systweak VPN is one utility you can consider. It is an easy-to-use VPN utility that offers over 4500 servers across 200+ locations in more than 53 countries. For more such updates, you can connect with us on Twitter, Facebook, Flipboard, and Pinterest.