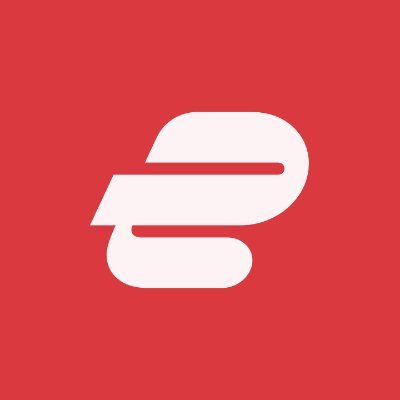 Express VPN
ExpressVPN Review: Is It Still Trustworthy and Secure in 2023?
We spend a considerable amount of time on our digital devices. During this time, you surf the internet for a variety of purposes. And to ensure that your surfing session goes safely, you must use VPN software to safeguard your digital privacy. In this post, we'll discuss and review ExpressVPN for Windows, which is regarded as one of the best VPN software across various devices.
What Is ExpressVPN?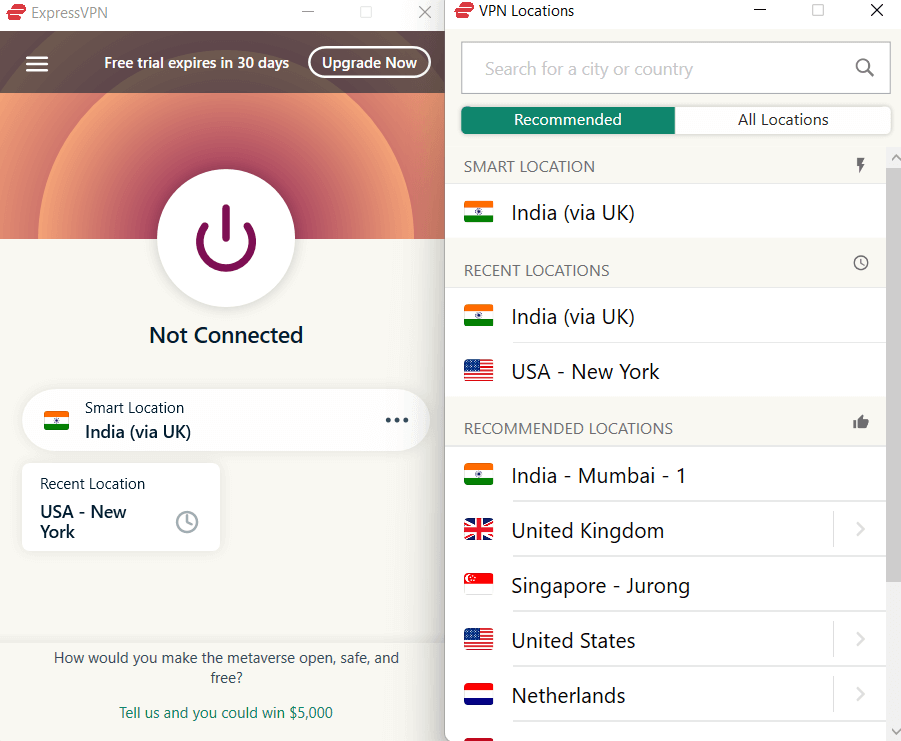 ExpressVPN is a name to reckon with in the VPN software industry and is one of the
best VPN software for Windows
. Apart from offering you cutting-edge technology to keep your data secured online, it even ensures that you enjoy a speedy session every single time. It offers browser extensions for Chrome and Firefox, which we'll discuss little later in the blog. As far as the usage is concerned, it is one of the easiest VPNs to use, so much so that even a beginner can get the hang of it in no time at all. ExpressVPN was founded back in 2009 by two technology entrepreneurs and is used by millions of users in more than 180 countries.
Pros:
One-click connection.
Allows torrenting
Cons:
Costly for all full-feature plans
Why Do You Need A Tool Like ExpressVPN?
A VPN client for Windows like ExpressVPN is needed by every individual who surfs the world wide web, especially in a setting where hackers and other threat actors can pounce on data. Here we have consolidated a few such scenarios that will cement the importance of a VPN –

1. Mask IP address: Hackers can access your location and data when you use public Wi-Fi in locations such as an airport, cafes, hotel rooms, etc. VPN conceals your IP address. You can mask your IP address by choosing various VPN server locations. For instance, if you are conducting a confidential banking transaction at an airport or even if you are shopping, you wouldn't want a hacker to catch hold of your banking credentials such as username, password, bank account number, debit/ credit card number, and the likes, would you?

2. Bypass blocked and censored content: Has it ever happened that you wanted to access a streaming service's library but couldn't because of geo-restrictions? VPN lets you bypass such geo-restrictions. For the same reason, you can even access products at a cost that may be higher in your country.

3. Stop Being Bugged By Advertisers: There are many ISP that trade your data to advertisers, and you could end up being prey for data breaches. Enter a VPN software that completely obscures your IP address, and never again will you have to worry about unknown advertisers poking you now and then.

4. Stream Freely:

We are all aware of streaming services like Amazon Prime, Netflix, BBC iPlayer, Hulu, Disney+, and so on. These have certain content which you may not be able to access in your country, if you have a standard browser. Your doors are opened to such content with a VPN by your side. By downloading ExpressVPN on your Windows computer, you can fulfill all the above goals and many others and enjoy the internet in totality with freedom. Looking for an alternative, you can

check out Systweak VPN

.
Technical Specifications:
Current version: 10.0.9
Operating System: Windows 11/ 10/ 10/ 8.1/ 8/ 7
Memory: At least 2 GB
Storage Required – At least 50 MB
File Size – 25 MB and when .exe is unpacked  248 MB
Processor – 1 GHz
Security
AES-256 encryption
Kill Switch
No logs policy
Streaming Servers
Netflix
Others like Hulu, BBC iPlayer, HBO Now
Customer Support
Email support
Live chat support
How To Install and Use ExpressVPN On Your Windows PC?
Here is how you can use ExpressVPN – 1.
Download, run and install ExpressVPN
by choosing from monthly, 6-months, or annual plans (we'll discuss these later in the blog). 2. Log in using your credentials, after which an activation code will be sent to your email.
Note:
It is important to note that to access the ExpressVPN Chrome extension, you should be signed in to your ExpressVPN desktop app as well.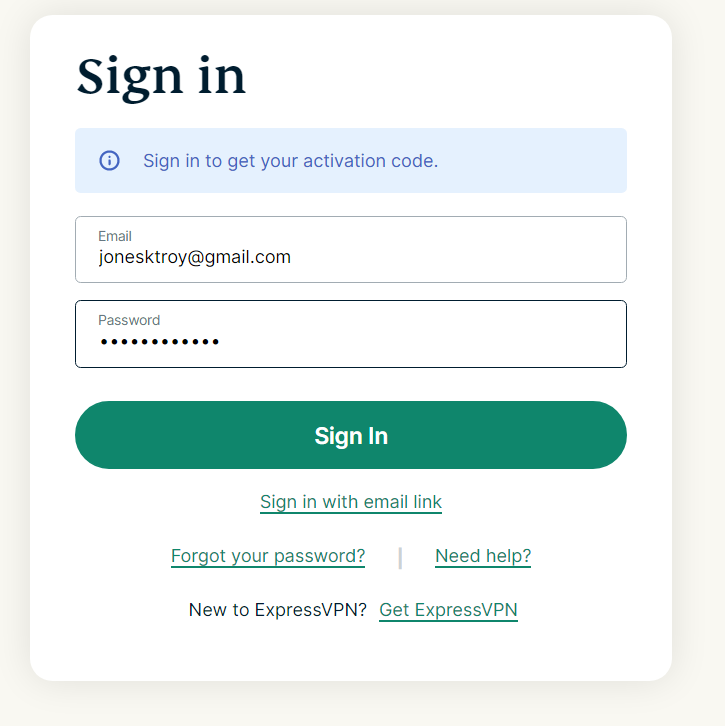 3. Click on the big connect/ disconnect button in the center to switch the VPN on.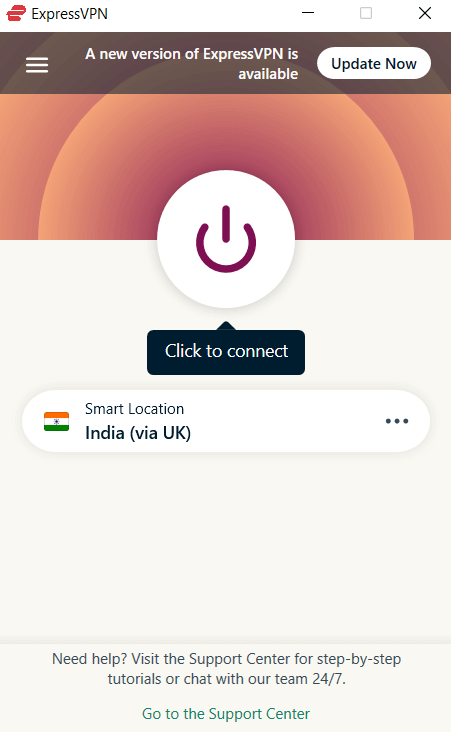 4. Click on the three horizontal dots to select a location. Don't know which location to choose; you can either go ahead with the
Smart Location
or conduct a
Speed Test
by clicking on the hamburger icon (three horizontal lines) located towards the topmost-left, then choosing
Speed Test,
then choosing a server of your choice. We have discussed the
Speed Test
feature in the "features" section below. That's it! You are all good to go. You can now surf the world wide web securely without fear of someone snooping on your online identity.
How To Use ExpressVPN Chrome Extension?
ExpressVPN also has a Chrome Extension that goes by the name ExpressVPN: VPN proxy for a better internet. To use it – 1. Download the Chrome extension and then click on
Add Extension.
2. Click on the
Extensions
icon next to your Chrome browser's address bar.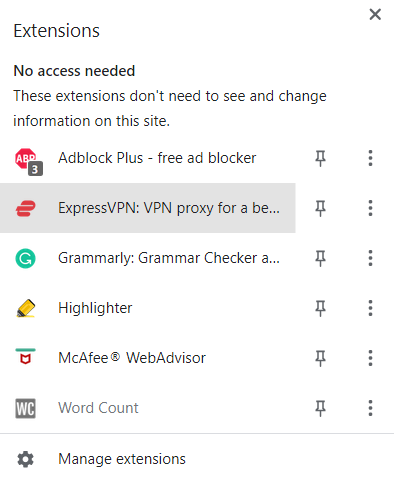 3. Click on
ExpressVPN
4. You can now access the ExpressVPN Chrome extension as well.
ExpressVPN has an easy-to-use, attractive, and user-friendly interface. Navigating around this VPN software holds no issues as buttons are neatly labeled. First off, there is a big
Connect/ Disconnect
button at the center. By clicking on this, you can choose to connect or disconnect the VPN.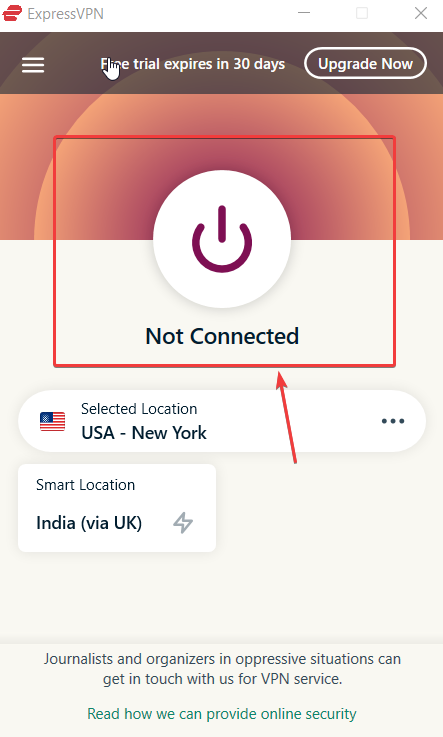 Below is the section from which you can choose your desired location. This is where you can see the optimum location that ExpressVPN selects for you. The same goes for the feature
Smart Location
.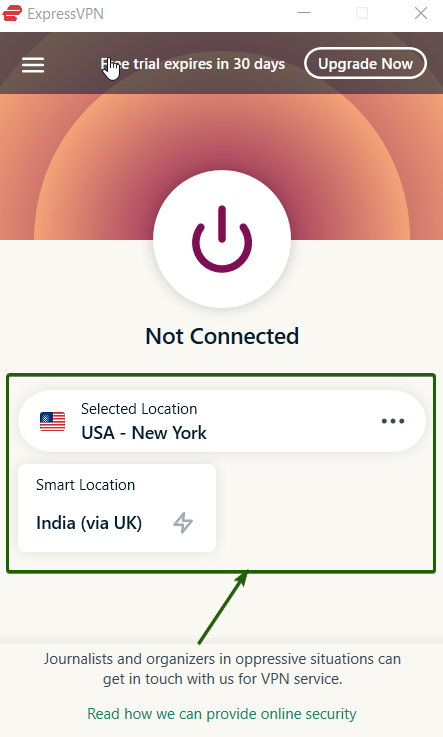 Beneath the location, you can also see your recent location. If you face any doubts or have any queries, you can also reach out to the customer support team via the home page by clicking on the
Go to the Support Center
. ExpressVPN is customizable. You can access the various settings by clicking on the hamburger icon from the top-left corner of the interface.
ExpressVPN is hailed as one of the best VPN software for PC for its features. We'll discuss them here –
1. Number of Servers:
A decent VPN offers many servers, which gives a user an option to switch between servers in many situations. This holds true for ExpressVPN as well. It provides 3000+ servers spread in 94 countries across 160 locations.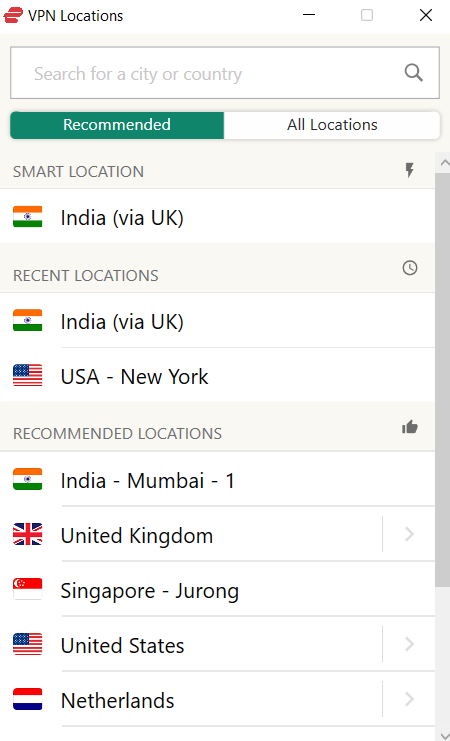 2. Smart Location: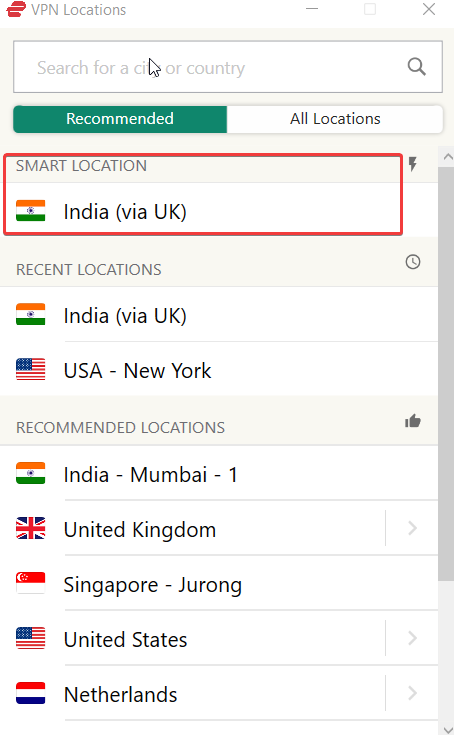 Confused as to which location is the best for you to access the internet safely and with a decent (if not the best) speed? ExpressVPN for PC has an inbuilt Smart Location feature that helps pick the most optimum location for you. It uses a "smart algorithm" that further uses latency, speed and distance metrics to rank your VPN locations.
3. Split Tunneling:
You might be wondering what split tunneling is? Let's assume that you are downloading some files for which you don't need a VPN, but at the same time, you want to access your bank account or stream a geo-restricted library. What ExpressVPN does is that it lets you choose the apps you want to use when using ExpressVPN. For this –
1. Click on the hamburger (three horizontal lines) at the topmost left
2. Click on Options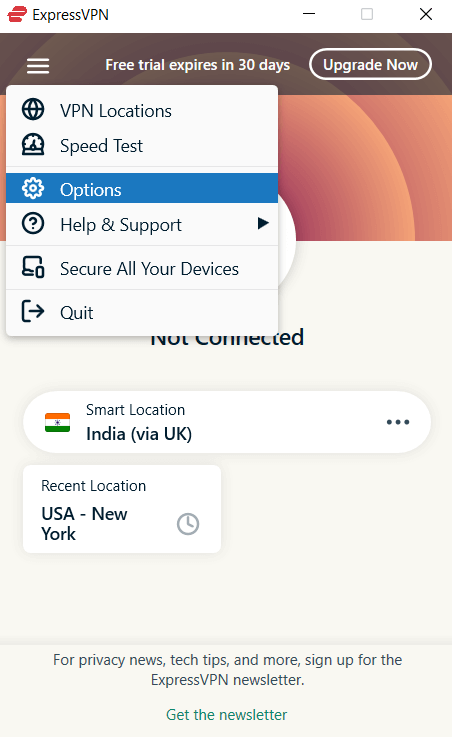 3. Click on the General tab.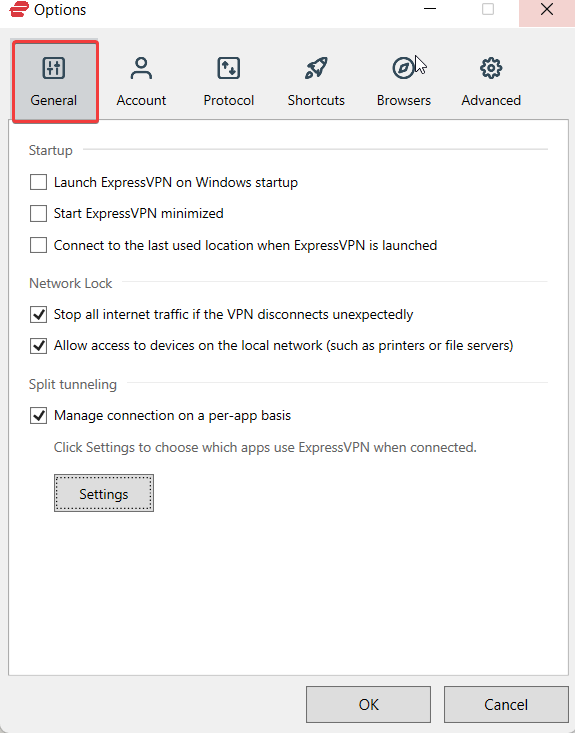 4. Under
Split tunneling,
click on the
Manage connection on a per-app basis
checkbox.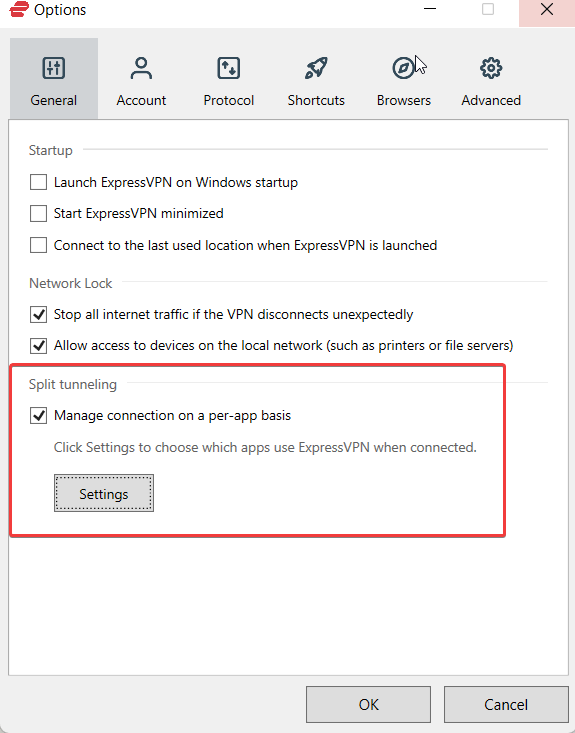 5. Click on
Settings
6. Select one of the options and click on
OK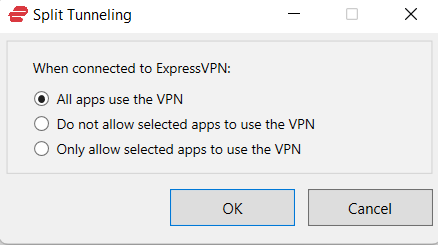 4. Protocols:
ExpressVPN offers multiple protocols to ensure security. Depending on various situations, you can choose a protocol as per your need. The security protocols offered are – Automatic, Lightway, OpenVPN (UDP), OpenVPN (TCP), IKEv2, and L2TP/ IPSec (lower security). Here is how you can select a protocol depending on the situation you are in –

1. Click on the hamburger (three horizontal lines) at the topmost left

2. Click on Options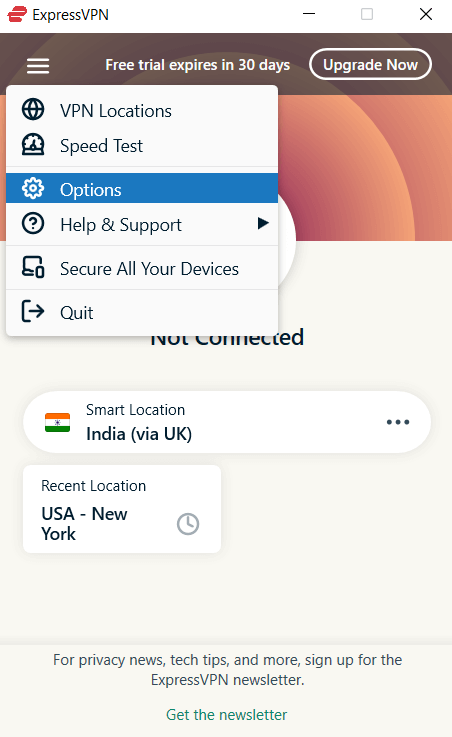 3. Click on the
Protocol
tab and select a protocol as per your situation.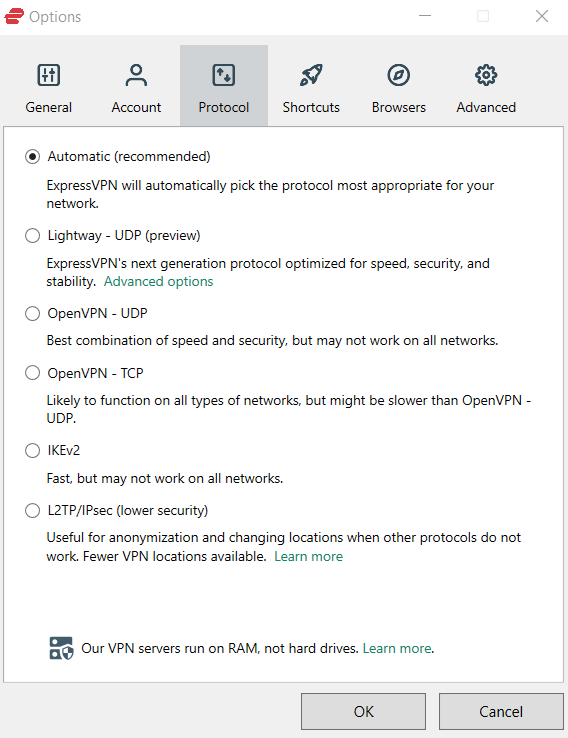 4. Click on
OK
5. Military Grade Encryption:
When you download ExpressVPN for your PC, you can rest assured of encryption that not even a brute force attack can surpass. Here we talk about AES-256-bit military-grade encryption, which is impossible to crack. This kind of encryption that governments, military forces, or banks use to protect their coveted data.
6. Speed Test:
ExpressVPN for Windows PC has a speed test feature using which you can find the speed of the various servers that are working. The servers are sorted by –
Speed Index, Latency,
and
Download Speed, when you run the Speed Test
. To run the speed test – 1. Click on the hamburger icon.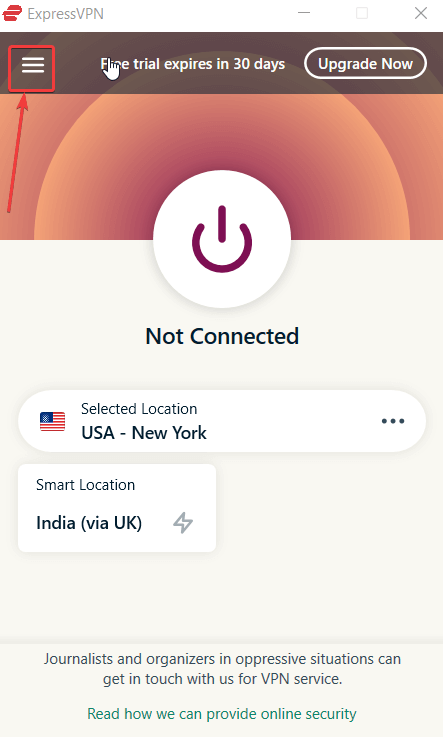 2. Click on
Speed Test.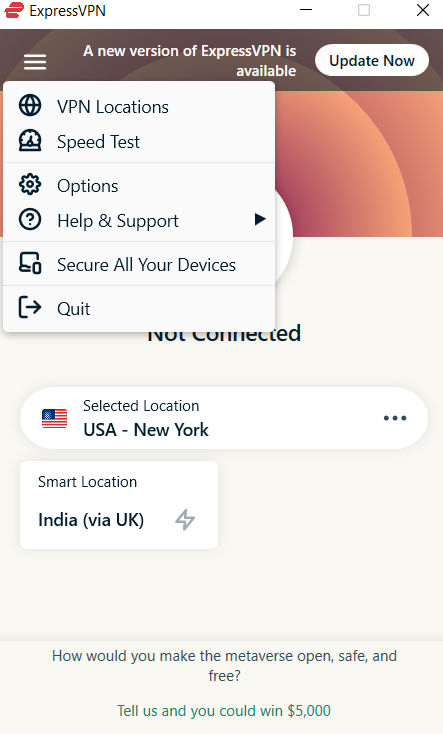 3. Click on the
Run Test
button from the bottom. I had already run the test. So you can see the results in the screenshot below.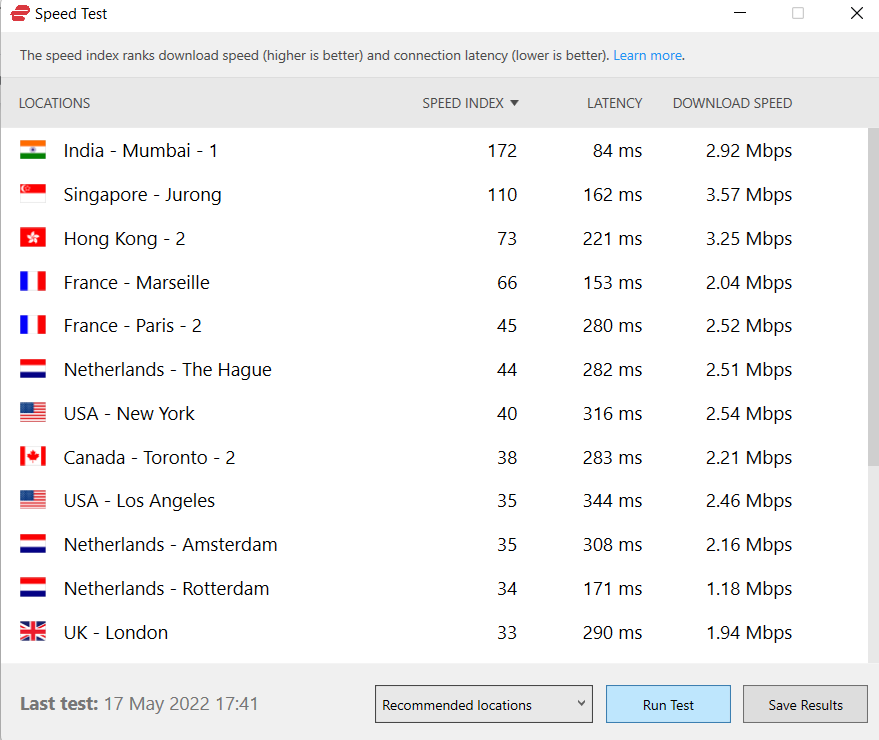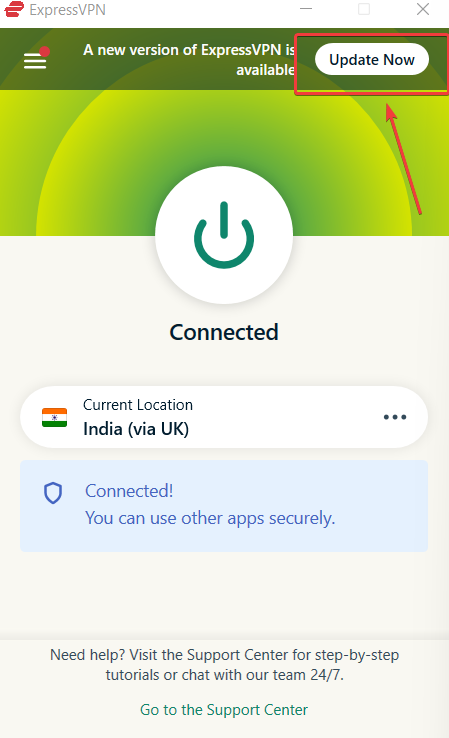 ExpressVPN frequently rolls out updates to squash bugs and release new features to make your experience smooth (as is quite evident from the release notes). However, we couldn't find a significant button on the interface from where we could fetch the update manually. You will be able to see the update on your interface when it is released, and you can further fetch and download it by following the on-screen instructions.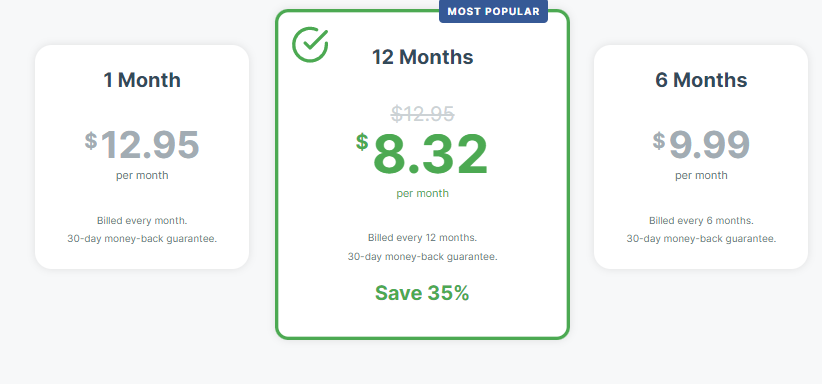 At the outset, we'd like to mention that immaterial of the plan you choose, with your ExpressVPN account, you get a 30-day money-back guarantee. On top of that, ExpressVPN has partnerships with brands like HP and others where you can get 30 days trial for testing out ExpressVPN to its maximum limits. For instance, if you have an HP laptop, you can enjoy free unlimited VPN on your Windows for a matter of 30 days. As for paid plans, ExpressVPN comes in three different variants – monthly, 6 months, and annual. Plus, you may also want to keep an eye on ExpressVPN discounts, where you can avail of discounts up to 35% or even more. At the time of writing this blog, these were the price plans –
ExpressVPN is one of the fastest VPNs. You might encounter a slight dip in the speed especially when you select a server location at a long distance. Also, in the same scenario, you might even notice a high ping. For instance, having chosen a long-distance server location, I observed a drop of around 28% in the download speed. But overall, the speed's decent and quite acceptable, knowing that a VPN software has to reroute your data via different servers and tunnels while also exercising stringent encryption methods.
ExpressVPN offers all-around customer service. This means that you, as a user, can get any of your queries resolved in many different ways. To begin with, for most queries related to your VPN software, you can refer to interesting video tutorials and
blogs
that cover almost every aspect of ExpressVPN and even important concepts related to VPN in general. Still did not get the answer to your query? At any point, you can get in touch with a live chat support team available 24X7. The support team that helps you via live chat is prompt and replies within a few seconds of you asking them questions. You can contact the support team right from the interface by clicking on the hamburger icon >
Help & Support > Contact Support.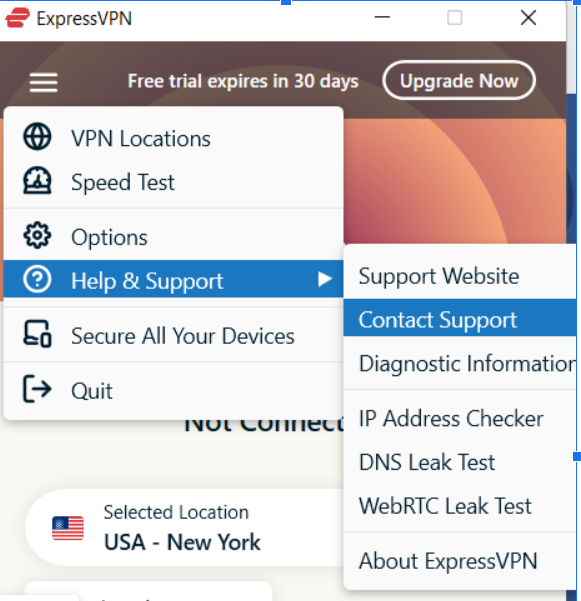 or click on the greed
Need help? Chat with us!
button, after which an agent will get in touch with you immediately.
Frequently Asked Questions:
Q1. Is ExpressVPN free?
There is, as such, no free plan as far as ExpressVPN for Windows is concerned. However, if you have an HP laptop, you can avail 30 days free trial and then upgrade to one of the free variants.
Q2. Does China own by ExpressVPN ?
As of September 2021, ExpressVPN is owned by Kape Technologies, a UK-based company.
Q3. Can I trust ExpressVPN?
Yes, you can trust in ExpressVPN as it already enjoys a user base extending to millions. Also, it has a strict no-logs policy, and to protect your digital identity, it empowers VPN with AES-256 military-grade encryption, which is next to impossible for a supercomputer to pass.
Q4. Is ExpressVPN easy to use?
ExpressVPN has a user-friendly and easy to understand user interface that even a beginner can understand. From choosing locations, changing protocol, and many others, ExpressVPN poses no issues whatsoever.
Q5. Does ExpressVPN work with Netflix?
Barring aside a few popular Netflix regions, you can easily watch shows on Netflix using ExpressVPN. And the surprising part is that you can watch many geo-restricted shows and movies in HD.
Final Verdict
ExpressVPN is indeed a powerful VPN software for your Windows PC that can prevent your IP address from being exposed to cyber miscreants. While pricing can be of a bit of concern but to be honest, every aspect – be it the interface, the speed, the number of locations, and every other aspect justify the price. It even has a Chrome extension that compliments the desktop app as a cherry on the cake If you liked what you read, give this blog a thumbs up, and let us know in the comments section if you too like ExpressVPN. For more such content, keep reading Top10PCSoftware. Also, follow us on the social media platforms for the latest updates for Windows software. We are on
Twitter
,
Facebook
,
Pinterest
, and
Flipboard