Have a brilliant composition in your mind but can't seem to put that on paper? Well, one of the ways to use drawing software on your Windows PC is to download Drawing Bliss and see your imagination come to life. You can choose from an ocean of brushes, pick the exact color and style, and do loads of other things to create amazing art.
Top Software Reviews
Rating
1.

Krita

2.

Adobe Photoshop

3.

Affinity Designer

4.

GIMP

5.

Corel Painter

6.

Inkscape

7.

Artweaver

8.

ArtRage Vitae

9.

SketchBook

10.

Adobe Illustrator
Do you love to draw? Do you find yourself doodling your imagination every now and then? What you need is a drawing software for your PC. When you draw using a reliable  drawing software, you can go as precise as you want. Additionally,  you can always correct any artistic misstep and get an error-free, beautiful, and spot-on version of your imagination. In this post, we have enlisted some of the best free and paid drawing software for Windows 11/10 PCs.
What Should I Look For In Drawing Software For PC?
When choosing a drawing software for your Windows 11/10 PC, your needs may vary depending on your artwork. However, when choosing one such application, here are certain aspects you should look at. Again these points are not all-inclusive and you may have your own preferences –
Paid vs. Free – While there are many drawing applications for Windows PCs that are available free of cost & they might not offer as many features as their paid counterparts. Especially, if you are someone who has intricate composition needs or someone who does drawing professionally, you might want to invest in a premium variant. That said, many free drawing software for PCs these days offer various advanced features that can cater to your needs.
Measure Your PC's Hardware – Before picking drawing software for your PC, check your computer's specs, including RAM, CPU power, graphics card, and other factors. Your PC's hardware specs will influence how the software performs and if there are any lags.
Non-Destructive Editing – Most drawing software for Windows computers offer layer-wise, non-destructive editing where you can keep the original layer safe and draw the various elements in layers. This way you can easily organize layers and correct mistakes.
Intuitive and Easy To Use Interface – The first thing that'll catch your eye once you have installed the drawing tool on your computer is the interface. Needless to say, it should be simple, streamlined, and not something that's complex to use. You should be able to identify and use the various tools – brushes, filters, shapes, curve tools, color tools, layer panels, etc. easily.
Brushes – There is a difference between image editing and creating something from scratch. When drawing, for instance, you might want to use a specific brush preset and that's exactly what the drawing software for PC should deliver. There are many software that go to the extent of replicating the same force that you apply on a pen tab, thereby rendering the same brush strokes as you would in real life.
Best Drawing Software for Windows 11/10 Computer?
1. Krita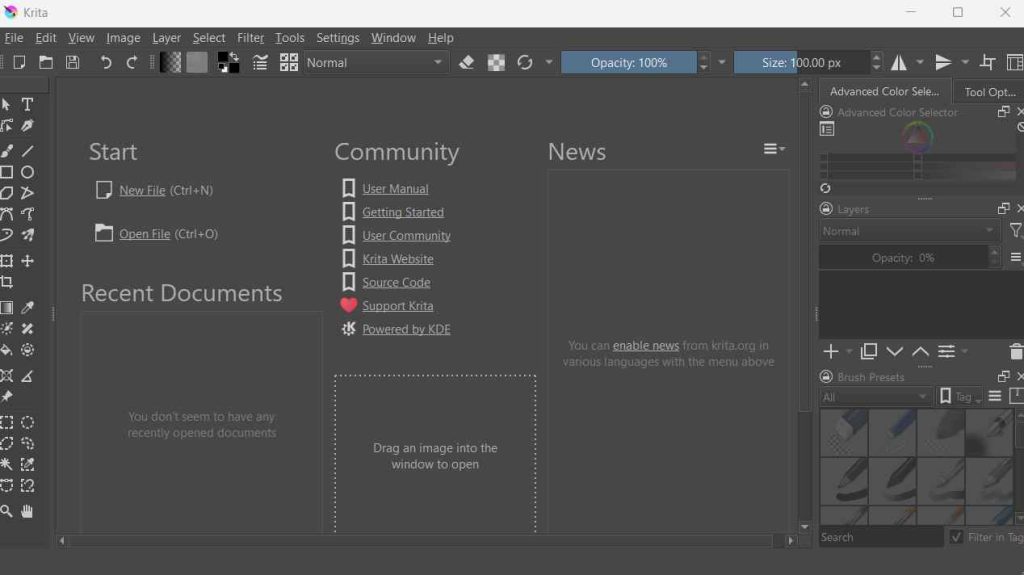 It is a free and open-source drawing software for Windows PCs. With Krita, you can create illustrations, comics, concept art, matte paintings, and many other forms of art. It also lets you create several textures to enhance your art. If you have just embarked on your journey in digital painting and drawing, you can easily get started with this PC drawing tool by watching  the tutorials and guides that Krita provides you.
Notable Features
Inbuilt vector tools with which you can create comic panels.
Wrap-around mode helps create seamless patterns and textures.
Create brushes and share them with the world.
Comes preloaded with 100 professionally made brushes.
Customizable onion skinning.
Brush stabilizer lets you smoothen brush strokes.
Over 30 dockers for additional functionality.
9 unique brush engines to customize your brushes
Audio import support. Wish to refine your audio files, choose from some of the best audio editing tools for Windows.
Occasional stability issues.
Pricing – Free and open source
2. Adobe Photoshop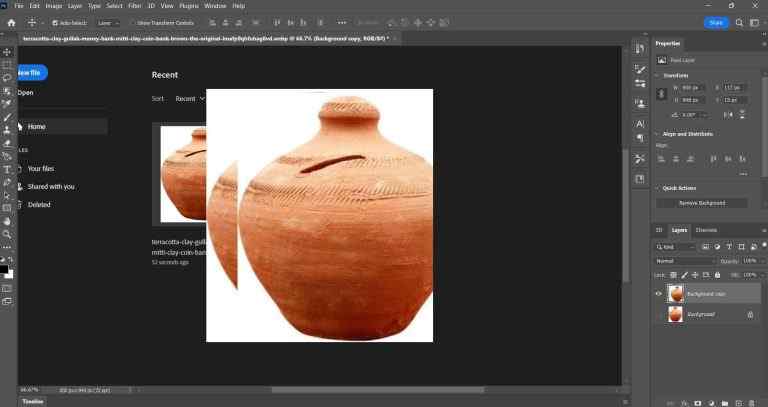 Adobe Photoshop has long been hailed as one of the best image editing tools. However, it is also a fantastic tool to work with if you intend to draw things from scratch. We do agree that for a beginner, there might be a slight learning curve but once you have tried your hands for a while, you can easily unlock your creative potential with Adobe Photoshop.
Notable Features
Availability of various effects and filters.
Various retouching and photo manipulation tools.
layer-based non-destructive editing.
You can choose from various customizable brushes and fonts.
Integration with Adobe Creative Cloud.
Availability of various plugins.
Great for complex designing and drawing needs.
Frequent updates ensure that you get your hands on the latest features.
Various 3D tools and neural filters.
A slightly steep learning curve for beginners.
Pricing – Free 7-day trial. After that, pricing starts at $19.99/ month
3. Affinity Designer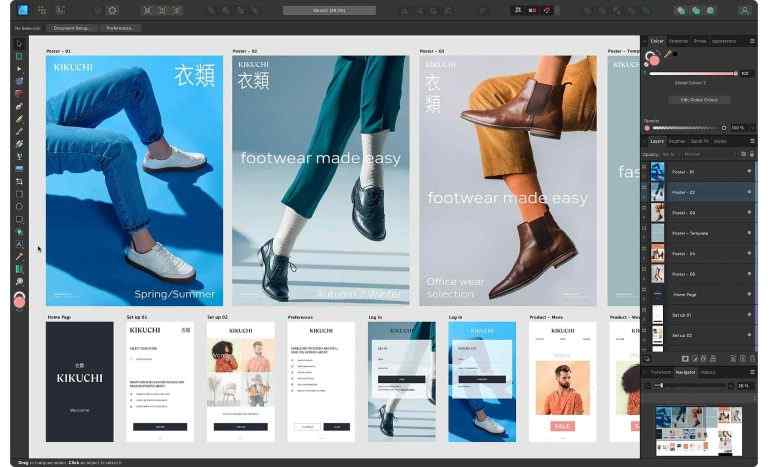 Another graphic editing tool that doubles as one of the best drawing software for PCs is Affinity Designer. Whether you are drawing characters, shapes, logos, icons, UI, mock-ups or sketching, Affinity Designer is a great tool to consider. Quite like Photoshop, you can draw things from scratch and fill in the colors you desire.
Notable Features
Unlimited artboards where you can lay out all your menus, screens, and pages.
Create sophisticated typography that adheres to any flow or path.
Create and edit shapes – merge, subtract, and divide them with the Shape Builder Tool.
Warp or distort vector curves non-destructively.
Choose from several styles for your objects using the Style Picker Tools.
Cross integrates with other Affinity apps like Affinity Photo.
Raster editing capabilities.
Availability of a wide range of plugins.
You can change the look and feel of this drawing software for PC.
Pricing –  Free trial available. Then, pricing starts at $69.99 (one-time payment)
4. GIMP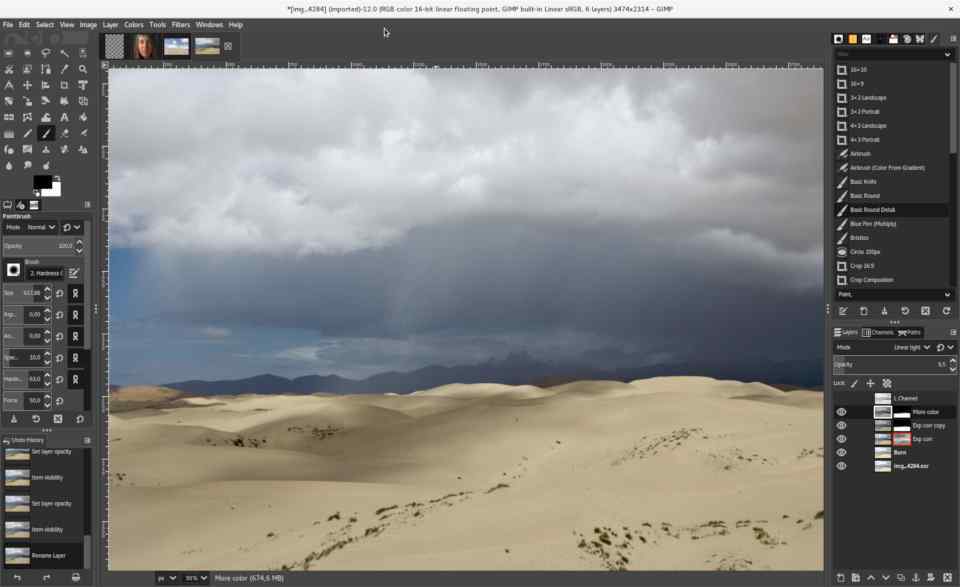 Despite being free and open source, GIMP stands tall alongside the top players in image editing. It excels not only in  image editing, but also in free-form drawing making it  one of the best drawing tools for Windows 11/10 PC users. You can further take your productivity to the next level with many customization options and 3rd party plugins.
Notable Features
Edit, organize, and blend drawings with flexible layers.
Comes with a vast array of customizable brushes.
Precise selection helps you with complex drawing projects.
You can tailor the GIMP workflow for maximum efficiency.
It comes with an extensive library of filters and effects.
Open source; code is available to everyone.
One of the lowest resource-consuming drawing applications for PC.
Large and active community support.
It is free to use.
Could become slow with complex drawing projects.
Pricing – Free and open source
5. Corel Painter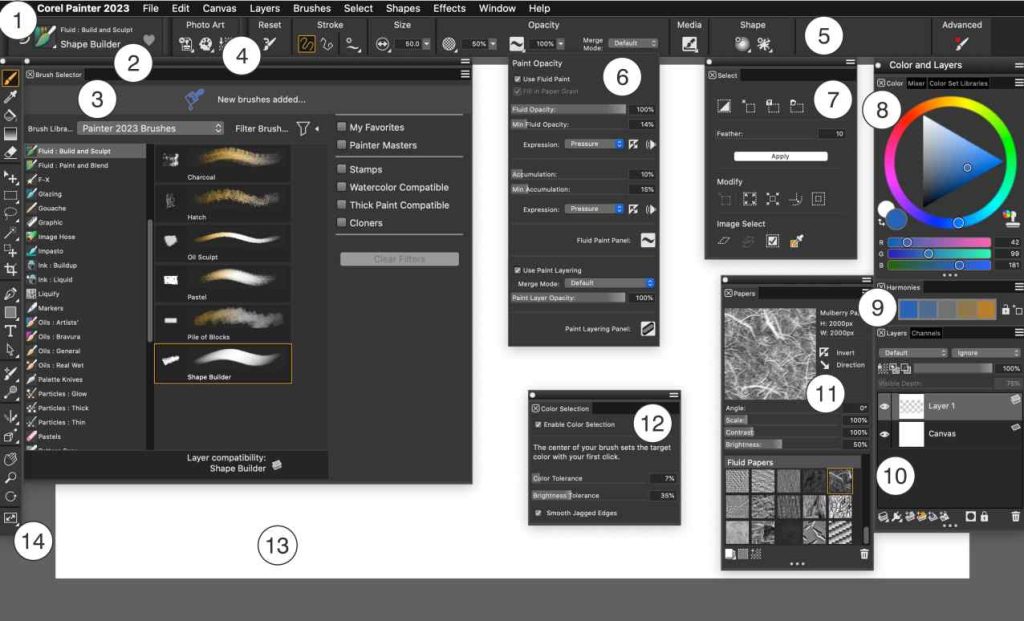 It is raster-based digital art software that can help you draw and simulate your imagination as precisely as possible. Corel Painter is used by all kinds of artists – those who draw for hobby as well as professional digital artists across all domains. With this drawing software for Windows 11/10 users, you can sketch, illustrate, and paint using a wide array of tools like the ones mentioned below.
Notable Features
Customize textures, brushes, patterns, palettes, and much more.
Get the perfect color palette with a Color Wheel, Mixer, Harmonies, and Color Sets.
Several composition tools – Layout Grid, Divine Proportion, Mirror Painting Tools etc.
Pan, zoom, and rotate the canvas and add lighting and surface texture to it.
Ready to use Flow Maps, textures, Papers, Nozzles & more to  enhance your artwork.
Easily transfer files between Photoshop and Painter.
Support for a stylus – it replicates rotation, bearing, tilt, and pressure control.
Create concept arts and environments for games, movies, etc.
Exhaustive tutorials to help you get started.
High on system resources and the premium version could be pricey.
Pricing  – Free trial available. Then pricing starts at $229
6. Inkscape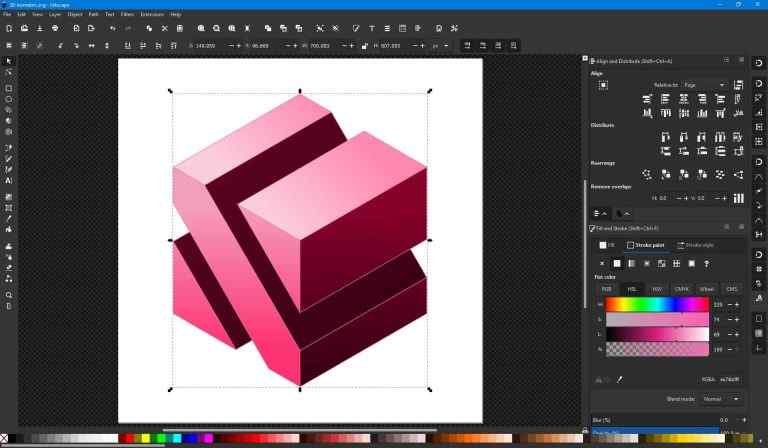 It is a versatile and free vector graphics software that lets users create intricate logos, illustrations, diagrams, and more. Inkspace comes packed with intuitive drawing tools to  doodle your imagination. Speaking  of imagination, it offers  a variety of features to help you organize your creative elements.
Notable Features
Flexible drawing tools.
Get precise colors for the objects you draw.
Spiro and Bezier curve tools for drawing intricate objects
Grouping objects is simple.
There are several tools with which you can create patterns.   
Export artwork to multiple formats.
Exhaustive learning resources with which you can master vector drawing techniques.
Create precise, scalable drawings using vector-based tools.
Free and open source.
Limited non-destructive editing features as compared to many competitors.
Pricing –  Free and open-source
7. Artweaver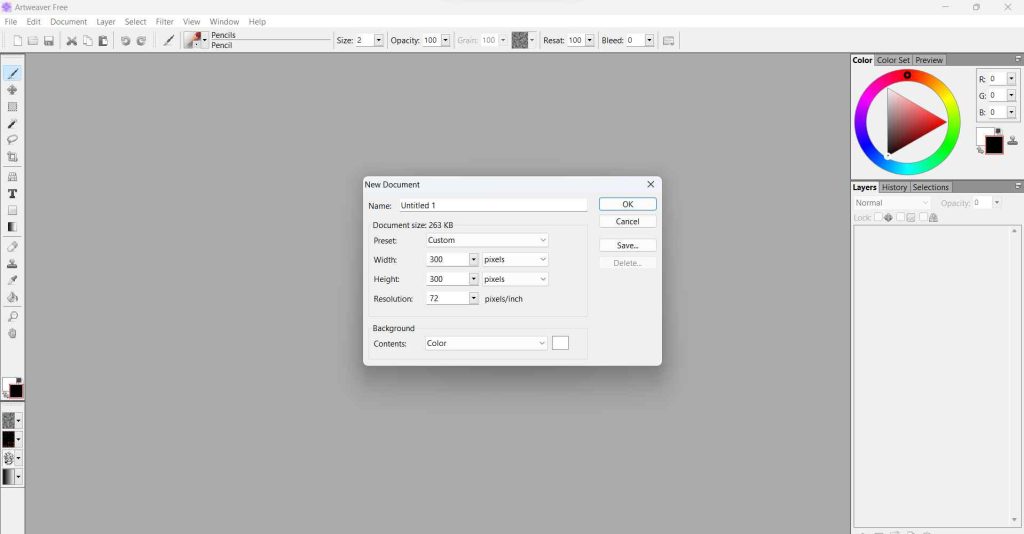 Artweaver  is a full-fledged painting utility that comes preloaded with brushes that will help bring your creativity to life. It is suitable for both beginner as well as advanced users. It comes with an intuitive and easy-to-use customizable interface that you can optimize as per your requirements. It also offers various collaboration tools with which you can collaborate with other artists.
Notable Features
Powerful and configurable brushes.
You can record the whole painting as an event so that you can play it later for reference.
Layer-based non-destructive editing.
Rotatable movable canvas, you can easily arrange docs, etc.
High precision 16-bit brush engine facilitates exact results.
Easy collaboration tools to work in unison with artists over the internet.
Powerful core that utilizes hardware well.
Optimize workflow as per your needs.
Customizable keyboard shortcuts.
Limited export formats as compared to competitors.
Pricing – Free version available. The premium version is priced at $39.72
8. ArtRage Vitae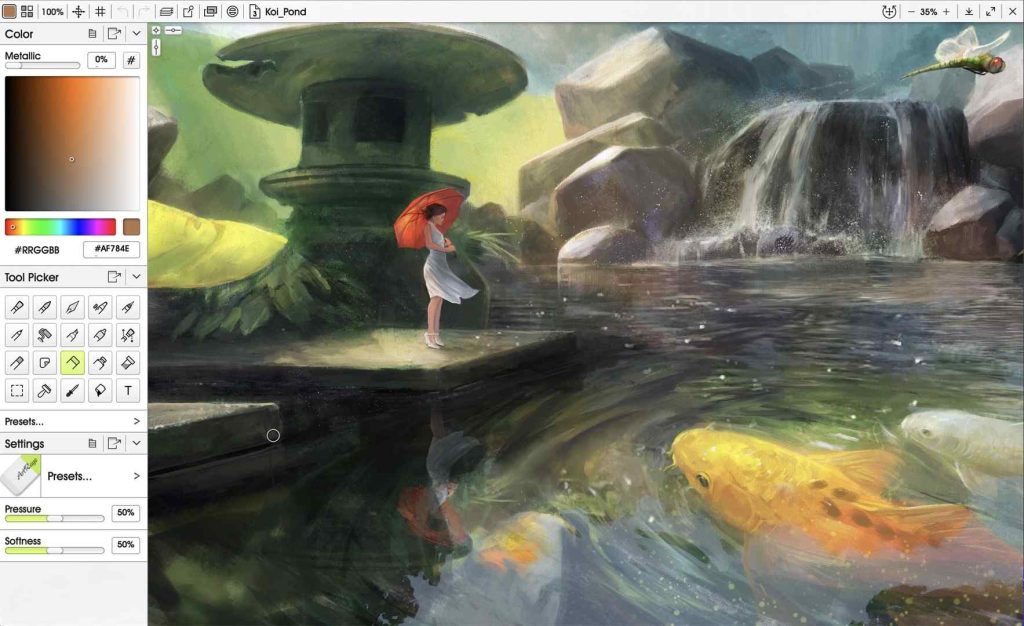 You'd especially like this utility if you love painting and wish to replicate the same colors of your canvas onto your PC. ArtRage Vitae  is one of those tools that facilitates collaboration with fellow artists and can be used by users of all ages. In this tool, you get various powerful digital utilities like blend modes, layers, tracing and reference images, and many more features as mentioned below.
Notable Features
Create delicate watercolor strokes as they would with real canvas.
Shade with pencil, quite like a real sheet.
Various blend modes, layers, and other industry-standard techniques.
Smear and blend thick oils and create natural color gradients.
You can script color-mixing profiles.
You can use photos as references.
Various collaboration tools with which you can work with other artists.
Tiled canvas features infinitely scrolling backgrounds for apps and games.
Settable auto-save timeouts.
Not for complex illustration and it's on the pricier side.
Pricing – Free trial not available. Pricing starts at $80
9. SketchBook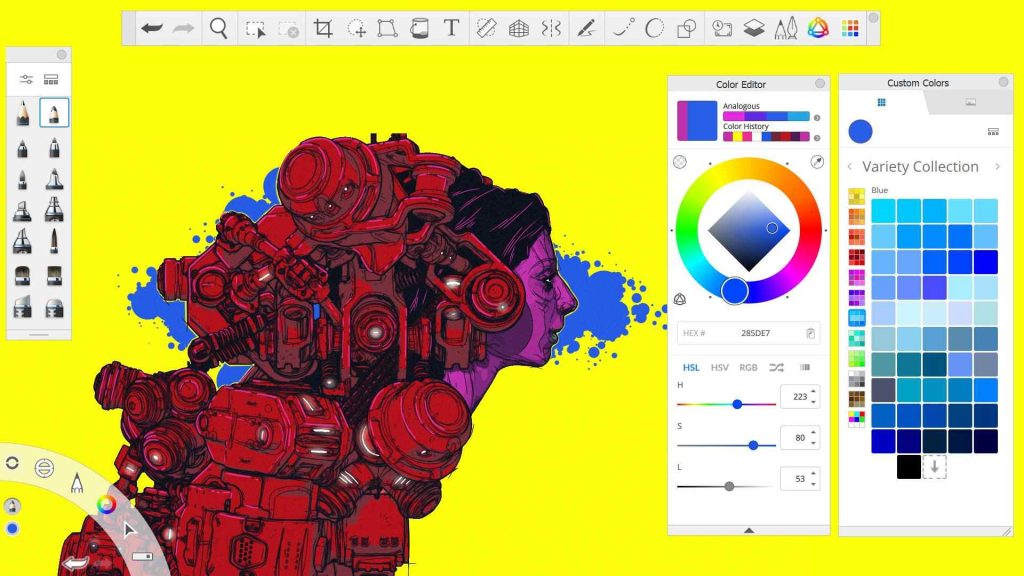 As the name suggests, SketchBook lets you create simple sketches to full-fledged artworks, thanks to a wide range of customizable and professional toolsets that it comes with. It is one of the best drawing software for Windows 10/11 PC which is available on the Microsoft Store. It is also well-optimized for Windows tablets.
Notable Features
Hundreds of brush types – markers, pencils, airbrushes, smear, paint, and much more.
Various layer and color fill tools. You can also apply dynamic linear and radial gradients.
Be more precise with curved rulers, ellipses, french curve tools, and much more.
Comes with vertical, horizontal, and radial symmetry to capture your ideas.
Brushes are highly customizable; you can customize them based on the needs.You can be as precise with your artwork as you want.
Highly responsive to stylus; it replicates the exact pressure you have put on your stylus.
Great for intricate designs.  
Irregular updates compared to competitors and no free subscription available.
Pricing – Free trial not available. Pricing starts at $19.99
10. Adobe Illustrator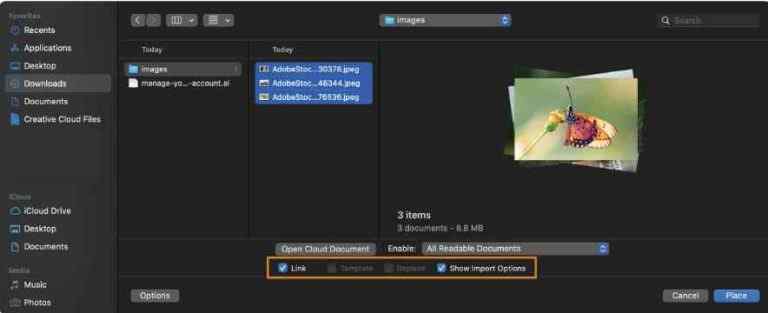 Adobe Illustrator  is a versatile vector graphics software that comes with a rich set of tools. It has a user-friendly and easy-to-understand interface. From tools like the powerful "Shape Builder", an intuitive "Pen Tool" and many others you can use this drawing software to create all kinds of designs – logos, typography, and many others.
Notable Features
Facilitates a smooth blend between objects you draw.
Manipulating shapes is simple, thanks to Shaper Engine.
Comes with customizable fonts that vary in attributes, weight, and width.
Generate new color schemes with Generative Recolor.
Versatile brushes for creative freedom.
Create vectors with precision.
Precise lines and smooth curve tools.
A rich palette of vibrant colors.
Organize complex scenes effortlessly.
Demands powerful hardware.
Pricing – 7-day free trial. Then $$20.99/ month
"Digital Artistry: Your Canvas, Your Imagination, Your Software"
Choose from some of the best drawing software for Windows PC and embrace the limitless opportunities that digital artistry offers. With a large array of brushes, shapes to play with, a limitless color palette, and a host of other tools, you can draw whatever you have dreamt of.
Found the post interesting and informative, do give us a shoutout in the comments section below, and also tell us what tools you use to show your digital creativity.
Frequently Asked Questions
Q1. Which software is best for digital art?
Here we have talked about some of the best drawing software for Windows PCs with which you can create your digital art from inception. Some names include Krita, Adobe Photoshop, Affinity Designer, Inkscape, Corel Painter, and many others.
Q2. Can I create digital art on my Windows PC?
Yes, you can. We have tried and tested some of the best drawing applications (free and paid) that you can install on your PC and start drawing your imagination right away. These tools also come preloaded with templates and references that you can build on.
Q3. How Do I Start Digital Drawing?
The software listed above such as Photoshop, GIMP, and many others comes with exhaustive tutorials. You can start by learning the various drawing techniques discussed in these tutorials and embark on a wonderful journey of digital artistry.