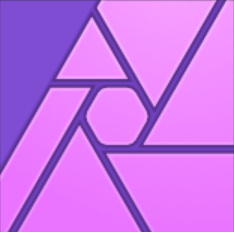 Affinity Photo
Affinity Photo Review 2023: Details, Pricing & Features
As an avid photographer, are you scared that you will have to spend oodles on a photo editing tool so as to fulfill your photo retouching goals? Why not look for alternatives instead? Here we are going to review Affinity Photo which is often regarded as one of the best photo editing software. Let's have a look at its various aspects and check if it's worth the hype or not.
Why Download Affinity Photo on Windows PC?
Before we dive into the various features of this photo editing software or what the latest version of Affinity Photo offers, let's understand what this tool is all about.
Affinity Photo is more than an image editing software that can help you with goals such as photo retouching, creating concept art, and other image editing tasks. It has a balanced workflow-oriented user interface that has been created with high-end image editing in mind.
Pros:
Fast & powerful editing tools.

Supports a large number of image formats.
Cons:
Slows when using large photos
Let's have a look at a few reasons why you should consider downloading Affinity Photo on your PC –
A powerful and high-performing image editing tool that consumes fewer hardware resources.
Capable of creating works of art, editing photos, combining graphics and text, and other image editing tasks.
Different personas for different jobs. For example, the Develop Persona caters to processing Raw images.
Ability to add various masks or adjustment layers to the image.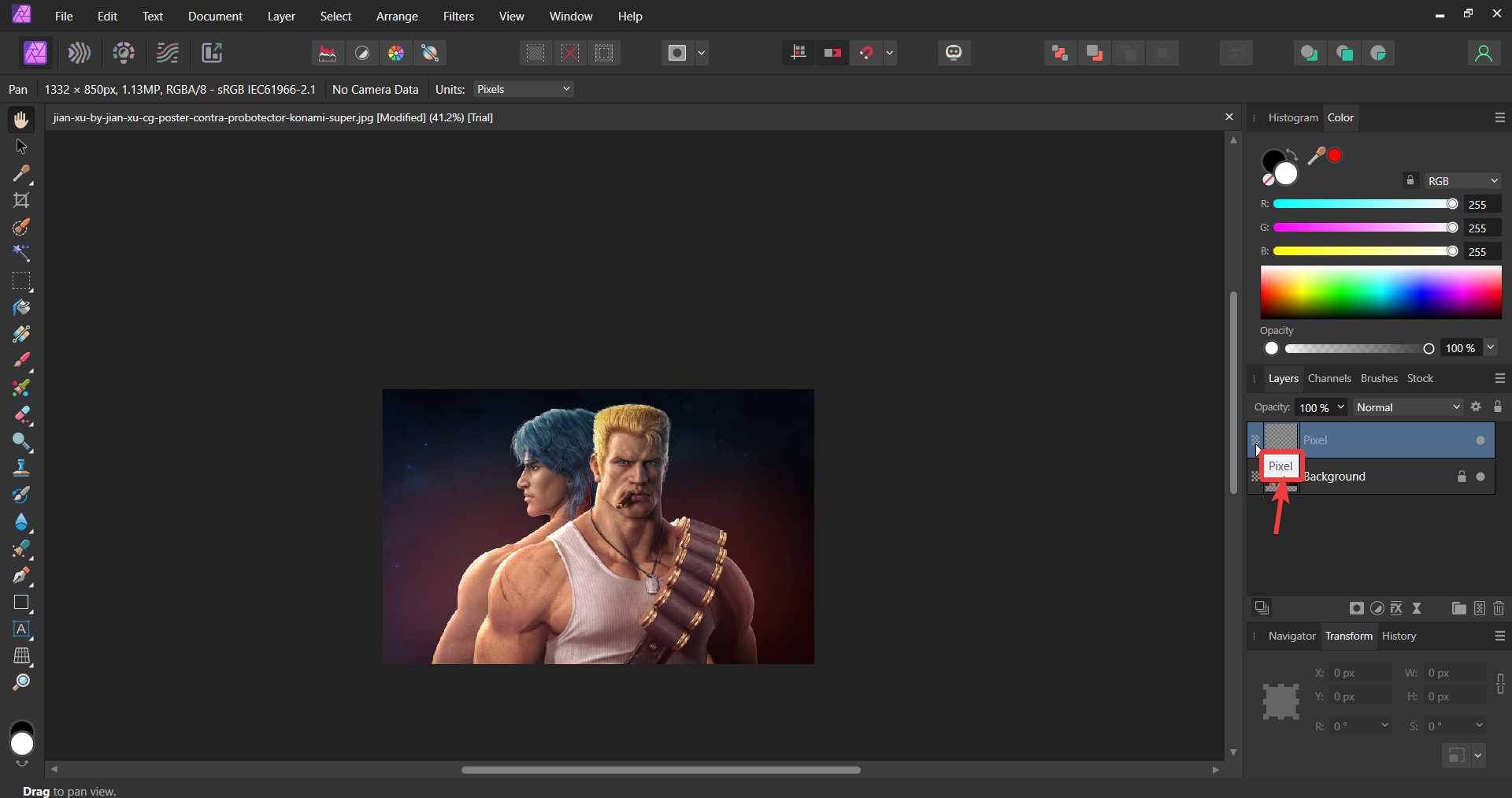 Affinity Photo software offers a highly customizable, smart-looking, and clean interface. So, whether you are new to using photo editing software or have used one like Adobe Photoshop, in either case, you won't find it hard to get used to the interface.
And, if you are familiar with this kind of interface you'll come across the same document window, document tab, and toolbar, the way you click on a toolbar icon and view other tools, and so on and so forth.
On the left side of the interface, a toolset would appear depending on the persona you have chosen, something we have discussed in the "Features" section below. On the right-hand side, you can find items like the layer panel, the color histogram, the transform history panel, etc. quite similar to Adobe Photoshop or the like. You can check the type of layer by just hovering your mouse on the layer thumbnail as shown in the screenshot below.
1. Layer-wise Editing

Affinity Photo for Windows allows you to design and edit photos using layer methodology which gives you more flexibility over your projects. All layers can be managed in a layer panel. There are several different kinds of layers that you can create. These include – pixel layers for pixel-based editing, mask layers for masking layers beneath, pattern layers to create repeated patterns across the entire document, and many others.
2. Multitude of Filters
You get a multitude of "Filters" to choose from when it comes to working with layers. The number of filters offered is more or less the same as compared to the other photo editing tools. One filter that stands out is Astrophotography, these filters are used in the post-processing stage of images received from Astrophotography Stack Persona.
3. Develop Raw Files Non-Destructively
Among the various new features introduced in Affinity Photo 2, the ability to develop Raw files non-destructively is being liked by users a lot. Using this feature, users can go back and change develop settings such as black point, exposure, contrast, saturation, and many more at any point in editing. They can even make changes even if they have added many masks or adjustment layers to the photo.
4. Different Kinds of Personas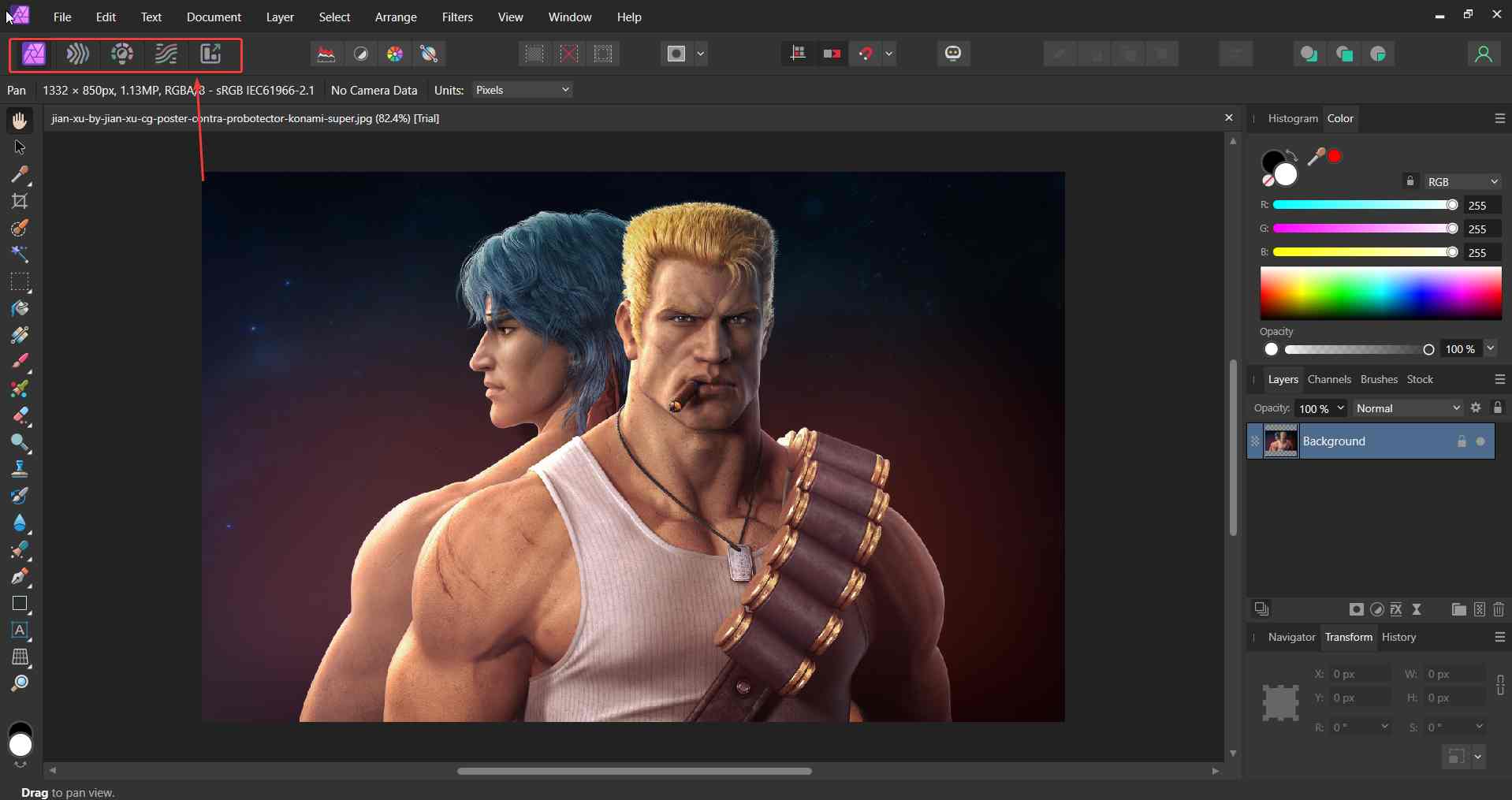 For a variety of jobs, Affinity Photo lets you create a separate persona and offers a separate toolset for each of the personas. There are 5 personas that you can work with namely –
Photo Persona – Here you get all major photo editing tools and you can use brushes, crop photos, erase, retouch and do a lot more
Liquify Persona – Here you can distort image areas by pixel size which further makes retouching and warping simple and smooth.
Develop Persona – This persona can especially be great for someone who has to deal with Raw images and remove blemishes, red eye, etc.
Tone Mapping – It allows you to work with true 32-bit HDR images. Here you can combine multiple bracketed images into one in an order to create scenes regardless of how harsh the lighting conditions are.
Export Persona – You can export your image in a variety of image formats while working on the original doc. You can even export parts or slices of your document.
5. Supreme Performance for Desktop
When you download Affinity Photo on a PC, you can expect supreme performance. The GPU hardware acceleration accounts for fast editing, compositing, and painting. It also offers multi-GPU utilization and fast rendering of live filters. You also get support for external GPU. As for display support, there is a wide color gamut to choose from.
6. Several Brushes To Choose From
The photo editing software offers a magnanimous library of brushes. If you want you can also create your own custom brushes or import .abr brush files as well. What accounts for its natural painting experience is a powerful brush engine.
We won't say that Affinity Photo is the cheapest image editing software available. However, comparing it to the likes of Photoshop, it is still a cheaper deal. You get 30 days' worth of free trial after which you can opt for a one-off premium subscription. Although the lifetime license mostly sells at US$69.99, owing to discounts you can get it for as low as $40.99 or even less.
You can even buy an Affinity V2 Universal License where you will get Affinity Designer, Photo and Publisher on all operating systems for a one-off subscription price of $99.99
As far as performance is concerned, there were a few minute lags. But again, it is a bit of a hefty tool to handle. Otherwise, it offers smooth functioning regardless of whatever task is thrown at it, whether you are creating any kind of layer, applying filters, using tools, etc. As compared to previous versions there are certain things that have become snappier such as zooming in and out or applying effects. However, when we tried to load photos or import Raw images, the speed was a little slower, especially if compared with some other image editing tools.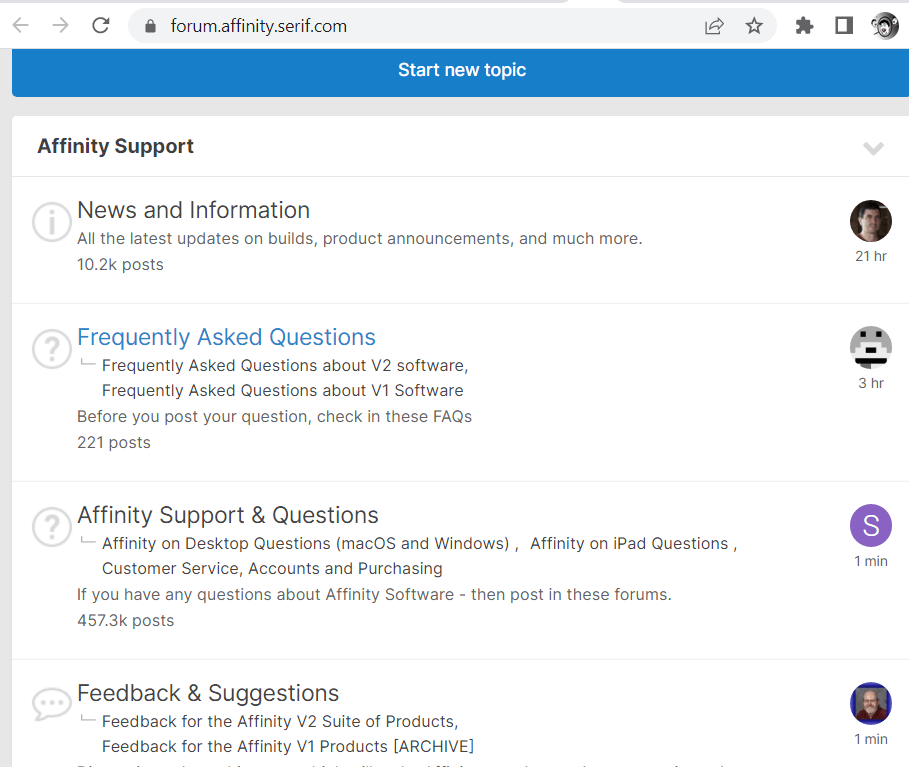 When you are spending your hard-earned money on a photo editing tool, you would expect good customer service in an emergency scenario.
Your doubts could be around anything – features, product change, etc. So, how do you reach Affinity Photo's customer support team?
Firstly, there is no end to the amount of learning material that Serif has put out in the form of tutorials. This is the place where you can enhance your knowledge about the software. Should you get stuck even after that, there are various ways you can reach out to the customer support team. You can drop them a mail at affinity@serif.com.
Affinity also has an active forum where you can put forth your doubts in front of like-minded users and get them answered.
How To Use Affinity Photo?
If you have downloaded the latest version of Affinity Photo, let's quickly get you started. We'll break the guide down into functions that you'd probably perform right after firing up Affinity Photo. Once you are comfortable with these, you can always explore the software and use it to fulfill your creative desires –
1. Start by creating a new document by pressing the ctrl+ N keys. Here you can select an option depending on what you are creating a project for. Accordingly, you can choose page size, photo size, device for which you are editing/ creating the image, etc. Once selected, click on Create.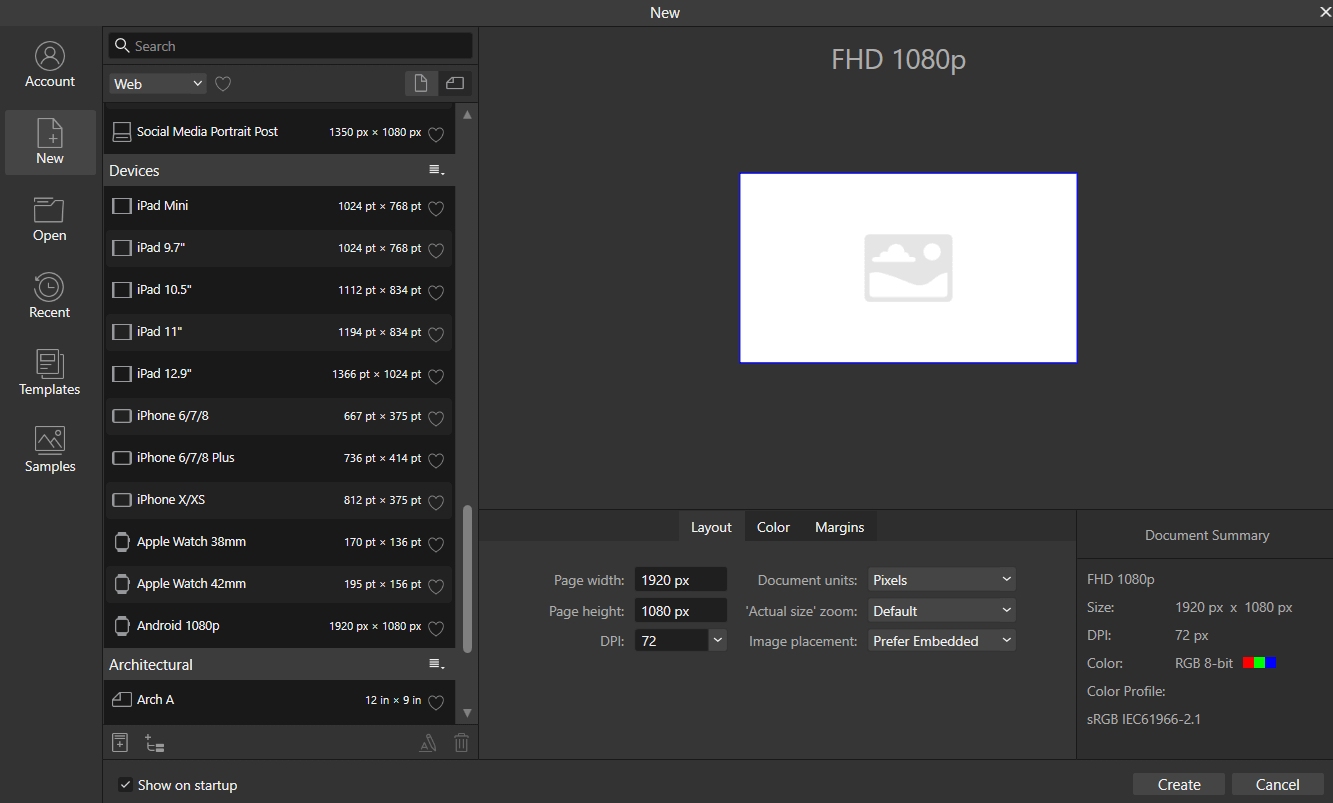 2. You can open an existing image for editing by double-clicking at the center of the interface and then heading to the location where the image for editing is placed.
3. Personas can be compared to workspaces dedicated to specific jobs. Let's say you want to edit a photo and have a specific toolset for that. Click on the Photo Persona and open a photo that you want to edit by double-clicking at the center of the interface.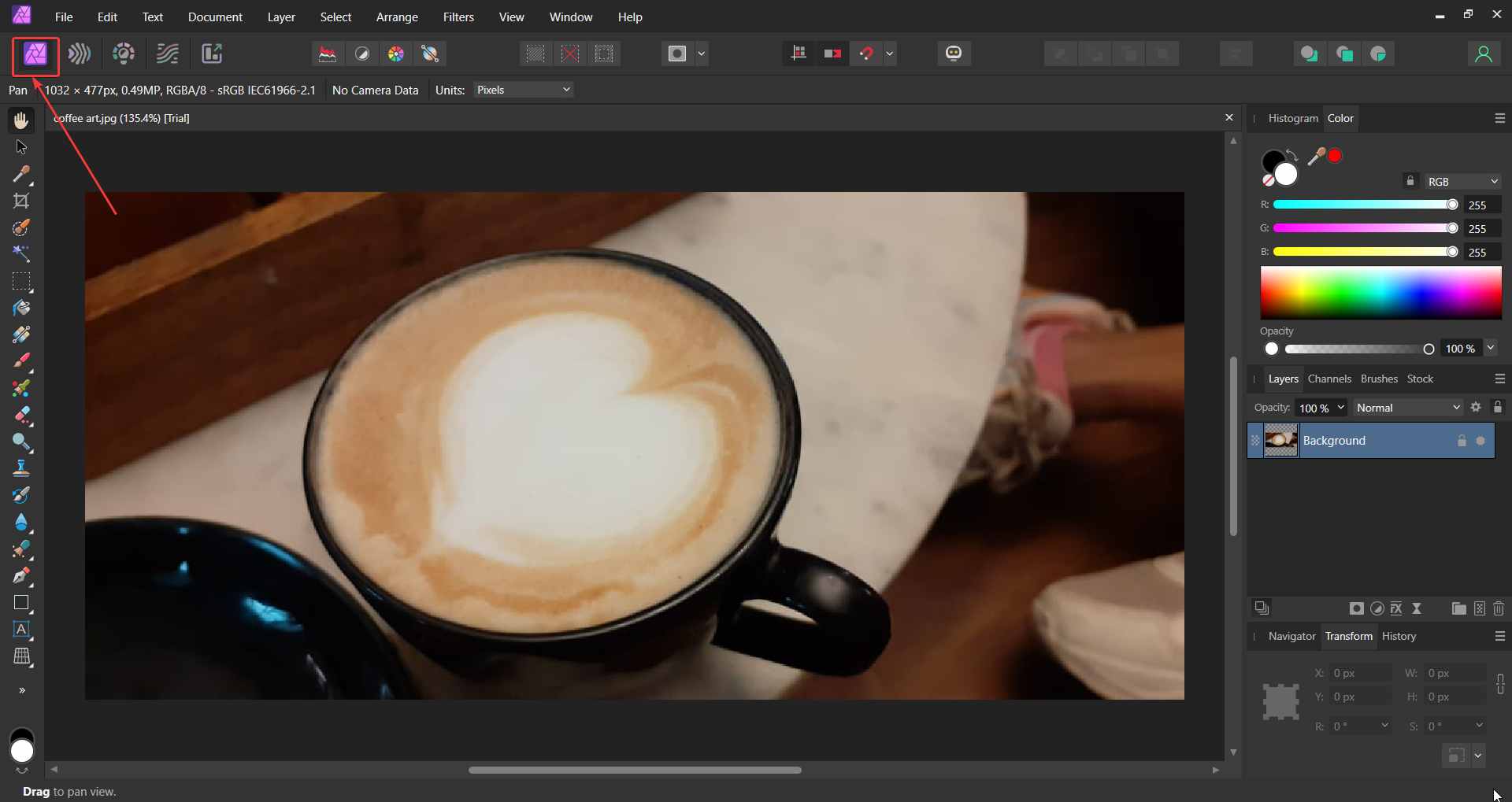 4. Now you can go ahead, and use one of the tools from the left-hand side toolbar, add layers, add filters and do a lot of editing stuff.
Frequently Asked Questions –
Q1. Is Affinity Photo worth the money?
Affinity Photo is a capable, budget-friendly image editing software that offers decent tools for Raw editing, digital painting, and image retouching. You can purchase it at a one-off price with no subscription required.
Q2. Is Affinity Photo as good as Photoshop?
Affinity Photo may not have all the bells and whistles that Photoshop offers. For instance, there are many AI-powered tools, masking options, layer controls, 3D image creation, and many others that Affinity Photo lacks.
Q3. Is Affinity Photo for professionals?
Affinity Photo is packed with all the tools that make it one of the best image editing software. In fact, it is held up in high regard by many photography professionals as well as creative enthusiasts.
Q4. Is Affinity Photo a one-time purchase?
Yes, you can purchase Affinity Photo at a one-time purchase with no subscription required as compared to Photoshop.
Wrapping Up
From what we can infer, Affinity Photo does prove to be a credible image editing software where you will find most of the features that you need to edit images. What do you think? Do let us know in the comments section below. You can follow us on Facebook, Flipboard, Pinterest and Twitter