PureVPN Review: Features, Pricing & Alternatives 2023
Your online activities are a treasure trove for hackers and everyone who mints a fortune from user data. And, if you don't want to hand over the insights about your online expedition to hackers, ISPs, government agencies, etc. you might as well use a VPN that adds an extra layer of protection to your otherwise unprotected internet connection. Here we will to review PureVPN, considered one of the best VPNs for PC.
What Is PureVPN?
PureVPN for Windows PC, as the name suggests, is a VPN service provider that protects your online traffic with the help of an encrypted tunnel. Through this, it essentially masks your original IP address and provides you with a new one. If you are new to the concept of VPNs, you might be wondering why I would need to mask my IP address or conceal my online identity. Ever wanted to stream geo-restricted Netflix libraries, i.e., the movies you couldn't enjoy in your region. As a top-rated VPN service, PureVPN lets you do just that, and how? We'll discuss this a little later in the post. Next, visiting a country where you won't be able to attend your important official Skype meetings? Again, PureVPN helps you bypass geo-censorship, and as a result, you can now be available on your Skype calls, no matter which part of the world you are in. But, just like any software, PureVPN too has its upsides and downsides (a few of them). Let's quickly go through them. In case you are looking for a PureVPN alternative, here are some of the
best VPN for Windows
.
Pros:
Money-back guarantee
IP address masking.
Unlimited devices on one account
Cons:
Expensive for full features
Why Do You Need A Tool Like PureVPN?
All in all, PureVPN offers self-managed servers which are optimized for decent speed especially when you try gaming. On local servers, you can expect a slight surge in ping so as to ensure a lag-free experience. Another upside of this VPN service provider is that it strictly adheres to its no-logs claims so much so that it has agreed to an always-on audit from KPMG. This is a feat that not many VPN service providers have been able to achieve and somewhere down the line, they end up sharing user logs.
Technical Specifications:
Current version-

Version 9.2.1.1

Operating System-  Windows 11/ 10/ 8/ 7
Memory-  Minimum 4 GB (recommended)
File Size – 48.76 MB
Processor – 1 GHz
Security
AES-256 encryption
Kill Switch
No logs policy
Streaming Servers
Netflix
Others like Hulu, BBC iPlayer, HBO Now
Customer Support
Email support
Live chat support
How To Install and Use PureVPN On Your Windows PC?
1. Download, run and install PureVPN for Windows and follow the on-screen instructions.

2. Login and connect to PureVPN.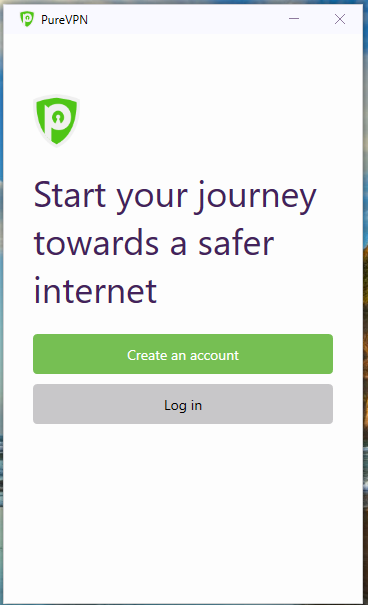 3. Click on the Connect button at the center, and PureVPN will connect you to the fastest server, thanks to its smart algorithm.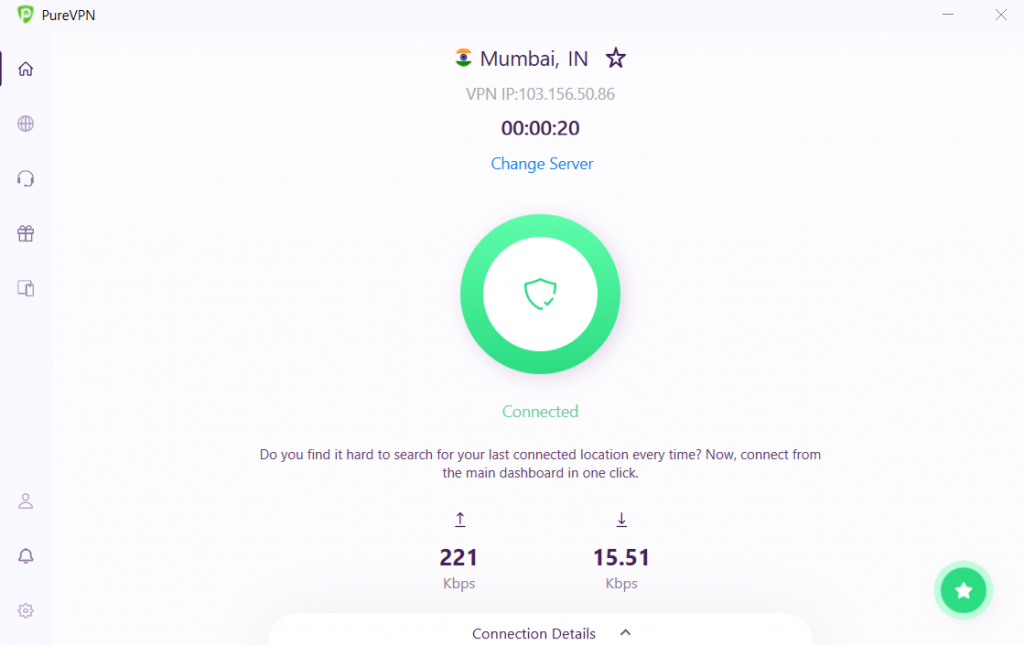 4. Not the server for you? Click on the globe icon from the left-hand pane and select a location of your choice.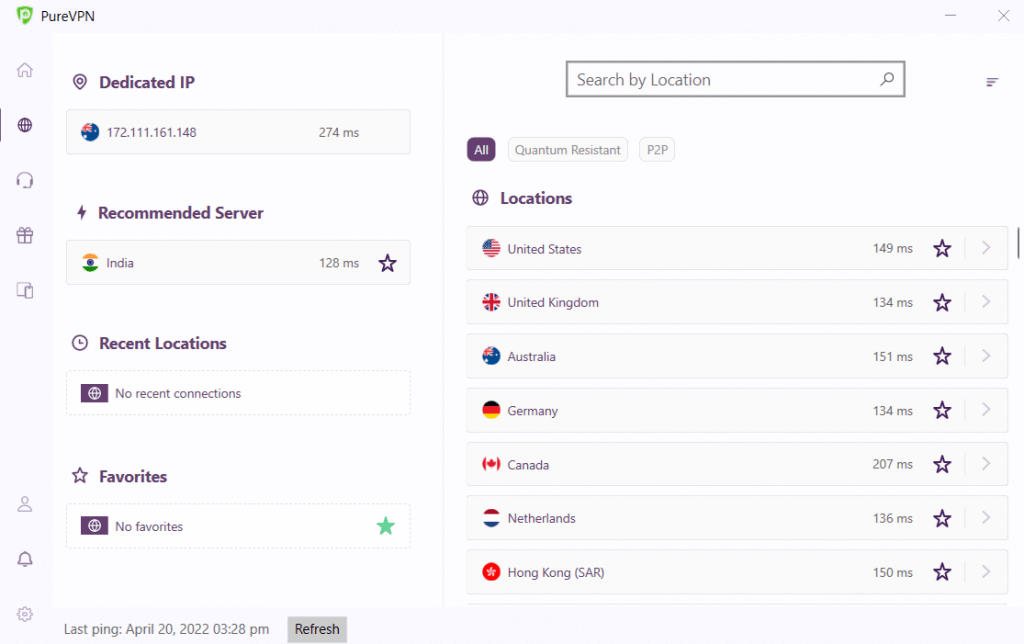 5. You may have to use the PureVPN browser extension for some situations like accessing Netflix. So, download the PureVPN Chrome extension and then click on Add Extension. 6. Sign in with your credentials.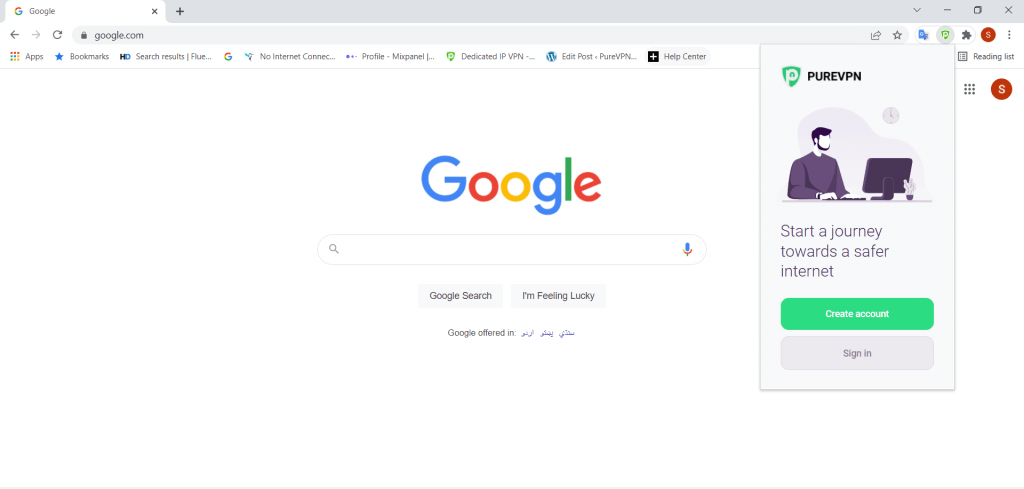 7. Select Account and click on Connect.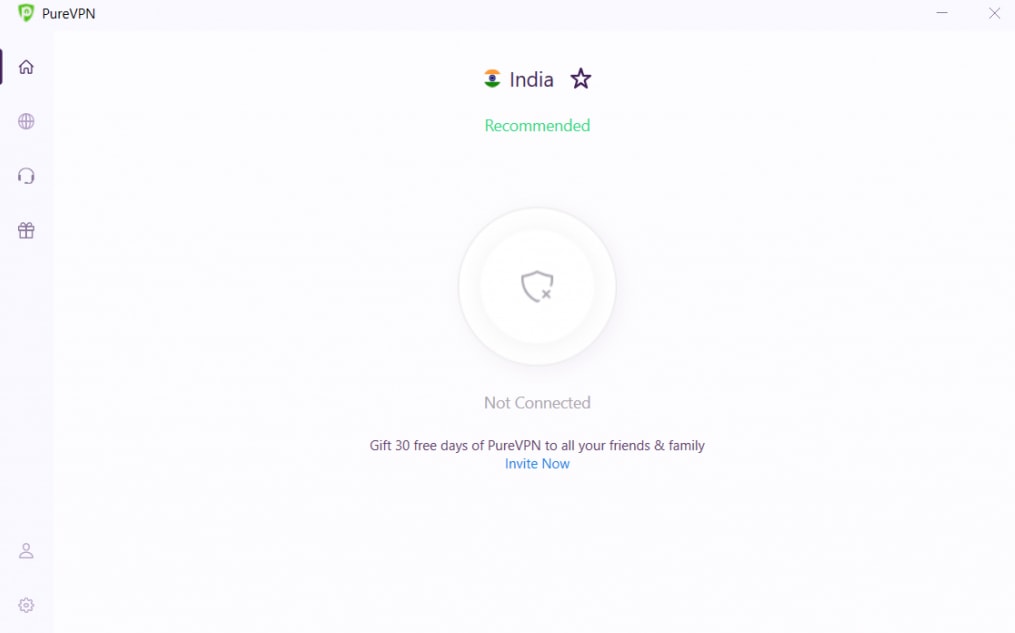 At first look, PureVPN's interface is plain, simple, and straightforward. There is a big connect/ disconnect button in the center, and a clear option is given to change the server location. You even get the status of the server speed as well at the bottom of the interface. From the left-hand pane, you can access settings, and account details, contact customer support, etc. Talking of settings, they are customizable, and you can customize options such as split tunneling, change protocols, enable kill switch, and many others.
As one of the best VPNs for Windows, PureVPN exhibits the following features –
1. Large Number Of Servers: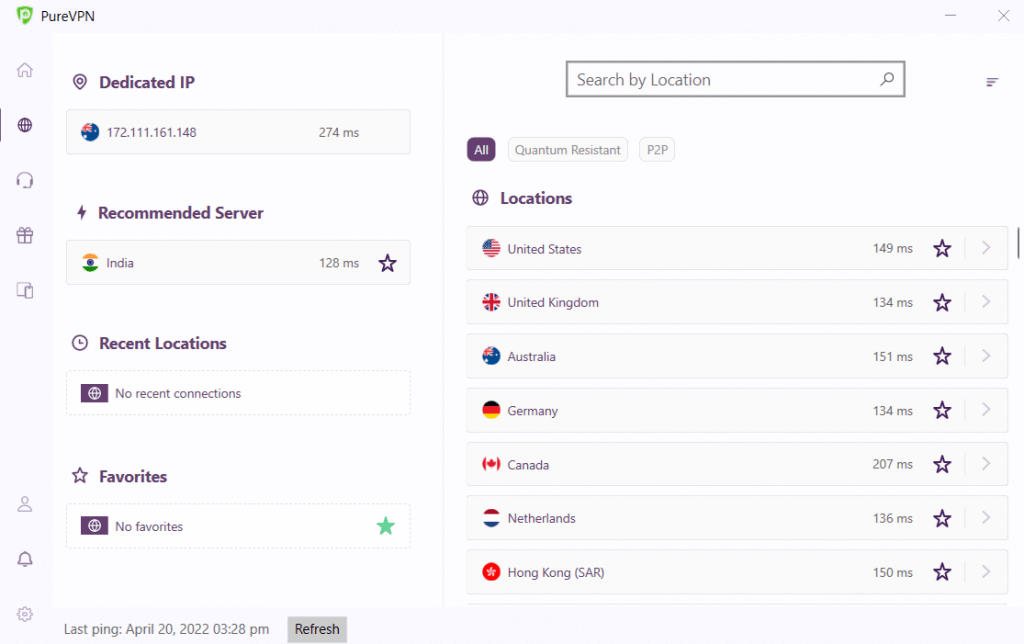 PureVPN for Windows has a huge network of physical and virtual servers spread globally. It has over 6500 servers spread in over 140 countries across the globe which, although might be a little less if you compare it with VPN services like
CyberGhost
. These servers offer a lag-free and smooth experience because of which you can enjoy the internet without any restrictions. These servers are placed strategically so that neither connectivity nor speed is compromised.
2. Secure Wi-Fi:
When you turn on this feature, PureVPN automatically detects that you are connected to an unsecured Wi-Fi network. This feature can be very useful when using Wi-Fi at an airport, cafe' or hotel room where you know hackers might intercept your web traffic.
3. Strong Encryption:
PureVPN takes the security of your data very seriously. It, therefore, employs military-grade 256-grade encryption to protect your web traffic.To give you an idea of how strong this encryption is – even the world's most powerful supercomputer can not bypass 256-bit keyspace. Governments and military forces use this encryption to protect their data. .
4. Dedicated IP address:
If
you need a static IP address for business purposes, you needn't go elsewhere. PureVPN provides you with a static IP address. Although it is a paid add-on, this feature can be very useful in times of need.
5. Multiple Protocols Supported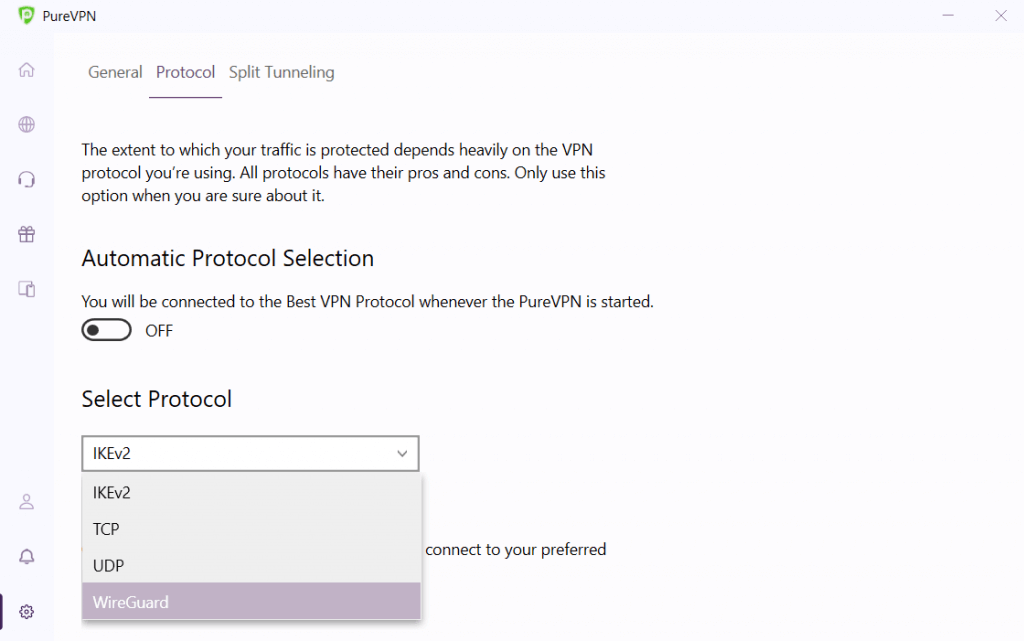 As a matter of security, PureVPN offers multiple protocols, namely – IKev2, WireGuard, and OpenVPN (TCP/UDP). While PureVPN is smart enough to choose a protocol that's ideal for your needs, you have the option to select a protocol as well manually. For instance, if you wish to bypass most network restrictions, firewalls and ISP, OpenVPN TCP is preferred.
6. Kill Switch or IKS (Internet Kill Switch):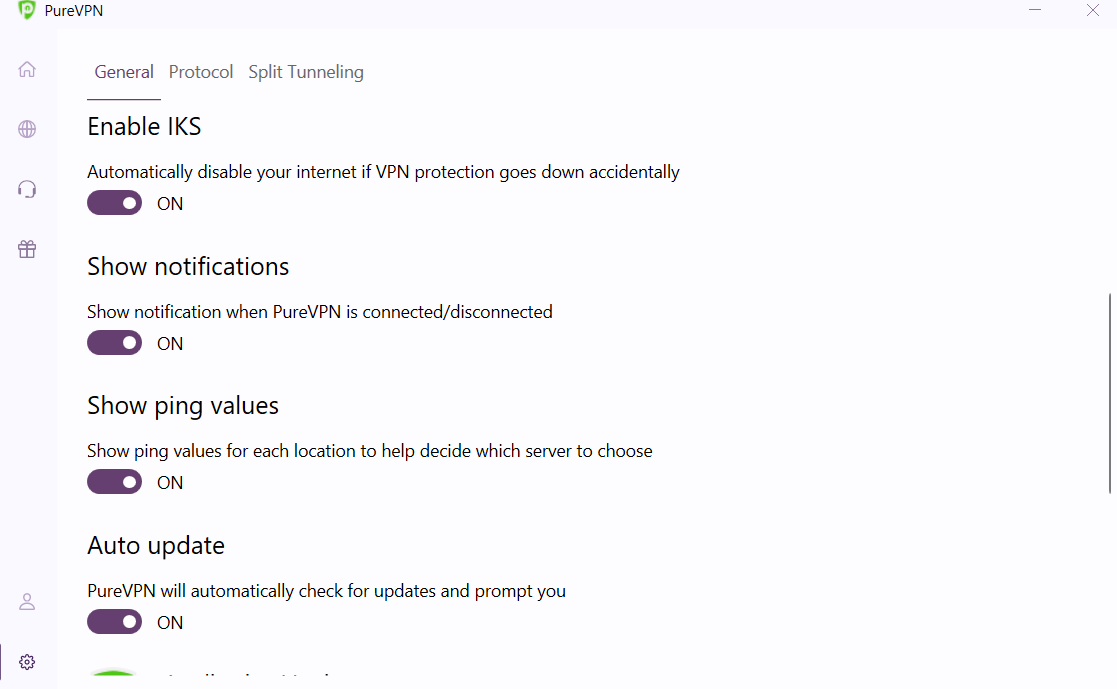 This is an important feature of PureVPN since it ensures privacy even when your VPN connection drops. You might be wondering how? PureVPN disables your internet connection in case it finds that the VPN connection has dropped.
7. Split Tunneling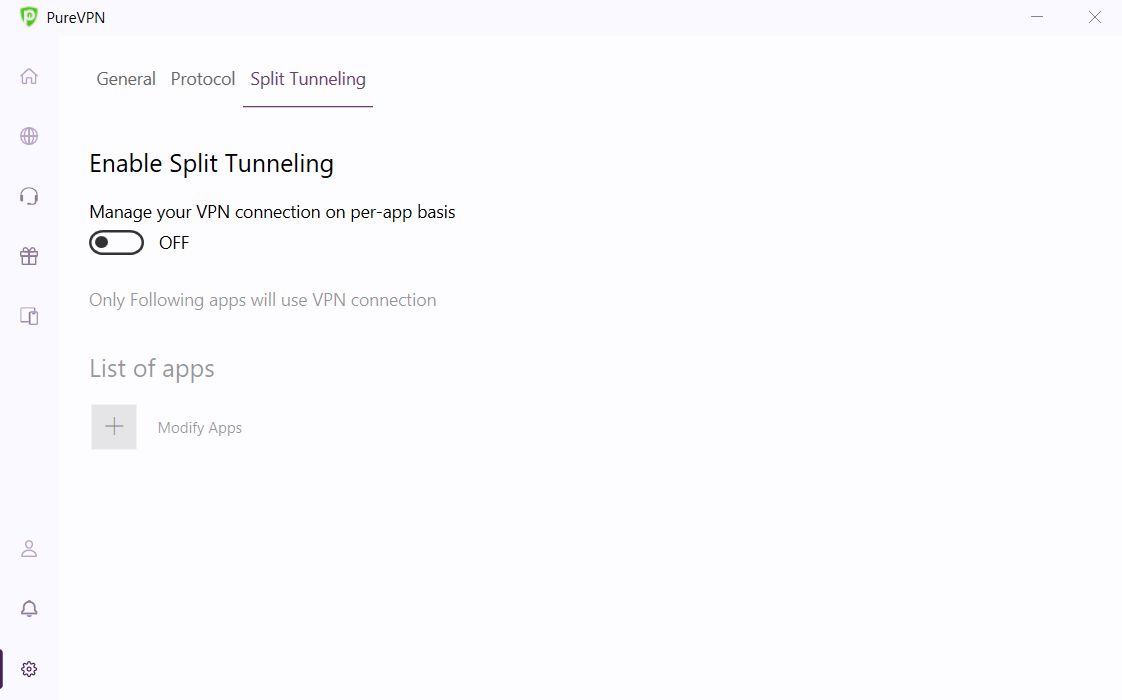 Knowing  that a VPN may decrease your speed, PureVPN gives you a split tunneling feature. What this does is that it gives you an option to choose what traffic you want to route through the VPN network, which is encrypted, and which traffic you want to route through your unprotected ISP.
PureVPN regularly releases updates and adds new features to improve the performance of the VPN service. Not just that, it even ensures that bugs are fixed with each update. In a recent update, it fixed error code 8020 and provided a solution for UTC error 5120. Plus, it has even resolved user issues pertaining to its WireGuard protocol over the period. Updating PureVPN is very simple –
1. From the left-hand side, click on the Settings icon.
2. Under the General tab, head to the Auto update section.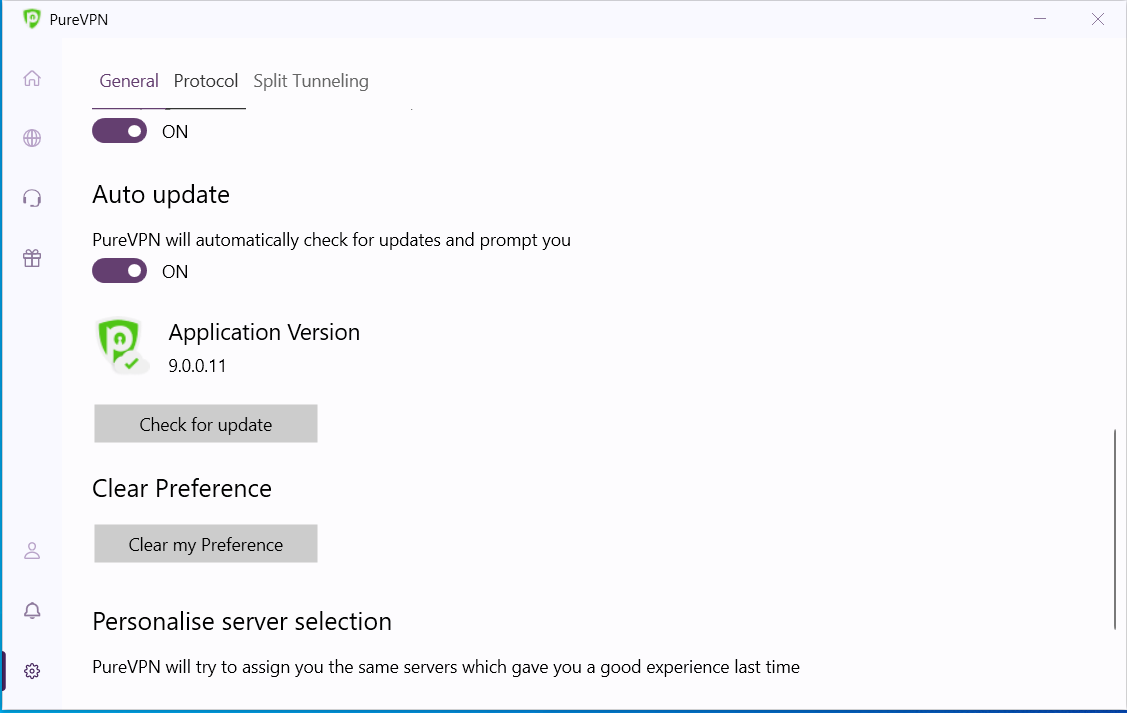 3. You can either choose to go for Auto Update by clicking on the toggle switch that says PureVPN will automatically check for updates and prompt you, or manually check for updates by clicking on the Check for update button.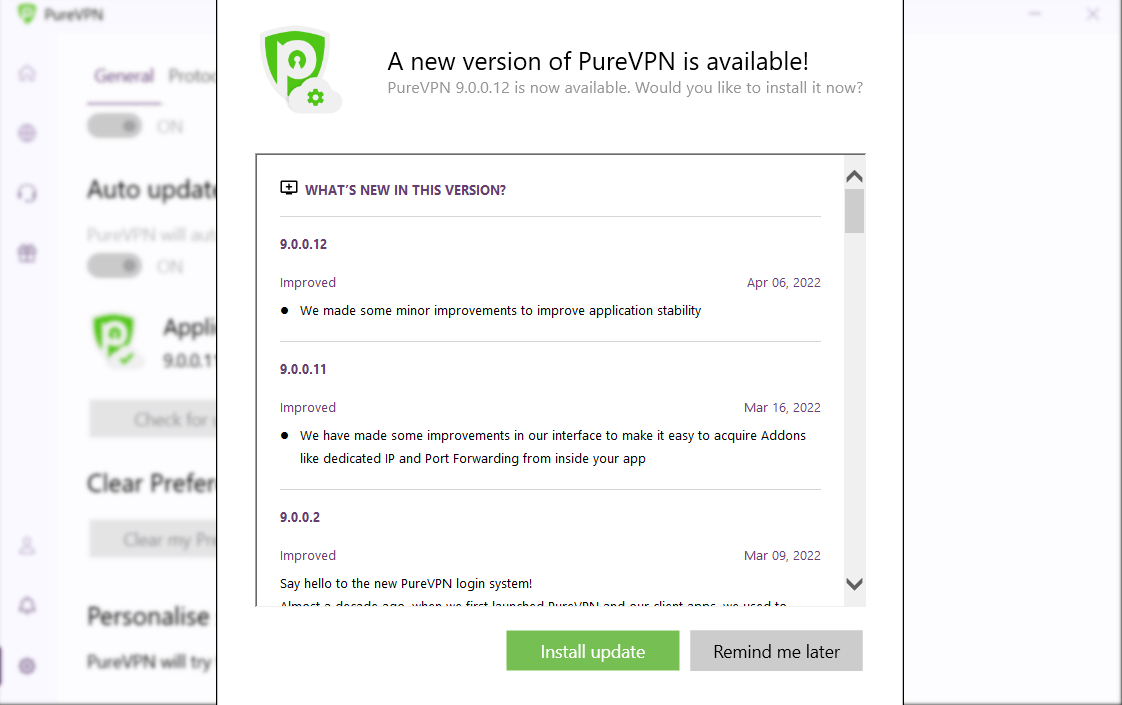 The best part here is that if there is an update available and you choose to install it, you even get release notes informing you about the improvements.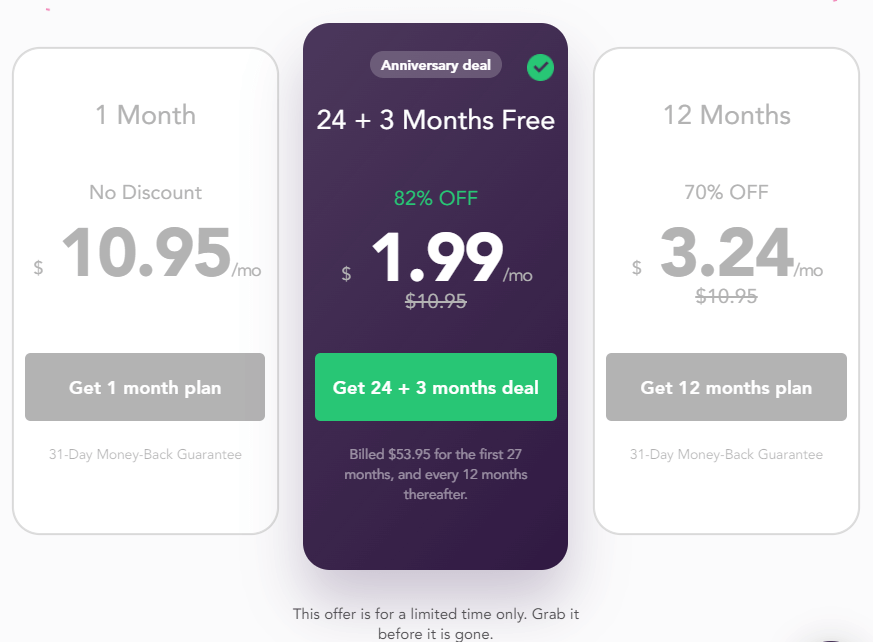 Let's have a look at PureVPN pricing. To begin with, all PureVPN pricing plans come with a 31-day money-back guarantee. As for pricing (and at the time of writing this post), PureVPN comes with three price plans as shown below.
1-Month

Charged on a monthly basis

12-Months

Billed as $38.95 for the first 12 months and then $53.95 annually thereafter

24+3 Months

Billed as $53.95 for the first 27 months and then at $53.95 for 12 months thereafter.
Apart from the above plans, It gives you a full week to test out the VPN service for $0.99. During this period, you can test all the features of PureVPN. Once this trial period ends, and unless you have decided to cancel the payment, you will be charged $35.88 for 12 months. In a way, PureVPN is also one of the best free VPN software.
When testing nearby servers, you might not notice any or minimal dip in the speed and the ping. However, when you choose distant servers, you may observe high ping and a considerable drop in the speed. The ping and the speed also depend on the protocol you have chosen. When tested at a distant server location, our ping went up to 249, and we saw a 65% dip in the speed instead of  the base ping and speed. As for streaming, the app could bypass BBC iPlayer and Disney+. However, when we tried Netflix, we couldn't get through. The same issue occurred when we tried getting past Amazon Prime, Hulu, and HBO Max. We contacted customer support, and the representative told us to use the browser extension. After installing the extension, we could access the majority of the streaming services except for Hulu since it identified that we were using a VPN.
Good customer service is part and parcel of a good VPN, and PureVPN does a fair job resolving doubts. It has a 24 X 7 X 365 customer support. You can get your queries resolved by an exhaustive knowledge base that spans blogs, articles, and tutorials. For instance, for most troubleshooting issues, you can visit support.purevpn.com and choose from any of the categories mentioned below to resolve your query.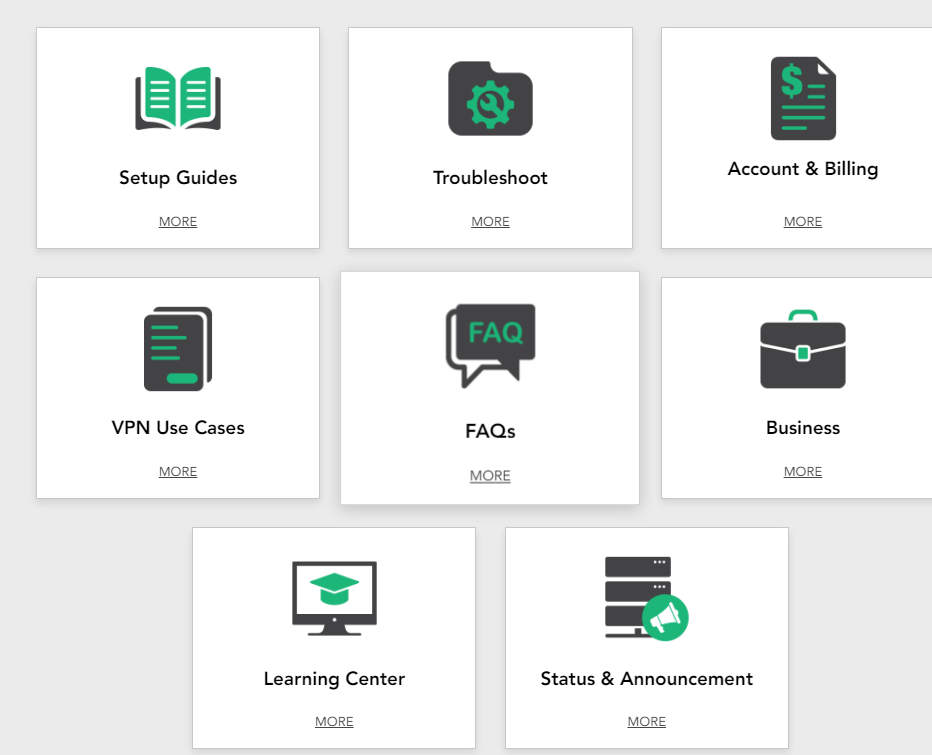 Even if you still have doubts after going through the written and video content, you can mail in your queries at enquiry@www.purevpn.com. Didn't get the answer you expected and want a human to resolve the query for you, you can always get in touch with a representative on a live chat. On the personal front, our live chat was smooth, except for some slight delay in the response, and also, the representative could have better comprehended the query. Otherwise, the representative was able to resolve the query well.
Frequently Asked Questions:
Q1. Is PureVPN free?
Not exactly free, PureVPN gives you a full week to test out the VPN service for $0.99. During this period, you can test all the features of PureVPN. Once this trial period ends, you will be charged $35.88 for 12 months, unless you have decided to cancel the payment.
Q2. Can PureVPN be trusted?
PureVPn can be trusted for many reasons. For one, it came clean, and our Antivirus didn't test it as a malicious threat. Secondly, many VPNs claim to have a no-logs policy somewhere down the line, they disclose user data to government agencies if not any other advertisers. But, with PureVPN, things are different. Renowned auditing firm KPMG itself validated that PureVPN doesn't log any user data.
Q3. Is PureVPN a Chinese company?
PureVPn is owned by GZ Systems Limited, based out of the British Virgin Islands.
Q4. Which is better, NordVPN or PureVPN?
PureVPN and NordVPN go nearly neck to neck. However, NordVPN does have an edge when it comes to ease of use, customer support, and pricing. Speedwise, both the VPNs offer more or less the same performance.
Q5. Why is PureVPN so slow?
Like we said in the post, the speed and ping of  PureVPN or any other VPN depend on the server location you have chosen and also the protocol you are using. You would mostly see a rise in speed by selecting a nearby server location and a protocol like OpenVPN UDP.. If the problem persists, you can turn your router off and on, restart your device, or disable your security software.
Q6. Is PureVPN good for Netflix?
Yes, it is. However, you will have to use the browser extension to access Netflix using PureVPN,as you can see from our speed and streaming services section.
Final Verdict
All in all, there is no spec of doubt that PureVPN is one of the best VPN software. Whether it be the choice of servers, PureVPN's speed, or any other facet, the VPN utility more or less doesn't disappoint you. Also, before you sign off, don't forget to follow us on our social media platforms for the latest updates for Windows software. You can find us on
Twitter
,
Facebook
,
Pinterest
, and
Flipboard
.