Pixlr Editor Review 2023 – The Best Photo Retouching Service!
I need to batch-edit multiple photos but don't want to invest in a hefty photo editing tool. Plus, I am a beginner. What tool should I use? If you can related to the above statement ,we recommend you to  try out Pixlr. But, before you begin using it, consider going through this detailed Pixlr review where we will talk about the various features, pros, cons, how it works and aspects of this tool.   Hope this will further help you decide whether or not to use it on your PC.
What Is Pixlr Photo Editor?
As the name suggests, Pixlr Photo Editor is a powerful image  editing tool that is available for the web and a variety of other platforms. Here we will mostly be focussing on the Pixlr app for Windows PC. 
In this Pixlr review, we will be looking at the Pixlr Suite for Windows desktops. To begin with, we'll discuss why you should consider using aa desktop app for Pixlr when a web-based version  is already available.  Well, so that you can use it whenever and wherever you want, even offline. 
Pixlr is a new-generation photo editor which is powered with AI-photo editing tools, filters, effects, and more. It is easy to use and can be used by professionals, students, and enthusiasts of all levels since it is easy to master. 
Want to look at some more alternatives to Pixlr, you can check this post out.
System Requirements
Before diving into the Pixlr Editor review, let's have a look at the basic system requirements that you should consider before installing Pixlr on your computer. 
Windows OS Compatibility: Windows 10 version 190410.0 or higher
Memory: 4 GB recommended, 2 GB minimum 
Video Memory: 4 GB recommended, 1 GB minimum
DirectX: DirectX 12, Level 11 recommended, version 9 minimum
Processor: Installed and working fine on a CPU with Intel Core i3 – 10110U CPU 
Languages in which it is available – more than 20 including English, Francais, Portuguese, and Italian
Easy to use
Most features are available for free 
Image editor, resizer, background removal, and other tools in one software. 
Bulk photo editing tool. 
Free trial limits to certain advanced features
How To Use Pixlr Desktop App?
1. Download, run, and install Pixlr Suite or one of the individual Pixlr apps from the Microsoft Store. Since we have downloaded the Pixlr Suite we will give you a glimpse of how each of these tools works.
2. After you have downloaded the Pixlr suite, you will see the five tools namely, Pixlr E, PIxlr X, Photomash, Remove bg, and Batch Editor. 
3. By clicking on Pixlr E, you can open images by clicking on "Open Image" button or you can start afresh and click on the "Create new" button. 
Once the image opens up, you can perform layerwise editing, apply filters, use brushes, add animations, and do a lot more as can be seen in the screenshot below –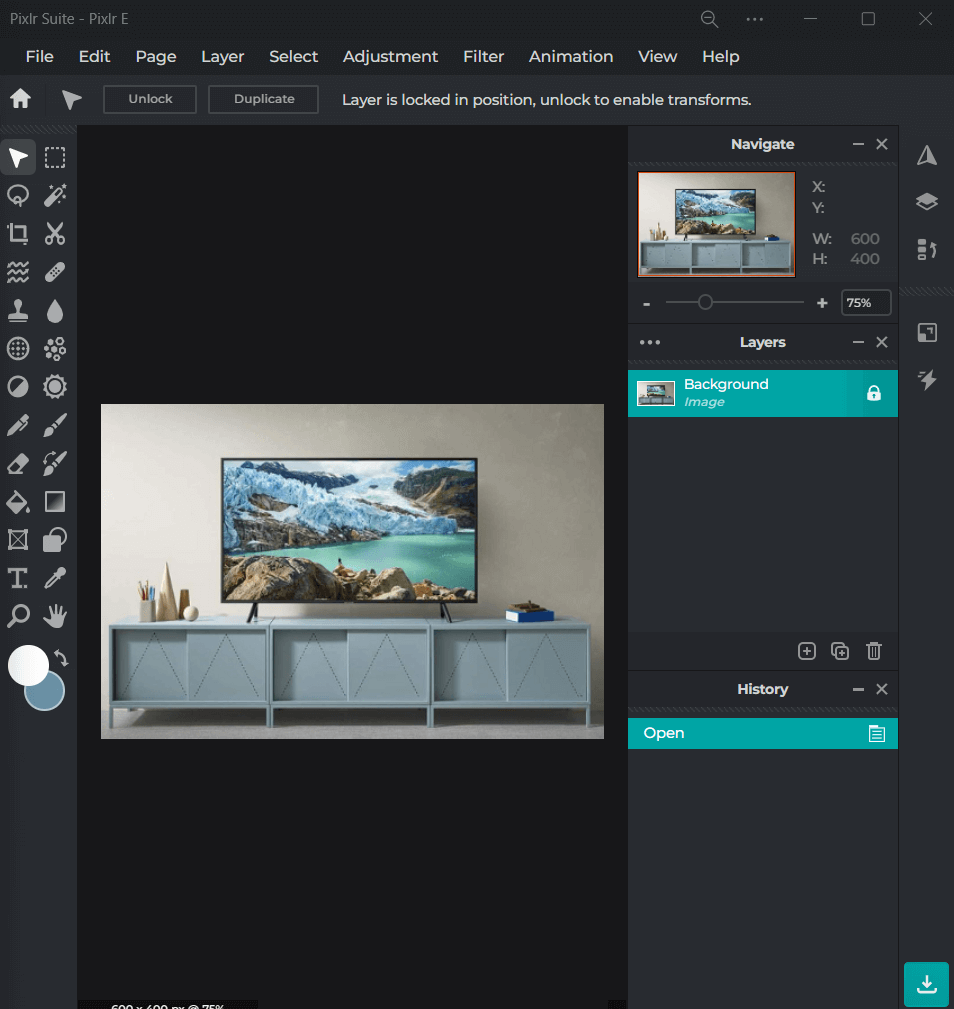 4. To go back to the main menu, click on the "Home" button under the "File" menu. Again click on "Pixlr E" to go back to the main screen.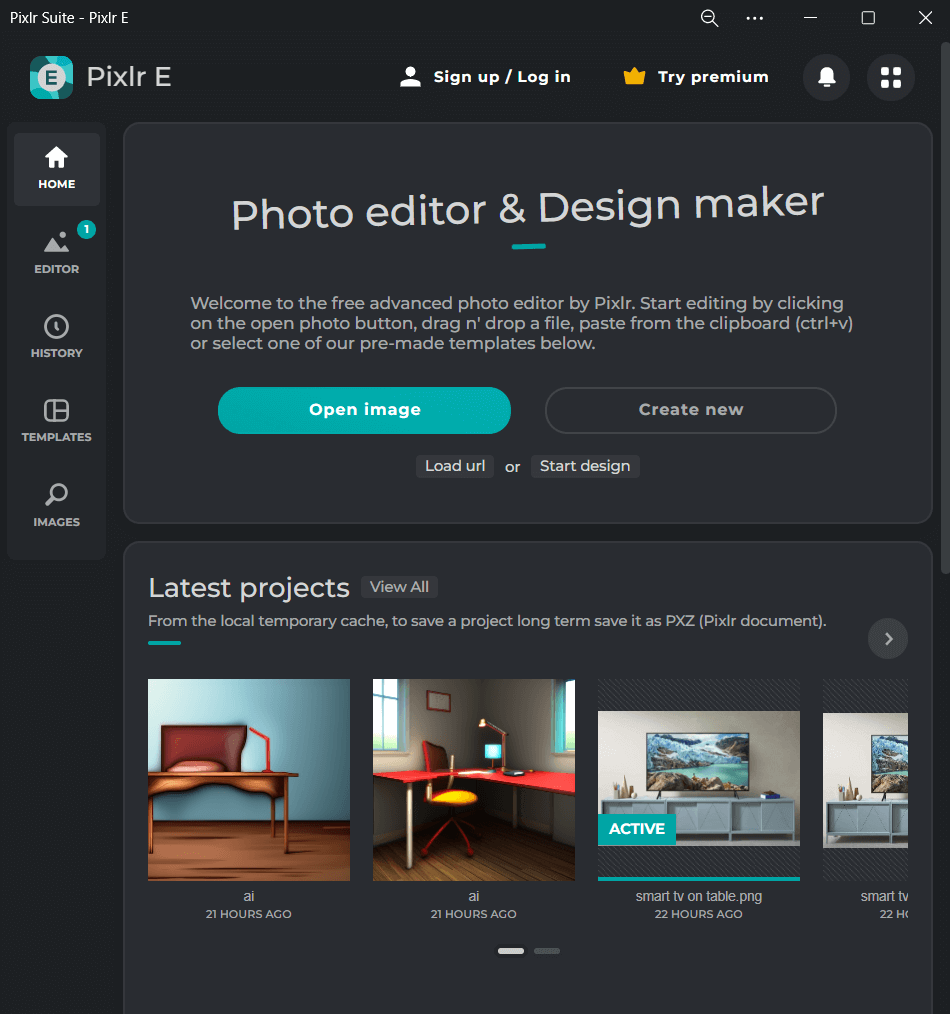 5. You can choose a different option to work with. For example, you can click on Pixlr X (the brief review of which you can find below). 
Here on the left-hand pane, you can see several options. You can search from various stock-free images, generate an AI image or choose from several templated crafted by professional designers.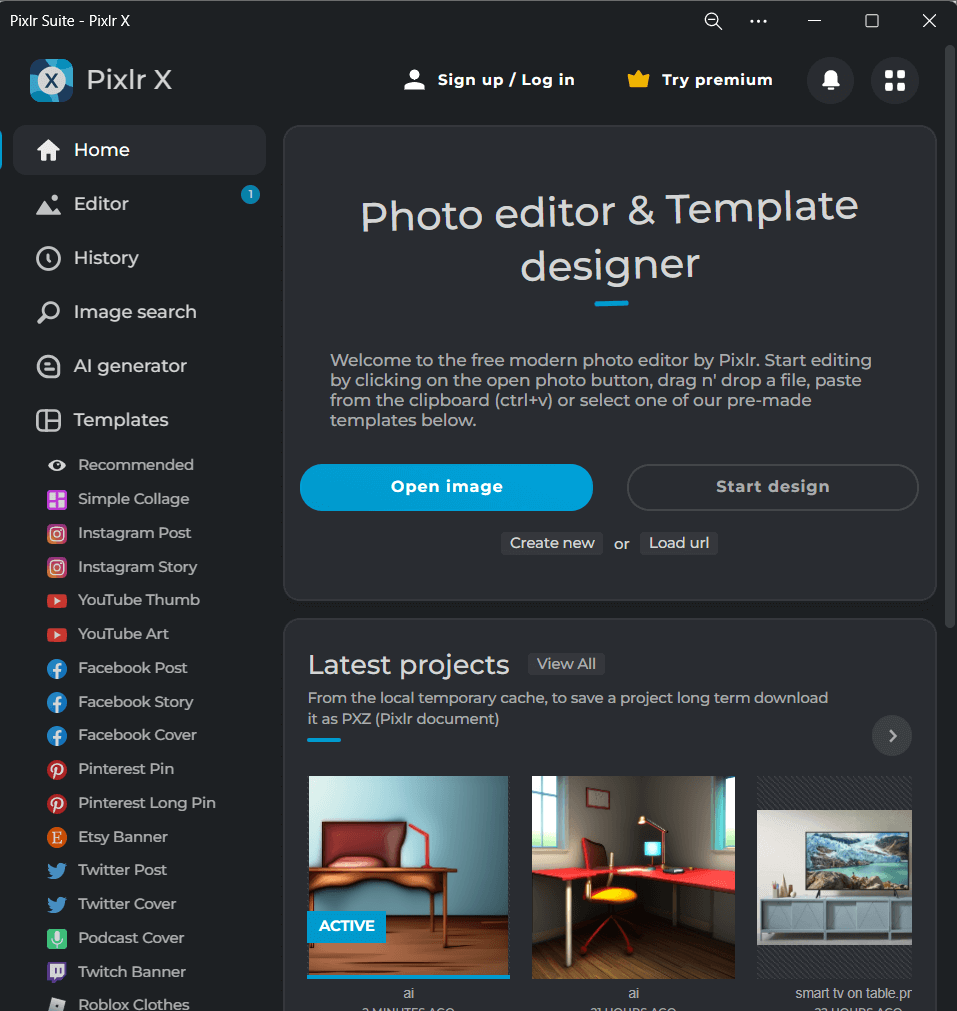 Once you have selected images or templates you can further head to the left-hand pane and perform actions such as add text, variety of animation, liquify, add effects, cut out shapes, crop image, etc. Here also you can perform layerwise editing.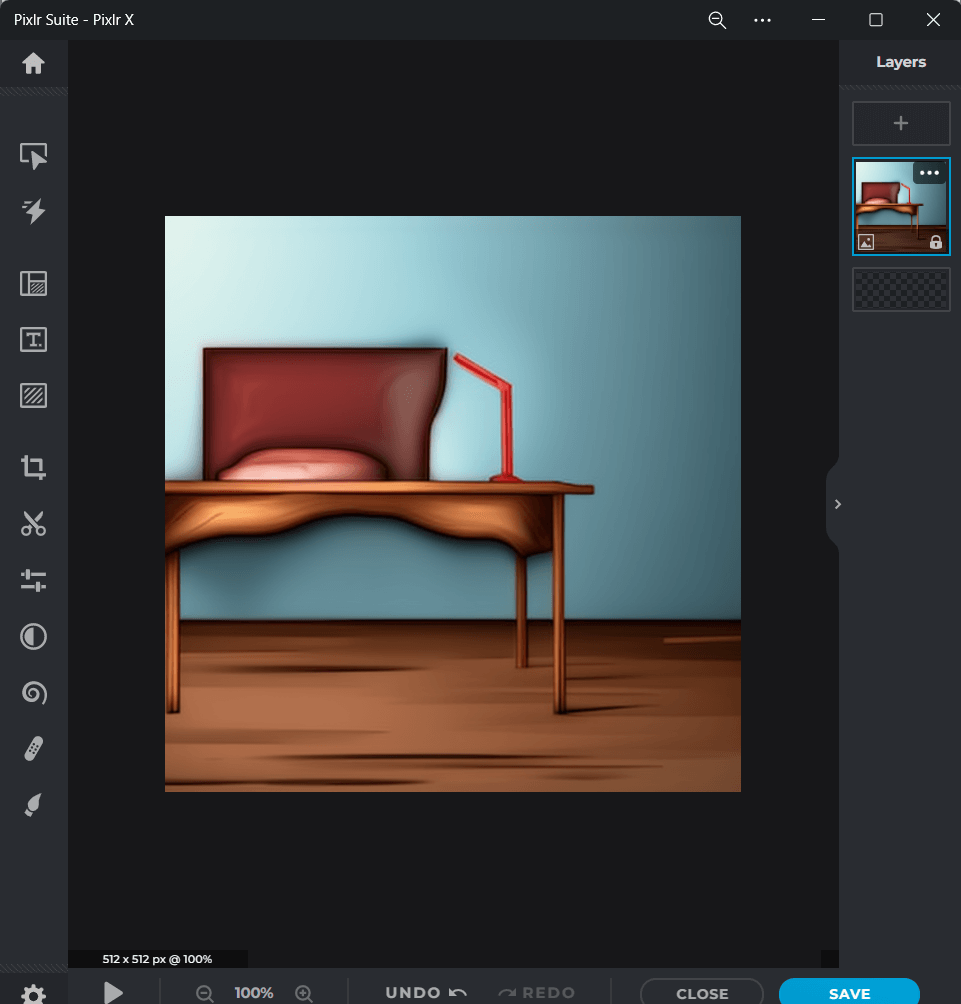 When you download the Pixlr Suite, the home screen offers you five options – Pixlr E, Pixlr X, Photomash, Remove bg, and Batch Editor. At the outset, we personally liked how the sections are categorized. 
Our Pixlr review would be incomplete without mentioning this capabilities – Even after you have downloaded the Pixlr Suite on your desktop you get a browser like interface, where you can maximize and minimize the interface for better workflow. 
Keeping that aside, let's have a brief of look at each of the aspects of Pixlr Suite – 
The "Pixlr E" is an AI-powered easy-to-use photo editor where you will get an extensive toolset using which you canto professionally edit images. The "Pixlr X" offers a lesser number of tools but what's good about this section is that there are several templates that graphic designers can use.  We'll dive a little deeper in out Pixlr X review. 
For those, who constantly have to look for images and templates for various social media platforms, this section can be very helpful.
Next, we have the "Photomash Studio". This section works great to get rid of the background from your images, people, or any other subject. To our surprise, it was able to remove the background with precision. 
Next, we have the aptly named "Remove bg" module. With this you can not only  remove the background from images but perform other tasks such as choosing a white or black background or even cropping images. 
Last, we have the "Batch Editor" that allows you to add effects to several photos at once. The effects include – cropping, resizing, adding a border, auto, adding vibrance, saturation, brightness, temperature, tint, contrast, exposure, highlights, shadows, monochrome, sharpening images or adding clarity. 
Dedicated Photo Editor
One of the best aspects of Pixlr is its ability to edit photos. Let's give you a brief review of the Pixlr editor's photo editing capabilities. If you have used a software like Photoshop or any other photo editing tool, the resemblance will strike immediately.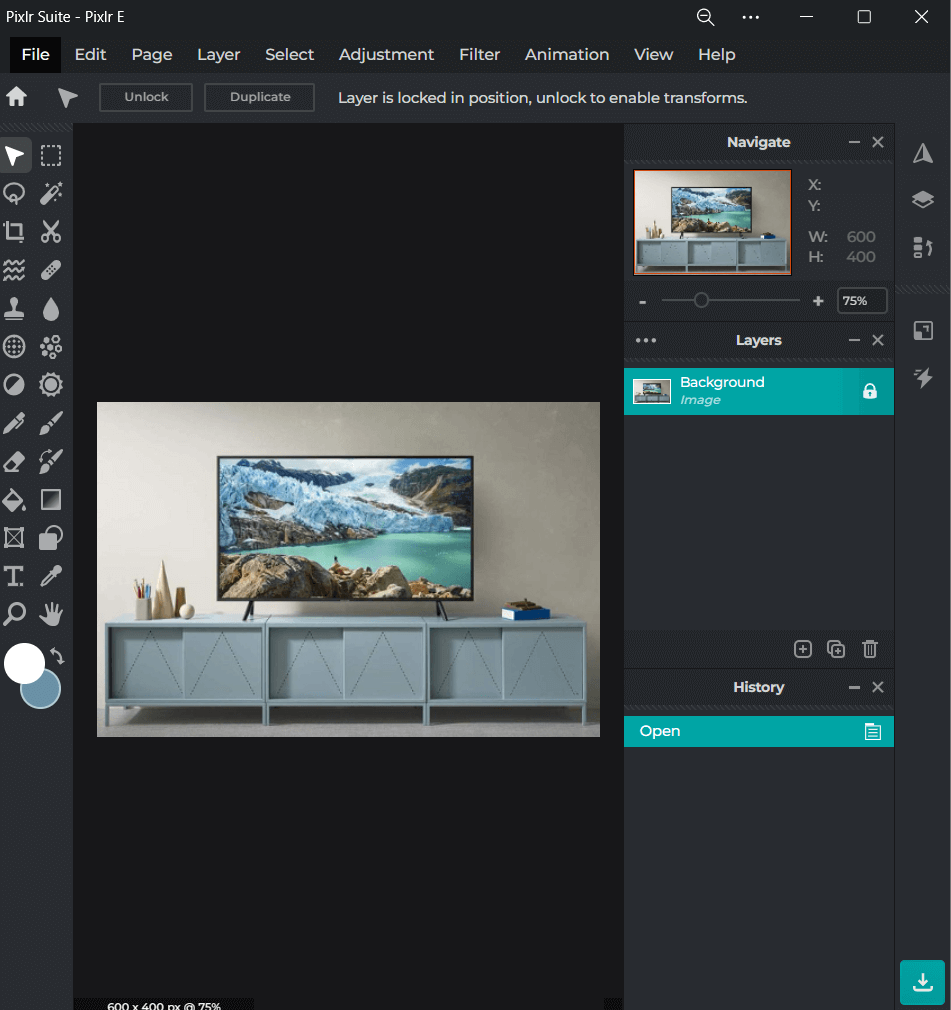 You can perform layerwise editing and create multiple types of layers – an image layer, frame, text, or even shape. To edit photos, you have a wide range of tools, including  different kinds of brushes, filters, the magic wand tool, the lasso tool, and the list goes on. You can also add a variety of effects to your images. For example, you can use the "Disperse" effect to draw over an area in your image and disperse it into thousand pieces. 
Remove Background With One-Click
The new generation photo editor from Pixlr is AI-powered. For instance, you can remove the background of an object automatically with a single click. More specifically you can remove backgrounds from eCommerce listings, selfies, product photos, profile pictures, and more. 
Batch Editing Capabilities
Pixlr comes with a "Batch Editor" that lets you add various photos and perform several tasks on them simultaneously as we have described in the interface section.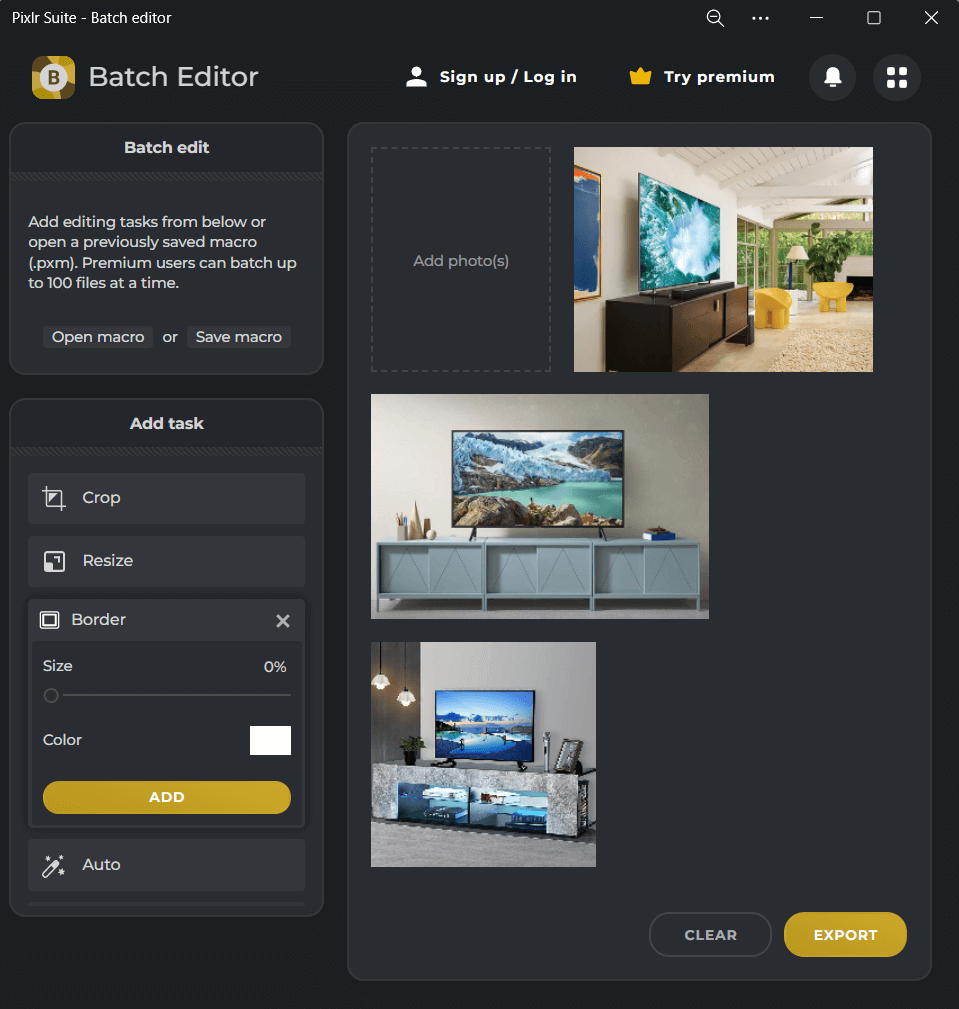 Each of the tasks further give you more granular control and more settings. For example, when resizing multiple images you can choose the width and height, or when adding a border, you can further set the size and color. 
One downside of this feature is that, once you have added photos to the interface, you won't be able to delete individual photos. This means, if you want to delete multiple photos, you will have to hit the "Clear" button and remove all the photos. 
AI Generator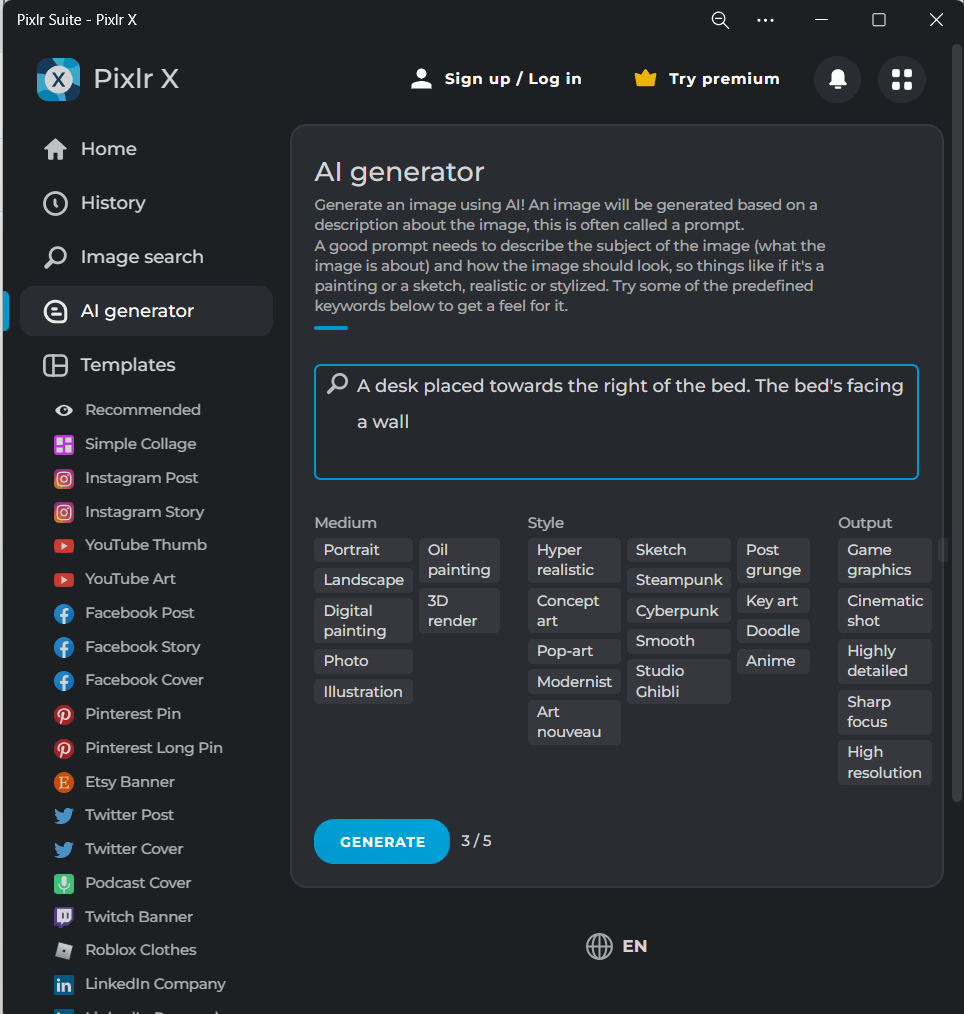 A feature that demonstrates Pixlr as one of the most powerful tool   is its AI Generator. Here you can provide the description of the image t and based on your description, an image will be generated. 
To generate an image as per your liking, you should  be precise with your description. For example, you can specify if the image you want to generate is a sketch or a painting, how the image looks, etc. The AI Generator also offers you a variety of options as far as the medium and style of the image are concerned. 
Find Several Templates and Stock Images That You Can Use
Sometimes we don't want to start from scratch instead we need a template that we can build on. Pixlr comes with several professionally crafted templates for banners, flyers, cover images, posts, reels, stories, and much more across major social media platforms such as Instagram, YouTube, Pinterest, Facebook, etc. And, while you can pick up a ready-made template, you can also create a template from scratch for your desired platform. 
Pixelr itself comes packed with stock images where you can type the name of the image you want and you will get a stock-free image. This way you can save yourself from surfing the web to look for images and spend countless hours.   
Moving forward with our Pixlr review let's talk about its pricing. For the most part, it's free. You can try out the majority of features, free of cost. However, there are many premium features that you can purchase.  For example, for"Batch Editing", premium users can add up to 100 files at once. Or, when generating AI images, the free variant will restrict you to generating 5 images only, whereas you can generate any number of images with the premium variants.
The below screenshots give you a glimpse of what you can expect from the premium variants and how much they will cost you.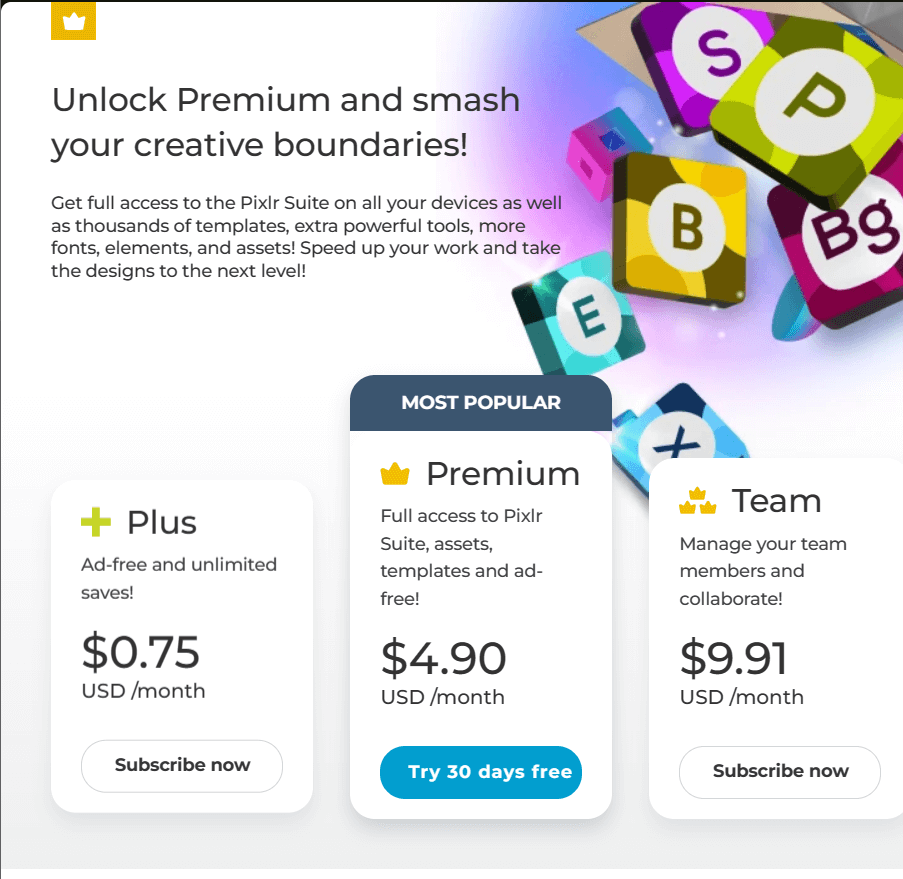 Pixlr is smooth to use. Depending on the size of the image you  are manipulating or retouching, the number of layers you have added, or, the elements you have added in your template or creation, the fnal results may take some time to surface. Some users have reported that it gets slow at times, but, in our case it worked smoothly and without any lags. 
How can you reach Pixlr for assistance, in case of queries pertaining to features or license issues, etc?
You can shoot your issues at info@pixlr.com or visit the support page for submitting your legal inquiries, or education-related inquiries or you can even approach Pixlr as a contributor. Time and again Pixlr also uploads tutorials on their YouTube channel. You can refer to this channel and learn the ropes of photo editing. 
Wrapping Up
Did you like our Pixlr Editor review? If yes, do share your experience with us in the comments section below. If you are already using any other photo editing tool, we'd also like to know how Pixlr compares. For more such content, keep reading Top10PCSoftware. You can also find us on Facebook, Pinterest and Flipboard. 
Frequently Asked Questions –
Q1. What is Pixlr?
Pixlr is a photo editing tool that is available for both online and offline use. It comes packed with several photo editing tools such as brushes, effects, filters, etc. You can also choose from several templates and stock-free images right from within the interface. 
Q2. Is Pixlr a good photo editing app?
Yes, it is. As can be inferred from this Pixlr Editor review and subsequent reviews of Pixlr X, E, and other variants, we can see that this one suite packs in almost everything you would need to create and edit images and templates. You can even perform basic animation and make your creations even more engaging. 
Q3. What is the difference between Pixlr and Photoshop?
The difference lies in the advanced features. While Pixlr offers basic editing tools and limited features, for more professional-level editing and photo manipulation, and retouching, Adobe Photoshop is the way to go.