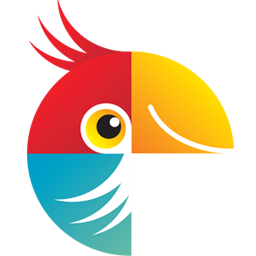 Movavi Photo Editor
Movavi Photo Editor Review 2023: Is Movavi Photo Editor Good?
Movavi has some of the best PC utilities to enhance your productivity. Checkout this Movavi Photo Editor review blog to learn more about the picture editing software for Windows.
What is Movavi Photo Editor?
Movavi Photo Editor is another powerful multimedia software for Windows PC from the kitty of Movavi. This is a competent photo editing application for PC and Mac. Using it on Windows, users can create polished images with the help of Effects and other picture editing tools. Whether to change or remove the background, you can use Movavi Photo Editor 2023 to help you. Retouching skin, Restoring old photos, and adding AI powered effects will grant you images which are no less than the work of a professional.
It includes over 100+ effects and filters with the custom adjustments and image overlay option. Noise Reduction, RAW image support, Light & color correction are other useful tools which help in making your images more realistic yet compelling.
The trial version enables you to utilize all the features for a limited time period after Movavi Photo Editor free download. This will be valuable for the customers who wish to try out the product before making a purchase. The photo editing software for PC also comes in a very flexible package for those looking for an annual or lifetime usage. Let's start with the minimum system requirements and move ahead with other aspects of the Movavi Photo Editor for PC.
Pros:
Remove blur from photos.
Apply digital makeup.
Cons:
Performance is slow with large photos.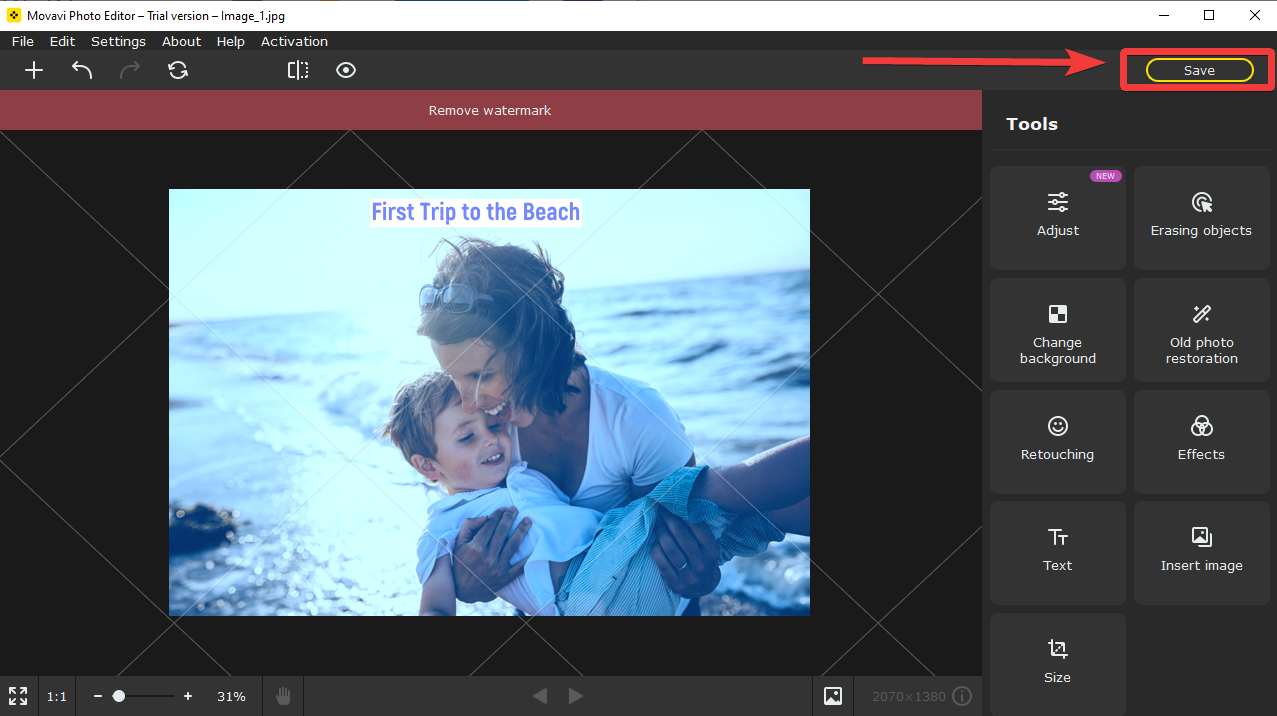 It has a very clear interface as opposed to other photo editing software for PC. You will find the clutter-free space very relaxing. The home screen promptly shows you the option to add images and once you import an image, Tools appear on the right side panel. You can view the Adjust, Change background, Retouching, Text, Size, Erasing objects, Old photo restoration, Effects and Insert image on it. Start with the editing by clicking on any of them as per your needs.
1. Simplified object removal – One of the useful features of Movavi Photo Editor 2023 is the easy option to remove the object from the existing image.
2. AI background removal tools – The AI powered tools are incorporated into this picture editing application by Movavi. This makes the action of removing or changing the background in a picture precise with no signs of edits.
3. AI based retouching – Skin retouching on your photographics works its charm on clearing up the skin and freeing it from blemishes and dark spots.
4. Old Photo restoration – Scanned images can be easily restored using the automatic tool on this tool. This makes the old photos live a new life with the realistic touch to the B&W photos by filling natural colors.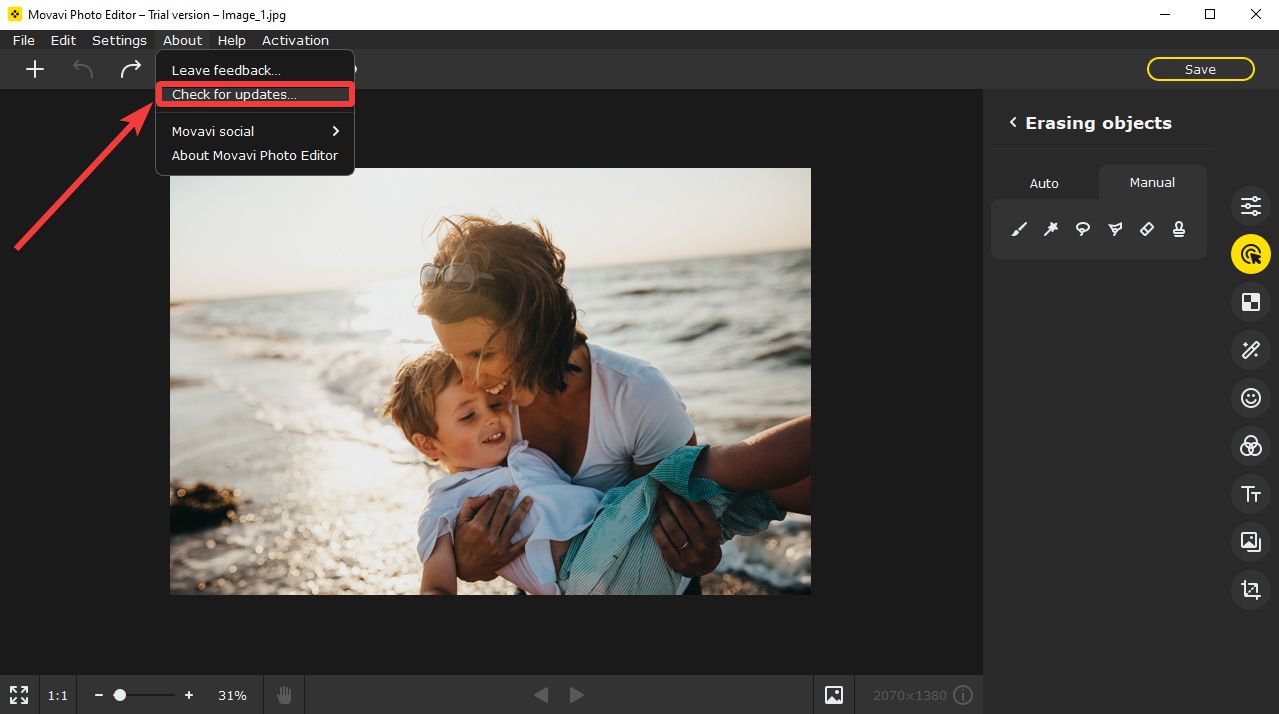 Movavi Photo Editor rolls updates for the image editor quite frequently as it checks for bugs and also makes additions to the features. You will get a notification when an update or upgrade is available, you can update the tool following it. However, the constant newsletter and visits to the official website also informs about the updates, there is a way to check it yourself. Go to the tool and click on the About option in the toolbar and go to the Check for updates button.
Movavi Photo Editor Full is available in different pricing plans, you can pick one suiting your needs. The basic plan for annual subscription is $49.95 for 1 PC. The more affordable plan is the Lifetime plan which is only available for $69.95. Another of the plans which comprises Movavi Photo Editor along with the Movavi Slideshow Maker for the graphics artists and other professionals can be availed at $89.95 with lifetime license.
It also offers a 30 day money back guarantee which makes it convenient for the consumers to trust the product and pay for what they like.
Movavi Photo Editor for PC works satisfactorily smooth, However we found that the newer computer with larger disk space will help you with the smooth operation of the editing of images. Some users have reported that the editor slows down the system and sometimes applying a filter can take up some time.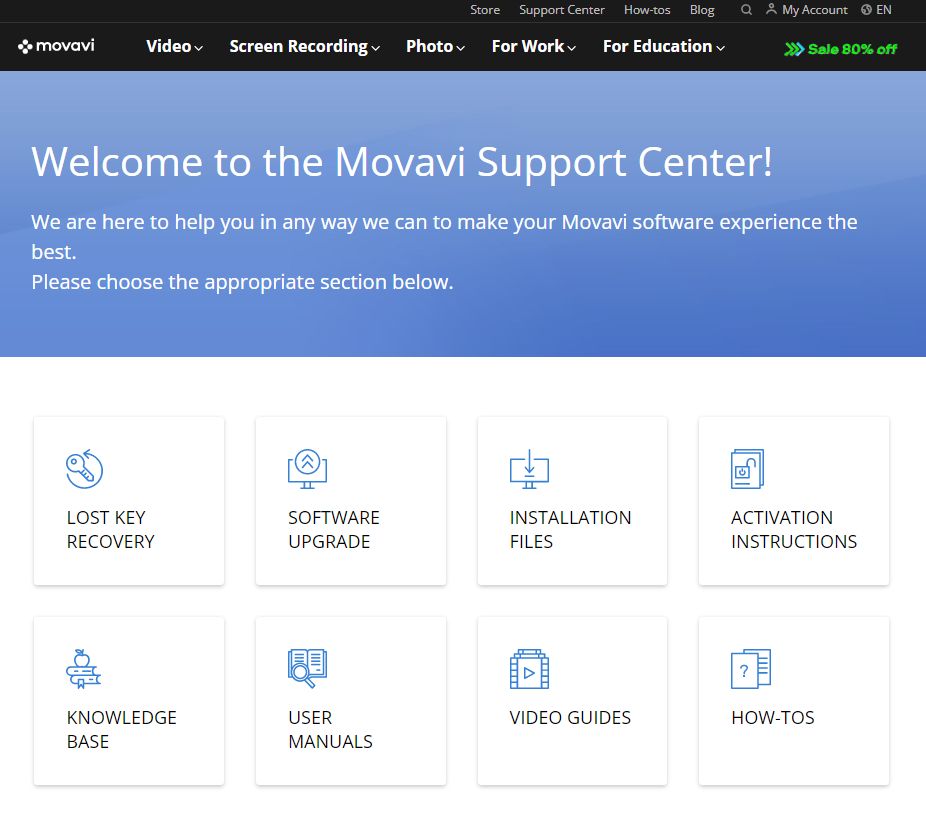 Support is most important to be pointed out in our Movavi Photo Editor review blog. As it will help you understand what kind of service the Vendor is providing. In this case, Movavi can be contacted on its official support website – https://www.movavi.com/support/?asrc=main_menu, where you will be able to view categorical pages. You can also start a conversation with the support team using the Live Chat feature.
Here you can see the various User Manuals, Knowledge Base, FAQs, Video guides, How-Tos, Installation and Activation information for the potential customers. To contact support from the tool, head to the Help option in the toolbar of Movavi Photo Editor on your computer.
Frequently Asked Questions –
Q1. Is Movavi Photo Editor good?
Yes, Movavi Photo Editor is a good software for Windows and Mac both. Beginners can use it edit pictures without any external help and produce
Q2. Can mMvavi be trusted?
Movavi is an acclaimed vendor with various multimedia products for Windows, Mac, Android and iOS. They are free from malware and you can download the tools and make purchases using the official website
Q3. Is Movavi Photo Editor free?
Movavi Photo Editor is not a free picture editing application but you can find a free version to be downloaded on your PC. You can use it to edit the images on your computer using its paid version which has all the features unlocked.
Q4. How much does Movavi Photo Editor cost?
Movavi Photo Editor for Windows costs you $49.95 for a one-year subscription plan and $69.95 for a lifetime license for 1 PC.
How To Use Movavi Photo Editor?
Step 1: Download Movavi Photo Editor from the download button given below or head to the official website
Step 2: Once downloaded, you can easily click on the executable file and start the installation.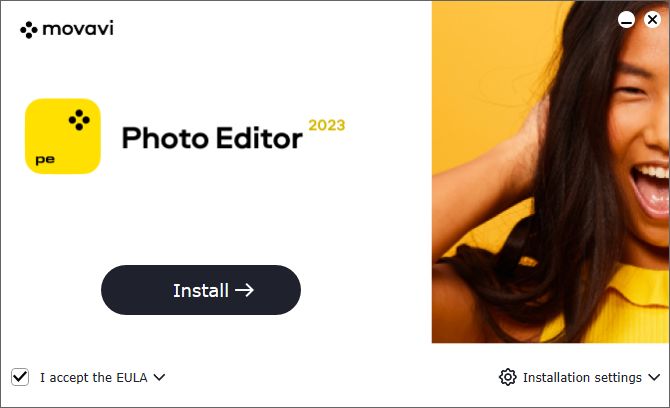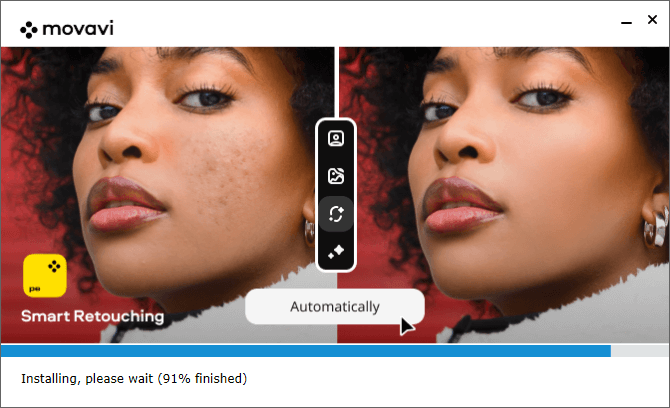 Movavi Photo Editor free download comes with limitations of usage. It can be used with the full features only for a trial version period and adds a watermark on all edited images. To avoid this, make a purchase and go to the toolbar and click on Activation. Buy Movavi Photo Editor full version and enter the key in the next screen.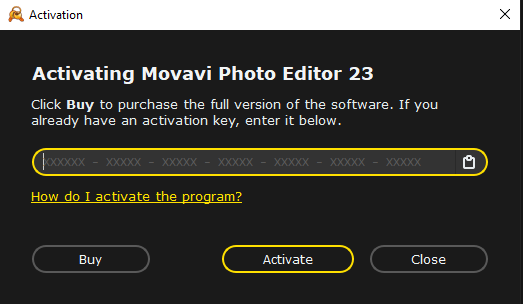 Step 3: Once you are done with the required changes, go to the main screen and add an image by using the button Open File or Folders.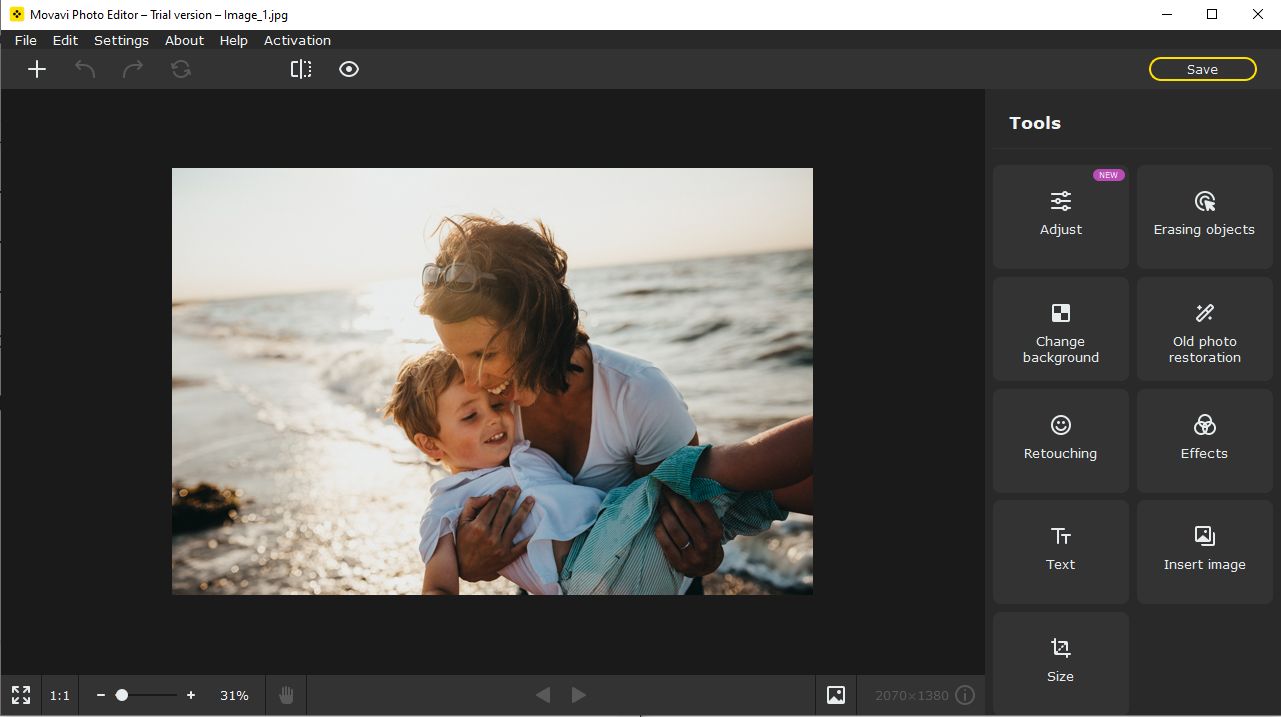 Step 4: As you add the image, it will show a Tools section on the right side of the screen. We went ahead with the Adjustments first and found that Automatically and Manually are two sections which can be used.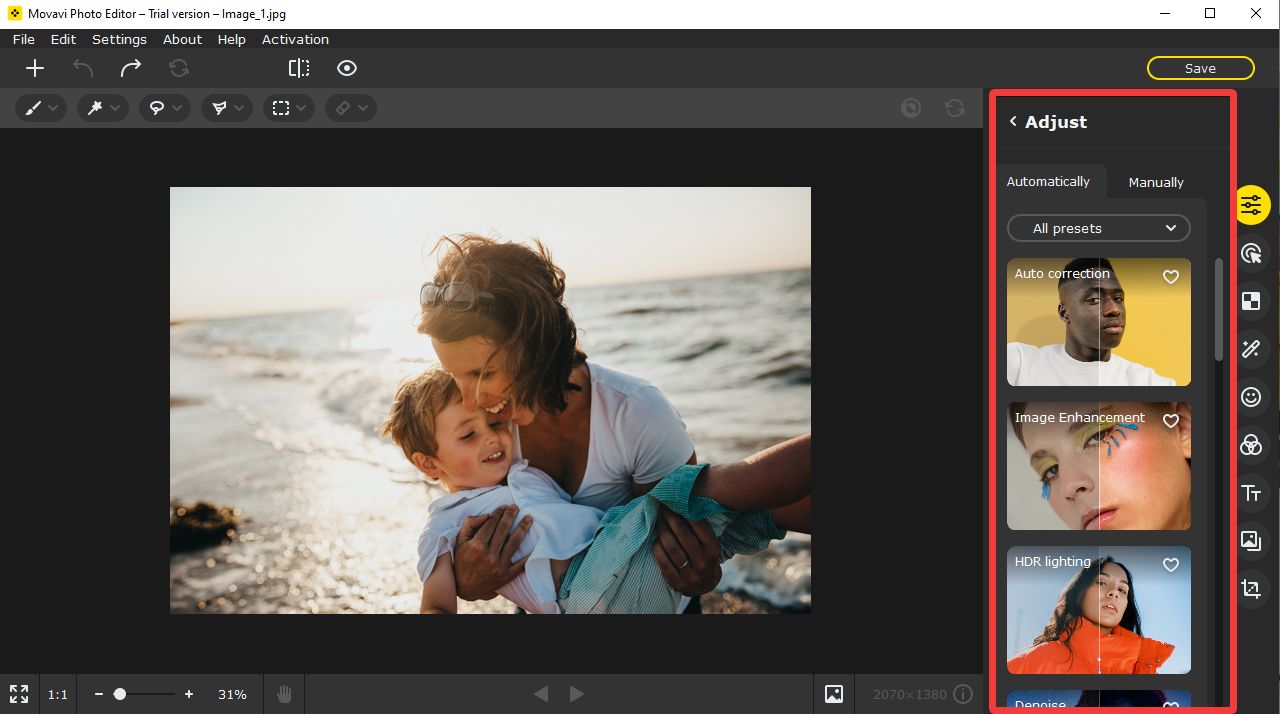 The Presets are useful and get applied almost immediately. Same goes for the manual adjustments with the Brightness, Contrast, Shadows, White balance etc.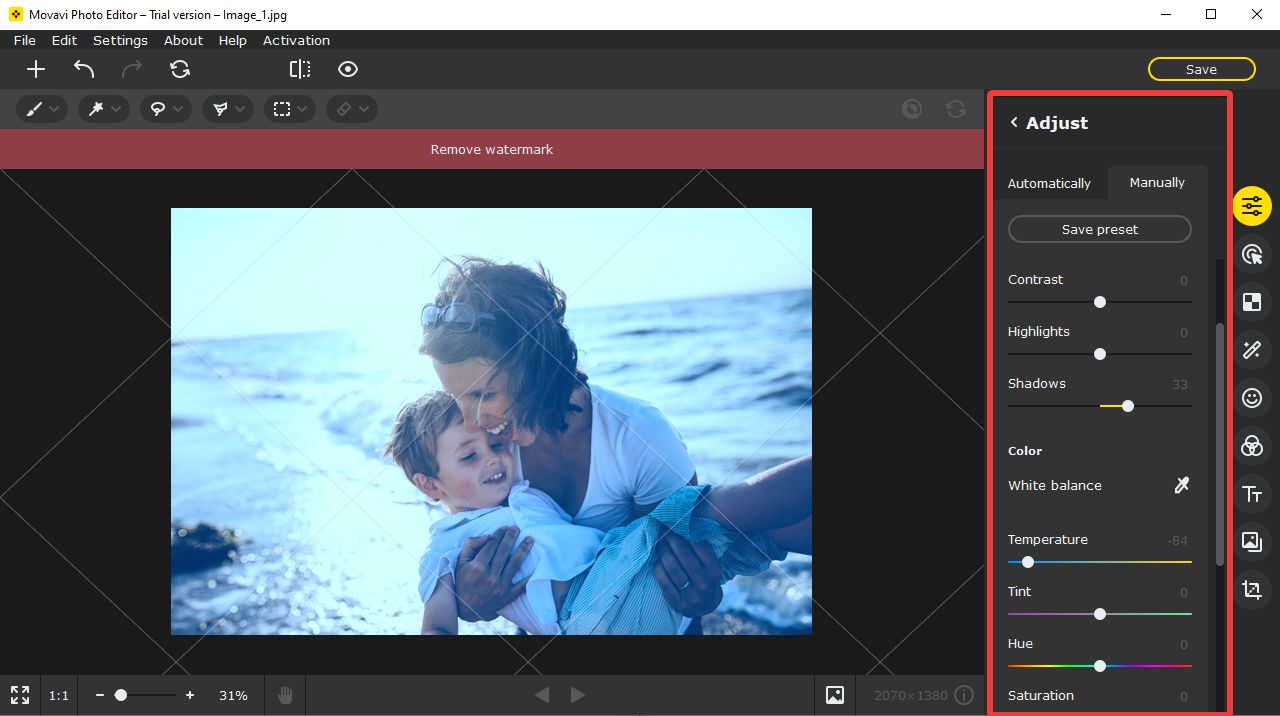 Step 5: The next step is to apply the Text, to do so, go back on the screen and then click on Text. Here you can add text with different fonts, styles, colors.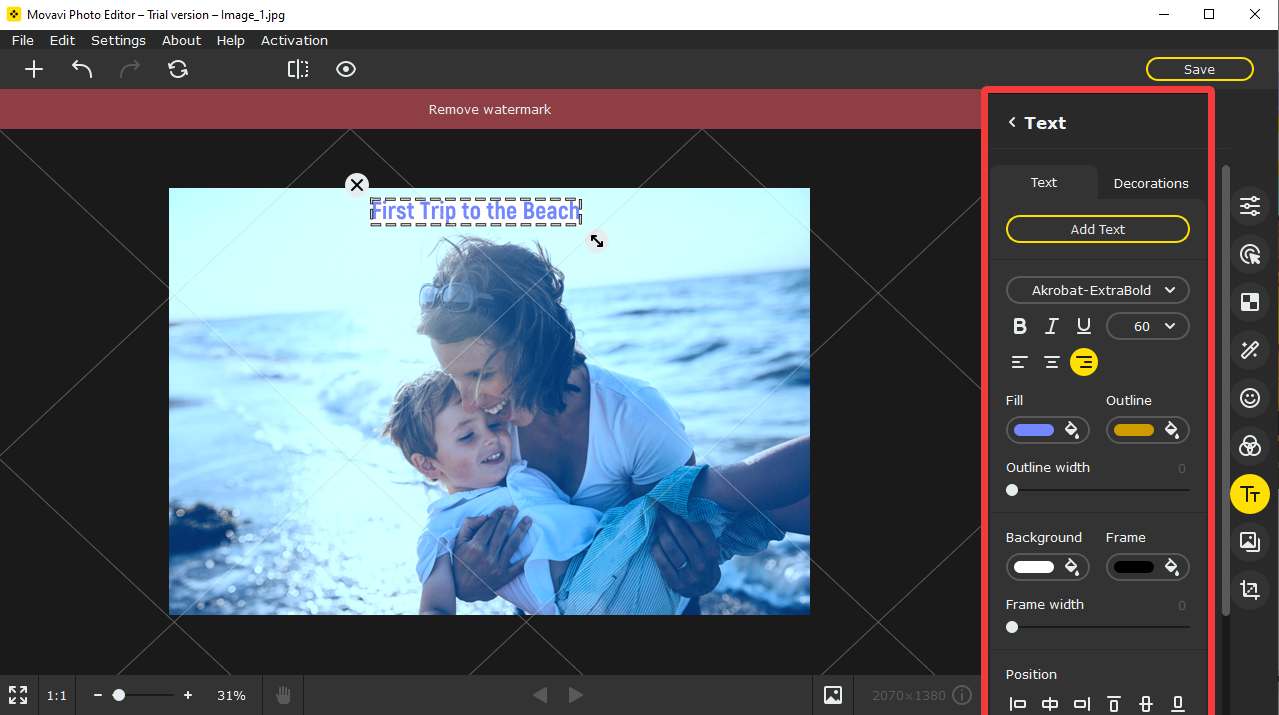 Step 6: Then, you need to click on the Save button and it will show you dropdown options of Save and Google Drive. It depicts the save location for the image to be local storage or the cloud storage on Google Drive.
Note – You are required to log into your Google account using the application and give permissions for access to save directly on Drive.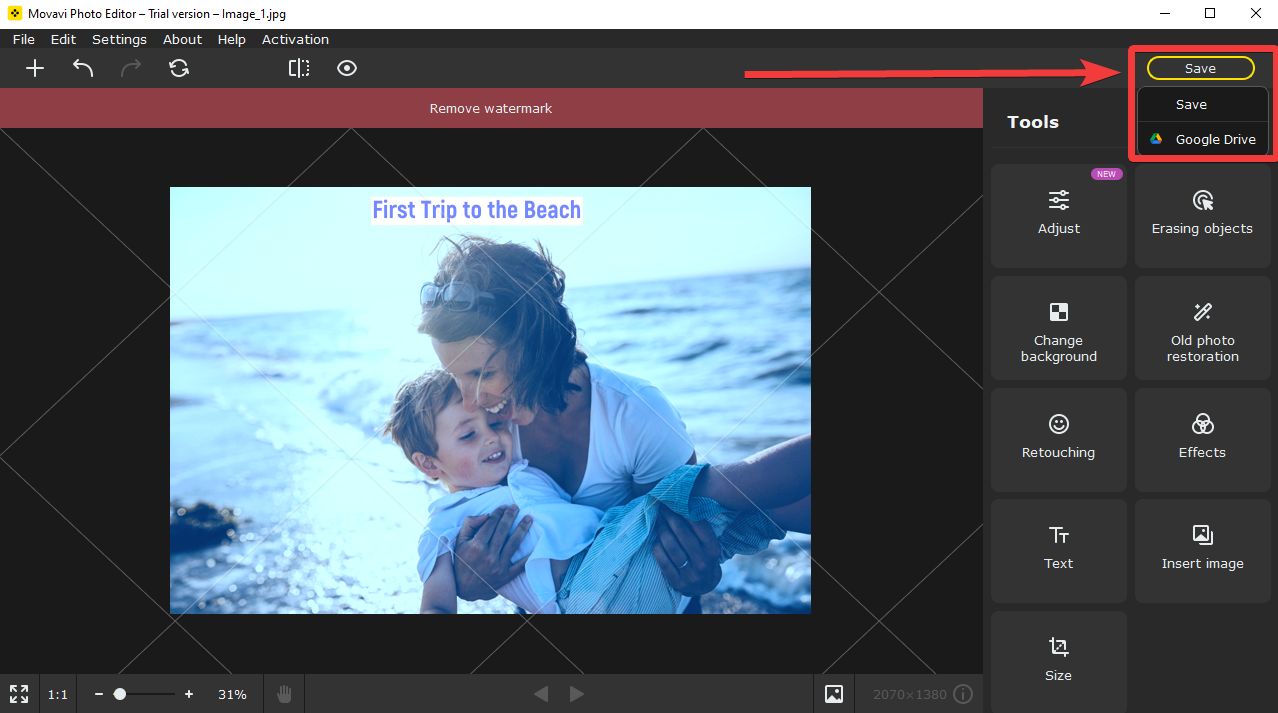 Once saved you can close the application.
Verdict –
This is the Movavi Photo Editor review from our viewpoint to help you understand the basics and plans to select the best tool for your Windows. There are multiple tools to create photo montage and more using the Effects Library, AI tools etc. Getting Movavi Photo Editor free download which will only have the full features available for a limited time period. Therefore, if you are a budding photographer and wish to use the photo editing software for PC, we recommend getting the Movavi Photo Editor full version by making a purchase.
If you liked what you read, give this post a thumbs up and for more such content, stay tuned to Top10PCSoftware. Also, follow us on social media platforms for the latest updates for Windows software. You can follow us on Facebook, Flipboard, Pinterest and Twitter