Jetboost Review for Windows 10, 11
A slow PC can hamper your productivity especially if you spend a large part of your day dishing out tasks from your computer. If you are someone who enjoys engaging in a heavy gaming session, a slow PC is the last thing you want. That being said, if you have an old PC, an optimization tool like JetBoost can help you enhance your computer's performance. Let's see how this tool fares up. 
What is JetBoost for Windows?
JetBoost is a lightweight, free-to-use software that can help you enhance the performance of your Windows PC with one click. It tweaks your system in a way that your PC reaches its supreme performance. For this, it releases system resources by closing unnecessary services and processes that run in the background. It even lets you prioritize processes as well. 
How Does JetBoost Optimize Your PC?
Based on the model you have selected, JetBoost optimizes your experience. For instance, you can click on Customize next to the Boost option and check how much memory or CPU is consumed by a process. 
You can even review Windows, non-Windows and other services and check mark those that you want to disable. 
As a free tool for Windows, JetBoost does a decent job. However, if you are looking for some more advanced tools and are ready to spend for a premium subscription for more features, you can check out some other great game boosters for Windows. 
Pros:
Small file size
Multiple optimization options
One-click boost
Removes distractions
Free to use
Cons:
Not available for Windows 10
One of the highlights of JetBoost 2.0 is that it has a simple and easy-to-understand interface. The one-click boost functionality can be seen right on the home screen. Next to it is a customize button that drives you to the processes, services, non-windows services and other services that you might want to review and close. Towards the right, you can also see a small "Recommended" button that shows you the recommended settings. To go back to the home screen, you can click on the back button.
1. One Click Boost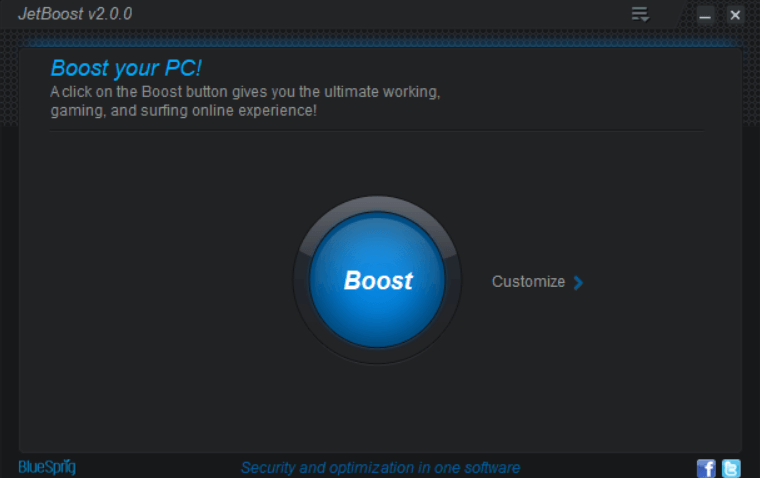 JetBoost helps increase the performance of your Windows 10 by shutting down all unnecessary processes and services. It only shuts down those processes which otherwise hamper the normal functioning of your PC. Side by side it even shows you how much an application or service is consuming CPU and memory.
2. Manually Shut Down Applications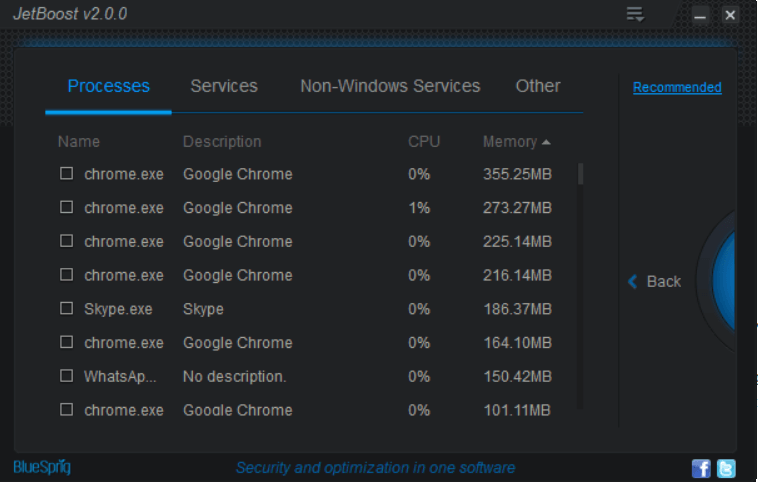 You can also set up your own boost model where you can select applications that you wish to shut down temporarily. For instance, you can shut down Windows and non-Windows services which are just running for no reason and are just consuming system resources. 
3. Optimize PC for All Purposes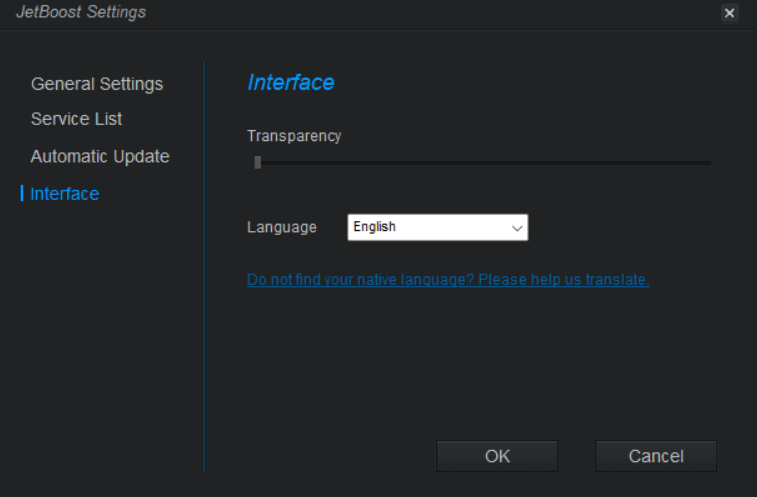 You need your Windows computer to work at its best while carrying out your day-to-day tasks. For instance, you might want to optimize your computer for gaming. Here you would want it to be free of all distractions. JetBoost does exactly that. 
4. Boost Modes
JetBoost for Windows 10, 11, (and even the earlier versions) come with three boost modes namely – Game mode, Work mode, and Custom mode. 
The "Game mode" detects unnecessary programs running in the background and closes them so that you can extract maximum performance while playing high-end games. The "Work mode" works on the same line and configures your computer so that you can gain maximum productivity when performing routine tasks. In the "Custom mode", you can create your own boosting model.
5. Customizable Settings
There are many ways in which you can customize the settings of JetBoost for Windows 10. These broadly include settings related to assigning hotkeys, changing the transparency of the application, getting automatic updates, or upgrading the service list. 
6. Portable
JetBoost 2.0 is a portable application. This means you can read and write its configuration settings into a folder, transfer it to a flash drive, and use it on other computers as well. 
There are two ways in which you can fetch Updates. You can click on the hamburger icon with a dropdown at the top right corner of the screen and then click on Check for updates.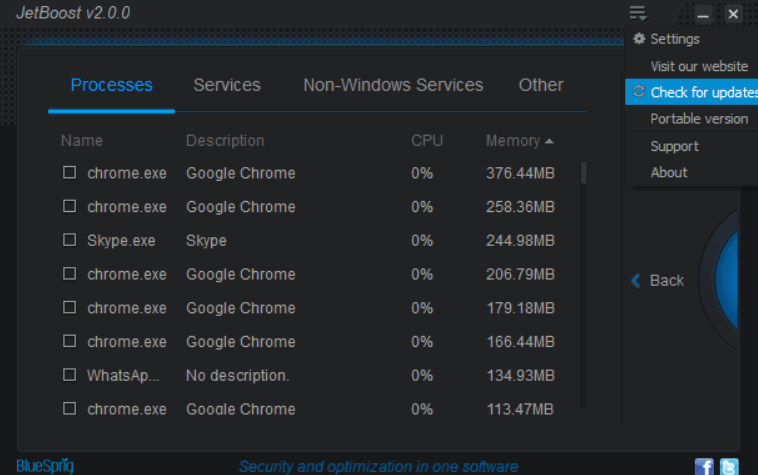 JetBoost also gives you the option to check for updates every time the program is launched. For this, you can go to Settings, click on Automatic Update from the left-hand side, and click on the checkbox that says Check for updates when program is launched.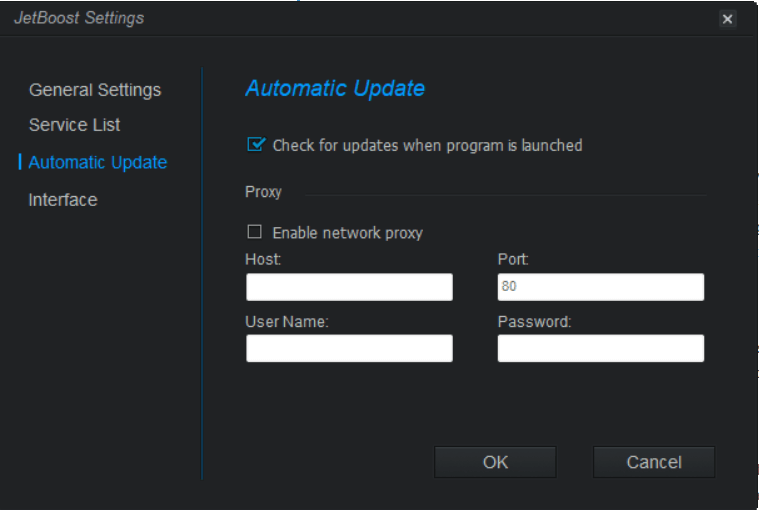 Advanced users can also enable network proxy and fill in fields such as "Host", "Port", User Name, and Password.
JetBoost is freeware and can be used free of cost. 
When we ran the 1-click boost, it stopped 12 services, 1 process and increased the performance by 38%. However, the application itself froze at around 88% a couple of times due to which we had to close it via the Task Manager.
As for game optimization, we did see a boost in our game performance but, as for overall experience, a tool like WTFast does a far better job. 
If you have queries regarding the functions of JetBoost, you can head to the FAQs page where you will find answers to most of your questions. You can even report a bug by clicking on the send bug report button.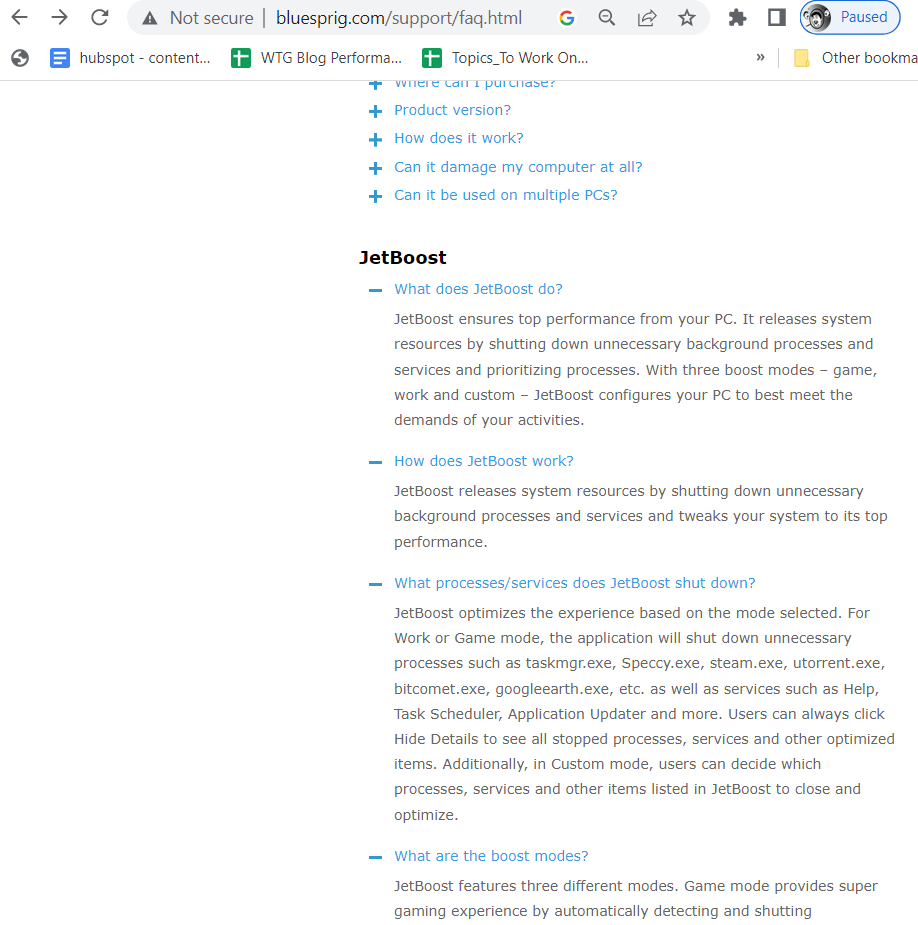 In case your questions are still unanswered, you can visit Online Support, fill in the form, and elaborate on your issue.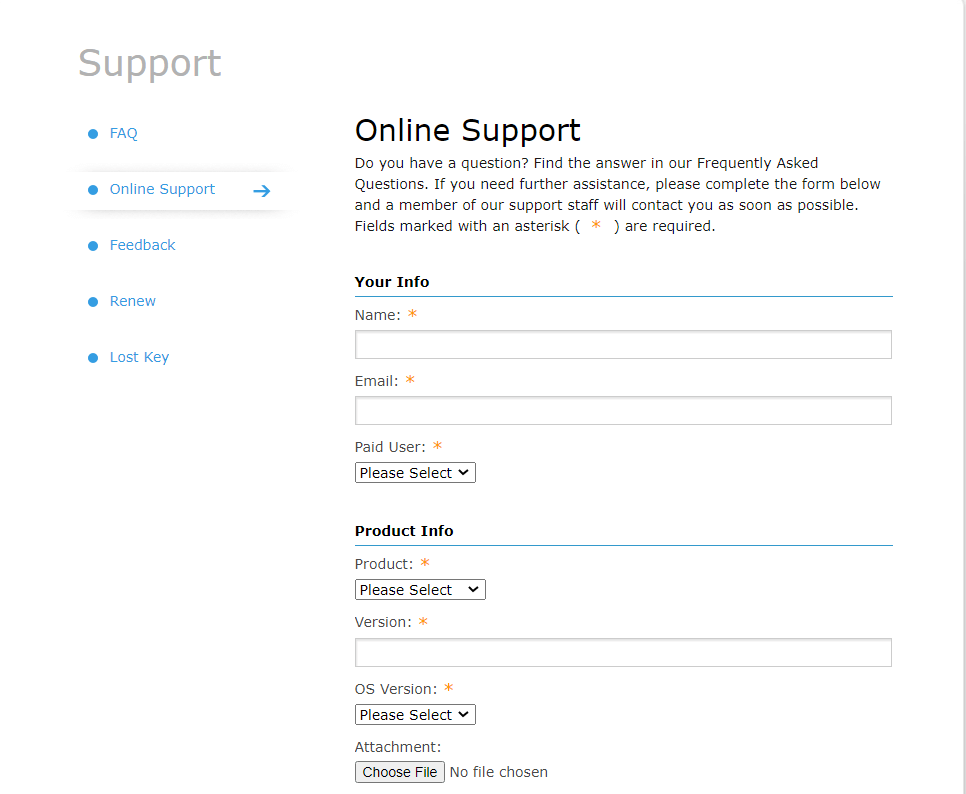 How To Use JetBoost
1. Download JetBoost On Your Windows 10, or 11 PC. 
2. Click on the Boost button in the center. 
3. You can click on the Restore button to revert back to the previous settings. 
4. Furthermore, you can click on Customize and manually enable or disable background services and apps. 
5. To see which services you have stopped or the services and applications stopped by JetBoost, you can click on Hide Details. 
Wrapping Up
As we said, JetBoost does a decent job as a PC booster. After using it you may see a boost in your PC performance. But, if you are a serious gamer or intend to optimize your PC for resource-intensive tasks, you can consider using other tools as well. What are your thoughts on this, do let us know in the comments section below. For more such content, keep reading Top10PCSoftware. You can also find us on Facebook, Flipboard and Pinterest.
Frequently Asked Questions –
Q1. What does JetBoost do?
JetBoost helps your PC reach top performance by releasing unnecessary system resources. For this, it shuts down background processes and services that are running for no reason and that are just eating up system resources. 
Q2. Is JetBoost free?
Yes, JetBoost for Windows is available free of cost.
Q3. Is JetBoost safe?
JetBoost is clean, safe, and free from any spyware, malware or virus. It has been checked with various antivirus programs and has come clean every time. 
Q4. How does JetBoost work?
It works by releasing system resources for which it shuts down redundant background services and processes and configures your PC for top performance.