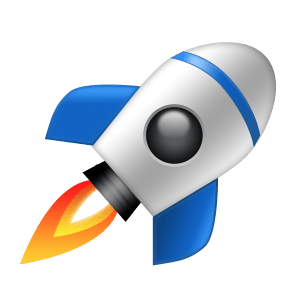 Wise Game Booster
Wise Game Booster Review for Windows
Slow speed, occasional lags and other gaming issues can irk a gamer to the core. And, manually trying to optimize PC settings to make gaming performance better is something you won't like. Let's review Wise Game Booster, and see if this utility can help you optimize your PC so that you can take your gaming to the next level.
What Is Wise Game Booster?
Wise Game Booster is an application that can boost the speed of the games on Windows. It helps in getting rid of all unnecessary applications and services. It can also tweak system settings for supreme performance. This way it allocates system resources in a way that you can play the game with maximum speed and zero interference. 
Pros:
Lightweight file size.
Game mode.
Free application.
Manual optimization.
Can add games to it
Cons:
Nothing for online gamers
Why Use Wise Game Booster?
Unless you have a PC configured dedicatedly for high-end gaming, a utility like Wise Game Booster can be useful in many ways. Not only does it help in enhancing gaming performance but even keeps your system resources optimized. It frees up memory from time to time. Helps get rid of redundant processes and applications that may interfere with your gameplay. In simple words, when you download Game Booster on your Windows PC, you will be able to play your games in a distraction-free environment.
System Requirements
Windows compatibility: Windows 11/10/8.1/8/7 (32 and 64 bit)
CPU: Pentium 233 MHz or above 
Disk space required: minimum 20 MB
Languages supported: English, Arabic, Belarusian, Bengali, Bulgarian, Chinese Simplified, Chinese Traditional and many others.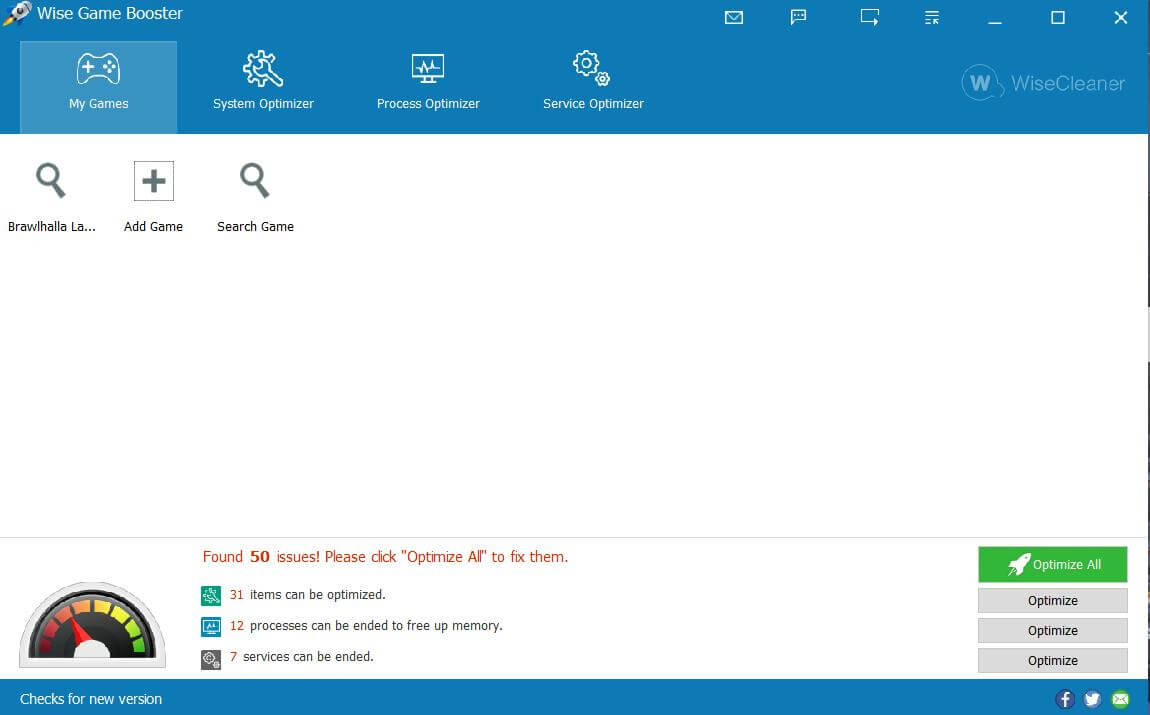 The interface is not as flashy as some of its counterparts like Razer Cortex. It is simple and broadly has four sections. The first one is My Games, here you can add a game, launch it, view its information, and also delete it from the list. Even before launching a game, you can see the issues at hand and optimize them with just a click. 
The next three "Optimizer" tabs – The "System", "Process" and "Service" Optimizer tabs. They bring your attention to the items that need to be optimized or stopped in order to have smooth gameplay. 
1. Add Games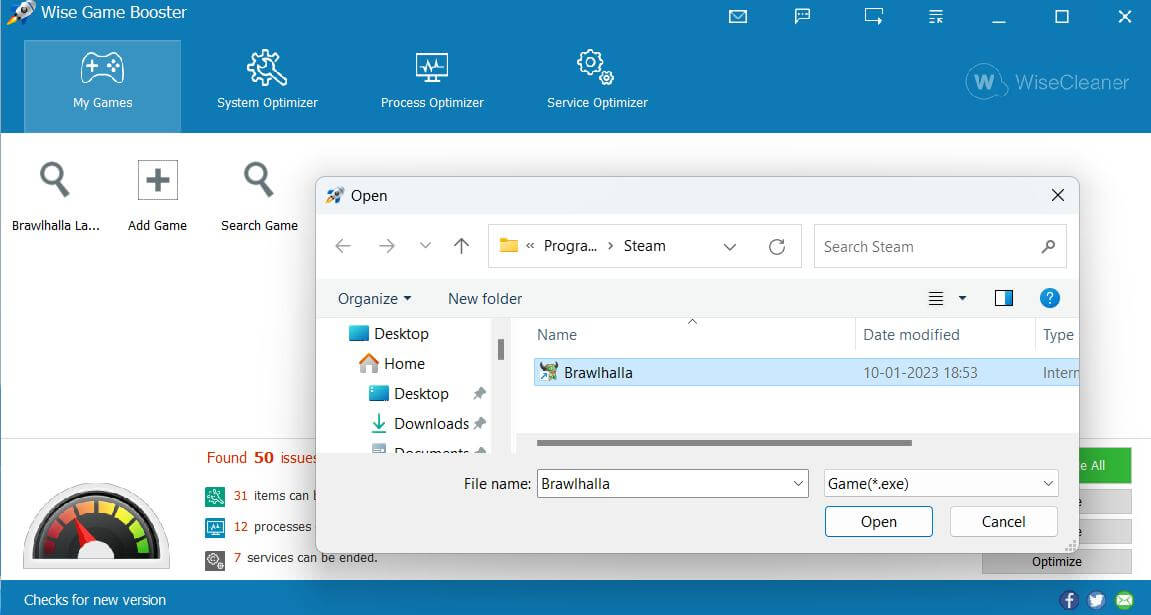 As an avid gamer, it might be tough for you to manage games. In this regard, Wise Game Booster lets you add games in My Games. This way you won't have to turn to your desktop, work your way through several icons and find the game you want to play. You can even get an insight into the game you are playing in this section. 
2. System Optimizer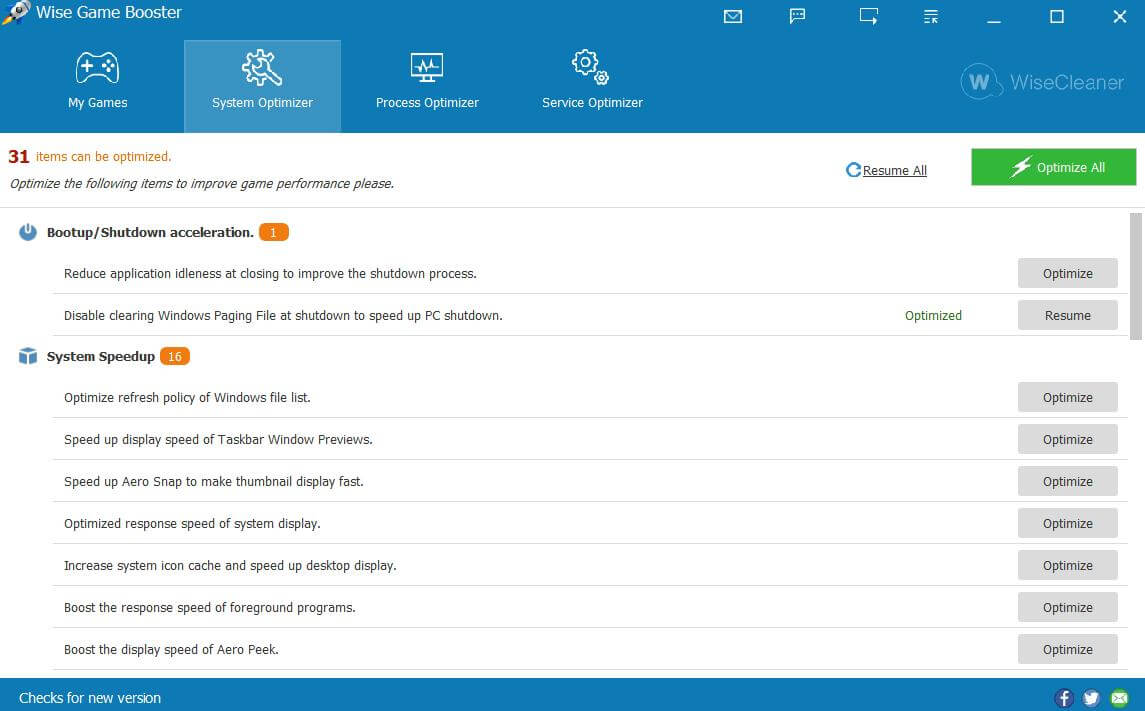 There are many settings that can make or break your game's performance. And, to be honest, manually identifying those settings and tweaking them is not easy. That's because, when trying to manually tweak settings, you may end up making errors. 
Wise Game Booster for PC enlists those settings and optimizes them automatically. For instance, you can optimize animation effects under System Speedup for faster response or optimize LAN connection. 
3. Get Rid of Unwanted Services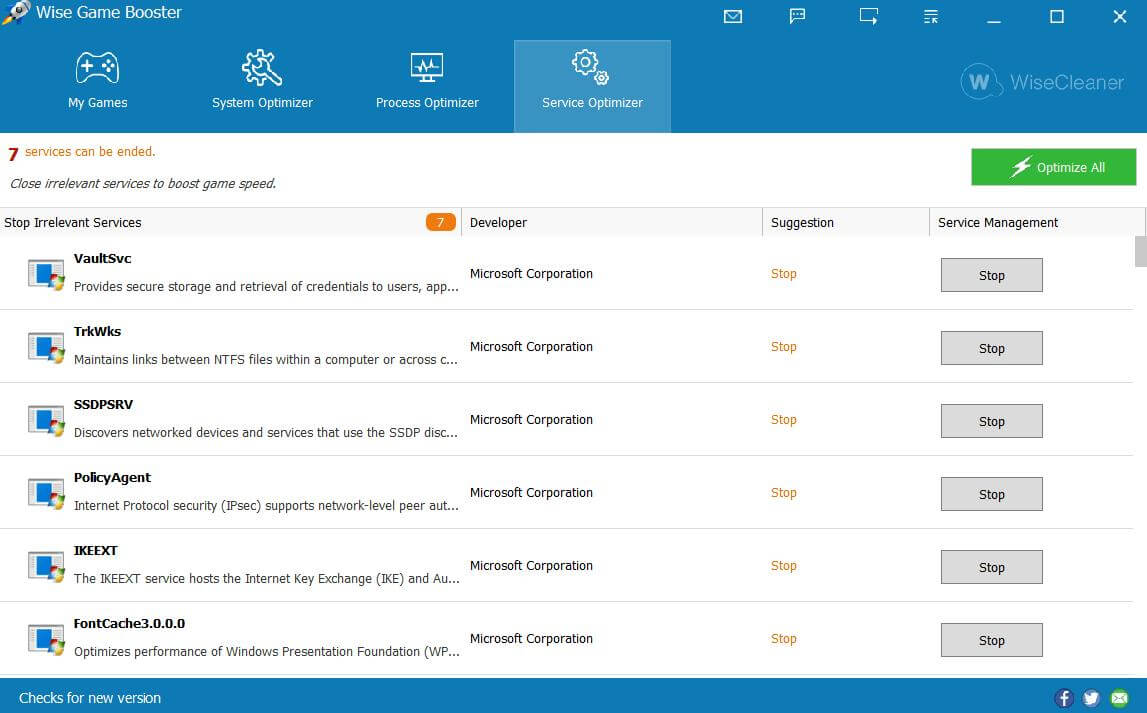 Certain games require the system resources to go all in. However, sometimes, irrelevant services and applications running in the background are often the biggest eaters of system resources. Again, it is next to difficult to find such services. Wise Game Booster not only detects these services but even suggests a course of action. For example, by stopping the enlisted services you can allocate system resources solely to the game you are playing. 
The same goes for many processes or non-system programs. Some of which are just hogging on your system's memory and not letting your gaming performance reach its max. The game booster also enlists these and suggests an appropriate action. 
4. Restore/ Resume Service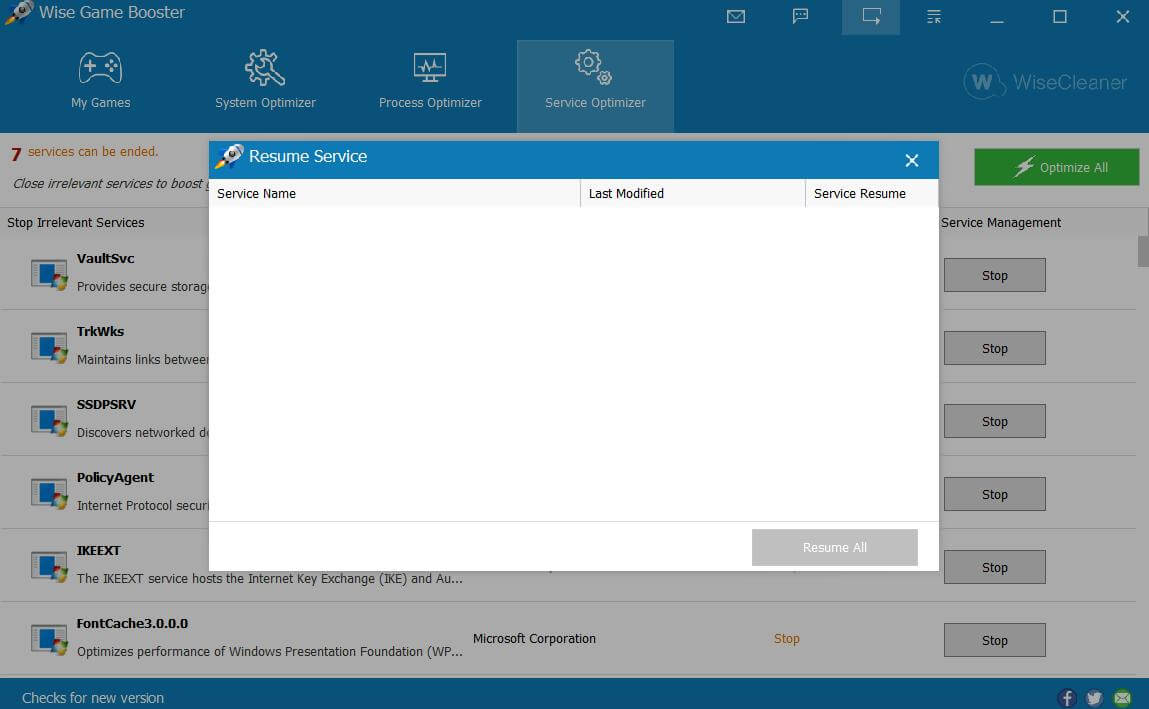 Let's assume you stopped a service. Post this, your computer has started to malfunction. Is there a way to roll back the change? This is one of the best aspects of Wise Game Booster. It backs up the operation of the service. This means, should something go wrong, you can restore the service back to the previous state like it was working before the change was made.     
Regular updates are released in Wise Game Booster. Through these updates, developers release new features and fix bugs if any. For instance, with the recent updates, Wise Game Booster has become perfectly compatible with 4K UHD monitors. It has fixed issues pertaining to the interface and many others. If you wish to check for any updates, click on the hamburger icon on the top right-hand side of the screen and click on Check for updates. 
Wise Game Booster is available for free. 
As we mentioned, Wise Game Booster helps speed up your computer and your gaming experience. For instance, on a personal front, we were able to notice better resolution and faster gameplay when playing games like Call of Duty Warzone 2 on a non-gaming PC. We even saw some improvement in FPS as well. However, Razer Cortex does a better job at that. Check its complete review here.
Despite being free, Wise Game Booster provides you with a variety of ways through which you can reach out to the customer support team. From the interface itself, you can open the Support Center to provide suggestions to improve the product and report abnormalities in functions or any other issues.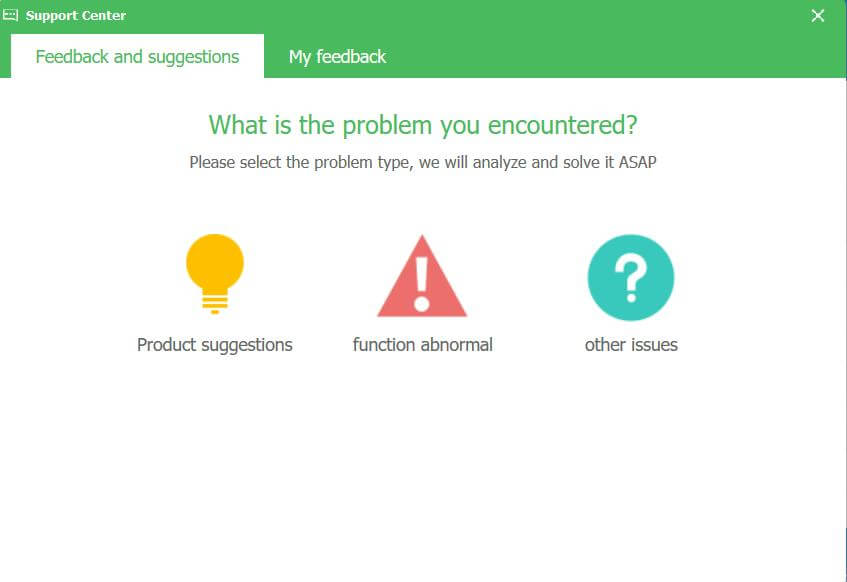 You can even visit the help center page where you can resolve queries regarding license, working of the software, etc.  
How To Use Wise Game Booster?
1. Download, install and run Wisen Game Booster for Windows PC. 
2. Click on Add Game.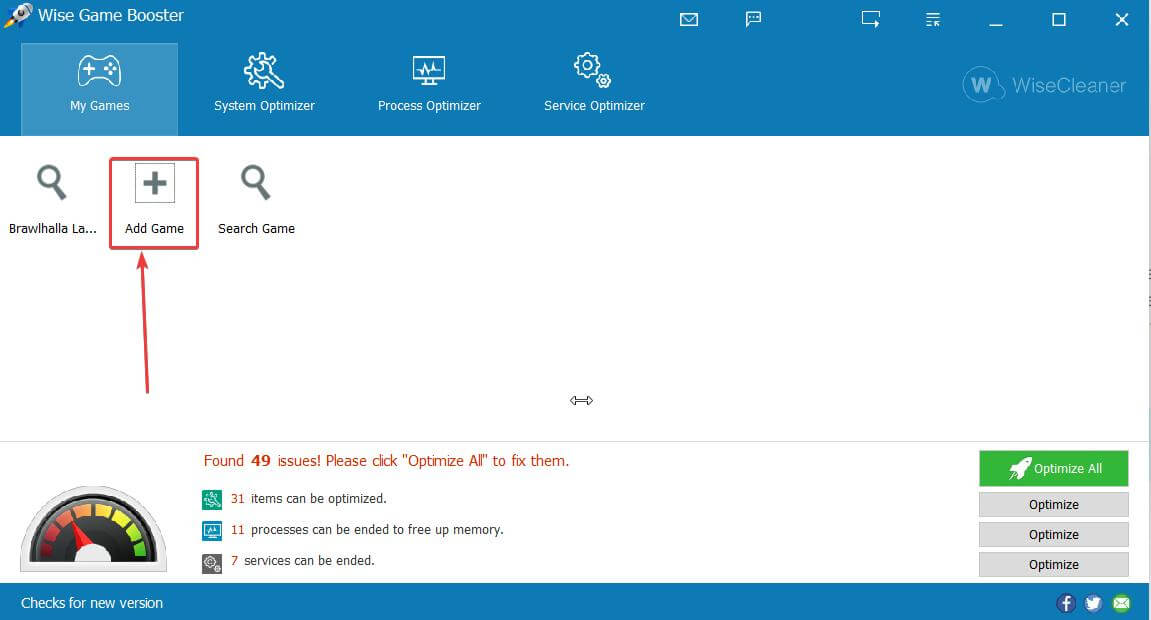 3. Head to the location where your game is placed. You can find that by entering the name of the game in the Windows search bar and clicking on the Open file location. 
4. Copy the path and paste it into the window opened in the interface. 
5. Next, click on the Optimize All button that you can see at the bottom right-hand side corner. 
6. For further optimization, you can click on the System Optimizer tab, Process Optimizer tab or Service Optimizer tab and take necessary action. 
Final Verdict
As a free game optimizer, Wise Game Booster does a fair. It helps you free up RAM and minimize CPU usage, both of which are crucial when it comes to running a game. However, there is always a scope for improvement. For instance, the functionality to set performance thresholds can be added. Or, saving individual sequences can be added. Also, real-time stats can be added. All in all, it is a decent tool to have. For more such reviews and Windows software listicles, keep reading Top10PCSoftware. You can also find us on – Facebook, Twitter, Flipboard, and Pinterest.
FAQs
Q1. Is Wise Game Booster safe?
Yes, Wise Game Booster is safe. That said, on a personal front you can go with the optimization recommended in My Games section. As for System, Process, and Service Optimization, due care should be taken. 
Q2. What does Wise Game Booster do?
Wise Game Booster helps enhance the gaming experience by optimizing system settings and stopping services that consume system resources and deter gameplay.