Having trouble finishing a course due to website blocks in the country you're visiting? Is accessing  social media restricted as well? No need to worry! Here are the 10 best unblocked browsers with which you can bypass restrictions.
Top Software Reviews
Rating
1.

Tor Browser

2.

Brave Browser

3.

Epic Browser

4.

Aloha Browser

5.

Opera One

6.

UR Browser

7.

Google Chrome

8.

AVG Browser

9.

Mullvad Browser

10.

Microsoft Chromium Edge
 Let's assume you have traveled to a country where access the most commonly used social media platforms or educational resources is restricted. Furthermore, you need a solution to access these platforms so that you can complete courses you have taken or stay informed about the world in general. But how can you do that? In this post, we have enlisted some of the best browsers to help you unblock websites.
Why Websites Get Blocked?
Let's give you some reasons with examples why websites get blocked. We urge you to not access a website that may put you in legal trouble or expose your device to malicious threats –
Geographical Restrictions – Some content is restricted to specific regions because of legal or licensing reasons. For example, a Netflix library is available only in the United States or Japan but not in other countries.
Security Reasons – Some dubious websites that host malware or prompt users to click on malicious links. Sometimes, your Antivirus may flag off a legit website that resembles the behavior of a malicious website. In that case, you can use an alternative Antivirus and ascertain if the website is actually legit or not.
Network Restrictions On Social Media Platforms – You may have come across a situation where you may not be able to access social media platforms at your workplace, school, or university. That's because they might be blocked by your network administrator. Not only at these places, there are many countries where social media platforms are blocked.
Copyrighted Content – Some websites host copyrighted content such as software, movies, songs, games and much more. You may find that these websites are often blocked.
What Are Unblocked Browsers?
Unblocked browsers are designed to enable users to open or access those websites that may be blocked or restricted. To unblock websites, these browsers are equipped with inbuilt VPN or proxy browser functionality. Furthermore, this way you can conceal your IP address and swap it with a new one. Apart from hiding your digital identity, these browsers also encrypt your data which further intensifies your privacy.
Word of Caution – Stay Away from Trouble
While we have shared some of the best-unblocked browsers to open blocked websites, we urge you to exercise caution. Steer clear from websites that may expose you to malware or other malicious threats and then, damage your privacy. Also, refrain from accessing prohibited content else you might run into legal consequences.
Best Unblocked Browsers To Access Websites That Are Blocked
1. Tor Browser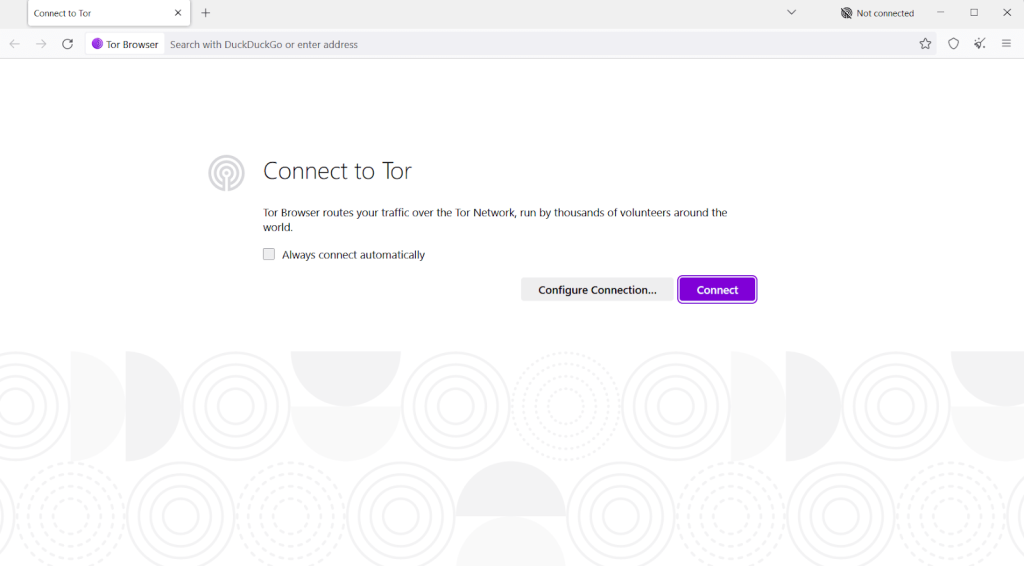 Tor Browser is a free and open-source browser to access blocked sites. It routes traffic through a network of volunteer-operated servers that are known as nodes. Each node decrypts a layer of encryption before passing the traffic onto the next node. By the time your traffic reaches its final destination, it's difficult for anyone to track your online activity.
 Notable Features  
Block trackers; cookies are deleted as soon as you are done browsing.
Traffic is relayed and encrypted three times as it passes over the Tor network.
Bridges help securely access the Tor Network in places where Tor is blocked.
Protects website fingerprinting.
Integrated privacy tools.
Protects against malware and online tracking.
Access Onion websites.
Easily bypass home network site blacks.
Highly focused on providing anonymity.
Not as fast as many other browsers.
2. Brave Browser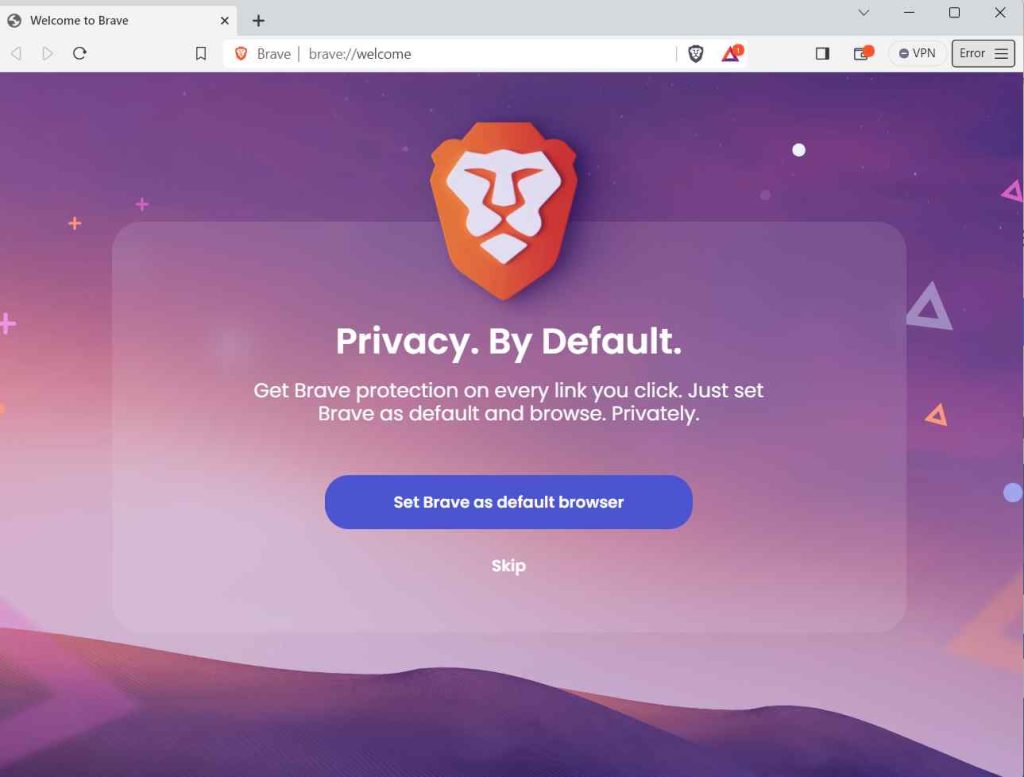 Following our mention of the Tor browser, the next on our list is Brave browser. It integrates the Tor browser, allowing you to open websites that are otherwise blocked. Not only that, it is a privacy-centric browser that effectively blocks trackers, fingerprinting, cross-site tracking, and much more; anything that can put your privacy in jeopardy.
Notable Features  
Block trackers, ads, and cookies.
Make private video calls right from the browser.
Brave wallet with which you can buy, send, store, and swap crypto assets.
Advanced privacy protections include partitioning, reduced network server calls, etc.
Anonymised network tracking (Tor mode)
Faster page loading.
Fingerprinting blocked (get rid of cookie-less trackers).
Added malware and phishing protection.
Fewer browser extensions as compared to competitors.
3. Epic Browser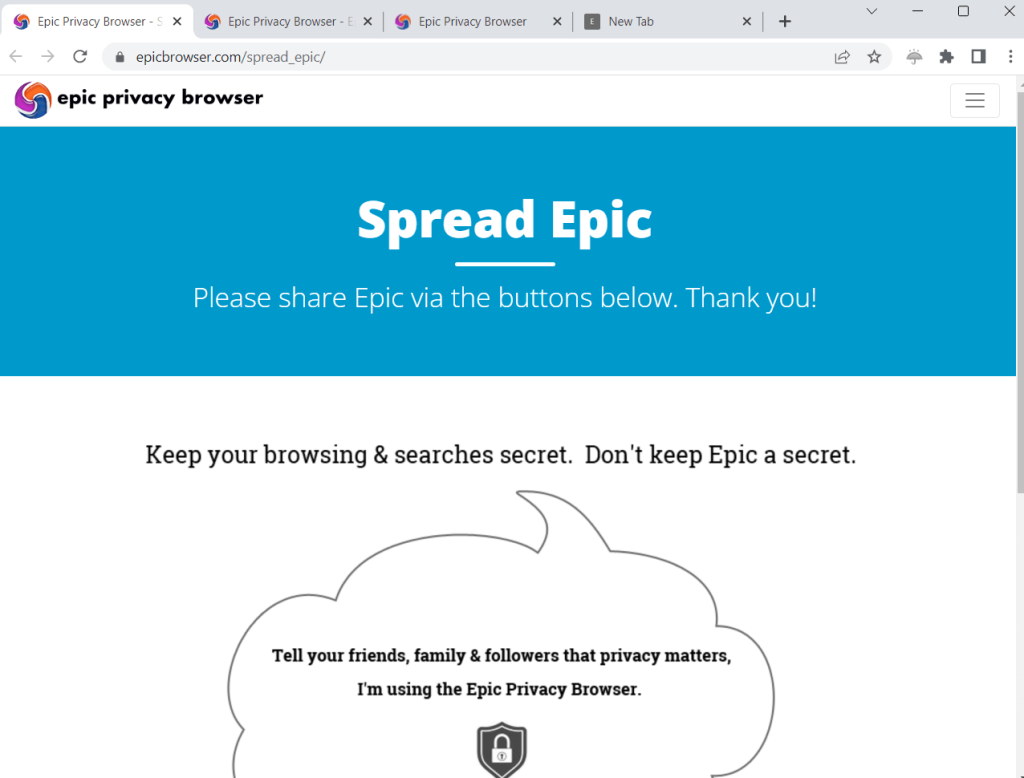 If you wish to get around website blocks, Epic Browser is an ultimate choice you can consider. It is one of the best proxy browsers as it comes with a built-in encrypted proxy that routes your traffic through different IP addresses. Hence you can bypass censorship and website blocks. You may see a slight dip in the browsing speed when trying to visit websites that are blocked because traffic is relayed through different servers.
 Notable Features
Epic shows who's tracking you in other browsers.
The encrypted proxy is a free built-in VPN that protects browsing history from ISPs.
Blocks fingerprinting scripts and images
Include tab page-based privacy data.
Always on private browsing mode.
Over 150,000 Chrome extensions work in the Epic browser.
Free VPN.
Epic establishes secure connections with websites that support it.
You can enable always-on private mode.
You may have to configure some settings in order to enable full privacy protection.
4. Aloha Browser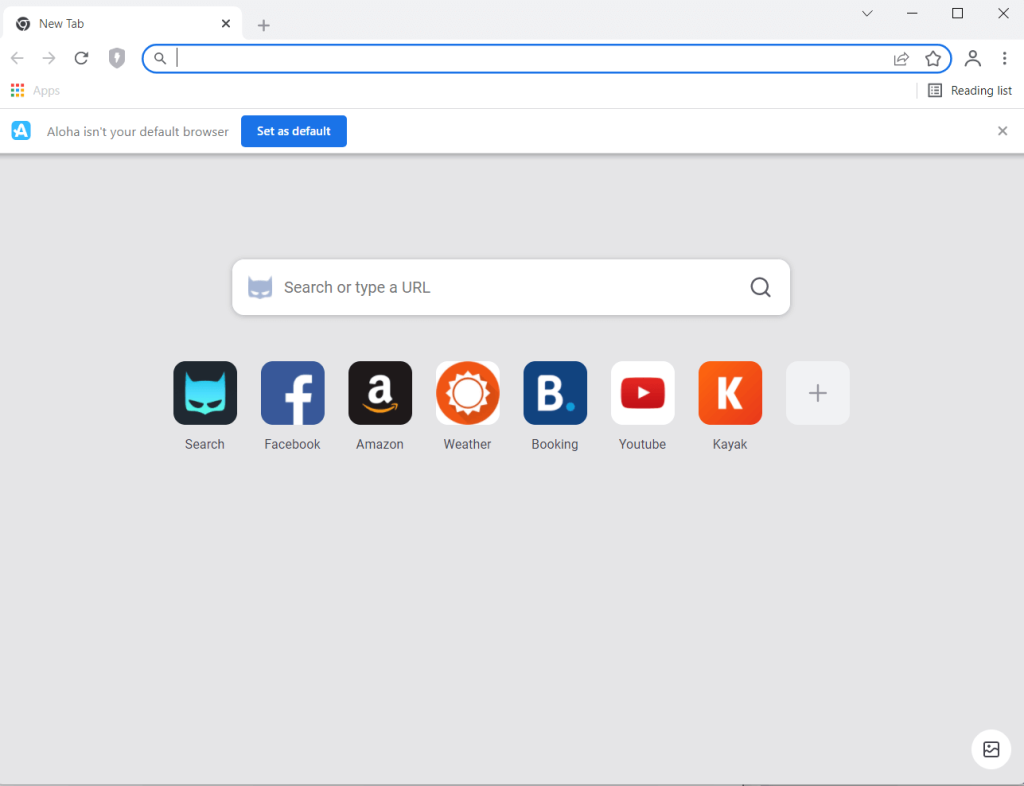 If your existing Internet browser is not able to unblock websites, you can try Aloha Browser. Although, in beta, it comes with a VPN that can help you bypass restrictions posed by blocked websites. It comes with an optimized and fast rendering engine. The speed can be attributed to the fact that it doesn't spy on or track your browsing activities.
Notable Features
Comes with a free VPN with over 80 locations.
Powerful adblockers help block ads, load pages faster and save you from malicious ads.
Secure your apps, tabs, profiles, wallets, and files with biometrics, passcodes, or both.
Aloha Browser comes with HTTPS everywhere which ensures that you visit websites that use secure HTTPS only.
The browser stops redirects that try and send you to malicious websites.
Buy, send, and receive cryptocurrencies with minimal fees and headaches.
Block annoying and vicious pop-ups.
See how much time you have saved on blocked ads, pop-ups, and trackers.
Download faster with muti-thread downloading and parallel download.
The free variant comes with ads.
5. Opera One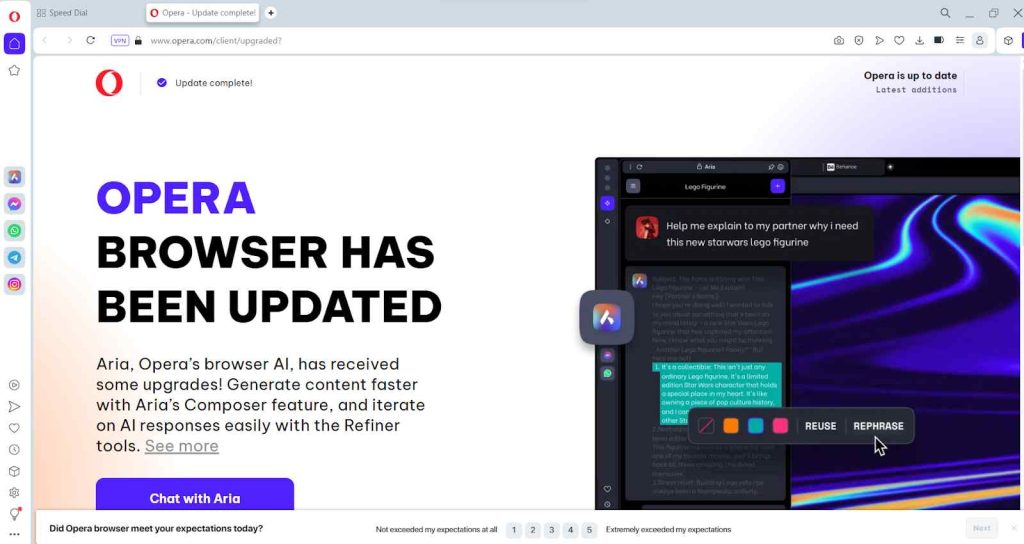 Opera One is one of the best browsers to unblock websites. It is one of those few browsers that packs the power of AI. While there is a VPN included to bypass geo-restrictions and access blocked websites, it even lets you whitelist websites as well. It has a sidebar from where you can access popular social media messengers.
Notable Features
Comes with an integrated ad blocker.
VPN included.
AI tools – ChatGPT and Aria are integrated into the browser.
Compatibility with Chrome extensions.
Whitelist websites.
Efficient tab organization.
Impressive speed test performance.
One-handed mode.
Messengers such as WhatsApp, Facebook Messenger, Telegram and more are integrated in the browser.
RAM usage is higher than many competitors.
6. UR Browser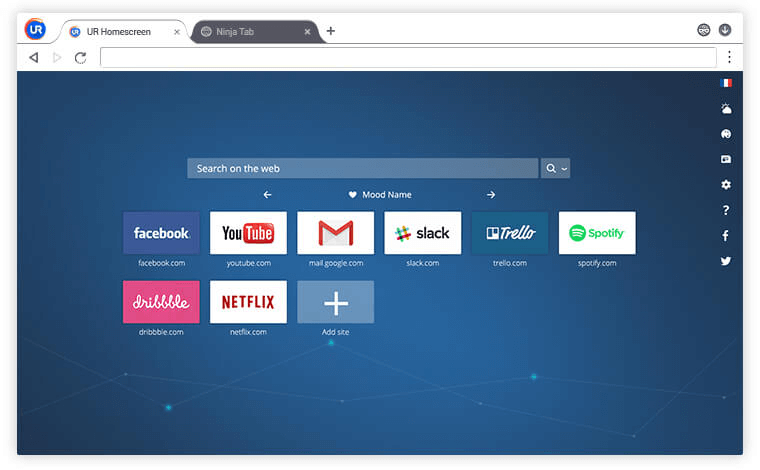 UR Browser is another browser that features a full VPN client. With it, you can easily unblock web addresses that are restricted to access in your region. To ensure added safety, UR Browser offers an inbuilt virus scanner in case you stumble upon a malicious website. To reduce your chances of stumbling upon dangerous websites, it checks them for HTTPs and uses a 2048-bit RSA encryption key. 
Notable Features
Use tools to see who is watching your data online.
UR browser blocks third-party cookies and even invisible trackers.
Automatic HTTPS redirect.
Inbuilt virus scanner; your downloads are scanned for viruses.
It uses a 2048-bit RSA encryption key; great for websites where you transfer information.
Change the level of privacy based on the website you are on.
Fast page loading.
The browser immediately alerts you if you stumble on a suspicious website.
Advanced parallel downloading technology splits files into smaller parts hence facilitating faster downloading.
Some Antivirus may flag it off as suspicious.
7. Google Chrome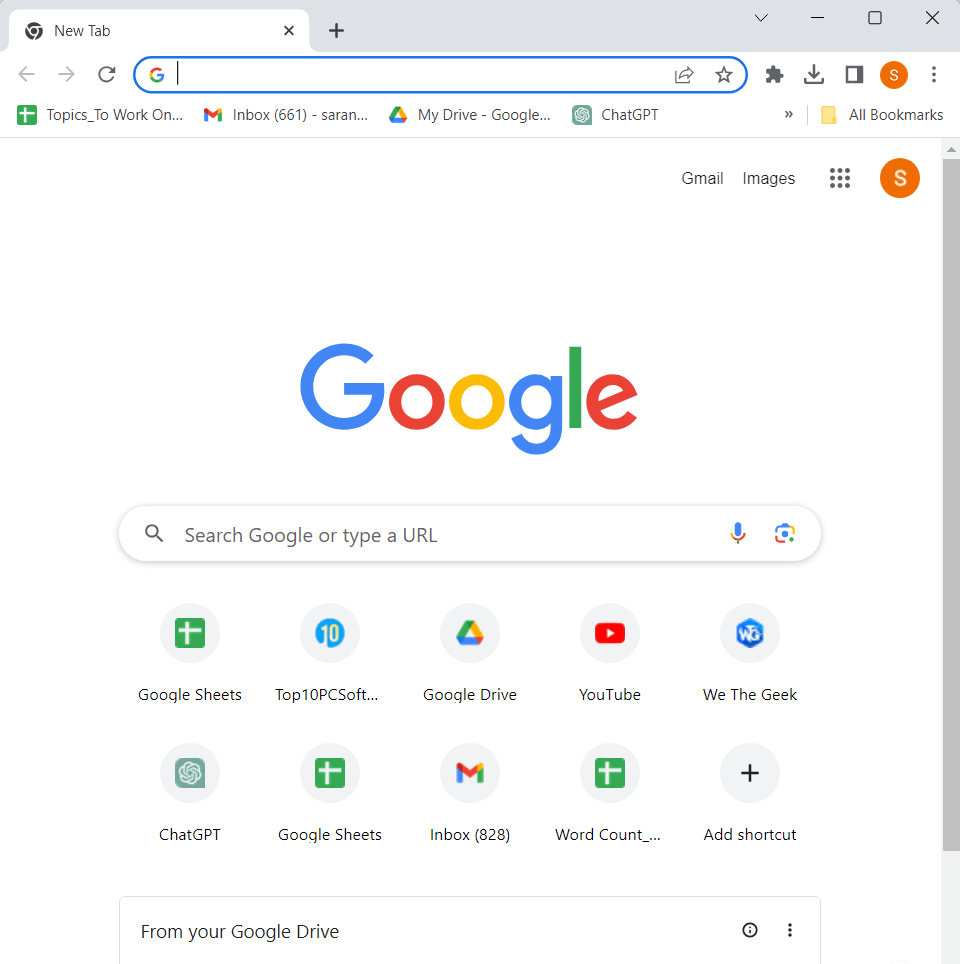 There are multiple ways in which you can unblock websites in Chrome. You may have to make some effort and dive into proxy settings to see if the website you want to access is a restricted website or not. An even easier way to unblock a website in Chrome browser is to use a VPN. Here is a list of some of the best VPNs for Windows PCs.
Notable Features  
Sync bookmarks and history across devices.
Large number of extensions can be downloaded from Chrome Web Store.
Incognito mode for private browsing
Translate web pages easily.
One of the fastest web browsers.
Updated with the latest security features such as the built-in malware scanner.
Integration with google services – Google Drive, Gmail, Google Maps, etc.
Consumes a lot of system resources.
8. AVG Browser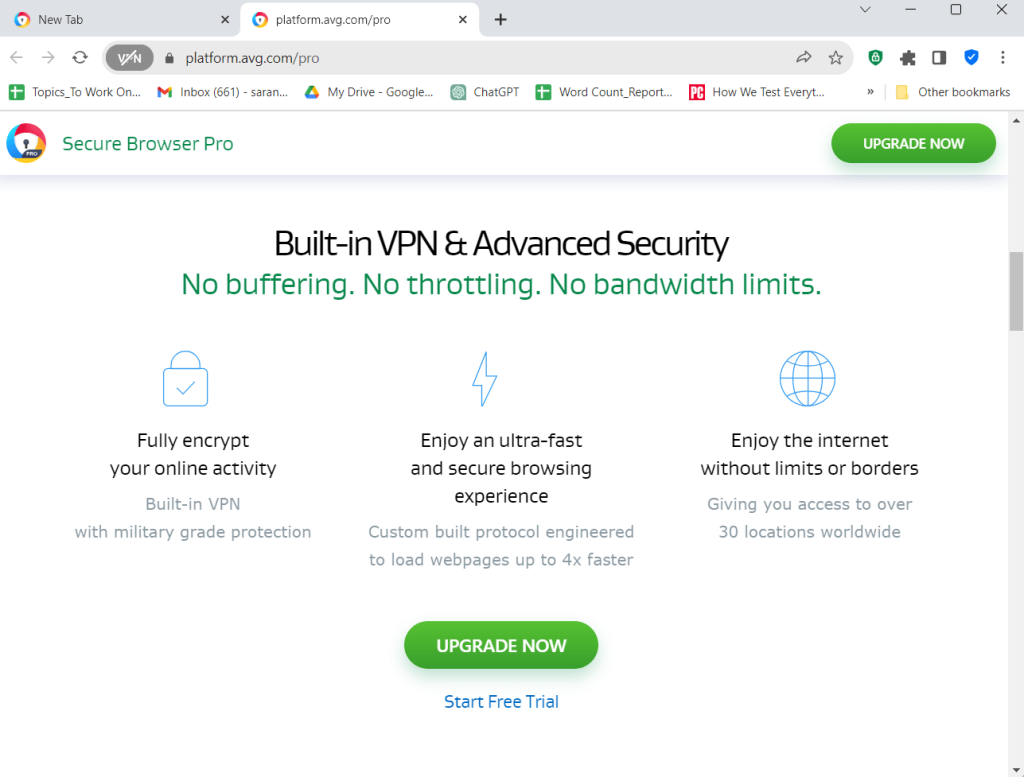 AVG Browser is a free browser to unblock restricted websites. It comes with a proxy server that encrypts your traffic and hides your IP address. It also comes with a "Secure Browser VPN" that secures your connection and disguises your location. Plus, there are several other privacy features that make it one of the best browsers around.
Notable Features  
"Secure Browser VPN" to access restricted websites while hiding your IP.
Facility to block dangerous websites and downloads.
Robust protection against malicious websites.
Easily block tracking cookies.
Block browser fingerprinting
Inbuilt password manager.
Block ads for safer and faster browsing.
VPN and many advanced features are payable features. Although you can use the VPN as a part of the 30-day trial.
9. Mullavad Browser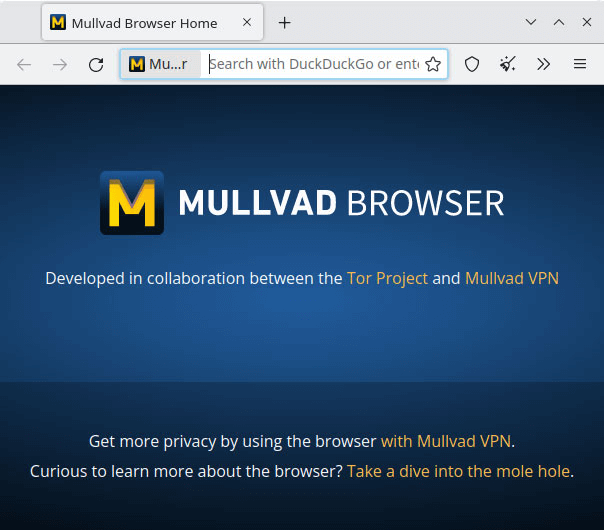 Mullvad Browser is a privacy-centric browser that can help you bypass restrictions that stop you from opening websites. It is developed in collaboration between Mullvad VPN and the Tor Project (remember the Tor browser we mentioned earlier?). Its aim is to free the internet from mass surveillance and conquer big data gathering.
Notable features
Fingerprinting protection like that of the Tor browser.
Block third-party trackers and cookies.
No data is collected.
Uses DuckDuckGo as its default search engine.
First-party isolation helps steer clear of trackers.
Anti-tracking and script blocking
Fast and responsive despite stringent privacy checks.
Requires you to download Mullavad VPN for best results.
10. Microsoft Edge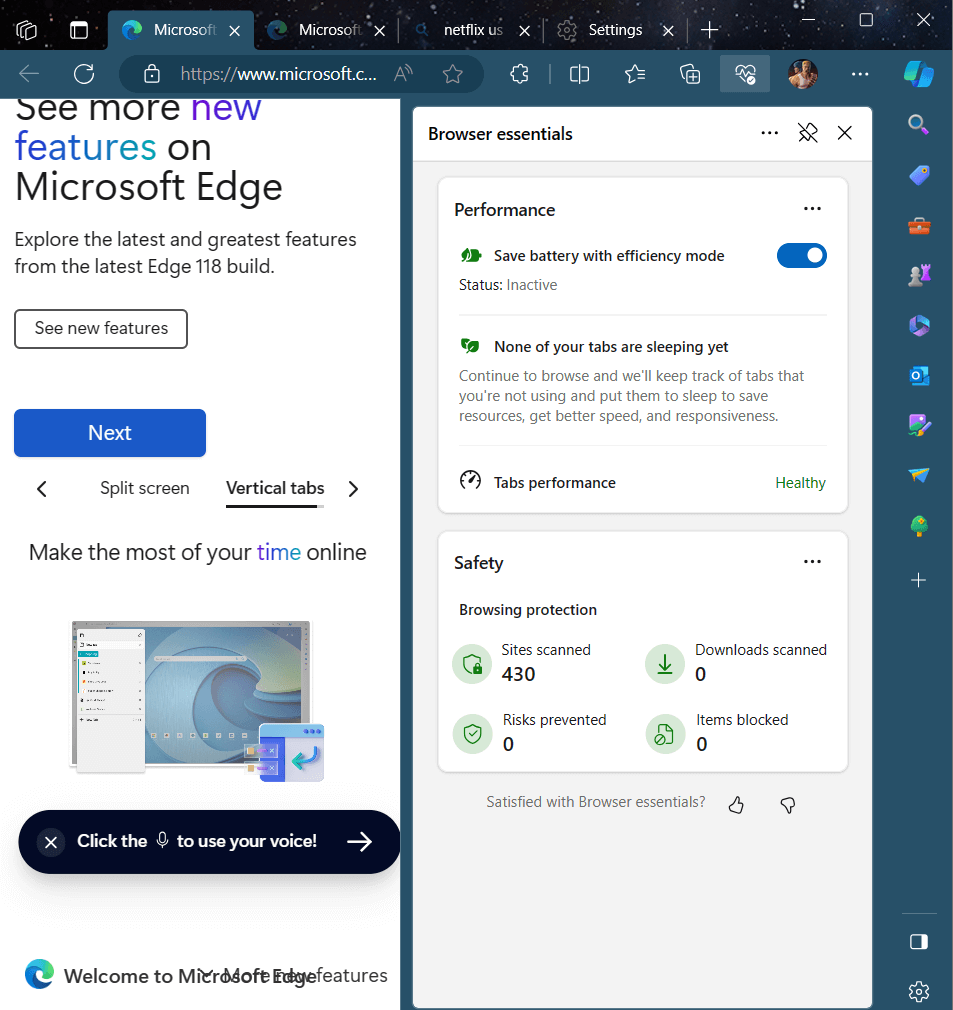 Last but not least we have Microsoft Edge. It comes inbuilt with your Windows PC and is a lightweight browser. With this, you can access blocked content in most cases. As a matter of fact, you will have to configure a few settings, for instance, configuring the OpenDNS setting in "Privacy, search and services".
Notable Features
Microsoft Defender SmartScreen.
Edge Secure Network VPN.
Avoid stumbling upon malicious sites mistakenly with "Website Typo Protection".
Password monitor.
Fast browsing.
Complete grip on cookies and stored data.
Immersive reader, web capture, and read-aloud features.
Doesn't offer as many features for unblocking websites as other competitors on the list.
Comes built into Windows PC.
Unlock Freedom: Best Browsers for Blocked Sites
Digital barriers can come in all forms. Often we intend to open a legit website only to find out that it is blocked by organizational or geographical restrictions. To circumvent such restrictions and open blocked websites, you can choose from the above browsers that can help you unblock websites. For more such content, keep reading Top10PCSoftware.
Frequently Asked Questions
Q1. Which browser can open all blocked sites?
While we have mentioned the list of some of the best-unblocked browsers with which you can open blocked sites, there are chances you may or may not be able to access a website if regional policies or even site-specific measures are stringent. That said, the above-mentioned browsers can be used to unblock websites in most cases.
Q2. What is the best browser to unblock websites?
Tor Browser, Aloha Browser, Epic Browsers, and the like are well capable of unblocking websites. Moreover, to ensure your safety they offer you end-to-end encryption and even block cookies and cache so that your browsing history is not tracked.
Q3. Apart from unblocked browser what can I use to unblock stuff?
Apart from the unblocked browsers that we have mentioned above, you can opt for alternative measures such as using Proxies and VPNs on your standard browser and open websites that may otherwise be blocked.