We know how irksome ads on any website can be. It's almost like you don't want a seller to sell you something but he forcefully makes you see their ad. Now, no more! Here are some of the best free Ads and pop-up blockers that will help you get rid of ads in a snap.
Top Software Reviews
Rating
1.

AdLock Multi-Device Protection

2.

Adblock Plus - free ad blocker

3.

Adblock for Chrome

4.

Ghostery

5.

AdBlock - best ad blocker

6.

AdGuard AdBlocker

7.

Privacy Badger

8.

AdBlocker Stands

9.

uBlock Origin

10.

AdBlocker Ultimate
Let's face it – Ads are not a pretty sight. Especially if they spoil your browsing experience or suddenly appear on your favorite videos. Yes! For some, ads are a source of revenue but sometimes they get way too much in the face. And, apart from destroying the viewing experience, they even take a toll on page loading speed. Not only that, some ads may even bring along malware and other malicious threats. This can be dangerous because there are times when we unknowingly click on ads.
An ad blocker here can be a very useful tool. It automatically blocks ads, pop ups, cookies, banners, and various such elements automatically. In this post we are going to enlist some of the best ad and popup blockers.
1. AdLock Multi-Device Protection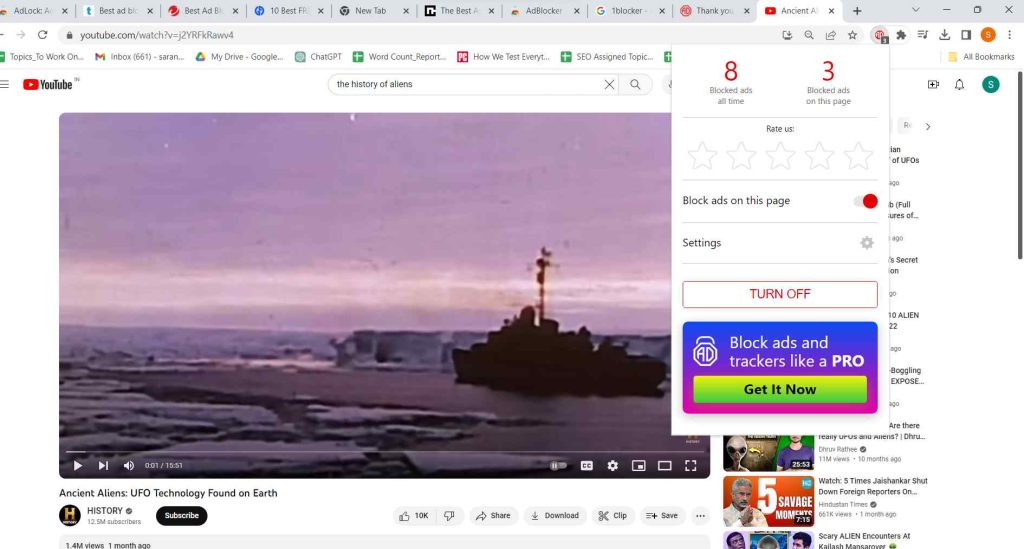 AdLock is one of the best ad blocker for not just Chrome but it is a systemwide ad blocking and security protection. It helps get rid of ads in your browser and even the ads that are sometimes thrown at you by the software on your PC. It is available as an extension on all major browsers as well as an app on all major operating systems.
Notable Features
Get rid of ads both in your browsers as well as from software.
Filters internet traffic and regulates the internet usage of different apps.
It stops you from stumbling upon malicious websites.
Filters HTTPs connections.
Multi-device functionality.
Protects your computer from external threats.
Blocks ads even on applications like Skype.
Keeps you informed of the ads it has blocked and internet traffic by way of reports.
Doesn't consume much of your system resources.
Poses issues when working with a VPN.
Pricing – Free trial available. Pricing starts at $3.5/ month.
2. Adblock Plus – free ad blocker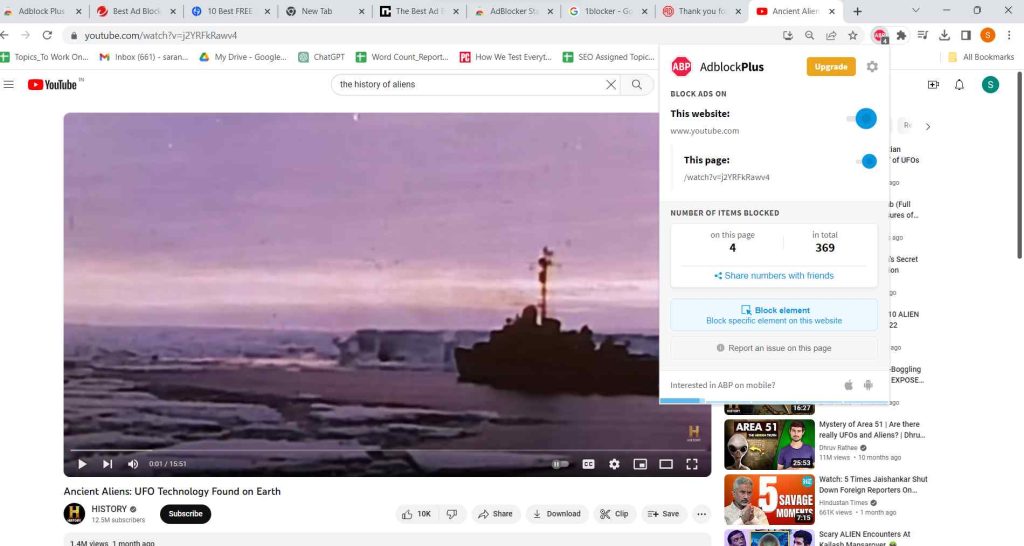 If you are looking for a free pop-up blocker for Chrome, Adblock Plus is definitely an option you can consider. It is one of the highest-rated ad blocker Chrome extensions. As an ad blocker it doesn't just block intrusive ads but also blocks the entry of any malicious threats that ads, pop-ups, and others may bring along.
Notable Features
Block popups, video ads, banners and more that hinder the browsing experience.
Get rid of malvertising infections.
At every page Adblock Plus tells you how many ads it has blocked.
Free and constant customer support.
Block cookie constant pop-ups.
Available as an extension not just for Chrome but for other browsers as well.
Whitelist websites that you trust.
Faster page loading.
Block malware that might be hidden in advertisements.
Some websites may prompt you to turn the extension off to surf the website further.
Pricing – Free
3. Adblock for Chrome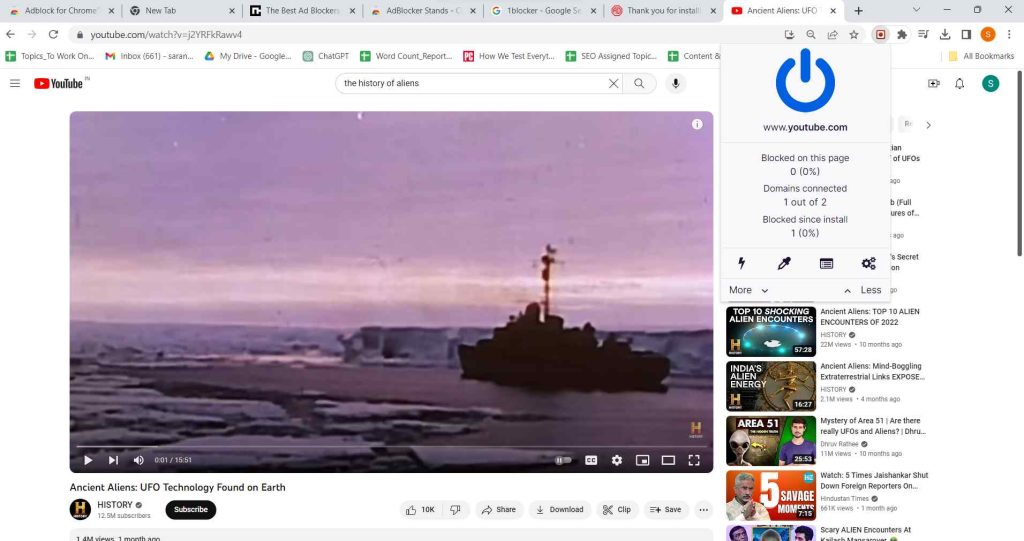 Adblock for Chrome is one of the best ways to block and remove ads on all websites from your browser. It is a content filtering and ad-blocking extension that also lets you prevent intrusive page elements such as advertisements from being displayed. You can even remove ad clips, banners, video pre roll, and many others using this extension.
Notable Features
Block ads, pop ups, and banners.
Zapper mode helps kill unwanted elements on any website with a single click.
You can analyze and edit website elements with picker mode.
One-click disabling of large media elements, pop ups, cosmetic filtering, javascript elements, and remote fonts.
Customizable ad-blocking settings.
Advanced dashboard with insights and statistics.
Whitelist websites that you trust.
Advanced privacy measures where you can disable hyperlink auditing, pre-fetching, CSP reports, and leaking local IP addresses via WebRTC.
Cloud storage support.
Pricing – Free
4. Ghostery
Ghostery enjoys over 100 million downloads worldwide. It has three main components – Ad-Blocking which blocks ads across all platforms, Anti-Tracking that prevents trackers from collecting your personal data and replaces it with random values, and "Never Consent" which tells website owners that the user doesn't want to be tracked.
Notable Features
Available as a tracker and ad blocker extension, as a private browser and as an independent search engine.
Keeps you free of tracking and profiling.
Send "Never-Consent" to website owners and tell them that you do not want to be tracked.
AI anti-tracking technology.
Enable or disable Ghostery with one click.
Has a "Private Search" mode where a search engine gives you unbiased results and detects and reports trackers.
You can add the "Private Search" as an extension in Google Chrome.
Available across all major browsers and devices.
Report broken page and submit tracker.
Some users have reported that when this extension is enabled few websites become broken.
Pricing – Free
5. AdBlock – best ad blocker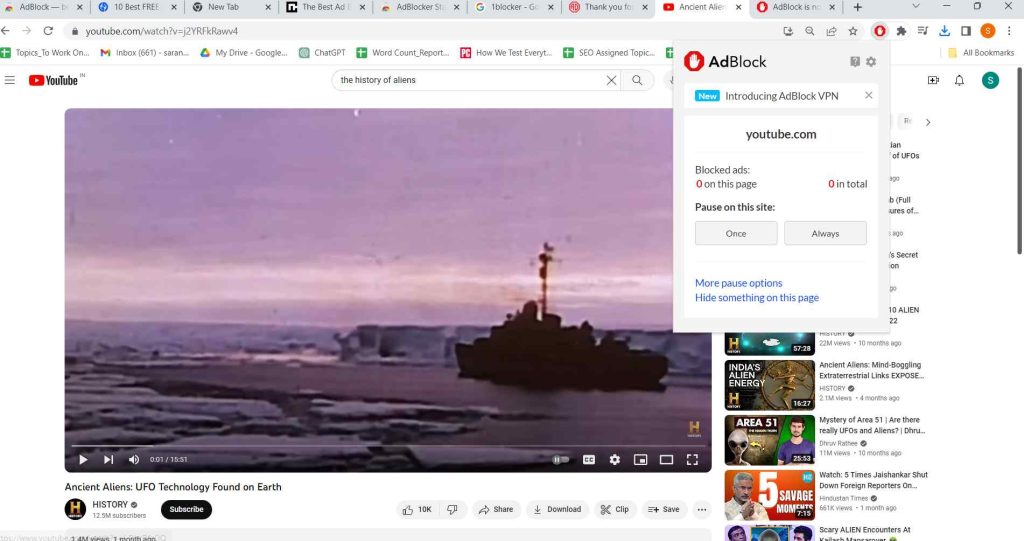 Want to enjoy a simple, safe, and ad-free browsing experience? You can get AdBlock, which is one of the best ad blockers on Chrome webstore. In our personal experience, it successfully worked the majority of the time, however, it was caught by some websites. But, nonetheless, it does block trackers from most of the websites.
Notable Features
Block ads, annoying banners, and popups from all major platforms like YouTube, Twitch, Facebook, etc.
Whitelist websites and sync them across all your Chrome profiles.
Replace custom ad blocking with pictures of landscapes, dogs, and landscapes.
Create custom ad-blocking rules.
Customize the experience with filters, dark mode and other colorful themes.
Block malicious ads that may contain malware or that may be cryptocurrency miners.
Improved page load time.
Prompt support from the customer support team.
Easy to set up.
May not work on some websites.
Pricing – Free
6. AdGuard AdBlocker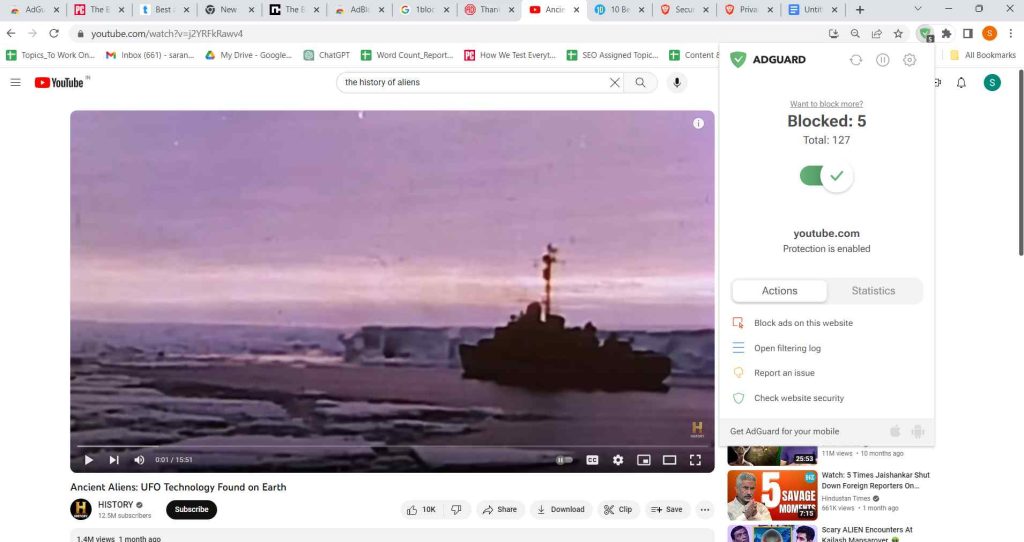 AdGuard AdBlocker does a decent job as an ad blocker for Chrome. It helps get rid of ads on all kinds of web pages including YouTube, Facebook, and others. It protects your personal data by blocking the online tracking system. It is a specialist when it comes to blocking crypto-jackers. To add an additional layer of protection you can also add open source filters like NoCoin.
Notable Features
Blocks all kinds of ads, even video ads.
It consists of over 10000 rules and has one of the largest tracker filter lists.
Immediately warns you if you visit a dangerous page or phishing website.
Blocks online tracking system to protect personal data.
Stealth mode helps protect identity and sensitive information by blocking popular tracking methods.
Ability to handle most adblock circumvention scripts.
Check the website safety of any website.
Get rid of unwanted annoyances and social widgets.
Select which kind of ads or elements you want to block on a websit
Occasionally blocks necessary pop-ups.
Pricing – Free
7. Privacy Badger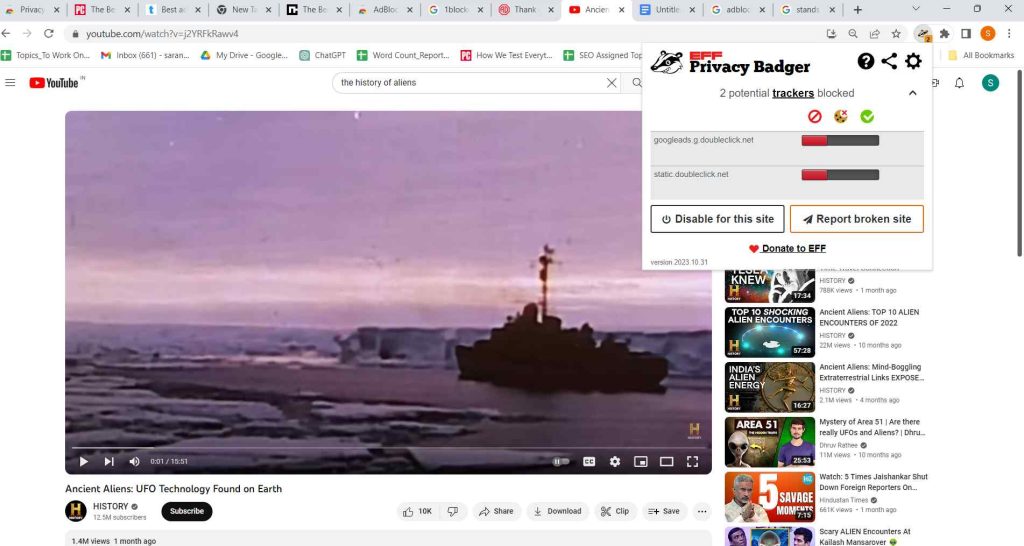 Privacy Badger is an intelligent ad blocker because first it automatically discovers trackers based on their behavior. It then sends them a signal to opt out of data sharing and selling and if the trackers ignore these signals, Privacy Badgers block them completely. It is also intelligent enough to discern malicious trackers from potentially useful trackers.
Notable Features
Sends do not track signals to prompt companies to not to track you.
Intelligently blocks trackers from companies that ignore the above signal.
Replaces potentially useful trackers with click-to-activate placeholders.
Informs you about potential trackers.
Various options to manage data.
Automatic tracker blocking.
Sends suspicious trackers three strikes and then blocks it.
Disable Privacy Badger on websites of your choice.
Also shows you the number of domains it has blocked from tracking.

Some users have observed that the browser crashes after installing the extension.
Pricing – Free
8. AdBlocker Stands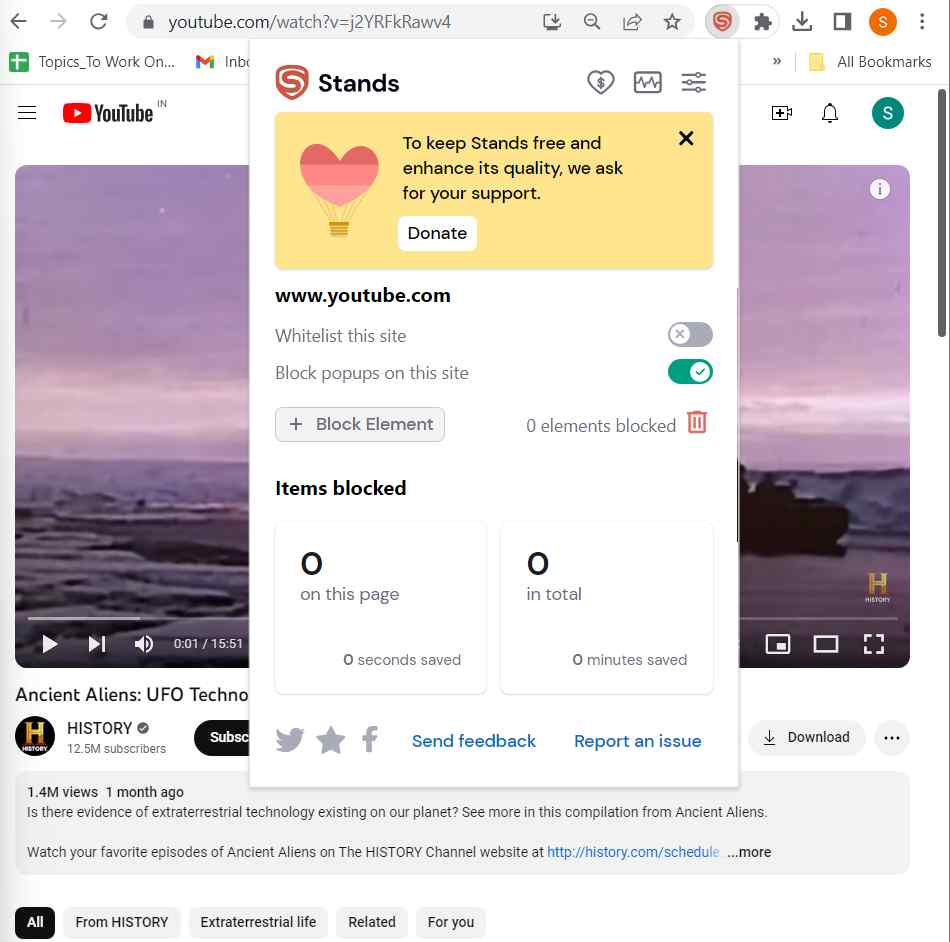 AdBlocker helps eliminate YouTube ads, annoying popups, ads on social media, and everything and anything that comes between you, your browsing experience, and your online privacy. It is an all-in-all ad blocker that removes annoying popups, ads, malware, and tracking. Plus, it also gives you historical data about the number of ads you have blocked over a period.
Notable Features
Gain complete grip on what you want to block – adware, trackers, pop ups, search ads, etc.
Check blocking stats in real-time.
Stop companies from selling data.
Reduces battery usage.
Whitelist a website with one toggle.
Block individual elements.
It even tells you how many minutes you have saved by blocking items.
Occasionally shows broken web pages.
Pricing – Free
9. uBlock Origin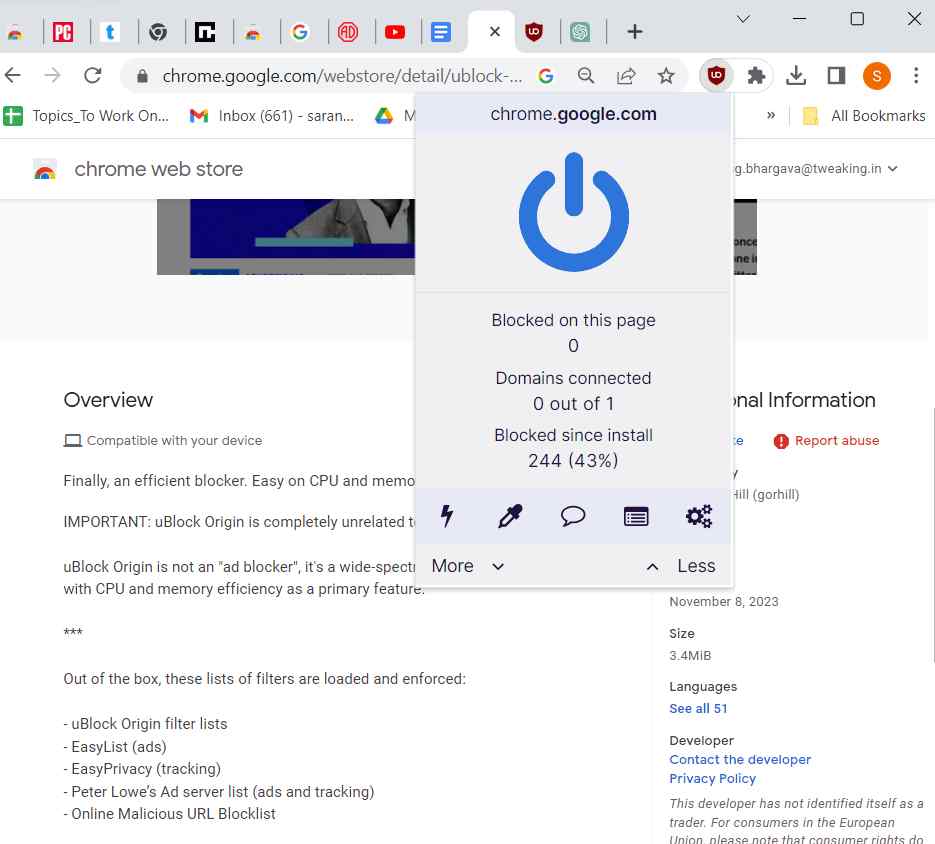 It is one of the best ad blocker Chrome extensions. It is efficient and light on your CPU and comes loaded with a host of customization options. However, as a normal user, the out-of-the-box features should just work fine for you and you will be able to block ads, trackers, etc from the majority of the platforms.
Notable Features
Comes with uBlock origin filter lists.
Block ads with EasyList.
Whitelist websites you want.
Block malicious URLs.
CPU and memory efficiency.
Create own global or local rules to override entries.
One-click enable/ disable.
You may need to refresh your browser once in a while to block ads on a page.
Pricing – Free
10.  AdBlocker Ultimate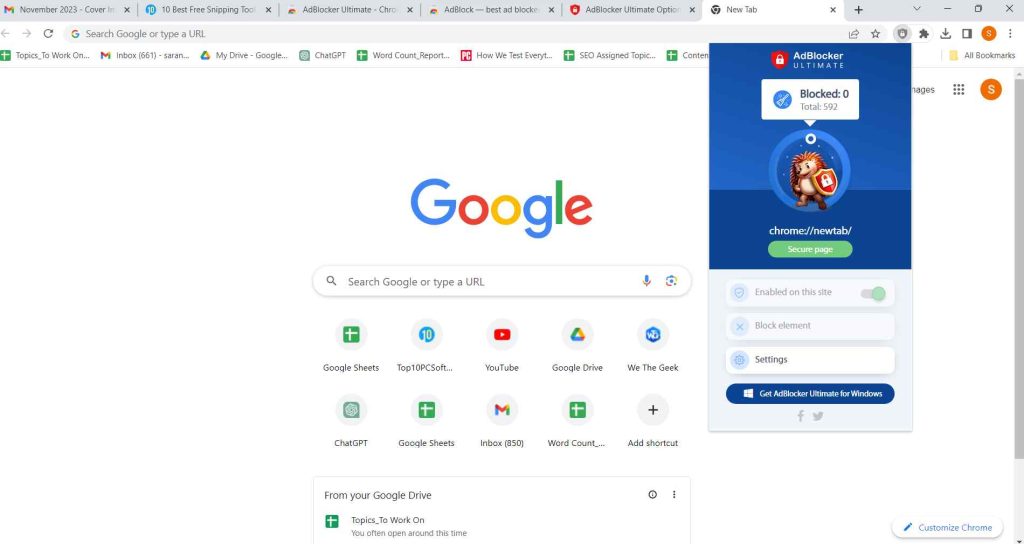 Last on our list of best ad blockers for Chrome is AdBlocker Ultimate which helps remove all kinds of ads so that you can focus and enjoy the content you are watching or reading. While it might not be as flashy as other ad blockers on the list, this simple ad blocker is powerful enough to thwart any tracking and also comes with a wide range of filters.
Notable Features
See in real-time how many ads or trackers are blocked.
Bypass anti-adblocker messages on some websites.
Comes with filters such as ad blocking, privacy, language-specific filters, security filters, etc.
Block individual elements of a webpage.
Enable a context menu so that a menu of actions can appear whenever you right-click on a web page.
Choose to show or not to show the number of blocked ads on each page.
Whitelist websites that you don't want to block.
On some webpages you may not be able to block individual elements.
Pricing – Free trial available. Pricing starts at $2.49/month
Bonus  – Brave Browser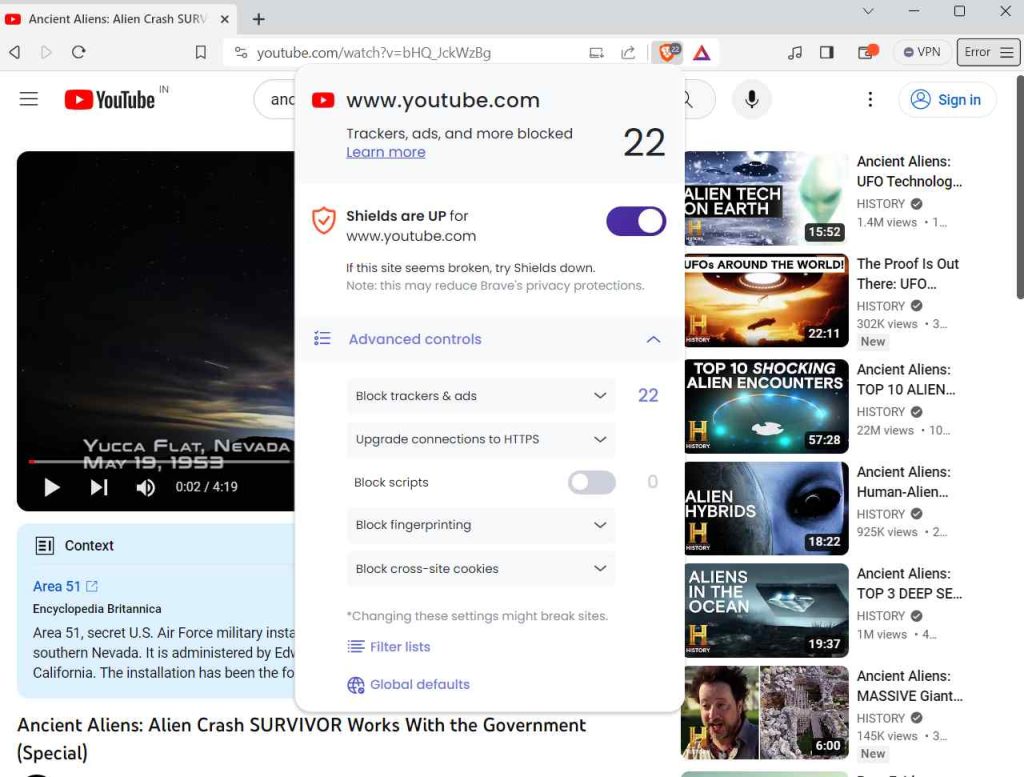 Last but not least we have Brave Browser. As the name suggests it is primarily a browser, however, it is known as one of the most privacy-centric browsers and brings along the feature of blocking ads. With it, you can even open blocked websites as well. Brave helps intensify your privacy with three layers – Brave Shields, Advanced protections, and Policies & practices.
Notable Features  
Blocks trackers and ads on websites you visit.
Comes with an integrated VPN.
You can quickly import bookmarks, extensions, and saved passwords from old browsers.
Check how many ads you have blocked in real-time.
Built-in IPFS integration, custom filter lists, onion routing with Tor, and many other security features.
Secure browser-native wallet for cryptocurrency.
Option to apply various content filters and even add custom filter lists.
Not a dedicated ad blocker as other ad blockers on the list.
Pricing – Free
Say Goodbye To Ads – Forever!
For a smooth ad-free experience, an ad and pop-up blocker is a handy utility to have. Not only does one such utility let you have a smooth browsing experience but it also safeguards your online identity and privacy. It's time to embrace an ad-free internet and take control of your online environment.
Which of the above ad blockers for Chrome is your favorite, tell us in the comments section below. For more such content, keep reading Top10PCSoftware.
Frequently Asked Questions
Q1. What is the best ad blocker for Google Chrome?
In this post, we have compiled a list of some of the best ad blockers for Google Chrome. Extensions like AdLock Multi-Device Protection and Adblock Plus can be considered as some of the best ad blocker Chrome extensions.
Q2. What is the best free ad blocker for Chrome?
Most of the above ad blockers are free of cost and for an average user out of the box features and filters may work just fine.
Q3. Is there a free pop-up blocker?
Yes, there are free pop-up blockers that automatically identify and remove pop-ups without charging any extra cost.
Q4. How do I stop pop-ups on my computer for free?
To stop pop-ups, ads, trackers, cookies, banners and other intrusive elements, you can install an adblocker utility.