For a designer who often has to juggle designs for magazines, brochures, blog posts, and websites, graphic designing software for PC is a must. The utilities instantly help you give life to your creative ideas in no time at all. Here are some of the best software for graphic designing for Windows 11/10 computers.
If you are someone who wishes to take creativity to the next level, and who intends to capitalize on graphic designing talent by entering the field, graphic designing software can be your best friend. That's because day in and out you'd be dealing with complex design requirements. Covers for blog posts, designs for magazines, brochures, coffee table books, infographics and so on and so forth. You might also have to play with text fonts or show advanced typography skills. Not to forget you might also have to display a keen eye for color detailing. That's just the tip of the iceberg. 
With a graphic designing tool on your PC, you can bring your creative ideas to reality and set an emphatic digital footprint. Wondering which tool to choose? We'll make the decision easy for you. Here is a list of some of the best graphic designing software for Windows 11/10 that industry professionals swear by. 
Top Software Reviews
Rating
1.

Adobe Photoshop

2.

CorelDRAW

3.

Affinity Designer

4.

GIMP

5.

Adobe InDesign

6.

Canva

7.

CyberLink PhotoDirector

8.

Adobe Illustrator

9.

Inkscape

10.

VistaCreate
What is Graphic Designing Software? What is The Need of a Graphic Designing Tool?
It is a computer program that is used by designers across various specializations – web designing, UI/UX designing, magazine illustrators, advertising graphics, the list goes on. Each of these specializations entails complex designing needs that a graphic designing utility on computer can help you fulfill. 
Wondering how the features of one such software can help you in graphic designing? Here are some of the common features that you'll find in most graphic designing tools – 
Multi-layer support for nondestructive editing. 

Flexible tools for creating and manipulating shapes. 

Wide range of brushes. 

A variety of vector tools for vector-based editing. 

Presence of templates that you can build-on to use in a particular project. For example, creating a layout of a magazine or in-blog post image. 

Ability to create text, images, and other objects from a 3D perspective. 

Many graphic designing software these days use the power of AI where, for example, you can furnish a text prompt and an image will appear based on that prompt.

Pixel level control for raster-based graphics. 

Functionality to export designs in various formats such as PSD, JPEG, SVG, PDF, PNG, etc. 

Various image editing features.

Integration with other software and support for various plugins.
Best Graphic design software for Windows 11/10
1. Adobe Photoshop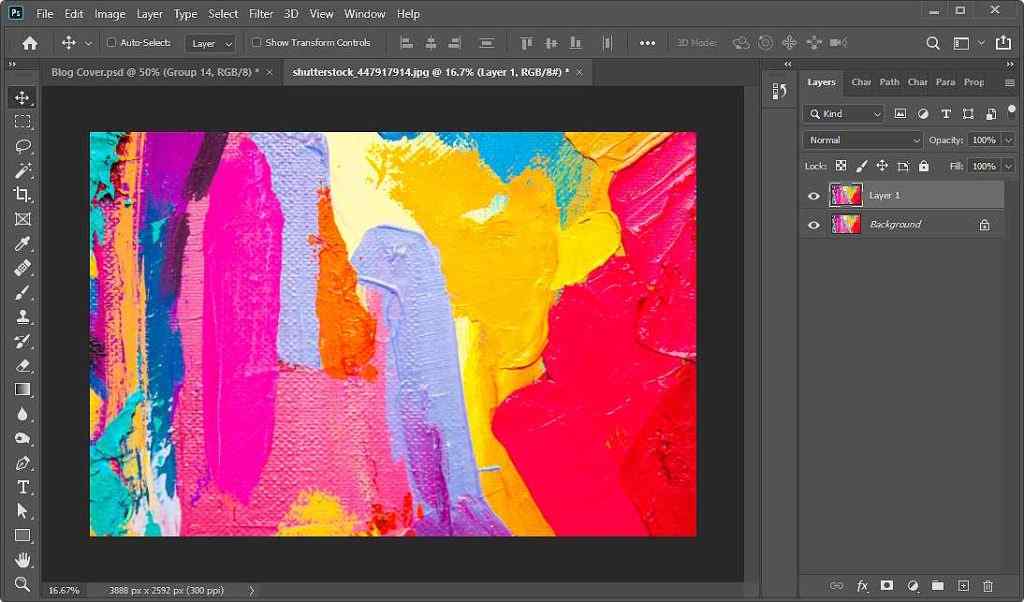 In the world of designing, Adobe Photoshop is a popular software. It is used by graphic designers, photographers, illustrators and anyone who has something to do with images. The latest version of Adobe Photoshop comes with a Neural Filters panel that lets you apply AI-powered filters to your images. Here are some of its notable aspects. 
Notable Features
Best-in-class photo manipulation and retouching tools. 

A variety of effects and filters. 

Layer-based editing for managing complex compositions.

Various customizable fonts and brushes. 

Integration with Adobe Creative Cloud. 
Can easily fulfill complex design needs.

Frequent updates ensure that you get the latest features. 

Availability of a variety of plugins. 

Availability of 3D tools and neural filters in the current version. 
The premium version could be on the expensive side and it does have a slight steep learning curve.

 
Pricing – Free 7-day trial. After that, pricing starts at $19.99/ month
2. CorelDRAW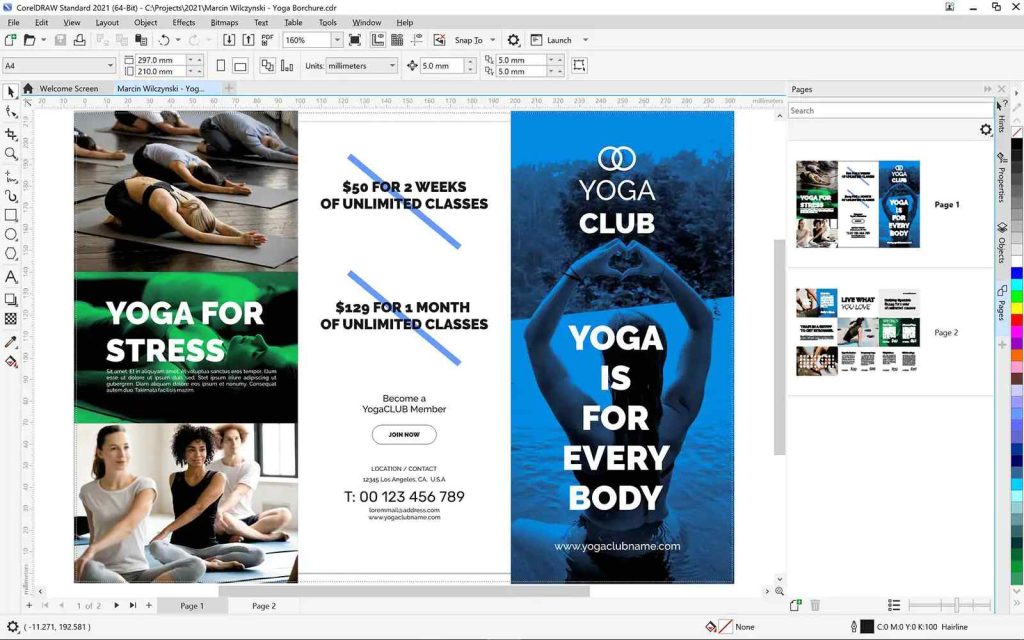 If your job entails making logos, illustrations, marketing materials or any graphics where you are required to create and edit vector graphics, CorelDRAW can be an apt choice for you. It is more proficient in dealing with images which are made of lines and curves instead of pixels. It also consumes less computer resources as compared to some of other competitors. 
Notable Features 
LiveSketch helps convert hand-drawn sketches to vector objects. 

Customize and create color palettes. 

The perspective tool helps create 3D objects. 

Adjust dimensions as per your design. 

Ability to create perfect layouts. 
Wide range of templates and fonts.

Perform versatile tasks – create logos, illustrations, and even design websites.

Support for multiple file formats.

Cloud-based storage.
Occasionally unstable and the interface can be confusing for a beginner. 
Pricing – 15-day free trial. After that pricing starts at $149.99/ year
3. Affinity Designer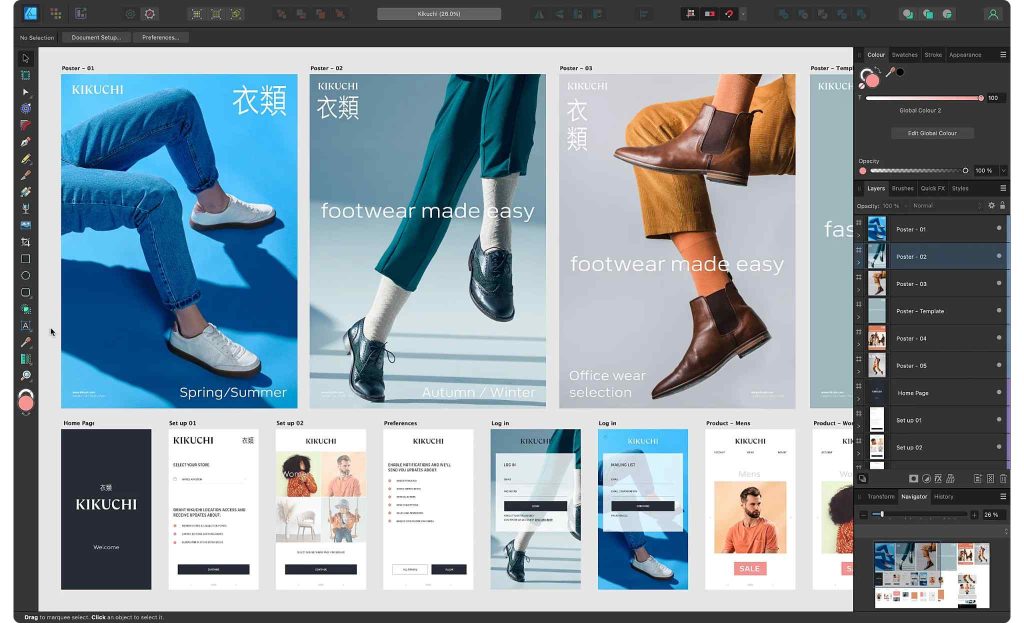 Affinity Designer is a renowned graphic editing and designing software that is a popular choice of web designers, game developers, graphic designers, illustrators, and any professional who has something to do with images. It can help you create impeccable creatives – high-quality concept artwork, logos, icons, UI designs, print projects, mockups, just to name a few. 
Notable Features 
Layout all your screens, menus and pages across unlimited artboards.

The Shape Builder tool lets you create and edit shapes by merging, subtracting, and dividing them. 

Sophisticated typography that can adhere to any path or flow. 

Vector warp allows you to warp or distort vector curves non-destructively.

Easily choose from and apply styles to objects using the Style Picker Tool.  
Also comes with raster editing capabilities. 

You can integrate it with other Affinity apps like

Affinity Photo

and Affinity Publisher.

Support for plugins. 

It is highly customizable – you can change the look and feel of the software. 
Pricing – Free trial available. Then, pricing starts at $69.99 (one-time payment)
4. GIMP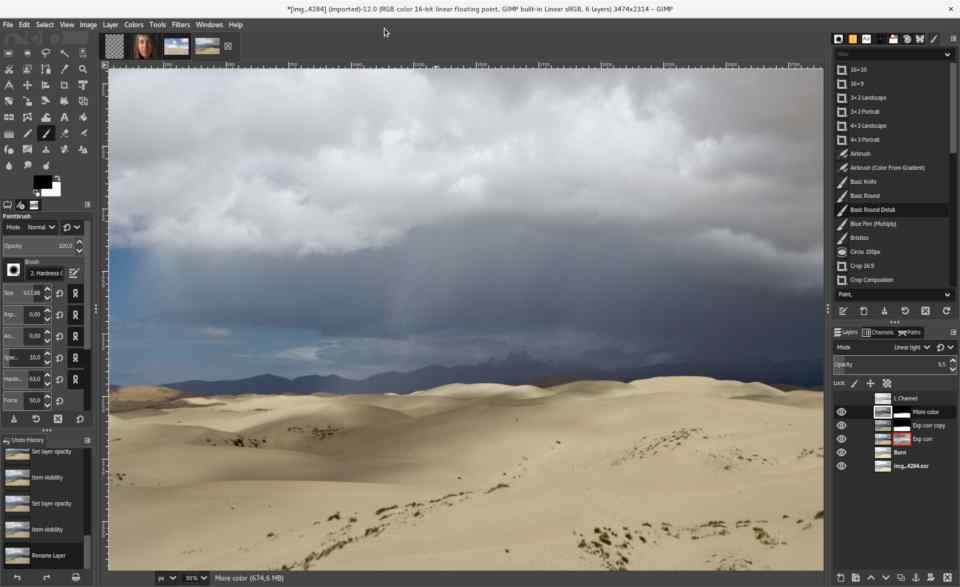 It is a free and open-source graphic designing software for Windows computers. It is more focused on creating and editing raster images that are made up of pixels. This means just like some other popular photo editing tools you can edit an image going pixel by pixel. One of the highlights of GIMP is that it is free of cost.   
Notable Features 
Nondestructive editing facilitates conducting changes while not affecting the original image. 

Availability of thousands of plugins. 

Multi-layer editing makes it easy to tweak different parts of an image. 

You can customize the interface as per your preferences. 

Advanced programmers can automate tasks by using Python language.

 
Free to download and use.

Not as resource-intensive as many of its competitors. 

It is open source, i.e. source code is available for anyone. 

Large and active community support. 
Users have reported that it becomes slow on larger images. 
Pricing – Free and open-source
5. Adobe InDesign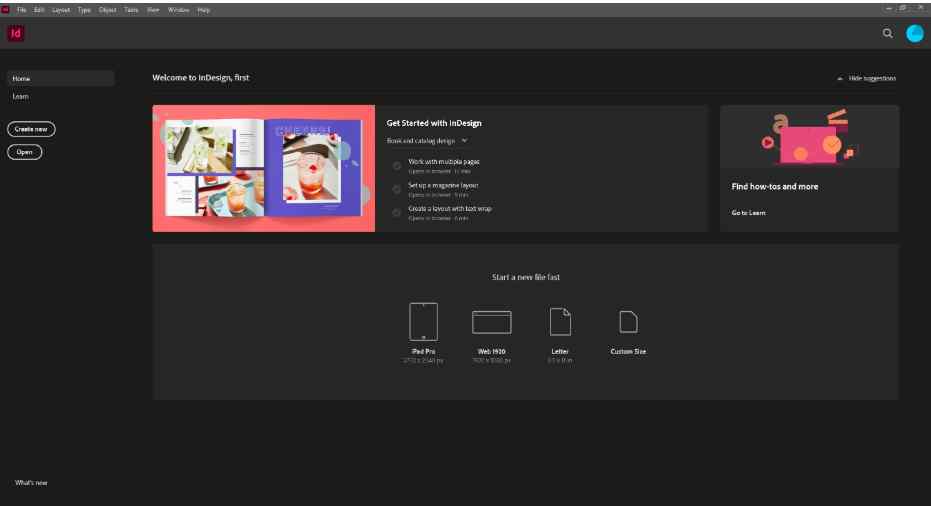 Are you in search of a graphic designing utility for Windows that can help you with creating attractive brochures, magazine layouts, book covers, or even attractive PDFs? If that's you, Adobe InDesign could just be the tool you are looking for. It has features like Master Pages, Object Styles, Tables, etc, that  can come in really handy. 
Notable Features 
Best-in-class typography with a wide range of tools to facilitate it. 

Add elements like videos, buttons, and forms. 

The preflight feature warns you of any problems that could stop your document from getting printed. 

Create designs that fit your device (responsive designs)

Easily manage the color of your layouts. 
Various collaboration tools with which multiple users can collaborate on the same project. 

Seamless integration with other products like Photoshop,

After Effects

, and Illustrator. 

Highly customizable. 

Support for a variety of file formats. 
Can prove to be a little resource-intensive and it is primarily layout software. 
Pricing – Free 7-day trial. After that, pricing starts at $20.99/ month
6. Canva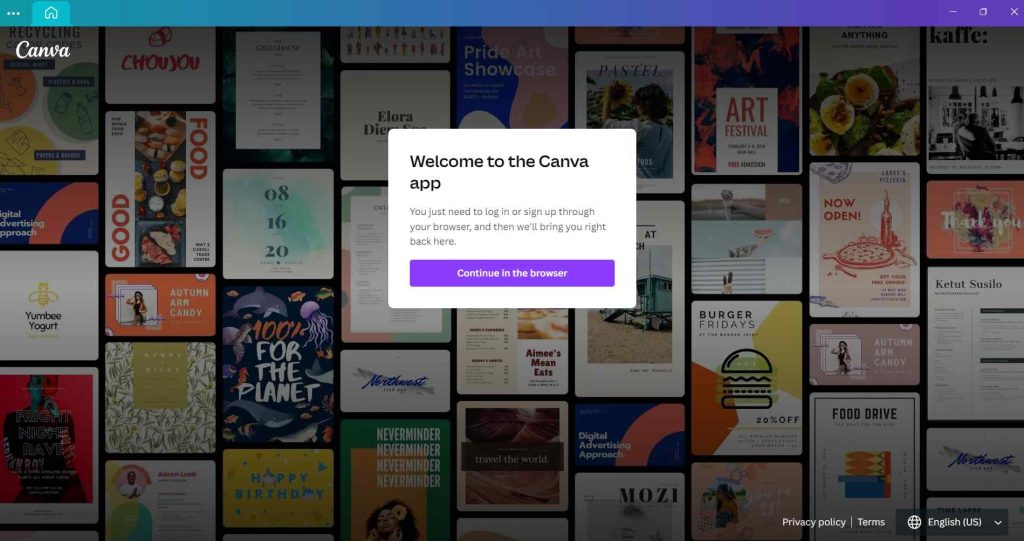 If you are a blogger and often have to make cover images or in-post graphics, you probably have heard the name Canva. What makes it a hit amongst users is the fact it offers several ready-to-use templates that you can customize as per your needs. The latest version of Canva also comes with the power of AI where you can generate images with text prompts. 
Notable Features 
Choose from several templates for projects. 

It comes with a huge asset library (over 2 million free and premium images, videos, and graphics). 

Add free effects on photographs to beautify them. 

Convert text to image using AI

Resize designs to fit any print size or social media platform. 
Export in high-quality formats. 

Share and collaborate with other users in real time. 

Extensive template library. 

Enhance image quality from within the interface. 
Some competitors have the upper hand when creating complex designs.
Pricing – Free for individual use. For commercial purposes, you can get Canva Pro at $119.99/ person/ year
7. CyberLink PhotoDirector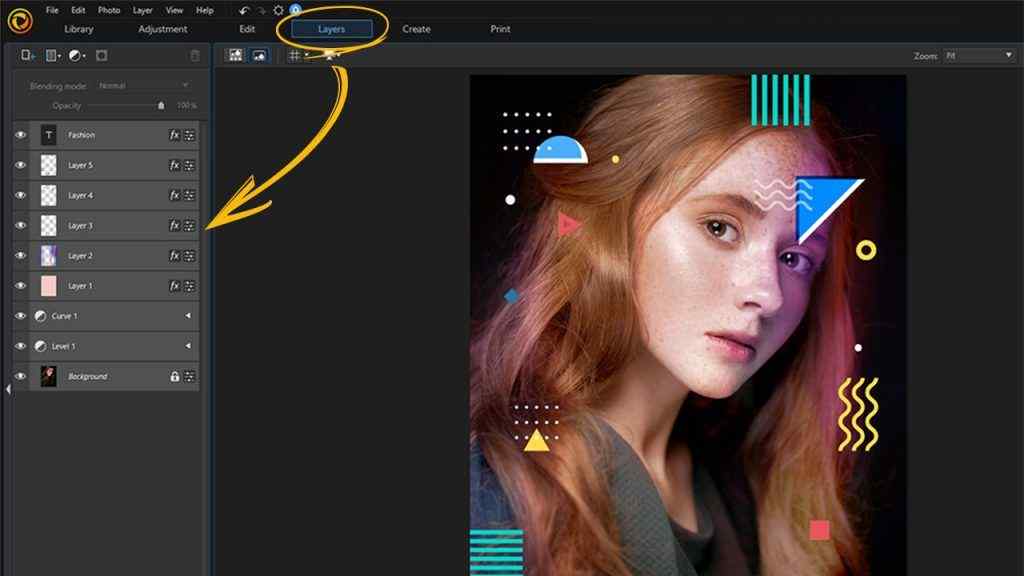 CyberLink PhotoDirector is a full-fledged photo editing tool powered by the goodness of artificial intelligence. The tool is designed keeping in mind the needs and requirements of both beginners as well as professional graphic designers. It comes packed with a variety of creative effects and can be used for retouching portraits, adjusting colors, creating visual compositions, and many others. 
Notable Features 
Enhance, denoise, upscale, and deblur images.

Multi-layer editing to make complex designs. 

Various effects such as bokeh, sky effects, etc. are powered by AI 

Easy color grading. 

AI-driven photo retouching. 
Various AI-driven tools. 

Face recognition. 

Remove people or objects easily. 

Professional LUTs can be used for color correction. 
Stock packs and designs are available in premium subscription. 
Pricing – Free trial available. Then, pricing starts at $3.3/ month
8. Adobe Illustrator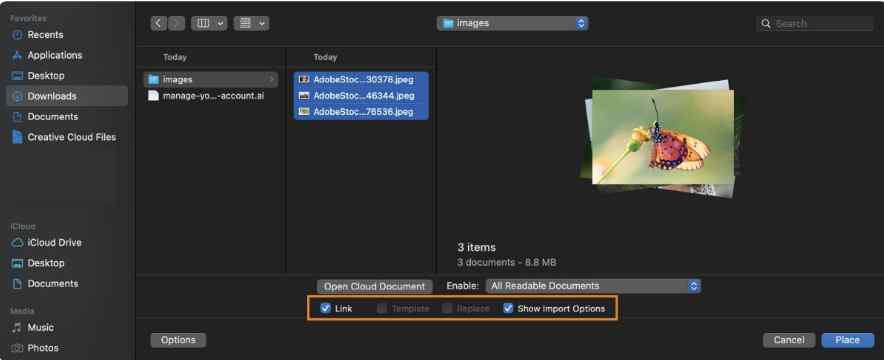 It is an industry-leading graphic design software especially popular for creating and editing vector graphics. Whether you intend to create social media posts, flyers, resumes, business cards, icons, or banners, you are likely to find a template that you can work on readily. You can even create QR codes if need be. 
Notable Features 
Easily manipulate shapes of objects with Shaper Engine.

Create smooth blends between objects. 

Inclusion of new tools like the Puppet Warp Tool and Shape Builder Tool. 

Various customizable fonts of varied different weights, attributes, and widths. 

Generative Recolor helps generate new color schemes. 
You can create impeccable vectors with precision. 

Features like layers, rulers, and guides account for efficient workflow. 

Various powerful typography tools. 

Easily collaborate with other users on projects. 
For 3D compositions you might find other competitors better. 
Pricing – 7-day free trial. Then $$20.99/ month
9. Inkscape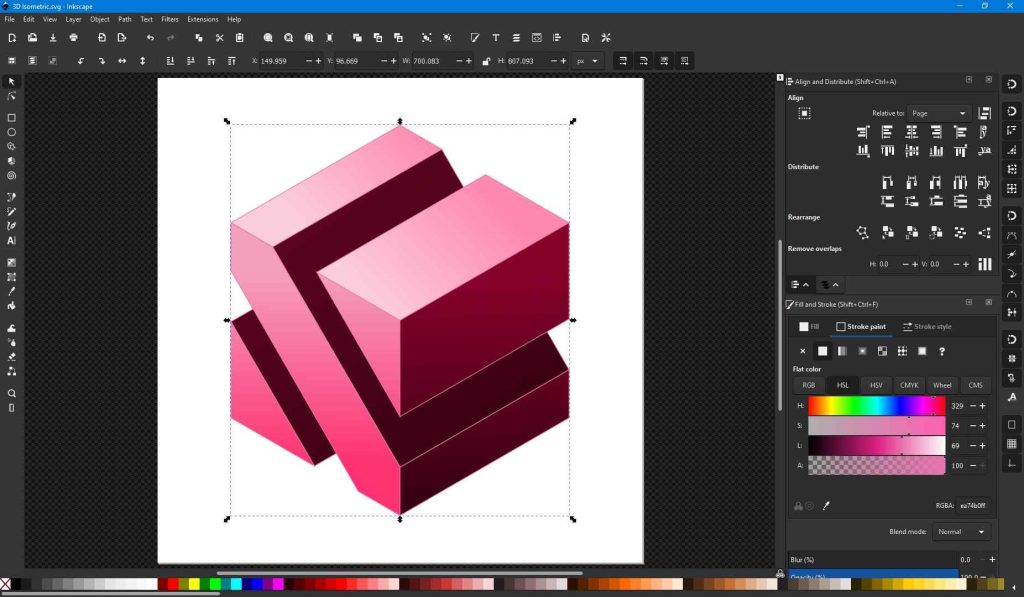 From object creation, and manipulation to its final rendering, Inskapce lets you do everything with finesse. It is well compatible with all major file formats and offers an easy-to-use interface though beginner designers may take some time to get accustomed to it. 
Notable Features 
Drawing tools are flexible. 

Spiro and bezier curve tools. 

Get total control over colors. 

Easily group objects. 

Tools to create patterns.

 
Support for all major file formats. 

Copy/ paste style fill and stroke. 

Multi-line text support. 

Boolean operations are also present. 
Not as frequently updated as some other competitors. 
Pricing –  Free and open-source
10. VistaCreate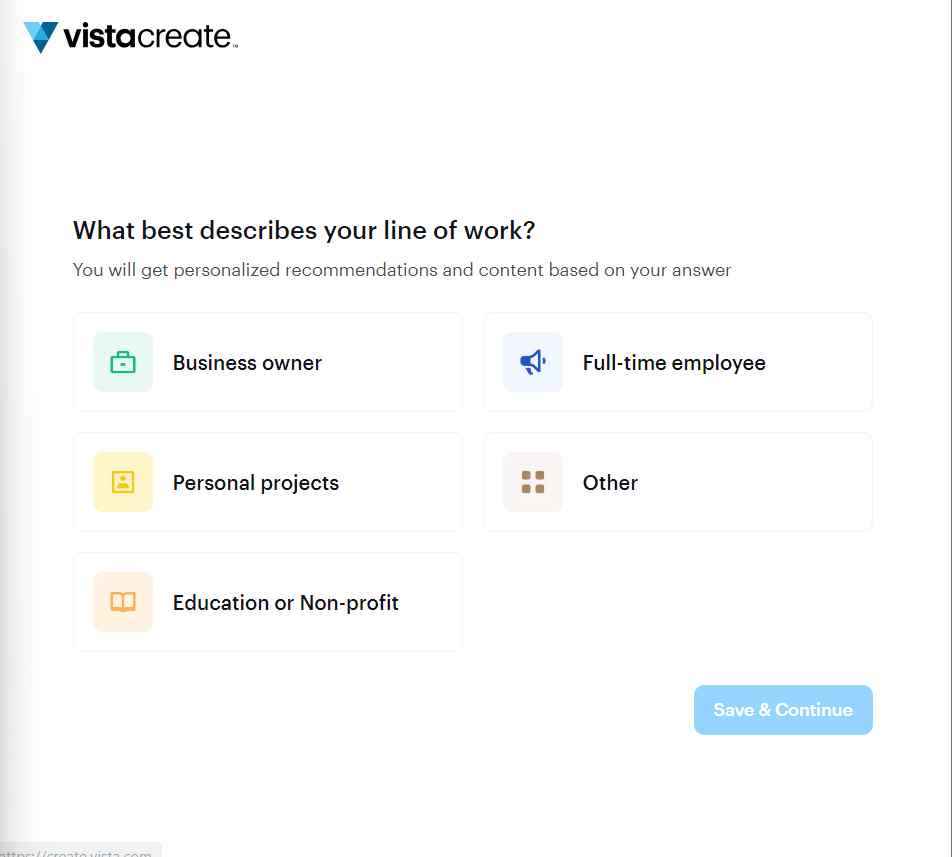 It is one of the best apps for graphic designing available for mostly free. We'll also recommend it for beginner users as the interface can help you learn the basics of graphic designing. It comes with thousands of templates that you can choose and work on. You can then adjust the templates based on the needs and requirements of your project. Here are some of its notable features. 
Notable Features 
Over 100 thousand design templates available for free. 

Several colors, logos, and fonts. 

You get 10 GB of storage for storing files and projects. 

Background removal (pro feature)
Schedule posts for social media at your desired time. 

Resize the design as per your project format (pro feature).

Easy collaboration with co-users. 
Not as feature-rich as many of its competitors. 
Pricing – Free trial available. Then, pricing starts at $10/ month.
Elevate Your Design With These Graphic Designing Software
To compete in the world of digital creativity and take your imagination to the next level, graphic design software can be a game changer. With the above-listed best apps for graphic design, you won't have any difficulties making the PC your canvas and you'll easily be able to showcase exactly what's there on your mind in your designs. 
If a graphic designing tool is part and parcel of your workflow and you have a favorite which has not been mentioned in the list, share it with us in the comments section below. For more such content, keep reading Top10PCSoftware. 
Frequently Asked Questions
Q1. Which software is best for graphic design for beginners?
All the software we have listed above are great for graphic designers regardless of their skill level – whether they are beginners or professionals. Most of these utilities also have comprehensive tutorials in place with which a designer can get started and gradually gain proficiency. 
Q2. What can I use for free for graphic design?
Most of the above graphic designing software offer trial versions with which you can start for free. Some examples include GIMP (which is completely free), Canva, and Photoshop.
Q3. Is Canva design free?
Yes, Canva's most features are free. However, there are some additional tools that you can use after subscribing for a premium i.e. Canva Pro variant.