Though expensive, Stellar Data Recovery gives impressive results. If you have irreplaceable data that you cannot afford to lose, try using Stellar Data Recovery. This versatile app uses an advanced scan engine to recover lost data and will not disappoint you. However, if you have any doubts in mind try using the trial version. If you find it the right tool, buy the full version. You won't regret investing in this data recovery tool.
Introduction – Stellar Data Recovery Software
Stellar Data Recovery Windows Professional is a solid tool to recover lost or deleted data. Using this hard drive recovery tool, you can easily recover any type of valuable data. As the name explains, this Windows data recovery software is offered by Stellar, a company known for its recovery tools.
The Stellar Data Recovery tool is compatible with the Windows 10/8.1/8/7/Vista and older versions. This means you can recover data from any Windows version. Moreover, this tool helps recover data from crashed and unbootable drivers. All this and more that we will know about as we read further what makes Stellar Data Recovery, one of the best data recovery tools.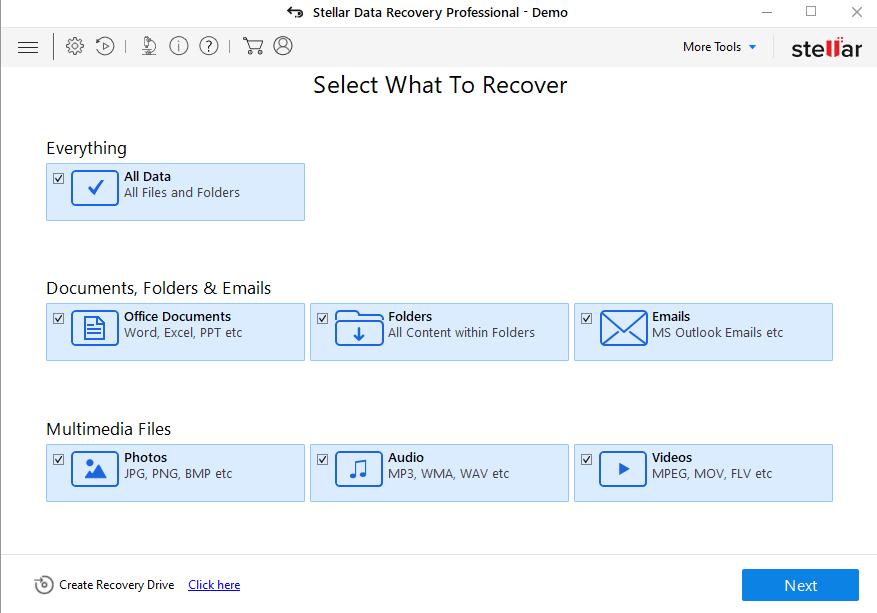 Regular updates, 5 variants to select from, easy to use interface, advanced data recovery options to quickly recover data, file preview option, save and resume scan, and more such options make Stellar Data Recovery an incredible tool.
Using this tool is very simple, once the data recovery tool is installed, you need to select file type > Next > choose the location to perform Quick or Deep Scan > Next > select files to recover from scan results, save to the desired location and that's all.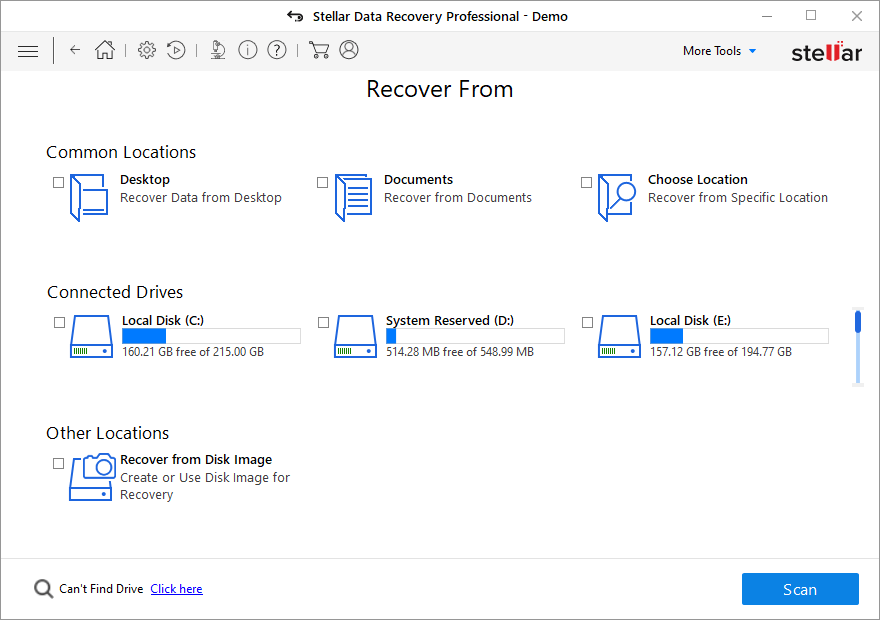 A Brief Overview: Stellar Data Recovery For Windows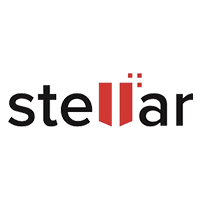 Download Here
★★★ Best Stellar Data Recovery Software Review : Best Data Recovery Tool for Windows ★★★
Starts from
$
79.99
per year
Advanced Partition Recovery
Detailed Sector-Wide Scanning
Filters For Accurate Results
Recovers data from any storage device
Scan to Recover Any Type of File
Scans External Drives & Cards
Data Recovery & Protection
Guaranteed Recovery Features
Rescue For All Data Loss Situations
Pros:
Intuitive User-interface
Different scan types: Quick and Deep
Preview files before recovering
Recover data from almost all storage devices
Filter out specific results
Recover data from crashed Windows system
No-Risk, Money-Back Guarantee
24*5 Customer Support
Top 5 Alternatives Of Stellar Data Recovery Tool
Provider
$ Per Year
Top Features
Now that we have a brief idea about Stellar Data Recovery let's talk more about its features: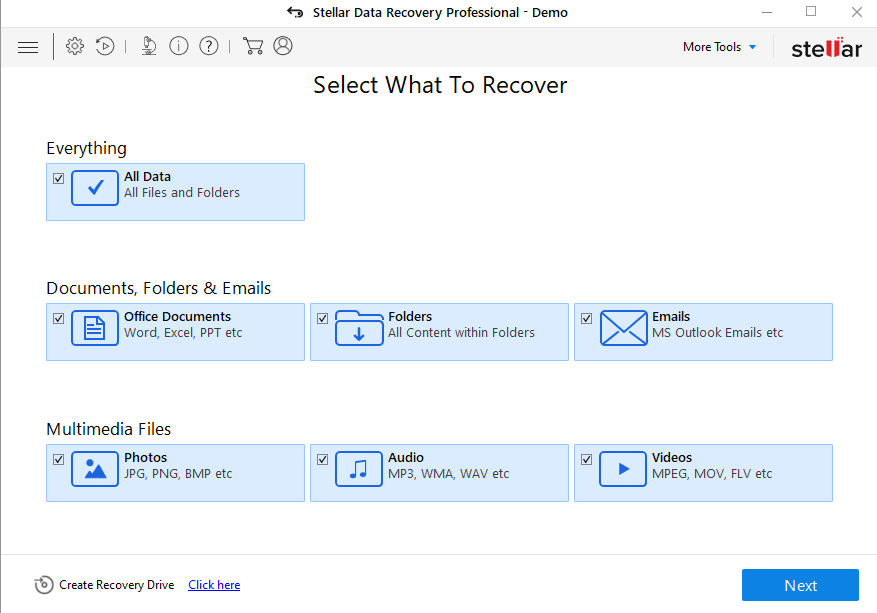 If you are Pro, you can select Recover from Disk Image. This way, you can create an image and save information on another drive. You can recover data some other time while formatting the original drive.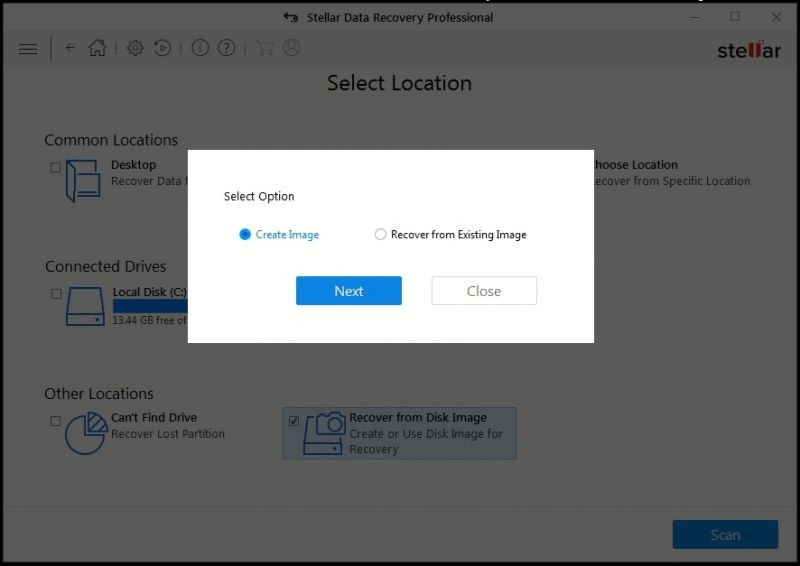 The interface of this recovery utility is very simple. Its initial screen takes you through step by step procedure. As the first step, you'll need to select what data you want to restore like documents, photos, videos, etc. If you are not sure about the data type, select the All Data option as it is the safest bet. Once selected, choose the location to look for deleted or lost data. You can either select the hard disk partition or can select External Drive, SSD listed under Other Locations.
If you are Pro, you can select Recover from Disk Image. This way, you can create an image and save information on another drive. You can recover data some other time while formatting the original drive.
You can create disk images of SSD, HDD, pen drive, external storage, and SD cards. This way, you can retrieve data from the memory card and can use it when you want. This is one of the most outstanding features of Stellar Data Recovery.
In 3 simple steps, you can recover all your lost and deleted data that can be recovered. Isn't this simple?Tip: If you want to increase scan speed, Turn Off Preview.
Key features offered by Stellar Data Recovery are extraordinary. In simple words, we can say these are the features everyone looks for when searching for a hard disk data recovery tool.
.Recover any file format – Stellar Data Recovery tools help recover all data types from any disk partition or formatted drive. Whether you are using NTFS, FAT, exFAT, or any other type of drive you can recover data.
Recover data from missing partitions – This hard drive data recovery tool finds and locates missing partitions on the drive. Once you run a deep scan to find all the missing or accidentally deleted.
Recover lost or deleted email files – Select Emails under Documents > Files & Emails and recover all types of the deleted email be it PST, DBX, RDB, or any.
Recover deleted photos, videos, audio files, etc. – Scan any Windows-based storage to look for lost or deleted media files. You can choose specific types to reduce time and easily retrieve deleted media files.
Recover data from crashed Windows system – Stellar Data Recovery creates bootable media to recover deleted data from crashed Windows PC or the system that fails to boot.
Disk Imaging – This data recovery tool recovers data from hard drives with bad sectors. This means you can create an image of the entire disk and can retrieve deleted data.
Preview file before recovery – Before you click on the Recover button, Stellar Data Recovery gives you an option to preview files and decide if you want to recover them or not.
Optical Media Recovery – Using this option, you can recover data from partially burnt or damaged optical discs.
Smart drive monitoring and cloning – This add-on feature helps track temperature, hard disk performance, disk health to avoid data loss due to disk failure.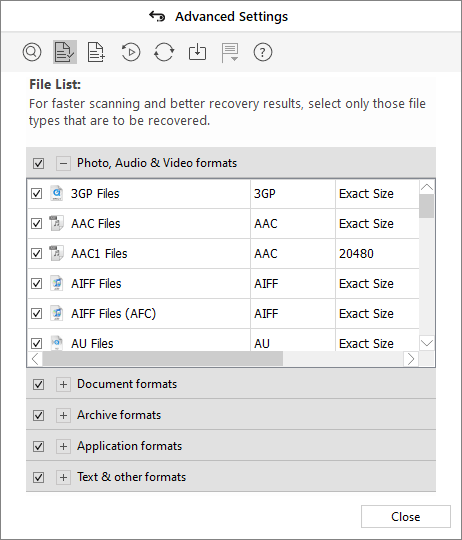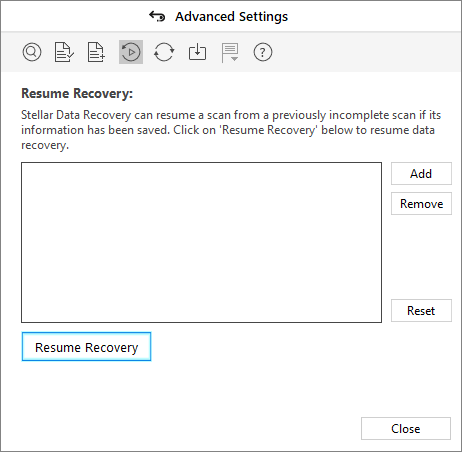 Every tool should be updated promptly. If a company fails to update its tool, this means they are not competitive and the tool will never be compatible with the latest operating system. With Stellar Data Recovery, you'll never face this problem as this hard disk data recovery tool thinks ahead of time.
Not only this, the company understands a tool with glitches and bugs cannot ever give great results. Therefore, the team works rigorously to update products as an outdated tool behaves differently and leads to system crashes.
Moreover, you don't need to download product updates manually, as they are automatically installed in the background when you are connected to the Internet.
Professional

Stellar Data Recovery Professional Recovers Deleted Data, Photos, Videos, Email etc

Premium

Stellar Data Recovery Premium Recovers Deleted Data & Repair corrupted Photos, Videos

Technician

Stellar Data Recovery Technician Recovers Data from all drives, RAID + Access All Premium Features
Most commonly Stellar Data Recovery license is valid for only one machine. However, for IT professionals tool kits are available. In this area, Stellar Data Recovery is more expensive than others. You can buy any of the three plans at:
The cheaper version i.e. Professional is the one that we liked most as it won't burn my pockets that much. The only drawback is its inability to recover files from RAW storage.
The company offers a free version so that you can try and see if the product works as it claims. Once you are okay with it you can go with the paid version.
What's more, the company offers 30 days money-back guarantee, 24*5 support, live chat support, and more.
Another important factor that needs to be considered is Speed. If the tool that you are using takes hours to finish a task then it is of no use. While using Stellar Data Recovery, I never faced any problem with speed. This tool works amazingly fast and gives thorough results. It's not that Quick scan only will give faster results, the Deep Scan tool works the same way.
Stellar Data Recovery is a fast and efficient data recovery tool. Even when you are scanning a large disk partition this tool doesn't take much time.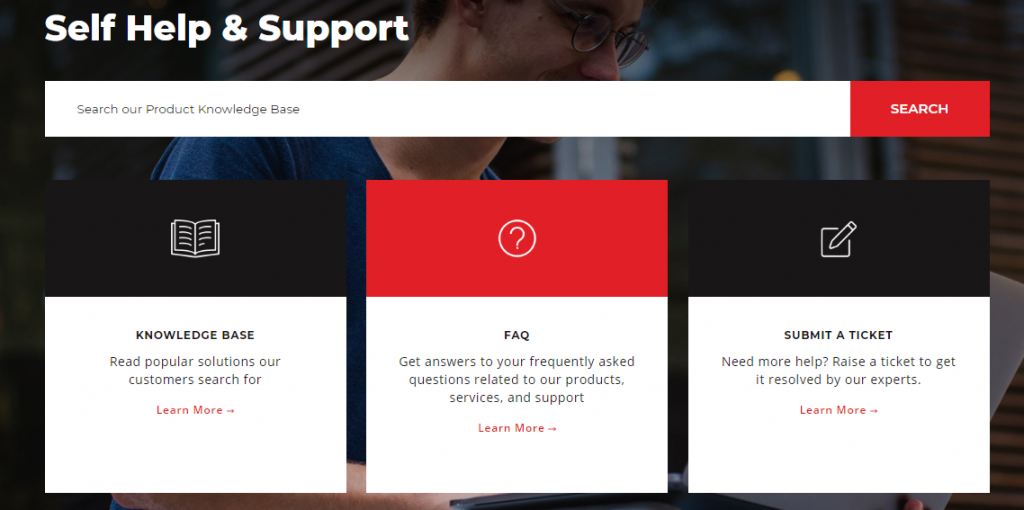 To know how good a brand is and how much it values its customers reach out to its support. If a company offers live chat, it means they know their product well and are ready to give a quick solution. Unlike some companies that only offer Email support Stellar offers both email and live chat. This means without wasting any time in sending and replying to emails, you can get instant resolution via chat. This is one of the strongest points of the Stellar Data Recovery tool.
Check out the customer support for Stellar Data Recovery that are as below:
How To Use Stellar Data Recovery Tool
Using this tool is very easy. In just three simple steps, you can use it and recover deleted data.
To use the tool, follow the steps below:
Download and install the Stellar Data Recovery Tool.
Once installed launch the product.
Next, select the File type. If you have any doubt, go with the All Data option and click Next.
Select the folder location or drive that you wish to scan for deleted data.
After this, click the Scan button. Wait for the scan to finish, won't take long.
Upon scan completion, you will see a list of files that you can recover. Preview them and then select the files you want to retrieve.
Click Recover to begin the process.
This way, you can easily recover all your lost or deleted data.
Note: If you have performed several operations or reinstalled Windows after deleting data chances of data recovery decrease. However, using Stellar Data Recovery, you can recover maximum data.
Frequently Asked Questions
Q1. How much does data recovery usually cost?
Data recovery can be a crucial process for a user so investing in good software is needed. Stellar Data Recovery offers different versions of the software so the user can choose as per their requirements.
Q2. Is Stellar Recovery free?
Stellar Data Recovery provides you with an option of a free edition wherein you can recover upto 1GB of data. Paid versions provide you with more powerful options to scan and recover the files for your system.
Q3. Is Stellar Data Recovery legit?
Yes, Stellar Data Recovery is a legit data recovery software. You can use the Stellar recovery reviews to find out if that is the one for you. Although there are several software available for the data recovery process, this one stands among the top tools.
The Final Verdict
Stellar Data Recovery is the most reliable and secure data recovery tool I have used so far. Its ease of use, user reviews, money-back guarantee, customer support, timely updates, and more are outstanding. The only drawback is its price but once you see how good this product is, you won't regret purchasing it. This data recovery tool is worth the investment.