MiniTool Partition Wizard is an all-inclusive tool to organize and analyze Partitions on your hard drive so that it can reach its best performance. MiniTool Partition Manager also lets you measure your hard drive's performance in a hassle-free format. In this MiniTool Partition Wizard review, we will find out if it is worth the hype.
What Is MiniTool Partition Wizard?
When it comes to managing disk Partitions, the name of MiniTool Partition Manager is often taken. If you compare it with Windows's disk management tool, MiniTool Partition Manager offers several features. It doesn't just help you manage Partitions but even helps you become prepared in case the need arises to recover Partitions or when there is a need to change file systems.
MiniTool Software Ltd. the makers of MiniTool Partition Wizard have already delivered some great tools related to backup, data recovery, video editing, etc. The products get more than 15 million installs every year and the company enjoys a userbase spread in over 190 countries.
Pros:
Migrate OS to SSD or HDD

Easily converts disk or partitions

Data recovery from virus attack or system failure

Creates WinPE bootable media

Disk manager
Cons:
No support for dynamic disks
Reasons To Choose MiniTool Partition Wizard –
Create/ merge/ delete/ format/ resize/ copy/ move Partitions.
Analyse disk space and manage files easily.
Recover deleted data and deleted partitions.
Convert file system when needed.
Convert GPT to MBR disk.
Starts from
$
59
per year
Convert dynamic disk to basic
How To Use MiniTool Partition Wizard Free?
Let's get you started with the tool by demonstrating how to Copy Partition Wizard. This feature copies everything that you have on one partition onto another. The best part here is that there is no data loss. In a way, it is better than directly copying files as copying partition saves time. Now, that you have an overview, let's get down to the steps of how to use MiniTool Partition Wizard and copy data from one partition to another –
1. Download, run and install MiniTool Partition Wizard.
2. From the left-hand side of the main interface, click on Copy Partition Wizard under Wizard.
3. Click on Next.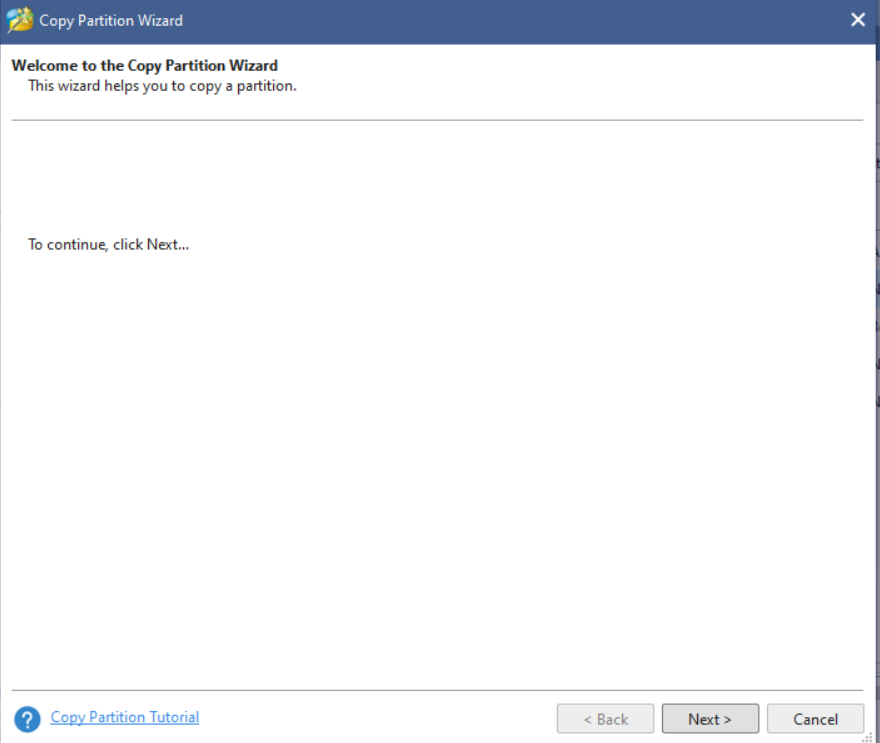 4. Select the partition you want to copy.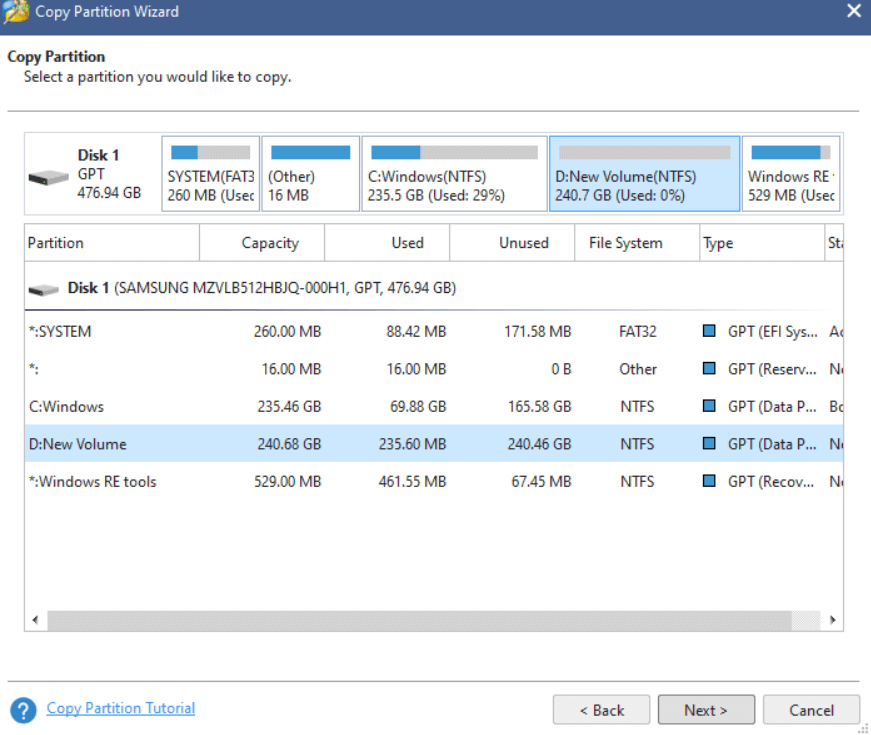 5. Select an unallocated space from the partition where you will copy your source partition and click on Next.
6. Tweak the handle to shrink or enlarge the partition or type the exact partition size in MB. you can even change other settings as per your liking.
7. Click on Apply to make changes.
Although slightly primitive, MiniTool Partition Wizard Free 12.6 has a neat and clean interface, something that can be of great benefit if you are a beginner at disk Partitioning tasks. You can even change the view as per your convenience and taste.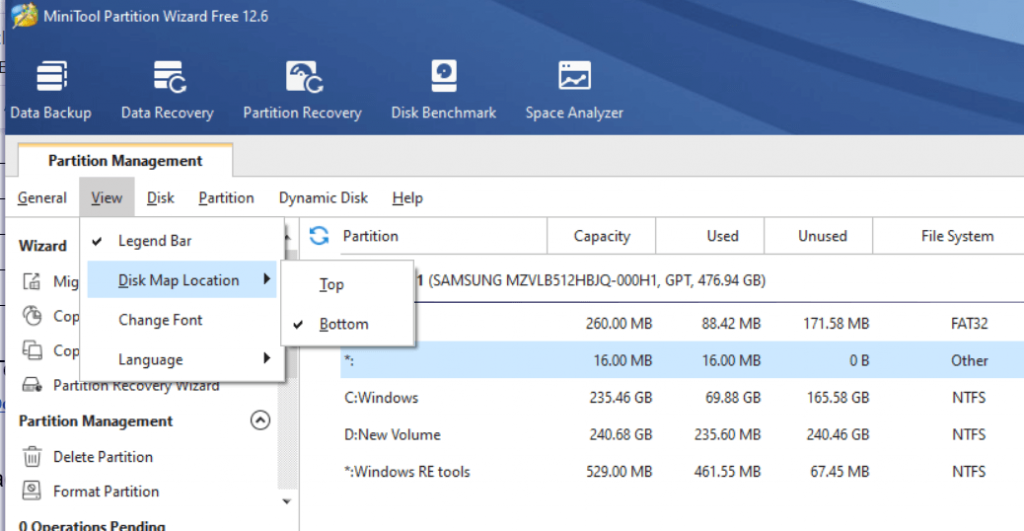 Quite true to its name, whenever you click on any option on the left-hand side, a Wizard opens which guides you through each step. And, even asks you before you are about to take a step.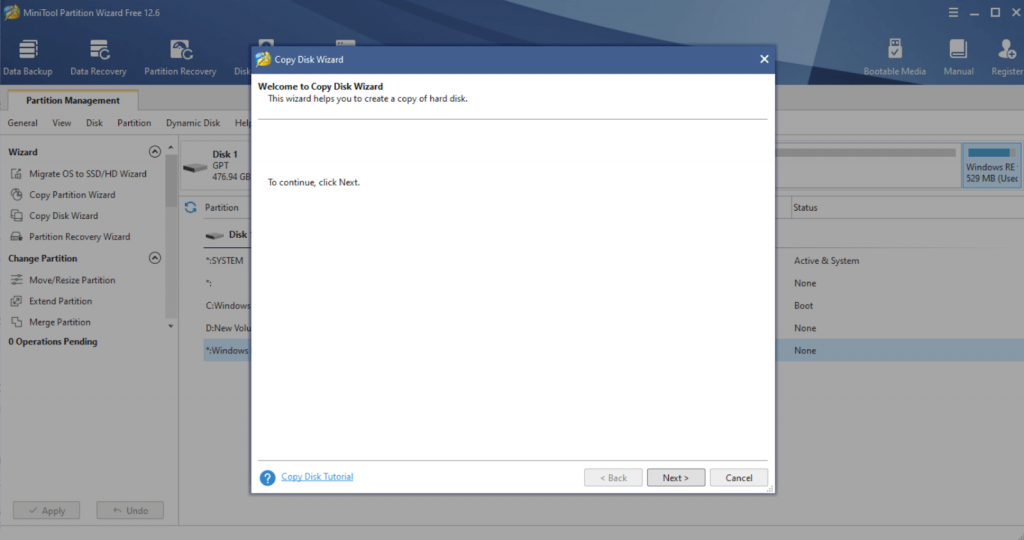 On the right, you can right-click on a disk or its sub-drives and see more options.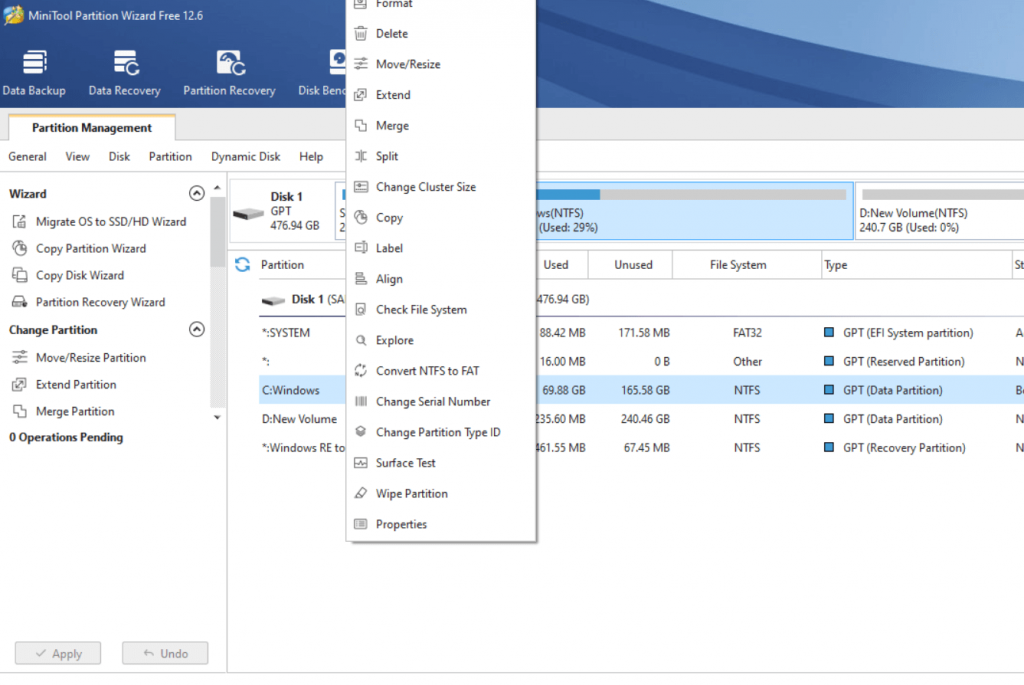 "Partition Management" being the prime task, on the left-hand side, you can see all the options related to Partition Management. But that's not all – on the top you can see options for Data Backup, Data Recovery, Partition Recovery, Disk Benchmark, and Space Analyzer on the left-hand side, while towards the right you can see options for Bootable Media builder, manal, and option to register.
1. Migrate OS To SSD or Hard Drive
Transferring OS to an SSD or another HDD may result in better performance. For instance, you will observe a faster read and write speed and even processing as well. MiniTool Partition Wizard lets you do this with utmost ease. Here you have two options – you can either copy all the Partitions on your system disk to the intended hard disk. Or, you can copy the system-required Partitions only.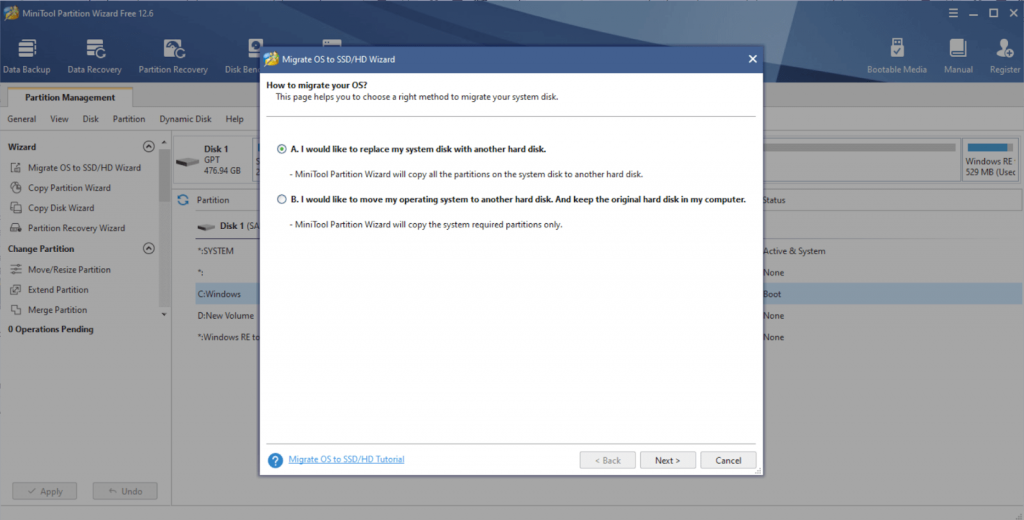 2. Change Partitions
There are multiple operations that you can perform on the Partitions on your disk. You can move, resize, extend, merge, delete, format and copy. MiniTool Partition Wizard for Windows also lets you convert file system (e.g. FAT 32 to NTFS) if it is required during merging.
3. Easy File Management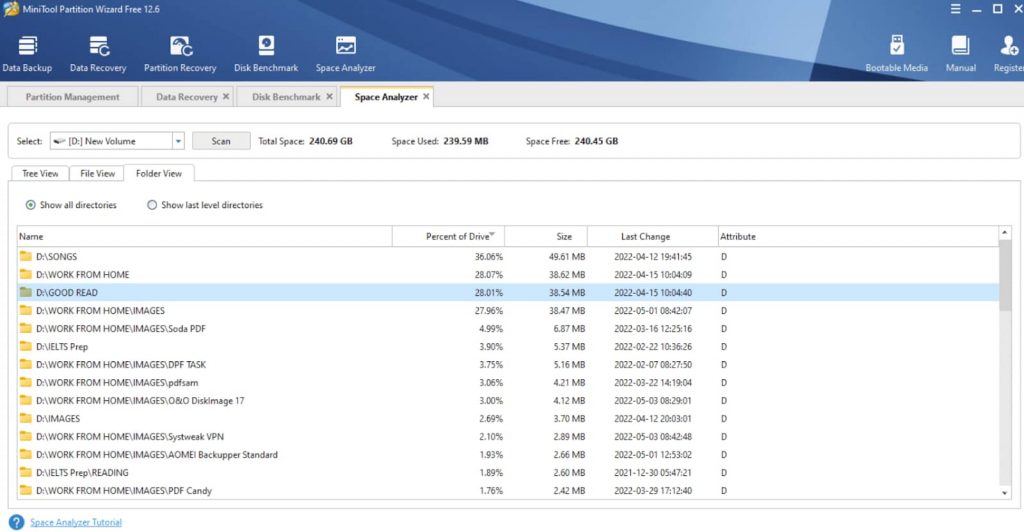 Wondering where your precious storage space is going? Confused about which files to keep and which to remove? The Space Analyzer feature can let you do all that with precision. So much so, that you needn't open your Windows own File Explorer. First, you can watch your files in tree, file, and folder view. Then, you can preview files and remove them. Here you can even filter the most space-hogging files and decide whether to keep them or remove them.
4. Wipe Disk/ Partition
In an event when selling your computer or when removing everything from a computer when handing it over to a new user, you can wipe disks and Partitions so that the next user won't be able to recover data even after using a data recovery utility. Here MiniTool Partition Wizard can help you do just that with ease.
5. Partition Recovery
Mishaps are inevitable. For instance, in an event of a system crash, a virus attack, or even because of a mistake, you might lose an important Partition on your computer. The premiums of Partition Wizard, namely – the MiniTool Partition Wizard Pro Ultimate and Pro Platinum even offer Partition recovery.
To wipe a disk, select the intended disk and then select Wipe Disk under Clean Disk from the left-hand side.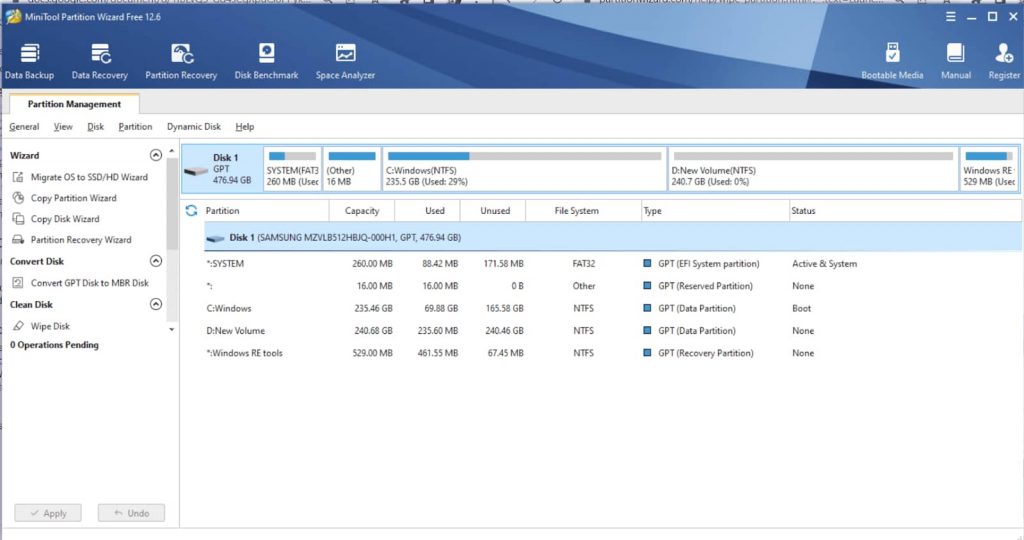 To wipe a Partition, select a Partition of the disk, right-click on it and select Wipe Partition.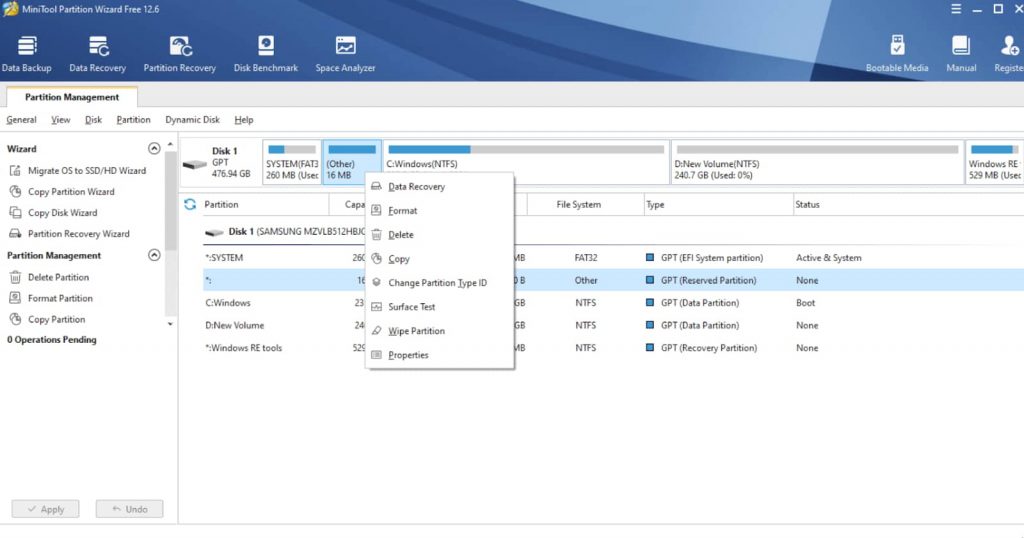 6. Create A Bootable Media Builder
With MiniTool Partition Wizard Pro Ultimate and Pro Platinum you even have the facility you can create a bootable media which independent of the operating system. With this you just need the bootable media to perform tasks like rebuilding the master boot record, in case your friend's or colleague's PC has got bricked, checking the file system, etc.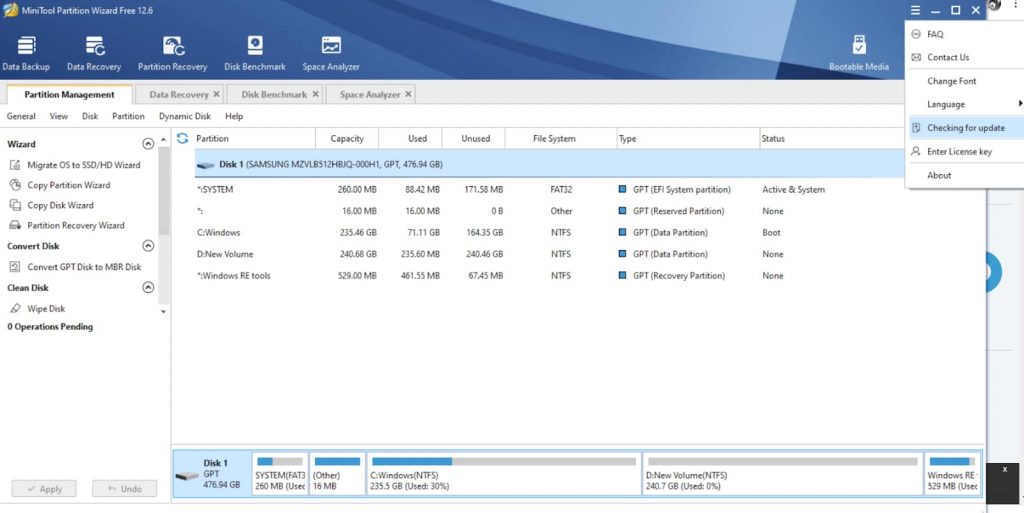 MiniTool frequently rolls out updates as far as features are concerned. For instance, if you check the upgrade history and compare MiniTool Partition Wizard 9 with the latest MiniTool Partition Wizard 12.6, there are so many features that have been added and bugs have been fixed. From adding compatibility for the latest OS (Windows 11), adding more languages, bringing features like disk analyzer to MBR to GPT conversion, and much more, MiniTool Partition Manager has come a long way. And, while the tool prompts you to fetch updates as and when they arrive, you can manually check for updates by –
Clicking on the three horizontal lines (hamburger icon) at the top-right corner of the interface.
Click on Checking for update.
Talking of the premium variants, MiniTool Partition Wizard comes in 7 different variants – Pro, Pro Deluxe, Pro Platinum, Pro Ultimate, Server, Enterprise, and Technician. With the MiniTool Partition Wizard free variant, you can perform basic disk Partition management tasks. But, for more advanced features such as migrating OS, recovering lost Partition and data, and even changing cluster size, you will have to opt for premium variants. Here is a glimpse of what you can expect from the free and paid variants. For a comprehensive comparison of the prices of all variants, you can visit this page.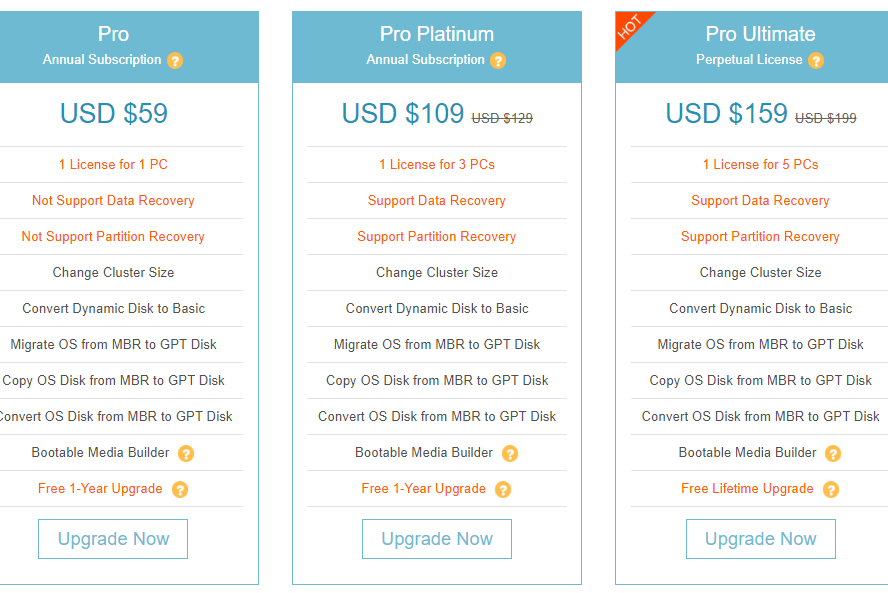 Here is a screenshot showing the prices of three variants and what you can expect from those variants.
The speed at which the various tasks are performed depends on the type of task you have chosen. All in all, we can conclude that on almost all tasks, Minitool Partition Wizard delivers a decent job even surpassing some other competitors as well.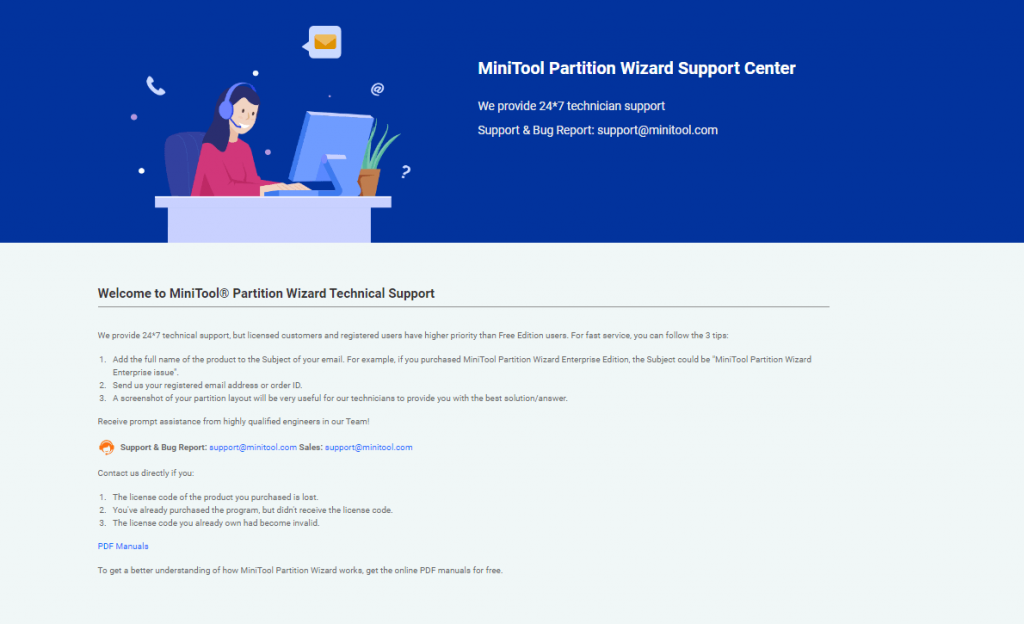 In case of any doubts, you can always refer to exhaustive knowledge base articles. Something that we'd like to mention is that with every module, you can always refer to a tutorial so that the chances of making errors can be reduced.
Those using MiniTool Partition Wizard Free, Pro, Pro Deluxe, Pro Platinum, and Pro Ultimate can avail of email support and get their queries answered. However, priority would still be given to premium variants as compared to the free version. i.e. MiniTool Partition Wizard free. If you have opted for server, enterprise, and technician, you can even seek help on phone apart from email.
For support, you can reach out to the support team at support@minitool.com
Frequently Asked Questions:
Q1. Is MiniTool Partition Wizard free?
Yes, MiniTool Partition Wizard comes with a free variant. And, though, you can use the basic disk partition functions with the free version, there are many advanced features like partition recovery which are missing in the free version.
Q2. Is MiniTool Partition Wizard safe?
MiniTool Partition Wizard is easy and safe to use the tool. We passed it through an Antivirus and it came clean, which means it is free of any malicious threats. As a software, it offers step by step guide to every feature which prevents you from taking any wrong steps.
Q3. How do I use MiniTool Partition Wizard for free?
You can download the free edition from and avail all basic disk partitioning features.
Q4. How much does MiniTool cost?
MiniTool Partition Wizard comes in 8 different variants. The base variant i.e. MiniTool Partition Wizard Pro is priced at USD 59 for 1 license for 1 device.
Final Verdict
MiniTool Partition Wizard is an option you can consider to manage partitions on your computer, especially if compared to Windows's own disk management tool. The free version though has limited features, it can still help you with many disk partition-related tasks. If you are interested in more such reviews, do let us know in the comments section below. You can also follow us on Twitter, Facebook, Pinterest, and Flipboard