Is ImageGlass the Ultimate Photo Viewer for Windows 10, 11? Unveiling the Truth!
An exceptional photo viewer like ImageGlass goes beyond mere photo viewing. Not only does it provide a seamless platform for viewing, but it also empowers you with an array of convenient features to effortlessly manage your photo collection. In this review, we will explore these all about ImageGlass, enhancing your overall photo viewing and management experience.
As a Windows 11/10 user, you probably use the native Photos app to view pictures on your PC. We aren't saying that it's bad but there are tons of great options as far as dedicated photo viewer for Windows are concerned. Take, for example, ImageGlass Photo Viewer which is a more stable option. It offers a great viewing experience and has some great features.
Let's review ImageGlass Photo Viewer, and have a look at its features and other aspects so that in the end you can decide whether to install it on your computer or not.
ImageGlass Photo Viewer – A Brief Introduction
ImageGlass is an open-source, versatile, and lightweight image viewer for Windows computers. It has a sleek and modern user interface that we have discussed here. It lets you browse images of over 80 file formats. Not just viewing but it also offers some great tools to easily manage photos as well.
It also provides some basic editing tools, however, to perform extensive editing, you will need a photo editing tool. A great aspect of this picture viewer is that you can add your favorite photo editing tool and the image will directly open in that.
Technical Specifications
Windows Compatibility – Windows 11/10/8.1/8/7
Current Version – 9.6.9 x64
Runtimes – .NET Framework 4.8+
RAM – Minimum 1 GB
File Size – 5 MB
Hard Disk Space Recommended – Minimum 100 MB
Free and open source.
Play images of over 80 formats.
You can go completely borderless when viewing images.
Rapidly switch between images.
Hotkeys for every operation.
Some large may take a long time to open.
How To Use ImageGlass Photo Viewer On Windows?
ImageGlass Photo Viewer is open to exploration. Based on the time we spent with ImageGlass picture viewer, here are a few things that can get you started –
To begin with, ImageGlass is free to download. You can visit this link and download ImageGlass free of cost on your Windows PC.
Open Images Into ImageGlass Viewer
The easiest way to open images in ImageGlass photo viewer is to first go to the location where you have kept the images that you want to view. Next, drag the folder or files into the interface. To move back and forth between images, use the left or right arrow keys respectively.
How To Go Frameless?
1. Click on the hamburger icon at the top-right corner of the interface.
2. First, click on Frameless or press F10.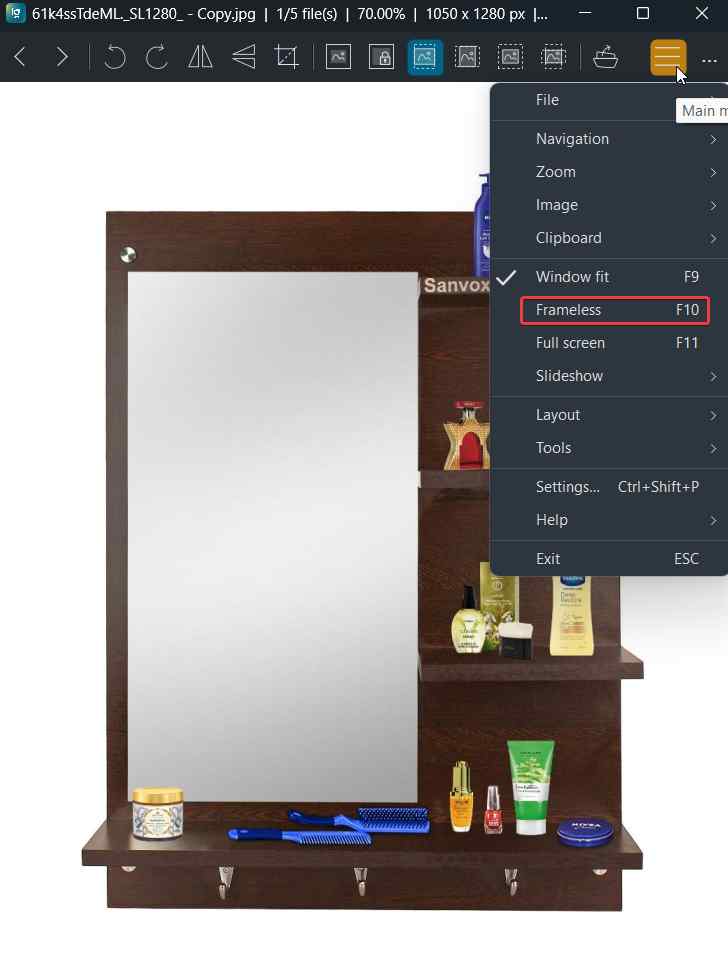 3. Then press the letter 'T' on your keyboard after which you will hide the toolbar at the top.
You can use the mouse to zoom in and out of the image. You can first select one of the zoom options and then use the mouse scroll to zoom in and out of the image.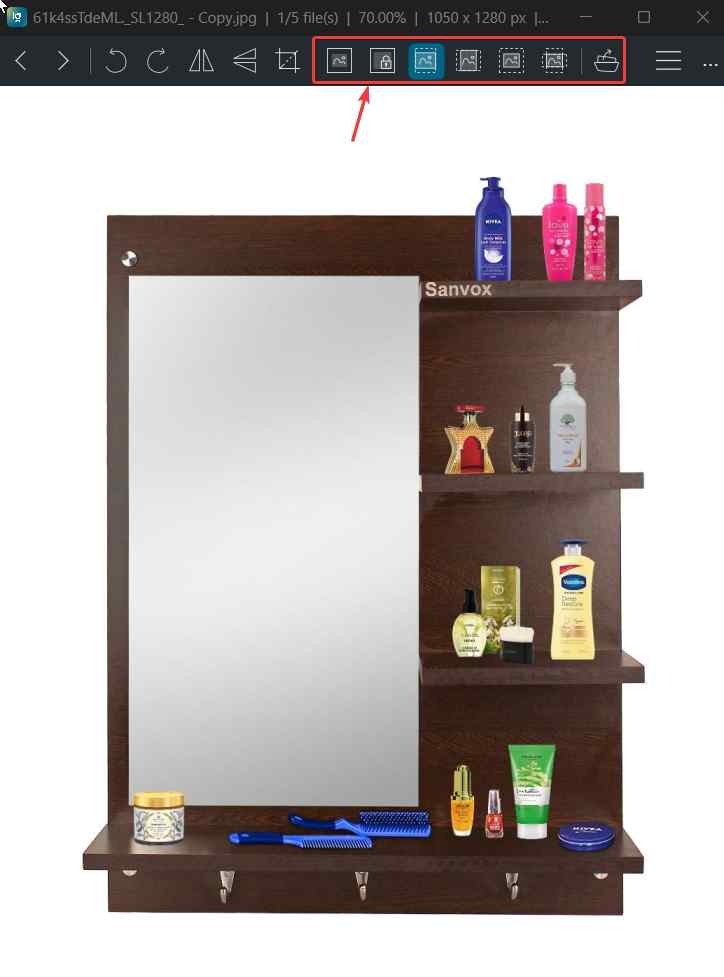 And, if you have selected the Window fit (F9) option, you will also be able to enlarge or shrink the interface as well.
One of the highlights of ImageGlass is its interface. It is modern and sleek. The top of the interface has a "Toolbar" that has options for going to the previous and next image. Moreover, there are option related tocropping,zooming, changing the view of the interface, opening files, moving images to recycle bin, and others.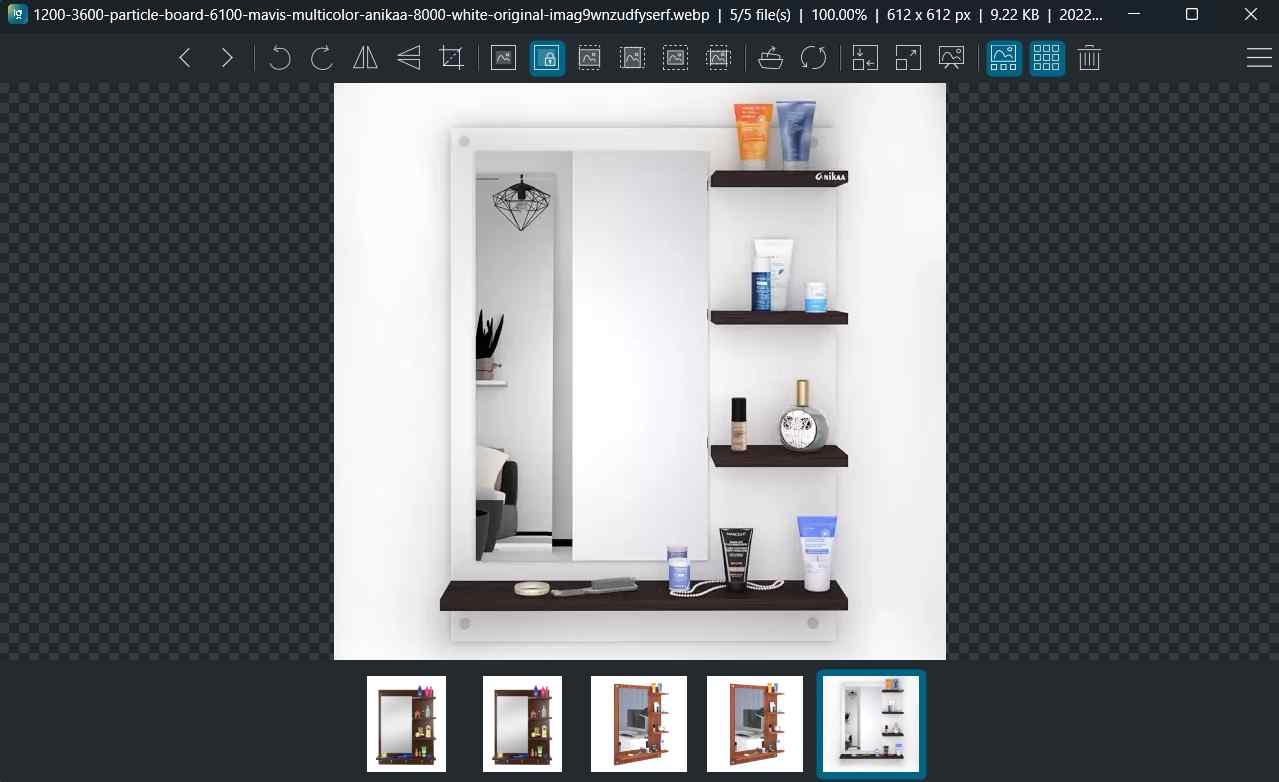 You can also add elements to your layout. For example, you can bring the "Thumbnail Panel" to your interface so that it is easier for you to view the images you are opening in the photo viewer. At any point, you can right-click on the image and get access to important tools as shown in the screenshot below.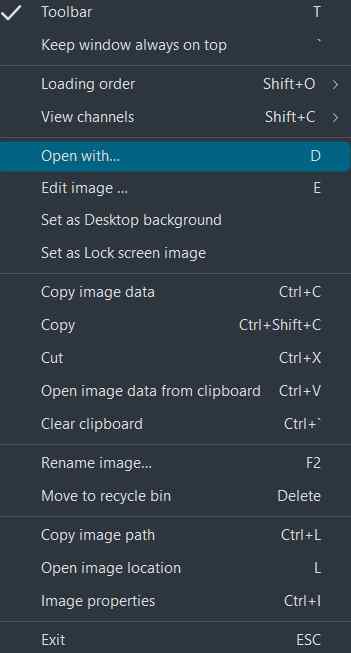 Apart from the tools mentioned in the "Toolbar", you can click on the hamburger icon at the top-right corner of the interface and access all the other tools as shown below.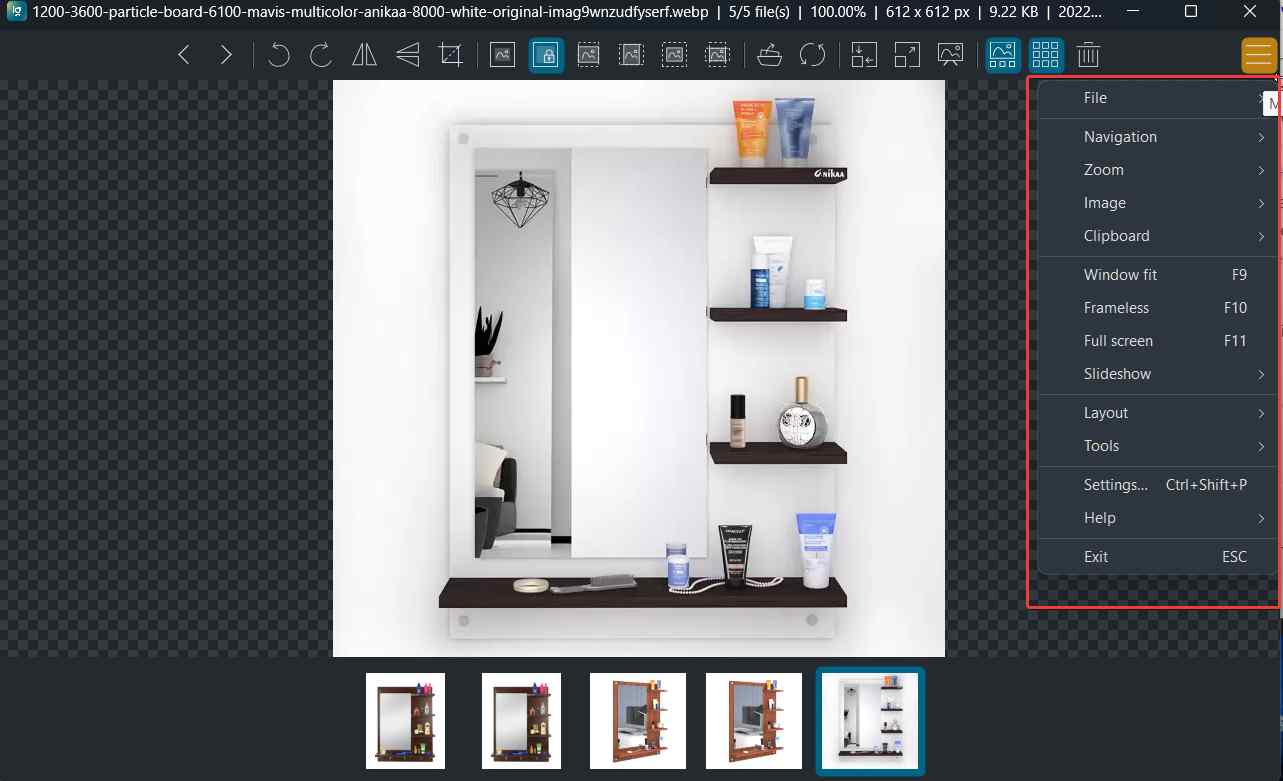 After spending a while with ImageGlass you might want change its theme. You can choose from tons of beautiful themes and change it to the one you like. For that –
1. Click on the hamburger icon from the left and click on Settings (hotkey – ctrl + shift + P).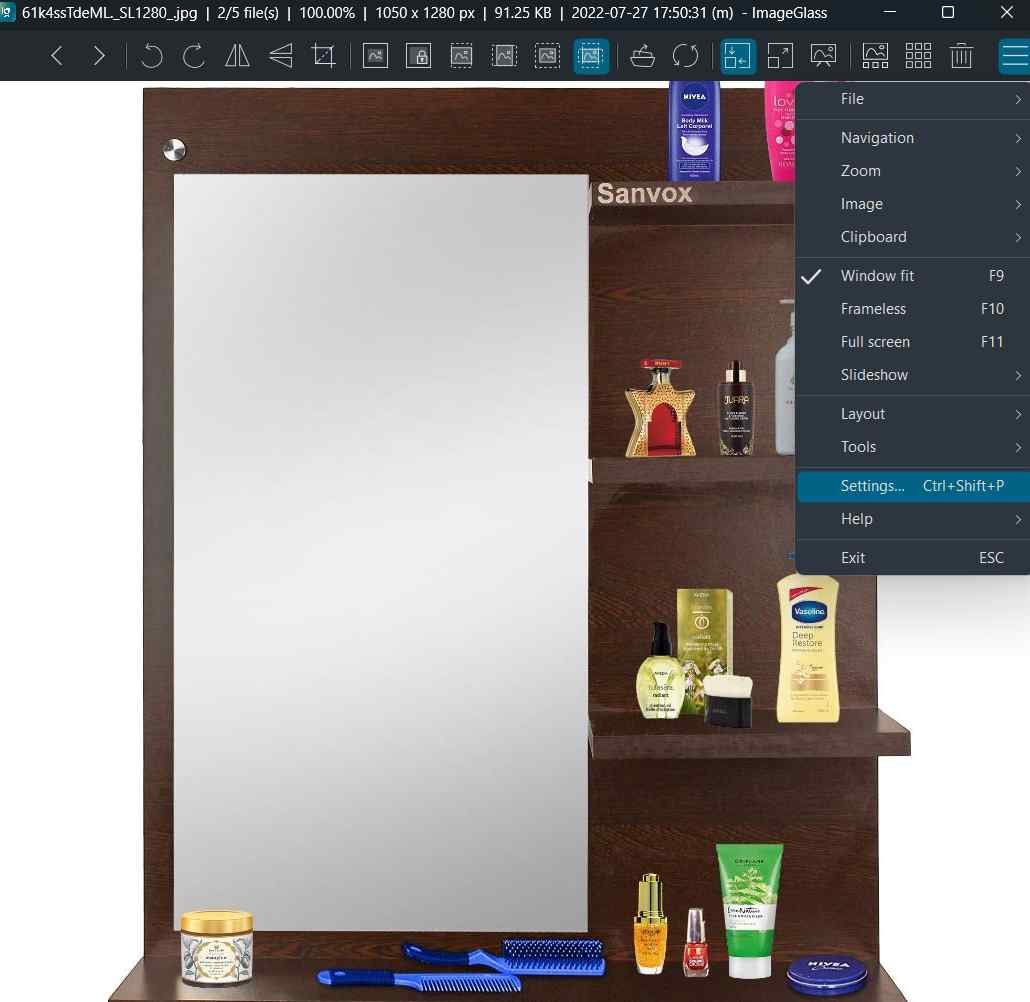 2. Click on Theme. From the right, click on Download themes and from the website, select and download a theme of your choice
3. Head back to ImageGlass viewer settings and click on Install from the right.
4. Select the downloaded theme and click on Apply theme.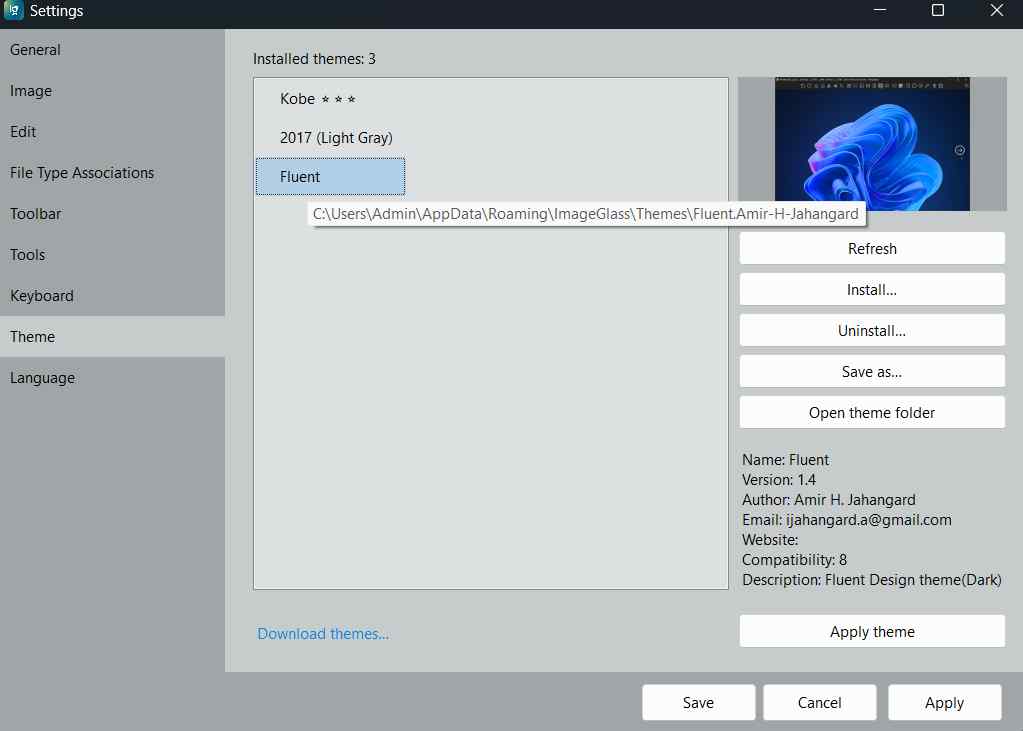 Support for 80+ Formats
ImageGlass supports the most common image formats. All the credit for this goes to Magick.NET library. All in all it supports over 80 formats such as bmp, JPEG, Jpg, bpg, exif, heic, tiff, wpg, and more. It also supports RAW and other formats as well.
Go Completely Frameless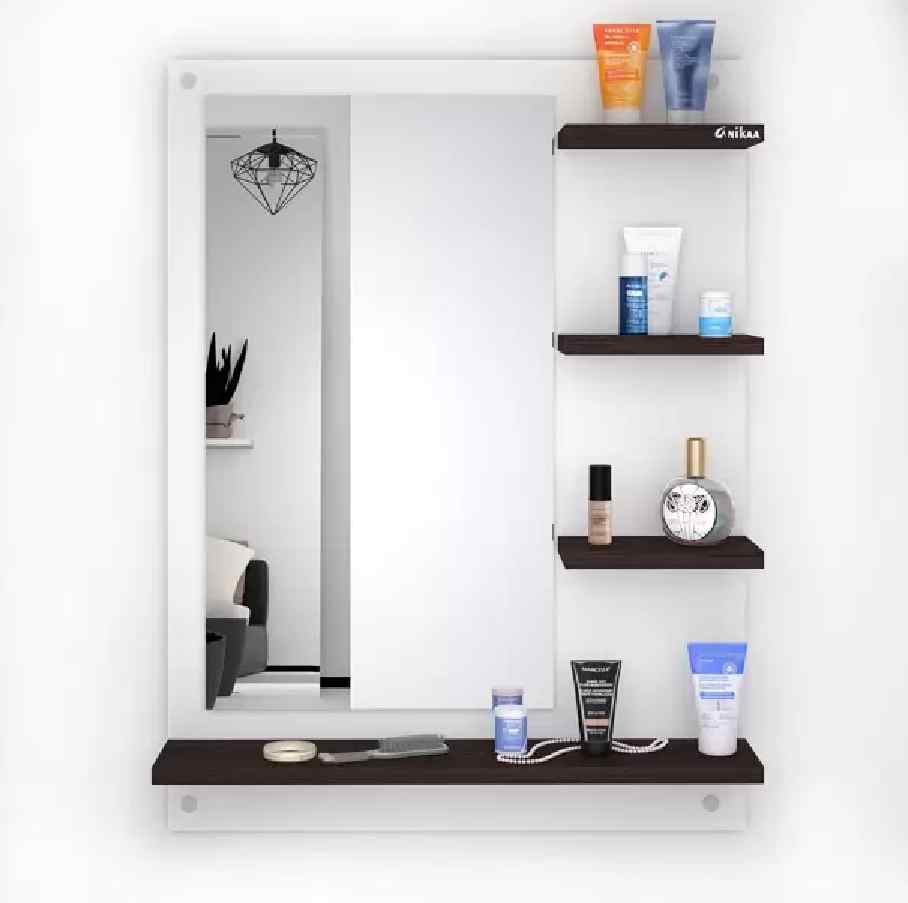 With ImageGlass photo viewer you can go completely frameless. This means when you open pictures that you want to view inside the picture viewer, there would be no borders to obstruct your view. You can even remove the 'Thumbnail' view and press T after which the 'Toolbars' will also disappear from the top.
Precise Cropping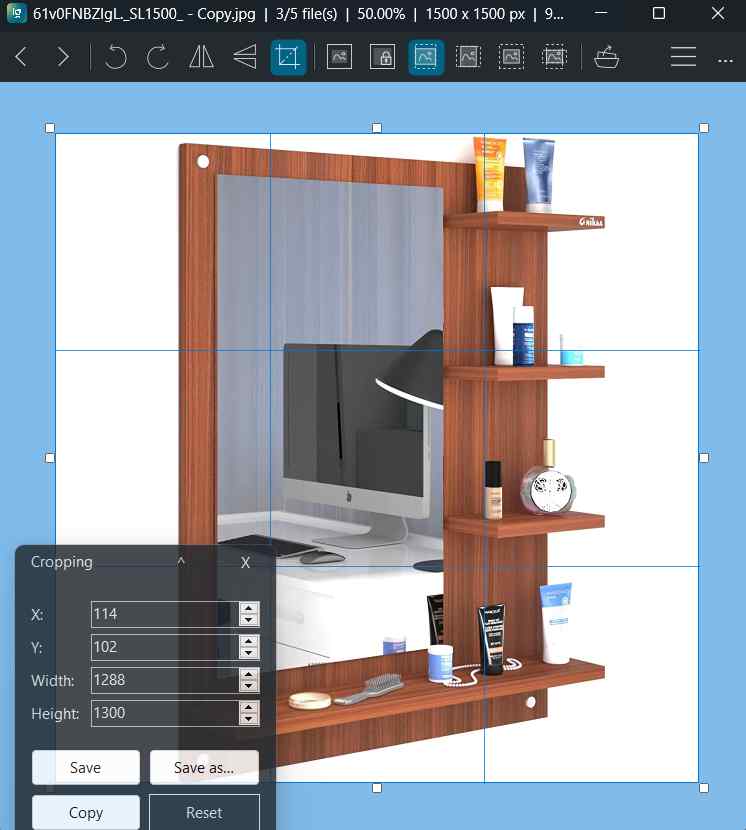 After you have clicked an image you might want to improve it by getting rid of unwanted parts and bringing the right elements into focus. What can be a better way to crop the images precisely whileviewing them in a photo viewer like ImageGlass?
When you click on the "Crop" icon from the top, there are two ways in which you can crop an image. First, you can drag your mouse in any direction after which cropping handles will appear. You can either adjust these handles or you can even make use of the 'Cropping Panel" that'll help you adjust Height, Width, and X and Y axis.
Various Options for Zooming In and Out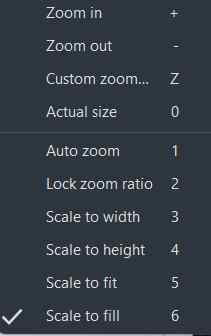 One of the things that we liked about ImageGlass is the fact that you can make the interface small and big by just scrolling your mouse. But, that is just not the only way you can zoom in or out. For zooming, there are 10 different ways as can be seen in the screenshot above. There is normal zooming in and out, you can lock the zoom ratio, scale to width, height fit and fill, and auto zoom. The photo viewer even gives you the option to "Custom Zoom" where you can manually type in the zoom level number.
Customizable Hotkeys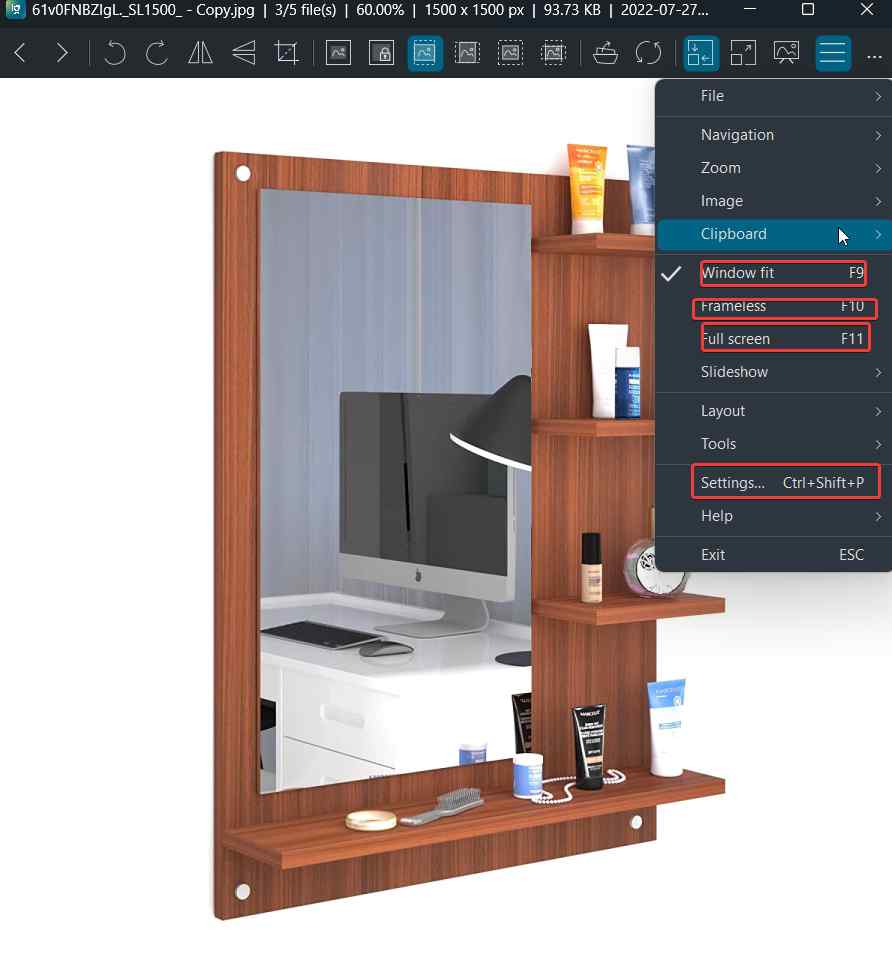 If you are someone who loves playing with hotkeys andevade the use of the mouse as much as possible, you are going to fall in love with ImageGlass as it offers a hotkey for every operation. Take, for instance, the options pertaining to zooming in and out, or even navigating or rather juggling between many images. Not happy with the keys assigned to operations, you can change them by going into the settings.
View and Export Exif Meta Data
With ImageGlass photo viewer you can view and edit EXIF Meta Data on Windows. The process is though slightly longer, it is easy to follow. We'll get to it a little later.
With this capability not only can you view the Exif metadata of the images opened in the viewer but you can also copy the selected values and export all that data into a text file. Now, let's see how you can add a tool to view, copy and export EXIF metadata in ImageGlass for Windows 10,11 –
1. Open ImageGlass.
2. Click on the hamburger icon from the top right corner of the interface,  click on Tools, and then Exif tool or you can simply press the letter 'X' on your keyboard.
3. Click on Select Exif tool file.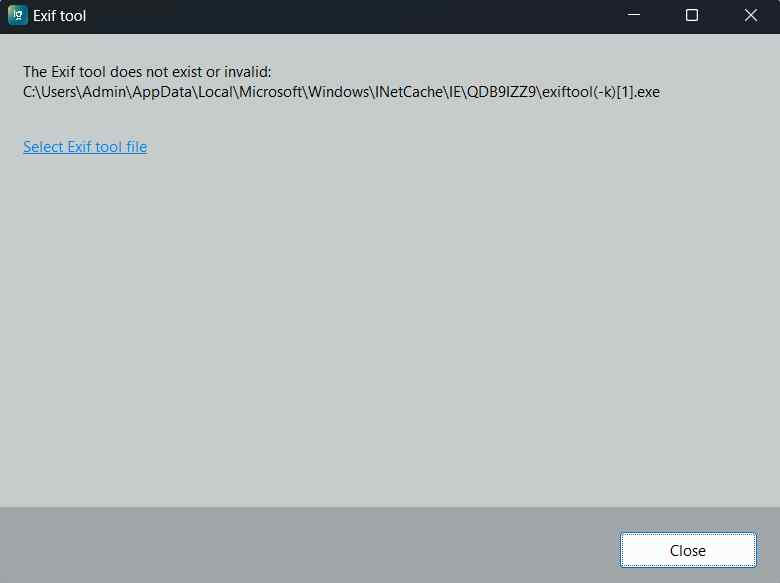 4. Initially, ImageGlass will say that there is no Exif tool. So, download the Windows executable Exif tool file from here.
5. Extract the zipped package. Once the location containing the zipped package opens, copy the path in the address bar.
6. Go back to ImageGlass, and click on the Select Exif tool file.
7. Paste the path you have copied in the address bar and click on Open.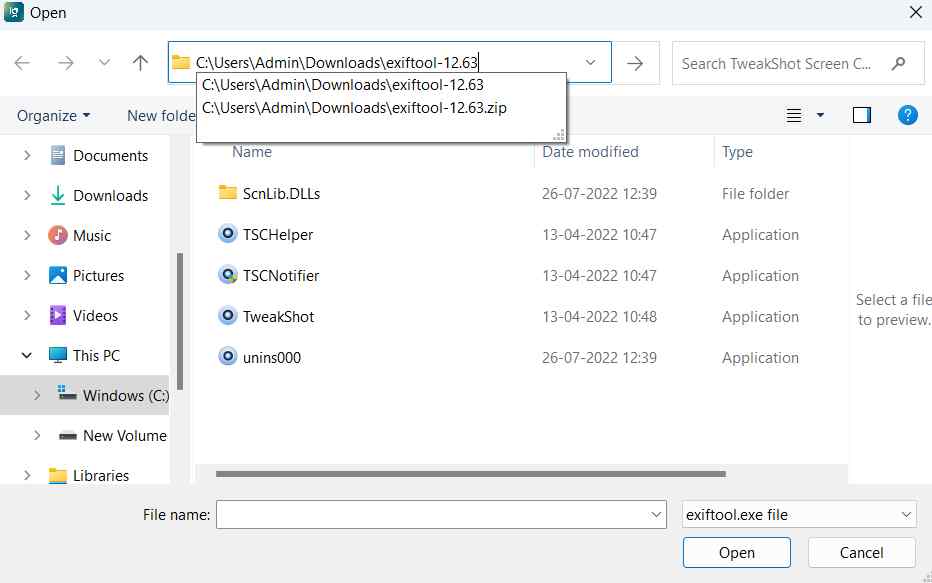 8. You will now be able to see the metadata of the files opened on your screen.
Makers of ImageGlass consistently release updates, ensuring a seamless user experience with the introduction of new features and bug fixes. For instance, with the latest update, makers added support for reading grayscale DNG images. They fixed a variety of issues such as ImageGlass always opening using the nearest zoom or images being displayed with the wrong orientation and many others.
While ImageGlass is free to download you can always support the makers by purchasing the utility from Microsoft Store or opting for a premium subscription on Patreon.
For the most part, you won't have any issues viewing images across all file formats. The viewing experience is smooth and images open in an instant. However, once in a while, you may stumble upon large images that may take a while for opening.
Customer Support
80% – Good
You can always post your queries on their GitHub page (since it is an open-source software) or in the ImageGlass Community (Google group). Both the groups are active and you can expect your query to be answered promptly.
Share Your Experience With Us
ImageGlass is definitely an immersive image viewer when it comes to browsing pictures or even diving into minuscule details. It is highly customizable and you would have a fun experience using it.
Do give it a try and share your experience in the comments section below. For more such reviews and software listicles, keep reading Top10PC. You can also reach out to us on Facebook, Flipboard, and Pinterest.
Frequently Asked Questions
Q1. What is ImageGlass used for?
It is a lightweight picture viewer with which you can open and view images of over 80 file formats in a seamless manner.
Q2. Is ImageGlass open source?
ImageGlass and its source codes are open source and released under GNU GPL v3.0.
Q3. Can you edit photos with ImageGlass?
To perform advanced editing, ImageGlass lets you add the path of editing the application. After adding the application path, open the image in the ImageGlass viewer and press 'E' on the keyboard.
Q4. What is the latest version of ImageGlass?
The latest version of ImageGlass is 8.9.6.9 x64