Gusto Payroll Software Review – Features, Pros, Cons, and Pricing
Payroll and HR-related errors can be abysmal. That being said, they have to be accurate and on time. What you need is a specialist tool that can help you manage all such tasks – time tracking, onboarding, salary and wage calculation, talent management, and so on. Here we are going to review Gusto, a robust and efficient payroll solution.
You've established a company and now you are going to hire and onboard employees, track their time and wages, work out their benefits, and do so much more. You might even have an HR in place. But, something to streamline these payroll-related tasks is payroll management software, regardless of whether yours is a small or big business. Gusto is one such tool.
What is Gusto?
Gusto is a payroll software or rather an all-in-one platform that helps you hire, pay and manage your employees from one place. It simplifies the onboarding process of new employees – remote workforce, or even those working at various locations.
From offering a variety of settings with which you can automate payments to filing crucial taxes to even managing employee benefits, Gusto does it all. It also helps cut your HR some slack, since your employees can use Gusto to perform tasks like requesting time off, checking their pay stubs, accessing tax documents or simply updating their personal information.
Various payroll, onboarding, and hiring tools.
Easily manage time and attendance of employees.
Accurate tax filing.
Several employee self-service tools.
Comprehensive analytics and reporting.
You may have to manually print checks.
Next-day direct deposit is available in paid plans.
How To Use Gusto?
Before we look at the steps to set up payroll with Gusto, we urge you to collect the following information that you'll have to furnish in step no. 4 below –
Addresses of all employees – Even those that are working remotely.
Employee information – name, hire date, manager, work address, email address, and compensation information. If this information is not available at hand, you can invite the employees to enter this.
Federal and State tax Information – EIN, legal entity type, company type, registration, and compliance of every state where your employees work.
Bank details: Account and routing number of your business checking account.
Pay schedule: Pay period, first payday, and days covered in each pay cycle.
Payroll history: Previous payroll history (previous year's payroll) skip this if it's the first time you are setting payroll.
Authorized signatory: Who will be signing paychecks, their name, title, SSN, birthdate, home address, phone number, etc
Now let's get down to how you can start using Gusto Payroll services –
Step 1: First, click on create an account.
Step 2: Fill in details like the number of employees, how you run payroll, and business settings, and click on Submit.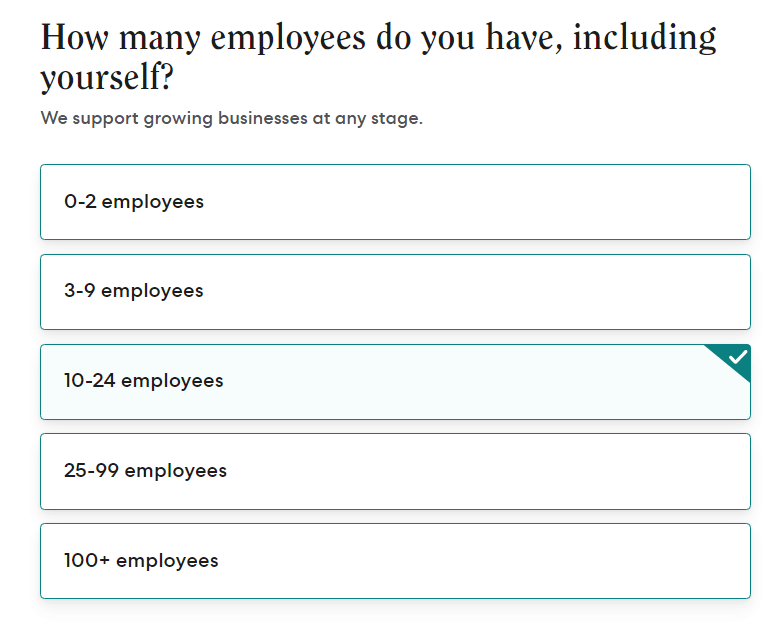 Step 3: Fill in the details mentioned on the sign-up page and click on Create account.
Step 4: After you have created your account, click on each of the options from the left-hand pane and fill in all the information that we had gathered at the start.
Step 5: With the self-onboarding feature employees can set up their own Gusto account. They can update their personal details, tax preferences, etc.
Step 6: Subsequently you can click on each of the options from the left and fill in the information. If you are stuck, you can either refer to resources that you can find at the right. Or, you can contact the customer support team.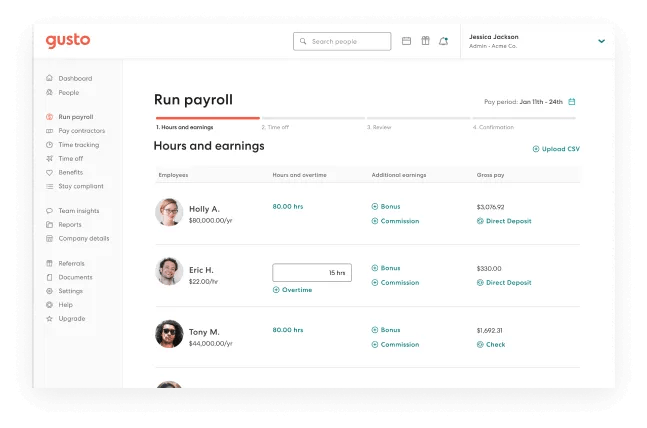 Gusto has a user-friendly interface and navigation system. Its pages and dashboards are intuitive and give you pace with your tasks, thanks to a non crowded interface on both the organization's side that's managing the payroll and employees' side.
The dashboard gives you important information on various aspects such as any upcoming payroll or any tax and compliance events that you have to pay attention to.
The navigation bar also includes clear labels for every section. It is in fact, more easy to use as compared to its competitor ADP, although ADP is more customizable in the sense it lets you choose which widgets you want to choose. Sstay tuned for more information, as we will soon cover an in-depth review of ADP.
– Payroll and Onboarding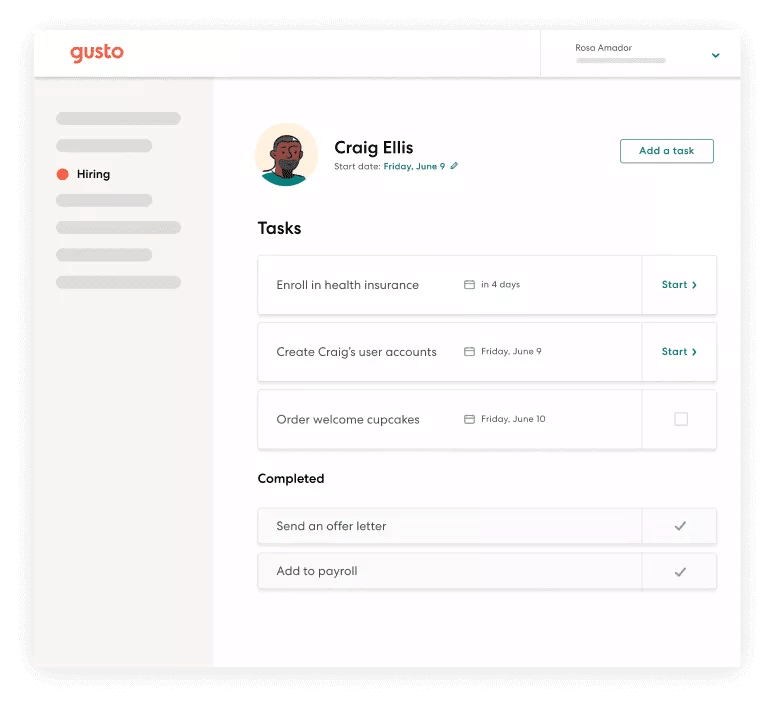 Carrying out payroll with gusto is easy and flexible. It coincides with the needs of your company. You can set up salaries or even hourly wages based on an employee's work profile, and calculate and fill payroll taxes both for yourself and employees. And, not just that, make pay stubs accessible to the employees as well. Gusto also offers to automate payroll for you on the schedule that you have set.
Once employees are on a company's payroll, onboarding is yet another task that is to be taken care of. Some of the company's employees might also be working remotely, so you need to have a process to onboard them as well. Gusto streamlines this process for you.
– Easy and Efficient Talent Management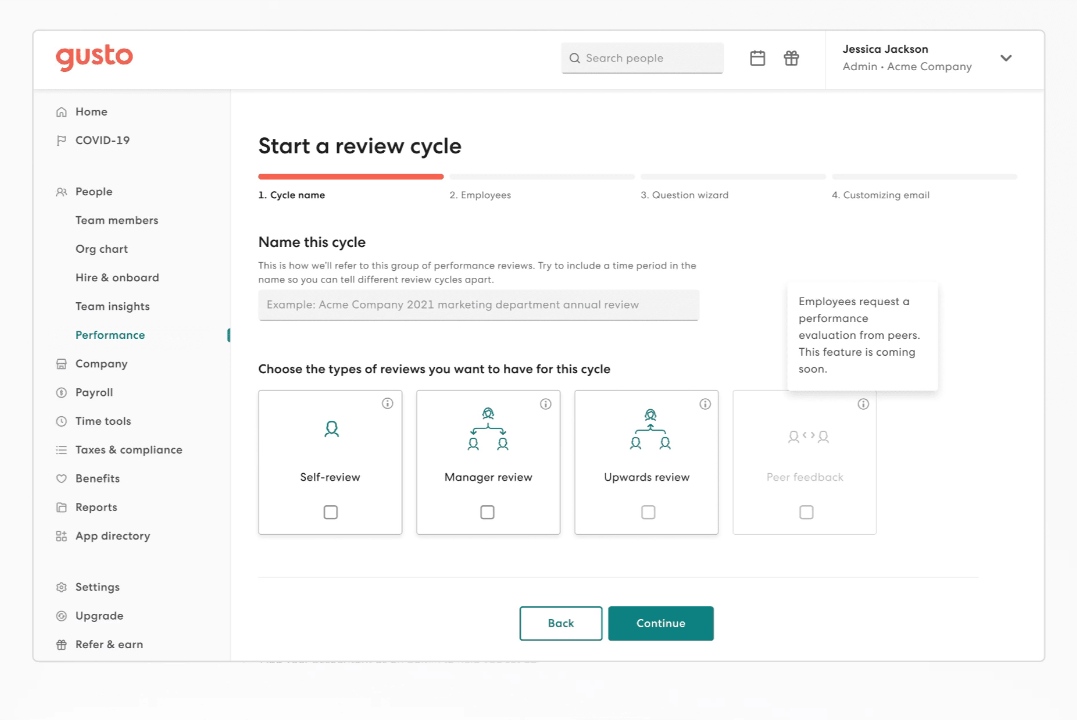 At every step of building your organization, you would need to build your team for which you would need to motivate employees, retain talented individuals, evaluate performance, and so on and so forth. Gusto provides the exact tools to do just that. Basically, it sorts your HR-related tasks.
First and foremost, it lets you create a conducive environment where your employees can give and receive feedback. You can help employees identify opportunities, develop skills and move ahead in their careers. Gusto also provides a workflow with which you can review your employees' performance and show them where they were excellent and where they can better themselves.
– Efficient Time and Attendance Tracking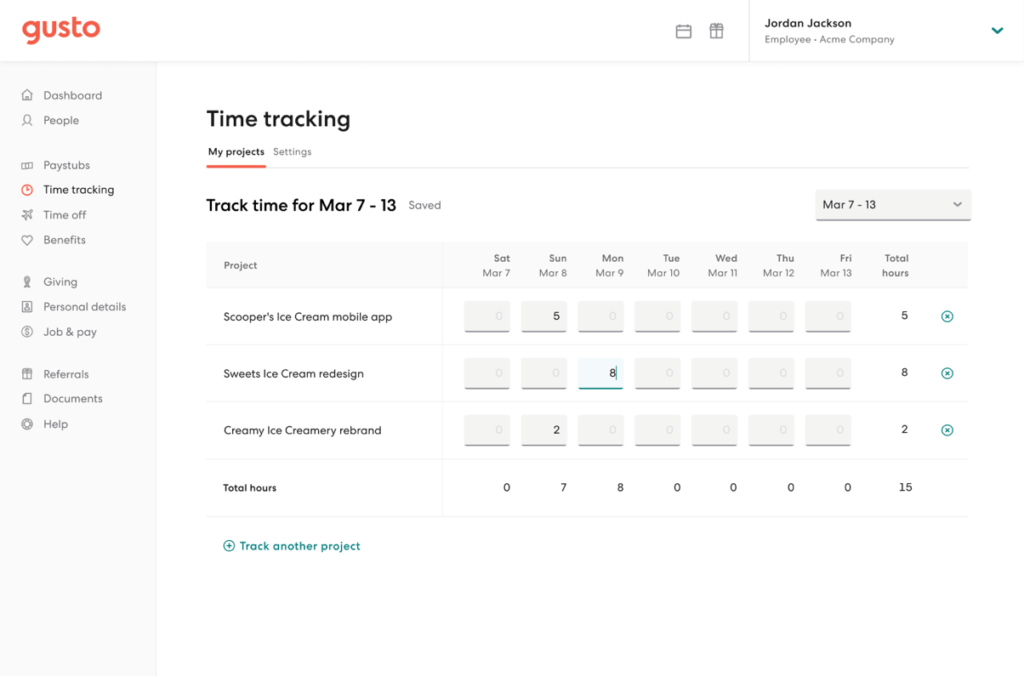 Regardless of how many employees you have, keeping track of time offs, holidays, working hours, workforce costs, etc can be tough. Things can get even more complicated when all such aspects are directly aligned with your employees' salaries. Gusto offers all the time and attendance tools you need which are well-integrated with payroll.
To begin with, you can designate office sites and locations where employees can easily clock in their log-in hours. You can set up a system where you can assign hours to projects, approve employee and contractor hours, keep track of where your budget and hours are heading as far as projects are concerned, and do so much more.
– Manage PTO (Paid Time Offs) Easily
Paid time off or PTO policies differ from one employee to another. It is a benefit program that many organizations offer to employees during which employees can take off on a certain number of days and still be paid.
Gusto lets you customize PTO policies. You can choose paid holidays and sync them directly with your payroll. Apart from that, you can run reports organized by date, employee, or department with just a single click. To help you keep a track, Gusto calculates and alerts you of any PTO liabilities and sorts your accounting as well.
– On-Time Tax Filing
As an employer, you have to be on time when filing federal and state taxes as any delay would incur penalties. Gusto doesn't just keep you on time but even keeps you in line with any changes in tax laws. This way you can steer clear of IRS fees.
– Data-Backed Reports and Guidance
Gusto gives you a clear picture of what's going around in your organization by way of team surveys, customizable reports, automatic compliance alerts, and more. By way of customizable report templates, you can analyze crucial data and make decisions. In fact, when applying for loans like EIDL and PPP, you can generate custom reports and get the financial support you need.
The reports can be further downloaded in PDF or CSV format. You can even filter them by state pay range, earnings, job codes, etc. Additional reports include year-to-date reports, paystub employee summary reports, time-off balances, etc.
On the downside, unlike Rippling you can't click on an employee's name and do other tasks like opening their profile.
– Manage Employee Benefits
Gusto helps build the right health and financial benefits for your team. Depending on your team's budget size you can select an appropriate benefits plan. You can arrange for a 401 (k) Plan Even if you have an existing 401 (K) plan, Gusto helps you sync it. Gusto helps your employees choose from 9000 health insurance plans from over 30 carriers.
This payroll management software helps you and your employees with savings and budgeting goals. For instance, your employees can use the software to split paychecks between multiple accounts. Apart from that you can manage commuter stipend, administer retirement plans, housing and wellness benefits, and others.
– Integrations
You can integrate Gusto with popular accounting software such as (but not limited to) Xero, QuickBooks, Freshbooks, and many others. Not just accounting software, but Gusto also integrates with several hundred business apps and other tools. This cross-integration can be used for tasks such as employee training, record-keeping, hour tracking, and performance reviews. From time to time you can also get discounts on some popular apps when you integrate them with Gusto.
The developers at Gusto regularly release updates so that you can enjoy new features and more so enjoy a bug-free experience. Their past and recent changelog includes changes such as the ones mentioned below –
Prebuilt UI for specific onboarding steps
Faster 2-day payroll processing
Introduction of payroll tax calculation API
As far as Gusto Payroll's pricing is concerned it is available in 3 variants – Simple, Plus, and Premium. You can choose a pan based on your organizational needs. The price breakdown of each of the plans is mentioned below –
Name of The Plan
Pricing
Visit here
Simple
$40/ month + $6/ month/ person
Plus
$80/ month + $12/ month/ person
Premium
You can contact the sales team
What Can I Expect From Each of The Plans
There is also a "Contractor Only" plan for contractor-based businesses. At the time of writing this post, you can get this plan at a discounted base price of $0/ month for 6 months (plus $6/ month per contractor)
What You Can Expect from a Contractor-Only Plan?
As far as performance is concerned, Gusto offers a lag-free experience. The working is smooth and owing to the simple interface you can dive into several tasks. You can manage payroll, look into team insights, file taxes, and do a lot more in a hassle-free manner.
Once you are on board with the software, you can always tap trained professionals who are always there to help you if you get stuck. You can always upgrade to a premium variant if you want dedicated HR support. One of the best things about Gusto is that apart from online chat, you can also call customer support via phone.
Gusto offers dedicated resources to help you with any problem you have related to payroll, HR, or any such aspects. As a first point of reference, you can always visit the support page, locate your issue and refer to an article.
If an article or many articles for that matter, didn't solve your issue, you can further head to the contact page and get in touch with a representative over the phone.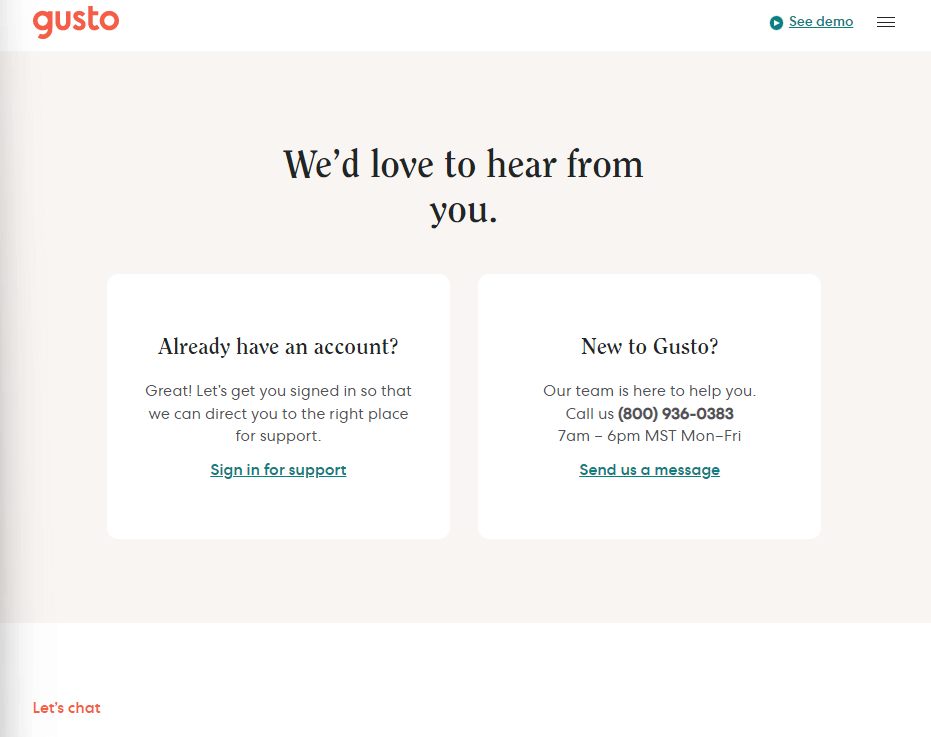 Is Gusto The Best Payroll Management Tool?
If you are a business owner or entrepreneur who wants to streamline payroll, tax filing, and more such processes, Gusto is a great tool to have. We agree that it is a bit pricey compared to many of its competitors. If you have been using Gusto for your organization, do let us know how your experience has been. For more such information, keep reading Top10PCSoftware. You can also find us on – Facebook, Flipboard, and Pinterest.
Frequently Asked Questions
Q1. Is Gusto a payroll software?
Gusto Payroll is an easy to use software that helps small to medium sized businesses to streamline payroll processes.
Q2. What is Gusto Payroll?
Gusto payroll is a software that can help automate advanced payroll tasks both for employees, owners as well as contractors. It has tools in place with which you don't just get to manage payroll but also onboarding, talent management, time tracking, benefits, taxes and so much more.
Q3. What does Gusto software do?
Gusto software is one of the best payroll software. With this you can add employees details, schedule their payment schedule, manage taxes and other benefits for yourself and your employees. It also lets you manage attendance related aspects of your employees such as time tracking, PTOs, etc