Your computer has several large files and folders taking up space. When you try to share these files and folders on different platforms, it's frustrating because the sharing process is slow and irritating.  What you need is a zip software to compress these large files into one archive file whose size is much smaller for effortless sharing and storage. And, if you are looking for one such tool, here are some of the best software to zip and unzip files on Windows.
Top Software Reviews
Rating
1.

WinZip

2.

Ashampoo Zip Free

3.

Bandizip

4.

PowerArchiver

5.

PeaZip

6.

BreeZip

7.

Express Zip File Compression by NCH

8.

CAM UnZip

9.

7-Zip

10.

Hamster Zip Archiver
If you are someone who is involved in a constant flow of data, media files, documents, and more you often feel the need to transfer them to other users. In such situations, data compression can be your best friend. Zip software can help you! It compresses files in such a way that their size reduces and you can preserve storage space. Most file compression software don't just archive or compress files but even offers features to organize and encrypt them so that you can restrict users from accessing them.
What Is A Zip Software For Windows PC?
A zip software for Windows PC is a utility that can help in compressing and decompressing files and folders regardless of their storage size. It does that by archiving them into a single archive file. The most common format for this file is ZIP file format. However, there are other file formats as well such as .rar, .7z, TAR, Gz, and many more.
What Is The Need of a Zip File Software?
Now, you might be wondering, if you can compress files using Windows's inbuilt compressed (zipped) folder feature, why should you install a zip software on your Windows PC?
Well, a third-party program to zip files offers several advantages over Windows's native feature. These tools offer better algorithms because of which the compression size of archives is much smaller. Also, the file transfers are much faster.
Additionally, these third-party software to compress files come with additional features such as encryption, password protection, repairing of damaged archives, and much more that the native feature doesn't have.
Best Zip Software Program for Windows
1. WinZip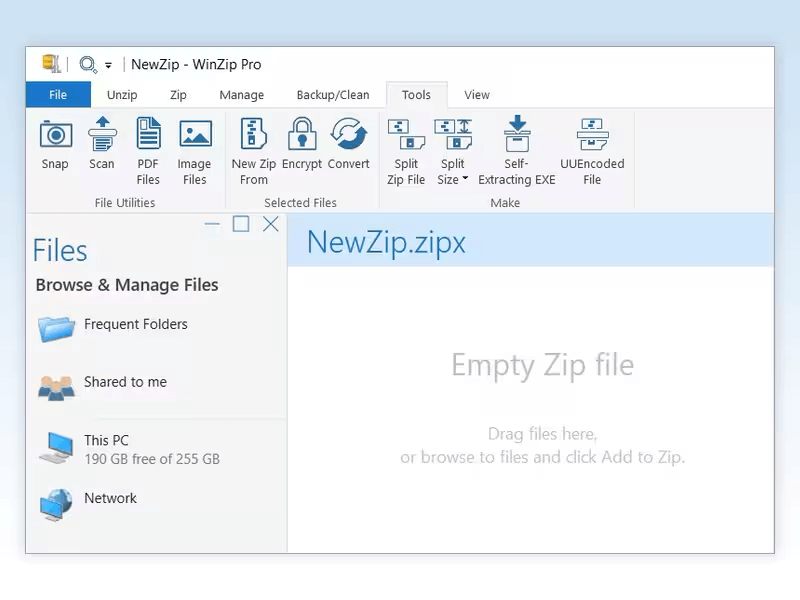 WinZip is the world's leading software to unzip and zip files that you can download on your Windows PC. While you get most features for zipping and unzipping files with the free version, you can purchase the premium version and enjoy advanced features to manage documents. It even provides the ability to share large files by email, social media, cloud or other platforms.
Notable Features
Zip and unzip files across all major file formats.
Encrypt files as you zip them
Find, move, edit, open, create, and perform other zip management tasks.
Manage zip files on the computer, cloud service, or network.
Cross-integration with a number of programs.
Split large files so that they can fit different media.
You can create read-only PDFs and add watermarks to them.
Share large files on email, social media, cloud services, and instant messaging platforms.
Windows-like interface.
Some competitors offer better algorithms when it comes to compressing larger files.
Pricing – Free trial available. Then, pricing starts at $34.95
2. Ashampoo Zip Free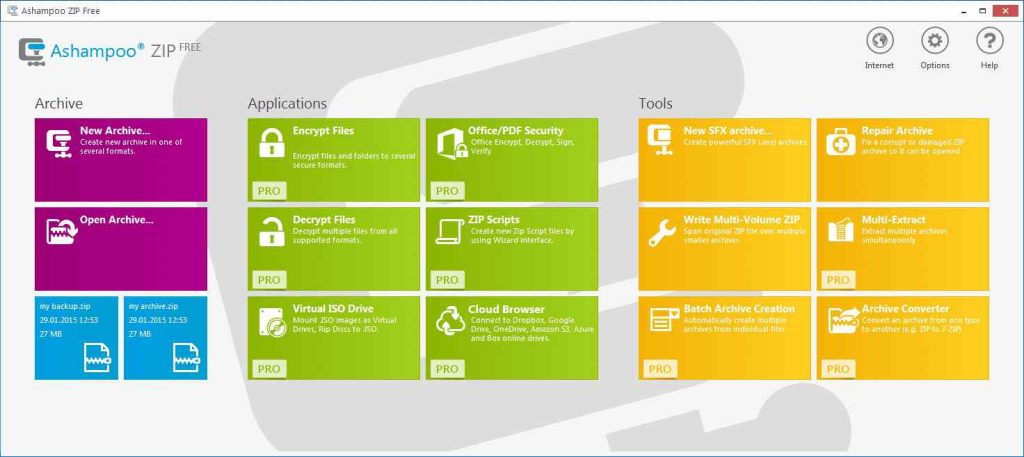 As the name implies, Ashampoo Zip Free is a free software for unzipping and zipping files. It offers various convenient features that make it easy for you to compress and archive files. One of the highlights is its ability to repair broken ZIP files and split larger archives into multiple volumes. Here are some of the notable features of Ashampoo Zip Free.
Notable Features
Jump lists and integration with Windows Explorer.
Apart from ZIP, Ashampoo Zip supports LHA, 7-ZIP, TAR, ZIPX, and many others.
Functionality to repair zip files when needed.
Create executable archives that don't need separate software for extracting; they can extract themselves.
Windows tile-based design offers more familiarity.
Combine multiple archives into a single file for better handling.
Compress and decompress all common formats with a single click.
The functionality to convert archives is also present.
Connect to various cloud-based platforms like Dropbox, Google Drive, OneDrive, and many others.
It lacks some advanced encryption tools as compared to some other competitors.
Pricing – Free
3. Bandizip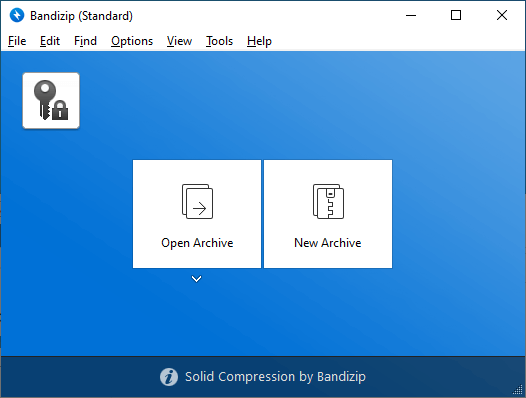 Bandizip is another free and open-source program that is regarded as one of the best and most powerful archivers that offers fast processing speed. Despite offering a host of features, it is available as free software for unzipping files. It is capable of compressing and decompressing multiple files at once, thereby saving time.
Notable Features
Compress/ decompress/ browse and edit archives.
Extract over 30+ formats including 7Z/ ZIP/ RAR/ RAR5.
Compress archives with password protection.
Manage frequently used passwords (paid feature)
Image preview in archive (paid feature)
Fast compression, thanks to multi-core.
Recover passwords for archives (paid feature)
Compress and decompress all major archive formats such as 7Z, ZIP, ACE, ALZ, TAR, EXE (sfx) and many others.
Supports Windows context menu.
Pricing – Free trial available. Single user license starts at $30 
4. PowerArchiver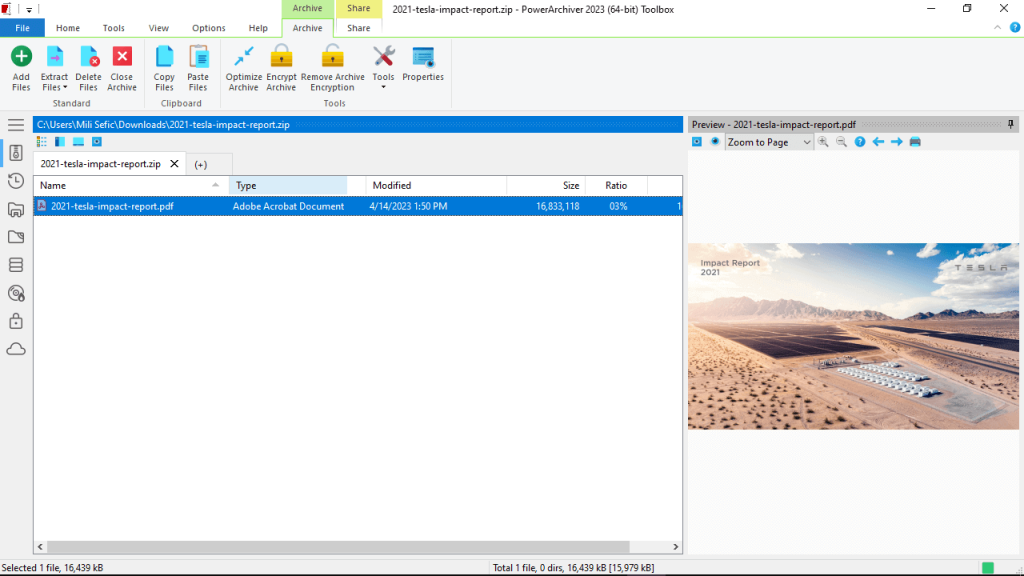 PowerArchiver is a free software that you can download on your Windows 11/0 PC to zip, unzip, and manage archives. It supports formats like RAR, ZIP, 7Z, and many more. Apart from creating, extracting, and managing compressed files, PowerArchiver also offers strong data security and encryption features. It also comes loaded with tools like FTP client and backup features.
Notable Features
Support for over 60 compression formats such as ZIP, RAR, 7z, TAR, and many more.
Functionality to automatically compress and encrypt files in Microsoft Office.
Various Office add-ins and command line integration.
Preview archive files before saving them to the desired location.
You can access 6 different cloud service platforms and you don't need to install their software.  
Archiving is fast since it has a fast ZIP/ ZIPX engine.
Secure FTP client that comes with FIPS 140-2 validation and AES-256-bit encryption.
Easy archive management – create, open, find, and encrypt archives.
It is easy to install and manage, even with password policies and MSI installations
Could prove to be a little resource-intensive.
Pricing – Free. The premium version is priced at $22.95 
5. PeaZip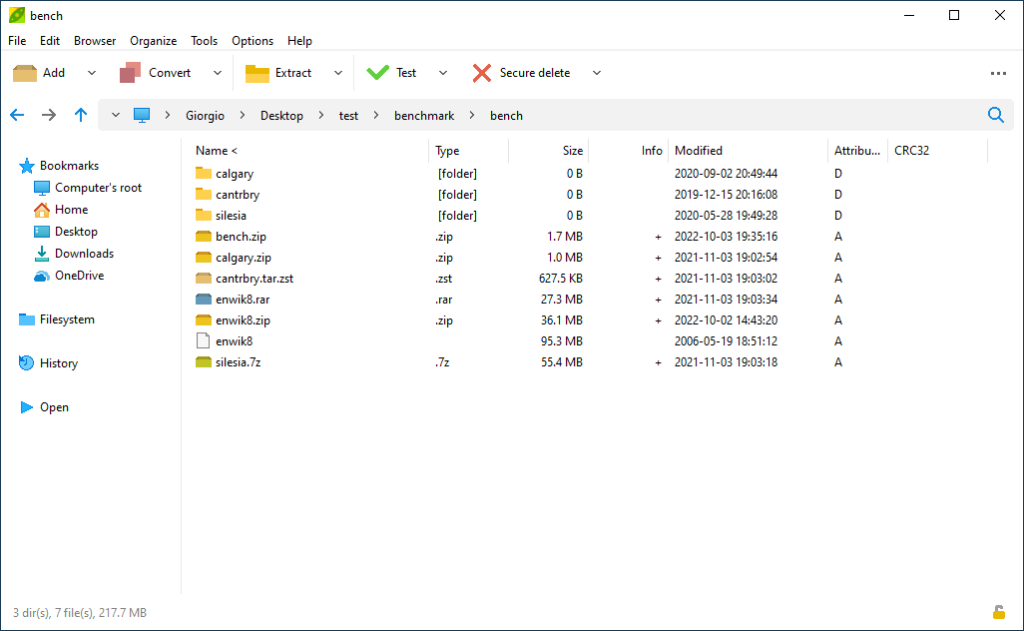 Another free and open-source zip utility for Windows11 PCs that supports multiple archive formats for compression is PeaZip. It bridges the gap between CLI (command-line interface) and GUI and lets you enjoy the best of both kinds. It can be used as portable software which means you won't have to install it to use it and you can directly use it from a removable device or shared network.
Notable Features
Support for over 200 archive formats.
Strong encryption. Also offers 2-factor authentication and authenticated encryption.
You can export defined tasks in the GUI as command-line scripts.
It comes with an encrypted password manager. For a more feature-rich and dedicated password manager, check these options.
A portable version is available.
Powerful file manager to edit, view, browse and search for archive files.
The fast high-compression ratio for formats like ZIP, 7Z, ARC, Brotli, and many more.
Multiple file management features like various checksum and hash functions, conversion of archives, search archives, etc.
Support for tabbed browsing.
Some other competitors offer better compression speed.
Pricing – Free
6. BreeZip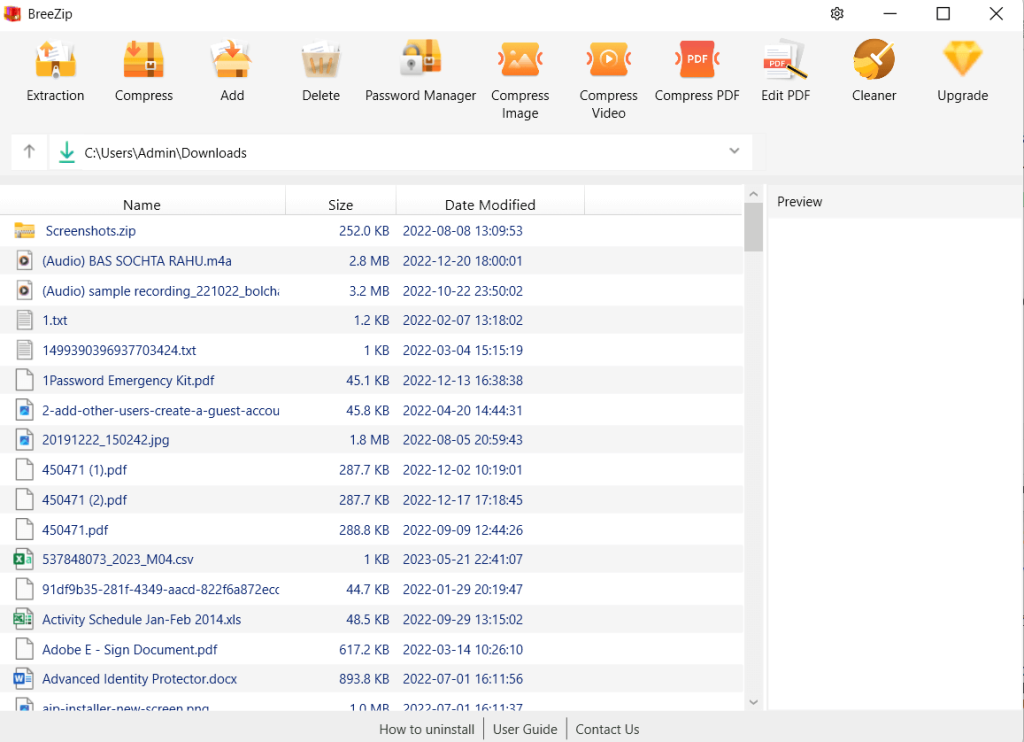 BreeZip is one of the highest-rated free software on the Microsoft Store for unzipping files. It can unarchive various different formats such as RAR, ZIP, 7-Zip, TAR, and many more. It comes with an intuitive interface that resembles that of Windows File Explorer and hence Windows users will be able to relate to it.
Notable Features
Compress and extract files across all common file formats like ZIP, 7-Zip, RAR, etc.
Contents are displayed when you open an archive.
Decompress formats like .zip. .rar. ISO, TAR, etc.
You can open RAR files and even convert them to ZIP.
It comes with an inbuilt password manager.
Windows's File Explorer like GUI.
Create password password-protected archive
Apart from compressing archives, you can even compress images, videos, and PDFs separately.
Fast compression.
Can't repair damaged or corrupt archive files.
Pricing – Free trial available. The premium version starts from $19.99 (one-time price)
7. Express Zip File Compression by NCH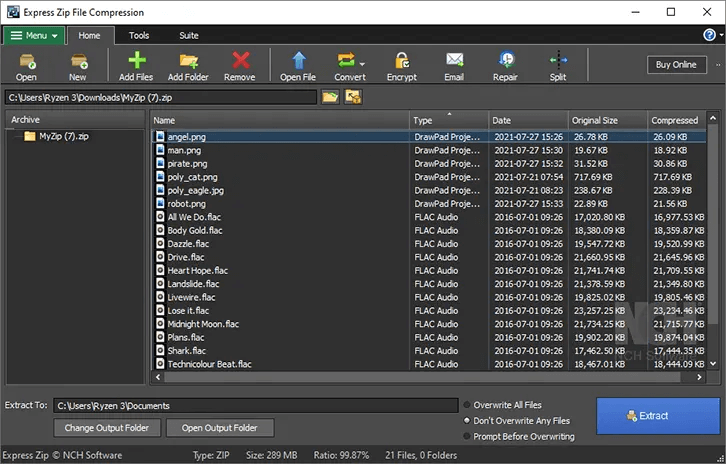 If you are looking for a feature-rich software for zipping and unzipping archive file format, Express Zip File Compression by NCH can be a great option. This software has a user interface (UI) that resembles Windows File Explorer, making it easy to navigate. Here are some of its key features.
Notable Features
Offers efficient and fast zipping and unzipping.
Open several archive formats such as ZIP, RAR, TAR, 7Z, and many more.
You can both encrypt ZIP files as well as open those that are encrypted.
Integration with Windows File Manager; It comes with a right-click menu to compress/ decompress files right from the file browser.
Split up large zip files into smaller parts.
Easy drag and drop functionality.
Provision to repair corrupt or incomplete archives.
Password-protect zip files.
Optimize the file size of archives with 5 levels of compression.
Lacks some advanced features available in competitor software.
Pricing – Free trial available. Pricing starts at $16.97
8. CAM UnZip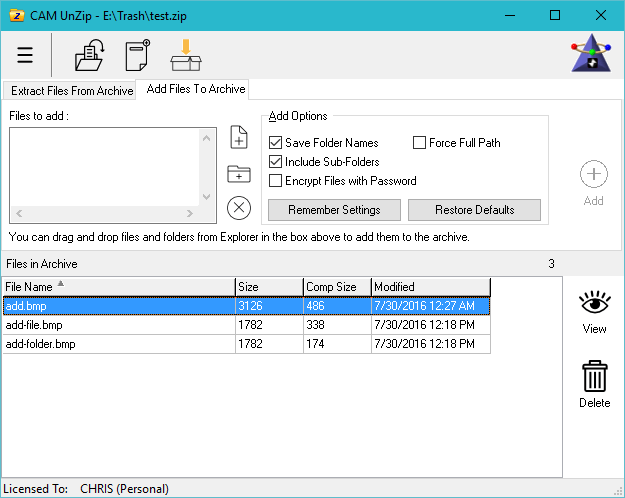 CAM UnZip is one of the best tools to handle ZIP files with ease. It comes with both GUI as well as command-line interface and offers decent compression ratio and fast transfer speeds. The interface also gives you a comprehensive information of the reduced file size and other aspects such as file modification date and others.
Notable Features
List all files in ZIP file and compress or decompress it.
If there are installers, run them directly from the ZIP file.
Drag and drop files from file explorer to interface to extract from or add to archive.
Encrypt ZIP files with password.
Command line interface to gain more control on zipping/ unzipping process.
Efficient ZIP file management – list, view and create ZIP files.
Portable – You can run CAM UnZip from a USB Drive, Google Drive or even DropBox.
Compression speed could have been better.
Pricing – Free
9. 7-Zip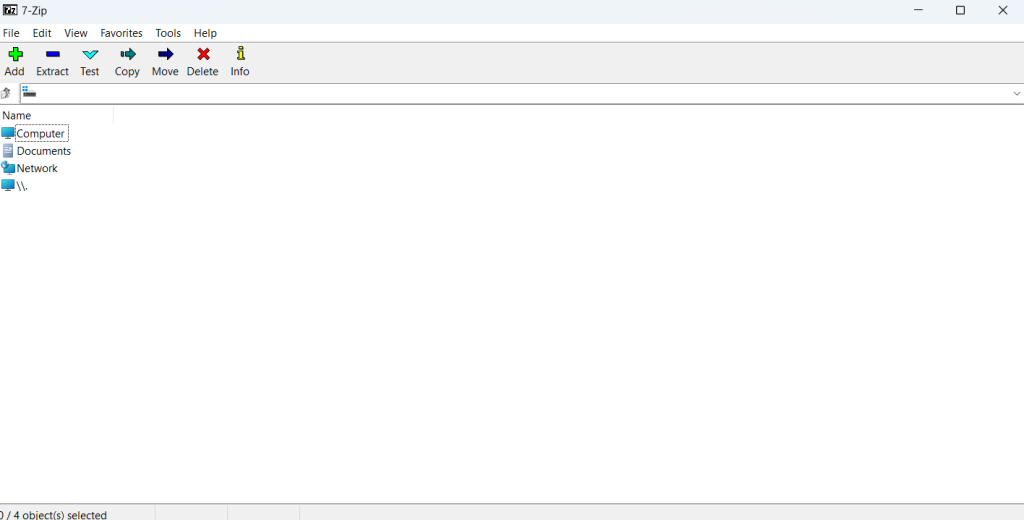 It is a free, lightweight, and source-compressed file software that comes with a high compression ratio in 7z format with LZMA and LZMA2 compression. Unlike many of its competitors, it consumes fewer system resources. It supports various formats for packing and unpacking such as ZIP, 7z, GZIP, APFS, ARJ, VHD and the list goes on.
Notable Features
Can pack/ unpack major formats like XZ, 7z, ZIP, WIM, GZIP, and many others.
Offers self-extracting capability for 7z format.
Offers 2-10% better compression as compared to many of its competitors.
Plugin for FAR manager.
Integration with Windows PowerShell.
High compression ratio in 7z format.
Available in 87 languages.
Strong encryption (AES-256) for both ZIP and 7z formats.
It comes with a command-line version.
The user interface can be complex for beginners.
Pricing – Free
10. Hamster Zip Archiver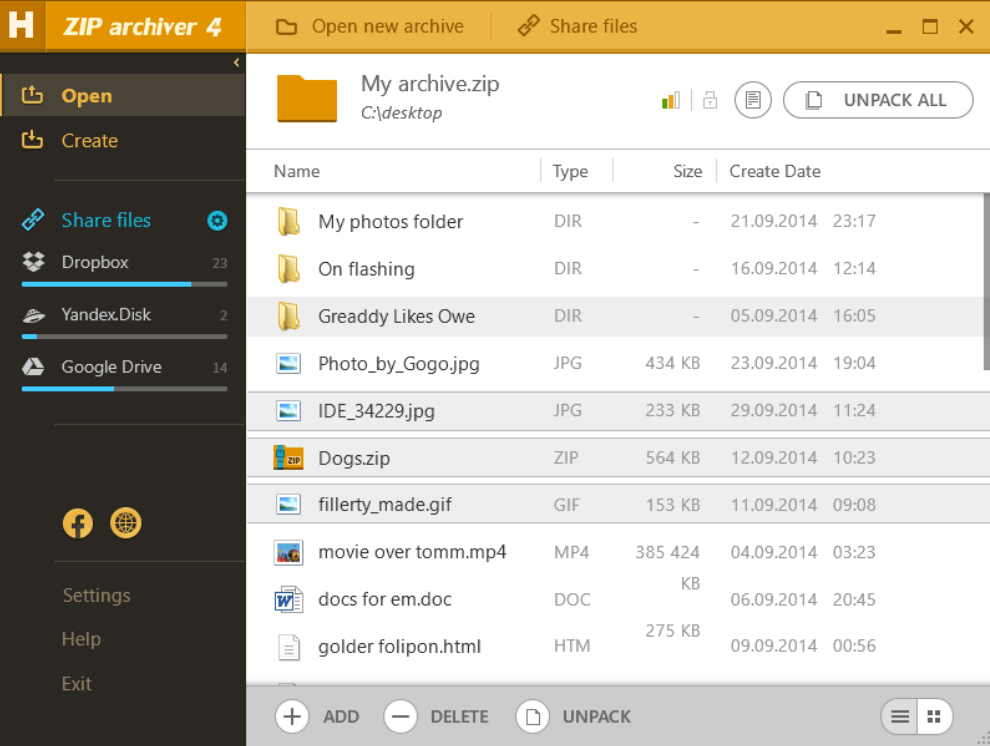 ZIP archiver is one of the best zip software for Windows 11/10 PC ton easily compress and open files from any archive. Since it is free, open source and easy to use, it can be a great tool for beginners as well. It comes with a built-in file manager and cloud integration which further adds on to its capabilities of managing archive files deftly.
Notable Features
Compress and open all major archive types such as zip, 7z, img, jar, rar & more.
Adjust the compression level so that it becomes easier for uploading.
Filter files by name, type, size, creation date and time.
Upload archives to cloud-based platforms like Google Drive, Dropbox, OneDrive, etc.
You can share archives by creating links for them.
Zip Archiver offers high compression ratio.
Support for over 40 languages.
The cloud integration facility could have been better.
Pricing – Free
Zip It Up – Simplify File Management With Best Zip Software For Windows
With a utility to zip files, you can elevate your file management game. As is evident from the post above such tools support a variety of archive formats and easily compress large files into single archive which both saves storage space and is easier for sharing purposes. Do let us know which is your favourite. For more such content, keep reading Top10PC. You can also reach out to us on Facebook, Flipboard and Pinterest.
Frequently Asked Questions
Q1. What software opens ZIP files?
There are various software that compress files as well as decompress them such as WinZip, 7-Zip, PowerArchiver, just to name a few. Here we have enlisted some of the best zip software that support compression and decompression of major archive formats and offer decent speeds.
Q2. Which is the best unzip software?
While we have enlisted some of the best zip and unzip software, some notable names include WinZip, 7-Zip, Ashampoo Zip Free and Bandizip.
Q3. Is WinZip or 7-Zip better?
Both ho head to head when it comes to choosing one. While 7-Zip is open source, free and offers strong compression capabilities, WinZip is popular for more advanced features. Though, such features may come at extra cost.
Q4. How do I unzip a 1GB ZIP file?
To unzip a file worth 1 Gb you can take download a free or paid unzip software like the ones we have mentioned above. You can then right-click on the file, select "Extract" and save the contents to a desired folder on your PC.
Q5. Can I unzip files without WinZip?
Yes, you can. For that you can opt for WinZip alternatives. We have already discussed many of them in the post above.