GPU Benchmarking is a method to compare the speed, performance, and overall efficiency of GPU chipset. Various best benchmarking software available in the market help users to test the performance of a variety of hardware components. You can choose any of the listed below as per your preferences.
Top Software Reviews
Rating
1.

3D Mark

2.

PassMark

3.

AIDA64 Extreme

4.

FurMark

5.

UserBenchmark

6.

Heaven Unigine 2

7.

Catzilla

8.

Superposition

9.

Basemark GPU

10.

GFXBench
What Is GPU Benchmark Software?
A typical GPU Benchmarking Tool helps users to assess four core factors: clock, speed, temperature, and voltage. These powerful utilities can also help you to make wise decisions while upgrading your graphics card and other hardware components, as you can easily compare your benchmark results with other systems.
Running a proper benchmark can certainly help you gauge your system's overall productivity, diagnose potential issues with any hardware components & even helps in overclocking for effective results. The sole purpose of using a PC GPU Benchmark software is to test the performance of your graphics card and get a clear idea of where you stand in the crowd.
What Are The Types Of Graphics Card Benchmarks?
There are two types of GPU Benchmarks, namely Synthetic & Real-time. Talking about the former type, it is designed specifically for Windows OS and runs using a program with built-in graphics card tools to calculate the performance scores. With the latter type of benchmarking, it helps in measuring the FPS during gameplay. This means the more the FPS, the better the capacity your graphics card offers the play games without any hiccups.
Having trouble picking the most suitable Graphics Card Benchmark Software for your Windows PC?
List of the Best GPU Benchmark Tool For Windows
1. 3D Mark: Most Popular GPU Testing Software
Latest Version: 2.22.7336
Compatibility: Windows 11, Windows 10 (64-Bit)
3D Mark is a top-notch benchmarking suite when it comes to putting your system through its paces in terms of gaming performance. The entire GPU benchmark package has tons of gaming benchmarks; Fire Strike, Time Spy, are and Port Royal and common ones. All these benchmarks will provide you a clear score & helps you compare the result with other systems using the same hardware components. Hence, you can analyze how well your computer is performing in comparison to other 3D Mark's users.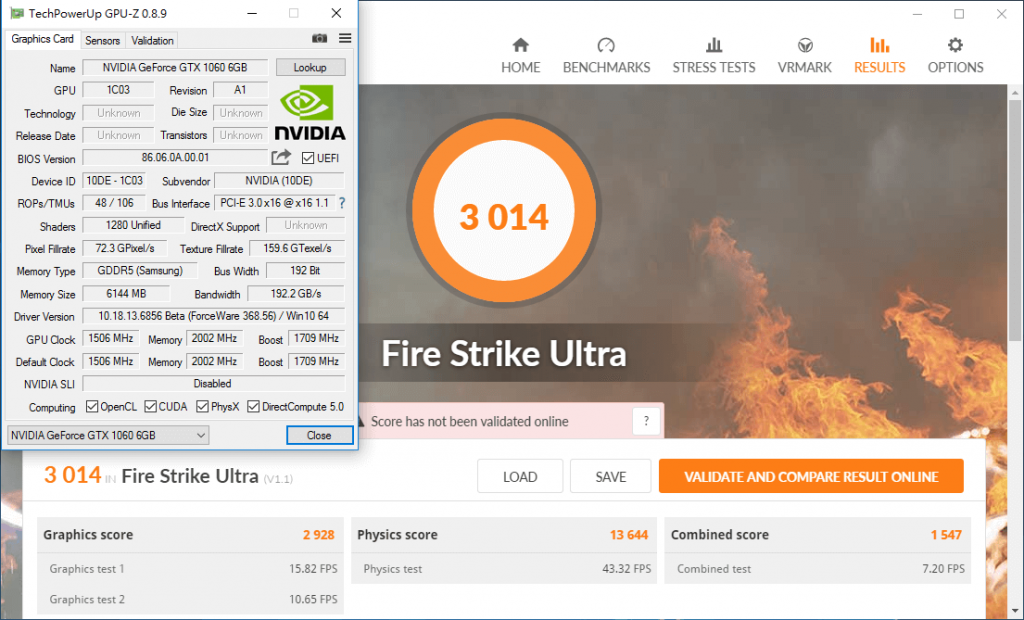 HIGHLIGHTS: 3D Mark
Multiple versions available to choose from, depending on your graphics card.
Offers a Free Demo to learn how the product works (you can download it from Steam).
Automatically detects hardware & suggests the best benchmark.
Displays clock speeds, changes in frame rate & GPU Temperature.
Pros:
Wide range of gaming benchmarks.
Stress testing for overclockers.
Analyze & report how PC compared to other gaming rigs
Cons:
Expensive CPU Benchmark app
OUR VERDICT: Do We Recommend 3DMark?
Yes, we do! 3DMark is one of the most widely used graphics card benchmarking programs, mostly preferred by gamers and overclockers. The GPU benchmark software is designed and developed by a renowned software company – FutureMark, which is famous for producing world-class benchmarking tools for both Home & Business users. Hence, you can undoubtedly expect the best from the product.
2. PassMark: Top-Rated GPU Benchmark Tool
Latest Version: 10.2
Compatibility: Windows 11,10,8,7, Windows Server 2019/2016/2012
Number second in the list of Best GPU Benchmark software is bagged by PassMark. The utility is widely popular when it comes to effortlessly benchmark PC and Graphics cards. Not only this, using PassMark you can easily test and benchmark CPU, Hard Disk and RAM. Talking about graphic card testing, it offers both 2D and 3D graphics tests, which include Vectors, bitmaps, fonts, GUI elements, 4K Resolution, OpenCL tests, and many more.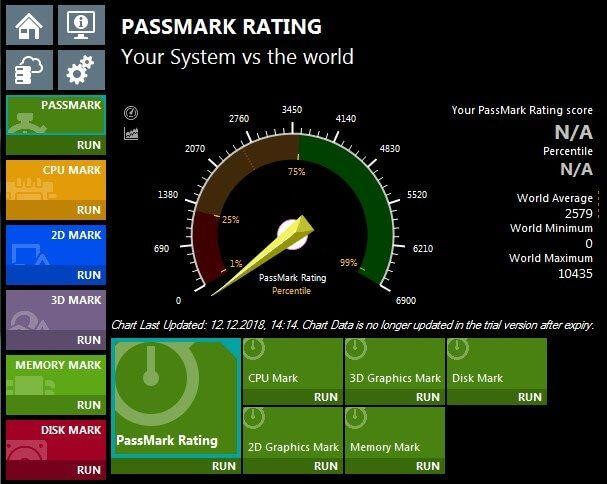 HIGHLIGHTS: PassMark
Helps in identifying if your PC is performing at its best.
Compare the performance of your machine to other similar systems.
Easily measure the effect of configuration alterations & upgrades.
Make use of advanced tests to create your custom benchmark scenario
Pros:
30-Days free trial versions available
Highly compatible with almost all Windows versions
Run PerformanceTest directly from the USB
Cons:
Free version has very limited functionalities
OUR VERDICT: Do We Recommend PassMark?
Yes, we do! PassMark is undoubtedly one of the most trustworthy and effective GPU Testing Software you can use today. Apart from this, it also offers a variety of other benchmarking, testing, and monitoring utilities; MemTest86 – for RAM testing, MonitorTest, KeyboardTest, and many more.
3. AIDA64 Extreme: Best GPU Benchmark Software
Latest Version: 6.60.5900
Compatibility: All Windows Versions
AIDA64 Extreme is a popular entrant in the category of Best CPU Benchmarking Tools for Windows, but not many know it's a great GPU Test Software as well. It provides comprehensive GPU details, supporting almost all major graphics card brands. AIDA64 Extreme comes with a dedicated sensor panel that detects and displays information about sensors, equipped on your system.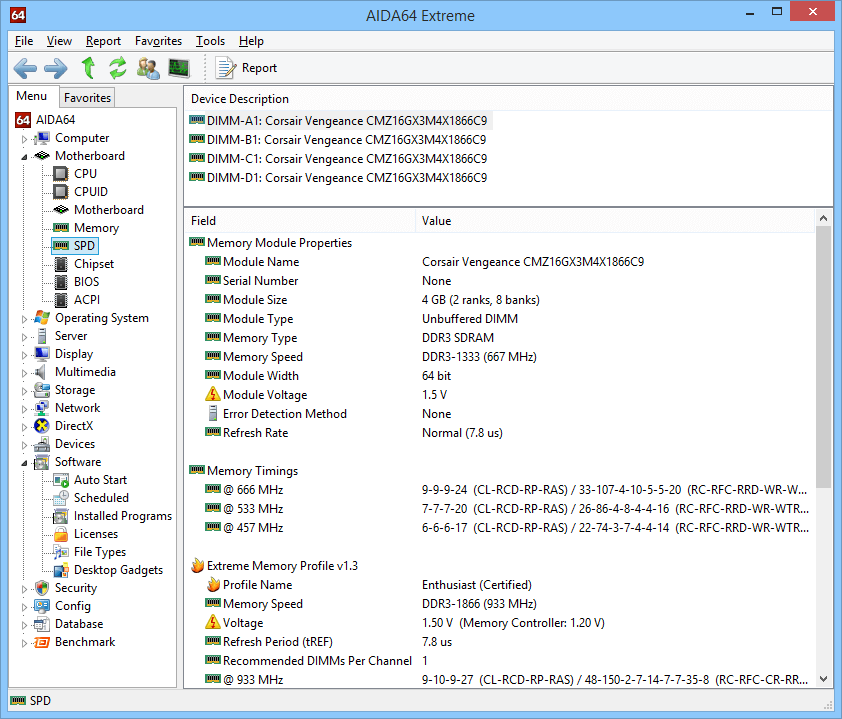 HIGHLIGHTS: AIDA64 Extreme
Uses 64-bit multi-threaded stress testing module.
Tells you briefly about the GPU temperature.
Keeps users updated about any potential hardware issues.
Get comprehensive information about installed apps & their licenses.
Pros:
Fairly good user interface.
Supports external displays
A couple of benchmarks are provided
Cons:
Support for Windows only.
OUR VERDICT: Do We Recommend AIDA64 Extreme?
Undoubtedly yes! AIDA64 is a pioneer in the industry of Stress Testing & Benchmarking. It is an ultimate GPU & CPU diagnostic tool, which supports real-time monitoring and offers a striking set of features. What's more? AIDA64 can present data on LCD, VFD, and other such devices.
4. FurMark: Lightweight GPU Benchmark App
Latest Version: 1.29.0.0
Compatibility: Windows 11, Windows 10 (64-Bit)
It might not be as lightweight popular and widely used as 3D Mark or PassMark, but it surely deserves a space in our GPU benchmark list. Sometimes, also referred to as GPU Burner, FurMark requires a compliant graphics card to work seamlessly and it can also be used to monitor GPU temperature. Similar to most of the popular GPU Speed Testing tools, it contains lots of benchmarks for pre-sets and CPU burner tools.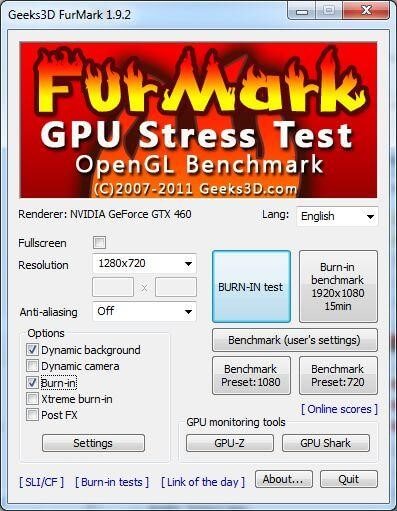 HIGHLIGHTS: FurMark
Provides a significant amount of information related to graphics cards.
Decent functionalities to perform GPU Stress Testing & maintaining stability.
Efficiently monitor the GPU Temperature.
Contains a plethora of GPU Benchmarks for presets (ranging from 720p to 4K).
Pros:
Straightforward interface
Free GPU Benchmarking Program
Lightweight graphics card benchmark tool
Cons:
Might not be as flashy as its counterparts
OUR VERDICT: Do We Recommend FurMark?
Yes, why not? It is a free GPU Benchmarking Testing tool and available for only Windows users. It holds all the potential with great functionalities, all equipped in a straightforward and easy-to-use interface which is enough to be among the 'Top Used GPU Benchmarking Applications' out there.
5. UserBenchmark: All In One Benchmarking Tool
Latest Version: 2.9.7.0
Compatibility: All Windows Versions
Here comes an all-in-one benchmarking package that offers the capabilities to benchmark CPU, GPU. SSD, HDD, RAM, and even your USB. This significantly helps users to pick the best hardware for their needs. Unlike other PC GPU Benchmark Software, UserBenchmark offers plenty of suggestions on how to improve overall system performance. The tool works incredibly well and every single hardware component is graded, which further allows users to pinpoint where exactly your desktop is underperforming.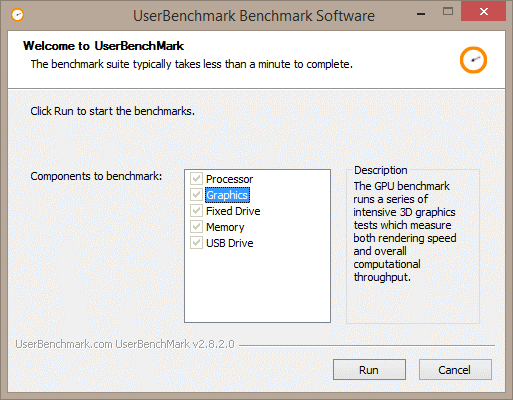 HIGHLIGHTS: UserBenchmark
Capable of measuring GPU's ability to render frames.
Calculate GPUs performance with regards to geometry shading
Easily test how fast your GPU is in less than a minute.
Navigate to their website & look at the topmost graphics card & compare with counterparts.
Pros:
Free tool to benchmark GPU
Grades more than just your CPU & GPU
Lightweight tool to benchmark GPU
OUR VERDICT: Do We Recommend UserBenchmark?
Absolutely! UserBenchmark is a nifty tool for evaluating the performance of all your major components, such as graphics card, hard drive, processor, and USB Drive. It even allows users to calculate the effective '3D speed' which is a current measure of performance in recent games.
6. Heaven Unigine 2
Latest Version: 4.0
Compatibility: Windows XP, Windows Vista, Window 7, Windows 8, Windows 10
Heaven Unigine is the best GPU testing software and benchmarking tool. An effortless designed for gamers and overclockers. The tool offers advanced features for performing stress testing on your graphics card and tells you how stable it is. In addition to constantly measuring the performance of GPU, Heaven Unigine even helps in monitoring clocking. You can undoubtedly trust the results offered by this best GPU benchmark software, as it claims to offer 100% GPU bound benchmarking.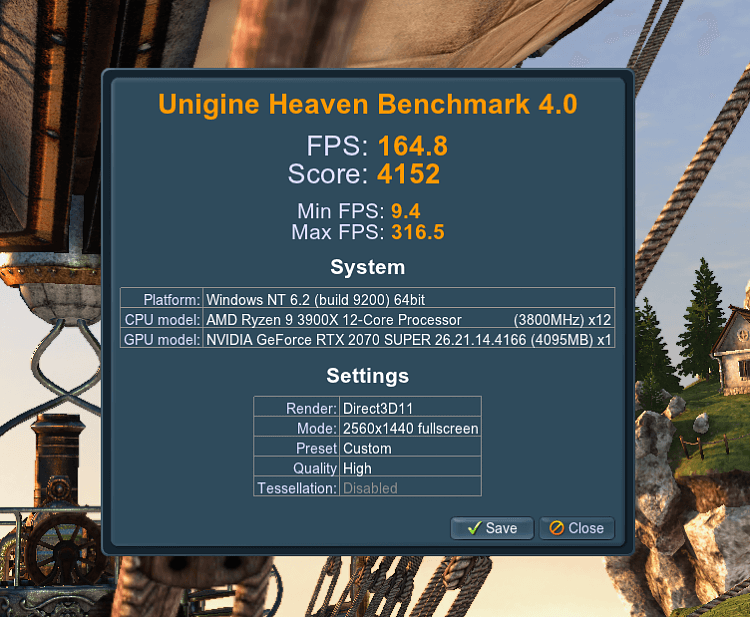 HIGHLIGHTS: Heaven Unigine 2
Excellent benchmarking presets.
Effortless way to measure GPU temperature & perform clock monitoring.
Supports real-time scene rendering.
Supports multi-monitor configurations as well.
Pros:
Checks your system for the cooling & power supply
Multi-platform support available
Free GPU testing version can be downloaded
Cons:
Might not be a suitable choice for advanced users
OUR VERDICT: Do We Recommend Heaven Unigine 2?
Of course, Heaven Unigine is certainly one of the best free GPU Benchmark Software, a reliable choice for novice users who wish to perform GPU Stress Testing without any hassles. Unlike most of the utilities, you can easily customize Heaven Unigine with different themes such as Valley, Tropics, Sanctuary, and more.
7. Catzilla
Latest Version: 2.0.1
Compatibility: Windows 10, Windows 8, Windows 7, Windows Vista (Both 32-bit & 64-bit)
You might agree with the fact that whether it's a high-resolution video or game; the GPU needs to be quite powerful to sustain both. So, if you need to identify and analyze the specification and other information related to your hardware and know will your system be able to manage such games, test it with Catzilla. It's an excellent free PC GPU Benchmarking tool, packed with all the essential algorithms required to perform speed testing and measure overall performance.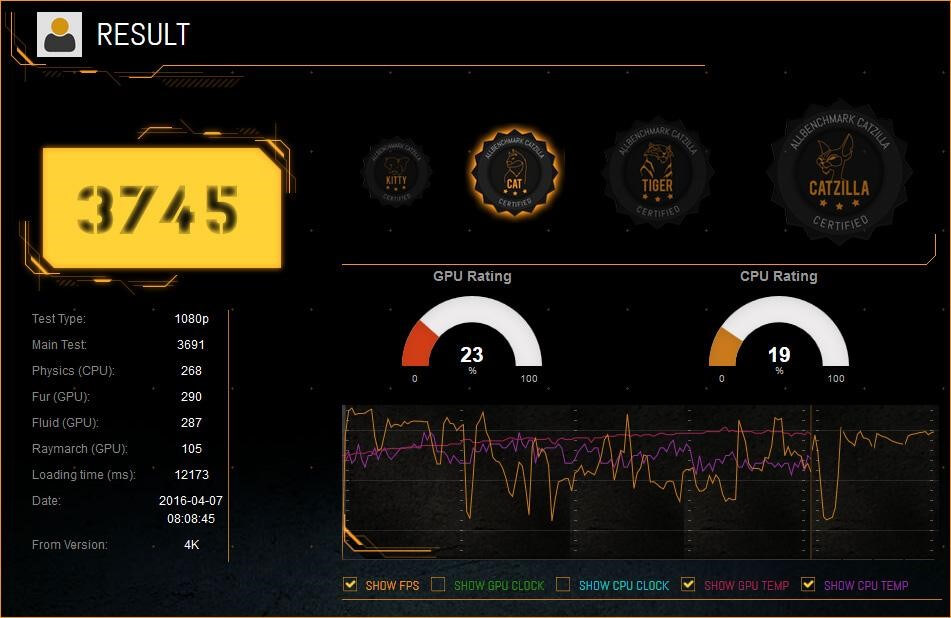 HIGHLIGHTS: Catzilla
Easily enable a 720-Pixel test using this GPU compare tool.
Capable of recording & comparing scores with other machines.
As soon as the benchmark results are out, you can tweak PC Settings.
Sends notifications if your Windows needs any updates or drivers are outdated.
Pros:
Simple interface
Gives four badges to your PC: i.e., Kitty, Cat, Tiger & Catzilla as benchmarking scores
Know about the games your PC can run without any hiccups
Cons:
Not used by a lot of users
OUR VERDICT: Do We Recommend Catzilla?
Hell, yeah! Catzilla is a phenomenal choice if you want to test the graphic card performance and evaluate the scores both numerically and graphically. Hence, it becomes easy for users to compare the results with similar machines and analyze where their PC stands in the crowd.
8. Superposition
Latest Version: 1.1
Compatibility: Windows 10, Windows 8, Windows 7 (Only 64-bit)
Arriving from the makers of Heaven, Superposition offers some incredible tools for maintaining exceptional stability and measuring the performance of PC hardware. It even constantly monitors the Power Supply, working of the video card, cooling system, and so on. Being a free GPU Speed Testing Tool, Superposition can help you record and compare your graphics card with the leaders of Unigine.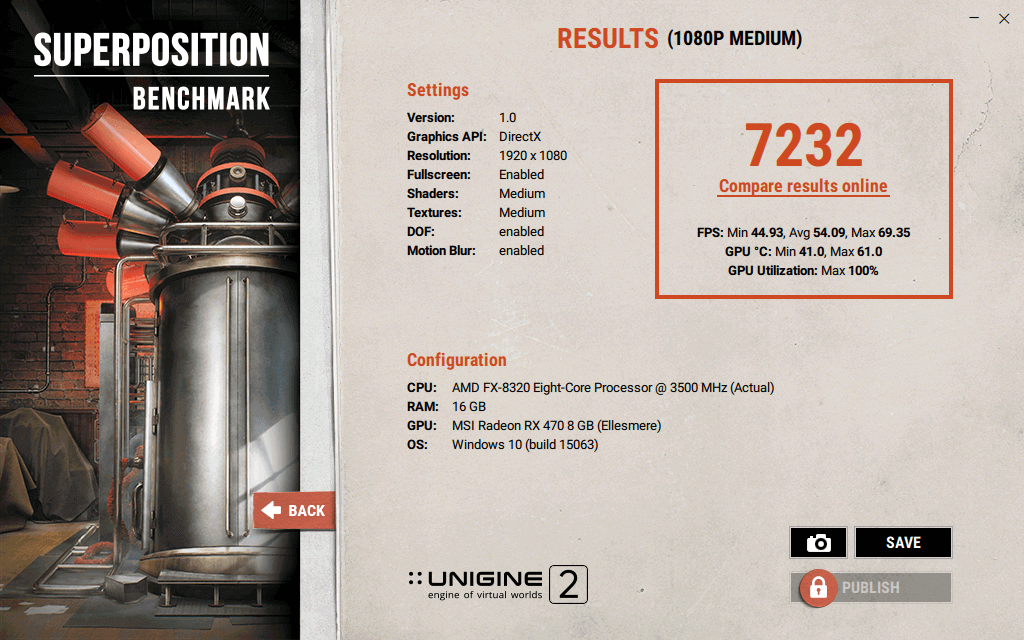 HIGHLIGHTS: Superposition
Supports clock monitoring and GPU testing without any hassles.
Packed with dynamic lightning technology to produce fast and accurate results.
Comes integrated with mini-games to check how your GPU is performing.
Settings can be easily customized
Pros:
Can test for high-grade visuals
Free GPU Benchmark Comparison Software
It has SSRTGI technology & offers a VR experience for you
Cons:
Small user base. Hence, less trusted products among people
OUR VERDICT: Do We Recommend Superposition?
Cent Percent! Superposition is a good GPU Benchmark tool if you want to run rigorous tests on your graphics card to evaluate its performance and stability. Once the test results appear, you can easily compare and judge the performance with other GPUs on the leaderboard.
9. Basemark GPU
Latest Version: 1.2.3
Compatibility: Windows 10, Windows 8, Windows 7 (Both 32-bit & 64-bit)
Next on our list of best benchmark program for GPU is Basemark GPU. The tool is available for free of cost and can be utilized on a variety of operating systems without any hiccups. The utility is best-known for its effective test results and performance measuring engine on a multitude of graphics cards. The USP of the product lies in its 'integrated baseball power board service' that helps users to contrast the performance results of their gadgets with other devices.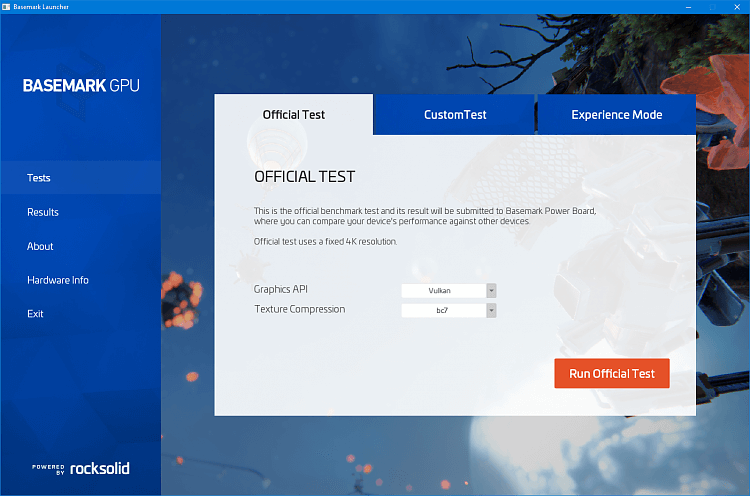 HIGHLIGHTS: Basemark GPU
Offers multiple modes to test and compare devices.
Provides official test results in an effortless format.
Custom options to do in-depth benchmarking.
Easy to use, all the APIs in one software.
Pros:
Effortlessly test graphics performance on multiple OS
Rock-solid architecture design
Highly customizable
Cons:
No free trial version available
OUR VERDICT: Do We Recommend Basemark GPU?
Yes, we do recommend using Basemark GPU on your devices. It supports multiple graphical APIs, all shipped with the support for OpenGL, OpenGL ES, and Vulkan. The GPU Benchmark program even shows how much of an impact modern APIs may have if equipped with current hardware. Cool, right?
10. GFXBench
Latest Version: 5.0
Compatibility: Windows 10, Windows 8, Windows 7
Our list of Best GPU Speed Test Software will certainly be incomplete without mentioning GFXBench. It's the best GPU Benchmarking Application designed and developed while keeping Next-gen graphics in mind. As soon as you select the desired API, you can get started with performing essential tests and comparing the results with other similar graphics cards. GFXBench is an outstanding graphic card benchmark application, with specifically designed tests for different uses.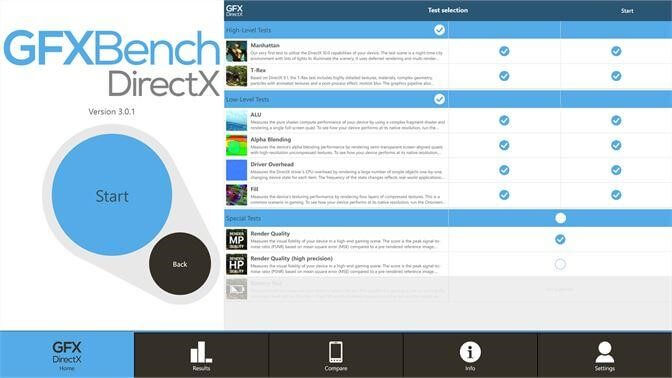 HIGHLIGHTS: GFXBench
Compare the performance of your graphics cards to pretty much any other.
Capability to test across a multitude of different platforms.
Support for low-level API as well, such as Vulkan, Metal & DirectX12.
Helps in monitoring the device's battery performance & visual fidelity
Pros:
Multiple tests for different uses
Automatically detects API if device & run tests accordingly
Capable of testing low-level APIs such as Metal, Vulkan & so on
Cons:
Dashboard can be updated a bit
OUR VERDICT: Do We Recommend GFXBench?
Yes, GFXBench is one of the simplest tools available in the market to perform GPU testing and benchmarking. All you need to do is, Download the GPU Benchmark Comparison tool from the website > select your desired API and perform the test. It would take a few moments for GFXBench to show accurate results so that you can further compare it with similar graphics cards.
Frequently Asked Questions
Q1. What is the best benchmark software?
3DMark is the Best GPU Benchmarking Software for 2023. The application is powerful enough to test, perform critical tests and measure overall GPU performance.
Q2. What games can be used for GPU benchmarking?
Here's a list of a few games that come with benchmarking tools:
BioShock Infinite.
Sleeping Dogs.
Batman: Arkham City.
Metro 2033.
Metro: Last Light.
Shadow of Mordor.
Tomb Raider.
Q3. How hot is too hot for a GPU?
90-100 degrees is certainly the hot range. 80-85 is the "limit" before the GPU itself starts heavy throttling.
Q4. Is 70 C safe for GPU?
Yes, 70 C is fine but it could be improved with a better cooler.
Q5. Is 80C OK for GPU?
Yes, 80C is the safe temperature limit for any modern graphics card user.
Q6. How do I check if my GPU is working properly?
Well, if you want to test your GPU, then you can either use any of the benchmarking tools mentioned above or if you are an NVIDIA Graphics Card user, you can go to their official website and check with the graphics card manufacturer.
Q7. How to increase GPU score? 
Do the following to enhance your GPU Benchmarking Score:
Install compatible
If you are using beta versions of drivers, then it is highly recommended to roll back to earlier versions.
Close all the unwanted programs and then perform GPU tests again!
Q8. Why Do We Need A Graphics Card Benchmarking Software?
Well, there are multiple benefits & perks of using a Good GPU Benchmark Program, some of them are mentioned just right below:
Test the overall performance of desktop PC & mobiles.
Helps in monitoring GPU Temperature.
Helps in doing software audits on installed programs.
Enables you to perform extreme hardware testing & analyze overall stability.
Conclusion
3D Mark is the Best 2023 GPU Benchmarking Tool. The application is powerful enough to test, perform critical tests and measure overall GPU performance. Additionally, it is a great utility for overclocking and all the features are available in an affordable package.
Of course, the ultimate choice is yours and we understand that you might have different preferences, so go ahead and choose the most suitable option, considering your requirements and budget for the Perfect Graphic Card Benchmarking Software