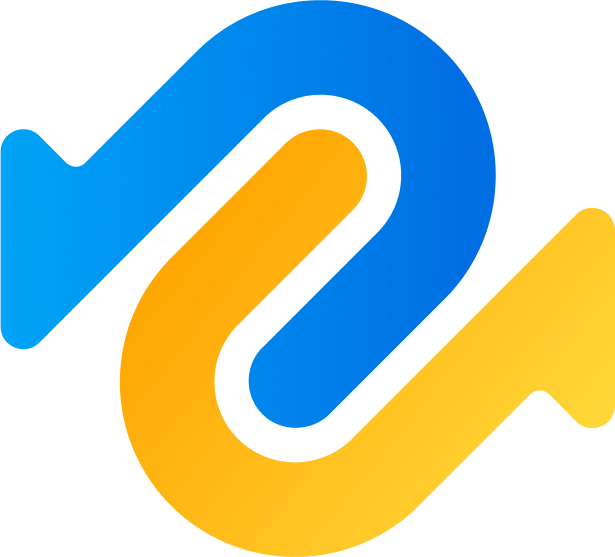 Tenorshare 4DDiG
Tenorshare 4DDiG Data Recovery Review for Windows PC
Accidentally deleted a folder containing important photos, documents, videos, and many other files? Looking for a tool that can help you recover those? Here we will review Tenorshare 4DDiG, one of the best data recovery tools for Windows. We'll discuss its features, pricing, and other aspects.
The data that resides in your computer – images, videos, applications, audio files, documents, and so on is precious. There are times when you might lose it to an unlucky accident. For instance, you might lose your data during a computer crash or if a drive containing some data becomes corrupt. Something that can come to your aid in such circumstances is a data recovery tool. Tenorshare 4DDiG is often hailed as one of the best data recovery tools for Windows. But does it stand up to its hype? We'll also find that in this review.
What Is Tenorshare 4DDiG Data Recovery?
It is a data recovery software that can help restore data lost for various reasons such as accidental format, hard drive corruption, malware attack, and many others. It has an easy-to-use attractive interface; as such, you don't have to be a data recovery specialist to use this tool.
It uses an advanced data algorithm to scan your computer deeply and helps find all hidden files. One of the best aspects of this tool is that Tenorshare 4DDiG can also retrieve lost data from a Windows PC that has become unbootable. We have shown the steps for the same below.
Apart from PC, you can also use Tenorshare 4DDiG data recovery software to recover data from SD cards, external USB drives, Digital Cameras and other devices.
System Requirements
Windows Compatibility: Windows 11/10/8.1/8/7 (32 and 64-bit)
Disk Space: 200 MB or more recommended
RAM Required: 512 MB or more
Processor: 1 GHz or above
File System: FAT16/32, exFAT and NTFS
Recover accidentally lost files across all file formats and a variety of devices.
Preview files before recovering them.
Reputation for high data recovery rate and data can be recovered from all major data loss situations.
Recover data from crashed computers.
Repair unplayable videos and corrupt photos.
You can only preview files in the free version.
You can't individually choose between Quick and Deep scan.
How To Use Tenorshare 4DDiG
1. Download Tenorshare 4DDiG and run the installation file.
2. Once installed, choose the location from where the data was lost. If your disk doesn't appear here, click on the refresh button.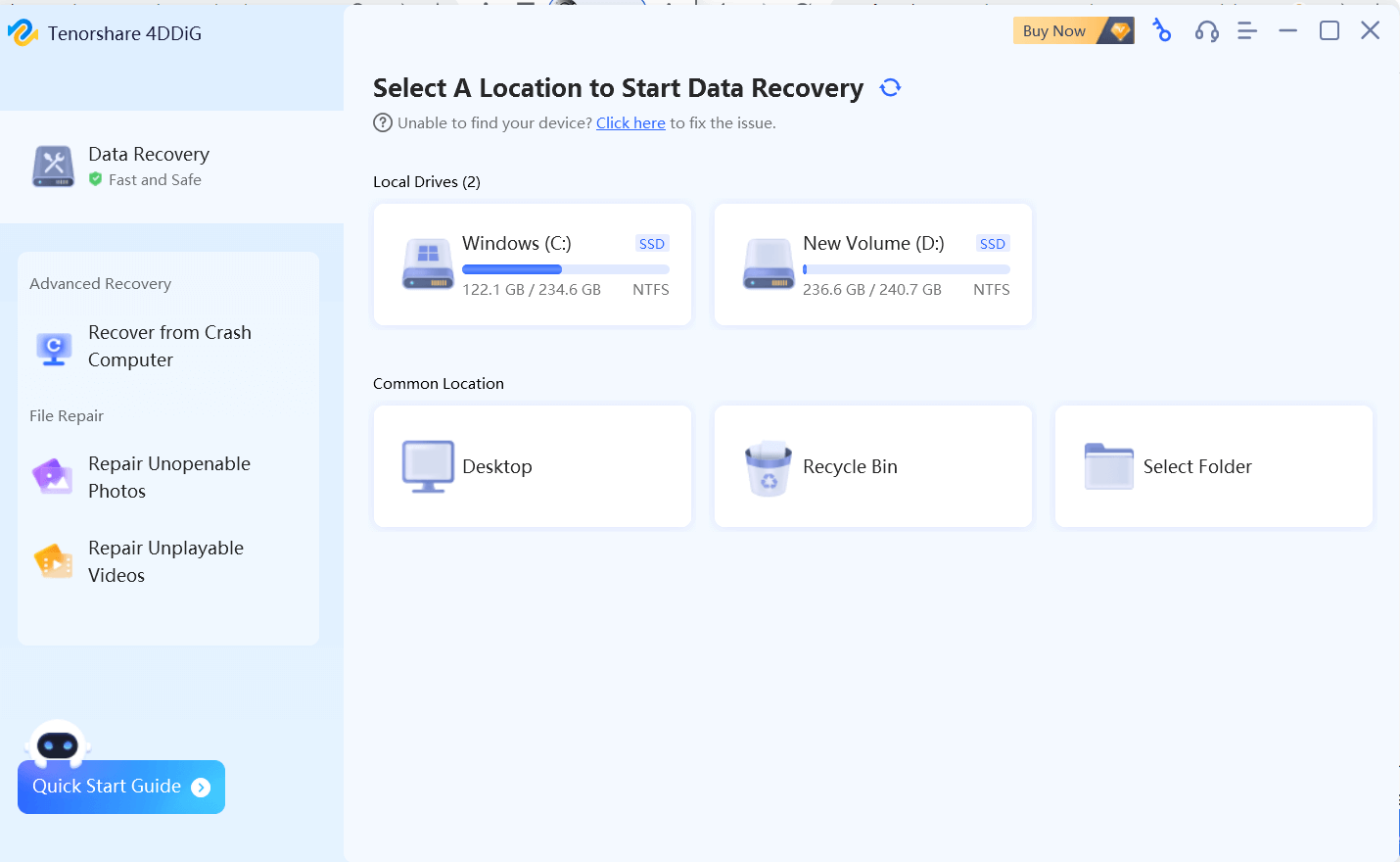 3. You can even choose some of the common locations from where users often lose files such as the Recycle Bin, a specific folder, or the Desktop.
4. After you have chosen the drive, select the type of file you want to recover. You can select multiple file types by clicking on the checkbox next to them.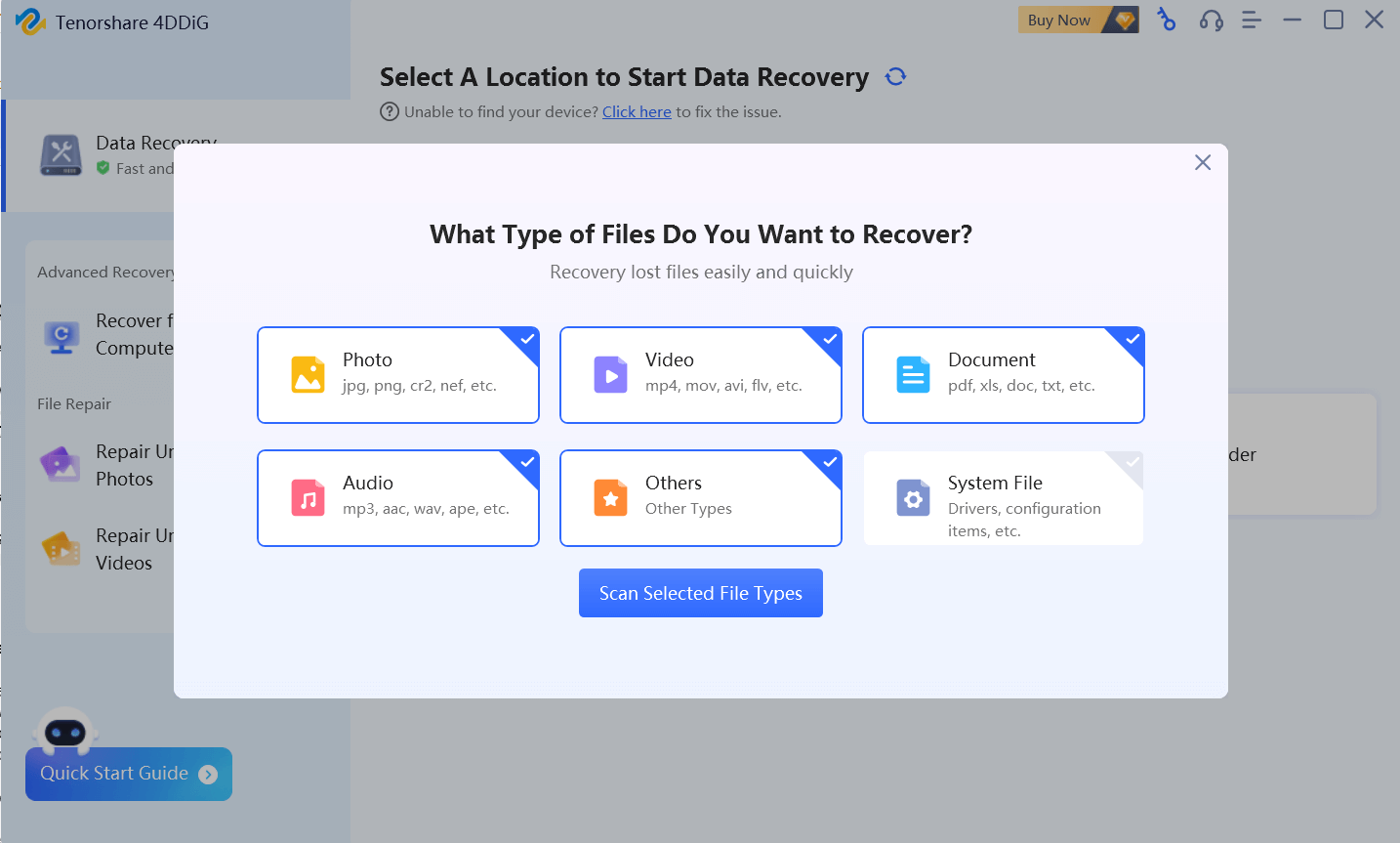 5. Click on Scan Selected File Types. Based on the number of files you have selected, the process may take time.
6. At any given time and if need be, you can pause or stop the scanning process.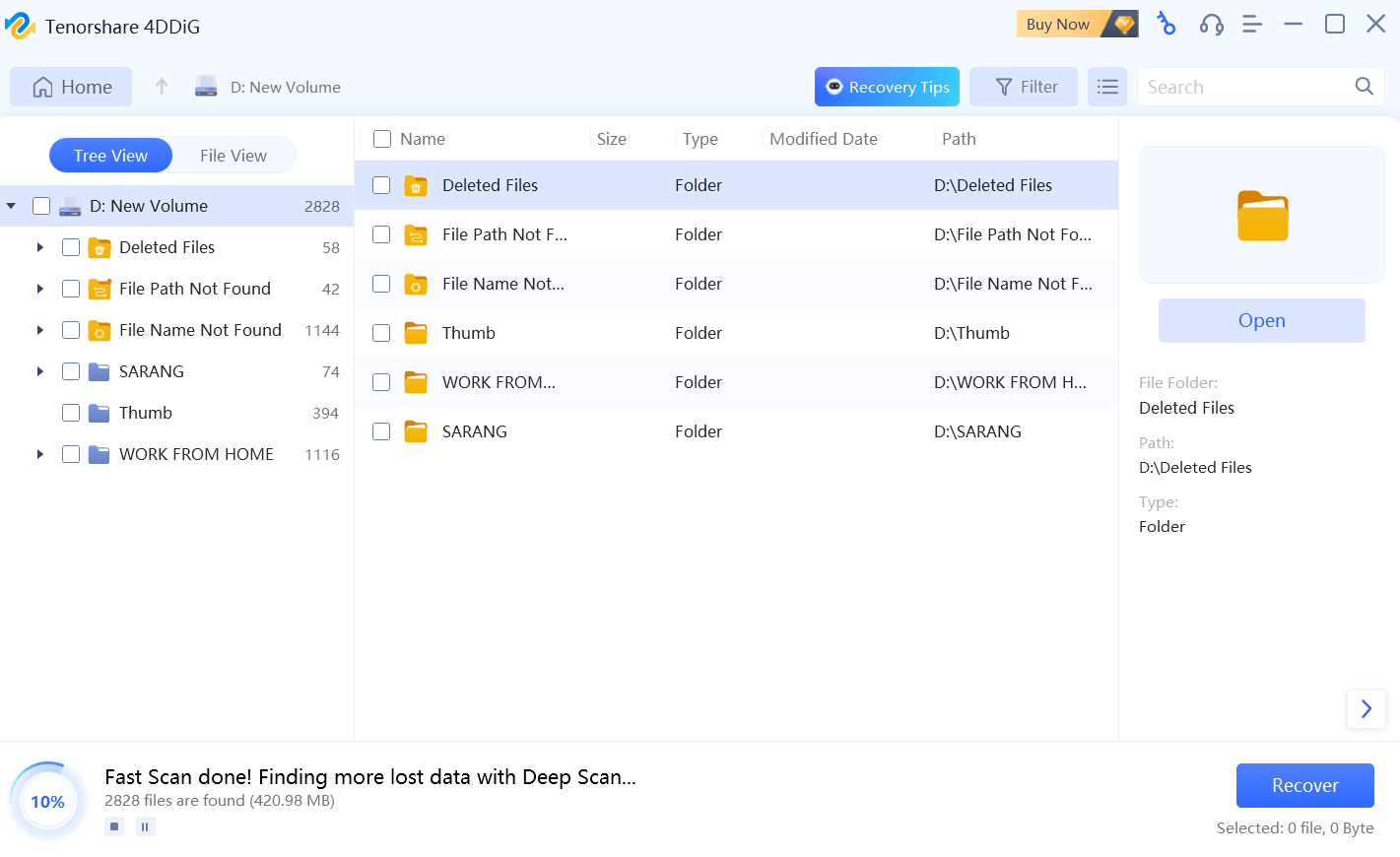 7. Before selecting a folder or file you want to recover, you may want to refer to how files and folders are tagged as shown in the screenshot below.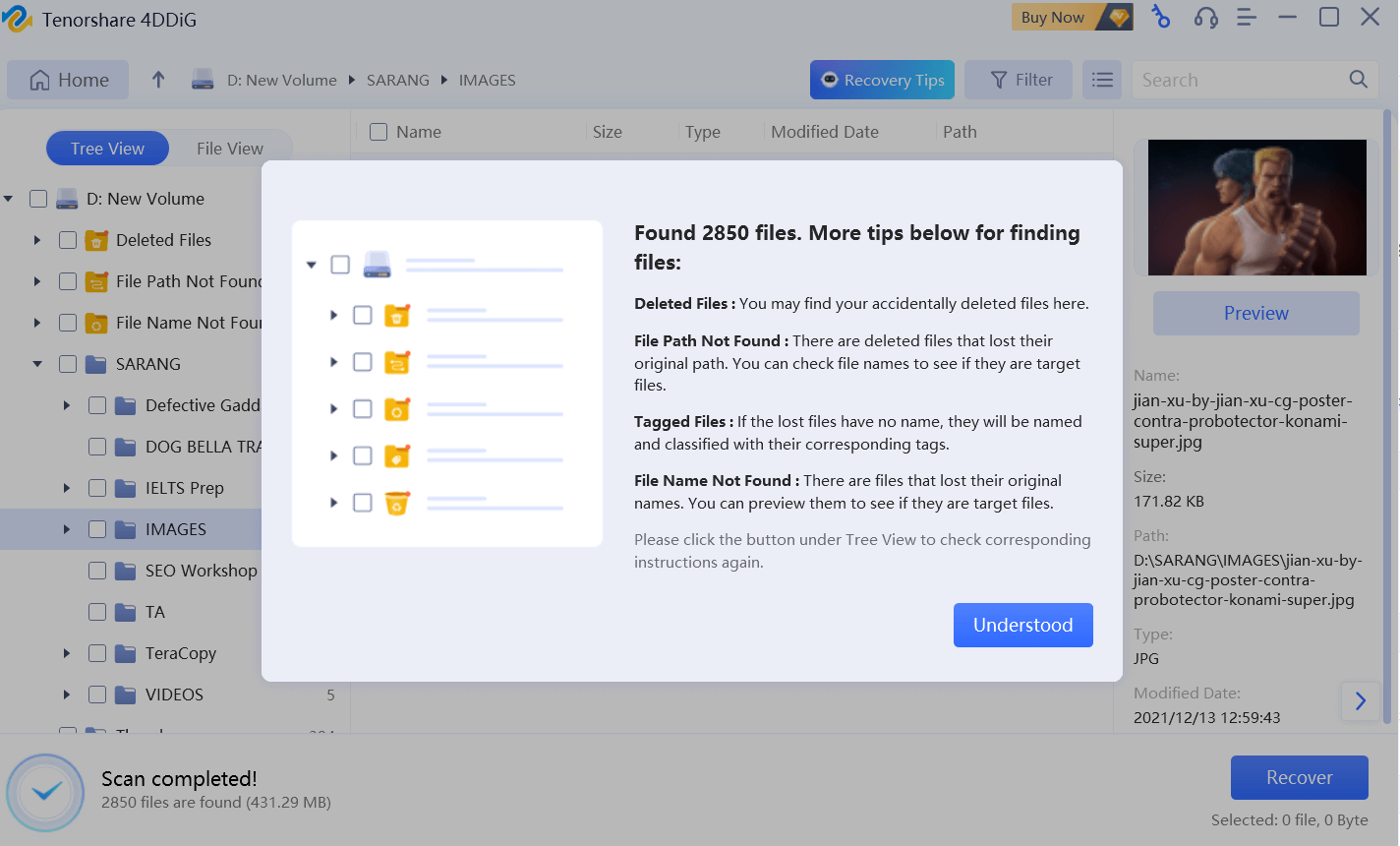 8. For instance, in our case, we want to recover one of the photos from the Deleted Files located on the left.
9. Select the file you want to recover by clicking on the checkbox next to it and then on the Recover button. Please select a location other than the one from where the file was lost. This will prevent the file from being overwritten.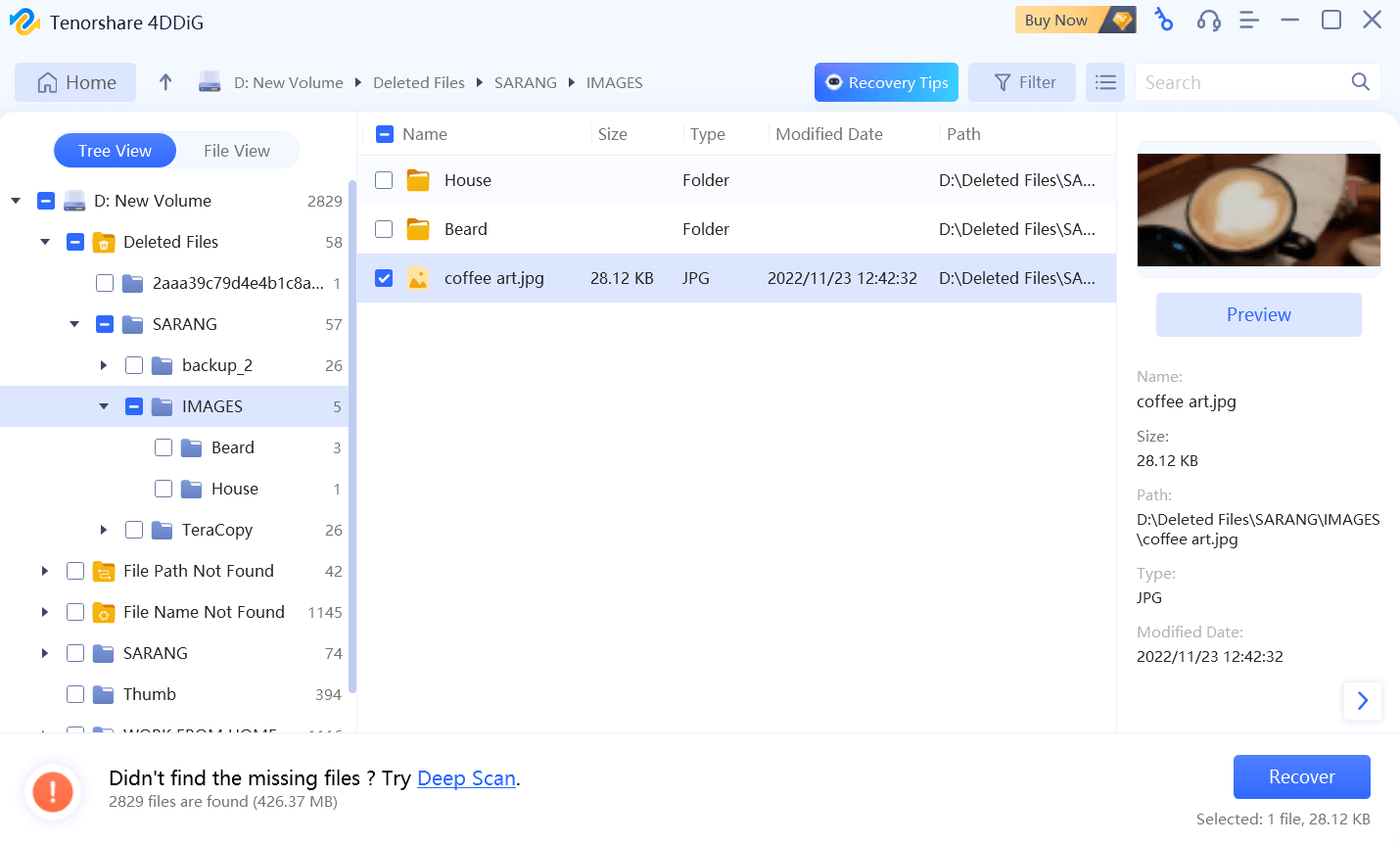 How To Recover Data From A Crashed Computer?
One of the best aspects of Tenorshare 4DDiG Data Recovery is its capability to recover data even from a computer that you can't boot into and here's how –
1. First and foremost, keep a USB drive of at least 1.5 GB and another functioning computer ready. Here you will be creating a USB bootable device.
2. Download and launch Tenorshare 4DDiG on a computer that's working.
3. Connect your flash drive to the computer. It is important to note that once you use this drive to create a bootable drive, it will be formatted.
4. From the left-hand pane, select Recover from Crash Computer.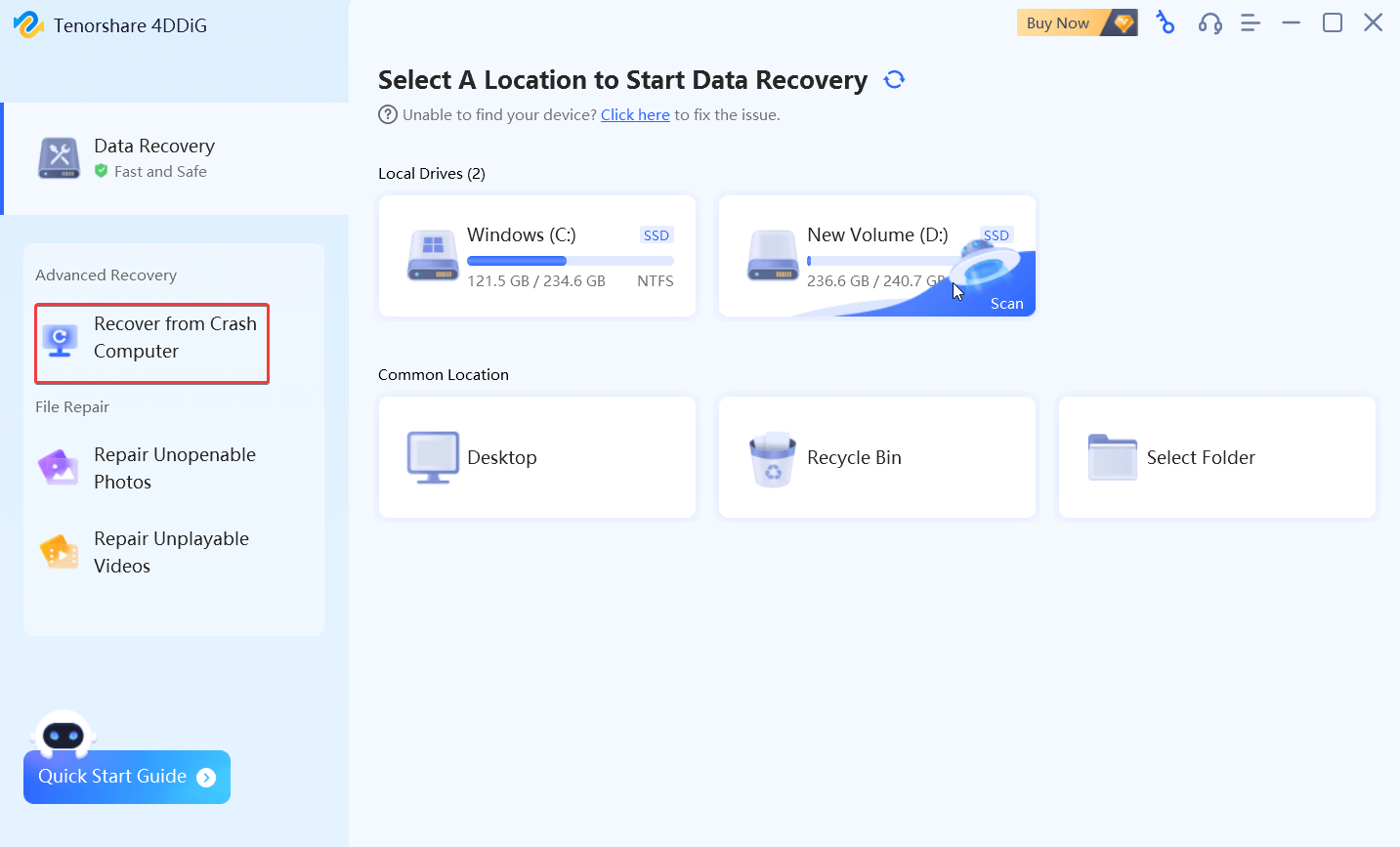 5. Click on Start to initiate the process.
6. From the right, select your bootable drive and click on Create. Follow the on-screen instructions and wait for the process to finish. As we said, this operation would format your flash drive. So, we recommend that you back up any important data. For this, you can use a utility like EaseUS Todo Backup.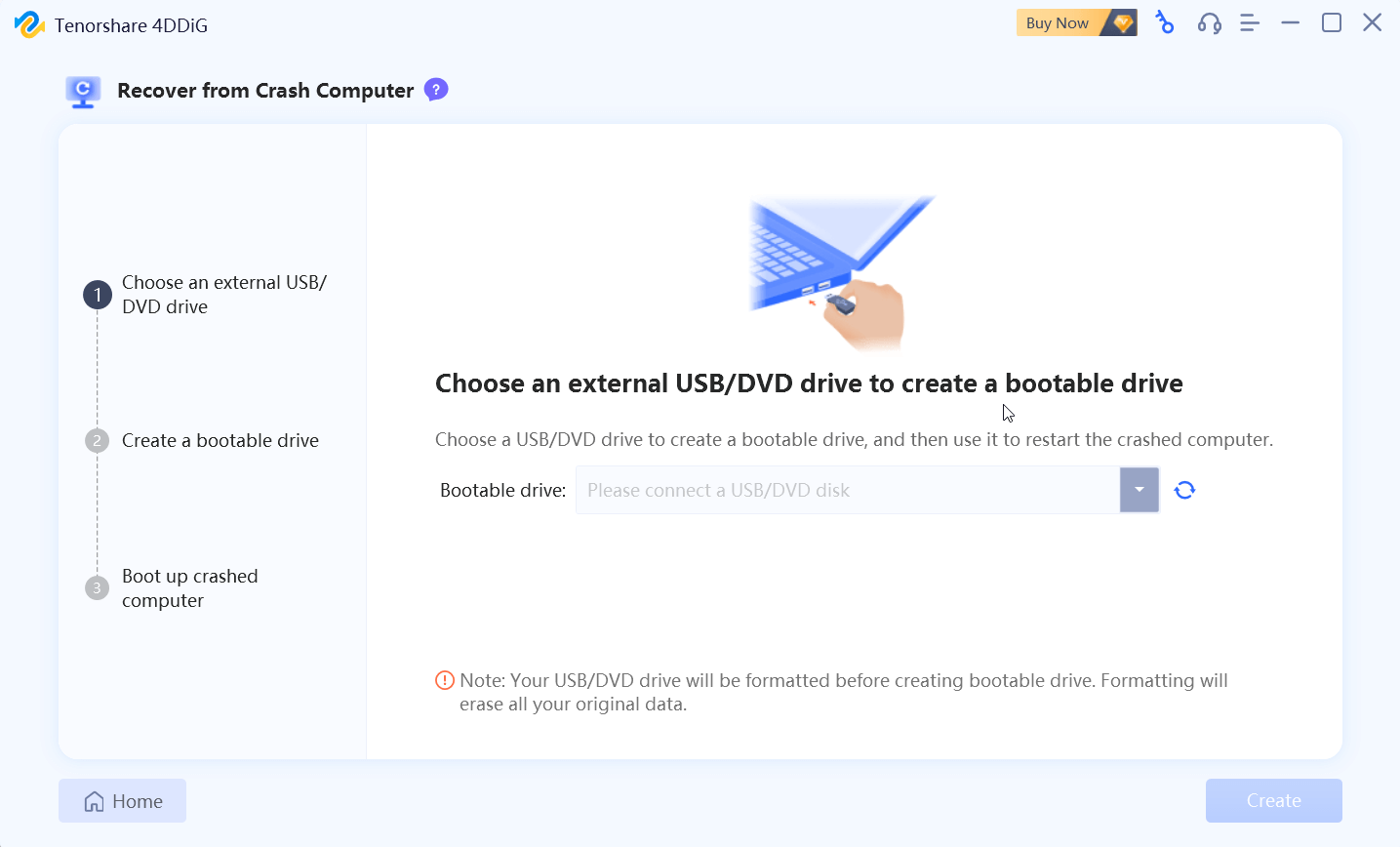 7. While this operation is in process, ensure that you don't perform any other operation and keep connected to a network.
8. Once you have created the bootable drive, head on to your crashed computer and insert the USB flash drive in it.
9. Restart your crashed computer. When you see your computer's brand, enter the BIOS setting using the keys that are used to enter the BIOS. The key combo differs from one brand to another.
10. Head to the Boot tab using the arrow keys and select your booting device.
11. Once you have done that your crashed computer will start loading files. Wait for a while till the configuration takes place and Tenorshare 4DDiG is installed on your PC.
12. That's it! Select a location and recover the data you want.
Tenorshare 4DDiG data recovery tool has an attractive interface that is easy to use. To help you get started, a "Quick Start Guide" will help you navigate the software initially.
The home screen shows you recovery and repair options on the left-hand pane. On the right, you can choose from various locations where you intend to recover data. You can also see historical scanning results that you can import.
Once you have selected the location for data recovery, the next Window lets you arrange the scanned files in "Tree View" and "File View." The "Tree View" further tags the files, as shown in the screenshot below. The "Tree View" shows you files in the same hierarchical form as they are on your hard drive. The "File View" segregates the files based on the file format.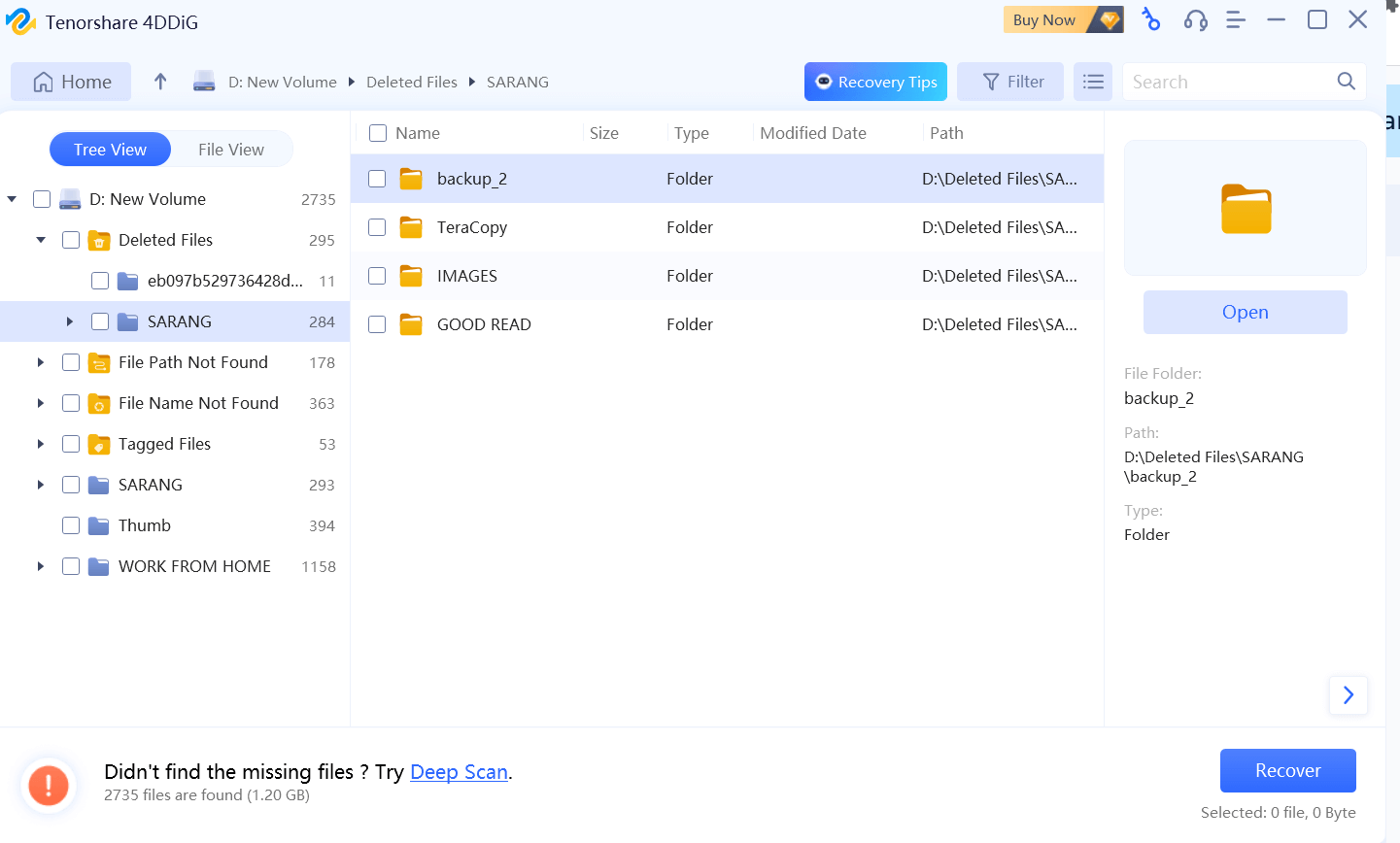 The second part of the same window lets you see the files and folders contained. In the third section, you can preview the files, see their path name, etc.
1. Recover All Types of File Formats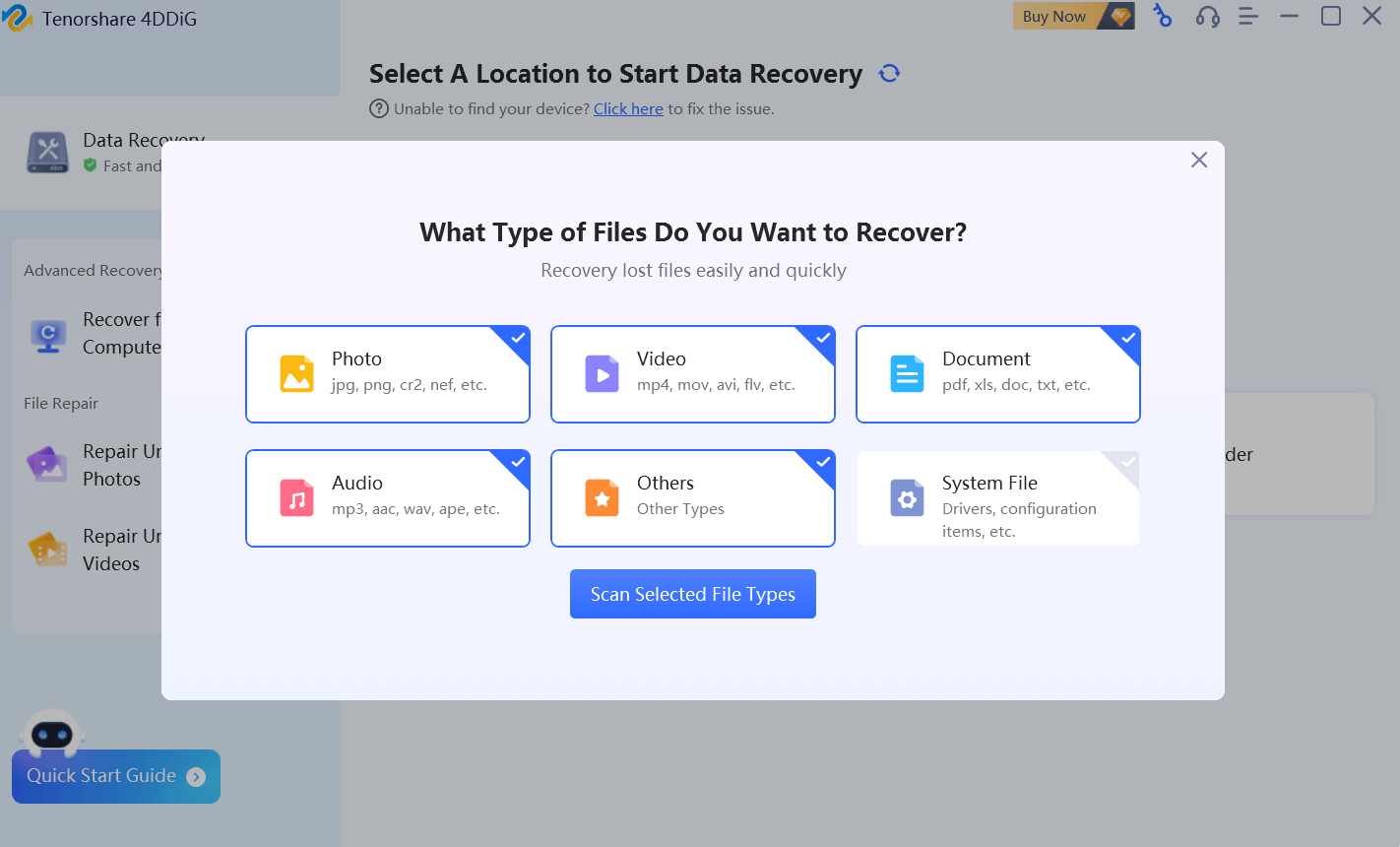 Regardless of the type of data you have lost, Tenorshare 4DDiG for Windows can help you recover over 550 file types on Windows.
You can recover photos, audio files, videos, documents, email & Web files, and archives across all file formats. You can select the type of file that you want to recover. This also includes system files such as configuration files, drivers, etc.
2. Restore Data From A Variety of Devices and Partitions
Tenorshare 4DDiG supports advanced algorithms to recover files from hard drives, formatted partitions, and damaged and crashed hard disks. Apart from PC, you can recover data from HDD, SDD, SD card, Digital Cameras, and USB drives.
3. Easy Filtering To Retrieve Files
To retrieve files faster, you can filter your files by modified date, file type, and various other attributes such as file and tags. You can even enter the name of the file directly and see if it is recoverable or not.
4. Recover Data From Crashed Computer
Let's assume one of your PCs or laptops has suddenly crashed, which had all your important data. You might think there is no scope for retrieving data since you might not be able to install data recovery software on a computer that has crashed and is inaccessible. Tenorshare 4DDiG can help you recover data from a crashed computer, and here is how. All you would need is a blank USB drive of over 1.5 G and a computer on which the 4DDiG Data Recovery program is installed.
5. Preview Files Before Recovering Them
With both the free and paid versions, you can preview files. This can especially be great if you are testing out the tool and want to know if it is capable of recovering the files you want.
6. Keep A Track of The Scan Status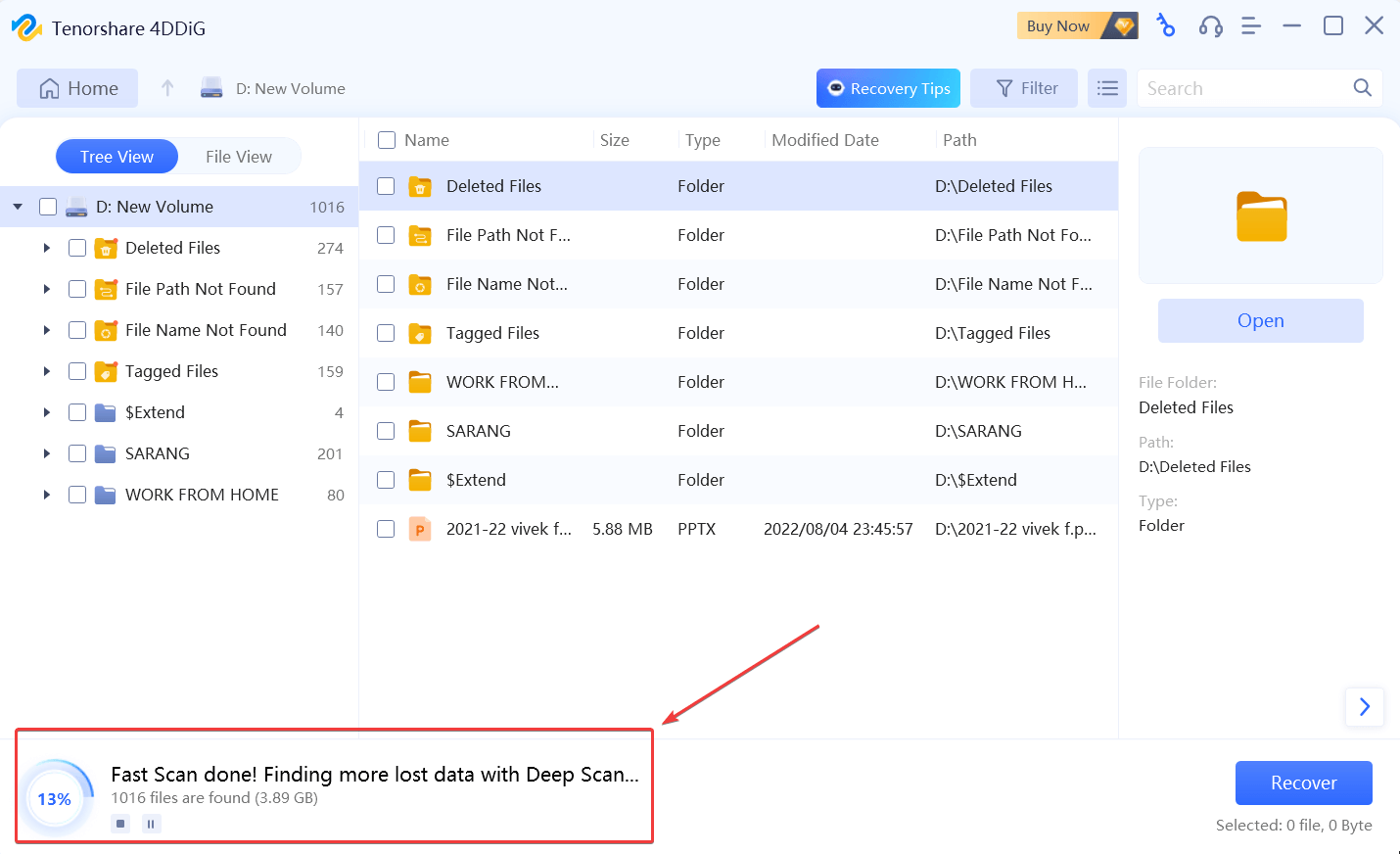 During the recovery process, you can keep track of the scan progress. At the same place, you will also be able to see how many files are found and what storage space they acquire. At any point in the scan, you can pause or stop the scan.
7. Repair Photos and Videos
Tenorshare 4DDiG helps repair unopenable photos. Whether those displaying the wrong colors or ones that are displaced because of unexpected power outages or disk errors, this data recovery tool can help repair such photos. The same goes for corrupt videos as well.
Tenorshare 4DDiG offers a free trial where you scan and preview your accidentally deleted data. There are competitors that let you retrieve some amount of files, but we found that the recovery rate of Tenorshare 4DDiG is one of the best in the industry. If you wish to recover the data, you would need to purchase the license key.
At the time of writing this blog, the monthly license of Tenorshare 4DDiG begins at $45.95. It has two other variants – a yearly license and a lifetime license. The price breakdown can be seen in the screenshot below –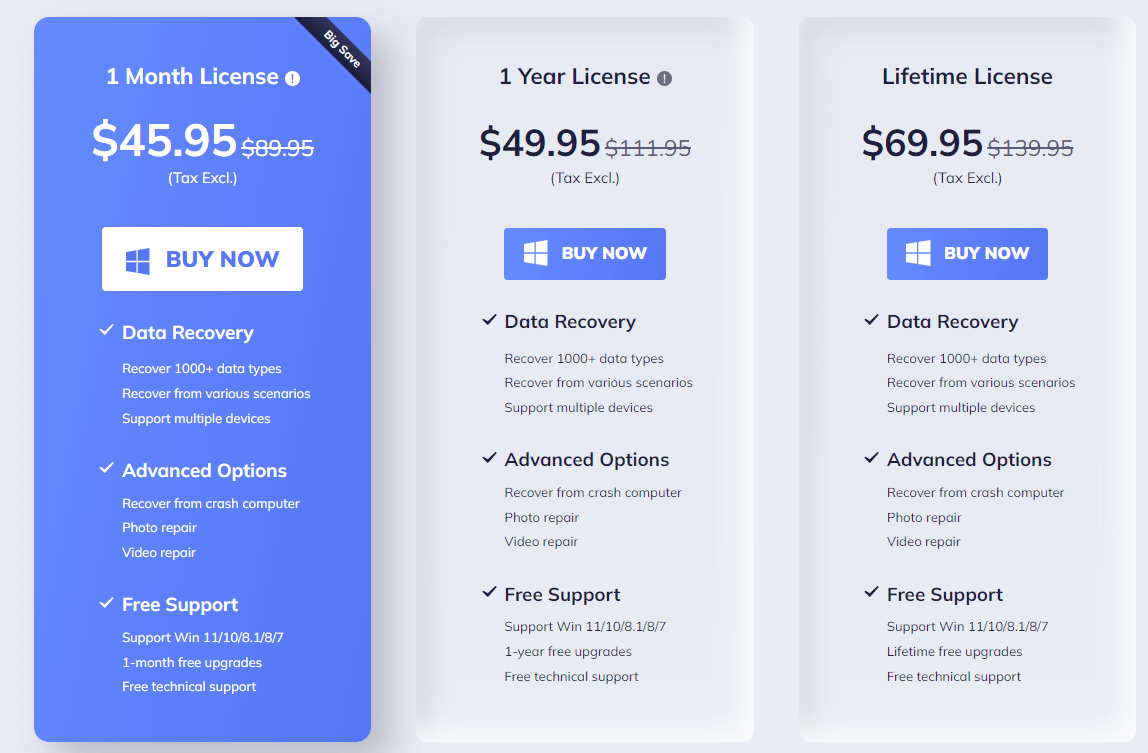 The speed of this data recovery tool – whether to scan, identify and recover files and folders depends upon factors like the type of file format you have chosen and the number of files you want to recover. In our case, it took nearly 20 mins for the data recovery tool to identify approximately 2300 items worth 600 MB. But it was able to find the files that we had deleted for the purpose of testing.
There are multiple ways you can seek assistance from the support staff in case you are stuck with functionality or have queries.
First, you can get in touch with customer support staff right from the interface itself by filling out the form, as shown below. You can expect answers within 48 hours on weekdays.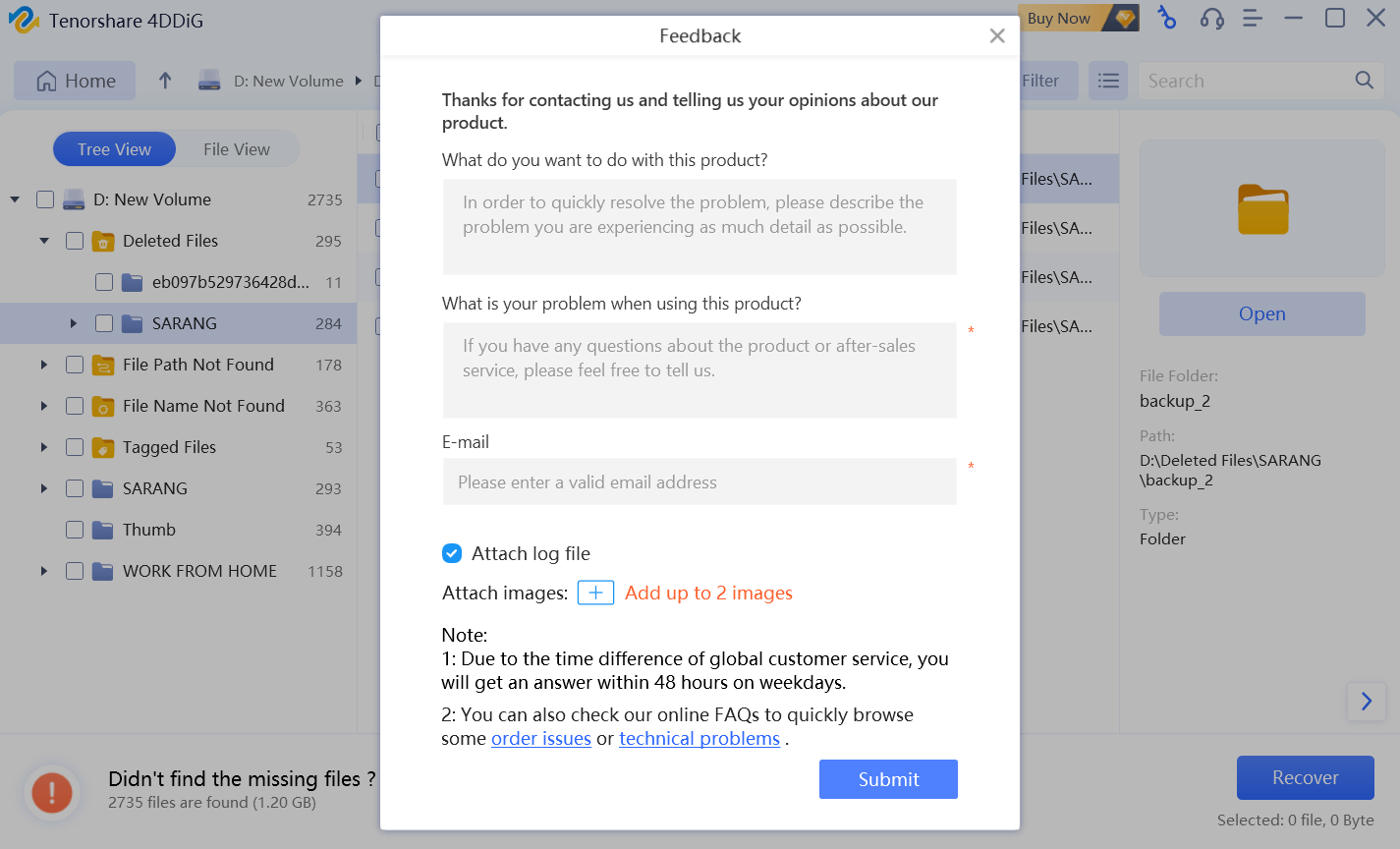 Another way you can reach out to the support team is by clicking on this link and then selecting the type of issue you have. For instance, you might have issues related to purchase and refund or license.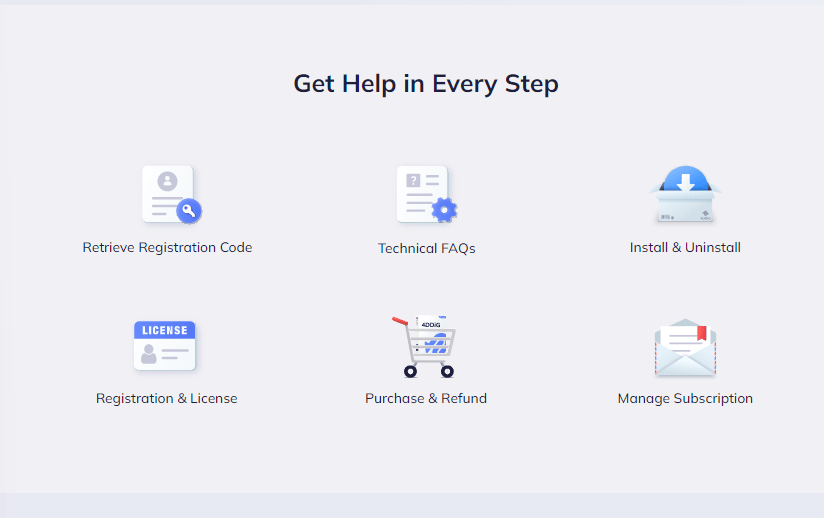 Then, there are tons of resources in both textual and video formats, referring to which you can understand how the software works and how you can fix various issues that might occur during the course of your using the software.
Wrapping Up
In case you have lost data, you can consider using Tenorshare 4DDiG data recovery software. And if you already have, share your experience with us in the comments section below. For more such content, keep reading Top10PCSoftware.
Frequently Asked Questions –
Q1. What is Tenorshare 4DDiG?
Tenorshare 4DDiG is a data recovery tool that can help you retrieve accidentally deleted data across a variety of file formats from a wide range of devices. It is capable of handling various data loss situations such as formatting, accidental deletion, computer crash, partition loss, etc.
Q2. How does Tenorshare 4DDiG work?
Even after you have deleted the file from your Recycle Bin, what actually is deleted is the master file table. It is still stored in the form of 0s and 1s. Unless it is overwritten, it can be recovered with the help of tools like 4DDiG data recovery. It conducts both Quick and Deep scans to find recently deleted and other files.
Q3. What are the features of Tenorshare 4DDiG?
Tenorshare 4DDiG offers multiple features such as –
Select the file format of the data you want to recover.
Retrieve lost data from all kinds of drives, including external hard drives.
Recover data from a crashed computer.
Repair corrupt videos and photos.
Q4. How much does Tenorshare 4DDiG cost?
Even though the monthly license of Tenorshare 4DDiG is available for $89.95. However, with frequent discounts, you can purchase it for as low as $45.95/ month.
Q5. Is Tenorshare 4DDiG safe to use?
Yes, Tenorshare 4DDiG data recovery is safe to use. It doesn't collect any of your information for any illegal purposes. With this tool, you can even recover data from a crashed computer too.