Wordy emails, long meetings and confusing text explanations are a passe. A screen capture tool like Techsmith Snagit is the need of the hour! It not only just helps to capture screenshots & record videos of your computer screen, but also assist to annotate it and make your communication more effective. But, does it stand up to its reputation? Let's find out in this detailed TechSmit Snagit review.
Let's begin with a brief explanation about this tool! Snagit is a widely-popular screen capture, recording and image editing tool. Using it, you can create instructional content like tutorials, how-to guides, manuals, product demos & more. You can select a particular region of your PC's screen, capture screenshots in different modes or record activities as per your needs and preferences. .
That's not the only thing you can do. Once you have captured or recorded the screen you further have several options to annotate it. You can use shapes, arrows, steps, and other editing tools  to make your screen capture or recording more intuitive, interesting, and easy to understand.
TechSmith Snagit is also known for its integration with several other applications we use daily. These include all major Microsoft applications – Powerpoint, Word, Excel, and Outlook, and other apps such as Google Drive, Dropbox, Slack, and the list goes on.
Capture screenshots and record screens.
Cloud storage facility.
Convert image to text.
4K support.
Panoramic scrolling capture ability.
Users have reported occasional crashes when trying to save large videos.
System Requirements
Windows Compatibility: Windows 11, 10, 8.1, 8, Windows Server 2016/ 2019 64-bit 2.4 GHz single-core processor. For video capture, a dual-core i5 is required
RAM: 4 GB or higher
Hard Disk Space: 1GB or more required
Other Requirements: WebView2 Runtime, .NET 4.7.2 or later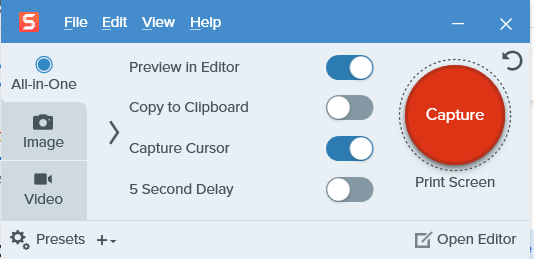 This is the first window that you interact with once you have installed Snagit on your PC. The "Capture" button remains the same, signifying whether you want to capture a screenshot or perform  a screen recording.
When you click on one of the these options i.e. The All-In-One, Image or Video, the subsequent options to Preview in Editor, Copy to Clipboard, Capture Cursor & 5 Second Delay will appear on the right.
Besides this, you can also see a Setting icon, clicking on the same  you can further customize the given setting as per your liking.

You can even assign hotkeys to a variety of functions like Panaromic Scrolling Capture, or, a dedicated hotkey for Grab Text option.
Once you have captured a screen or recorded your on-screen activities, the screen grab or recording opens in the Snagit Editor. The same editor also shows you recently opened files at the bottom. To annotate your screen grabs, you can choose from any of the tools, located at the top.
1. Take Screenshots of Any Region
With Snagit, you can take screenshots of any region on your screen. You can take a screen capture of the complete page, a particular region, or a vertical/ horizontal scrolling screenshot. The crosshairs let you take precise screenshots where you can keep track of every pixel. You can precisely capture the area you want in an error-free manner.
Another great aspect of TechSmith Snagit is that it lets you take Panoramic images. This means, while capturing you can scroll up, down or even side to side when taking a long web pages or documents.
2. Record On-Screen Activities
With Snagit, you can record on-screen activities using a wide range of options. You can select a specific  region to record. You can also record your webcam, select the audio configuration and do a lot more.
3. Annotate Screen Captures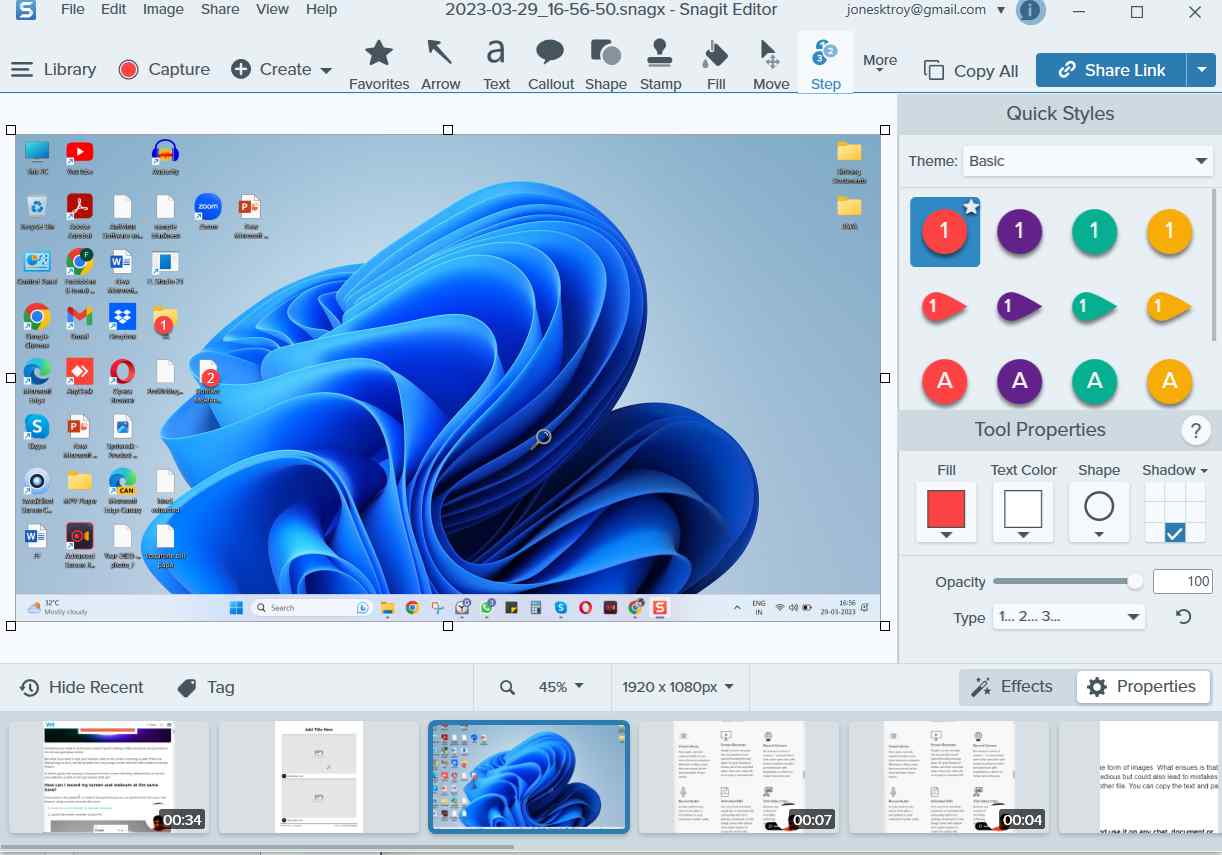 When it comes to marking up your screen grabs, TechSmith Snagit comes with a lot of options. You can either start from scratch and mark up your screen grabs using a variety of arrows, steps, stamps, shapes, text fonts and so much more, or you can even take the help of existing templates.
4. Shareability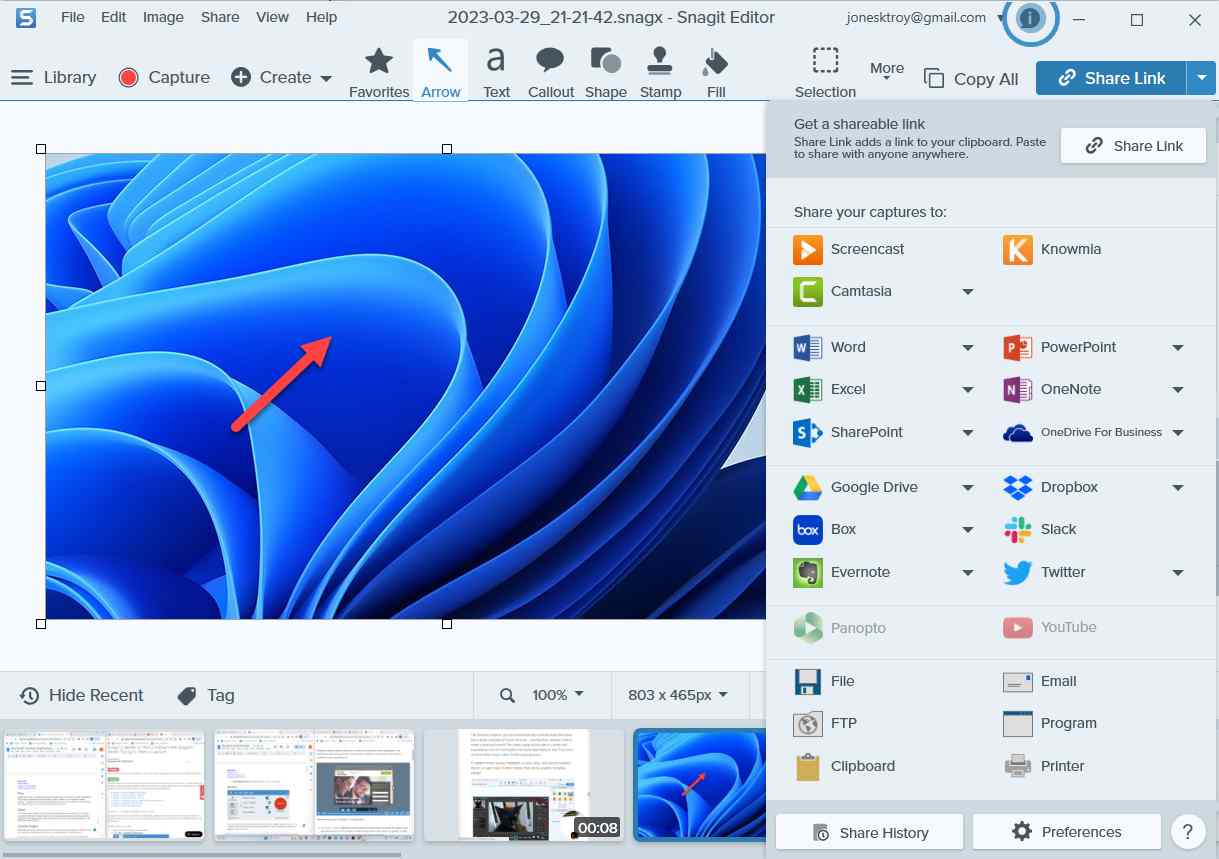 Referring to the screenshot above, we can see that you can share your screen grabs or recordings on a variety of platforms. You can directly upload your screenshots or videos on cloud platforms like Google Drive and Dropbox and access your work on any other device as well.
With the account that you have created with TechSmith Snagit, you can upload your images or videos on Screencast, which is TechSmith's online content hosting service. How's this useful? When you upload a link on Screencast, it is easy for you to get feedback on your work.
5. Annotate and Trim Screen Recordings
Not only you get to Annotate screen grabs, but you can also annotate screen recordings while the recording is in process. Interesting, right?
You can annotate your video recordings using shapes, arrows,  steps and even change the color of these elements. You even have complete control over the time after which you want an element to fade. Once you have created a screen recording, you can trim unwanted parts during post-processing. But, if there's more that you want to add, you can either opt for TechSmith's Camtasia or choose among  other best video editing tools.

6. Grab Text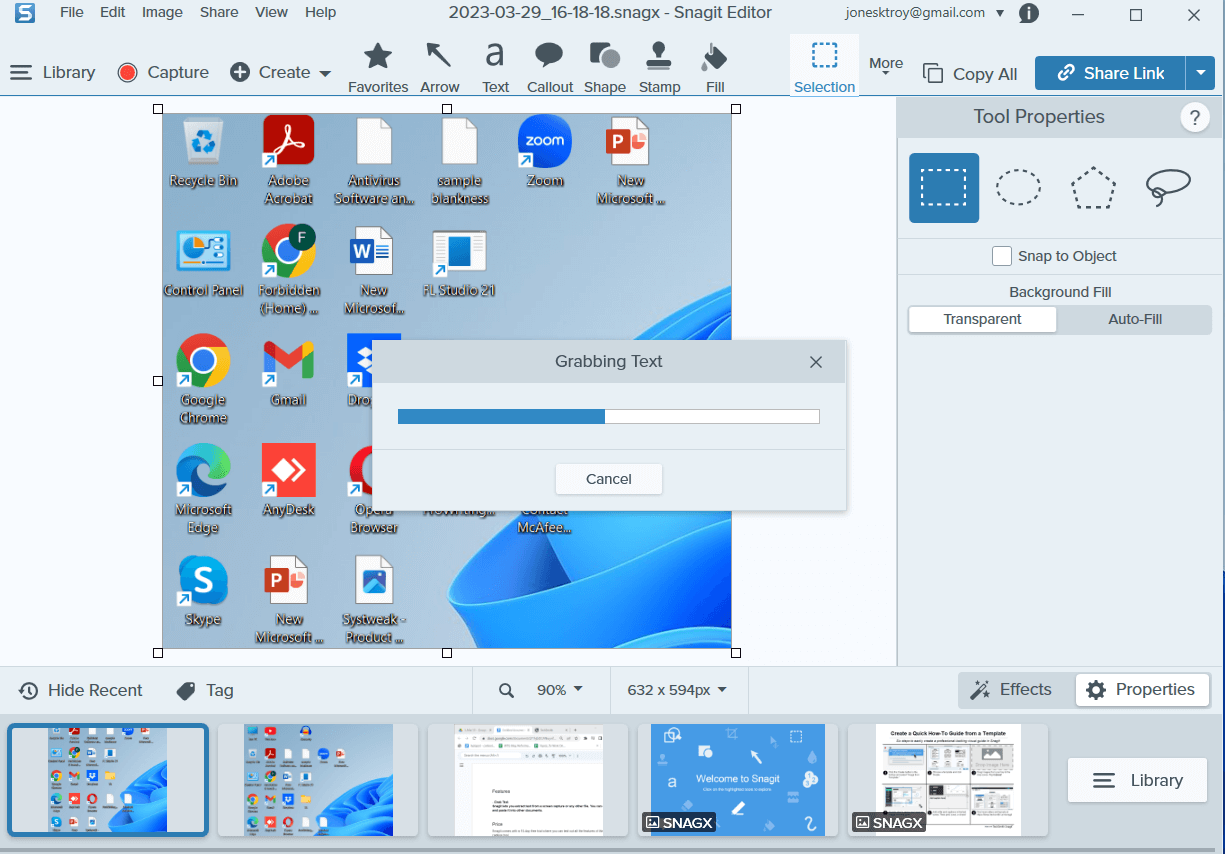 There are times when you receive documents in the form of images. What ensues is that you have to copy the text in the image which isn't just tedious but could also lead to mistakes. Snagit lets you extract text from a screen capture or any other file. You can copy the text and paste it into other documents without the need to copy and paste the content manually.
7. Record Screen With Webcam Overlay
As we've mentioned in one of the features above, Snagit lets you record your webcam.
But to what extent?
When choosing to overlay the webcam on your screen recording, you can either select your laptop's inbuilt webcam or a webcam that you have mounted on your PC. Next, you can select the area where you would like your webcam overlay to be placed – bottom left, bottom right, top left, top right, or the entire screen.

8. Create GIFs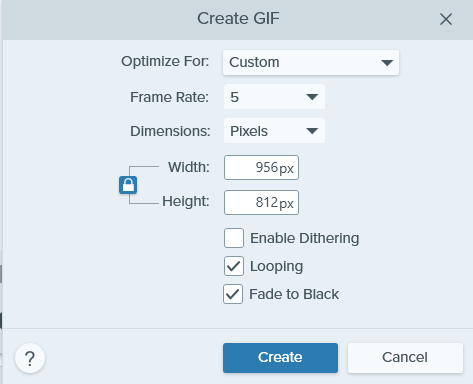 You can turn your recorded videos into GIFs and use them on any chat, document, or website. When creating a GIF, you can optimize it for a variety of purposes. You can create a high-motion video, compress its file size and even add custom dimensions and frame rate.
Snagit comes with a 15-day fully functional free trial where you can test out all the paid features of this screen capture and recording software. After 15 days you can upgrade to Snagit premium. Single Snagit yearly license would cost you $62.99.
However, if you purchase 5 or more licenses and upgrade Snagit, you can avail whooping discount starting from 20%.
All-in-all TechSmith Snagit is a smooth screen recording and screen capture tool. The actions you perform take place instantly. However, when you capture an area for recording or taking screenshots, the initializing part does consume some time. But, that could also depend on the settings you have chosen. Otherwise, right from where you capture screen to the time when it opens inside the Snagit Editor, so that you can refine the captured content, everything's smooth enough.
TechSmith offers great customer support across all its products and Snagit is no different. There are a variety of channels through which you can seek assistance in case of any doubts.
To begin with, you can reach out to the customer support team via live chat by visiting this link. If you have just started  and are learning the tool, you can take the help of several exhaustive video tutorials.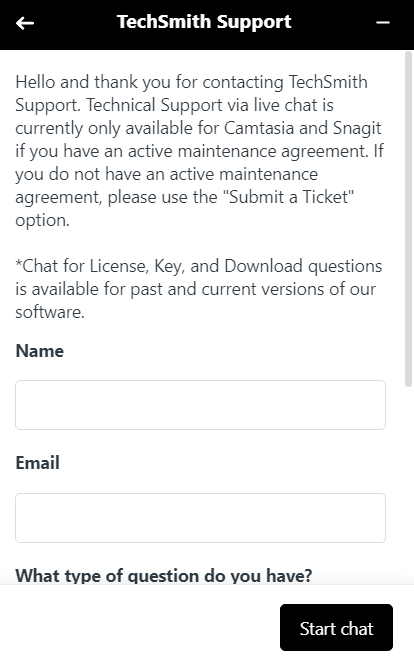 Wrapping Up
From what we can infer from this TechSmith Snagit review is that it is a reliable screen capture and recording software that packs inside everything that you would need to make your presentations engaging. Do give this tool a try and share your experience in the comments section below. For more such content, keep reading Top10PCSoftware. You can also find us on Facebook, Flipboard, and Pinterest.
Frequently Asked Questions –
Q1. Is Snagit free to use?
Snagit offers a fully functional 15-day trial where you can test out all its paid features for free. After the trial period is over, the yearly license will cost you $62.99
Q2. Is Snagit better than a snipping tool?
In many ways, yes it is. There are many features that Snagit offers and Snipping Tool doesn't. For instance, you can the Panoramic Capture, the ability to replace text, and creating animated GIFs are just some of the features that Snagit provides you and that Snipping Tool lacks.
Q3. Is it easy to use Snagit?
Yes, Snagit is easy to use, and offers you a minimal learning curve. Furthermore, there are several tutorial videos that can help you get started.