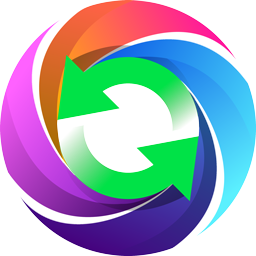 Photos Recovery
Systweak Photos Recovery Review: Recover Deleted Photos
If you have recently lost a bunch of memorable photos on your computer, do not fret. We present you with the easiest solution to getting back your permanently deleted photos using Photo Recovery
What is Photos Recovery Software?
Photos Recovery By Systweak Software is the best application for recovering photos on your PC. It can easily bring back your precious memories in the photos on your computer. To recover deleted photos, you can rely on this photos recovery software. It works on the internal storage of your computer as well as with the external hard drive, USB flash drive, memory card, and digital cameras.
As it uses a comprehensive scan to look for the permanently deleted photos in the drive, it produces good results. This is the most efficient way to get back your permanently deleted photos from the internal and external drives. It works for retrieving deleted photos from the formatted drives as well. It is the best software for photo recovery you will need if you want to restore deleted photos on Windows. In this blog, you can read the full Photos Recovery review to understand it better.
Top Features Photo Recovery software?
Easy to use.
Intuitive interface.
Supports internal and external drives.
Two scanning modes.
Multiple Preview modes.
Recovers from formatted drives.
Preview image details.
Supports multiple image formats.
Why Choose Photos Recovery Software?
Photos Recovery is a wonderful product as it will make your life much easier by swiftly recovering the deleted photos on your computer. It is not only simple to use but also easy to understand for novice users. The software can help you with restoring multiple deleted photos at the same time. It is less time-consuming than other software and also provides transparency of the scan process.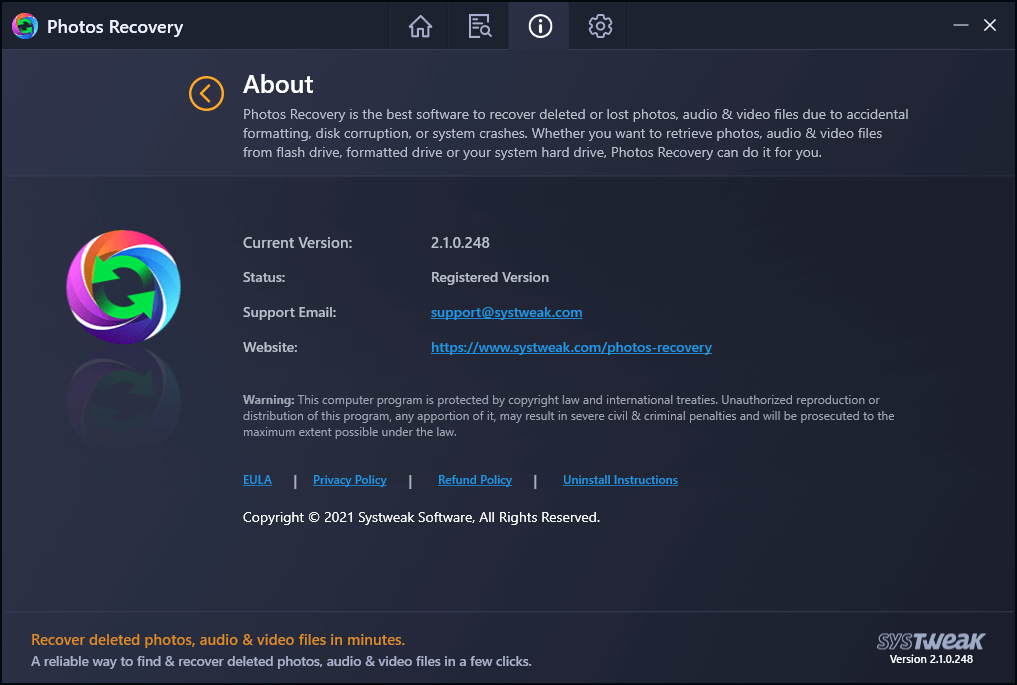 These are the few points that will help you choose Photos Recovery to recover permanently deleted photos on Windows:
Neat Interface – The interface of Photos Recovery is very likely to make the process easy for you to understand. The button placements and the top bar to easily navigate on the application is helpful
Supports different file systems – It supports various file systems to help you recover deleted photos on your computer. Photos recovery supports FAT, FAT 32, NTFS, and more.
Multiple image formats are supported – Helps you recover deleted photos in the following formats – JPG, JPEG, PNG, TIFF, TIF, GIF, BMP, JFIF, JP2. For RAW photos, these formats – DNG, SRF, SR2, X3F, EIP, CR2, CR3, CRW, NEF,  NRW, PEF, PTX, MOS, 3FR, ARI, ARW
Comprehensive Scan – The amazing Photos Recovery software provides you with two scan modes. It can quickly scan for the recently deleted photos with a fast scanning method called Quick Scan. While advised to use Deep Scan for the case such as permanently deleted images and to restore deleted images from formatted drives.
Storage Supported
External hard drive
Internal hard drive
Memory Card
USB flash drive
Scan Areas
Filters for Accurate Results
Scans Individual Partitions
Scans Removable Drives
Preview
Email Support
Preview Image Details
Select Recovery Location
Supports RAW Photos
Technical Specifications –
Latest Version – 2.1.0.248
New Additions –
Tree View mode.
New Intuitive User Interface.
System Requirements-
Windows Compatibility – Windows 10/8.1/8/7 (both 32 bit and 64 bit)
Processor – 1 GHz or higher.
How To Install Photo Recovery?
The process of installing Photos Recovery on your computer is easy. Just follow the steps given below –
Step 1: Download Photos Recovery from the download button given below-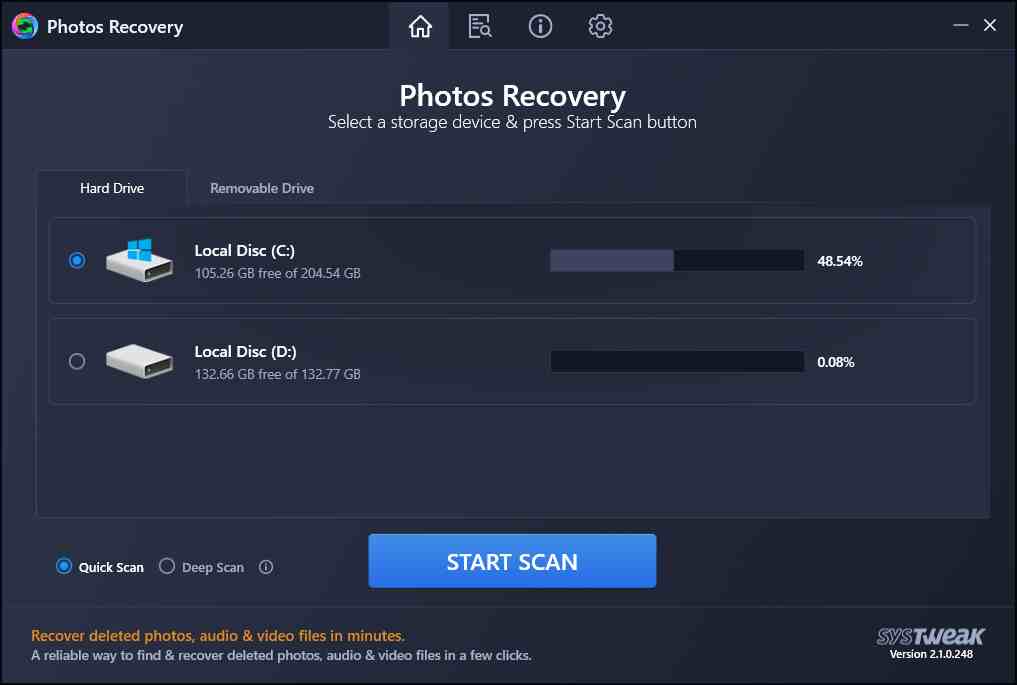 Step 2: Run the setup file which is downloaded.
Step 3: Click on Install after giving the necessary permission.
Now, you are ready to use Photos Recovery on your computer to restore pictures.
How To Use Photos Recovery?
It is very simple to use Photos Recovery and you can follow these steps to understand how to recover permanently deleted photos.
Step 1: Launch Photos Recovery.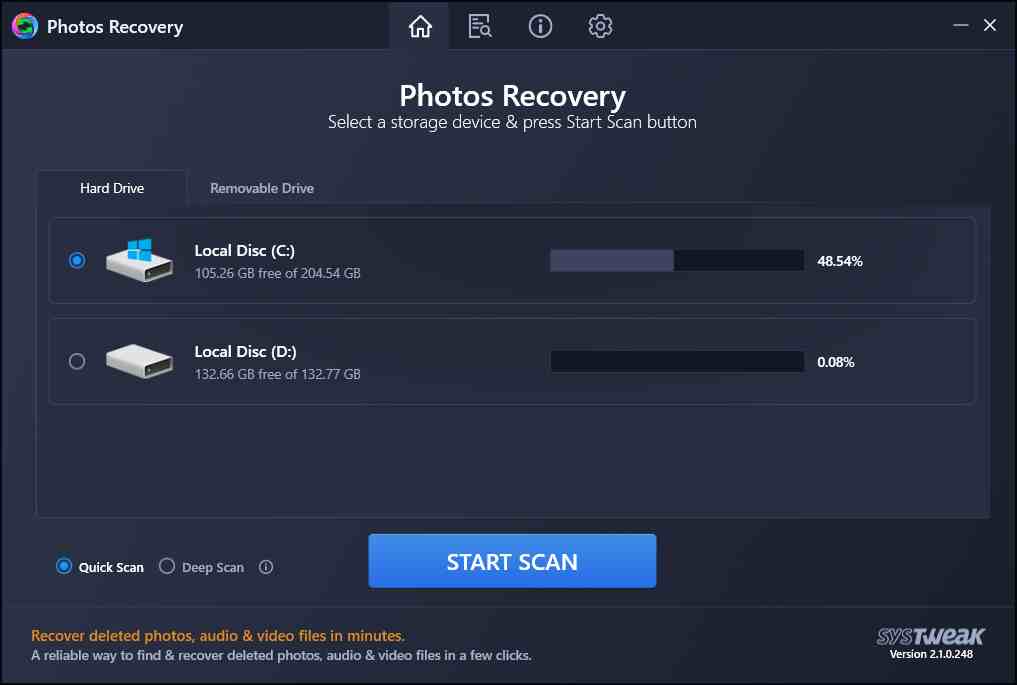 Step 2: Select location by marking the internal or external drive. By selecting the target storage location you will specify the tool to scan it for deleted images.
Step 3: Select the Scan move out of Quick and Deep Scan. Once selected, click on the Start Scan button.
Step 4: Preview the images on the scan summary. Select to view from the List view or Tree view. Click on each image to check the file details and preview. Click on the image to get a larger view.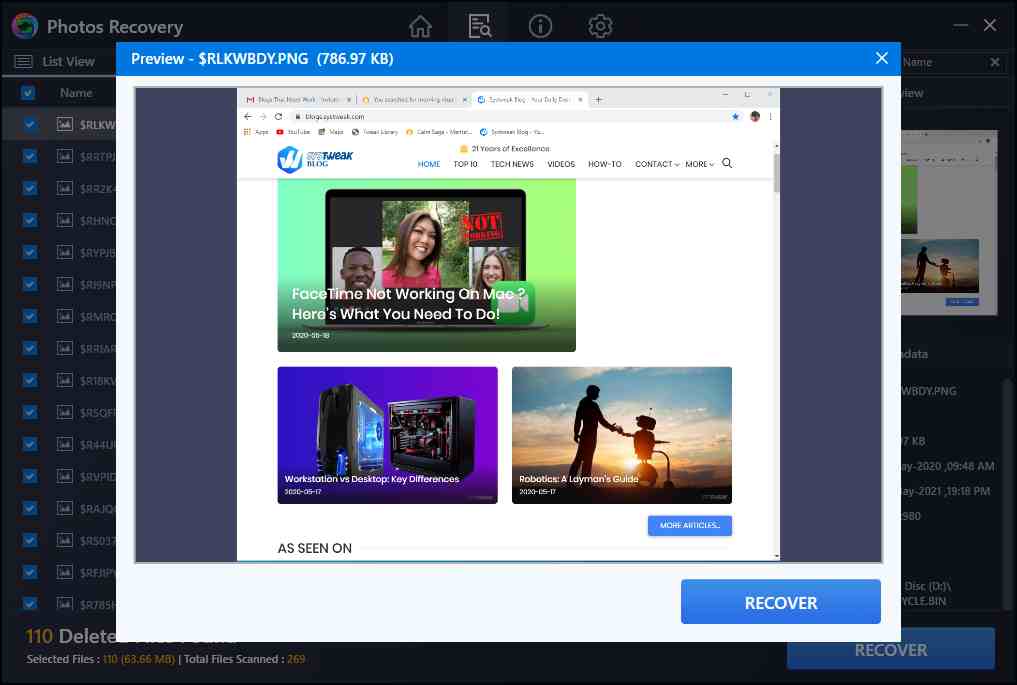 Step 5: Select all the images you wish to recover and click on the Recover button.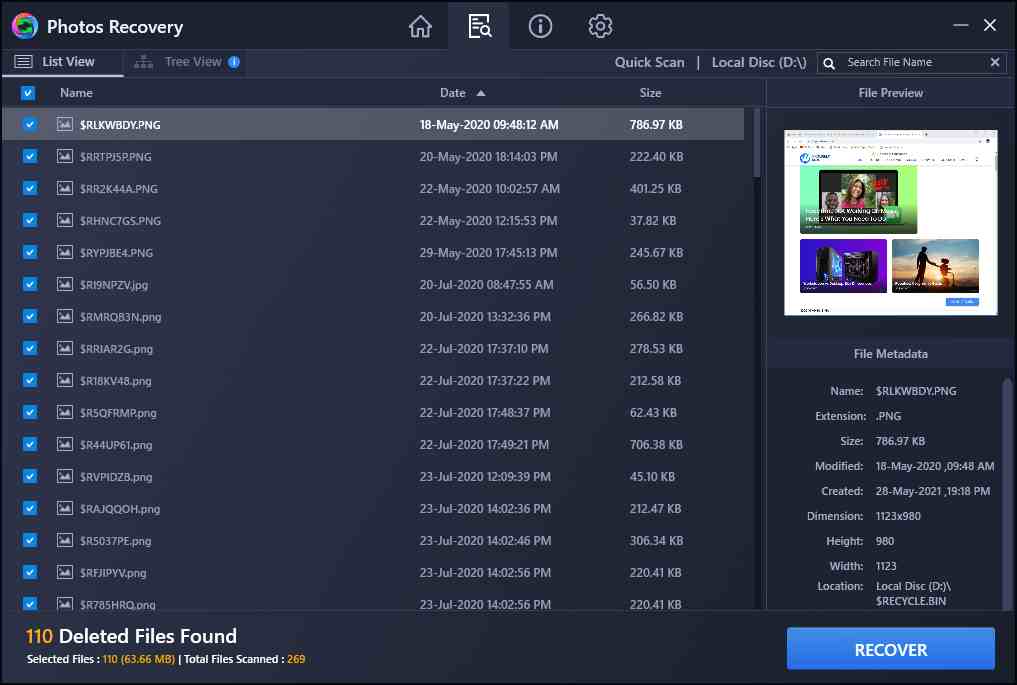 Step 6: Select the location to save the recovered images, make sure to choose a different location than the previous one to avoid overwriting.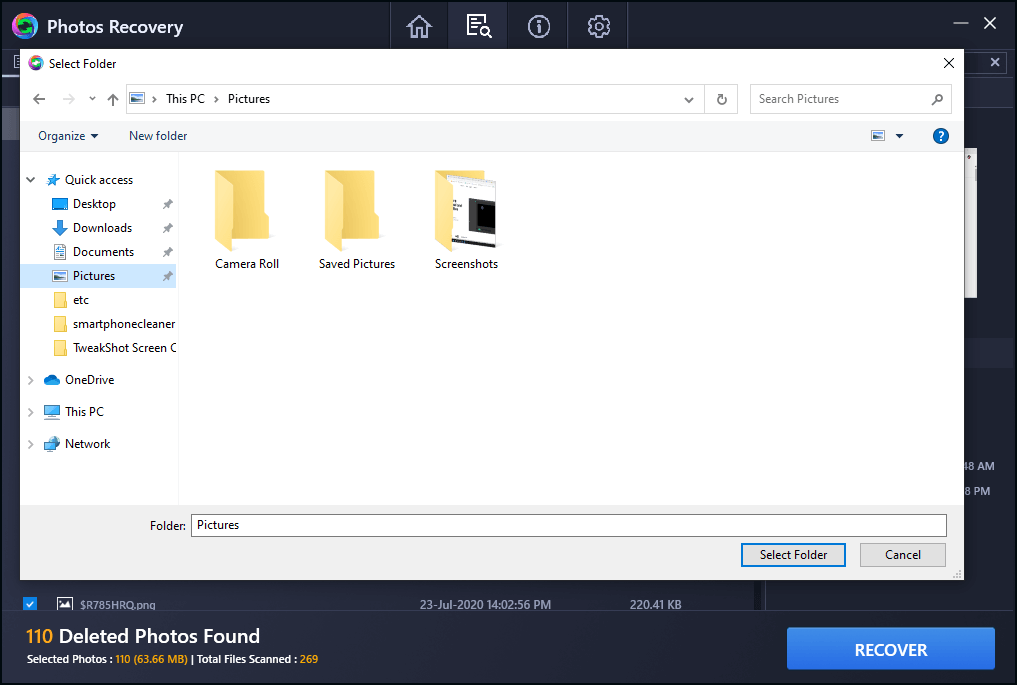 Photos Recovery is a wonderfully designed product to meet the needs and make the show worthwhile. Not only is it aesthetically pleasing with its dark-toned design, but it is also very intuitive to use. The home screen itself lets the user understand how to follow through the process of photo recovery.
The first selection of location for a scan can be easily seen divided among hard drive and Removable drive. Radio buttons are placed to easily indicate the selection for the user. Next, the scan modes are also visibly clear to locate on the same home screen. It comes with the same radio buttons to show the selected option.
After the scan is performed, you can easily check the Scan Summary in the next section on the Toolbar. It will also give you two view modes- List view & Tree View. List view for all the scanned deleted images in a list format and Tree view for the hierarchical view of the images.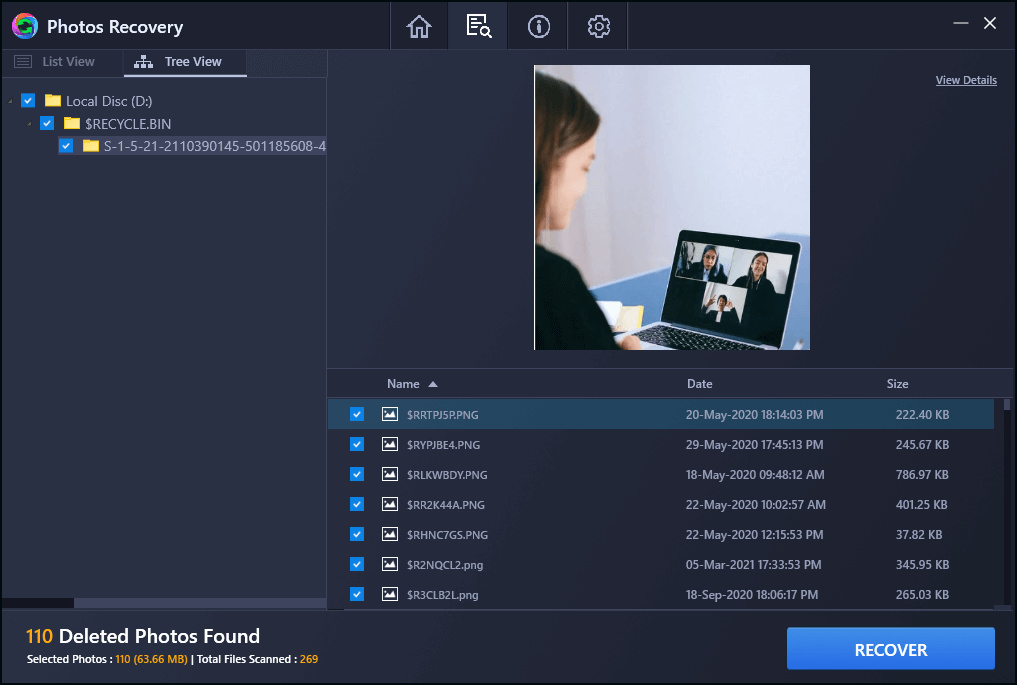 You can find more about the product in the About section, which is third in the Topbar. Next is Settings, which holds the fourth position in the Topbar, always easy to navigate to. Settings can be used to make changes in the general settings of the tool, change scan formats for the images.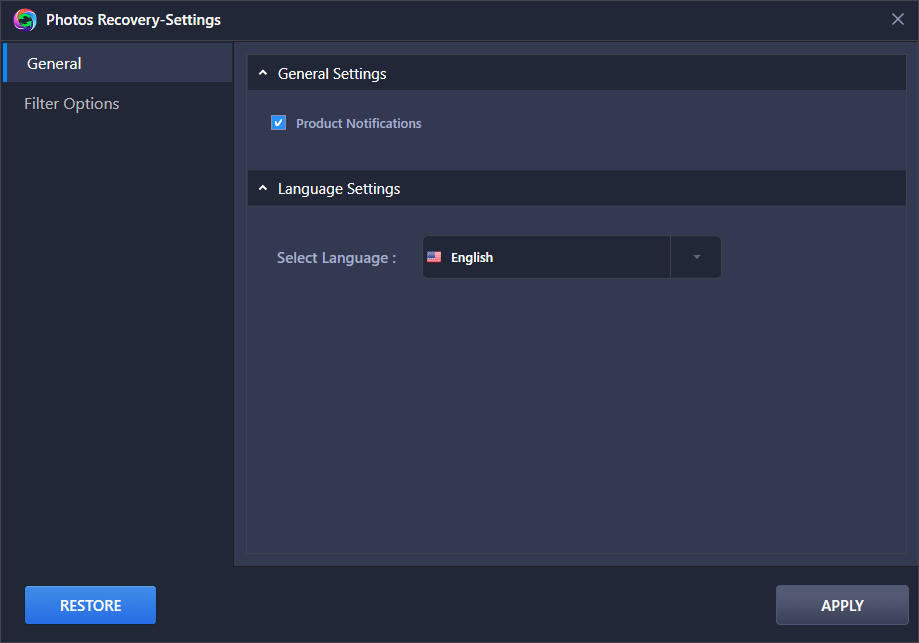 1. Supports External Storage
Using Photos Recovery with the internal storage as well as external storage makes it highly recommended. The external drives can be easily identified as the removable drive in the tool.
2. Supports Multiple Image Formats
There are so many different image formats, and it can get tricky if you are a professional and have multiple copies of the same image. Therefore, choosing your preferred image can be made easy by selecting the image formats from the general settings before the scan.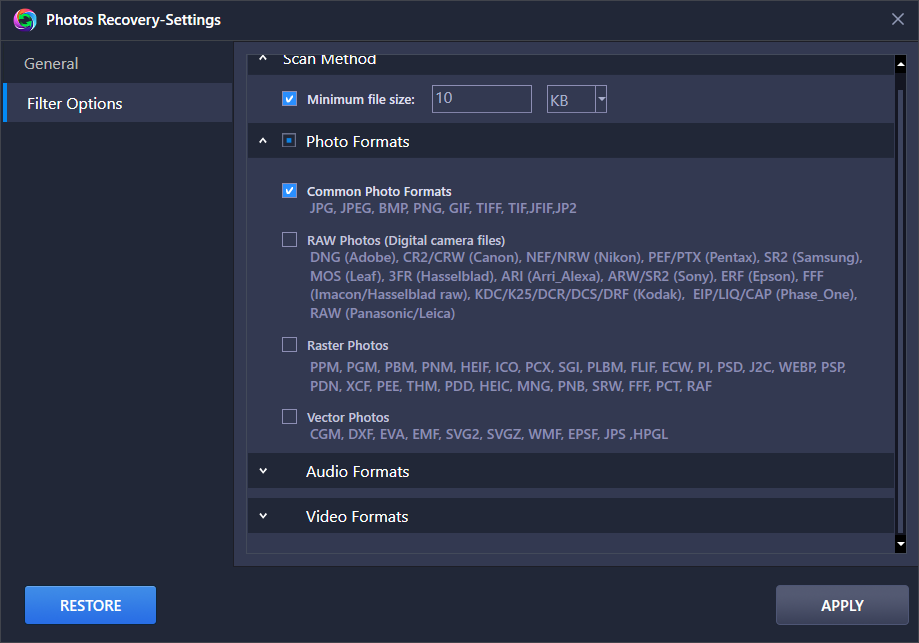 3. Scan Modes
Selecting a scan type from Quick Scan and Deep Scan. The Quick mode is always the best option if you are looking for recently deleted images. Deep scan is relatively the one to take more time in the scan but gives precise results. This scans thoroughly and is hence advised to be used for formatted drives.
4. Preview Images
Two modes for previewing the images are given. List view for the regular listing of all the recovered deleted images. Tree view for the hierarchical view. Previewing the image along with the file details can result in helping the user in recovering all needed deleted images.
5. Recover Audio and Videos
The latest update on the software helps you in recovering the lost video and audio files along with the photos. This included feature makes it one of the best video recovery software as well. All the media files can be recovered easily on your computer using Photos Recovery.
Photos Recovery is a product to receive constant updates. It has relatively kept to the users' expectations and updated its versions with lots of useful changes. The regular updates make it safe to use applications. Usually, you will get a notification in the form of a pop-up message for the latest updates. You can also manually update the tool from the Settings> Check for Updates.
The best part about Photos Recovery is that it can be used to run the scan before making a purchase. So, you can easily find out how the product works and will have no doubts about it. Later, you can easily register to buy the product and make a successful recovery on your computer. Photos Recovery is available at $39.95 for the Windows PC.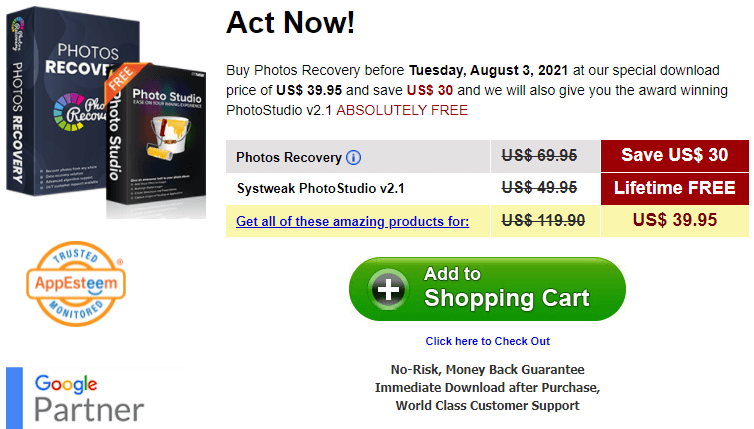 Although data recovery software is great for Windows as it recovers multiple file-formats, a dedicated photos recovery software will save you time. As it will only work for searching the deleted images on your computer. Therefore, one must opt for one such tool for a specific task, and Photos Recovery is one such great tool. Not only is it wonderfully designed but also has a great recovery speed. Photos Recovery helps users recover permanently deleted photos from internal hard drives but also supports external drives.
Photos Recovery helps the users with the much-needed information on the product with its FAQs. Photos Recovery cares for its customers, therefore it is available on the email support. Support @systweak.com
You can get more information on upcoming offers and deals on the official webpage – https://www.systweak.com/photos-recovery
Frequently Asked Questions-
Q1. Can permanently delete photos be recovered?
Yes, using a tool such as Photos Recovery you can easily restore the permanently deleted photos on your computer. It also supports externally connected storage devices such as hard drives, USB flash drives, and memory cards.
Q2. Can photos be recovered after formatting?
Yes, against what is normally perceived about the deleted images, it is possible to recover them from a formatted drive. Photos Recovery is capable of easily recovering your deleted images from the formatted drive.
Q3. Is it worth it to use Systweak Photo Recovery?
Definitely, worth using Photos Recovery by Systweak Software as it has all the required features to make it useful for the task. The quick recovery, different scan & preview modes, multiple image formats support are a few things that are incorporated into it to make it worth having on your Windows. Moreover, the latest update will help you recover deleted videos and audio.
Verdict
Photos Recovery is the best software for restoring photos, videos, and audio files that are lost due to accidentally deleting or formatting a drive. It can easily work for the internal hard drive as well as the external drives such as USB flash drives, memory cards, hard drives, etc. The extensive image details on the scan summary give you a great choice to understand if you want to recover the image or not. We hope this Photos Recovery review has helped you understand the product easily. Write to us about any query on it in the comments section, we would love to hear from you.