A comprehensive data recovery tool well suited for home users. The only downside is, it falls short on advanced features. Still, Ontrack EasyRecovery gives impressive results. Whatever be the reason for your data loss, Ontrack EasyRecovery will help get back the data. This powerful data recovery tool can recover data from faulty hard drives, data lost due to virus attacks. It's a must-try tool.
Introduction – Ontrack EasyRecovery
Ontrack EasyRecovery is a precise file recovery tool for Windows. It can recover data from a system which has been tampered with malware or newly formatted or the data has been deleted accidentally. It is a lightweight application that will help you retrieve data on Windows PC with a 1GB processor as well. The product will save you a lot of time and gives you options for saving scanned results for later recovery.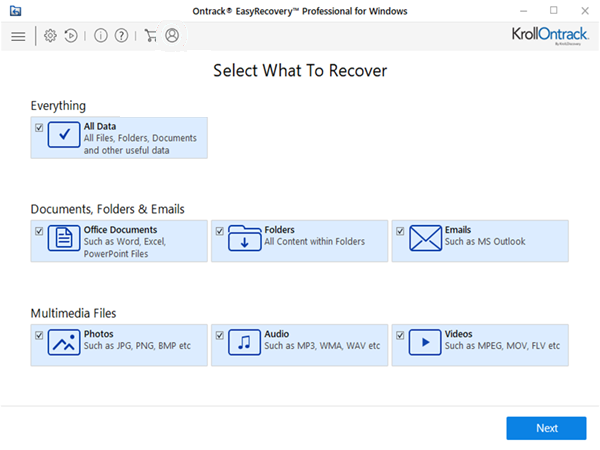 Ontrack EasyRecovery: A Brief Overview
Starts from
$
79
per year
Advanced Partition Recovery
Detailed Sector-Wide Scanning
Filters For Accurate Results
Recovers data from any storage device
Scan to Recover Any Type of File
Scans External Drives & Cards
Data Recovery & Protection
Guaranteed Recovery Features
Rescue For All Data Loss Situations
Data loss due to any reason is disastrous and in this condition, there are many data recovery software for Windows PCs for you to choose from. A tool like Ontrack EasyRecovery is of great help as it comes with some of its advantages. This recovery tool helps recover both data lost due to corrupt disk partition or accidentally deleted data.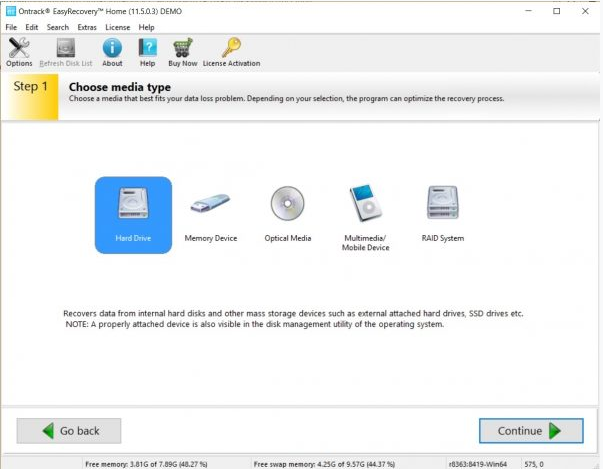 Ontrack's data recovery tool offers two types of scanning and gives a user-friendly experience. Although this tool cannot compete with the big names in the data recovery industry like EaseUS, and Stellar, yet it has managed to make its name. To know more about Stellar Data Recovery and EaseUS Data Recovery Wizard you can read our reviews.
Pros:
Easy to use interface
Quick and Deep scan
Comprehensive data recovery solution.
Secure delete feature
Recover data from almost all storage devices
Unlimited device for a one-year subscription
No-Risk, Money-Back Guarantee
Customer Support
Cons:
Valid only for one year
Need extra backups for manual configuration
No option to create disk imaging
Top Alternatives Of Ontrack EasyRecovery
Provider
$ Per Year
Top Features
The data recovery tool is available in a simple to use format which will make any user at home. The easy to understand interface helps anyone recover data efficiently even when using it for the first time. The best feature has to be the choice of saving the scanned data and starting the recovery at any other time suitable for the user. As the data recovery process takes time, it can be helpful for users. Another useful aspect of Ontrack EasyRecovery will be the availability in multiple languages. It can be used in English, Spanish, German, French, Italian and Japanese languages.
As the name explains Ontrack EasyRecovery Basic offers essential features required to recover lost or otherwise deleted data. Here's what you get in this basic plan:
Along with this, Ontrack EasyRecovery software is capable of scanning optical media, Windows, Linux Server. However, to perform RAID recovery, you'll need to go with the Professional or Technician plan. The same is with cloning hard drives and partitions.
The biggest drawback Ontrack EasyRecovery software has, it does not let you create a startup disk. This means you cannot access data on devices that cannot boot. To get all these features, you will have to go with the higher plans.
Ontrack EasyRecovery software also doesn't allow saving scan results. If you are looking for software with this feature, Stellar is the right recovery tool for you.
However, Ontrack EasyRecovery scans for documents, media files like MP3, JPEG, MPEG4, other popular formats and archives like Zip, Stuffit, RAR, etc.
If a file type is not found, it means OnTrack doesn't support it. And there's no option for it. To make things clear, here are the file systems that aren't included:
Optical Media: ISO9660
Windows: FAT, NTFS
Linux: EXT2, EXT3
Mac: HFS, HFS+
Data Recovery options
Ontrack EasyRecovery software helps recover files lost due to virus attack, accidental deletion, server corruption. Further, you can recover data from mostly all external devices like optical media, SSDs, USB/flash drives, conventional hard drives, etc.
Deep Scan
A more thorough scanning option to scan and recover most of the deleted files.
Data Management
This data recovery application lets you recover data at your own pace. You decide which scan type to use, check driver health, rebuild corrupt, damaged drives.
Performance
When compared with other data recovery tools, you might find Ontrack EasyRecovery software to be a bit slow, but it's not that bad. If you are getting what you want then the speed doesn't matter. Right?
This recovery tool is best in recovering data from backups. When a drive or volume is selected for scanning, Ontrack EasyRecovery checks each volume partition and collects data from the deleted partition too. If you cannot find the data even after this, you can scan the system using a block-by-block scan aka formatted media recovery scan.
Along with this, to recover data, you simply need to select the drive or folder to be scanned, the extracted information can be stored on any device. However, make sure you save recovered data on some other driver as Ontrack EasyRecovery software provides only one set of recovered data.
Unlike EaseUS and Stellar Data Recovery that are valid for a lifetime, this home version of Ontrack EasyRecovery is valid for one year. Also, Ontrack EasyRecovery software is compatible with both Mac and Windows.
You can use a Home license on only one machine at a time. With that said, you can export licenses to multiple machines but cannot use Ontrack EasyRecovery software simultaneously in two machines. The license works on both Windows and Mac versions of the product.
Ontrack EasyRecovery software offers different plans.
Free Plan

1GB, CD & DVD, Corrupted server, clone HDDs and SSDs

Home

Unlimited, virus-infected drives, CD & DVD, Corrupted server

Professional

Unlimited, virus-infected drives, CD & DVD, Corrupted server

Premium

Unlimited, Clone HDD, SSD, recover corrupt videos, photos

Technician

Unlimited, Recover data from advanced RAID volumes

Toolkit plan

Unlimited, Recover data from advanced RAID volumes
You don't need a high-end system to run Ontrack EasyRecovery. With a 1GHz processor, 512 MB RAM you can get the recovery tool up and running. The executable file size is less than 100MB means you don't need to free up any space to save the product. Also, you can create backups of recovered data for security reasons.
Alongside you can set up automatic scans, to monitor the system's health and keep a check on hard drives. This means without doing anything yourself, you can keep a check and manage the tool.
With decent customer support available in 28 languages and across the globe, Ontrack EasyRecovery software tries to help each of its users. Live Chat support works during business hours only, but getting in touch with a support agent sometimes takes a long time therefore, we won't say Live Chat is great.
Whenever you want to reach a tech, simply choose the region and language or can call a toll-free number that works 24/7. Along with that, you can even send them an email, explaining the problem you are facing.
However, if the problem you are facing isn't that serious, you can reach OnTrack by phone or can mail them 24/7.
You can also head to FAQ and the "quick tip" page to resolve the problem on your own. If you don't like reading, no problem check out the videos.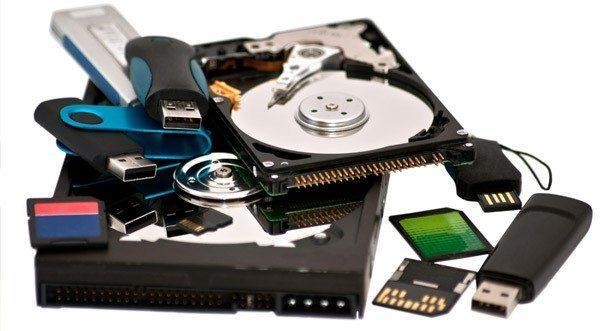 How To Use Ontrack EasyRecovery Software
One Ontrack EasyRecovery software is downloaded, and you can begin with the process of recovering data. To do so, follow the steps below:
1. Launch Ontrack EasyRecovery software.
2. On the home screen, you will see different options like a hard drive, optical media, a memory device, RAID, multimedia/mobile device, etc. Select the one you wish to scan.
Note: Though you see the RAID option, you can use it unless you are using an enterprise license.
3. Once the location is selected click Continue.
4. Next, if you are scanning HDD, you'll have to select the volume to scan. You can either choose, partition, folder or can go with the scanning of the complete drive.
5. The recovery tool will now scan each partition table to pull data and display any deleted partition. In certain cases, you might not see a lost partition. In such unusual times, run a scan against a complete hard drive & try to see if you can recover it.
6. Once the partition is selected, click Continue.
7. This is when the Ontrack EasyRecovery tool will ask the recovery scenario. This is the most unusual and unlikely thing. But the way Ontrack EasyRecovery is working to help its users is great.
8. The process to recover deleted files/folders will now begin and will be fast while recovery.
9. To get a more intense look at the data to use Formatted Media Recovery.
10. The next section of Ontrack EasyRecovery includes options likes:
Permanently delete data and diagnostics to detect bad blocks.
11. Click continue to proceed further.
12. EasyRecovery will show a progress time remaining to recover data.
13. This part will disappoint you as you won't get an option to preview the detected files. But we can handle it as long as we are getting what we want.
14. Once the scan is completed look for the lost content. You can sort the results by Folder. In addition to this, there is a folder named Data you can use to search content by file system structure. Alongside look for files accidentally deleted or moved to Recycle Bin.
Using the search bar, you can find specific content. However, if you are looking for (.txt, .jpg, .mp4), it won't work and this won't be handy either.
Another option you won't find is to save scan results to recover later. This means if you aren't ready with a recovery disk to save recovered data, you will have to run the scan again.
Finally, when you have the file you wish to recover, double click on it. EasyRecovery will start recovering files one by one. If you have to recover a large amount of data, this might be time-consuming.
Frequently Asked Questions
Q1. What is Ontrack EasyRecovery?
Ontrack EasyRecovery is one of the popular data recovery tools which is available for Windows. With its help, you can easily recover the data lost due to virus attack, accidentally deleting, or system formatting.
Q2. How much does Ontrack Data Recovery Cost?
Ontrack EasyRecovery gives you multiple options to choose from as per your requirements. If you are looking for a basic recovery option, try the free plan and get the software at no cost. When needed for a home PC data recovery go for the Home edition of the software which costs $79. Other plans which are available for advanced data recovery start from $109 and goes to $499. These are more effectively useful for professionals and organizations.
Q3. How do I use Ontrack EasyRecovery?
It is quite easy to operate Ontrack EasyRecovery for a first-time user. The user needs to select the location for data recovery from the options shown on the home screen. Click on scan and wait for the time to get the results for the scan. Once done, all can be recovered with the software on your computer.
Verdict
Certainly, Ontrack EasyRecovery misses on some important features like the save and preview option, recovering data from non-bootable devices, recovering multiple files at once. But we can overlook them for the reason, the product does what it claims. Also, the user experience is straightforward and there are a lot of other options that you can use to recover data.
Its beautiful design, permanent file recovery, and drive diagnostics are worth all the pain.
Whether you are a home user, a large corporation, a small business, Ontrack EasyRecovery is designed for all. The basic plan is suited to home users and helps retire lost data, media files, documents, and other things that are hard to detect and find manually.
Further, all plans are competitively priced and OnTrack is a good mixture of recovery and secure delete tool. In short, this product is an all-rounder and helps recover all the important data.
We recommend giving it a try. Its simple user interface, great recovery options are worth the price you pay.
Do let us know what you think about this recovery tool. Also if you did not like, the software chances of which are very less do share the reason in the comments section. Thank you for reading.