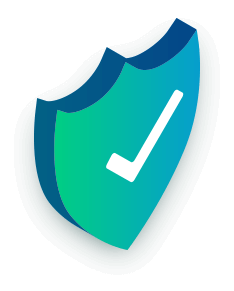 Glarysoft File Recovery
Glarysoft File Recovery Review – Can It Get Back Permanently Lost Files?
Ran into a situation where you lost important files due to mistakenly deleting them or a hard drive crash or worse a virus attack? Worry not! All's not lost. You can use a tool like Glarysoft File Recovery to recover permanently deleted files. Here we will discuss all its aspects – features, pricing, pros, cons, etc and find out if it actually can help you get back deleted files. 
There is no denying the fact that files are vulnerable. For instance, you might accidentally delete a file or files using the shift + delete operation only to realize later how important they were. And, while we do advise timely backing up files, what if you didn't? Wouldn't you then not be able to get back those lost files? You can. What you need is data recovery software. Here we are going to discuss in detail Glarysoft File Recovery, which is often regarded as one of the best data-restoring utilities.
What is Glarysoft File Recovery?
Glarysoft File Recovery is a free data restoration tool that can help you recover lost data both from your hard drives as well as partitions. When we talk of hard drives, you can recover deleted data both from your internal as well as external storage mediums, for instance – SD cards.
Looking for more data recovery tools that can help you recover data from SD cards? Check out this post.
It has an easy-to-use interface, something that we will discuss a little later in the blog. It supports scanning for all major file systems – FAT, NTFS, NTFS+, and EFS.
It comes in two variants – Glarysoft File Recovery Free and Glarysoft File Recovery Pro. You can directly jump to the section where we have compared both the free and paid variants. One thing that we'd like to acknowledge is the fact that even the free variant, despite being free, doesn't have any annoying ads.
System Requirements
Windows OS Compatibility – Windows 11/10/8.1/8/7/XP
Current Version – 1.20.0.20
Processor – 1 GHz
RAM – 128 MB
Disk Space Required: 30 MB minimum
Supports recovery of over 200 file formats across a variety of file types.
Offers file type and a simple folder view.
You know in real-time how much time is left in scanning.
Can scan all file systems BTFS, NTFS+, FAT, and EFS.
You can search for a deleted file directly in the search bar and speed up the scanning process.
The user has no control over Quick and Deep scan modes.
Occasional crashes have been reported by users.
How To Recover Permanently Deleted Files With Glarysoft File Recovery?
1. Select the drive or partition from where you want to recover lost files. You can even recover lost files from an SD card. For that, you can connect your SD card to your computer, select the drive and click on the Scan button.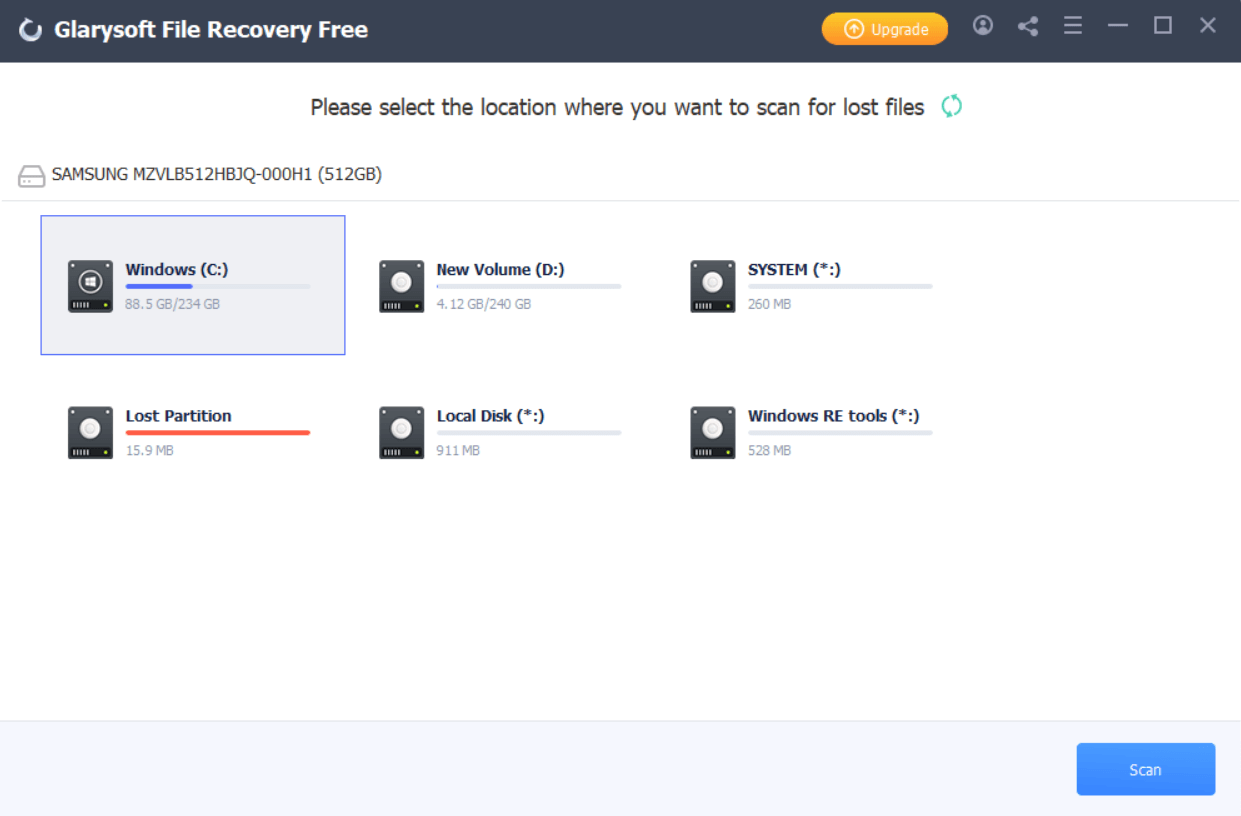 2. While the scan is in process, if you remember the name of the file, you can also put that in the search bar to save scanning time.
3. Once the scan is over, the files will be listed in a window. You can also preview the files so that it becomes easy for you to choose the files you want to restore.
4. You can also use the filter options to sort files. We have discussed the same below.
5. Select the file that you want to recover by clicking on the checkbox next to it and clicking on the blue colored Recover button from the right.
6. Select the location where you want to save the file. We advise you to save the file at a location other than the location from where it was lost. As it will keep it from overwriting the data on disk.
Once you have downloaded Glarysoft File Recovery free, this is the interface that you will see. The first screen enlists all the drives. You can choose a drive from which you have lost data and then click on the blue colored Scan button at the bottom after which you can initiate the scan process.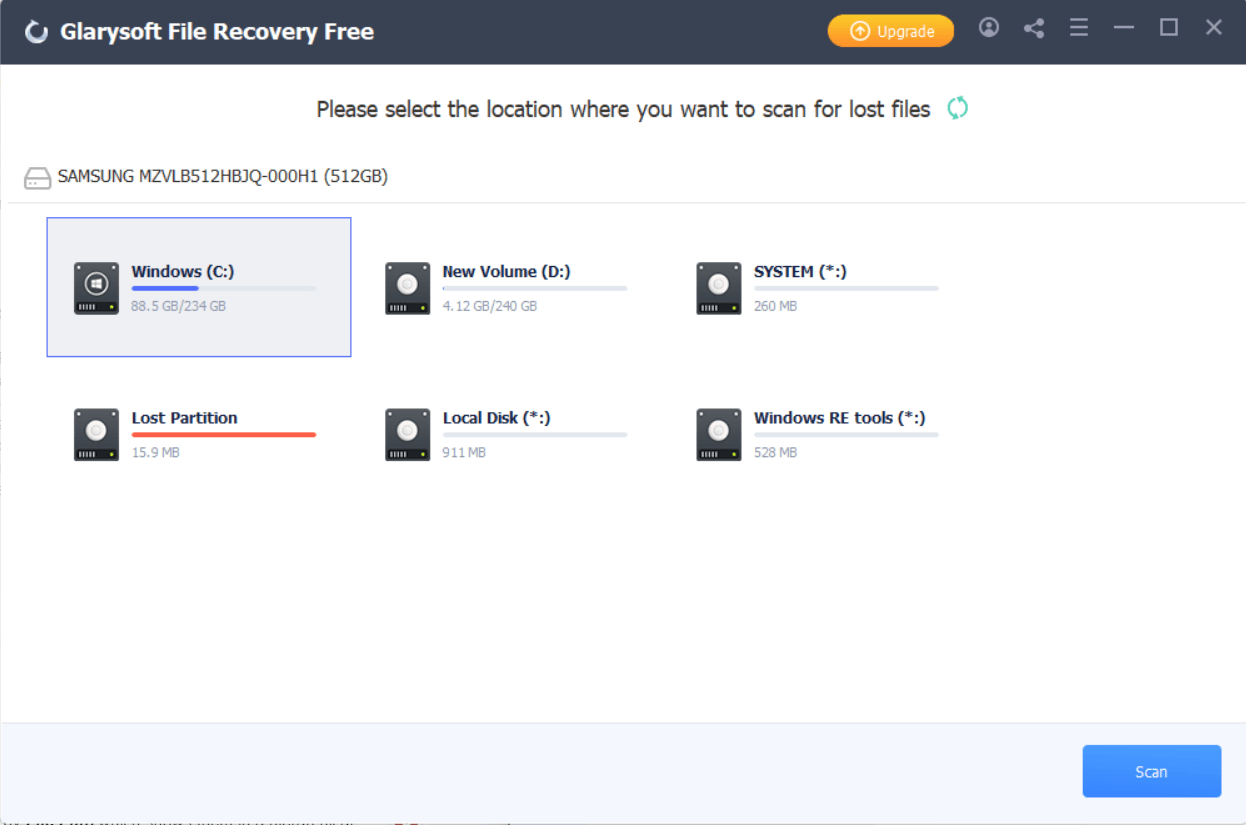 On the top of the first screen, towards the left of the minimize, close, and maximize buttons you have options to create an account, share on social media and a hamburger icon that offers Settings where you can change your preferred language as well as choose the file type and format of the files you have lost. Then there are options for checking for updates and a way you can reach out on help-related topics.
Once you have clicked on the scan button, the next screen can be bifurcated into three parts. In the first part, you can segregate files either by File Path which shows them in a hierarchical view as shown in the File Explorer, or you can click on the File Type and select deleted files by format. When you click on a file or folder, the contents can be seen in the second part of the screen. And, when you click on each of the contents – For example, when you click on a deleted image, you can Preview it in the third part. The preview section also has the recover button, clicking on which you can recover the file.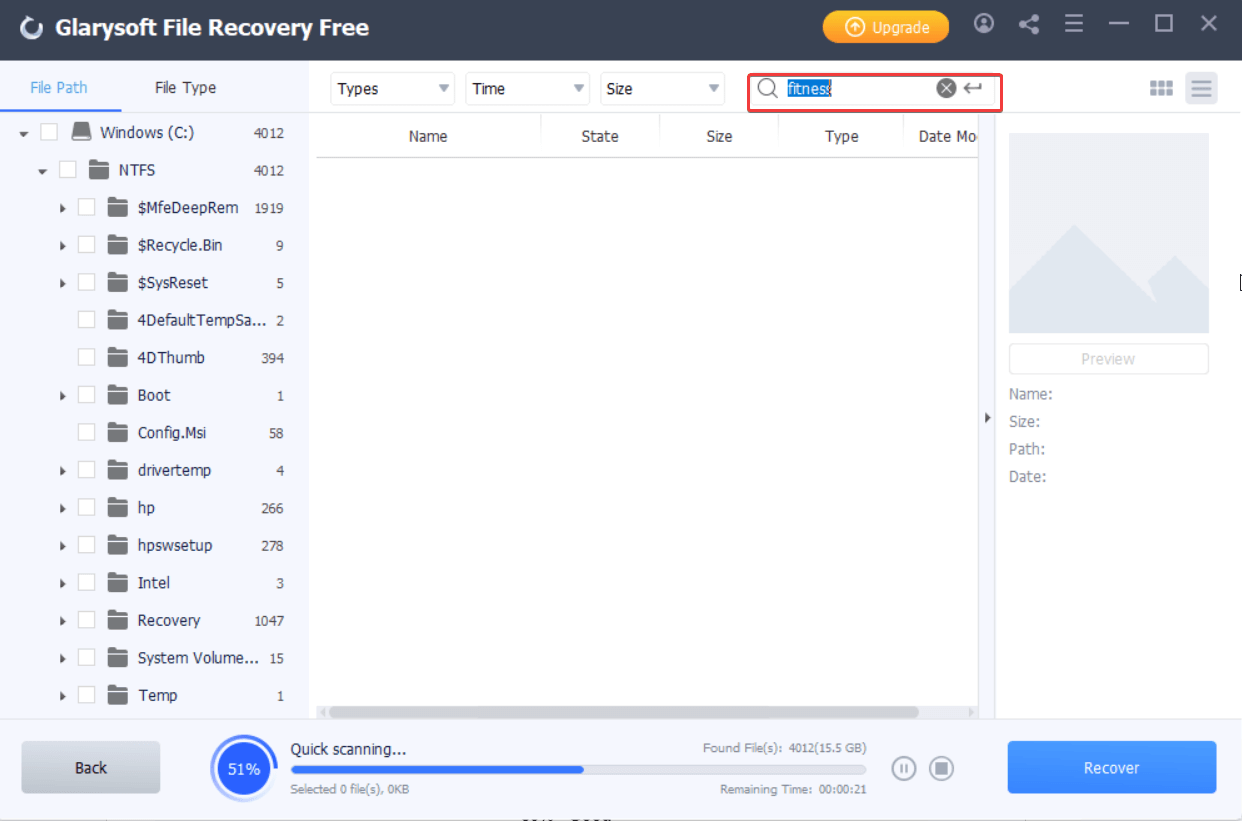 1. Preview The Files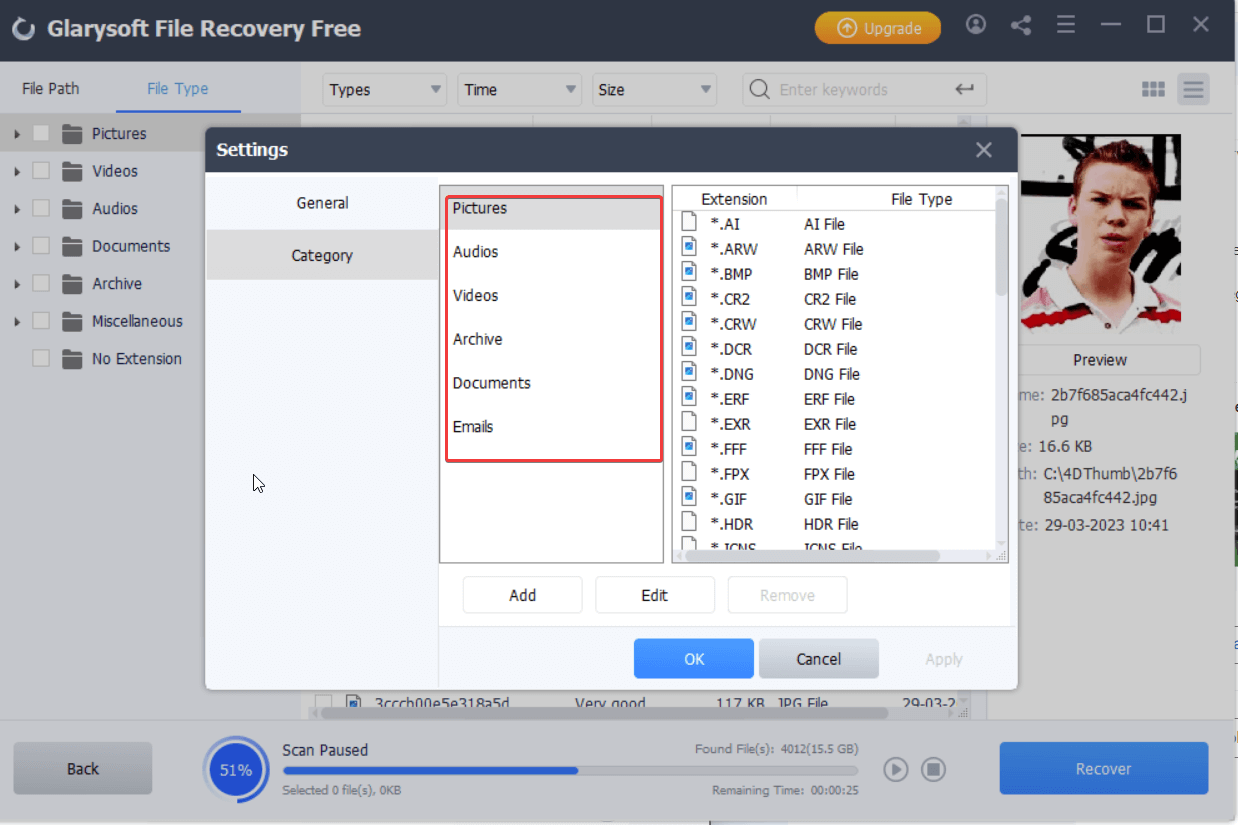 You might not want to recover all the files and might want to recover selected files. Glarysoft File Recovery lets you preview files first and then you can choose the files that you want to recover. You can preview photos, videos, and audio in a hassle-free manner.
2. Support For All File Formats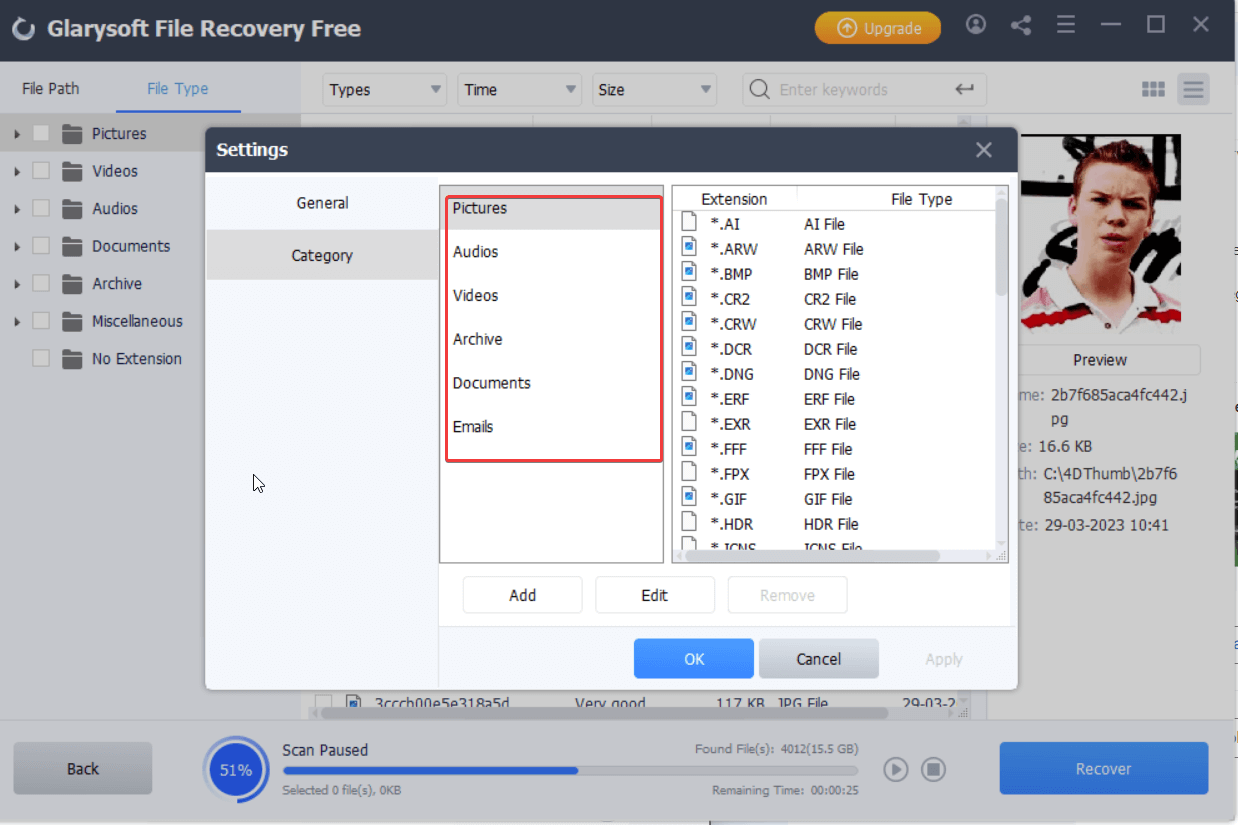 When it comes to recovering files, Glarysoft File Recovery can help you recover all kinds of files across all major file formats. You can easily recover images, videos, audio files, documents, and even emails.
In fact, you can choose the file type and format that you wish to recover right in the settings as shown in the screenshot above. Just in case, if you don't find the category or format you can also add the extension and recover files belonging to that category and format.
3. Pause the Scanning Process
Depending on the number of files to be recovered, the scanning may take some time. But that doesn't mean that you have to go through the complete scanning process. You can pause the scanning by clicking on the "Pause" button. If you want you can even stop the entire scanning process by clicking on the "Stop" button too.
The interface keeps flashing the Remaining Time at the bottom so you know exactly how much time you have before the next step of, say, recovering a file.
4. Recover All Kinds of Files
It is generally believed that it is difficult or impossible to recover files that are fragmented, compressed or encrypted by users on the NTFS file system. Glarysoft File Recovery is capable and powerful enough to recover all such files.
5. Quick and Deep Scan Mode
This data recovery software uses two modes to scan for deleted or lost files. The "Quick Scan" mode is good for finding any recently deleted files. The more advanced scan mode or "Deep Scan" helps conduct a more thorough scan and is more time-consuming. The tool doesn't let you select the mode of scan unlike some of its competitors like Advanced File Recovery.
6. Various Filtering Options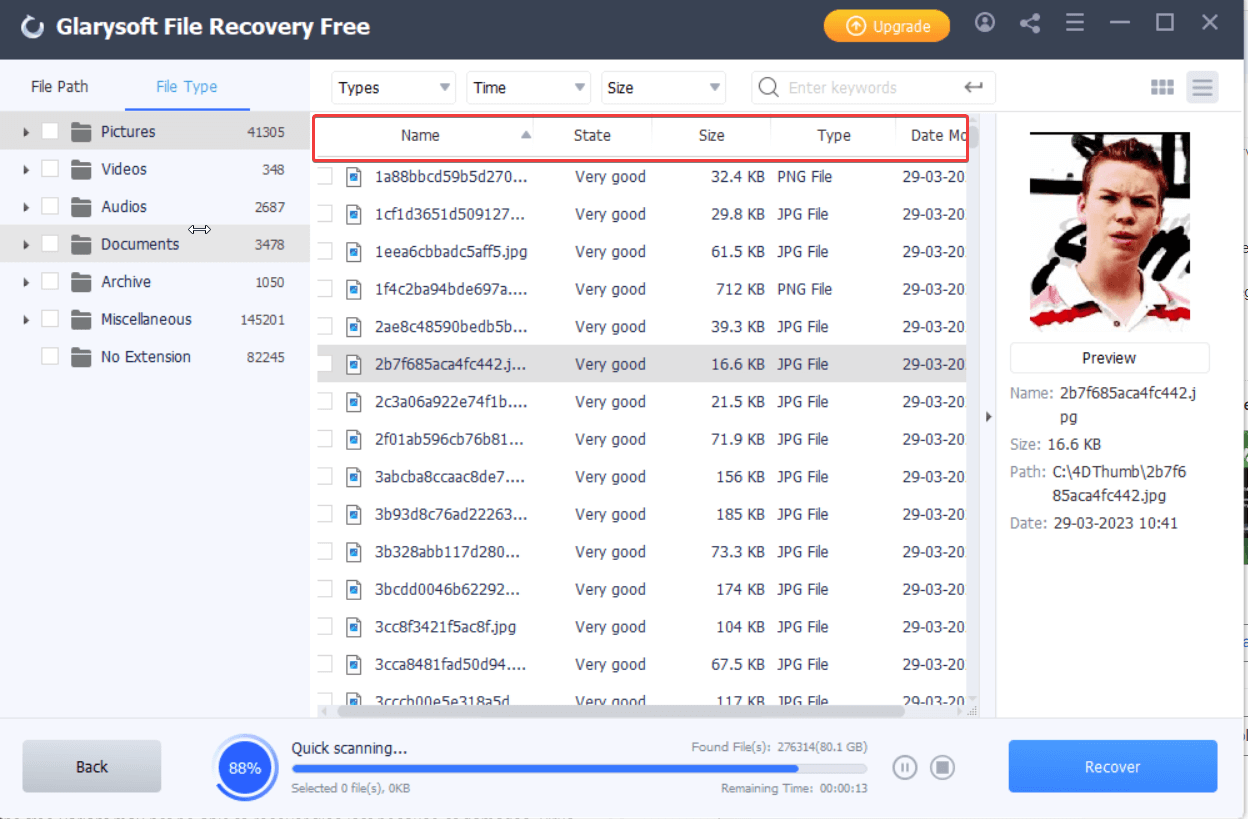 Once the scan is complete or even during the scan you can filter files using a variety of options. You can directly zero down on only the deleted files instead of going through all the files.
The tool lets you filter files by file type, time, size, state, name, and date modified. And, as we mentioned before, if you know the name of the file, its size or know any other detail, you can mention the same in the search bar and save scanning time. For this, you can enter the details there and hit the Enter key.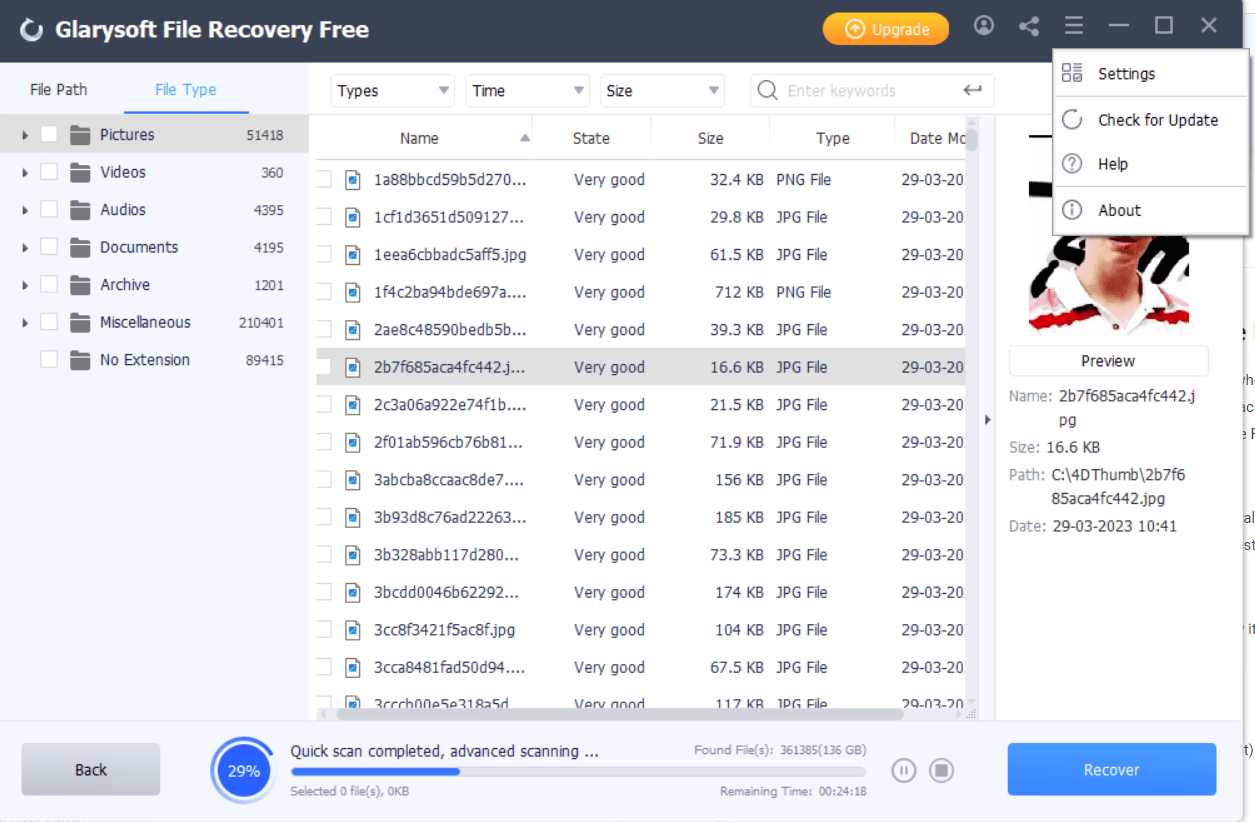 Glarysoft regularly releases updates in its products to ensure that there are no bugs and new features are introduced. And, Glarysoft File Recovery is no different. To fetch the latest update, you can click on the hamburger icon and then click on Check for Updates.
Glarysoft File Recovery is available in two versions – the free and the paid variant. The free version lets you scan and recover files, but puts a restraint on the number of files you can restore. Also, the free variant may not be able to recover files lost because of damages, virus attacks, or corruption. Lastly, another difference between the free and paid variant is that the latter gives you prompt online support. The difference between the paid and the free version is outlined in the screenshot below –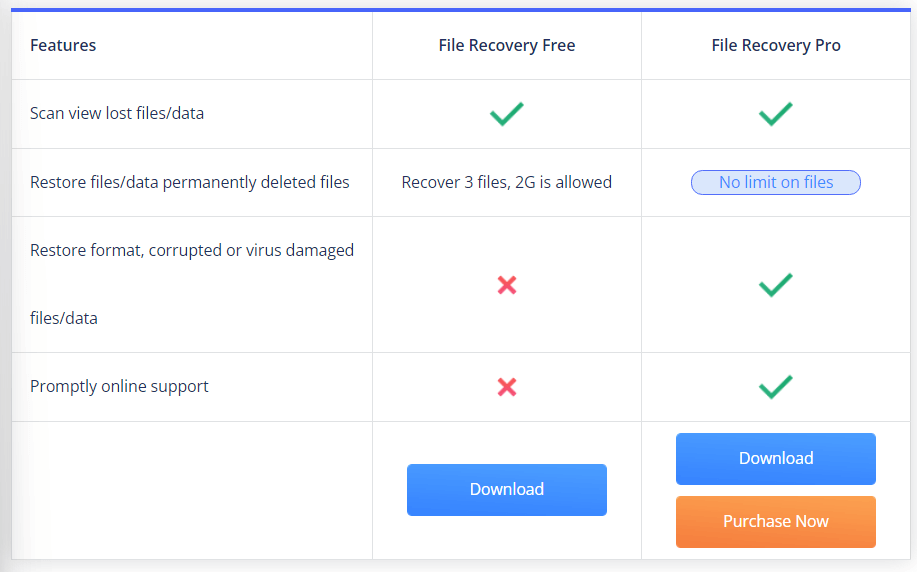 As for the pricing, Glarysoft File Recovery is further available in three variants. The base price starts at $19.95/ user/ 1 PC. The details of each of the price plans can be found in the screenshot below –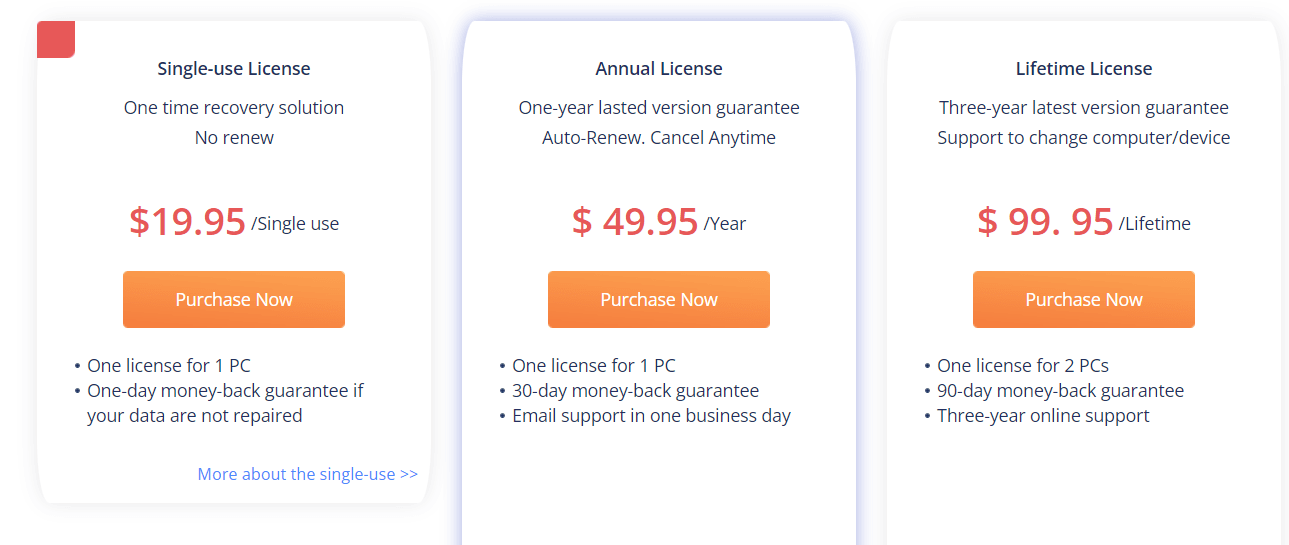 The Quick Scan took almost a minute to scan approximately 150 GB worth of files. It was followed by a Deep Scan that took nearly 30 minutes to scan the files. We were finally able to recover the lost files. All in all, we won't say that the speed is the best but it is still a competitive performance if you compare it with some of the other data recovery tools.
How can you reach out for assistance, in case you are stuck with something – have a license issue or have doubts regarding the working of Glarysoft File Recovery free or pro?
To seek help, you can head to the Glarysoft File Recovery website, click on the chat icon at the bottom right of the page, fill out the form, and send your query. The support staff will then review your query and provide assistance accordingly.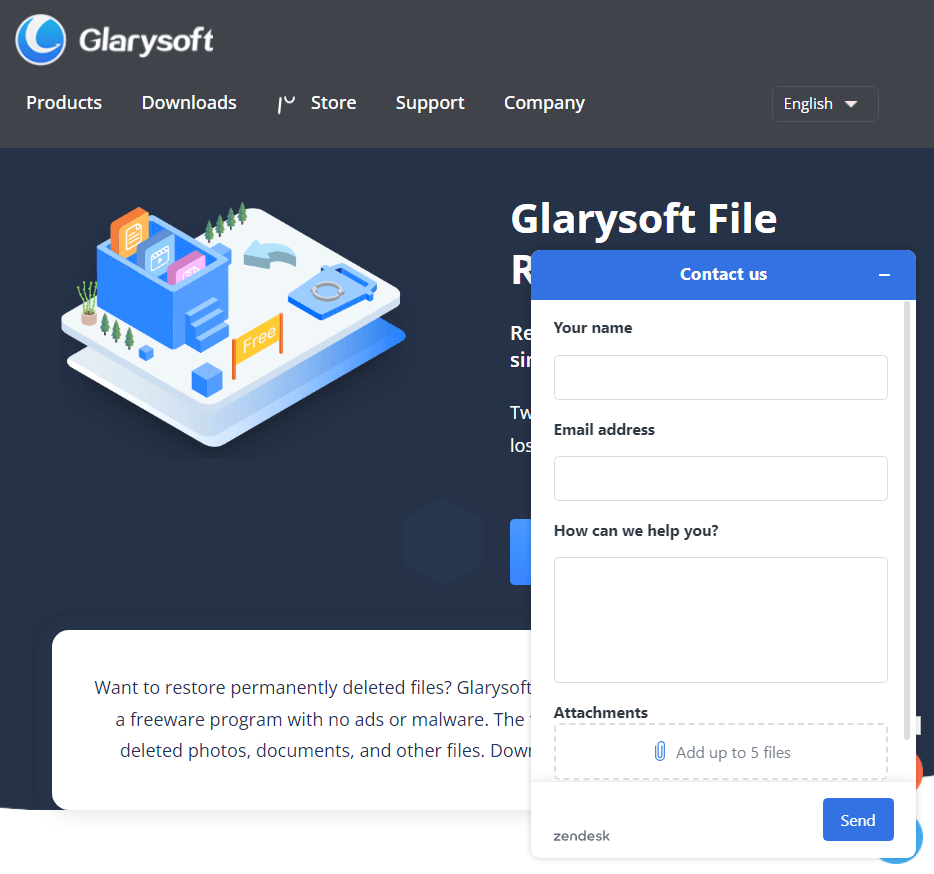 You can also click on Help by clicking on the hamburger menu icon and clicking on Help. This will take you to FAQs, license retrieval options, and many others.
Did Glarysoft File Recovery Retrieve Your Deleted Files?
We hope it has because we know how embarrassing or distressing it is to lose an important file only to realize that it is gone forever.
Our main intent in reviewing tools like Glarysoft File Recovery is to give you options using which you can get back your lost data. Give Glarysoft File Recovery a try and share your experience with us in the comments below. If you already use a tool that has helped you recover permanently deleted files, do share with us that too. For more such content, keep reading Top10PCSoftware. You can connect with us on Facebook, Flipboard, and Pinterest.
FAQs –
Q1. What is Glarysoft File Recovery Pro?
Glarysoft File Recovery Pro is a premium file recovery tool that can help you restore permanently deleted files regardless of the file type or file format. It can help restore files from both external and internal hard drives as well as lost partitions too.
Q2. What file systems does Glarysoft File Recovery support?
It supports scanning for all major file systems – FAT, NTFS, NTFS+, and EFS.
Q3. How do I contact Glarysoft?
If you wish to contact Glarysoft, you can visit their website and click on the chat icon at the bottom. You can then fill out the form and send in your query. Once you do that, you should get a reply from the support staff.
Q4. What is the success rate of Glarysoft File Recovery?
In our usage, the success rate of Glarysoft File Recovery lies somewhere between 85-90%.